Thriving local businesses love Google Business Profile (GBP) (previously Google My Business) because they know that it provides extremely valuable online real estate for their business.
Creating a GBP listing is perhaps the easiest way to appear on the first page of local searches. Even if you market to larger audiences, if you have a GBP profile (and optimize your profile for GBP ranking factors) and your competitors don't, you'll earn an extra edge in search.
Google even provides special features on your GBP profile that provide businesses with free advertising. One of the top features to take advantage of is posting on Google Business Profile.
In this article, we'll walk you through:
What are Google Business Profile posts?
Types of Google Business Profile posts
How to create a Google Business Profile post (How to use Google posts)
Where your customers will see your Google Business Profile posts
For more local search and Google Business Profile tips, keep reading or sign up for our newsletter, Revenue Weekly!
Bonus Reading: What to Do If your GBP Listing is Suspended
What are Google Business Profile posts?
With Google Business Profile posts, businesses can publish updates about their brand, offers, events, and products and services as posts on GBP profiles.
These posts appear to audiences in the app for Google Maps on mobile. They can also appear in a desktop search under your business's information section in the sidebar (called a knowledge panel or knowledge card):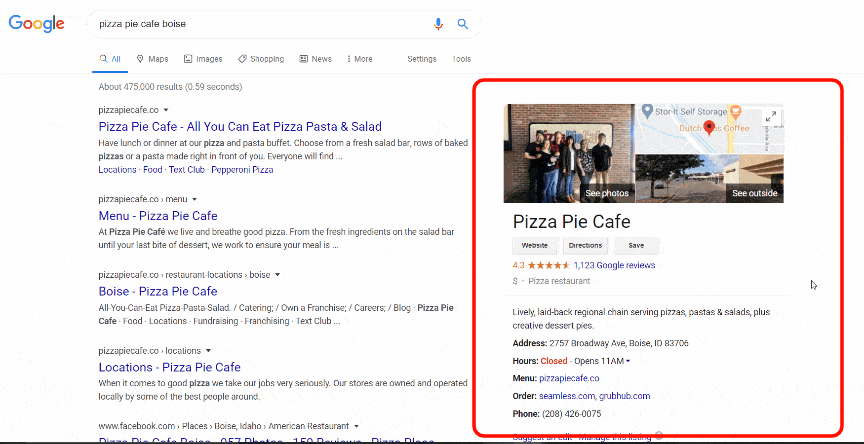 GBP posts are similar to Facebook posts, and your viewers can share your posts to their social media accounts or via email. However, your audiences can't create individual profiles, share, or comment on posts on the GBP platform.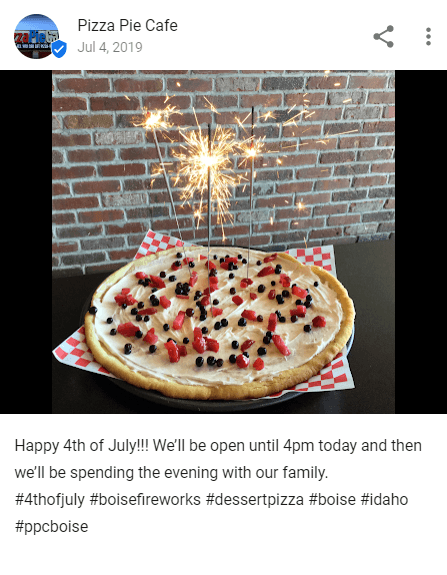 Advantages of posting on Google Business Profile
The most significant advantage that GBP posts provide is the ability to advertise your brand, products, sales, specials, events, and offers — for free.
You'll gain more visibility for search terms that are the most important to your business and promote your brand to wider audiences — all without having to spend a dime. Other benefits of GBP posts include:
Reaching more people: When you post on GBP, it increases your visibility in search, meaning more people will find your business online. With Google Business Profile posts, it's easier to reach a wider audience.
Building brand awareness and affinity: Because you can communicate directly with local customers, you can easily build awareness and affinity with your brand. You'll be able to provide your audience with better information to help them through their buying process, as well as keep them current with timely updates such as changes in business hours.
Engaging with your audience: GBP posts allow you to engage with your customers right in search. Using posts on Google Business Profile, you can improve your audience's experience with videos and photos and provide information right when they want it.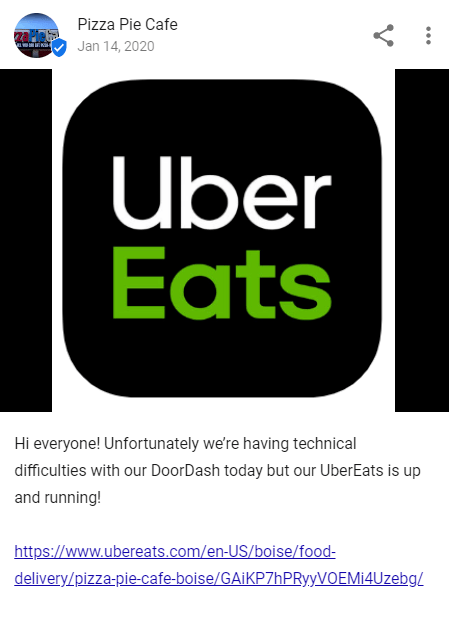 Improving local search engine optimization (SEO): Posts on Google Business Profile strengthen your local SEO by providing your customers with easy access to your business information, offers, products, and updates. Since GBP is tied to search and Google Maps, you'll rank better for local keywords.
Types of Google Business Profile posts
Posts on Google Business Profile typically include a photo or video, a title and description, and a call-to-action (CTA). There are four different types of posts that you can create through Google Business Profile:
What's New
Events
Offers
Products
Here's an overview of each type of Google Business Profile post.
What's New
The "What's New" GBP post allows businesses to post recent news such as special hours, changes in address, new product promotions, or general information.
These types of GBP posts are the best at generating brand awareness and affinity. If you're having trouble thinking of what to post, Google Business Profile can suggest topics to post based on the top reviews of your business.
On desktop search, these posts show as a carousel in your knowledge panel, usually above the "People Also Search For" section.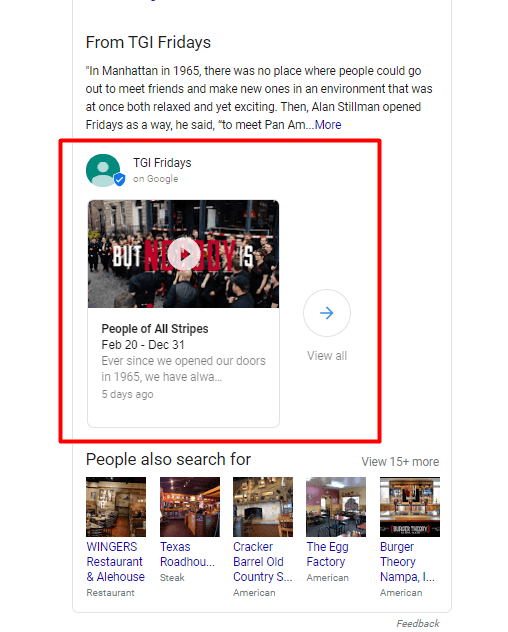 On the other hand, for mobile search, posts will appear in feed format in the "Update" tab of your knowledge panel.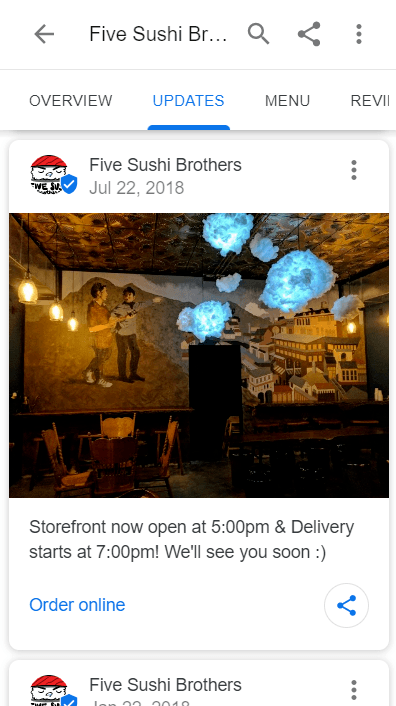 Events
Posts on Google Business Profile also allow you to promote online events on your profile to help gain publicity.
GBP event posts require you to set a title as well as dates and times for the start and end of the event. If you choose not to place start and end dates, the event defaults to 24 hours after posting the event.
Optionally, you can include the location, a photo or video, a description, or a CTA such as "RSVP."
Google also states that if your event meets specific criteria, it can show on the "Overview" tab in your GBP profile. Similar to the "What's New" posts, events will show up in your desktop search knowledge panel, often under your address and hours section.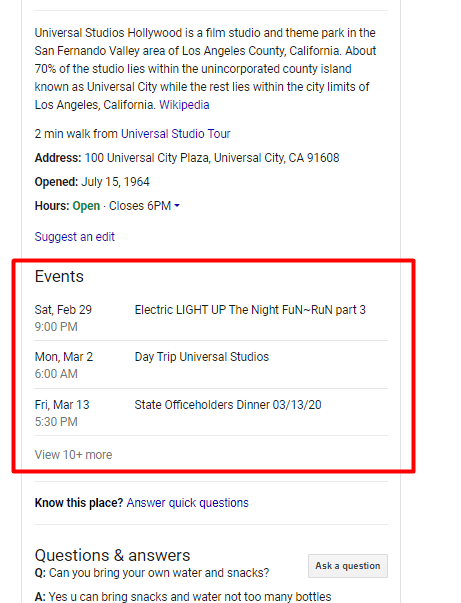 For mobile search, events will show up in your "Updates" tab along with your other posts.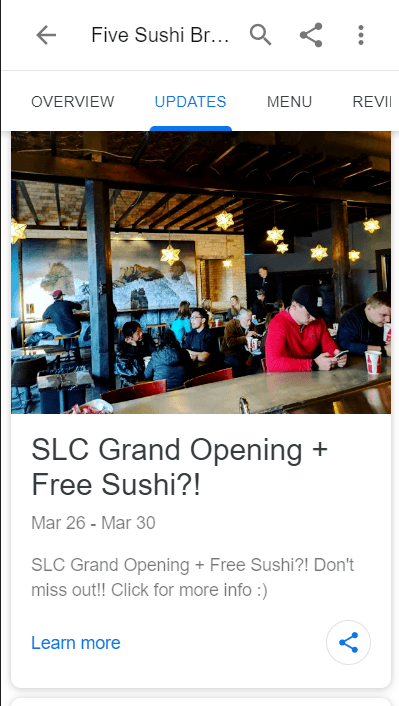 Offers
"Offer" posts on GBP appear similar to "What's New" posts, and they're an excellent means of advertising your deals and promotions for free.
"Offer" posts also require start and end times like event GBP posts.
You also have the option of including links, coupon codes, and terms and conditions in your post. One of the benefits of offer posts is that GBP automatically adds a "View Offer" CTA button. When people click the CTA, it takes them to another page that provides more information, as well as options to take your business up on your offer.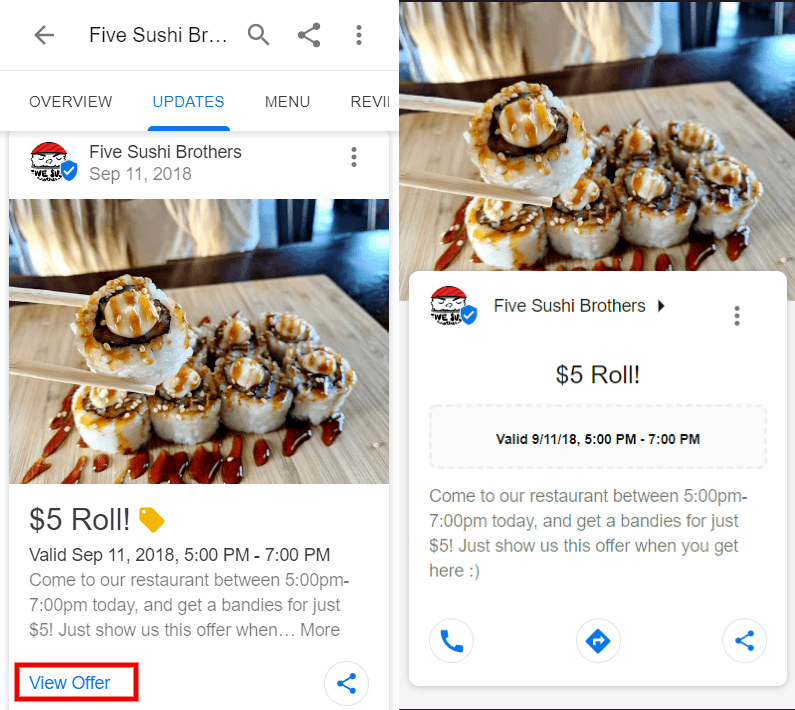 Products
Product posts show up as a carousel catalog rather than a sharable type post like "Offers" and "What's New."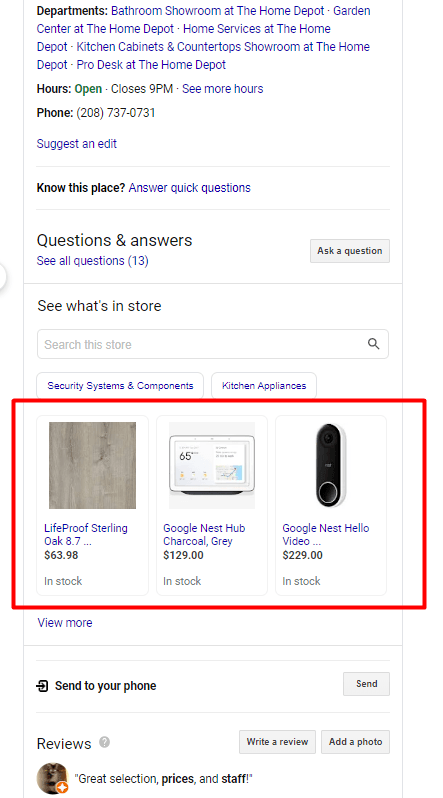 For mobile search, products you post will show up in your "Products" tab on your GBP profile.
With product posts, you can add a product description and a price tag.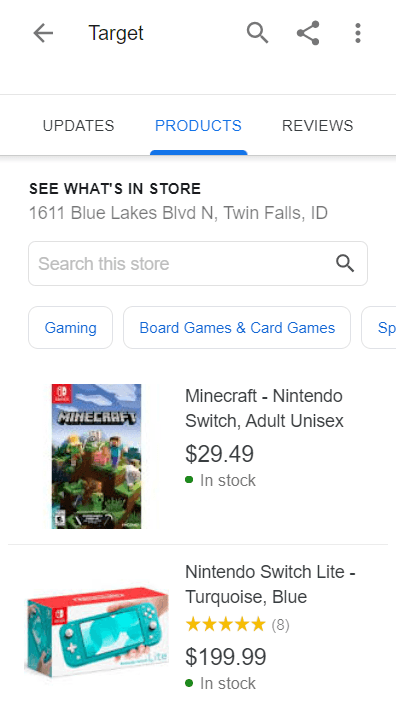 How post time frames work
Posts on Google Business Profile have limited time frames.
The default time frame for posts is seven days after they're published, but Google provides the option to extend a post's active time to fourteen days. Product posts are an exception to the post time frame since they're always active.
There's also a limited amount of room for your post in your business's knowledge panel on search. Posts display from newest to oldest, and only eight posts can appear at one time.
So, even if the time frame for a post has yet to pass, newer posts can still push it out of view.
After your posts expire, audiences can still view them by searching the "Posts" tab on mobile or clicking "View previous updates on Google" on your business's knowledge panel.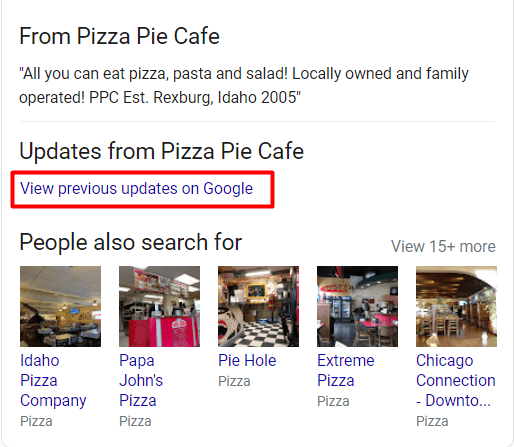 How to create a Google Profile Business Post
GBP posts are relatively simple to create.
Simply:
Sign on to your Google Business Profile account
Select the "Posts" tab from the menu
Select the type of post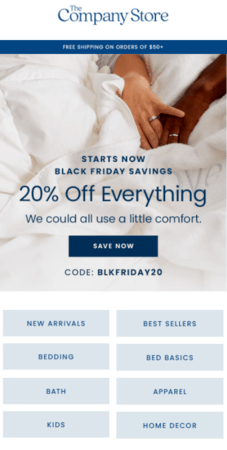 Add a title, description, photos/videos, and CTA
Preview your post and edit as necessary
Select "Publish" when you're ready
Design requirements of a Google Profile Business Post
There are some requirements you have to keep in mind when creating posts on GBP. Media for posts has a minimum and maximum requirement:
Minimum: 400 x 300 pixels and 10 KB size limit
Maximum: 10,000 x 10,000 pixels and 25 MB size limit
Further, each post has a maximum character count of 1500, but best practices indicate that you should use between 150 and 300 characters to provide the best posts.
Keep in mind that Google will often cut off words on desktop, so place your most important information in the first 80 characters. As with any content, you'll want to make sure it's high quality. High-quality content:
Is useful, relevant, and provides helpful information with correct grammar
Features images with high resolution
Uses respectful, family-friendly language and media
Where do customers see your Google Business Profile posts
Your customers can see your published posts in several areas, including knowledge panels in search and the Google Maps app. With search, especially for desktop, your posts will most often appear in queries related to your brand, but it's not guaranteed.
Here are some places customers can find your posts on GBP:
Google Maps app, Overview tab (near the bottom): If you open up Google Maps, find your profile and scroll to the bottom in the Overview tab, you'll see a section labeled "Latest updates from this business" below the "From the owner" description. All your Posts will show here.
Google Maps app, Updates tab: The updates tab in the Google Maps app provides your audience with easier access to your posts than scrolling to the bottom of your Overview tab. If your business doesn't have any posts yet, the tab won't show, but if you do, it'll show right after the Overview tab, giving it much more exposure. Note that mobile search has the same setup with the Updates tab for your knowledge panel.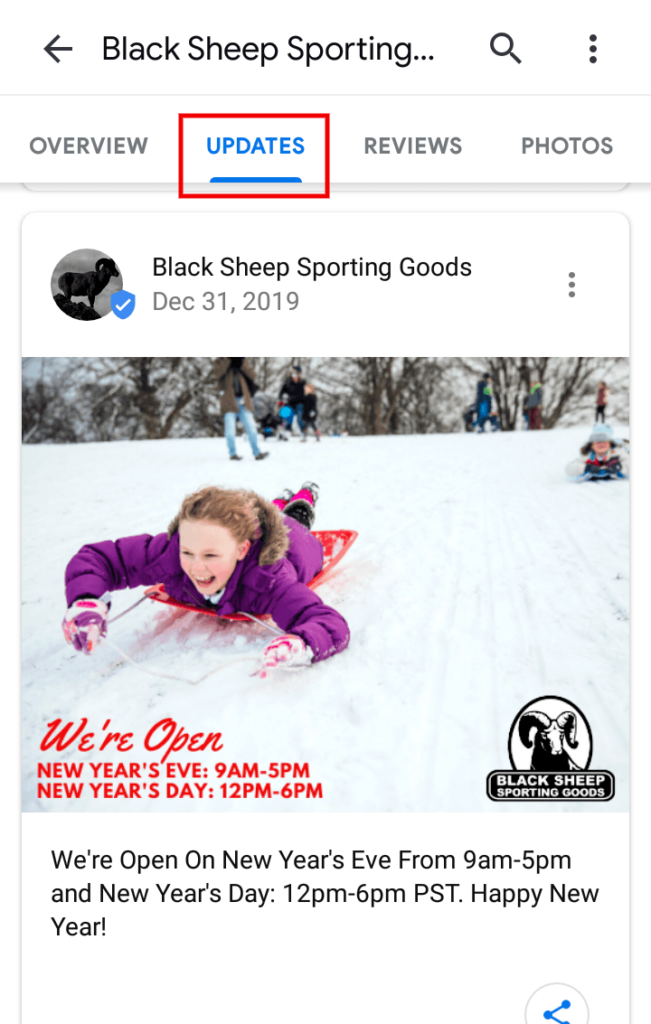 Chrome, desktop search, knowledge panel: Your posts will also show in a carousel in your knowledge panel on the desktop under a section called "Updates from [your business]," often near the bottom of the panel. If your posts are expired, it may show a link to "View previous updates on Google" in that section instead.
Google Maps app, and mobile search, as a Follower: Both the Maps app and mobile search will allow your audiences to follow your business, which lets them receive updates about your posts. In the Maps app, users can head to the Updates tab in the bottom navigation menu (their own Updates tab, not the Updates tab for individual businesses). Heading to the "For You" tab at the top of the screen allows users to see posts from their followed pages and businesses in their area.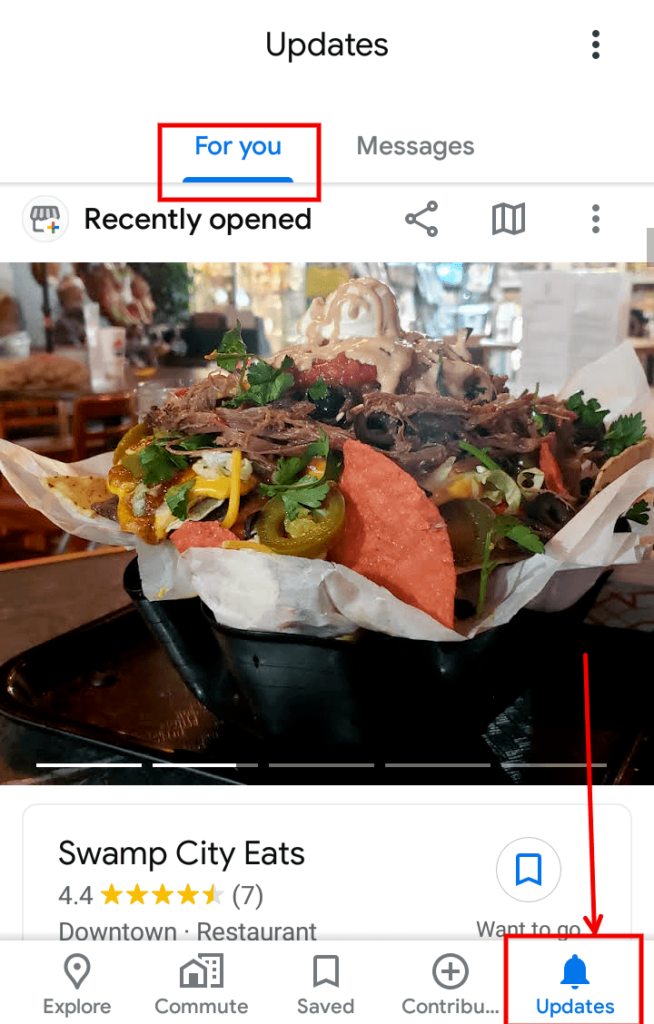 Get started managing your GBP listing with WebFX!
Google Business Profile and local listings change often. With the rise of local search, Google is trying to find the most optimal experience for users.
WebFX can help you stay on top of your GBP optimization. We have over 25 years of experience as a top local SEO agency, and over 1020 satisfied client testimonials, so we know how to drive results for your local SEO campaign.
Contact us online or call us at 888-601-5359 to learn more about our local SEO services!
Get posts by email
Join 200,000 marketing managers and subscribe to Revenue Weekly!
"*" indicates required fields
WebFX Careers
Join our mission to provide industry-leading digital marketing services to businesses around the globe - all while building your personal knowledge and growing as an individual.