Definition: Google AdSense is an advertising program on the Internet that lets websites or YouTubers host ads on their sites or channels to earn money.
Looking for ways to make money from your website, blog, or YouTube videos? After all, you put in the time and effort to create them. Why not let your content drive a profit for you?
You can monetize your site traffic or video views through advertising, and one of the easiest ways to host ads is to sign up for Google AdSense.
Not quite sure where to start? This blog post has you covered! We'll go through these topics:
While you're here, you may want to learn more about pay-per-click advertising (PPC) by downloading our free PPC guide.
What is AdSense?
Launched in 2003, AdSense is Google's advertising program that lets websites and YouTubers host third-party ads on their sites or channels to earn money.
AdSense is used by over 1.2 million U.S. websites. Each year, Google pays about $10 billion to website owners.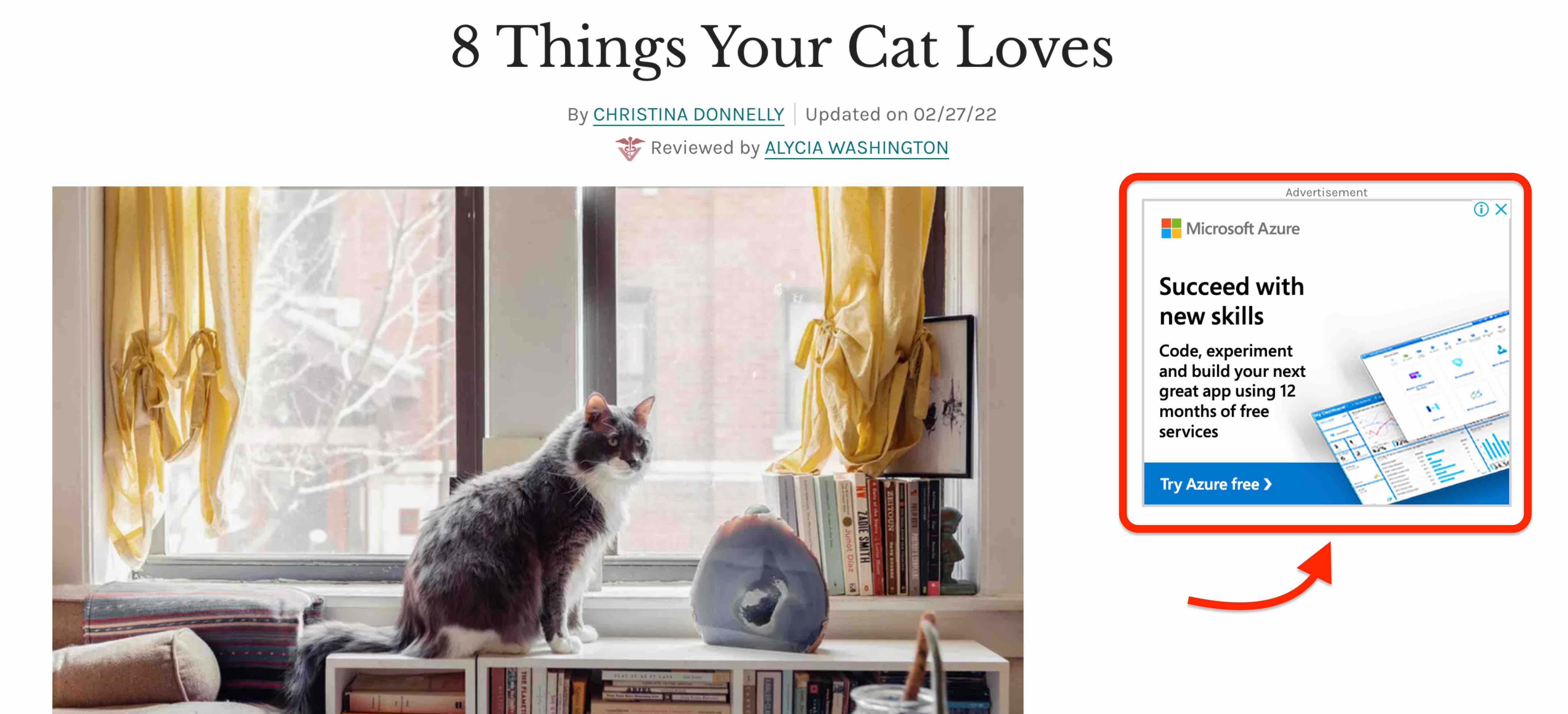 The benefits of using AdSense
Here are five benefits of using AdSense:
AdSense is free: You don't need to spend to sign up for AdSense. A Google account, phone number, and address are all you need to get started.
AdSense is easy to set up: To connect your website to AdSense, just add a piece of code and Google will take care of sizing the ads to fit the desktop and mobile versions.
AdSense lets you monetize your website: One of the most obvious benefits is that AdSense helps you drive a profit through your content.
A variety of advertisers work with AdSense: AdSense lets you choose and display ad content that's relevant to your content and audience.
AdSense offers you a variety of ad formats: Advertisers are allowed to use text, image, HTML, and video ads using different ad sizes. Since you own the site where these ads will appear, you can choose among different ad types and pick ones that deliver revenue.
AdSense provides transparency and security: As an intermediary between the advertiser and the website owner, Google offers transparency to both parties. You can track important metrics within your Google Analytics account.
How does AdSense work?
Getting started with AdSense is simple. After you've created an account, add a snippet of code on your pages. Google will then display ads that are either relevant to your site content or of interest to your site user by basing it on their previous searches.
AdSense works on a cost-per-click and revenue-sharing basis. When your site visitors click on the ads, you will get paid. The more traffic your website gets, the more chances the ads will have to get clicked.
In the past, each page was allowed to have only three ad slots for AdSense. Today, there is no limit. However, take into consideration your user's experience and make sure your page isn't stuffed with ads.
Here are the different ad sizes you can experiment with on your pages:
| | |
| --- | --- |
| Ad Format | Ad Size |
| Leaderboard | 728×90 |
| Large rectangle | 336×280 |
| Medium rectangle | 300×250 |
| Mobile banner | 300×50 |
| Wide skyscraper | 160×600 |
How to make money with AdSense
Advertisers are charged per ad click. Google shares the profit with site owners. For display ads with AdSense content, site owners receive 68% of the revenue. AdSense for search, meanwhile, gives site owners 51% of the revenue.
The site owner's commission's exact amount depends on various factors like competition and the cost per click in the niche. A site owner's commission per click is typically less than $3.
If you own a blog and you're wondering how you can make money with AdSense, here are six tips:
Let's go through each one:
1. Check how much you could earn from AdSense
Each niche topic has a different revenue potential. If you want to find out your website's potential earnings:
Go to Google's AdSense homepage.
Under Drive Revenue, select your region and category.
Indicate your site's monthly page views using the slider. Google AdSense will show your estimated annual earnings.
Other factors affect your potential revenue, and the figures shown are estimates only. You can use this estimate as your benchmark when you start using AdSense.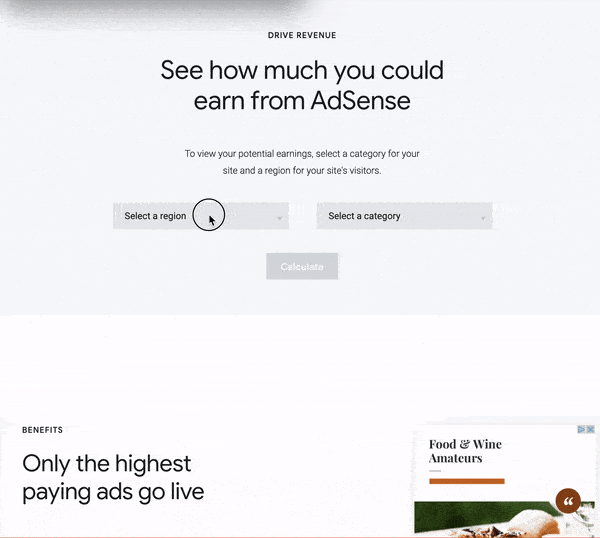 2. Adhere to AdSense Program Policies and Google Webmaster Policies
Do not artificially increase the number of ad clicks on your site. Site owners shouldn't encourage site visitors to click on the ads. You shouldn't click on them yourself, either.
These guidelines are covered in the AdSense Program Policies. Suspicious clicks on your ads can get your account disabled, and you won't be eligible to use AdSense again.
Comply with Google's Webmaster Policies. These are general best practices to make sure your website isn't violating any guidelines.
3. Create relevant and helpful content for your audience
The more traffic your website gets, the more chances your ads will get clicks. The best way to bring traffic to your site is to publish content that your target audience will find useful.
For example, let's say you own a fitness blog that focuses on running. Publish content that fitness and running enthusiasts will find useful.
Do running shoe reviews get a lot of views? Consider publishing more of that type of content.
4. Optimize your site for mobile
Did you know that 52% of all website traffic comes from mobile phones? Make sure your website is catering to these users. Your ads should also be responsive so that the appropriate ad sizes are shown on your site when viewed from a mobile device.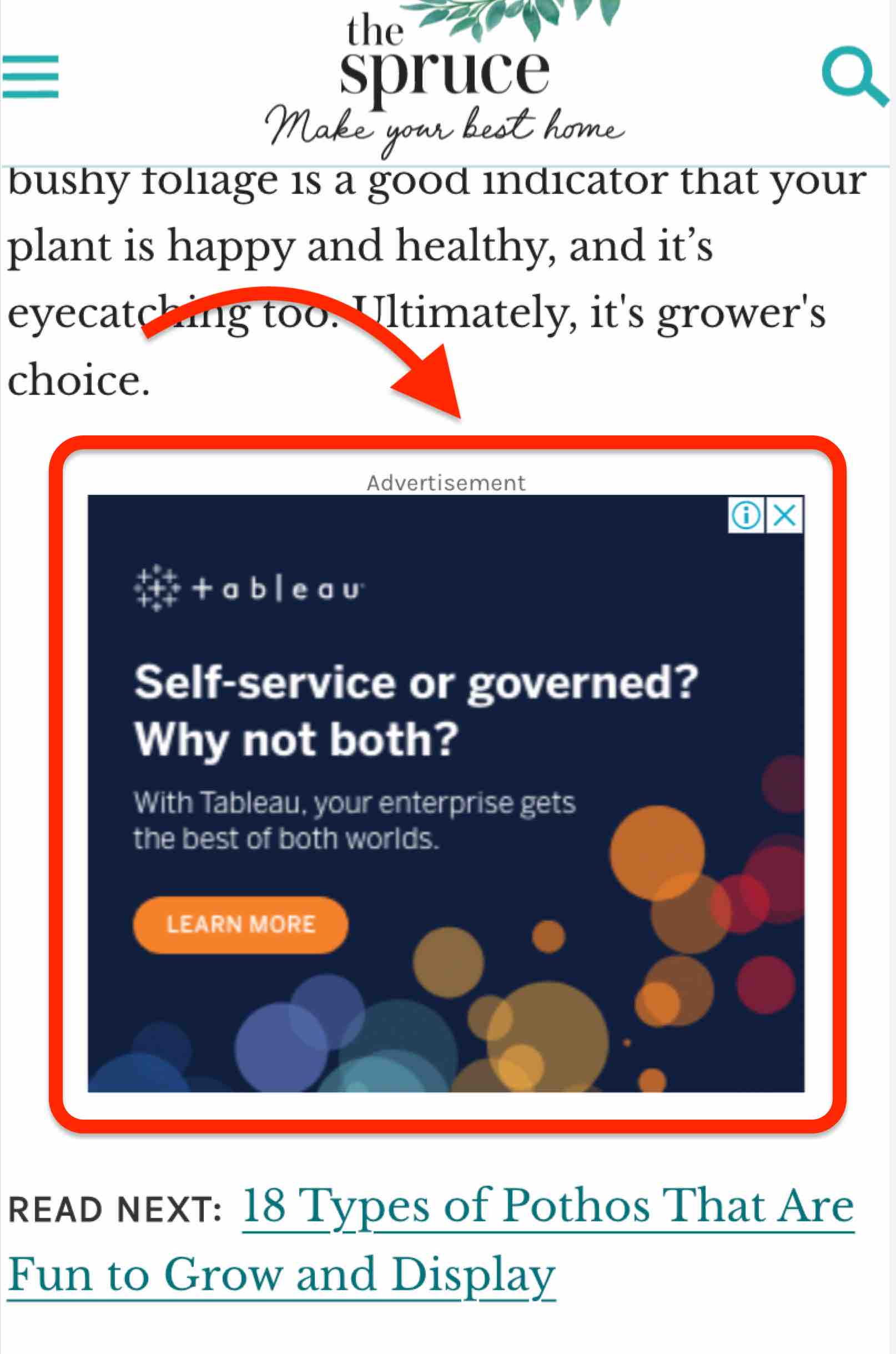 5. Have ads above the fold
The phrase "above the fold" describes the section of your page that is viewable without having to scroll. Show at least one ad before a user scrolls further down the page.
This way, your visitors who left your page without scrolling would've seen — or clicked — this prominent ad. Ads placed above the fold also get maximum attention, so they have the potential to have a high click-through rate.
6. Perform testing and monitor your results
Test different ad types to find out which ones garner the most clicks. By testing different ad sizes and placements, you'll discover which ones work best for your audience.
Monitor your results and analyze your data in Google Analytics. Check your earnings, number of clicks, and number of page views.
Learn more about online marketing with Revenue Weekly
Now that you know how to make money with AdSense, it's time to get started! Learn more about the latest digital marketing trends, including AdSense updates, by subscribing to our free newsletter, Revenue Weekly.
WebFX Careers
Join our mission to provide industry-leading digital marketing services to businesses around the globe - all while building your personal knowledge and growing as an individual.