When you're optimizing your website to help your business appear in search results, it's likely that your ultimate goal is to achieve the number one spot in search engine results page (SERPs). This top position earns 34% of clicks on desktop and 31% on mobile. But did you know that the CTR for that top position drops by 8% when the results have a featured snippet? This drop occurs because more people click on the featured snippet than an organic result.
*Changes goals to rank for featured snippet instead* So, what are featured snippets, and how can you rank for them? On this page, we'll answer the question "what are featured snippets" and provide you with four tips on how to optimize your website to increase your chances of appearing in this snippet.
Time to Level Up Your Sales
Our long list of services helps you grow every aspect of your business with marketing strategies that are proven to increase bottom-line metrics like revenue and conversions.
In the past 5 years, we've managed more than 12.9 MILLION transactions across our client base.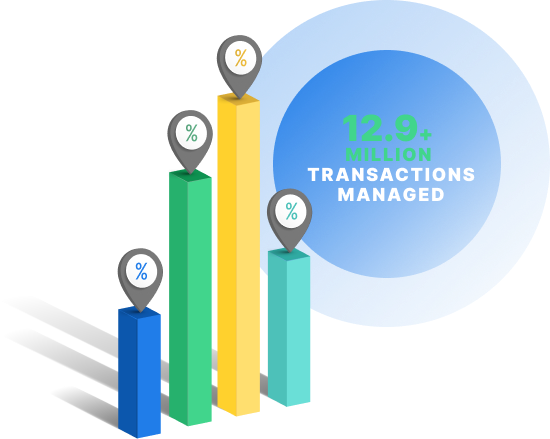 What are featured snippets?
By definition, featured snippets are boxes that appear at the top of the search results and provide users with vital information. This information is pulled from a relevant website in the search results and features a small segment of information from that site in addition to a link to the source.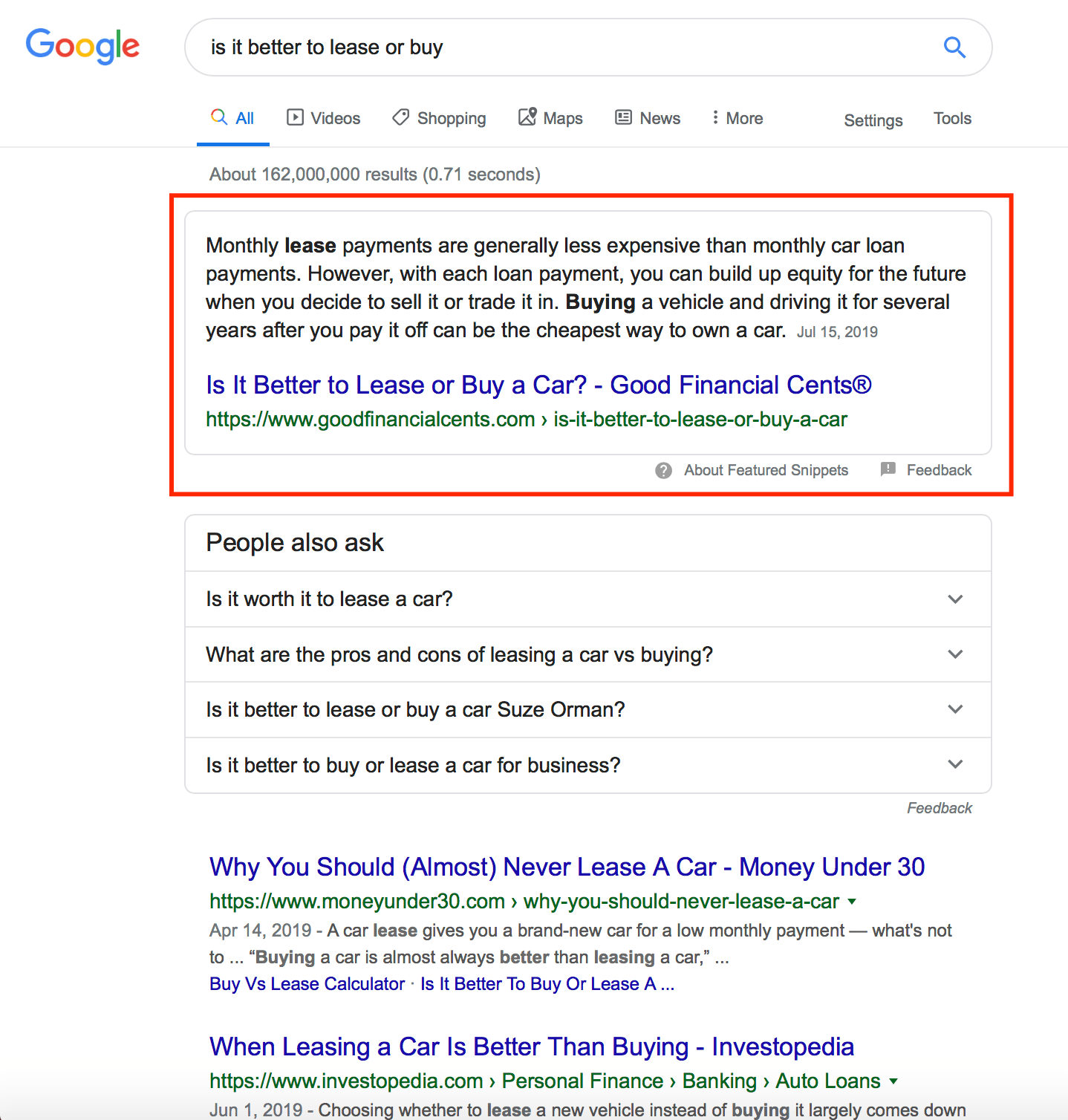 The featured snippet will always appear above the organic listing, but below paid listings.
This search feature is separate from organic listings, so it doesn't bump organically ranking websites out of the top page of results. As a result, the featured snippet is also known as "position 0" because it doesn't alter the rankings of the top 10 results. Since this result appears at the top of the organic listings, many businesses aim for this position to gain more exposure and drive more traffic to their pages.
Types of featured snippets
There are three main types of featured snippets:
Text: These featured snippets contain a paragraph of text that answers the user's question.
This Google snippet sometimes features a photo to go along with the text.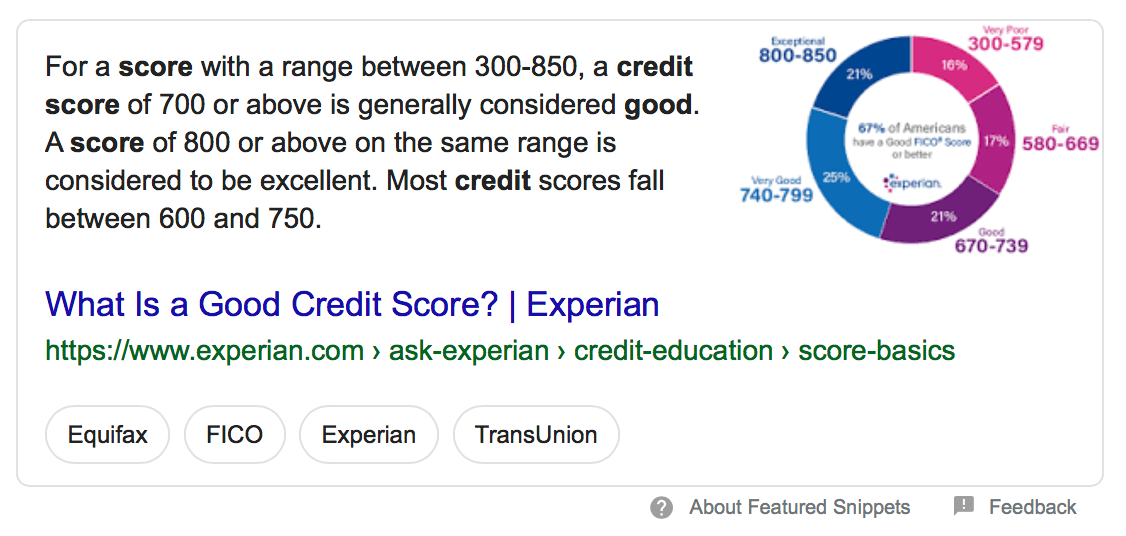 List: With list featured snippets, the result appears with a numbered or bulleted list.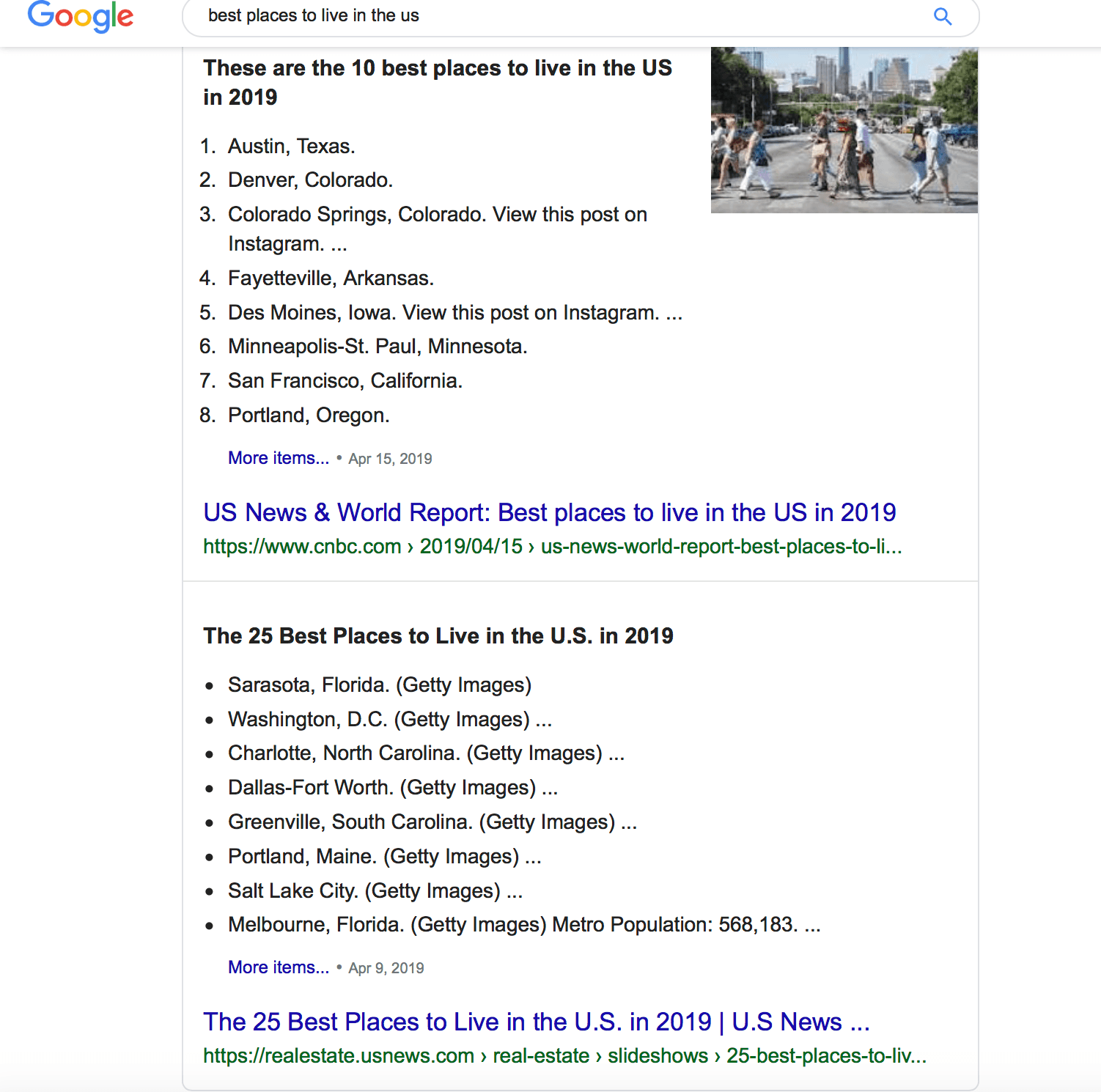 Table: With table snippets, the results appear as a comparison chart. These featured snippets typically contain information like price comparisons, rates, years, and other numerical data.
It's beneficial to know and understand the three types of featured snippets so that you can format your pages accordingly in order to rank for each.
Why do featured snippets matter?
Featured snippets are essential to your business because they help you increase brand exposure and drive more valuable leads for your business. Since these snippets appear at the top of the organic listings, more people engage with them.
It's the first thing people see, so they're more likely to read the information in the snippet. Even if users don't visit your website through the featured snippet, they're still gaining exposure to your brand. On the other hand, some leads will find your featured snippet helpful and want to read more.
In this case, you're driving valuable traffic to your website. Building brand exposure and gaining valuable leads will help your business grow online. Additionally, featured snippets are important for voice searches.
When users conduct a voice search, most voice search devices pull their response from featured snippets. This process creates an additional opportunity for brand exposure.
How do I earn the featured snippet position?
Now that you know the importance of the featured snippet, it's time to optimize your content in order to earn it. Unfortunately, there is no secret formula to guarantee that you'll get the position.
The best strategy is to follow best practices to try to earn this position, but bear in mind that even following best practices doesn't ensure you'll earn the featured snippet. To help you increase your chances of earning the featured snippet, follow these four best practices.
1. Find the right keywords for your pages
The first step to earning the featured snippet position is choosing the correct keywords. You'll want to create content that targets your most valuable keywords so that you can drive qualified traffic to your website. To find the right keywords, conduct keyword research.
Keyword research helps you find relevant keywords related to your industry and business. It's essential to choose the right keywords so you can create valuable content related to your business. As you conduct keyword research, focus on long-tail keywords.
Long-tail keywords, which contain three or more words, will drive better results for your business. These keywords help drive more interested traffic for your organization. A long-tail keyword, like "how to bake chocolate chip cookies," is specific and shows your user search intent.
When someone searches this key term, you know they want to learn how to make chocolate chip cookies. The search intent is clear, and as a result, you could optimize your content to match that search intent and be more likely to appear in a featured snippet. When you conduct keyword research, you'll find more relevant terms for your page.
It will help you appear in more relevant search results and optimize your content to answer essential questions from users.
2. Answer questions directly and clearly
If you want to appear in more featured snippets, you must answer search queries clearly and directly. Google wants to provide the best answer in the fewest words. Don't add fluff to your content, but rather provide your audience with direct answers.
Let's say you're a carpet company that's creating content about stains in carpets. Someone searches "best way to clean stains from carpet." The current featured snippet is an excellent example of answering the query directly.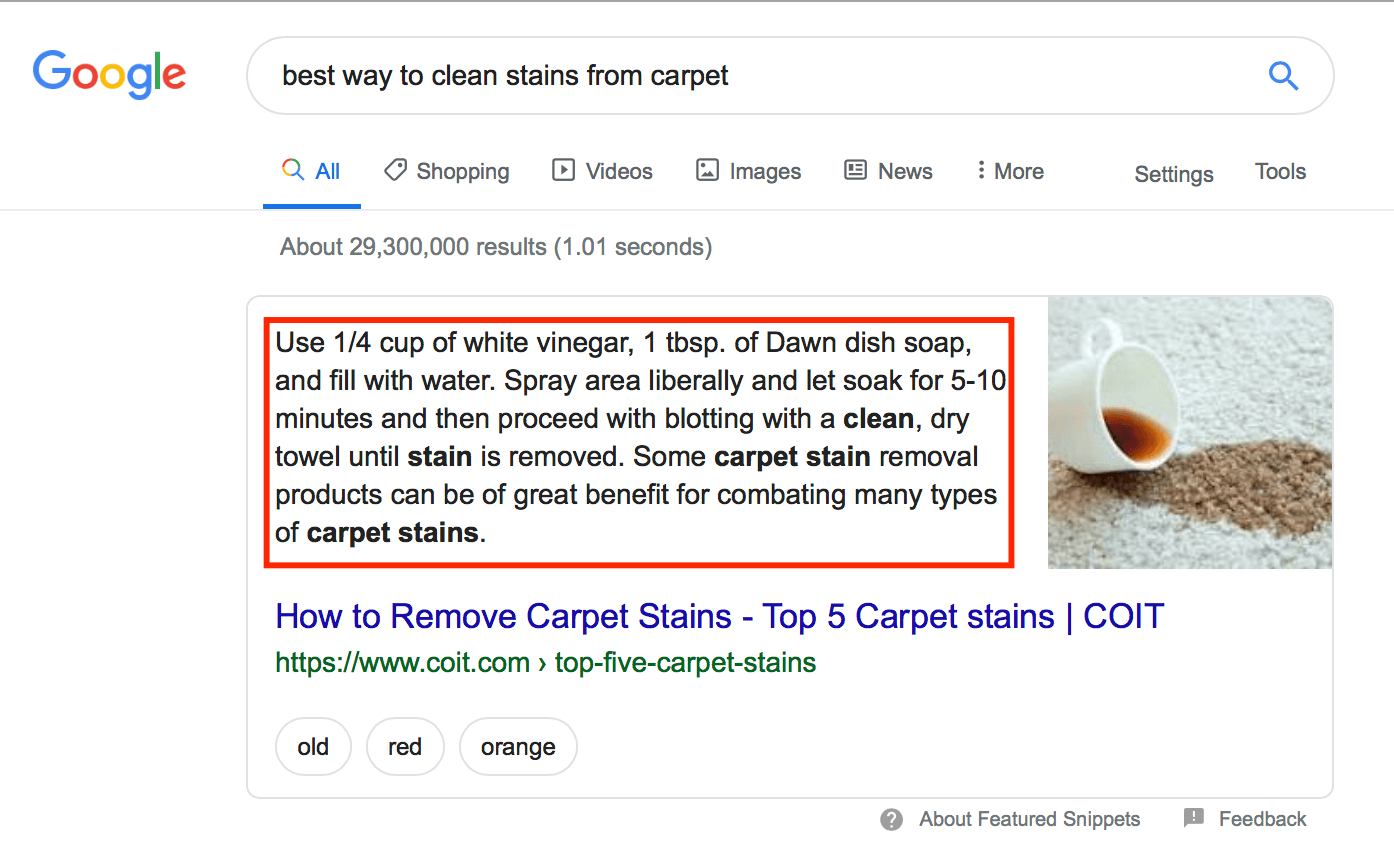 In this example, COIT provides users with an immediate solution: use ¼ cup of white vinegar, 1 tbsp of Dawn dish soap, and water.
You put it in a water bottle, spray the stain, soak it, and then blot clean with a towel. This featured snippet provides users with a fast solution right off the bat. So, let's look at an example that wouldn't be a featured snippet for this query: There are many ways to remove carpet stains.
One great solution is to use vinegar with Dawn. Vinegar is a great cleaning additive because it lifts stains quickly. You can use vinegar for numerous carpet stains, including coffee, marinara sauce, and orange juice.
To get out the stain, you'll need a ¼ of vinegar. Next, you'll add Dawn. Dawn dish soap is… As you can see with this example, the information isn't relevant to the user's search query. They want to get the stain out of their carpet and do it fast.
In this example, there's too much time spent on how great vinegar works, rather than focusing on the combination of ingredients to use and how to apply them. By focusing on answering questions directly and concisely, you'll increase your chances of appearing in Google featured snippets.
3. Follow SEO best practices
If you want to appear in more featured snippets, follow SEO best practices. If you have a page that optimizes for SEO, you're more likely to rank in the search results and become the featured snippet. Here are a few best practices you can follow to optimize for SEO:
Improve page speed: Users don't want to wait for your pages to load to get your content. By improving your page's load time, you'll provide your audience with a better experience and keep leads on your page longer. Longer dwell time will help you rank better in the search results, which will increase your chances of appearing in the featured snippet.
Match user search intent: If you want to appear higher in more relevant results, match the user search intent. When you create a new page, look at the current search results, and see why those pages rank at the top of the search results. It will help you understand the intent of the search so that you can match it better.
Make navigation easy to use: If you want users to spend more time on your site and check it out, you must make your navigation easy to use. Users don't want to struggle to find information on your website. If you make your navigation simple and easy to use, your audience will engage on your site longer, which improves your ranking in the search results.
Break up the text on the page: Avoid long paragraphs on your page since they overwhelm readers and don't work well as featured snippets (average snippet word count falls between 40-60 words). Having smaller sections will make you more likely to appear in the featured snippet and provides your audience with a better experience in trying to digest your information.
By following SEO best practices, you'll make your pages more likely to appear in featured snippets.
4. Analyze your competition
When you're trying to rank in the search results and obtain the featured snippet, it's essential to understand who's already ranking in the search results. What questions does your competition answer? As you browse the top-ranking pages, see how they structure their content and the questions they answer.
This process will help you understand what you need to include in your article to help you rank in the search results. By analyzing your competition, you'll help your business create better content that ranks better and is more likely to appear in featured snippets.
Our digital marketing campaigns impact the metrics that improve your bottom line.
See More Results

WebFX has driven the following results for clients:

$3 billion
In client revenue

7.8 million
Leads for our clients

5.2 million
Client phone calls
Start optimizing your content for featured snippets today
Featured snippets help you increase business brand exposure and drive more leads for your business. It's an excellent opportunity to put your business at the top of the organic results.
If you aren't sure how to start optimizing your content for featured snippets, WebFX can help. We have a team of over 500 content experts that will help you optimize your content to rank better in the search results. With over a decade of experience, you can count on us to deliver an SEO plan that helps your content rank better.
Want to learn more about how you can create featured snippet-worthy content? Contact us online or call us today at 888-601-5359 to speak with a strategist about our featured snippet creation & optimization services and custom SEO plans.
WebFX Careers
Join our mission to provide industry-leading digital marketing services to businesses around the globe - all while building your personal knowledge and growing as an individual.