Responsive Display Ads: Your Starter Guide
Responsive display ads changed the way advertisers approached pay-per-click (PPC) advertising.
With responsive ads for the Google Display Network (GDN), your business can create and launch visual ads fast. Plus, you can use machine learning to discover which copy, images, and videos perform best with your audience.
If you're looking to use Google's responsive display ads (which are different from responsive search ads), then this guide is for you.
Keep reading to learn more about responsive display ads, from what they are to how to create them. Get tips too, so that you can launch your first campaign with success. If you need professional help with creating and managing your Google ads, contact us online or call us at 888-601-5359 to learn more!
Our digital marketing campaigns impact the metrics that improve your bottom line.
See More Results

WebFX has driven the following results for clients:

$3 billion
In client revenue

7.8 million
Leads for our clients

5.2 million
Client phone calls
What are responsive display ads?
A responsive display ad is a visual advertisement that automatically adapts its size, format, and appearance to fit an ad space, like on a website. Responsive ads for the Google Display Network feature a headline, description, and multimedia, like an image, logo, or video.

What are Google responsive display ads?
Google's responsive display ads differ from traditional ones because they change and test creatives automatically. For example, Google can experiment with different headline, description, and multimedia combinations to determine which arrangement drives the best results based on your campaign goals.
What do responsive display ads include?
A responsive display ad features four core elements: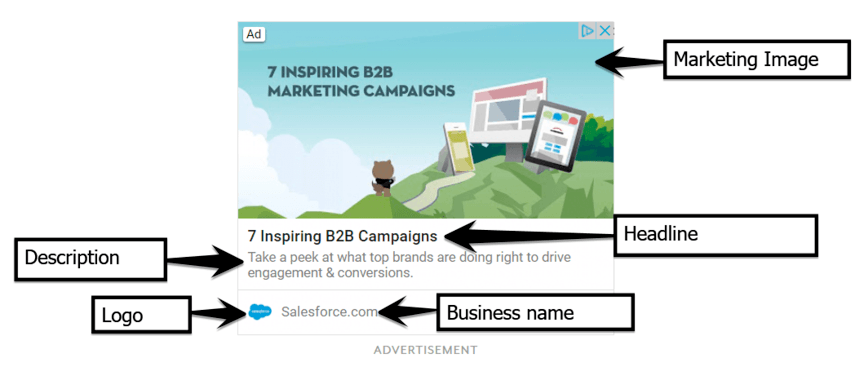 | Element | Max Number | Character Limit | Example |
| --- | --- | --- | --- |
| Headline | 5 | 30 | Get 25% Off Your Order |
| Long headline | 1 | 90 | Get 25% Off Your First Order Today |
| Description | 5 | 90 | Order by 1/1 to get 25% off your first order. Spend $50 for free shipping! |
| Business name | 1 | 25 | MyStore |
Every responsive ad also includes one of the following creative assets:
| Element | Max Number |
| --- | --- |
| Marketing Image | 15 |
| Logo | 5 |
| Video | 5 |
What are the specifications for Google's responsive display ads?
If you want to use Google's responsive display ads, great! They're an ad format worth your time. Since they include creative elements like images and video, though, you want to review Google's requirements before developing these assets and setting up your campaign.
For responsive display ads, Google offers the following image specifications:
| Multimedia | Suggested Dimensions | Maximum Size |
| --- | --- | --- |
| Landscape marketing image | 1200x628 pixels | 1 MB |
| Square marketing image | 1200x1200 pixels | 1 MB |
| Logo | 1200x1200 pixels | 1 MB |
| Landscape logo | 1200x300 pixels | 1 MB |
| Video | 1920x1080 pixels | 128 GB |
Even if you meet the suggested dimensions, Google admits that it will sometimes crop your image horizontally. At most, it will crop your image by five percent on the left and right sides. Keep this factor in mind when designing or choosing your ad images.
Google also prohibits:
Text, including logos with text, that covers more than 20% of your image
Animated images or GIFs
Misleading content
Adult content
Irrelevant content
Blurry images
Responsive display ads for Google Ads must also use:
Correct spelling, clarity, and capitalization
Proper trademark use for ad text, assets, and business information
Use the above specifications to brainstorm and create your responsive display ads.
How to create responsive display ads in Google Ads
Now that you know the requirements for responsive display ads, you're ready to create your first set.
We've outlined the steps in the short video below if you'd prefer to learn in that format.
Get started by following these initial steps:
Log into your Google Ads account
Choose "Display campaigns" from the left-hand navigation panel
Select "Ads & extensions" from the left-hand page menu
Click the "+" button
Pick "Responsive display ad"
Choose your ad group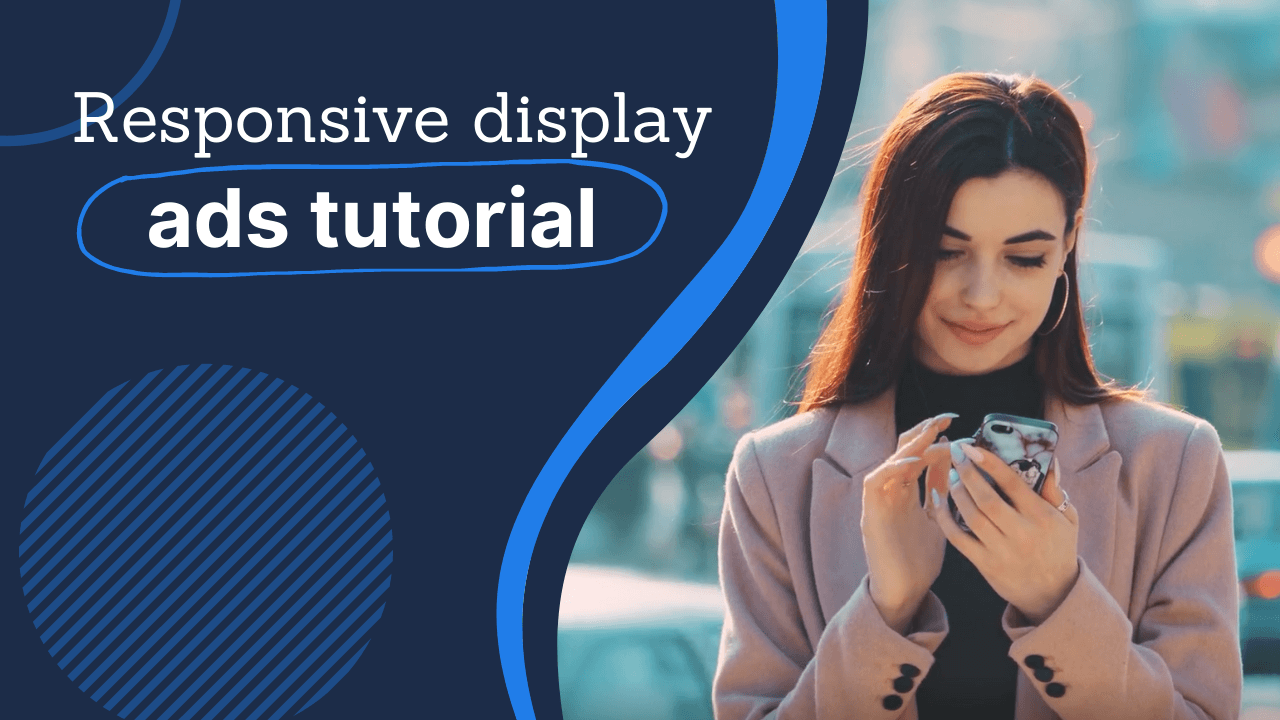 Once you complete those steps, you can add the following:
Final URL
Images
Logos
Videos
Headlines
Descriptions
Business name
Custom colors
Learn more about these steps in-depth below: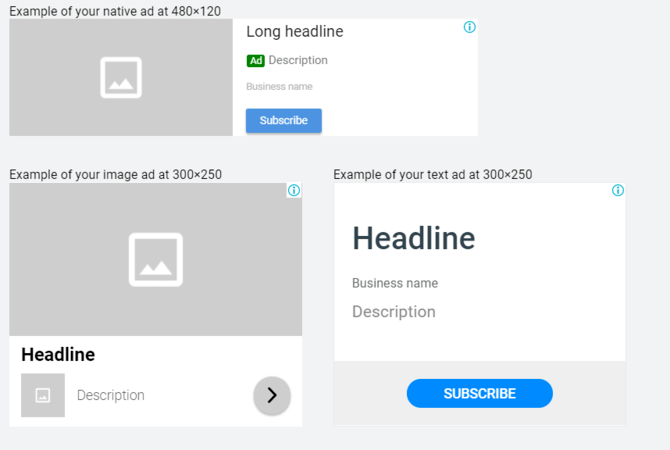 Your final URL is your landing page. This page is where users will "land" after clicking your ad.

Before you launch your ad campaign, you should coordinate your landing page with your ad content. That's because your landing page should support your ads. If you're advertising a sale for shoes but send users to a blog post about trendy shoes for the summer, your ad won't work.
While you can use a page already on your website as your landing page, you may also create a custom landing page. A custom landing page is optional, but it can help you personalize your ads, which can drive users to action.
Upload your images and logos
Next, you want to upload your images and logos to your responsive display ad.

Google requires that you add at least one landscape and one square image to your ad. Logos are optional, but they're worth uploading. A logo can help users build brand awareness and recognize your company.
Remember to follow Google's specifications for images and logos:
| Image / Logo Type | Suggested Dimensions | Maximum Size |
| --- | --- | --- |
| Landscape image | 1200x628 pixels | 1 MB |
| Square image | 1200x1200 pixels | 1 MB |
| Logo | 1200x1200 pixels | 1 MB |
| Landscape logo | 1200x300 pixels | 1 MB |
If you have text on any images, make sure it covers less than 20% of your image.
You can upload up to 15 images and five logos for your responsive display ad. Take advantage of this amount. The more assets you provide Google with, the more testing it can do to find the perfect combination of creatives.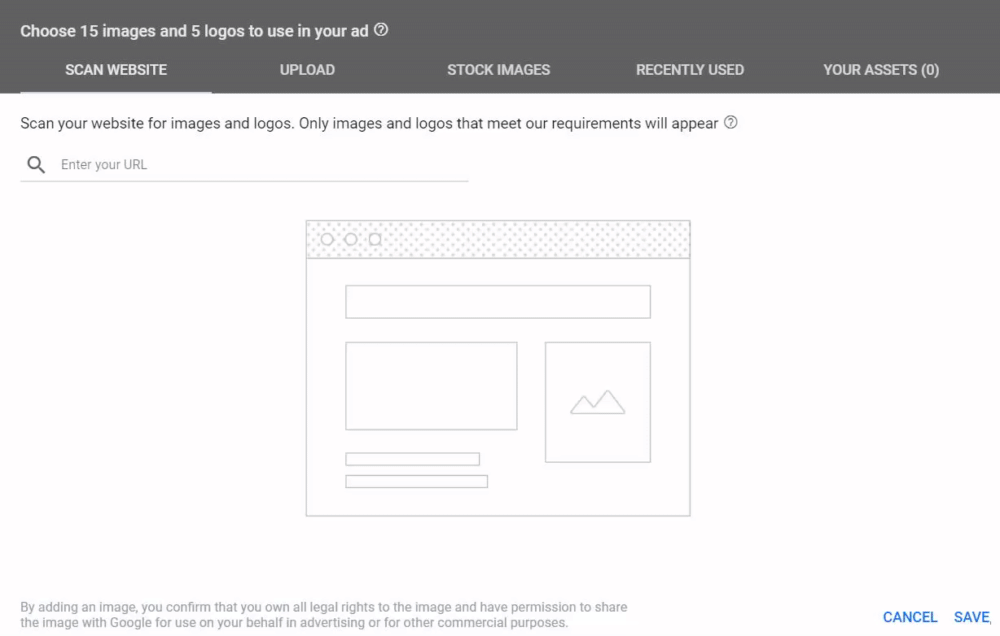 Google also gives you a few options for adding images, including:
Website: Enter a URL (preferably one from your website), and Google will pull images and logos from the page. Google will only offer to upload images that meet its file size and dimension requirements.
Upload: Add images manually by uploading them from your computer. If you created custom images for your ad campaign, use this option. You can also drag-and-drop images to upload them.
Stock images: Type words, phrases, or URLs related to your company, products, or services to find relevant stock images. In some cases, Google will suggest stock images that require purchasing.
If you have similar campaigns running, you can also choose "Recently Used" to access past assets.
While optional, videos can help engagement on your responsive display ads.

Unlike images and logos, you cannot upload videos to Google Ads. Google requires YouTube videos. That means you will need to upload your video (you cannot use videos you do not have rights to) to YouTube to use it for responsive display ads.
You can add up to five YouTube videos to your responsive display ad.
If you use videos, a video will display alongside your logo and one of your marketing images.
Once you upload your images and videos, you can start writing headlines.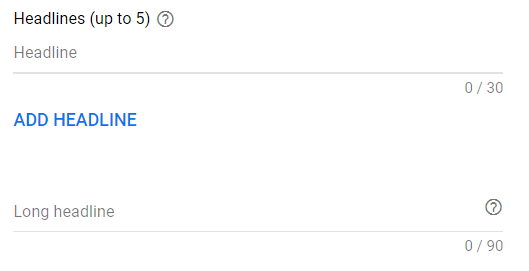 While you can write your headlines within Google Ads, it's often more productive to write them beforehand. When you're in Google Ads, you're focused on launching your ads, which can make it difficult to produce original and unique headlines.
Use a character counter tool to write your headlines ahead of time.
Google allows up to five 30-character headlines and one 90-character long headline.
In most cases, your ads will display with your 30-character headline. Specific ad placements, however, may give Google the chance to show your 90-character headline. Some ad slots will even lead to your headline getting snipped with an ellipsis, so think about how you structure your headlines.
Since Google will mix-and-match headlines, try and write unique ones.
Take different angles, for example.
If you're promoting a sale, for instance, you could try headlines like:
Get 25% Off Your Order
The Sale of the Season
25% Off Sitewide
Treat Yourself Today
Spend around 30 minutes generating some headlines to get your responsive display ads started.
After building your headlines, you should write your descriptions — before you log into Google Ads.

Google allows up to five 90-character descriptions. Like your headlines, you want to experiment with different descriptions. These descriptions, for example, can mention different selling points, uses, or promotions to push users to click.
As you write descriptions, though, remember that Google will mix-and-match them with different headlines. Avoid making your descriptions a perfect match to a specific headline. If you do, you could set some descriptions or headlines up for failure.
Finally, enter your business name.

If your company or brand name is less than 25 characters, this step is easy.
Should your organization have multiple names or nicknames, use the one that users will know. For example, if your company's legal name is "MyStore Inc.," you'll probably enter "MyStore" as your business name for your responsive display ads.
If your brand name is over 25 characters, this field is optional — you can skip it.
With your creative assets, headlines, descriptions, and business name added, you can move onto your CTA. Unlike your headlines and descriptions, you do not have to write your CTA. Google provides a list of CTAs to use.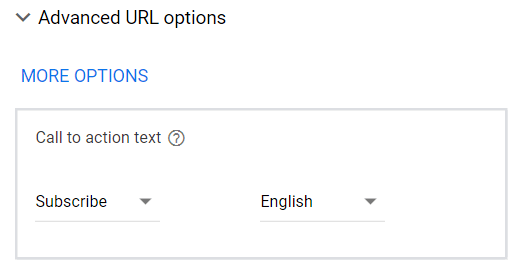 The available CTAs include:
Apply Now
Book Now
Contact Us
Download
Learn More
Install
Visit Site
Shop Now
Sign Up
Get Quote
Subscribe
See More
Google also offers an automated option, which is where Google will test the CTAs to find the best one.
If you don't see a CTA that aligns with your ad, don't add one. You may, however, want to rethink your ad and strategy because the provided CTAs cover almost all the actions that advertisers need users to take, from contacting to purchasing to visiting.
For Google's responsive display ads, you can also select custom colors.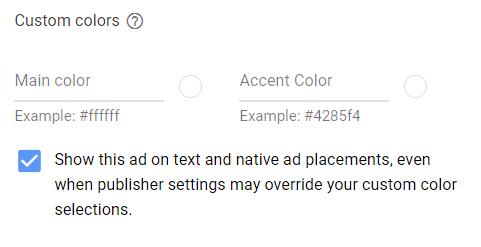 While optional, taking advantage of this setting can help your business increase branding for your ads. You can use your brand colors, for instance. For the best results, choose a main color (like from your logo) and an accent color (like from your branding guide).
When selecting colors, know that your ad will not always display with these colors. Your ad's placement, for example, may result in different colors due to that publisher's settings. While you can prevent your ad from displaying on sites that override your colors, this choice limits your reach.
After you complete all the above steps, you can click "Save" and launch your ad!
5 reasons to use responsive ads for your ad campaigns
If you're not sure about responsive ads for your ad campaigns, consider these five benefits:
1. Deliver top-performing ads
Responsive display ads get advertisers excited because of machine learning.
Machine learning is a powerful tool in Google's toolkit because it helps advertisers drive better results and create stronger ads, which makes shoppers and advertisers happy. Not to mention Google, which earns a significant amount of its revenue from Google Ads.
Using machine learning removes the guesswork that comes with creating ads.
You don't have to wonder which copy, images, or videos work best because Google does the work for you. Google can tell you which assets and which combination of assets work well, which saves you a tremendous amount of time.
Plus, it gives insight into your audience and what gets them to click and convert.
2. Expand an ad's reach
With responsive display ads, you can increase the reach of your ad and assets.
Before responsive display ads, advertisers needed to create individual creatives for each possible placement. For advertisers (and Google), this situation resulted in dozens of creatives and ad possibilities but prevented machine learning testing.
Now, however, you can use a single set of assets for multiple ad placements.
This new design allows you to take advantage of machine learning, as well as expand the reach of your responsive assets. Instead of you relying on a graphic designer to adapt your ad to different placements, you rely on Google to adjust your ad.
3. Eliminate time-consuming ad creative processes
Time is a massive benefit of Google's responsive display ads.
Previously, designers would need to create ads for each potential dimension. Now, however, designers can deliver designs in the two suggested dimensions (1200×628 pixels and 1200×1200 pixels) and count on Google to adapt the images to all the sizes or ad placements.
With responsive display ads, you make your life and your designer's easier.
4. Take advantage of dynamic remarketing
Dynamic remarketing is a useful advertising strategy that you can use with responsive display ads.
With remarketing, you re-market your business to a user that previously interacted with your business in some way, like by viewing a product page or adding a product to their shopping cart. Remarketing gives your company a second chance to secure a sale or lead.
You can use dynamic remarketing with your responsive display ads by linking a feed to your ad campaign. This feed will contain your products or services, though you can customize it to include other items, like job openings.
No matter what you add to your feed, make sure it relates to your linked ad campaign.
When users become a part of your remarketing audience, like by viewing a specific product, your responsive display ads can use dynamic remarketing. This remarketing strategy will advertise the product viewed by that user, which can encourage them to return to your website and make a purchase.
5. Get actionable audience insights
Responsive ads are also useful because you can see the individual performance of various assets.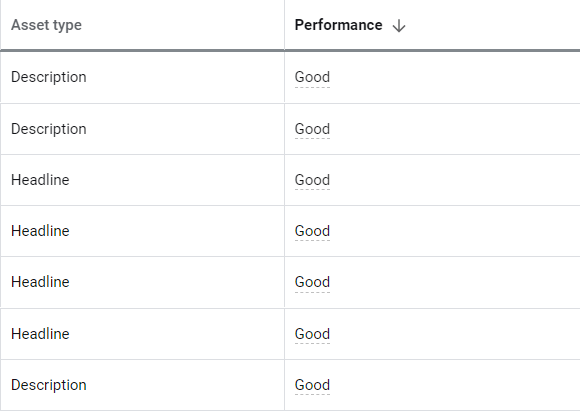 For example, in addition to viewing which combination of assets performs well, you can also see how assets performed by themselves. This feature can help you spot videos, images, headlines, or descriptions that engage users.
When looking at asset performance, wait at least a week before making any decisions.
Keep in mind that your audience size can also impact the turnaround time for your asset's performance grade. If you have a small audience, it may take Google longer to assess the real performance of your asset.
No matter your audience size, this feature of responsive ads is a significant perk.
3 tips for making your responsive display ads 10x better
If you're looking to make the most of responsive display ads, try these three tips:
Preview your ads
When you create responsive ads, preview them before launching.
Seeing how your ads will display on mobile and desktop devices can improve your ads. You may decide to tweak some ad copy, for instance, or use a different image to make the ad more persuasive and attractive.
Use ad rotation
Your ad rotation settings can provide you with better insight into your ad assets and their performance. By default, Google shows the best performing version of your ad. The problem, however, is that this setting places new creatives at a disadvantage because they're new and not a top performer.

Change your settings to "Rotate ads indefinitely," to get faster data on newer ad assets.
You can update your ad rotation settings by going to your ad campaign's settings and choosing "Ad rotation." If you aren't proactively managing your campaign and ad assets, do not use this setting. Instead, stick with, "Prefer best performing ads."
Combined with frequency capping, you can use ad rotation to combat ad fatigue.
Update your assets
Ads can always become one percent better.
That's why you want to try new creative assets continuously. Keep your top performers, but place them in competition against new headlines, descriptions, and multimedia to see if you can find a new top performer.
Traffic attracted through PPC advertising yields 50% more conversions than organic advertising.
Are you leveraging PPC in your marketing efforts? Let's get started.
View the Guide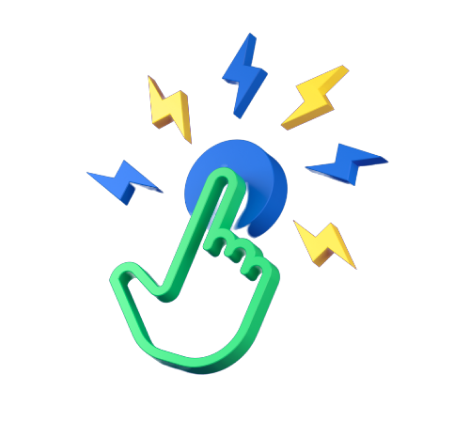 Launch revenue-driving responsive ads with WebFX
Responsive ads offer a lot of convenience for advertisers. That doesn't mean they're easy, though.
For your responsive display ad campaigns to succeed, you need a strategy and a proactive approach to managing your ad account. You can't settle for checking your campaigns every few months, like 72% of companies, because it will cost your business money.
If you're searching for a partner to help with your paid advertising campaign, WebFX can help.
With a client retention rate of 91%, as well as a recommendation score that beats the industry average by 488%, we're a go-to choice for businesses that need a dedicated and trusted marketing and advertising team.
Contact us online or call us at 888-601-5359 to learn how our PPC management services can help!