What is Omnichannel Marketing? Your Guide + 3 Steps to an Omnichannel Media Platform Strategy
Every business wants to provide an excellent experience to their customers. That's because the more buyers enjoy interacting with your brand, the more sales you'll make. As a business, you take pride in offering products and services that are just what your buyers need.
What is omnichannel marketing?
Omnichannel marketing connects all of your marketing channels into one efficient system, making the conversion process seamless no matter what platform your audience uses. The benefit of omnichannel marketing is that users move, uninterrupted, throughout the sales funnel while hitting multiple touchpoints throughout your campaign.
What sets good businesses apart from mediocre businesses is whether their product or service finds a buyer just when it's needed. Not to mention how easy it is to convert. What sets apart amazing businesses from good businesses is whether they can do this across all their channels.

This means that amazing businesses have robust, well-thought-out omnichannel marketing strategies because the way consumers use digital devices to travel through the sales funnel is changing.
Consumers are now more often starting actions on one channel and finishing them on another, with 65% of consumers starting a task on their smartphone and ending it on another device. That's just for smartphones: 25% start on a laptop, and 11% start on a tablet.
For consumers, the brand is much more important than what channel they happen to view it on. And to them, what really makes a brand a brand is consistency across all channels.
If you want to make your brand stand out, you need to have an omnichannel marketing strategy put into place.
Want tips on generating brand awareness? Check out WebFX's five tips for brand awareness marketing!
We foster and form long-term partnerships so that your business has long-term results.
Over 90% of WebFX clients continue partnering with us into year 2 of their campaign.
Hear from Our Happy Customers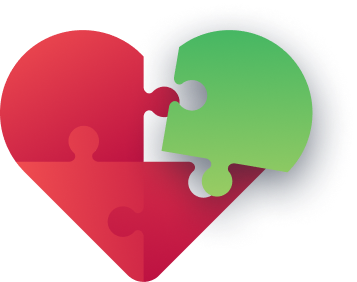 What is the difference between omnichannel marketing and multichannel marketing?
Omnichannel marketing and multichannel marketing are very similar. It's not surprising that many people confuse the two. Both marketing strategies deal with producing content for multiple channels, whether social media, email, anything else.
The channels don't have to be digital either. Newspapers, billboards, radio ads, catalogs, and mail ads are all logical channels that marketers can use in their multichannel and omnichannel marketing strategies. Channels are anything that connects users and product producers.
Customers can find a product on a laptop and buy on a tablet, start on a smartphone, end in-store. With the full range of possible channels, the possibilities are endless.
WebFX can help you conquer all the channels you need to make your omnichannel marketing strategy flow as smooth as silk. Check out our DealerFX channel marketing service!
So, what's the difference between multichannel marketing and omnichannel marketing? Well, here's how it goes:
Multichannel marketing
Multichannel marketing is the simpler of the two marketing strategies. A multichannel marketing strategy uses multiple channels as conversion platforms, but the channels are mostly kept separate.
It's almost a dumbed-down version of omnichannel marketing.

Not much interconnection happens between your channels. You might generate a set of advertisements for each of the channels, but users can't pick up where they left off when they switch from one channel to the other.
There's a lot of lost opportunity with multichannel marketing considering how often users switch between channels when going down the sales funnel.
Omnichannel marketing
On the other hand, an omnichannel media platform connects all your channels into one efficient system, making the conversion process seamless no matter what platform your audience uses.
For omnichannel to have the highest performance, businesses have to think from the customer's perspective. Omnichannel campaigns lets the user continue to move down the funnel even when they change channels.

One method of omnichannel marketing is to allow users to sync across devices similar to how Google Chrome syncs the user's tabs, bookmarks, plug-ins, history, and recent search terms. By incorporating syncing into your channels, you allow users to pick up right where they left off, no matter what channel they're on, from reading a blog post to purchasing something in their shopping carts.
Why is omnichannel marketing important?
With omnichannel media platform campaigns, you provide more opportunities for your buyers to make purchases — more channels connected + more seamless the process = more sales.
Not only does omnichannel marketing drive sales, but it also drives traffic to your site and generates engagement with your content and brand. You'll also increase your customer retention rate because omnichannel campaigns incorporate personalization and ease of conversion.
In a sense, your omnichannel marketing strategy connects all your other marketing strategies together (SEO, social media, content, PPC, etc.), and lets them perform at their best.
3 steps to an omnichannel strategy
1. Collect data
The basis of omnichannel marketing is data. To have a successful omnichannel marketing campaign, you must know your consumers and how they experience your channels as a whole.
Have your customer in mind when you create an omnichannel campaign. It's the most effective way to optimize your campaigns for customer experience. Ask yourself: "What options and products would you (as a customer) want to see across all your channels?"
Stepping into your buyer's shoes helps you increase your buyer's experience throughout your channels. Start by:
Gather feedback and reviews. After your consumers make a purchase, invite them to give feedback and reviews. By asking for feedback, you can more easily discover faults within your products and services. You can then steadily work on improving those faults, leaving your buyers overall, more satisfied with their experience with your brand.
Use social listening tools. Social listening tools like Hootsuite can help you find the trends that your buyers are talking about. They can also help you find mentions of your brand to see what people think of it. This is another great place to get started on improving your experience. People tend to be more truthful about their experience when they are talking to someone not associated with your brand.
Implement pixels. Pixels are snippets of HTML code that track where your buyers go after they leave one of your channels. Use them for your remarketing ads, which, if you distribute them across all the channels your buyer appears on, will provide a more wholesome experience. Pixels determine your buyer's preferences, so you can send them similar items as recommendations. As they interact more with your brand, you can refine the types of products and services they would likely be interested in. If the recommendations match their tastes, users will know that you care about their interests, which will form a strong connection with your brand.
Create buyer personas. Use the data you collect to segment your audience into personas. Having a clear understanding of the similar traits between your buyers helps you determine what kind of experience they want to have. Do they like using chatbots, or do they like talking to a real person? What kind of articles do they like to read and sites do they like to visit? By analyzing your audience, your content, products, and services will be relevant to your buyers.
Monitor your consumer's journey. Ask yourself, at what points do your buyers leave your sales funnel? What's causing it? Is it a slow load for your mobile landing page? Then work on speeding the page up or consider providing forms straight from your ads so your buyers can purchase or sign up with one less step. Continue to brainstorm ideas that would make it so that your buyers never leave, would bring them back, and which platform might bring them back faster.
Ask your customer service department about FAQs they receive. Examining your FAQs helps you understand where your consumers are having problems. You can address those FAQs in a couple of different ways.

You can create a FAQ page (or use a chatbot). These are great for quick and easy answers to the problems your customers have. They save time for both you and your customers.
You can create content that answers a FAQ. Users can head to these pages to find out more in-depth information about the subject.
If users are confused about how to use your products, you can work on improving them, so they're more intuitive and easy to use.
Answering your users' questions will help them feel that their concerns are valid, boosting their confidence in themselves and in your authority as a brand. Your level of customer service will also increase as your buyers manage and control their accounts and access your services whenever they need it.
Create a thinktank between all your teams. Ask each of your employees for ideas on how to improve the processes of your omnichannel marketing strategy. Have some input methods such as a box or a document that your employees can use whenever inspiration strikes them.
See what they think customers would like to see in advertisements or in your products and services. Ask what would make your users' experience on your channels more accessible and more fluid.
Benefits: Gathering data helps you connect your channels. It improves your products and services and helps you strategizes the best methods of creating ad campaigns.

You'll have a smoother process for creating a seamless customer experience, the more data you gather and the more people you have chipping in to give ideas. And with a transparent conversion process, you'll help drive traffic and sales.
Check out this page for 13 free useful data visualization tools for your omnichannel marketing campaign!
2. Generate personalized content
Generating content for each of your channels has value because your content is what your consumers will be interacting with the most.
The best way to use content in your omnichannel campaign is to personalize it, which means incorporating the data you collected about your customers into your process for generating content, either manually, or most likely, through an automated process.
Your content must target your customer lists. The data you collect will tell you:
When they sign up for your email newsletters, which you can use to send your users welcome deals and similar content to the first piece they viewed.
When they search or purchase a product or service, which you can use to send them deals for similar products and services.
When they search to solve a problem, which you can use to send them products or services that could help them solve it.
It will also tell you any information you gather about your buyers' demographics. Send your buyers information on:
Events occurring in their location
Seasonal events applicable to their area
Products and services, trends, and topics similar to their previous interests
Products and services, trends, and topics their peers are interested in
And if you managed to get their birthday information, send them exclusive birthday deals
To successfully implement omnichannel marketing, you need to work out how to make your content relevant exactly when your consumers need it. This means thoroughly testing your content to see what works and what doesn't.
Your consumers will be much more likely to convert when they get the content they want it.
Your content also needs to be correctly optimized for all channels. For example, it must contain all the correct keywords for search, and it must translate well to all channels (including mobile and desktop), as well as match each part of your buyers' journeys.
Benefits: With quality, personalized content across multiple, interconnected channels, you'll increase traffic and conversions across all your channels several times over. You'll also increase your users' awareness, loyalty, and engagement with your brand.
Want to learn more about why and how you should include content marketing into your omnichannel marketing strategy? Take a gander at WebFX's helpful content marketing FAQ page!
3. Un-silo your departments
The most important, and perhaps the most challenging part of omnichannel strategies is to get your departments to work together, which requires redefining and reorganizing your teams. Start by:
Having a central hub, a single platform for both front-end and back-end, to manage all of your channels.
Scheduling regular meetings to teach each of your departments on how to interact with each other and to generate new ideas on how to improve your consumers' buying process.
For omnichannel marketing to work, all of your departments must be able to have a hand in customer experience. For example, when your technical department has fluid communication with your marketing department, it's easier to test your advertising campaigns to find what creates the most leads.
Benefits: You'll maximize the value of your existing digital systems. With an interconnected channel approach, you'll have more opportunities for automation to be implemented effectively because you'll have less redundant automated and manual tasks since one task will affect the whole network.
In other words, omnichannel marketing helps you reduce system and departmental complexities and streamline your workflow.
3 relevant omnichannel marketing examples
Want some examples of omnichannel strategies in the works?
These three brands found innovative ways of using omnichannel marketing strategies to bridge their channels and create seamless and effortless buying experiences for their buyers.
1. Disney
Disney is doing fun, new things. Their recently published subscription-based streaming service, Disney+, makes it easy for users to watch Disney, Pixar, Marvel, Starwars, and National Geographic shows and movies all in one place. For a bit more each month, viewers can bundle their Disney+ account with Hulu and ESPN. Talk about a wide range of movies, TV shows, and sports!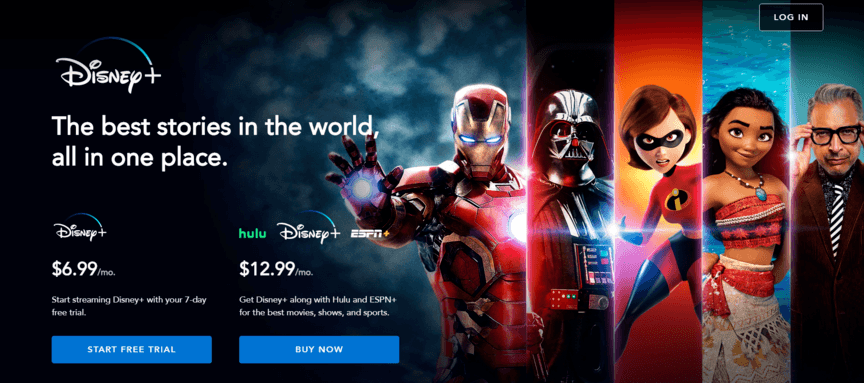 And this is not even mentioning all their merchandise avenues for everything from toys to soundtracks, as well as to resources to plan vacations to parks (hotel reservations and dining reservations, for example) and cruises.
Their MagicBand smart wristband is an innovative device that helps users have a seamless experience at Disney parks. It helps manage vacations by allowing users to sign into hotels, pay for merchandise, take pictures, hold their place in line, and more!
Disney also benefits because the device tracks the wearer's location as they move through parks to give Disney park traffic data. The data helps Disney manage how the park is performing, helping the park managers to stay on top of things like restocking supplies.
The best part of all? Users can find everything that Disney provides all on one central hub: disney.com.
2. Starbucks
The Starbucks app is a handy tool for coffee lovers. With the app, you can order and pay all at once. Using the app speeds up your order and improves your experience, because who doesn't want to skip the line.
The app benefits Starbucks employees as well as customers. When customers can forego lines, it decreases the chaos and frustration of rush hour traffic, saving everyone a headache.
The app works with Google Pay or Apple Pay (even on your Apple Watch) and lets you track your Starbucks rewards.
Starbuck's website also has some handy features. You can check the menu, sign up for a rewards card, and find a location near you. Just check out how yummy this seasonal Toasted White Chocolate Mocha looks!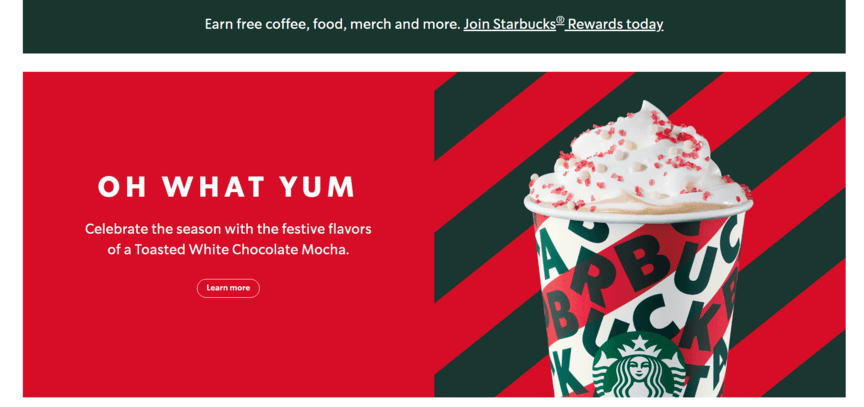 By creating a website and an app that saves users time and improves their experience, Starbucks creates an effective connection between their online and offline channels.
3. IKEA
Starbucks isn't the only one using apps to their fullest. IKEA has apps that give users quite the experience.
The IKEA Shop app contains an online catalog where you can find products and even the location near you that carries them. With the app, you can see special offers and discounts as well as in-store events along with maps of the store building plan to help you find your way around. The shopping list feature lets you sync to your Ikea account, scan items, and search by photo.
IKEA also has a massive presence on social media platforms and has mastered the art of engaging advertising campaigns. And with a blog filled with decorating ideas and how-to home projects, it's not hard for users to find whatever they need, even if it's for a special event. IKEA has a gift registry just for that.
Need to know how something will look in your home? IKEA has an app for that. The IKEA Place app integrates augmented reality (kind of like Pokemon Go) to create a fantastic planning tool for decorating your home or apartment. With the app, you hold up your phone and see exactly how that end table would look next to your couch.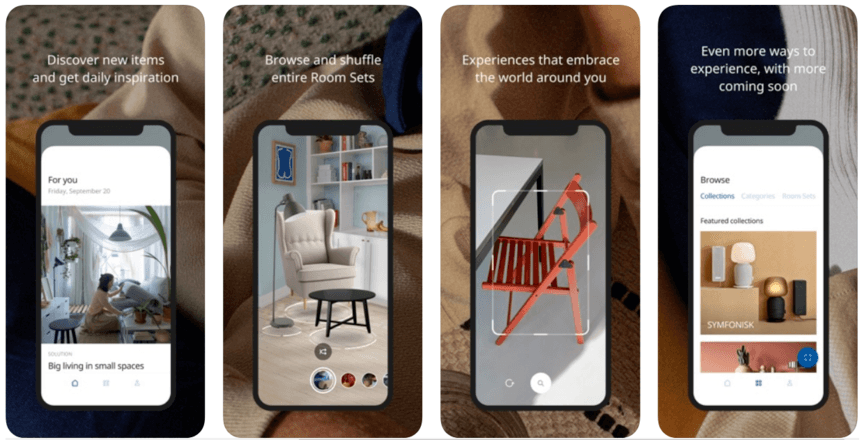 And it seems that IKEA will be expanding the app's features in the near future, including a purchasing option and an option to enter in the dimensions of rooms in your home.
IKEA has dabbled in virtual reality, as well. They even have a VR showroom on Steam where you can wander around a kitchen and even make pancakes. With the VR store, you can explore three different layouts and set up furniture how you want.
Partner with a team of ecommerce masters!
WebFX campaigns have delivered more than 12,936,451 ecommerce transactions in the last 5 years
Read the Case Studies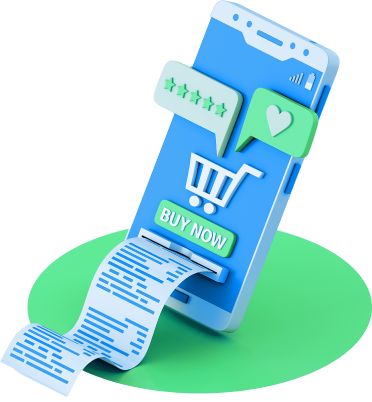 What can an omnichannel marketing agency do for you?
And omnichannel media marketing is a tricky business, so if you need help, WebFX is your internet marketing solution.
We drive real results. With over 25 years in the business, and $3 billion generated in revenue for clients in just the past five years alone, we're dedicated to creating data-driven digital marketing solutions that are just what your company needs.
Contact us online or call us at 888-601-5359 to speak to a digital marketing specialist about implementing and refining the perfect omnichannel marketing strategy.