What Is Web Marketing? (And How to Use It)
As a business owner, you're always looking for new ways to reach interested leads. Web marketing can help you reach more leads looking for your products and services online — and it's a great way to help your business expand your reach and online presence and earn more revenue.
On this page, we'll discuss the benefits of web marketing and five web marketing strategies you can use to grow your business. If you need help creating your online marketing plan, call us today at 888-601-5359 to speak with a strategist.
Let's get started!
Our digital marketing campaigns impact the metrics that improve your bottom line.
See More Results

WebFX has driven the following results for clients:

$3 billion
In client revenue

7.8 million
Leads for our clients

5.2 million
Client phone calls
What is web marketing?
Web marketing is the process of marketing your business online, and it's a cost-effective way to reach people who are most interested in your business.
There are numerous strategies that are a part of web marketing, which we'll discuss in detail later. These strategies, from search engine marketing to content marketing, help you promote your business.
Web marketing creates the opportunity for your business to share your message to everyone on the web, including with potential customers. You get your business in front of people who are looking for your products or services. It's an efficient way to increase your online presence, plus market your business to the right people.
What are some web marketing types?
Internet marketing encompasses numerous web marketing strategies, including:
SEO: Attract website traffic, users, and sales via search engines like Google and Bing.
PPC: Drive immediate traffic and sales via ads on search engines and websites.
Content marketing: Build brand awareness and website traffic with original, quality content.
Email marketing: Acquire and nurture valuable leads with personalized emails.
Social media marketing: Earn followers, brand awareness, and sales with social media.
Display advertising: Generate sales and brand awareness with targeted ads on websites.
Learn more about these strategies (and how you can use them) below:
1. Search engine optimization (SEO)
Search engine optimization (SEO) is the process of boosting your website's ranking in the search results. Since Google fields 3.5 billion searches a day, using SEO is an excellent way for you to reach valuable leads for your business because so many people search for information through this search engine.
To start optimizing your ranking, find the right keywords for your campaign. SEO operates on keywords because users conduct searches using specific phrases to generate results. You need to use the right ones to reach leads that are interested in your business.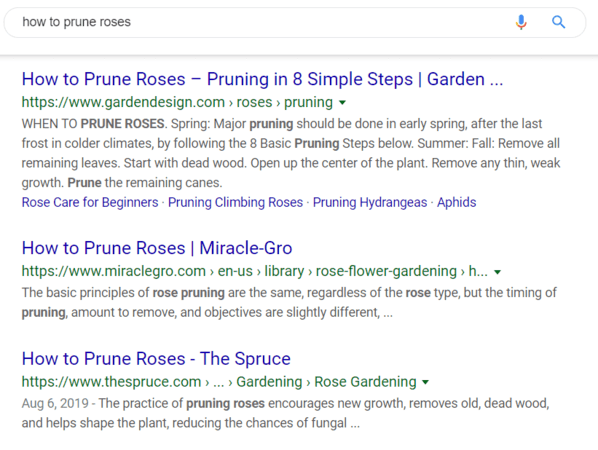 For example, if you owned a flower shop, someone might search "flower shops near Harrisburg, PA." They may even look for topics like "How to prune roses" or "best ways to help your flower bed grow."
These are all keywords a flower shop could aim to rank for to attract valuable customers.
This requires you to conduct keyword research. As you search for valuable keywords, focus on long-tail keywords. These contain three or more words and will direct more qualified leads to your site.
Long-tail keywords are also easier to rank in search engine results because they have less competition but still provide access to potential customers.
Once you find your keywords, you'll integrate them into your site. Google crawls through your pages to better understand the context of your page. Your keywords will help Google index your page for the right search results.
Aside from keyword research and keyword integration, numerous other optimizations affect your website's performance. One crucial factor is page speed. Since users hate waiting for slow-loading pages, you should invest in optimizing your site's page speed to retain site visitors.
There are also things like crawling errors and content creation that affect your site's performance. Crawling errors can affect Google's ability to read your site, so it's important for your business to monitor your site to fix issues quickly. As for content creation, content has the power to drive more traffic to your site and boost your website's performance.
SEO is a great web marketing strategy if you want to boost your organic traffic and obtain valuable leads. It will help you get your website in front of more people who are searching for your business.
2. Pay-per-click (PPC) advertising
Pay-per-click (PPC) advertising is a great method to reach leads that are ready to convert. PPC advertisements are paid ads that appear at the top of the search results. These are tagged with the word "ad" to indicate paid content.
Most businesses advertise with Google Ads (previously known as Google AdWords), though you can also promote your business on Bing and social media networks like Facebook.
Like SEO, PPC ads operate on keywords. You want to choose the right keywords for your PPC ad so you can reach relevant leads. It's best to focus on long-tail keywords here, too, because the cost per click (CPC) will be lower for your PPC ad and allow for more clicks on your ad.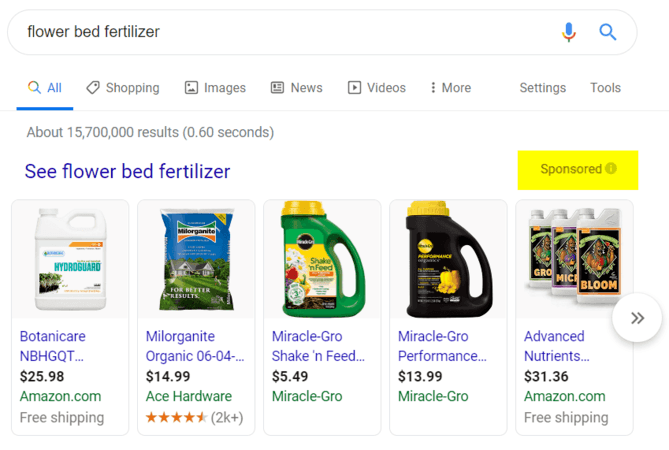 Once you have your keywords selected, you bid for your ad's placement. You'll set your maximum bid, which is the most you are willing to pay each time someone clicks on your ad.
Your maximum bid and quality score will determine your ad's placement. Once you have your placement, you will launch your campaign and start obtaining valuable leads.
PPC is a valuable method for your business because it helps you capture more qualified leads and bring potential customers to your site. In fact, PPC visitors are 50 percent more likely to convert than organic visitors. This means you are attracting leads that are close to making a purchase and just need to find the right business.
Another great thing about PPC is that it is budget-friendly.
You set the amount you want to spend on your PPC campaign, whether it's $300 or $3000. Pay-per-click gives you the freedom and flexibility to choose an amount that works with your budget, although the amount you set can affect your campaign's success.
PPC also enables you to track your results instantly. When businesses invest in digital marketing methods, they want to see immediate results to know their strategy is working and driving results. PPC enables you to see your campaign's results as soon as you launch it and make changes to improve it.
If you advertise with Google Ads, you can view your campaign metrics in not only Google Ads but also Google Analytics, which helps provide a complete overview of your online marketing efforts.
3. Content marketing
Content marketing is one of the best methods for helping your reach more valuable traffic for your business. When you create content, you provide your audience with the valuable information they need. Your audience is constantly seeking valuable information, so it's important that you take advantage of the opportunity to attract them to your business.
When you think of content marketing, you might think it's just blogging. However, content marketing can include videos, infographics, and ebooks too.
The point of content marketing is to provide your audience with valuable information about your industry. To start creating content, search to see what types of questions people are asking about your industry. This will help you create content that you know will appeal to your audience and drive traffic to your site.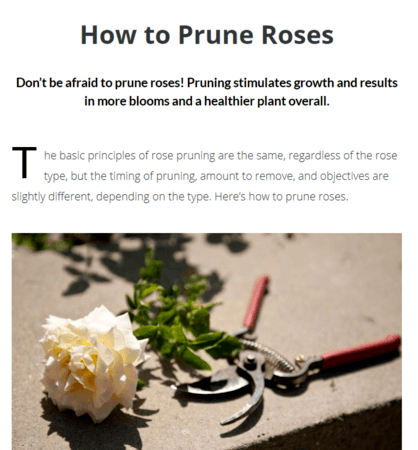 Content marketing allows you to share your knowledge with your audience. You establish yourself as an authority in your field. Your audience will trust your business more because you provided them with helpful information.
Even if leads don't convert right away from your content, they'll still take the time to check out your business. They'll become familiar with your brand and get to know your business. When it comes time to convert, they'll remember the helpful information you provided and choose your business over the competition.
Content marketing is a great way to attract valuable leads for your business. It's a great way to build your business's trust and authority with your audience.
4. Email marketing
Email marketing is one of the oldest and most effective web marketing methods to date. While many businesses think that email is ineffective, it actually has the power to earn your business up to $44 for every $1 spent!
To start using email marketing, you need to obtain a list of subscribers. The best way to do this is through your website. You can create email sign-up forms that give visitors the opportunity to sign up for your emails.
You can also place email sign-up bars in the header or footer of your page to ensure that your leads always know where to find it. If they like what they see on your page, they can opt to sign up for emails.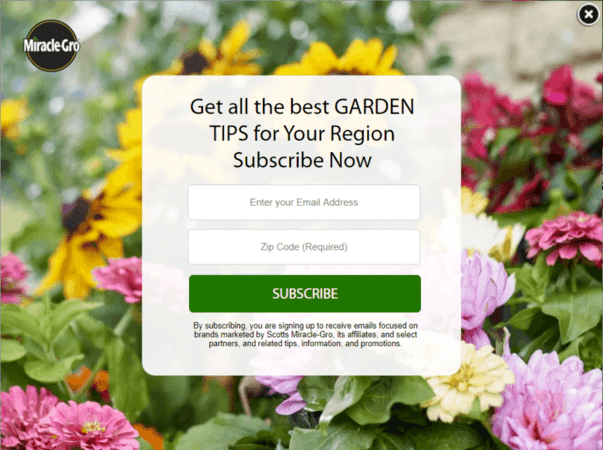 You could even use online advertising to capture new subscribers, like by offering a free downloadable guide. To download the guide, however, users must provide their email.
It's best to earn your emails through organic means rather than paying for email lists. Paid email lists don't include many valuable leads for your business. In addition, your emails will end up being blocked, deleted, or placed in junk folders by the receiver.
Once you have a list of subscribers, you can send them emails with deals, promotions, new products, content, and more. It's a great way to engage your audience and get them interested in your products or services.
To maximize your marketing campaign, you'll want to segment your audience. Audience segmentation ensures that each audience member gets content that is tailored to their wants and needs. It provides them with a better experience of your business and encourages more conversions.
You can segment your audience based on demographic information, socioeconomic status, hobbies, and interests. You'll want to group people together that have similar characteristics. This will help you group your audiences to send them relevant information.
In addition, you can personalize their experience to earn more conversions from your subscribers. Something as simple as adding their name to your email will increase engagement. People want to know that email content is for them, and using their name is a great way to grab their interest.
Email marketing is one of the few online marketing methods that enables you to connect directly with your audience. You can deliver personalized content and engage with them. It's an excellent opportunity to nurture leads towards conversion.
5. Social media marketing
Aside from email marketing, social media marketing is the only other marketing method that enables you to connect directly with your audience. Social media makes it easy for your business to connect with leads and share valuable content.
When you use social media marketing, you can choose from numerous social networks. This includes Facebook, Twitter, Instagram, Pinterest, and LinkedIn. It's vital that you know your target audience well so that you can reach them on social networking sites they visit the most.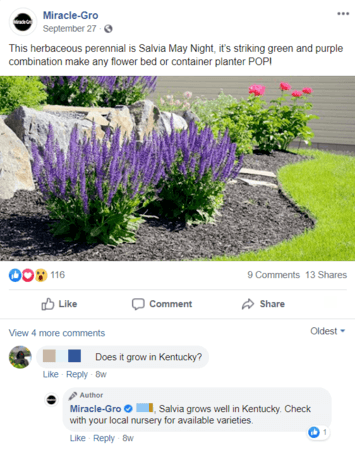 Once you know your platforms, you can determine the type of content to post. Each social platform has different capabilities for posting content.
Platforms like Facebook and Twitter enable you to post a variety of content. You can share photos, videos, links to content, and polls. Instagram, on the other hand, focuses solely on photos and videos for content.
Social media is a great way to connect with your audience and share valuable content with them. You can post tailored content to appeal to them and engage them. It's a great way to deliver tailored content to your audience.
It's also a type of online web marketing with a low cost, as your business can join social networking sites for free to reach your target market.
6. Display advertising
Display advertising allows your business to take advantage of ad networks like the Google Display Network (which reaches 90% of the world's Internet users) and Facebook Audience Network. It also lets you leverage the power of visuals, from images to GIFs to video, to draw users to your ad.

You can use display advertising to accomplish a few different goals, including:
Brand awareness
Sales
Shares
Follows
Website traffic
And more
If you want your display advertising campaigns to succeed, you need to understand your audience. It's also vital to develop ad copy and ad creatives that speak to your audience's needs and capture their attention.
In most cases, display advertising will coordinate with another web marketing strategy: PPC.
Good agencies have more than 50 testimonials.
Great agencies have more than 100 testimonials.
WebFX has over 1000+ glowing client testimonials.
See What Makes Us Stand out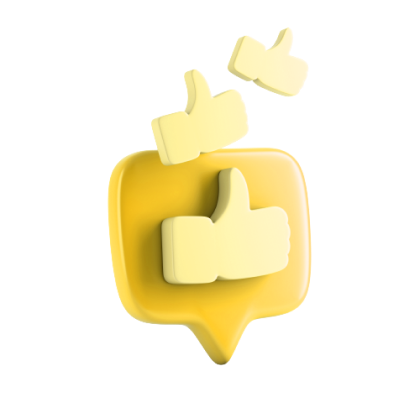 4 benefits of web marketing
There are four main benefits your business will experience by using web marketing strategies.
1. Target specific people
Targeting is the biggest benefit of web marketing. When you run campaigns with traditional methods, it's a challenge to target only leads that are interested in your business. You end up putting money towards leads that aren't interested in your company.
With web-based marketing, your ability to target specific people helps you reach more qualified leads. These are leads that are looking for a business like yours. You put your business in front of the right people.
This is an immense benefit because it saves your business money. You put your money towards leads that will take an interest in your business. Online marketing helps you earn more conversions for your business and grow.
2. Build brand recognition
Brand recognition is an essential part of your business. You want leads to recognize your business and be familiar with it. Web marketing helps you build brand recognition with your audience.
When you market your business on the web, you create more opportunities to expose your brand to leads that are interested in your products or services. You help your target market become more familiar with your brand and get to know your business. It will help you earn more conversions down the line.
3. Cut campaign costs
It is cheaper to reach your audience through digital channels than traditional channels. Traditional channels, such as radio ads and billboards, can get pricey, and it can feel as though the return isn't as valuable.
Web marketing methods (even online advertising ones, like display advertising) are very cost-effective for your business because they cost little to operate. When you don't need to invest as much money, you leave a bigger window of opportunity for an impressive return on investment (ROI).
Digital marketing works with your budget. You can feel confident that your money is only going towards reaching interested leads. You won't waste your money on leads that don't need your products or services.
4. Measure your results
When you run a marketing campaign, you want to know that it's working. You want to measure your results to see if your campaign is effective and if you need to adjust it to perform better. With web marketing services, you can measure your results to see if your campaigns are effective.
This is a huge benefit of website marketing because you will use your budget more effectively.
It's difficult to know if your campaign is working when you rely on traditional marketing methods. With web marketing strategies, you can feel confident that you'll know the effectiveness of your campaign.
You can monitor metrics like click-through rate (CTR), impressions, and conversions. It's easy to track your campaigns and see where they succeed or fall short. This allows you to make immediate adjustments if needed.
In addition, measuring your results allows you to optimize your campaigns based on your findings. You can alter elements that aren't working for your campaign and improve them to see better results. This helps you use your budget more effectively and get the most out of your campaign.
For example, if you're combatting low click-through rates on ads, you may revamp your ad copy or landing page. In comparison, if your YouTube channel isn't earning views, you may audit your video marketing strategy and analyze competitor channels to find areas for improvement.
How to get started with web marketing
Are you ready to build your web marketing campaign? Get started with these seven steps:
1. Identify your target audience
Before you decide on your web marketing strategies, know who you're trying to reach. It's important to establish your target market first. This will help you determine which methods and strategies will work best to reach them.
The best way to figure out your target audience is to think about who is most likely to purchase your products. What does your ideal customer look like? That is the type of person you want to include in your target audience.
You'll want to get specific about the information, too. Focus on demographic information, socioeconomic status, buying habits, marital status, and the like. This will help you have an in-depth description of your ideal customer, so you know who to target with online marketing.
2. Set your budget
When you start to create your web marketing plan, ensure that you set a budget. It's important to know your budget so you can determine which campaigns will fit in your budget.
Most digital marketing strategies are very cost-effective and can fit into your budget.
If you don't have a large budget, you may want to focus on a strategy or two and making those campaigns strong rather than investing in multiple strategies with little funding to run them.
Your budget will help you determine which methods are affordable for your business. It will help you focus on strategies that will maximize your budget and get you a better ROI.
3. Create your goals
Now that you know your target audience, as well as your budget, you can start creating your web marketing goals. For example, do you want to improve brand awareness among your audience or decrease churn?
You can pick multiple goals, but your budget will influence how many goals you adopt.
In most cases, your company will focus on goals that offer the most short- and long-term value. Aiming to reduce customer churn, for instance, can have a massive impact on your organization's long-term success and even online marketing goals, like driving brand awareness and customer referrals.
Once you know which goals you want to focus on, make them S.M.A.R.T.
A S.M.A.R.T. goal is: Specific, Measurable, Attainable, Relevant, and Timely.
Some examples of S.M.A.R.T. goals include:
Decrease customer churn by 2% in the third quarter
Increase social media followers by 10,000 in one year
Drive 2500 customer referrals in six months
Using your S.M.A.R.T. goal, you can move onto the next step of using web marketing.
4. Choose your web marketing strategies
You know what you want to accomplish with web-based marketing, but how will you do it?
In this step, you need to research the channels and strategies available to your company, like social media, email, or search. As a part of your research, you'll want to investigate the costs of each strategy and build those costs into your budget.
While you can focus all your efforts on one channel, the best results come from a multi-channel approach. Multi-channel marketing allows you to reach users across the Internet, whether they're browsing social media or searching Google.
If you do have to settle for one or two strategies, consider content marketing and SEO.
These two techniques deliver long-term value to businesses. The content you create and the optimizations you make to your website will drive traffic, leads, and sales to your site continuously. You make a serious investment in your company and its success with SEO and content marketing.
5. Build your campaigns
Once you know which web marketing strategies you'll use, you can start creating your campaigns.
If you're investing in paid advertising, for instance, you may complete the following tasks:
Set up ad tracking
Research keywords
Choose ad platforms
Write ad copy
Compile ad creatives
Build ad structure
Develop ad budget and bids
In comparison, an SEO strategy may check off these to-dos:
Outlining what you'll do for each campaign can help you maximize its success. You also provide your team with a roadmap. Plus, you make sure you complete essential steps, like auditing your SEO or generating your ad structure.
6. Launch your strategy
After you finish creating your strategy deliverables, you can launch it.
For the best results, have a team member look over your work. For example, someone should check ad copy for typos, as well as on-site content for spelling and grammar errors. Double-checking analytics tracking can also ensure that you launch your campaigns successfully.
Make sure to monitor your campaigns after launch.
Careful monitoring of your strategy in the first few days or weeks can help you catch issues that everyone else missed. Mistakes happen. Checking in on your campaigns, however, can help you fix them fast.
7. Measure your results
Web marketing doesn't stop once you launch your campaigns — it begins.
With digital marketing, you want to measure and learn from your results. On a routine basis, say every month, you should check and review metrics related to your overall goals. If you're looking to increase sales, for instance, look at your campaigns and their conversions for that goal.
Analyzing your campaign data can help you find improvements too.
If you notice a low click-through rate (CTR) for an ad, for instance, you can look into the data more and find potential solutions. Maybe you need to update your ad copy, for example, or revise your landing page to create a better user experience.
Even if your strategies perform well, try to find opportunities for improvement.
5 web marketing tips for your business
Online marketing is a great way to reach valuable leads and earn conversions for your business. Here are five web marketing tips to help you set your digital marketing plan on the right track.
1. Personalize your campaigns
If you want to make an impact on your audience, personalize your campaigns. Personalization gets your audience interested in your business.
Each person interested in your company doesn't want to feel like just another customer. They want to know that their business is valued and that you appreciate them as customers. By personalizing their experience, you show your target market that you value their business.
Personalization benefits you and your leads. You deliver tailored content that gets them more interested in your business. As a result, this encourages more conversions because the content is tailored to what your audience likes.
If you want to personalize your campaigns, you can do something as simple as adding each person's name to an email. With other campaigns, you can customize their experience by providing them with content and information that is pertinent to their interests.
2. Use automation when you can
When you run a web marketing campaign, you'll find that there are many little tasks your team will need to accomplish. It can be something as simple as sending an email or creating a social media post. To help your employees focus on more important projects and tasks, use automation to help your campaign.
Automation helps your team complete small tasks fast. These are tasks like sending welcome emails or abandon cart emails. Your team would normally spend a good chunk of time on these website marketing tasks, but automation can help complete those tasks for you.
Instead of sending individual emails to your audience, automation will help you create and send emails to each pertinent person on your list. Programs like MyEmailFX make it easy to create, send, and monitor your email marketing campaign.
In addition, you can also use social media scheduling tools to simplify the process.
Instead of your team spending time each day to post on social media, they can schedule a month's worth of content in advance. This ultimately saves your business time and helps you build a more cohesive social networking campaign.
Automation is a key component to your marketing plan's success. It will allow your team to use their time to focus on more important projects.
3. Update your website
Your website is the heart of your digital marketing plan. With every method you use, you will drive people back to your site to get them to learn more, make a purchase, or contact your business.
It's essential that your site is up to date, so you keep interested leads on your page.
When leads come on your site, they don't want to see an outdated or unappealing website. It will have them leaving your page quickly. Your site should be fresh and modern to appeal to your audience.
They will judge your business based on your website's appearance. If it is unappealing, difficult to navigate, or outdated, you'll lose leads. Make sure to invest in updating your website so that leads will find it appealing and interesting.
When you update your website, go for a responsive design.
Responsive design ensures that your website adapts to whatever device your audience is using to provide them with the best experience. It's important that mobile, tablet, and desktop users all have the same positive experience.
4. Use videos
When you create your web marketing plan, incorporate videos into your strategies. Video is a powerful way to obtain leads and earn conversions for your business. With the growth of sites like YouTube, videos are becoming a powerful way to engage your audience.
You can use videos on your social media pages, in email marketing campaigns, on your landing pages, or on your website. It's a great way to get your audience engaged and interested in your content. Your audience will interact with your page longer because videos keep them engaged.
Videos are a great way to get out a lot of information without filling your page up with a lot of overwhelming text. It makes an interactive element for your audience to engage with your page and learn more about your business.
5. Use remarketing
Remarketing is a great way to reach out to interested leads who haven't converted yet. Many people will look at your products or services and be interested but want to take more time to think about it. You should avoid losing these interested leads because they are conversions for your business.
By using remarketing, you put your products in front of them again. You get them to think about purchasing your product and build interest. It's a great way to get them to reconsider whether they want to purchase.
WebFX is a top web marketing company
A strong web-based marketing plan will help you reach valuable leads for your business. It will open doors for you to reach interested leads that turn into conversions and help your business grow. At WebFX, we have over 25 years of experience creating digital marketing campaigns that drive results.
We're a full-service digital marketing company that offers numerous web marketing strategies to help your business grow. Our team of 500+ experts will bring their knowledge and expertise to your campaign. We'll help you create an online marketing campaign that earns valuable leads for your business.
If you want a company that drives results, look no further than WebFX. To date, we've driven over $3 billion in sales and over 7.8 million leads for our clients. We focus on bringing successful results for our clients first.
Want to know what it's like to partner with a top web marketing company? Check out our 1000+ client testimonials to see what it's like to work with an Internet marketing expert like WebFX!
Start earning revenue from web marketing
If you're ready to build your custom web marketing plan, contact us online or call us today at 888-601-5359 to speak with a strategist.
We look forward to helping your business grow!
Earn a 20% greater ROI with WebFX