Location Marketing: Ins & Outs of Location-Based Marketing
Every business has a target user — whether it's by gender, interest, or marital status. But every business also has a target user based on location.
Location marketing is a great way to target users based on their real-time location. Since users are targeted at the moment they enter a specific boundary, this strategy is like shooting fish in a barrel — you know your customers are there, so you take advantage of the opportunity to advertise specifically to them.
On this page, we'll cover everything there is to know about location marketing. We'll answer questions like "what is location-based marketing?", "why use location marketing?", "how does location-based marketing work?" and so much more.
We'll also cover the benefits of location marketing along with a few strategies you can implement right away.
If you're ready to learn more about location marketing, keep reading! If you'd rather speak to a specialist about how WebFX can help you with your location marketing strategy, give us a call at 888-601-5359!
WebFX is home to a whole team of location marketing experts
WHAT ARE YOU WAITING FOR?! CONTACT US TODAY!
What is location-based marketing?
Location-based marketing targets smartphone users who have their location services turned on, by delivering them content, alerts, and push notifications for a business based on their current location.
For example, if someone is a block away from your bakery, location-based marketing initiatives could deliver a coupon (or other relevant content) to that shopper that entices them to visit your store.

It's extremely effective because it delivers advertisements or promotions to customers at the optimal times — when they're most likely to visit your location because of their proximity to it.
These advertisements come in many shapes and sizes. For example, when users enter your location's boundary, you can opt for them to receive:
Push notifications from your app
Text messages
Social media actions (location-based Snapchat filters, social ads based on location)
Ads in search engines
Before we can move on, we'll have to talk about the various kinds of location marketing.
"Location marketing" is an umbrella term that covers these more specific strategies:
Geofencing

Geofencing marketing is a hyper-targeted location marketing strategy. With geofencing technology, you can set up a virtual boundary around a specific location that you want to trigger an action.
You can create a broad geofence that covers a few blocks or a small geofence that covers a specific street — it'll depend on what your goals are for the campaign and how granular you want to get with your targeting.

You can choose to use geofencing in several ways.
Geofence around your location: When you choose to draw a geofence around your brick and mortar store, your goals likely include reminding previous customers or informing new customers that your store is within proximity. When you geofence your location, users will receive push notifications, receive texts, or see ads in search engines when they enter your virtual boundary.
Geofence around a competitor's location: When you draw a geofence around your competitor's location, it works the same as drawing a geofence around your location. However, your goal is likely different. When you place a geofence around a competitor's location, your goal is to entice their customers to come to your store instead.
Geofence an event or conference: If you choose to geofence a specific event or conference, it allows you to market your business to many potential customers that you know would be interested in your products or services.
Below, you'll find geofencing examples for each of the situations we mentioned above.
Geofence around your location
You just opened a brick and mortar store and you know that potential customers might not know you're there. To help people find your business, you set up a geofence around your location to trigger push notification that your new pet boutique is around the corner.
OR
It's after Christmas and you have a huge inventory of pet toys. You're offering a 50% coupon, which appears to users when they enter your geofence.
Geofence a competitor's location
You're a fast food joint, and your competitor down the road started advertising $2 burgers at lunchtime. To entice customers to visit your location instead, you draw a geofence around their location. When customers enter the boundary, they get a push notification that you're offering $1 burgers and you're just a mile up the road.
OR
You know that you offer a specific product that your competitor doesn't. When customers enter the competition's store, a push notification from your store is triggered that offers them a product you know that they want.
Geofence an event or conference
The circus is coming to town! You offer kids acrobatics classes and you know that the parents at the circus are a great target audience. You draw a geofence around the circus and when spectators come flooding in, you have the option to advertise your acrobatics classes with push notifications, social ads, and more.
OR
The acrobatics studio that you compete with is holding an all-day event for kids and their parents. You want to let parents know that they have other options, so you draw a geofence around the event and advertise your studio to parents while they're there.
Proximity marketing
Proximity marketing is for those that want to get especially granular with their location marketing. This tactic allows you to place beacons at specific locations and trigger actions when a user is within a few feet.

A beacon is a small device that receives location information via Bluetooth-enabled smartphones. You can deploy one of these beacons just about anywhere and accomplish several goals with them.
Not to mention, since they operate on Bluetooth rather than WiFi or GPS as geofencing does, you don't have to worry if your store doesn't have perfect cell reception.

You can also use augmented reality with proximity marketing to trigger certain marketing features when customers enter your store.
Here's what you can do with beacon marketing:
Trigger coupons for a specific product when users stop to look at it
Trigger a connection with a credit card machine for virtual payment
Trigger specific capabilities when a customer is within range
Check out our proximity marketing examples to see what we mean.
Proximity marketing example #1 (triggering coupons): Let's say you own an outdoor shop. You just received a huge shipment of specialty lifejackets and you want to promote them to your customers. You place a beacon near the product, and when they walk by, they receive a push notification with a coupon for that product.
Proximity marketing example #2 (triggering connection with credit card machine): When you arrive at the checkout counter at a location that allows you to pay with your smartphone, the beacon attached to the credit card machine connects with the Bluetooth on your phone — allowing you to pay virtually.
Proximity marketing example #3 (triggering specific capabilities): You can also trigger specific, unique capabilities using augmented reality with beacons. For example, let's say you own a cider company with unique ciders. You use augmented reality to allow customers to scan a barcode on a cider and learn about its ingredients — creating an engaging, entertaining experience.
Overall, proximity marketing allows you to target users like you never have before — giving you more opportunities to make sales and improve your in-store visitor experience.
Why use location marketing?
Now that you understand how location marketing works, you might be thinking "why use location marketing?"

The proof is in the pudding.
An astounding 96% of Americans own a mobile device of some kind and 265.9 million have a smartphone.
Let's rewind for a minute and first say this — marketing only works if you put your products and services in front of users. It doesn't matter if you market where you think you should market — the key is dropping your advertisements right under the noses of those who are interested.
The fact that more than 260 million Americans have a smartphone means that you've struck gold when you decide to market to smartphone users…on their smartphone. And with location marketing, you can do just that.
When it comes to the question "why use location marketing?" the answer is simple — location marketing allows you to drop advertisements right under the noses of potential customers, making them more likely to visit your store.
More storefront visits create a domino effect because it also means:
Heightened brand awareness
More sales
More revenue year over year
When it comes down to it, location marketing can increase your company's bottom line.
4 benefits of using location marketing
The benefits of using location marketing are expansive. Keep reading to learn more about the benefits you can reap when you opt for geolocation marketing.
1. You reach users at the ideal moment
Think about the last time you were sitting at home on your couch, thinking about that pair of ultra-soft sweatpants that you saw at the store. You really wanted them, but you didn't have time to try them on and make a purchase.
You remembered the pants because you got an ad while you were sitting on your couch. But is it enough to make you get dressed, run to the store, try on the pants, and make a purchase? It could be, but you might prefer to see an ad like that when you're already out.
With location marketing, you can do just that.
In another situation, you find yourself back at the mall with a little more time. You've forgotten about the pants, but they haven't forgotten about you. You get a coupon for 40% off one item when you walk by the store, and it entices you to go inside.
At that moment, when you're physically looking at the product you want, you're much more likely to give in and make a purchase.
This scenario is a perfect example of why location-based marketing is so effective — it reaches customers at the ideal moment — when they're most likely to buy.
2. You make shoppers feel special
Everyone likes to feel special, and when your customers receive a unique offer because of their location, it's hard to resist. The very idea that you've reached them at the perfect time with a seemingly perfect offer makes them feel exclusive.
When customers feel exclusive, they feel more comfortable with your brand and your business. Not only does this make them more likely to purchase from you, but it also makes it more likely that they'll talk highly of you to other potential customers.
Because of this, you can expect increased brand awareness and increased sales.
3. You can increase foot traffic when you're not busy
You've hit two o'clock in the afternoon, which is when your boutique drops in foot traffic. But it doesn't have to with location marketing.
There are tons of ways that you can increase foot traffic during your slowest hours. Here's how:
Throw a geofence around a competitor's location that's close by. This geofence allows you to attempt to capture the attention of any customers that may trickle into their store during slow hours.
Create a geofence around bakeries, coffee shops, and places that are always busy. Take note of local stores that are always busy and place a geofence around them. If you target locations that always have business, you'll likely be able to capture some of those customers, too.
Add a geofence to places of public transportation. Anyone coming into your neighborhood will receive a special offer that directs them to your store.
If you want to make any of these strategies even more effective, make your offer effective only within the period that you have the least foot traffic. For example, if you're not busy from one to three, make your offer valid only within those hours.
4. Increase app downloads
Do you have an app that's not getting as many downloads as you thought it would? Use location marketing to encourage users to download your app!
Let them know that they'll receive special, in-store benefits when they download it and then reward them with their first in-store, beacon-triggered offer.
Your app will receive even more downloads if you let users know that it can bring some sort of convenience to them with location marketing. For example, when they download the app, they'll be able to pay with their smartphones.
Or, if they download the app, they'll be able to turn on location services for a full, interactive map of the store, based on product.
Location marketing can help you increase app downloads since it creates so many ways to make shopping convenient and fun.
Time to Level Up Your Sales
Our long list of services helps you grow every aspect of your business with marketing strategies that are proven to increase bottom-line metrics like revenue and conversions.
In the past 5 years, we've managed more than 12.9 MILLION transactions across our client base.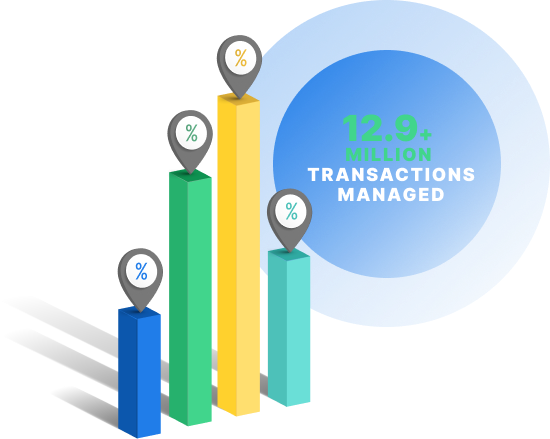 4 location marketing tips for success
So how can you ensure that your location marketing strategy drives the results you desire?
Follow our four location marketing tips for success.
1. Make sure users enable location services
If you want your location marketing strategy to bear fruit, you must encourage your customers to enable location services on their smartphone if they want to receive offers in the future.
Otherwise, your geofence won't matter since the GPS signal (within location services) won't be active on customers' phones, and therefore, they won't receive any notifications from your store.
An easy way to encourage this is to put a reminder on the bottom of your receipts, inform customers to do so as they're checking out, and post a reminder on the door for users to see on their way out.
No one can resist a special offer, and most often, shoppers will do anything it takes to receive them.
2. Target users based on their stage in the marketing funnel
Every person that walks by your storefront shouldn't receive the same promotional message. Imagine giving a first-time passerby the same offer that you give your loyal customers or trying to sell someone a car if they've never been to your dealership.
Location marketing is only as effective as its timing and targeting, and if you don't get them right, you won't find success with location marketing.
Consider targeting each user based on where they are in the marketing funnel. For example, if someone has been to your car dealership once before, it's probably time to offer them a great deal on a car since they've already been shopping with you.
If it's someone's first time stepping within your geofence, entice them with a welcome message that makes them feel special and exclusive!
3. Choose your geofence carefully
Depending on where you live, drawing a five-mile-wide geofence might not give you the results you desire. Why?
Just because you target a five-mile radius doesn't mean that everyone within that fence is interested in your products or services.
Not only that, but it depends on how people make it to your business. For example, if people primarily drive to your business, a five-mile radius might be great. On the other hand, if people primarily walk, a five-mile radius won't be as effective.
Instead of carelessly drawing a geofence that you think includes a lot of potential customers, do your research, and draw geofences around locations that you know includes a lot of customers.
Start by determining where it is that your target audience spends their time. For example, if you're a pet shop owner, your target audience likely spends time at veterinarian offices, training schools, and pet groomers.
To target that ultra-specific audience, draw geofences around those locations.
You might not cover as many miles, but you're covering space that you know your target audience visits.
4. Opt for, or don't give up on, strategies like local search engine optimization
Local search engine optimization (SEO) is a great companion strategy to your location marketing campaign.
Here's the difference between local SEO and geolocation marketing:
Local SEO ensures that your business shows up highly in search results, in directories, and elsewhere online when users search for the products and services you offer
Geolocation marketing ensures that users are alerted when they get physically close to your storefront
Local SEO has less to do with being physically close to a location, rather, it ensures that your local business shows up highly in search engines. However, if a user is physically close to your location, and you've claimed your Google Business Profile, you will be more likely to show up highly in search results.
For example, when you search for a product or service, you'll likely see a local SEO 3-pack in the results. Here's what they look like: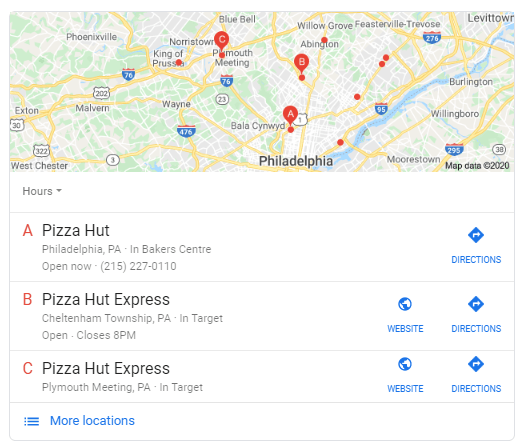 Since I'm searching from Philly, my results show three pizza shops near me. However, if these locations didn't claim their Google Business Profile listing, they wouldn't show up here at all.
But what does local SEO have to do with location marketing and geofencing?
It's important to use both in tandem if you want to get the most out of your local business. When you use both strategies, you take care of targeting your local customers both online and offline, which helps you attract as many new customers as possible.
WebFX specializes in geolocation marketing
If you're interested in geolocation marketing but aren't sure how to get started, WebFX can help.
Our in-house team of more than 500 marketing specialists know the ins and outs of location-based marketing and can help you craft a successful geolocation strategy.
Our competitor geofencing advertising services offer everything from competitor research and event targeting to quarterly banner ads and addressable geofencing.
We'll help you advertise specifically to those in your neighborhood, near your event, or near your competitors' locations to increase foot traffic to your brick and mortar site.
In addition to geofencing advertising, we also offer local search engine optimization services which is a strategy that works well with location marketing. It helps you appear to local customers in search engines like Google — boosting your local marketing real estate.
If you're interested in learning more about how WebFX can help you with location marketing, contact us online for a free quote, or give us a call at 888-601-5359 to speak directly with a specialist!
Earn a 20% greater ROI with WebFX