Grow your business with a top email marketing company
Email marketing is a smart investment for any company.
Whether you're a manufacturing company or a local restaurant, you can use email marketing to stay top-of-mind with your audience. Send promotional emails, monthly newsletters, and more to keep consumers and business buyers interested in your brand and primed to buy your products or services.
With our email marketing agency, your business can take full advantage of email marketing. Save yourself time (and your company resources) by allowing our dedicated specialists to build, develop, launch, and manage a custom email marketing strategy for your company.
When it comes to email marketing firms, you can trust WebFX.

In the past five years, we've helped our clients' businesses earn more than 4.6 million leads and 1.8 million phone calls, as well as more than $1.5 billion in revenue. Even better, our client retention rate is 91%, demonstrating the results of our strategies and the quality of our services.
Contact us online or call us at 888-601-5359 to start your email marketing campaign!
Browse our email marketing services
With our email marketing agency, your company can take advantage of the following services:
Email marketing management
Attract and nurture more leads, plus save time, with our full-service email marketing management services. Choose from three plans and receive a custom strategy for bringing and turning more leads into customers.
Browse Plans
Email marketing design
Create (or refresh) your email newsletter's design with our email marketing design services. Work with our experienced project managers, as well as our award-winning design and development team to create a newsletter that drives results.
Browse Plans
How our email marketing company creates successful strategies
At WebFX, our email marketing company takes a client-first and results-focused approach to email marketing. Learn how now:

1. Our email marketing agency gets to know your competition
We want you to have the best chance to standing out in your potential clients' inbox, so we'll ask you about your competition, and create a custom email marketing strategy that drives even more results.
We'll research things like how they interact with their clients, their brand, their offerings, and more.
In getting to know your greatest competition, we'll get to know your industry better, too.
2. Our email marketing agency researches your industry
We want to know everything about your industry so we have all the knowledge necessary to create a successful email marketing campaign.
We want to know how much people spend in your industry yearly, how your industry stacks up in the scheme of ecommerce, and more.
The more we know about your industry, the better we can craft the perfect email marketing campaign.
3. Our email marketing agency asks you about your audience
Your audience is the most important part of the equation. Without learning about them, we won't understand how to market your products to them successfully.
We'll ask you about things like general age group, male or female, geographic location, and more. This will help us understand how your emails should look, the tone they should promote, and the best way to sell your products and inform you audience in an email-based format.
After we know everything about your industry, competition and audience, we'll start your campaign.
We have three different pricing packages for our email marketing plans, including basic, market leader, and enterprise. Your email marketer will fill you in on the differences between each, and help you fit the one that fits your business best.
Each additional feature depends on the package you choose. You can see some of our pricing outlined here, but if you want a full list of our pricing, you can visit our pricing, you can visit our email marketing optimization page.
Some of our client Successes
What kind of emails do email marketing companies create?
When you hear the term email marketing, you may think of one thing — an annoying promotional email in your inbox. But if the emails you're receiving are annoying, they're likely not coming at the right time, targeting you incorrectly, or they're not personalized to your likes and interests.
When you do email marketing right, it can drive astronomical results for your business.
Here are the different kinds of emails that email marketing agencies provide and how they work.

1. Welcome emails
Welcome emails are a great way to show your audience that you've received their request to opt in to your emails and that you're excited to have them as a part of your subscriber list.
There are a lot of ways to go about a welcome email, and the choice is yours.
You should keep these emails short and sweet as to not scare recipients into thinking that all of your emails will be extremely long-winded.
If you're sending a welcome email because someone filled out a form on your website to learn more about a product or service, you should be sure to provide info. You can talk about the product or service directly in the email or provide a link that will take customers to your website to learn more.
If the welcome email is triggered because someone filled out a form to opt into your monthly newsletters you can keep it simple and welcome them to your online community. You can include a link or two to your website and give them a little information about your company.
If the welcome email goes out because they signed up for a special offerdon't let them down! Provide the perk you advertised and welcome them to your online community.
2. "You've left something behind!" emails
These are known as cart abandonment emails, and they can help you to finally close the sale that never made it to the conversion stage.

Shoppers abandon carts often —and email is a great way to finally seal the deal.
In these emails, you'll want to remind the recipient what they left in the cart and offer them a button that takes them to the landing page where they can purchase. This makes converting easy and stress free — and you just closed a sale.
3. Promotional emails
We all know how excited we get when our favorite clothing store releases a new collection, or our favorite car brand releases a new model.
One of the best ways to sell new products is to promote them with an excitement-filled promotional email.
These are meant to get recipients excited about your new product or service — excited enough that they want to come to the store or purchase online.
You should always include a photo of the product you're promoting, and the price.
Another kind of promotional email is one that tells your audience about an upcoming event. Whether your products will be featured at the event, you're hosting the event, or you're participating in the event, letting your customers know about via email is a great way to get them to attend and support your business.
One of the most popular kinds of promotional emails are ones that include coupons and special offers. Your customers are much more likely to come to your store or purchase something online if they have a coupon to entice them.
You can provide a mobile coupon that gives the recipient a barcode to scan at the store, or you could make a printer-friendly coupon for recipients to cut out and bring to the store.
4. "We haven't seen you in a while!" emails
These emails let previous customers know that they're still on your list and entice them with new products and special offers.
For example, if they're part of your rewards program, and they haven't shopped in two months, one of these emails would help entice them to visit your website or come to your store. In a busy city like New York, email marketing is useful to attract shoppers to your store before they get to anyone elses. However, it's also extremely useful to small-town shops as well. Email marketing is an all-around fantastic strategy for any business.
These specific emails are effective because they're personalized to the recipient and shows them their own value to your particular business. It also shows them that their business is important to you, and that you miss them as a customer.
If someone hasn't shopped with you in a while, it could also be that they've forgotten about you, they live a farther distance away, or they haven't had the need to stop by.
This kind of email alleviates almost all of these situations — it reminds them that they've shopped with you before, and (if you provide them with a coupon or special offer) gives them a reason to stop back.
5. Weekly or monthly newsletters
One of the most common ways to stay in touch with your subscriber list is with weekly or monthly newsletters.
These kinds of emails make it easy for you to keep users up-to-date with the latest happenings at your company. Whether it be new employees, new products, or events that you're hosting in the future.
They're a great way to keep your subscribers in the loop, while also staying top of mind in your industry
How can our email marketing firm personalize your emails?
With an email marketing agency like WebFX, our proprietary software MyEmailFX, makes it easy to personalize emails and get them into the right hands.
You can personalize emails in a number of ways.

Subject line
Customer's name
In correspondence with their time zone
Referring to past purchases
"You may be interested in..."
All of these emails are important — especially because personalized emails increase click-through rates by 14%, and increase conversions by 10%.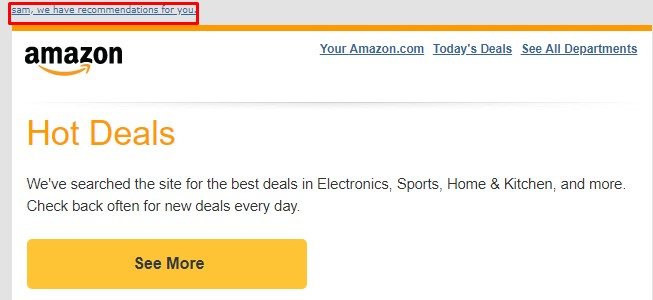 People like to feel that you know them. They don't want to be another bulk email that goes out every Wednesday to your entire list, rather they want to have emails that are catered to them, and that offer them products and valuable information that they would love.
Why choose WebFX as your email marketing agency?
It can be difficult to find an email marketing agency that understands your business, your industry, your competition, and your goals.
But at WebFX, we do it all.
Mid-Size Businesses Trust

WebFX

Their focus on ROI and their innate ability to communicate this information in a way that I understand has been the missing link with other digital marketing firms that I have used in the past.
Leah Pickard. ABWE
See The Case Study
We know that no two businesses are the same.
That's why we provide custom campaigns to each of our clients. You'll be assigned your own, personal email marketer that will take care of your campaign, report on its goals, and more.
View our email marketing agency's pricing
Explore our email marketing agency's service prices now:
Market Leader
Fully Managed
Features
Basic


Fully Managed

Market Leader


Fully Managed

Enterprise


Fully Managed

Monthly email content written by WebFX
Up to 200 Words
Up to 400 Words
Up to 800 Words
Content sections/topics included
What's This?
One
Up to 2
Up to 3
Campaign & target strategy

✓

✓

✓

Creative theme development

✓

✓

✓

Copywriting for emails

✓

✓

✓

Design edits for each email

✓

✓

✓

Coding of emails

✓

✓

✓

Website signup implementation
By quote
By quote
By quote
Split testing subject lines

✓

✓

✓

Day and time parting (determining which days/times perform best)

✓

✓

✓

Testing of emails on 24 mail clients

✓

✓

✓

Distribution of emails

✓

✓

✓

Database list pruning

✓

✓

✓

CAN-SPAM Act checkup

✓

✓

✓

Landing page implementation
By quote
By quote
By quote
Monthly/Quarterly lead generation reports

✓

✓

✓

Email metrics real-time login

✓

✓

✓

Split A/B landing page testing

✓

✓

List split testing

✓

✓

Call tracking

✓

✓

Online campaign project management

✓

✓

✓

200+ SMEs behind campaign driving results

✓

✓

✓

Unique image-based email design for every email
What's This?
Additional $125 per month
Additional $175 per month
Additional $225 per month
Custom Unsubscribe Page - Provide Offer/Incentive for Staying Subscribed (Optional)
$300 one time
$300 one time
$300 one time
Custom Exit Intent Pop Up to Capture Email Addresses (Optional)
$500 one time
$500 one time
$500 one time
Initial mobile & desktop optimized template (Fully responsive)
$899 one time
$899

one time

$899

one time

Can send in any email platform you choose (ie myemailFX, MailChimp, Constant Contact, etc.)

✓

✓

✓

Additional Emails (Up to 2 Additional Emails Per Month)
$260 per additional Email
$260 per additional Email
$260 per additional Email
Additional Emails (3-5 Additional Emails Per Month)
$240 per additional Email
$240 per additional Email
$240 per additional Email
Additional Emails - High Volume (6+ Additional Emails Per Month)
$215 per additional Email
$215 per additional Email
$215 per additional Email
Quarterly Send Option - 4 per year (Monthly cost changes to quarterly)

✓

✓

✓

Monthly investment:
$300 a month
$400 a month
$500 a month
Email send fees (if using myemailFX):
$0.03 per recipient
$0.03 per recipient
$0.03 per recipient
Need more information?

Call Us: 717-609-1553

Sign Up
Sign Up
Sign Up
Why invest in email marketing?
Email marketing is a smart investment for a few reasons, including:
People trust and use email to influence their purchase decisions, as well as create a newsfeed for brands and products that they like. That's why email generates 50% more sales than any other lead generation method.
If you aren't seeing that kind of result from email marketing, an email marketing agency can help.
Hear From Our Clients
"Took our company to the next level. The WebFX team is a joy to work with and I would recommend for every business."
Marketing Manager, Manufacturing Company
Read More Testimonials
Why hire an email marketing firm?
We've already talked about the importance of email marketing to your company. Emails help you to stay top of mind, remind users of abandoned carts, and even increase conversions.
So now the only decision left is to decide whether or not to hire an email marketing agency. The answer is yes.
If you're a business owner, you know how busy your days are. Between running a business, keeping your storefront clean, replying to Facebook messages, and filling orders, it's difficult to find time to do much of anything, let alone running an email marketing campaign.
WebFX makes it easy — we'll create a custom email marketing campaign and run it for you (or partially manage it) so that you see the results you desire.
Email agencies can give you their full attention and put all their effort into your campaign. On the other hand, if you ran your own email marketing campaign, it's unlikely that it would get all your attention since you're busy running a business.
How to choose the best email marketing agency for your business
With so many choices out there, finding the perfect email marketing agency can be difficult. But there are a few things to consider that should make your choice easier.

1. Location
Though being in close proximity to your email marketing agency isn't crucial, you have to imagine the way you see your partnership going.
Do you enjoy in-person meetings with people working with your business? Or do you have no problem talking over the phone, emailing, or via Skype?
If you don't mind not being able to meet in person often, location won't matter. However, take time to consider if you'll want to regularly meet with your email marketer to talk about your campaign, new goals, etc.
2. Budget
One of the most important things about hiring anyone for your company is your budget. Though often we like to think that we have limitless spend, when you're running a business, every penny counts.
That's why it's crucial that you consider your budget.
You should start by making a shortlist of all the email marketing agencies that you're interested in. You should also set a budget at the start of your search. This budget should be concrete, and not able to be amended.
That way, when you see an agency that is too high price wise, you can cross them off your list.
Not only does this make it easier to come to a decision, but it ensures that you're responsibly budgeting your business.
3. Their personality
You should never hire an email marketing agency without first getting to know them. You should do a lot of research before you contact them, and when you do speak, be sure to ask a lot of questions.
They should make it clear that your goals are their goals, and that when you work together, they are working to get results for you.
You should also monitor if conversation is easy, if they're confident in their abilities, and if they seem willing to go the extra mile for your company's success. They should have no problem sharing the exact prices of their services. If they seem hesitant, you should reconsider.
4. Reviews and testimonials
Another important deciding factor when choosing an email marketing agency is what their reviews say about them and how many testimonials they have.
Review can be found on sites like Yelp and help you to understand other customers experience with them. Everyone has a different experience, so you shouldn't shy away from an agency if they have one or two bad reviews. However, if most of the reviews are negative, you may want to keep looking.
A fantastic email marketing agency will have hundreds of testimonials — or proof of how their satisfied clients feel about the services.
Testimonials can usually be found on an agency's website, and they can be in the form of textual content or a video.
An agency with little to no testimonials likely doesn't have much experience — so you should aim to find an agency with an excess of testimonials.
At WebFX, we have over 550, which shows potential clients that we mean business.
5. Their experience
Experience is huge when it comes to email marketing.
You want to find an email marketing agency that has been in the business long enough to know what email strategies work and which ones don't, and how to craft a custom campaign around your unique business.
The more experience an agency has, the better they'll be able to help you create the most effective campaign.
This doesn't mean you have to find an agency that's been in the business for decades, but at least 5 years is a must.
Are you ready to work with a top-notch email marketing agency?
If you're interested in starting an email marketing campaign, but aren't sure where to start, WebFX can help.
We're a full-service digital marketing agency which means we don't just specialize in developing your email campaign, but we also offer some of the best digital marketing strategies available. Some other services we offer include:
PPC (pay-per-click advertising)
Social media marketing
Content marketing
SEO (search engine optimization)
Web design
Web development
Infographic creation
Video production
Reputation management
If you're looking to create a well-rounded, multi-strategy campaign, we can help.
We've driven over $1 billion in revenue for our clients in the last 12 months alone, and we have the testimonials to prove it. We have over 422 client testimonials that speak to our superior services.
Not to mention, we've driven over $3 million in leads for our clients.
If you're looking to increase your brand awareness, keep your company top-of-mind, and increase your sales in a cost-efficient manner, email marketing is a great strategy for you.
When you're ready to jump in, feel free to contact us online, or call us at 888-601-5359.
We can't wait to hear from you!