6 Email Marketing Objectives to Help You Get More from Your Campaigns
Email marketing is one of the best ways to stay in touch with current customers and stay top-of-mind with potential customers that may need your products or services in the future.
It allows you to offer promotions, keep people up-to-date with your latest offerings, and simply stay in touch to remind them that you care about their needs.
On this page, we'll look at the main objectives of email marketing and how it can help your company grow.
p.s. We also have a video on the basics of email marketing if you want a quick refresher.
If you'd like to speak with a specialist before reading on, you can reach us at 888-601-5359.
Time to Level Up Your Sales
Our long list of services helps you grow every aspect of your business with marketing strategies that are proven to increase bottom-line metrics like revenue and conversions.
In the past 5 years, we've managed more than 12.9 MILLION transactions across our client base.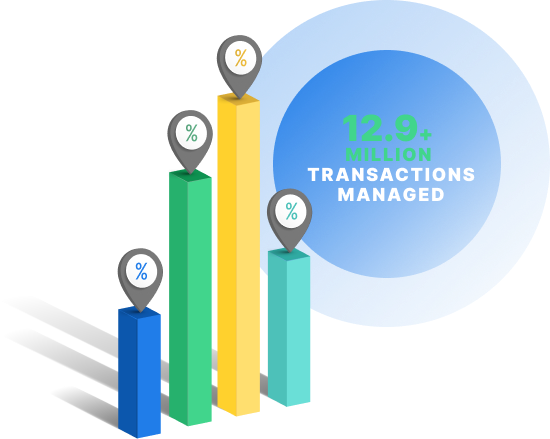 Why is email marketing a great option?
Email marketing is a great option for any business because it is by far the most cost-efficient strategy available, and has the highest ROI of any marketing technique.
Email is known to have an ROI of 4400%, which is unheard of for any other technique.
Not to mention, you are six times more likely to get clicks from your emails than you are from a tweet, and emails are 40 times more effective at acquiring new customers than Facebook or Twitter.
Are you convinced yet?
Does my company need an email marketing campaign to grow?
Generally speaking, email marketing is a great option for any company in any industry.
As we mentioned, it allows you to stay in touch with both current and potential customers — which is a great way to keep loyal customers in the loop and generate new, quality leads.
Both of these benefits are useful for any company and can be achieved on a cost-effective budget.
Email marketing isn't and shouldn't be the only way that you grow your business, which makes it a wonderful marketing strategy to use in combination with other marketing strategies — not to mention, it's great for nurturing new leads (which ultimately grows your business).
6 main objectives of email marketing
When you start an email marketing campaign for your business, there are a few important objectives you'll want to cover. Here are some of the most important:
1. Inform
One of the main objectives of an email marketing campaign is to inform your readers.
Showing up in your customers' inboxes regularly presents a great opportunity to keep them informed about everything and anything about your company.
Readers should always leave your email knowing something new about your company or benefiting from the information given.
For example, you could inform them about building renovations taking place, along with information about where they can park while the main lot is being used.
You could also inform them about a fundraiser or event you have coming up, a new addition to your team, or a new product or service you offer.
You could also add a link to a page on your website — maybe a new blog post, or a new product page.
No matter what you inform your readers about, you should always make sure to include images and graphics to ensure that readers stay engaged throughout the email.
2. Attract
Another objective of email marketing is to attract users to your company.
You may think that since current customers have already committed to your company, that there's no need to attract them anymore. The truth is, current customers have the choice to stop buying products or services from your brand whenever they choose, and email marketing is a great way to ensure that you consistently win them over.
As far as potential customers, this objective is especially important.
Your email blasts should impress new consumers with your product or service offerings and position your business as a leader in your industry.
To keep current customers on board with your brand and turn potential customers into loyal customers, you should include any new testimonials you have, raving reviews, or new awards that you've won.
Mentioning new awards that you've won will show email recipients that you're praised for your work, and in doing so, it'll reassure current customers that they're with the right company. It'll also attract potential customers to your brand even more, and if they haven't yet committed to your company, mentioning things like awards can help!
Another option is to include custom graphics of this information to further appeal to readers. Custom graphics are a great way to not only keep readers engaged with your email, but to show professionalism.
You can attract users with custom graphics depicting things like your new awards, new services that you offer, or new testimonials. Always remember that it's much better to show and not tell — that's why it's better to have a graphic or video of a person speaking for your testimonial, rather than a sentence stating it.
It's also a great place to show a photo of your CEO holding the award, or a screenshot of the award committee's website mentioning your honor.
3. Engage
Next, your emails should engage users.

Not only should they be informational, beneficial, and attractive, but you should also be sure that they engage recipients so they will want to learn more about your business and your brand as a whole.
Make your emails engaging with images, graphics, and even videos to make sure that recipients read the emails in their entirety and digest all of the information you've provided.
Another way to engage users is to use buttons to guide them to landing pages on your website.
4. Guide
Speaking of guiding, your emails should guide users to visit your website.
This is one of the most important objectives of email marketing because when potential customers visit your website, they're one step closer to converting.
You can guide recipients to your website with the use of links in your copy, buttons, and calls-to-action.
For example, if you're talking about offering a new product, you could either link to that product page in your copy or create a button that urges readers to visit the site to see the entirety of the product's description.
You could even offer a survey in your email which requires a visit to your website to see the results.
There are many ways you can guide users to your website with your emails, and you should do so more than once!
5. Nurture
To turn potential customers into loyal, lifetime customers, you first have to nurture them, and email marketing is a great way to do so.
As we already mentioned, emails are a great way to ensure that you stay top-of-mind. That means that even if a customer doesn't need your products or services at the time they receive your email, your continuous efforts to stay in their inbox will ensure that your brand is the first they think of when they do need your product or service.
Your emails to users that haven't yet converted should outline all the great things about your brand, offer coupons and special discounts, and keep them up-to-date with new happenings.
6. Convert
The end goal of all email campaigns is to convert potential customers and to keep current customers on board with your brand.
You can do so by following all of the objectives above, and ensuring that you're easily accessible to customers. This means providing contact information, your address (if applicable), and your social media information.
To convert readers, you should also provide them with info about your latest sales, deals, and provide them with coupons that will entice them to buy your products.
We're masters of our craft.
WebFX is a marketing and design industry leader.

Meta, Amazon, and Google Partner


4,000+
blog posts written


300+
Google Certified team members

Contact Us

I need help starting an email marketing campaign!
If you're ready to implement an email marketing campaign but don't know where to start, WebFX is here to help.
WebFX is a full-service digital marketing agency that can help you take your business to the next level with email marketing.
We offer email automation with our proprietary software, MyEmailFX, which allows you to segment and personalize your email campaigns to ensure that each recipient gets the email that's right for them.
When you work with WebFX for your email marketing needs, you'll receive a personal point of contact that will ensure that you receive monthly email content, campaign and target strategy, and distribution.
We'll also split test your subject lines to ensure that you're getting the highest engagement possible, and provide design edits for each email as well.
Split tests, also known as A/B tests, are when you test two different versions of an email to see which one performs the best, gets the most opens, or keeps people reading the longest.
We'll be sure to only change one variable at a time, so we can easily pinpoint the perfect email options for your specific audience.
We'll even implement landing pages, A/B test them as well, and provide you with monthly or quarterly lead generation reports.
If you're ready to start working with WebFX for your email marketing needs, contact us today for a free quote.