Pencils of Promise School
Ghana

RESULTS
The school was completed on August 4, 2016, and our $25,000 donation has allowed the Adaklu Kordiabe E.P. Primary School, in the Volta Region of Ghana, to be rebuilt. The school has 5 classrooms and is fully furnished for grades 1-3 (something that was previously lacking).
the goal
Raise $25,000 to build a 5-classroom, fully furnished school in the Volta Region of Ghana.
start date
March 16, 2015
completion date
December, 2015
About the Project
School in Ghana
Announced on March 16, 2015, we donated a total of $25,000 to build a school in Ghana as our second #FXBuilds project.
We believe in the value of education. Each one of our employees works on furthering their career through continued education programs and independent learning. But what about children in the developing world who don't have access to school, technology, or adequate supplies?
We feel that these children deserve more. They deserve the opportunity for an education. They deserve to learn to read and write, and to pursue their own academic interests. That's what motivated us during this second partnership with Pencils of Promise. As we work to improve our skills and the local community, we can also work to build more opportunities for others around the world.
Through individual and team goal completions over the course of seven months, WebFX raised a total of $25,000. The $25,000 mark was reached in December of 2015, and was donated to Pencils of Promise to fund the construction of a school.
This short video has more information on Pencils of Promise, and how they used our funding to create the new school:
WebFX chose to partner with Pencils of Promise again for our second #FXBuilds project because, just like in Guatemala, the full $25,000 went toward the school. Pencils of Promise doesn't use any portion of donations to fund administrative costs—they are provided by private donors.
Donating through Pencils of Promise was an absolute pleasure the first time around, and everyone is very excited to embark on a second school rebuild project.
About the School
Our Pencils of Promise donation was assigned to the Adaklu Kordiabe E.P. Primary School in the Volta Region of Ghana. This school had no formal structures for students in kindergarten through third grade, and classes were held in provisional rooms made of wooden poles holding corrugated tin roofs, or simply outside under the shade of trees.
The classrooms often became unusable when it rained, and the sound of the rain echoing off of the tin roofs made it difficult for students to stay focused. Additionally, students often had to sit on the ground during class due to a lack of desks and chairs.
Check out what the school looked like prior to the Pencils of Promise rebuild.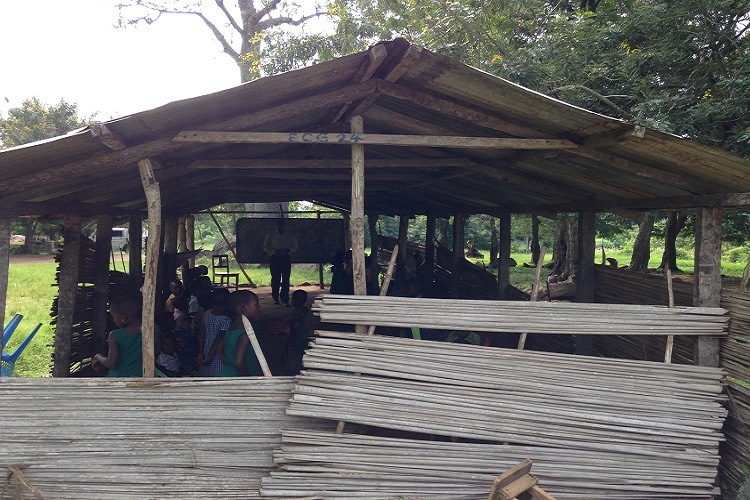 The Results
Pencils of Promise sent regular updates on their progress, and allowed us a first look at the new building. Then, in August 2016, two members of our team, Will and Savannah, had the opportunity to visit the completed school and meet some of the students who now attend. Click through to see a few photos from their trip.
Swipe to the left or right on the slider above to view another projects.