It's no secret that many companies market their products and services on social media. Around 74% of consumers use social media to make buying decisions, and the chance of going viral is always around the corner.
Getting on the social media train as a medical-focused business is more challenging, especially as an EHR company. Your business is not very public-facing since your very purpose is to help medical professionals keep patient information safe and secure. But are there still ways you could use social media to improve business? How? Continue reading to find out.
74% of people use social media when making a purchasing decision.
Make their decision easy with a stellar social media presence. See how your brand can level up by requesting a no-obligation proposal today.
One of our experts will be in touch within 24 hours!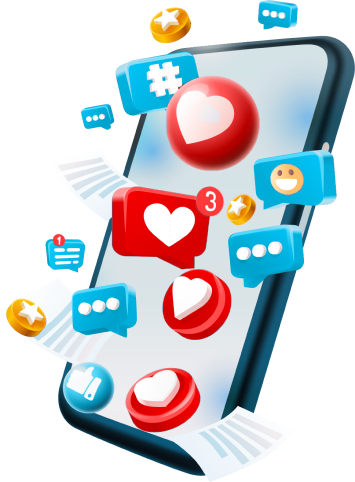 Should EHR companies use social media?
The way you use social media as an EHR company will be very different than how other businesses — like movie theatres or retail stores — use social media. If you want to create company profiles on platforms like Facebook, LinkedIn, Twitter, or YouTube, you'll have to use caution than more casual, public-facing companies.
Let's discuss the potential risks and opportunities of using social media as an EHR company.
Potential drawbacks of social media for EHR companies
The biggest thing to be careful about when getting on social media is patient confidentiality and your clients' preferences. Perhaps the most important consideration is making sure not to violate the federal law restricting the release of medical information.
To maintain proper social media etiquette and avoid violations, your EHR company must:
Make sure employees are well-versed in your social media procedures and policies.

Speak generally about conditions and treatments.

Refrain from speaking to patients online.

Avoid discussing any patients, even in general terms.
While you'll likely be addressing doctors and medical practices and not patients on your social media sites, your accounts will still be public, meaning anyone can come across them. With this in mind, you'll want to be extra careful on social media to keep your company in good standing.
Benefits of using social media as an EHR company
You may find that the benefits of using social media outweigh the potential disadvantages. Social media marketing provides the following opportunities for EHR companies:
Increases trust
One of the most significant issues facing EHR companies is building trust in their product, especially among older generations who may be used to keeping track of paper records on pen and paper inside large filing cabinets. Interacting with potential clients on social media helps you build relationships and trust in your product.
Improves relationships with current clients
In addition to encouraging potential clients to trust your practice, you can improve relationships with your current clients. You may engage with current clients by answering their questions and direct messages, sharing updates about your software, releasing tips for making the most of your software, and more.
Additionally, when you have an active and professional social media presence, your current clients could view your company as more reliable and increase their services with you if your software is scalable.
Helps you reach new clients
Social media opens the door for your company to get noticed by millions of people around the world. Around 54% of B2B marketers say social media marketing has helped them generate leads for their company, making it a worthwhile pursuit for your company.
Solidifies you as an expert
Social media marketing is a quick and succinct way to spread helpful information about your product and company. Sharing helpful and informational content solidifies your company as an expert in your field that potential clients and medical practices can trust.
Tips and best practices for EHR social media marketing
When you're ready to embark on a social media marketing journey, consider these tips and tricks first:
Remember your audience
As mentioned, you'll likely be marketing to doctors and medical practices rather than individual patients. Because you can't physically limit who will see your posts, some patients might come across your account, but the bulk of the information you share will probably be targeted toward medical offices.
If you want to make some content geared toward patients, you might make a post telling patients why they should always be honest with their doctor. This content would appeal to patients as well as practices, who could share your post with their audience of patients.
Show your brand
Social media profiles provide an excellent opportunity to solidify your voice, colors, and branding. You can hone what makes your company stand out and why clients should choose your software. Be sure to keep your branding consistent across your social media profiles and your website.
Research platforms
It is also important to do research on which platforms would be most beneficial for your business. You can find out which platforms are populated by medical offices to discover where you will want to create accounts.
5 Social media content ideas for EHR companies
When you're ready to start planning social media content for your EHR company, consider these ideas:
Share updates and industry news:

If there's any breaking news in your industry, social media is the perfect place to share them quickly. Twitter is especially perfect for sharing immediate updates and news.

Combat misinformation:

The medical community is rife with misinformation, and you can combat it on your social media profiles. Post graphics with myths vs. facts so doctor's offices can share them on their feeds to promote to patients.

Convey the benefits of EHR software:

One of your primary goals will probably be conveying the benefits of your EHR software. Focus on how EHR software will make a medical office's practices easier and streamline workflow.

Answer client questions:

Users might leave questions in your comments or direct messages. They may also tag you in photos or images that they want your opinion or expertise on. Answering questions is a great way to build trust and convey your expertise.

Explain why patient honesty is essential:

As mentioned, you can also create posts explaining the importance of patient honesty.
Growing your social presence with WebFX is a walk in the park.
"WebFX allows growing your social media platforms to be stress-free! They are knowledgeable and adapt to your company needs!"
Learn More About Our Social Media Services

WebFX can help your EHR company with social media marketing
If you're looking for social media marketing help, WebFX can help! We have years of experience helping businesses create and plan their social media content, and we can help you build your strategy. For more information, contact us online or call 888-601-5359!
Increase your leads, sales, and revenue with digital marketing
Find Us Driving Revenue Nationwide