Any business that wants to succeed online must have an established reputation, and medical practices are no exception. While much of that reputation depends on the quality of your services, the first step is simply making sure that people know your medical practice exists — and for that, you need medical practice marketing.
People want to know as much as possible about a practice and doctor before making an appointment, and many use the web to find the information they require, which is why digital marketing for medical practices is so critical.

If you're not promoting your medical practice online or through digital channels, you're not only missing an opportunity to find new patients — you're missing an opportunity to build trust with them.
What are the best ideas for marketing medical practices online, though? Keep reading to find out, because this article shares the seven most successful marketing ideas for doctor offices, plus explains why medical practice marketing is a must.
P.S. At WebFX, we specialize in marketing for doctor's offices, helping our clients connect and build trust with potential patients. If you're looking for help marketing your medical practice, call 888-601-5359 or contact us online to chat with a seasoned strategist about your practice!
Why use digital marketing for medical practices?
You want to use digital marketing for medical practices for a few reasons, including these:
Patients do research online
Whether they use Google, Bing, or another search engine, people use the Internet to look for doctors and specialists. Your name and contact information should be visible in Google Business Profile so that you are easily and conveniently available to patients that need your services.
Information builds trust
Today's consumers look to the Internet for information on just about everything, including medical services. An informative website gives your practice more credibility and allows prospective patients to learn about your staff's education, experience, specializations and hospital affiliations, which will help you build trust with them before they even visit your practice.
Recommendations also build trust
Before the Internet, a prospective patient might get recommendations from friends and family. Now, they can get hundreds from fellow web users. When you're active on social media and review sites, you give patients a forum to talk about your practice and potentially catch the attention of new patients.
Ignoring medical marketing for doctors can stop your practice from growing. Even if you provide excellent care, prospective patients will struggle to hear about you. That's why digital marketing for medical practices is invaluable.

Hear What It's Like to Work With WebFX!

"WebFX has completely transformed my practice. With their support, I have expanded my practice significantly and grown exponentially. I could not have expanded to this degree, nor this quickly had it not been for the incredible efforts provided by WebFX and my team."
Healthcare
How does medical practice marketing help my practice?
Maybe you're already perfectly happy with your patients and revenue. That's great! But we believe that medical practice marketing can still benefit you. Here's how:
Achieve greater efficiency with medical marketing for doctors
Online transactions happen quickly. An automated email regarding annual checkups can be sent and answered in a matter of minutes, and a scheduling tool can help dozens of patients to book appointments in the time it used to take to book one. This will not only make your employees' lives easier, but will also make your patients happy.
Lower costs with digital marketing for medical practices
If you're currently using traditional marketing methods for your practice, you may want to consider making a switch. Traditional marketing not only takes more time than Internet marketing, it also costs more. If you're trying to build a new practice, this is especially important, as you probably don't have a lot of money to invest in direct mail or print ads.
Reach patients easily with medical practice marketing
Traditional advertising can reach a lot of people, but not necessarily the people you want.
For example, if you buy a billboard on a busy road, lots of people will probably see it. But if your target demographic is elderly patients, who may avoid highway driving, is it really doing your practice any good? Internet marketing removes that question by allowing you to market to users based on factors like age, gender, location, and interests, among many others.
Online marketing for doctor offices provides your practice with a channel for attracting and retaining patients at a cost-effective rate. You want to take advantage of it.
7 proven marketing ideas for doctor offices
You know why medical practice marketing matters, but what are the best ideas for marketing medical practices? If you want to know how to get patients, we've got you covered.
The top seven marketing ideas for doctor offices include: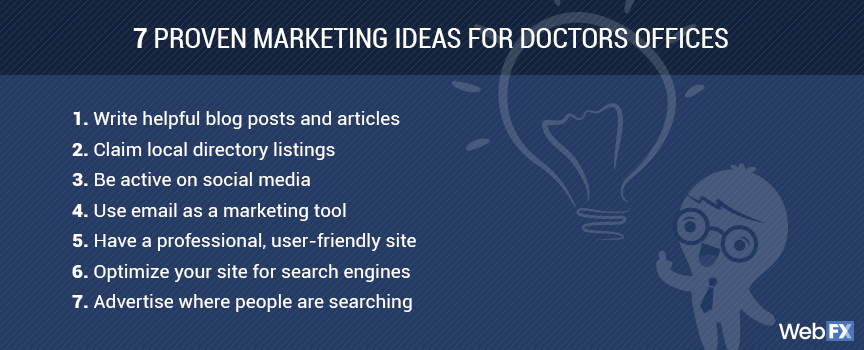 1. Write helpful blog posts and articles
Before visiting a doctor, many people consult the Internet to see if they can diagnose their own illness. You can provide helpful information through blogs and other content. The more helpful you are online, the more potential patients will trust you when they finally have to consult a professional about an issue.
2. Claim local directory listings
When people are looking for a professional, they may choose a local directory over a search engine. Make sure your practice is listed in these directories. Include your website, email address, location, areas of expertise, education and other details about your practice. Keep this information consistent from one directory to another, particularly the name of your practice, or users may have a hard time locating you elsewhere.
3. Be active on social media
The goal of Internet marketing is not only to generate traffic, but also to build relationships, and social media is a great way to do so. Whether you share your latest blog post or a reminder to get a flu shot, a post on Facebook or Twitter can spark conversation. If you do start a conversation, make sure you reply quickly so that you have the chance to show a more human side of your practice.
4. Use email as a marketing tool
One of the biggest advantages of email is that you can use it to specifically reach people who have already expressed an interest in hearing from you. Take advantage of this medical practice marketing idea. Don't just use it to reach out to email subscribers and past website visitors—use it to stay in touch with current patients regarding upcoming appointments, test results and reminders about things like annual checkups and prescription refills.
5. Have a professional, user-friendly website
As your practice's home online, your website needs to be professional, informative, and user-friendly.
If your site doesn't match that description, the first step to reaching patients online is to find a designer who specializes in healthcare web design. All of your other Internet marketing strategies will drive potential patients to your site – so if users don't like what they see, you won't see the results you want.
Your priority should be creating a site that provides visitors with all the information they need about your practice. This includes your location, contact information, hours, and all the services you provide.
Then, you need to make sure that all of that information is easily accessible. Create a straightforward navigation system and include a footer with links to your most important pages so that visitors can find what they need in one or two clicks from your homepage.
6. Optimize your site for search engines
Once you have a helpful, user-friendly site, you need to make sure that your potential patients can find it. The best way to do this is with search engine optimization, or SEO.
This marketing idea for doctor offices involves identifying the keywords and phrases people use to search for the services you offer, then incorporating them on your site where relevant. Then, when someone searches for those keywords on a search engine like Google, they can navigate to the appropriate page on your site.
7. Advertise where people are searching
Traditional advertising methods require you to choose where you want to promote your business based on the target demographics of different media outlets. For example, you may choose to run ads in your local paper, on your local TV news station, or in a magazine related to your industry.
Unfortunately, you have no way of knowing who really sees your ads – or if they pay any attention to them.
With pay-per-click (PPC) platforms like Google Ads, however, you select your audience based on the words and phrases people search. If you're trying to attract patients to your family practice, for example, you could run advertisements in the search results for "family doctor in Harrisburg."
This way, you can invest your marketing budget in reaching the people who've already demonstrated interest in your services. Plus, with the PPC model, you only pay when someone actually clicks your ad and visits your site. So if a user sees your ad but clicks a different result instead, you won't pay a cent.
Attract more patients with medical marketing for doctors
Consumers aren't likely to trust businesses that don't have an online presence, and that certainly includes medical practices. Digital marketing for medical practices might seem like a complicated task, but it's essential if you want to develop a sustainable practice and loyal patients.
If you need help marketing your medical practice online, feel free to contact us or call us at 888-601-5359. Our dedicated team has all the knowledge and experience you need to start using the Internet to grow your practice
Earn a 20% greater ROI with WebFX