7 Social Media Content Types to Become a Social Media Pro
May 18, 2022
8 minute read

Kayla is a content specialist with a B.S. in marketing. She is certified in Google Analytics and Google Ads Search and Display. When not writing, she enjoys reading, playing with her dog, and baking.
Social media content is any content you publish on a social media platform. Your social media content can include video, images, or text, and it can market your company while building relationships with your audience.
But no matter which approach you take, your social media content should interact with your larger content marketing strategy.
Why build a social media content strategy? Because social media brings notable results for your company. With 5 billion people on social platforms and 59% of marketers generating leads and driving sales on social media, investing in your social media strategy can grow your business.
If you need a starting point for your social media content, keep reading for seven types of social media content and how you can use each to market your business.
And if you'd like to learn more, check out our free social media marketing guide! When you download it, you'll get a deeper look into social media marketing, including three checklists you can use to guide your strategy.
7 types of social media content
One of the most challenging aspects of social media marketing is creating content that resonates with your audience. To make matters worse, social platforms are constantly publishing new content formats to engage their users in fresh, exciting ways.
What if I said you could become a pro at leveraging each of these content types as they work for your business? Luckily for you, that's exactly the case!
Check out these seven social media content types, a breakdown of how you can start using them today, and social media content examples to use for inspiration.
1. Social media videos
Videos are one of the best ways to engage people online, so it's no surprise that social media platforms have grown more video-heavy over the years. Types of social media videos include:
How can you leverage these social media video formats? What sorts of content can you share through video? Use these ideas to kickstart your brainstorming process:
Trending content
Ever scrolled through social media and found a particular sound or joke everywhere? If it aligns with your business strategy, jump on the bandwagon! Instagram Reels and TikTok thrive off creators using the same trending audios with a unique spin, which is why this type of social media is a go-to format.
Product snapshots and demos
Want to show your audience your product in action or walk through some of its features? Film a long-form video to post on your social media pages, or make a more informal video for your stories. Remember to save your product demos to a story highlight!
Repurposed blog content
Let's say you have a high-value article or blog post on your site. Why not rework that content into a video you can share across social media? You get the added engagement, bring more value to your followers, and you've already completed half the work!
Behind-the-scenes
Due to their informal nature, story videos allow you to give your followers insight into your company's processes or let them get to know the faces behind your company. Hop on stories to walk them through a day-in-the-life of an employee or give them a facility tour.
Q&As and virtual events
The beauty of social media is that you can interact with customers worldwide. Go live on your social platform of choice to host an event or let your audience ask you questions directly.
Not sure where to begin? Video production can feel intimidating at first. Learn more about our video marketing services or check out these seven video editing apps!
2. Social media images and graphics
We couldn't talk about social media content without mentioning images and graphics. Like videos, images give your audience another way to interact with your content. As a bonus, social media images foster a wide range of content possibilities, including:
Employee features and recommendations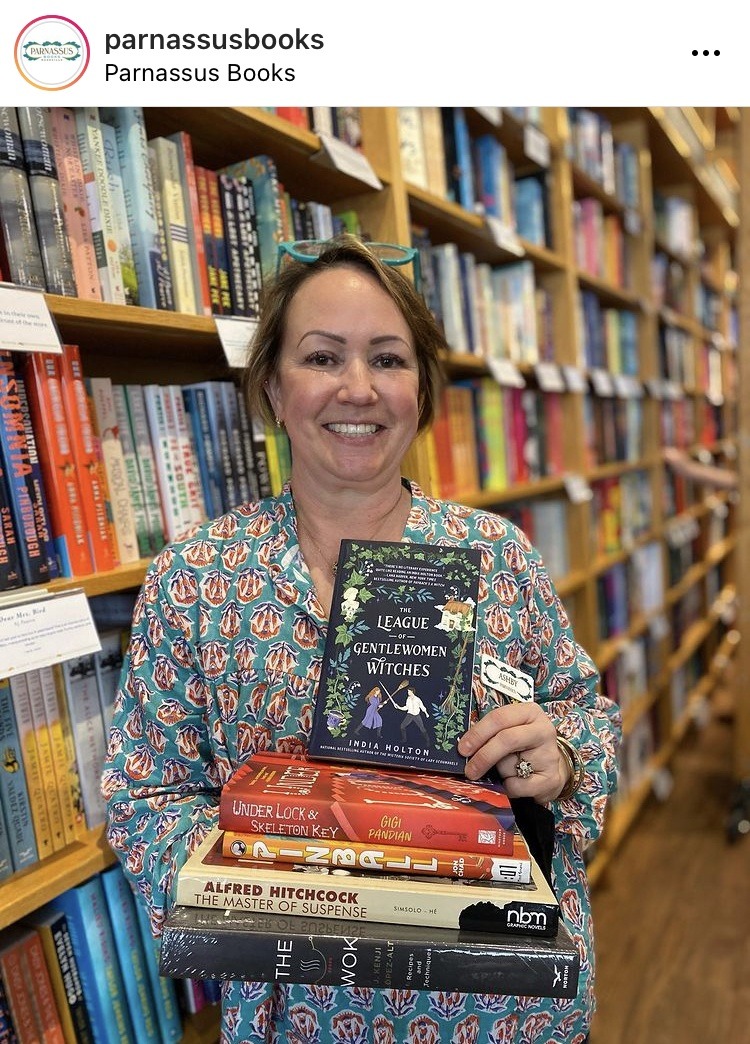 Event photos
Product reveal and event countdowns
Pro tip: Use Canva for graphic design. For photos, check out these image editing apps!
3. Giveaways
Want to expand your reach and give your social media engagement a boost? Host a giveaway!
Many companies will ask their readers to comment, tag a friend, or share the giveaway post for extra entries, creating built-in engagement.
You can host giveaways through your regular posts on the social platform or hold real-time drawings on live streams.
Pro tip: Giveaways and similar strategies must abide by laws and regulations. Ensure you understand all legal requirements before planning your social media giveaway.
4. Links to other content
Bring your followers extra value by sharing links to relevant content on your social media. This content can include almost anything, including:
Ebooks or PDF guides you've written
Blog posts or articles you've published on your site
Online courses you've created
Digital tools you've made
Industry resources
And more
This type of social media content marketing allows you to promote your existing content, leverage industry connections, and share relevant value with your audience from neighboring sectors.
While many social networks allow you to share links in your regular posts, some platforms require a workaround to help your audience access your link. For example, you can share links in your Instagram bio and stories.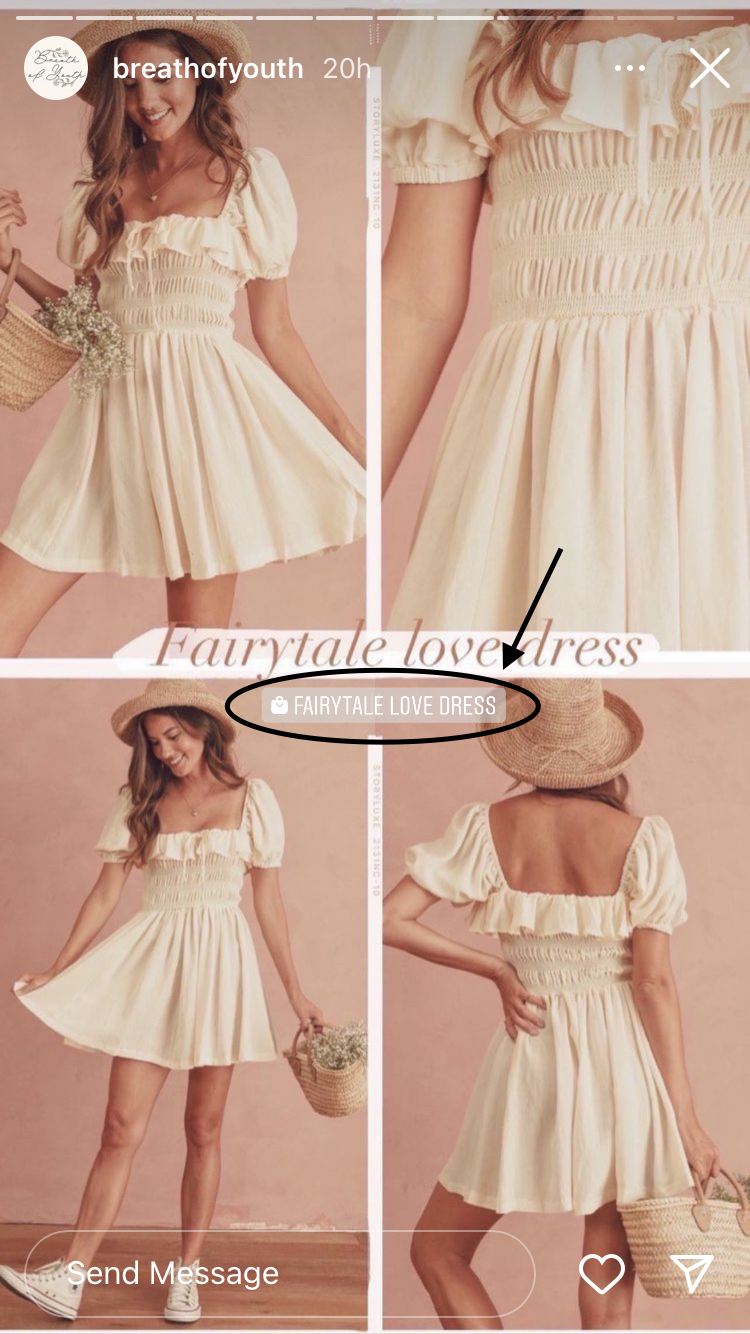 5. Shares and reposts
Social media encourages discussion, so partake in that conversation by sharing posts from other creators. How do you know which posts you should share? Keep an eye out for:
User-generated content (UGC) about your business
Industry-relevant posts from influencers your audience loves
Positive mentions of your brand or products
News or resources you can share with added commentary
As with any marketing strategy, let relevance and value guide you. If the post pertains to your audience and industry, and you think your followers would benefit from seeing it, share it!
Because sharing sits at the heart of social media, you can repost relevant content in many ways that will benefit your followers, including: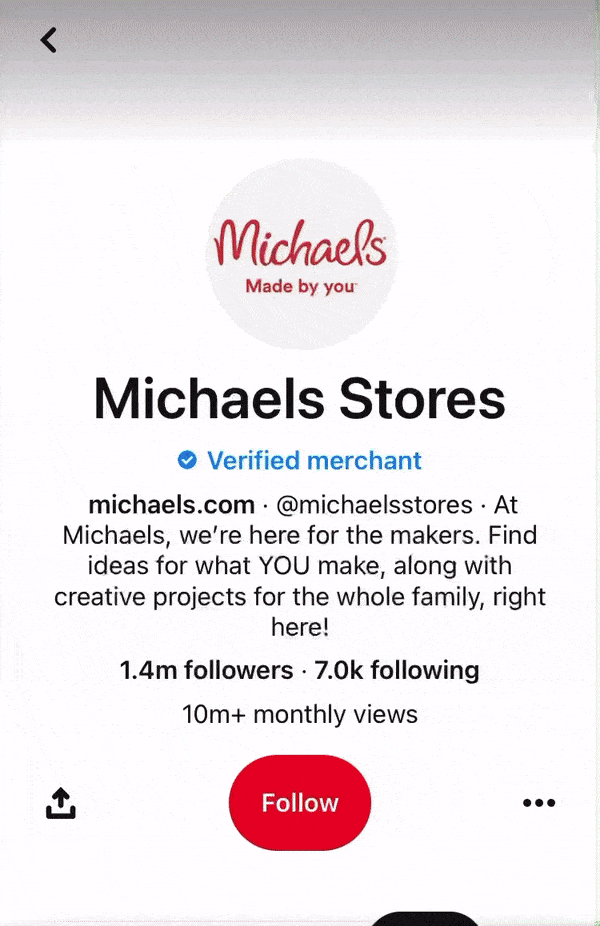 6. Interactive content
Another hallmark of social media is its relationship-building nature. While social media content naturally encourages interaction, many platforms create features designed to elevate the creator-audience interaction. Interactive social media content examples you can use include:
Polls
Question boxes
Duets on TikTok
These content types put your followers in the driver's seat and show how much you value their input.
Plus, if you leverage these features strategically, you can use them to gain audience data. For instance, you could poll your followers to see whether they prefer free shipping or a discount for a shopping perk.
7. Compilations
You've generated a lot of great social media content, but you want to gain more return from it. Use compilations on your social platforms!
What do I mean by compilations? By platform, you'll find collections like:
These features allow you to group your content into themes so your followers can revisit it and gain additional value from it. Some favorite ways you can use compilations include:
Themed product guides, such as for a Christmas gift guide or products sharing a specific use
FAQs
Roundups of UGC or reviews
Company information
Get-to-know-you posts about your employees
Topical themes, such as posts about a particular news story or industry subject
Event information and photos
Pro-tip: Create a descriptive and aesthetically pleasing cover image for your guides, story highlights, and Facebook albums. Canva is a simple tool anyone can use, even without graphic design experience.
Pro-tip video
74% of people use social media when making a purchasing decision.
Make their decision easy with a stellar social media presence. See how your brand can level up by requesting a no-obligation proposal today.
One of our experts will be in touch within 24 hours!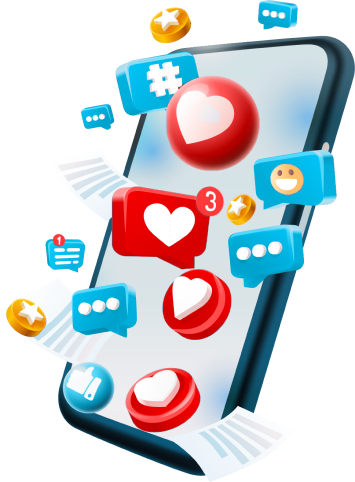 Elevate your social media content with WebFX
Social media content marketing can drive measurable results for your company. But creating effective social media content can be a complex process.
Partner with a social media marketing agency like WebFX to take the pressure off your shoulders. We'll handle your social media so you can spend more time running your business.
Our results-oriented marketing strategies have driven over 7.8 million leads and $3 billion in revenue for our clients. We have 500+ experts who know all things digital marketing, and we've created over 165,000 social media posts for clients across industries.
Ready to leverage a data-driven social media content strategy to grow your business? Call us at 888-601-5359 or request a free proposal online today!
Kayla is a content specialist with a B.S. in marketing. She is certified in Google Analytics and Google Ads Search and Display. When not writing, she enjoys reading, playing with her dog, and baking.

WebFX is a full-service marketing agency with 1000+ client reviews and a 4.9-star rating on Clutch! Find out how our expert team and revenue-accelerating tech can drive results for you! Learn more
Twitter and Facebook Status Generator
Finding engaging social media content for your business can be difficult. Use our tool to quickly find ideas and post directly to your page.
Give Me an Idea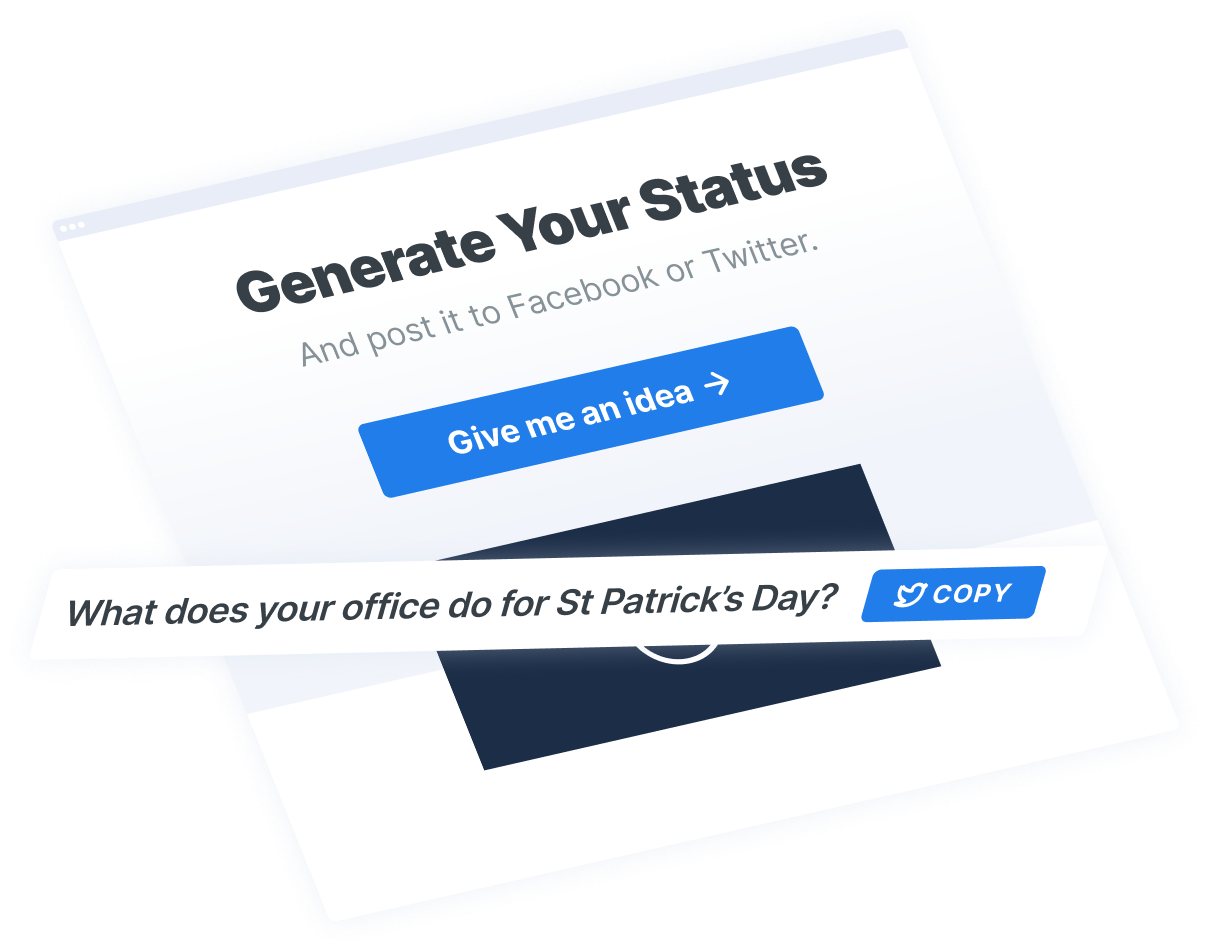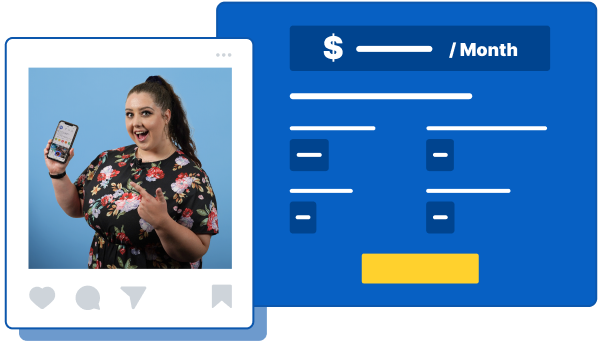 Twitter and Facebook Status Generator
Finding engaging social media content for your business can be difficult. Use our tool to quickly find ideas and post directly to your page.
Give Me an Idea