As a medical practice, you want to make yourself accessible to not just your current patients, but to new ones. With digital marketing for medical imaging and radiology centers, you can do just that.
Digital marketing for radiology and medical imaging can help you attract new patients online, along with increasing brand awareness and visibility for your practice.
In this article, we're covering four strategies to add to your medical imaging marketing plan so you can reap the benefits of digital marketing for radiology and medical imaging.
WebFX is no stranger to helping clients in the healthcare industry build digital marketing plans. Our digital marketing specialists can help you build a digital marketing plan for your medical Fimaging center that prioritizes your patients.
Learn more about how WebFX can help you by calling 888-601-5359 or contacting us online today!
WebFX helps clients in the healthcare industry grow their practices.
"My practice has grown quickly and improved our accessibility to those we serve or hope to serve within our community. WebFX is directly responsible for our growth and the fact that we have more than doubled our revenue in six months."
— Merrimack Valley Psychological Associates
See Case Study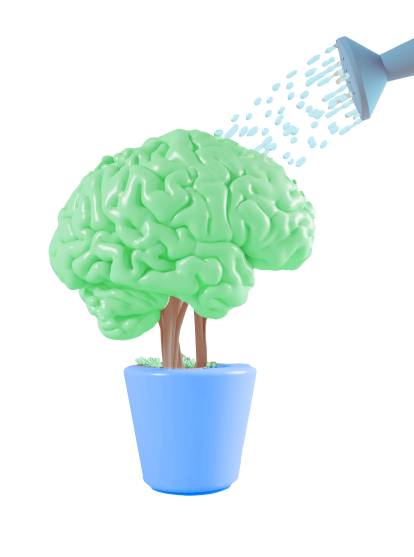 4 digital marketing strategies for medical imaging and radiology professionals
Read on to learn more about five helpful digital marketing strategies for radiology and medical imaging professionals that you can put into practice today!
1. SEO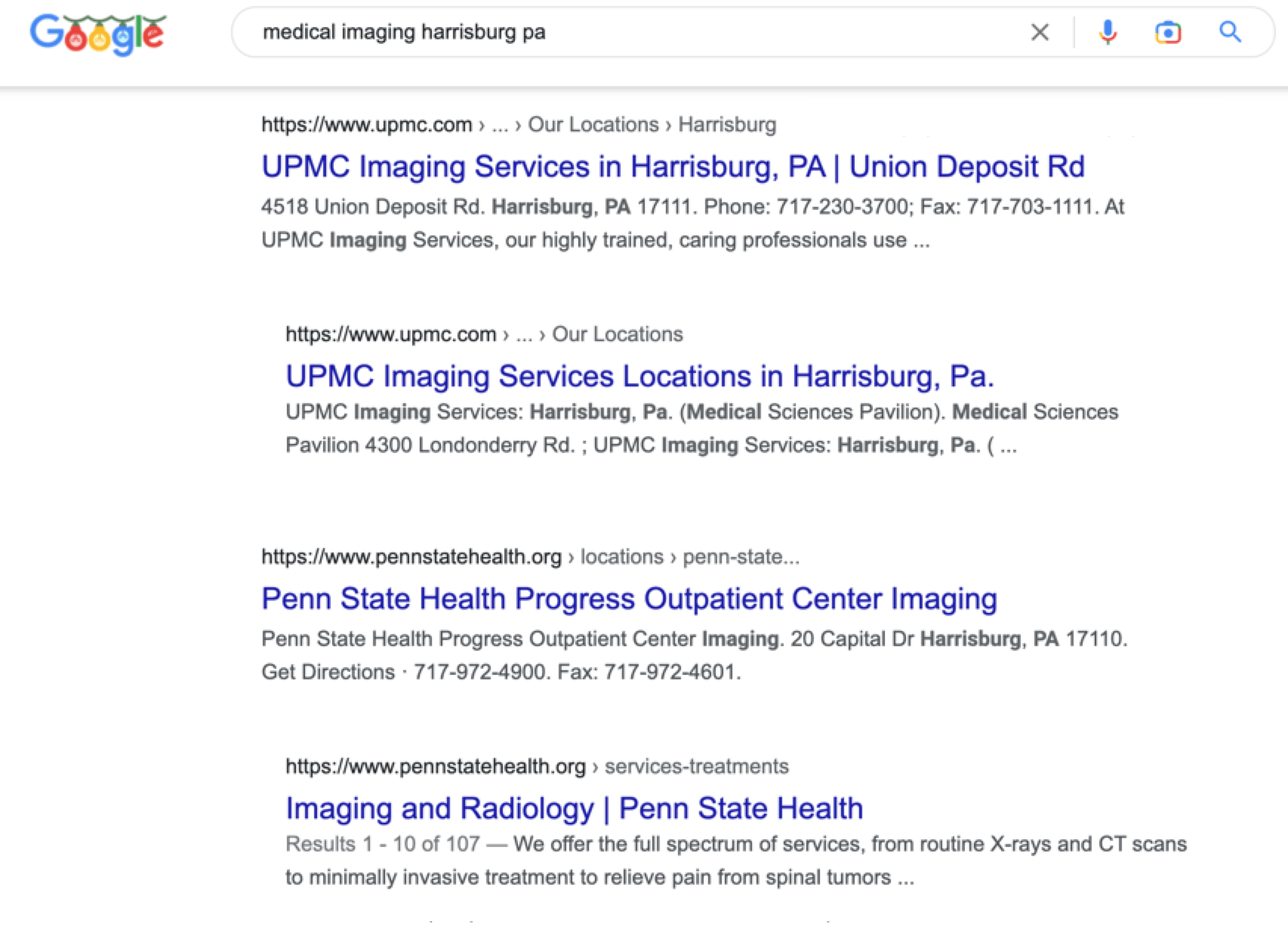 Search engine optimization (SEO) is a digital marketing strategy that can be used by just about anyone, whether you're in the medical field or not!
SEO refers to the process of optimizing certain elements of your website to make them search engine-friendly. It's about helping your website rank higher on search engine results pages (SERPs).
When you enter a term on search engines like Google, you're met with countless pages of results. If you're like most people, you rarely make it to the second page of results before you click on a link.
The goal of SEO is to get your website ranked high enough so that it's on the first page of results users see — ideally in the top spot.
Search engines like Google rank websites in SERPs based on a variety of factors, one of which is keywords. Keywords are the words or phrases someone might use to search for your practice, like "medical imaging center" or "radiology clinic."
By integrating these related keywords into your site's pages and written content, you make your website easy for search engines to understand, which could lead to better rankings.
Other major SEO ranking factors search engines take into consideration include:
Looking for an all-in-one SEO audit tool? You've found it.
SEO Checker provides data on key metrics to give you:
Complete SEO score

Content Grade

Site Speed Analysis

and more.
2. PPC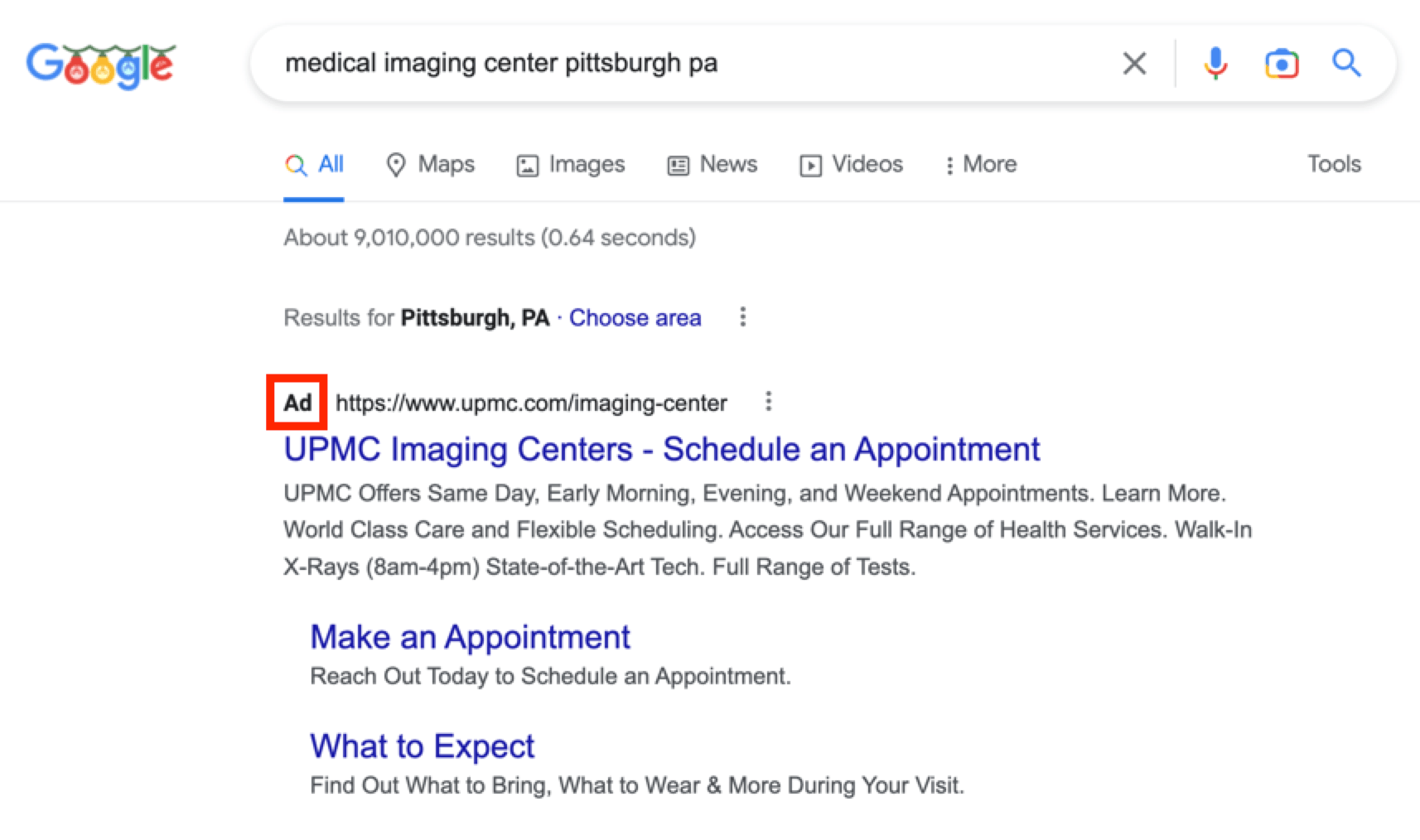 Pay-per-click (PPC) advertising is a form of advertising where you pay to have your clinic show up on search results pages for keywords and phrases of your choosing. PPC ads are highly sought after because they're some of the first links you see, sitting right at the top of SERPs.
Though they're clearly labeled with the "Ad" or "Sponsored" tag, PPC ads can increase your clinic's online visibility to your patients. In fact, 75% of people say that paid ads have made it easier for them to find the products and services they need.
PPC is a popular form of paid advertising because it's budget-friendly. PPC ads work on a bidding system. Essentially, those with the highest bids will see their ad appear in search engines. Every time a user clicks on your ad, you'll pay the amount you originally bid.
This bidding system makes PPC ads ideal for medical imaging and radiology marketing, especially if you're looking to advertise on a budget. With PPC you can set spending limits for yourself and stop running ads once you've hit that limit.
You control how much you're going to put into your PPC ad campaign. But like any auction, you'll be competing with other bidders for those top ad spots, so bid wisely!
3. Web design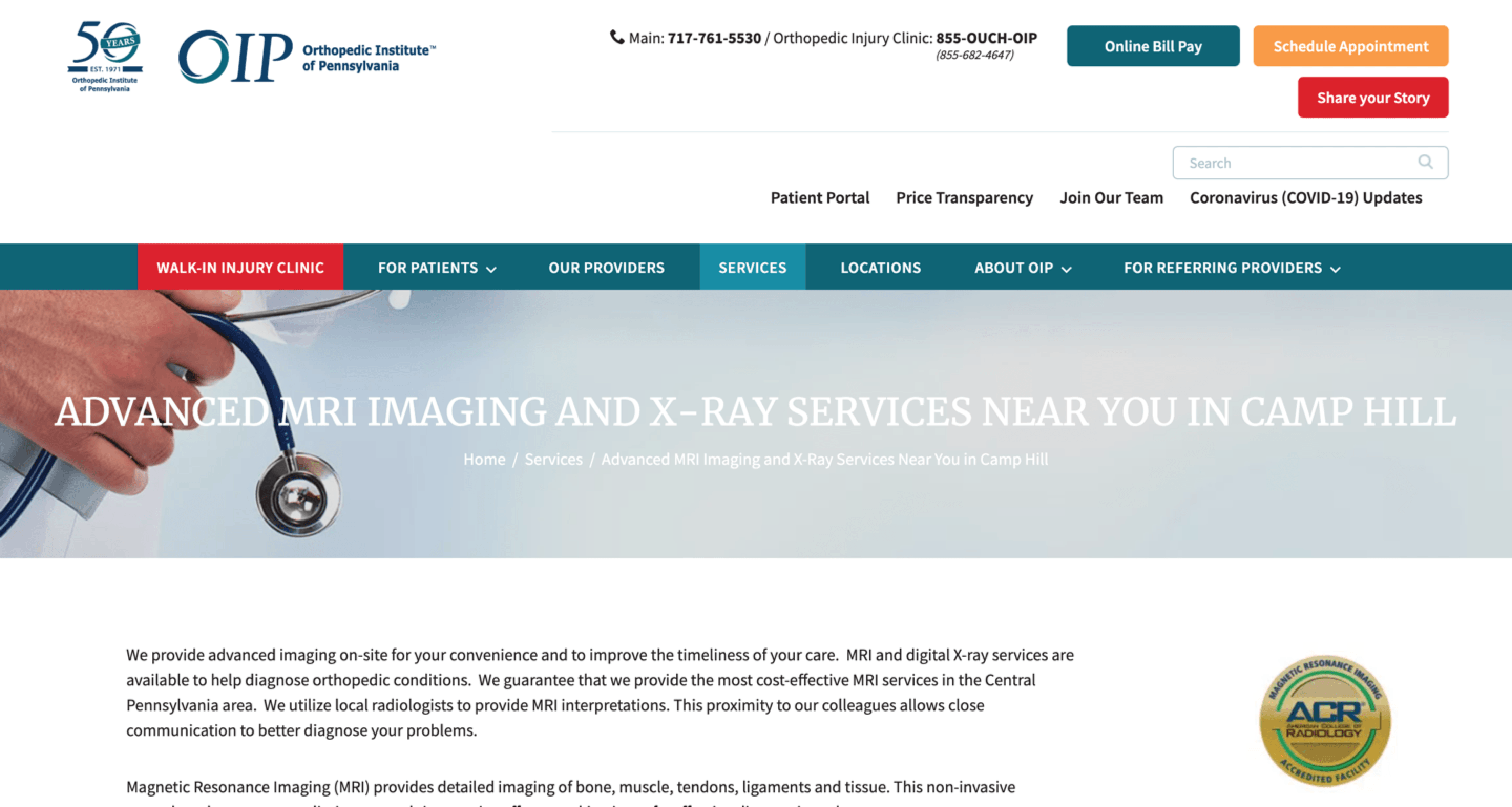 Finally, web design is an important part of digital marketing for medical imaging because your website plays a huge factor in patients' first impressions of your practice. To be precise, 94% of people's first impressions of companies, businesses, and medical practices come from their websites.
By developing and maintaining a website with a clean, easy-to-navigate design, you'll draw potential patients in and avoid the risk of them turning away.
What's more, web design also plays an important role in determining the credibility of a company or practice — 75% of website credibility comes from its design. As a medical professional, you're always looking to establish your credibility and reliability, because patients are looking to put their trust (and health) in your hands.
Just like your practice, when designing a website for your radiology or medical imaging center, you want to put patients first. This means designing a website that's user-friendly and prioritizes user experience (UX) — or, in this case, patient experience.
To create a patient-friendly website for your medical imaging center, follow some of these design tips:
Clearly display your practice's address and contact information
Design a simple navigation menu
Add website content that answers common patient questions
Consider adding a way for patients to schedule appointments online
4. Content marketing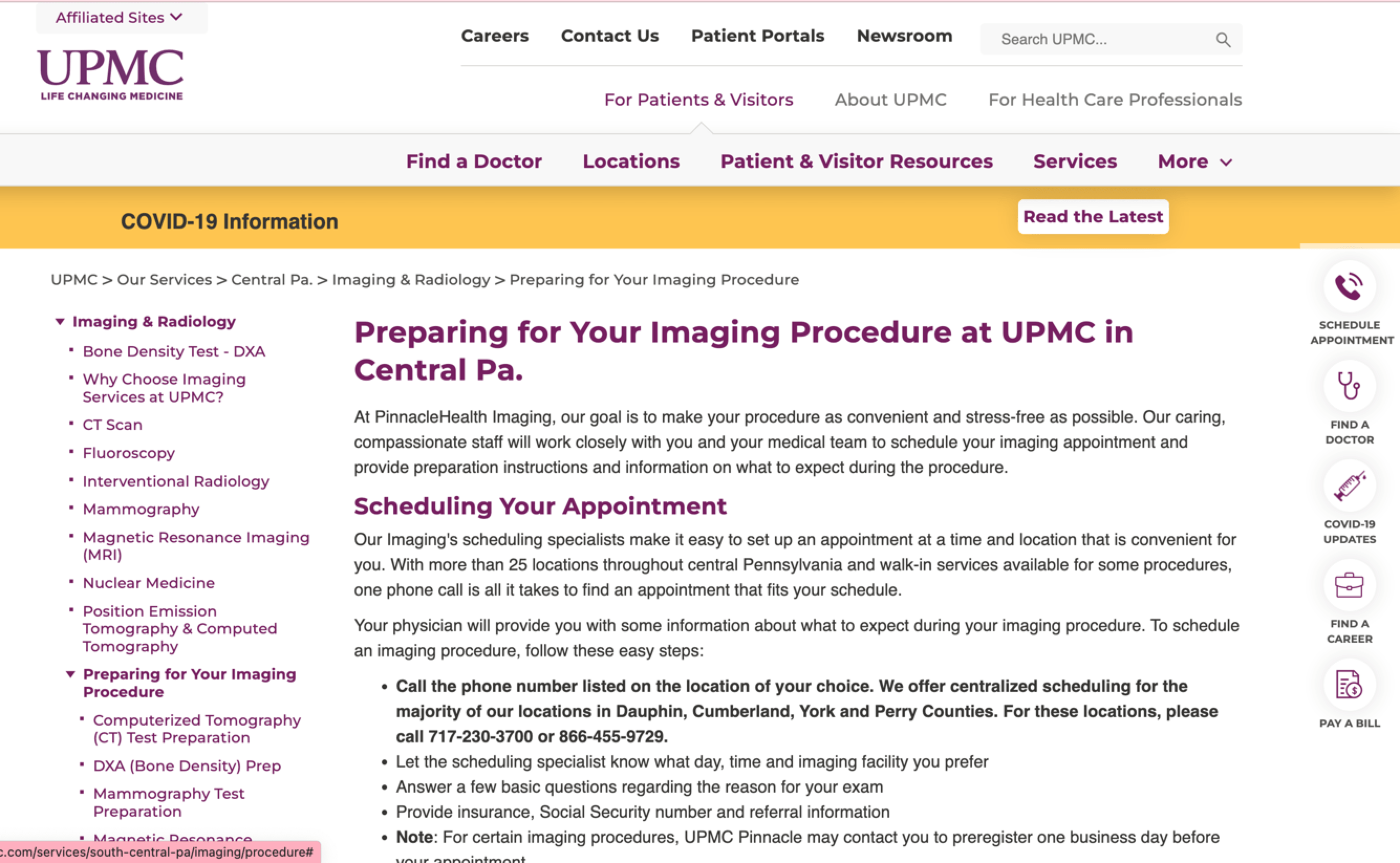 Content marketing is exactly what it sounds like — marketing your radiology and medical imaging center with content.
When it comes to digital marketing for medical imaging, content marketing is a great strategy to help get eyes on your business. It allows you to build on your website by adding helpful content your patients would want to know (and even some content they didn't know they wanted).
Some examples of great content for content marketing include:
Blog posts
Industry news
In-depth informative articles
By keeping UX in mind and putting content on your site that educates and enriches patients' experience with your practice, you can better establish your practice as a reliable source of information and — most importantly — a trustworthy medical facility.
With content marketing, you can also improve your SEO by creating written content that incorporates keywords and further establishes your credibility as an authority in the medical imaging industry.
These are real SEO results driven for a WebFX client.
You're next.
Learn More About SEO Services


260%
increase in organic revenue

198%
increase in organic transactions
150%
increase in organic traffic

3872%
increase in sessions from SEO
Build a personalized digital marketing plan with WebFX
Whether you're looking for SEO services, web design services, or all of the above, WebFX has got you covered. WebFX can help you develop a personalized digital marketing plan that fit your budget and helps you achieve your radiology marketing goals.
Ready to get to work? Learn more about how WebFX can help you with digital marketing for radiology and medical imaging by giving us a call at 888-601-5359 or contacting us online today!
Increase your leads, sales, and revenue with digital marketing