Healthcare is an increasingly competitive field, and reaching new patients requires a strong digital marketing strategy. And with a large number of changes to health insurance over the past few years and a slew of mergers and acquisitions in the healthcare field, the healthcare industry as a whole has undergone some major changes.
One way to attract customers is by using social media. Social media platforms allow hospitals and healthcare facilities to connect with potential patients one-on-one, while also providing valuable information to help them make the best decision for their health.
How can you build a successful healthcare social media marketing strategy? This post answers that question, covering the value of social media in healthcare and offering tips that you can start using today!
Keep reading to get started or call 888-601-5359 to speak with a strategist about how WebFX can help your hospital reach more patients with social media.
Not happy with your social media engagement?
We've got just the blog post for you.
Read the Blog Post & Watch the Video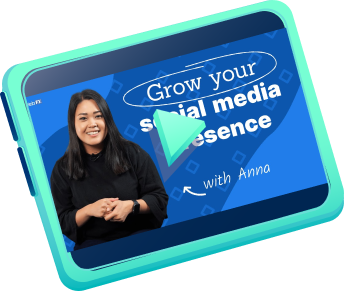 Why social media matters to healthcare
Social media has become the new word of mouth advertising.
If something is generating buzz, it's likely that those conversations are taking place on platforms like Facebook and Twitter. To get an idea of what people are talking about, look no further than the trending topics on social media sites, which tell you what people are writing about and clicking on.
It's extremely important for any business use social media, but it's even more important for healthcare.
For starters, healthcare is a people-focused industry. You need to understand what people want and what motivates them, so you can tailor your communication to their interests. You also need to have the ability to address them directly.
Social media offers all of this.
It is a powerful communication tool, and one of the best ways to market any service online. Plus, companies that do not employ social media appear dated and out of touch. Those are not words you ever want associated with you in the fast-paced, ever-changing world of healthcare.
74% of people use social media when making a purchasing decision.
Make their decision easy with a stellar social media presence. See how your brand can level up by requesting a no-obligation proposal today.
One of our experts will be in touch within 24 hours!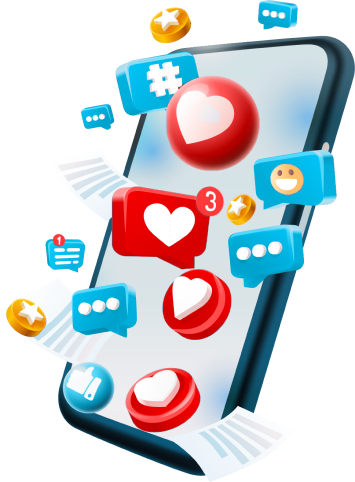 6 tips for a better healthcare social media marketing plan
If you're looking to do more with your healthcare social media marketing plan, there are several steps you can take to earn more likes, shares, and interactions from your patients. Use these tips to start improving your strategy!
1. Share preventative health news
Time-sensitive posts work well for not only engaging your audience but also educating them.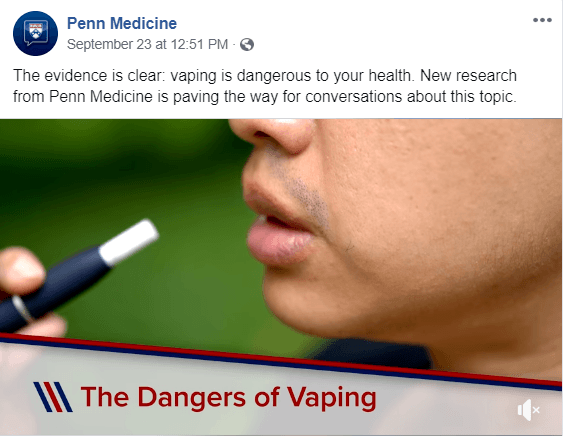 This kind of content can include articles about recent health epidemics, routine procedures (like a flu shot), and hot topics in the industry. The above social media share, for instance, highlights recent findings into the dangers of vaping.
When you build a habit of sharing this kind of content, you create a relationship with your audience.

They trust you to cover the latest news in the healthcare sector, which makes them more likely to check your posts. Highlighting topics that people are talking about can also drive engagement, whether with your facility or other commenters.
2. Engage (and educate) patients
People expect healthcare facilities, from outpatient care centers to hospitals, to educate.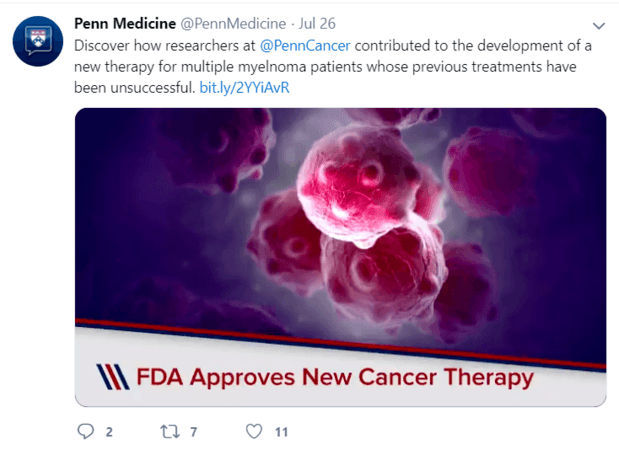 That's why your healthcare social media marketing strategy should include sharing educational materials. These materials can range from blog posts to studies. While you can share posts from your hospital, you can also pass along articles from other trusted websites.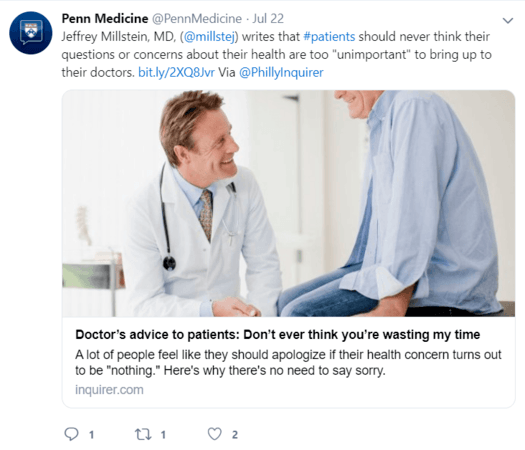 If you're sharing content that your team (whether your in-house staff or marketing agency) didn't create, fact-check it. You want to share accurate and factual content. If you post something that isn't, it could hurt the trust that patients put in your facility.
3. Raise awareness for events, new treatments, and more
A healthcare facility or hospital's social media strategy can also promote the following:
Events
Research
Treatments
And more
For the best results, your facility should balance your promotional content. You may, for example, highlight an upcoming event at your location one week and then share some exciting research findings the next.
Keep your content fresh and exciting for your audience.
Raising awareness for different activities can help with brand awareness, as well as patient loyalty and trust. In the example below, for instance, users can learn how oncology nurses advocate for better care and nursing practices by actually visiting and educating politicians.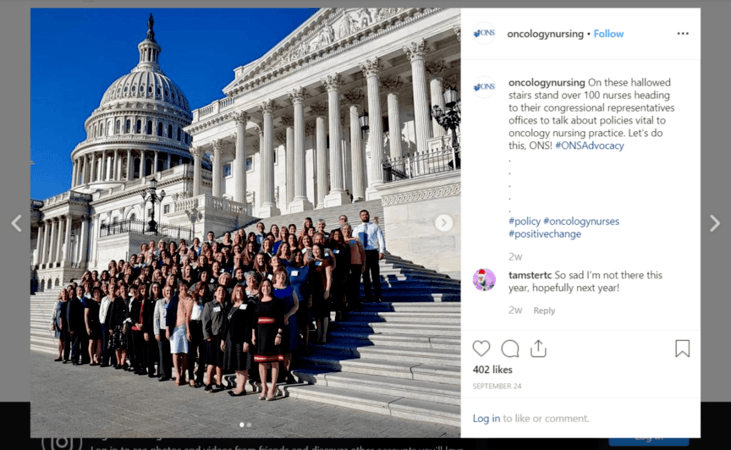 This kind of work and initiative demonstrates the passion of your team for what they do. When patients see that, it helps them build a stronger bond with your medical team and facility. They trust you with their care, and because of that, they're likely to recommend you to friends and family.
4. Show your brand in everything you do
While many healthcare facilities share similar values, like providing quality care, each maintains a unique brand and brand voice. With social media, you can highlight your brand in the content you share and the interactions you have with followers.
You can stand apart from other facilities, though, by showcasing your brand in unique ways.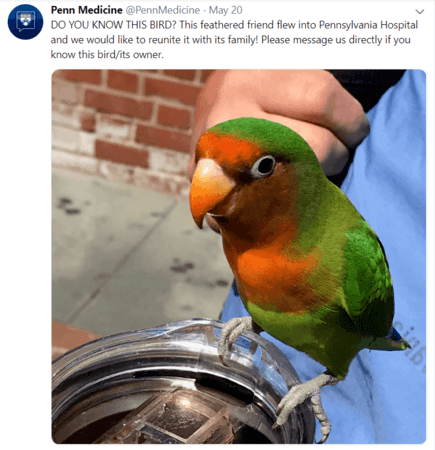 In the above example, for instance, this hospital shared an unplanned post to find the owner of a lost bird. For users, this kind of post emphasized the hospital's commitment to helping, as well as showed that it provides quality care to everyone — animals included.
5. Highlight staff accomplishments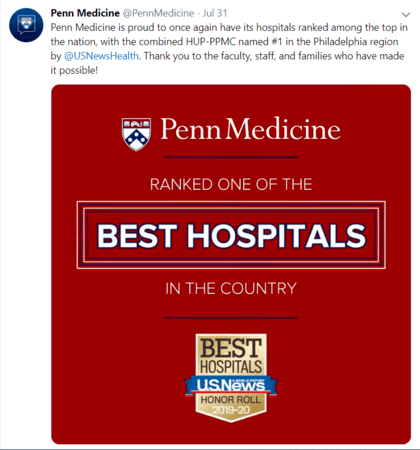 In healthcare social media marketing, you want to build a trusted relationship with your audience. They're entrusting you with their health, so it's essential to maintain and develop that trust over time.
Highlighting your center or staff's accomplishments can contribute to that goal.
Whether your facility wins an award, your staff receives recognition for research, or your facility earns public praise from a patient, you can highlight it via social media. If you're sharing patient feedback, though, it's essential to receive permission from the patient.
6. Embrace user-generated content
User-generated content (or content created by users) is an excellent healthcare social media marketing strategy. People trust the recommendations of others, from their friends to their family, and having user-generated content that endorses your facility is a massive win.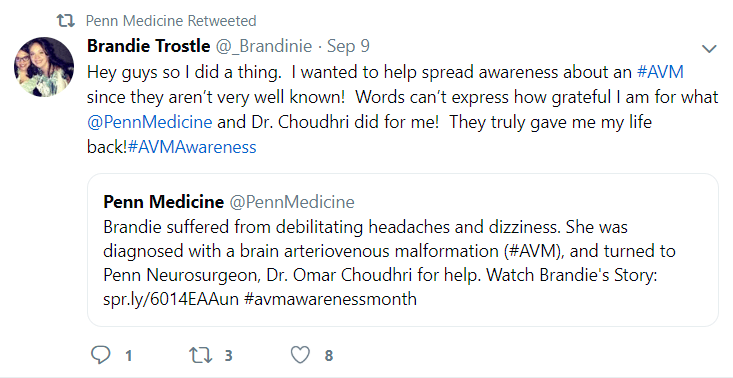 If you search for brand mentions on social media platforms, you can often find user-generated content.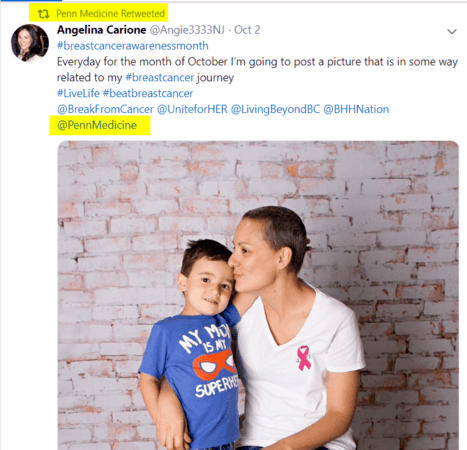 In some cases, your facility may even partner with a patient to create user-generated content. This content will usually educate users and serve as a testimonial, like for a new treatment.
With user-generated content, it is essential to receive patient permission for re-sharing their content. While some social media networks, like Twitter, support re-sharing content, others like Instagram, don't.
That's why it's vital to message the patient and ask for permission.
Start incorporating these tips into your healthcare social media marketing strategy to increase patient engagement and trust!
See The Latest Medical Device Industry Statistics
The best platforms for healthcare social media marketing
Here are the four major social networks and how they can help your hospital's social media plan.
Facebook for healthcare
Facebook has the largest user base of any social media platform today, and is a great place to share updates about your practice and events.
You might use Facebook to:
Inform people about an upcoming open house
Remind patients about seasonal health concerns
Let people know about construction that is blocking the entrance to a parking lot
Facebook is most valuable as a reference point for patients and potential patients. If they want to know what's going on at the hospital, they should have easy access to your Facebook page to find out.
Twitter for healthcare
Think of Twitter as the place for your healthcare facility's breaking news. If there's a breakthrough in a specific type of healthcare, or a health issue that people should be aware of, you can share this information on Twitter. People check these feeds to find current information, and if you provide it, you can build a strong following that may eventually become patients.
You might use Twitter to:
Post the results of a new study published by an employee at the hospital
Announce a fellowship won by one of your doctors
Highlight a story in the local newspaper about your hospital
Twitter is most valuable as a source of news and information for patients, but it also targets anyone who wants to learn more about your hospital. Update your feed regularly, and make sure to respond to any comments or questions.
LinkedIn for healthcare
LinkedIn is the social media site for professionals. Every company should have a LinkedIn account, but how much you use that account may depend on your industry. For healthcare, it can be a great resource.
LinkedIn offers a great deal of in-depth discussion and analysis. You may not connect with new patients, but you can bolster your reputation as a research hospital or a teaching hospital. You can also add to dialogues on topics of interest to your industry.
You can also help establish your healthcare company as an authority in the field. When you develop a track record of answering questions related to healthcare, it gives you credibility. Other hospitals, and even some patients, will notice and give you more respect.
YouTube for healthcare
YouTube is the Google-owned video sharing network that streams billions of videos each day. Hospitals can set up their own channels on the site where they share videos relevant to patients and potential patients. Think of it as the hospital's own video network, where important information can be shared.
For example, instead of sending out a packet of information on check-in policies, rules, and regulations for the maternity ward, post a short YouTube video explaining the information. It's much easier for your customers to sit through a video than it is to read a big packet—and it's far more likely that a video will be watched than a packet will be read.
YouTube is a unique way to engage patients with videos that are interesting and informative. It rewards creativity, because people will share clever videos with friends no matter what the source. And there is always the hope that your video will go viral, getting shared across the web with millions of people.
Hear What It's Like to Work With WebFX!

"WebFX has completely transformed my practice. With their support, I have expanded my practice significantly and grown exponentially. I could not have expanded to this degree, nor this quickly had it not been for the incredible efforts provided by WebFX and my team."
Healthcare
Need help with healthcare social media marketing?
If you need help building and managing a professional healthcare social media marketing strategy, WebFX can help.
Our team has helped healthcare companies like yours build better social media accounts, update them regularly, and attract new patients from them. If you want to see how well social media can work for your hospital, feel free to reach out to us for a free consultation and custom quote. We'd love to hear from you!
Earn a 20% greater ROI with WebFX