Therapists impact the world and their community, and having a way to reach new clients is crucial. Lead generation helps you reach your target audience and the people who need your services the most.
Read on to learn five core methods of lead generation for mental and behavioral health clinics. You can also get started on your lead-generation strategies by contacting one of our specialists now!
37% of marketers say that generating high-quality leads was one of their biggest challenges.
We want to decrease that percentage.
WebFX can help you generate high-quality leads with a customized marketing strategy.
Learn More About Lead Generation Services
Methods for lead generation
Generating leads for your mental or behavioral health clinic is crucial to gaining new clients. Follow these tips to set yourself apart from the crowd.
1. Content marketing
Content marketing is one of the most popular ways to attract leads to mental and behavioral health facilities. Content marketing involves creating posts, videos, and pages to provide valuable information to your audience.
Users searching for information about mental or behavioral health services want to learn more and have their questions answered. If you meet their needs, it will help attract leads and help trust in your business.
You can start finding topics to write about by determining the keywords used by your target audience. Long-tail keywords are more specific, so one example for your industry might be "behavioral health services for kids in Harrisburg, Pennsylvania." You could write a blog post about behavioral health services in Harrisburg to reach local prospects.
While blogging is often a top priority in content marketing, you can share information in several formats, including:
Videos

Infographics

Ebooks

Worksheets

Pamphlets

Webinars

Tutorials

Quizzes
Producing high-quality content helps drive leads to your website and gets them to stay longer, improving your search engine ranking.
2. Pay-per-click (PPC) advertising
PPC ads appear at the top of the search results page. You bid on them to secure a spot in the search results, but you only pay if someone clicks on your ad.
These ads are powerful in driving leads to your website. Long-tail keywords are the option that will get you the best and most relevant leads.
Going back to the example above, "behavioral health services for kids in Harrisburg, Pennsylvania," is a valuable choice until you start ranking organically.
3. Social media marketing
People spend a lot of time on social media — and so should your company. You can choose the platforms your audience uses most, like Facebook, Twitter, or Instagram.
Target audience research will help you understand which options are best for your mental and behavioral health services. Before diving full-fledged into your social media strategy, ensure you have a well-branded profile.
What you post on social media will largely depend on:
What your target audience wants to see.

Which platforms you use.
For example, a platform like TikTok is solely for videos. Your clinic can have a presence on TikTok if you serve younger generations like Millennials or Gen Z. You might post an informational video about mental health or behavioral conditions or a breakdown of how a therapy session works.
Instagram is focused on photos, though videos have become more popular due to the introduction of Instagram Reels. Twitter is useful for short bursts of information and engaging directly with your audience.
With the addition of features like the "For You" page on TikTok or the "Explore" page on Instagram, social media algorithms can suggest your content to new people. Your followers can also share content with their friends and encourage new leads.
4. Search engine optimization (SEO)
SEO is critical for lead generation. The term covers a wide range of topics, but the goal involves strategies you use to improve your website to get it to rank on the search engine results pages.
A search engine uses "crawlers" to scan every available page and use information gathered to determine where they should rank. Keywords are crucial, but there are several other areas you should optimize, including:
Headers and subheaders

Meta tags

Photo descriptions and alt text

Website accessibility

Mobile-friendliness

Page speed

Backlinks

Internal links
Keep in mind that SEO changes all the time — what works for you today might not work in a few years, and that's okay. Staying on top of the changes and new requirements can help you rank higher and generate more leads.
5. Reviews and referrals
When someone is looking for therapy or behavioral health care, they want to find someone reliable. Reviews and referrals play a crucial role in gaining clients' trust. Making reviews visible across your social media, search engines, and website will help spread positive experiences.
Referrals are another valuable lead-generation opportunity for mental and behavioral health services. While word-of-mouth can be helpful, forming partnerships with others in your industry can be even more effective.
An association, nonprofit organization, or nearby doctor's clinic could be helpful resources that send clients to you. Sometimes, people don't know where to start when looking for mental health or behavioral therapists, so getting a vote of confidence from another trustworthy source will make you a better choice.
Meet WebFX:
Your world-class, tech-enabled marketing agency with over 1.6 million hours of combined expertise.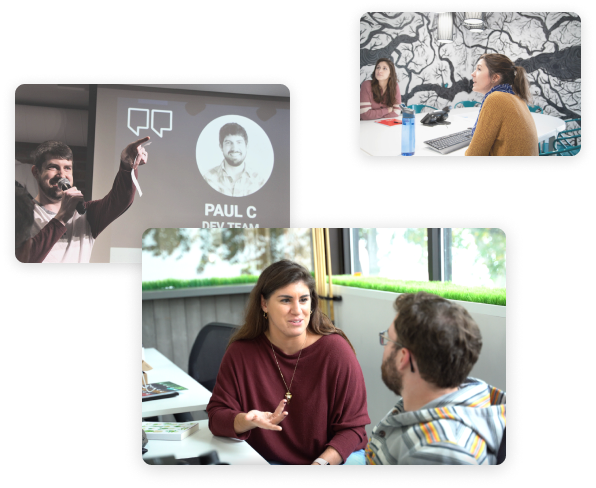 Let WebFX help you generate leads for your mental or behavioral health clinic
Are you ready to reach more people, generate leads, and grow your business? WebFX is here to help. We offer numerous lead-generation strategies, from SEO services to social media management and PPC advertising.
Trust our team to help you gain new leads and make conversions with our high-quality, comprehensive services. Call us at 888-601-5359 or contact us online to speak with a strategist today!
Increase your leads, sales, and revenue with digital marketing
Find Us Driving Revenue Nationwide