Top 5 Best Website Builders In 2023
You're ready to build your dream website, but what's the best website builder in 2023? Your website is an investment, so it's crucial that you invest in the right website builder to create it.
On this page, we'll go over five of the best website builders in 2023. If you need help building your dream website, call us today at 888-601-5359 to speak with a strategist.
So.. what is the best website builder? Here's our list of the best website builders!
5 best website builders in 2023
The top website builders for SMBs in 2023 are:
| Best Website Builders | Cost |
| --- | --- |
| Wix | $14 – $39 per month |
| WordPress | $4 – $45 per month |
| Duda | $14 – custom per month |
| Squarespace | $12 – $40 custom per month |
| Weebly | Free – $26 custom per month |
Top website builders 2023
Let's take a deeper look at the most popular website builders in 2023, how much they cost, and what they provide.
1. Wix

Price: $14 – $39 per month
Wix is a fan favorite when it comes to top website builders in 2023. Millions of people use this service to build their websites. Whether it's a personal website or a company website, this builder is one of the top picks for 2023ç
If you run an ecommerce store, Wix will work well for what you need it to do. You have many ecommerce functions at your fingertips, from uploading and organizing products to creating registration forms and landing pages. Wix also supports online payments, so your customers can purchase products online.
Wix offers a large library of templates for you to choose from for your business. They offer hundreds of different designs to fit your business's style. These templates are easy to use and build your website on, whether you're a beginner designer or a pro.
When you build a site through Wix, it's easy to customize your template to make it your own. This website builder is easy to use. You'll have access to dozens of tools that make it easier for you to build the website you need.
In addition, Wix sites have mobile-friendliness built into them. You don't need to worry about optimizing your site to be mobile-friendly.
Wix offers a few extra features that can make your business's appearance unique. You'll have access to features like a customizable music player, video uploads into media galleries, and online ordering for restaurants. With these features, you can create a website that is more functional for your business.
The integration of choices and advanced tools makes Wix a great option for your business. Wix is one of the best online website builders for your business.
2. WordPress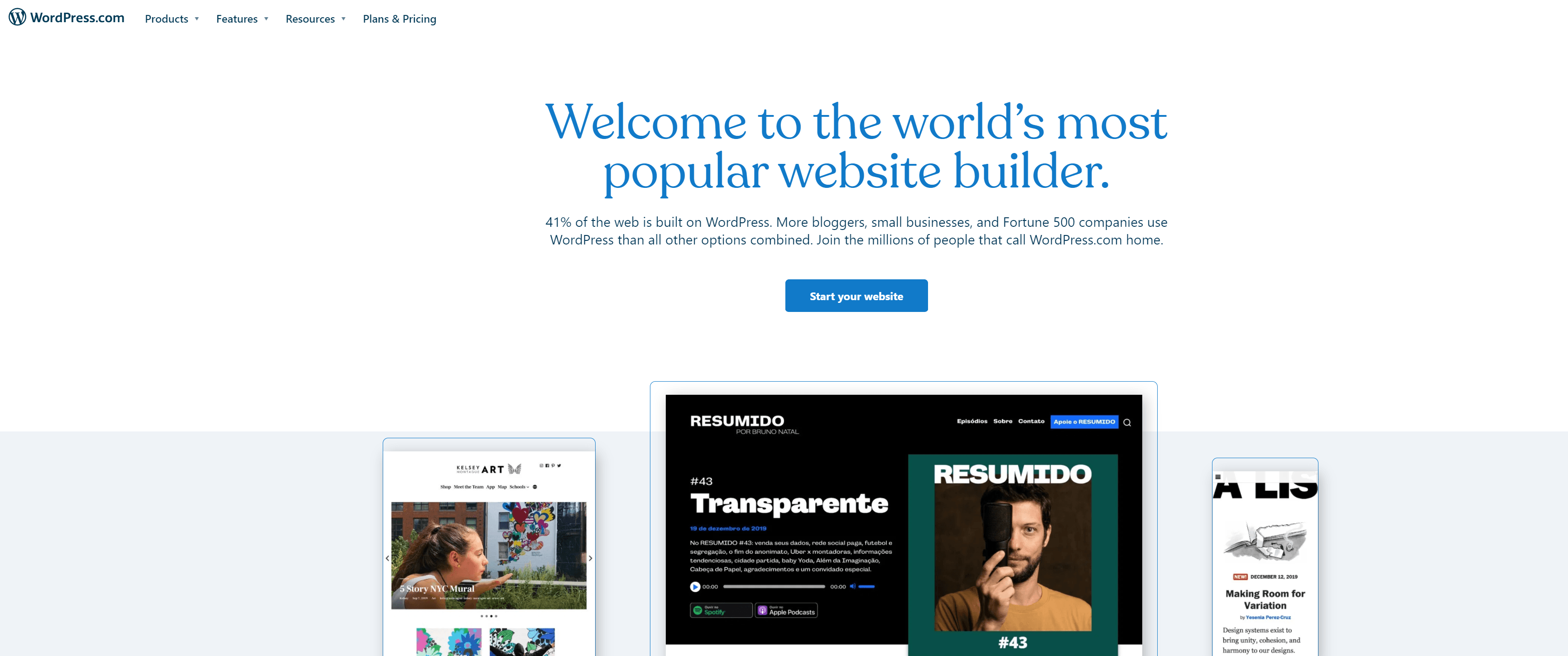 Price: $4 – $45 per month
When deciding on a top website builder for your business, WordPress is another great option. This open-source website builder makes it easy for you to build the website you need. Millions of people rely on WordPress for their website, blog, and app needs.
Since it is open source technology, anyone can build stuff for it. This makes it an appealing option because people can constantly develop new features for this website builder.
With WordPress, you'll have access to thousands of website themes. There are free and paid themes you can use.
When you sign up for WordPress, you get access to hundreds of plugins. Some of these plugins help you create a more functional website, while others will help you track your page. For example, if you're looking to use WordPress for ecommerce, WooCommerce is an ecommerce plugin you can add to your WordPress site to make it into an online store.
WordPress is a very straight forward and standard website builder. The access to plugins to enhance your site makes it a great way for your business to get the tools you need.
3. Duda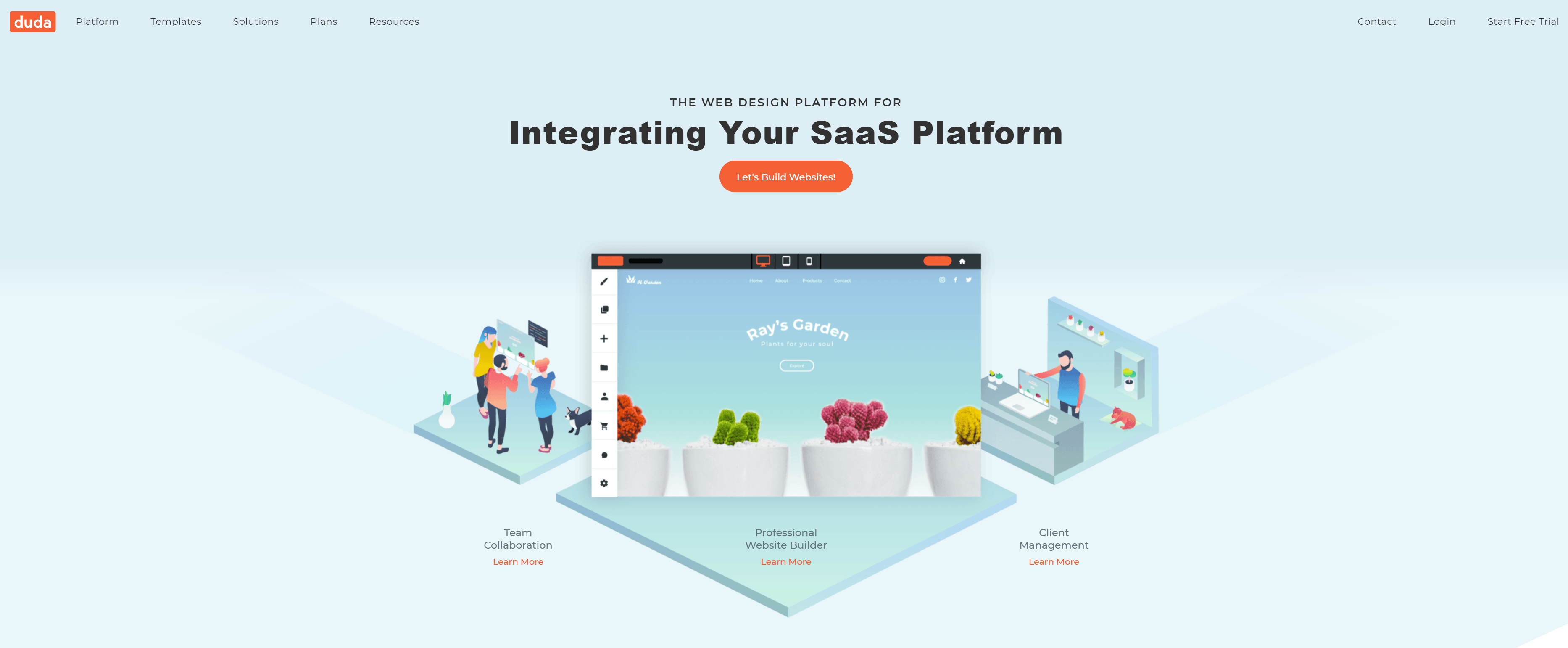 Price: $14 – custom per month
Next on our list of top five website builders of 2023is Duda, which is a great fit for agencies, digital publishers, and hosting companies.
When you use Duda as your website builder for this year, you'll get access to dozens of features. Some of these features include a drag-and-drop interface, ecommerce functions, on the go editing, and multi-language functions. These websites are built to drive conversions for your business.
Duda allows for social media integration, too. You can easily commingle your social media campaigns with your website.
If you aren't a coding expert, you don't need to worry. Duda provides tools to help you build your dream website without needing to know coding. This makes it easy for your business to build your dream website.
Duda offers numerous web tools for you to construct your website. The simplicity makes it a breeze for you to sell your products online.
Once you have your website up and running, you can monitor its performance with site traffic analytics. Duda allows you to track your website's performance so you can make changes to improve it.
If you're looking for a professional website builder that offers numerous features, Duda is a great option.
4. Squarespace

Price: $12 – $40 custom per month
Squarespace offers clean and professional websites for your business. You can build a professional website, portfolio, or online store. This all-in-one platform makes it easy for you to create the fully functional website you need to run your business.
This website builder offers hundreds of design templates for you to peruse. Each design accommodates to ecommerce businesses to make it easy to sell your products.
Squarespace makes it easy for you to grow your audience. They offer you marketing tools that allow you to boost your search, social, and email marketing efforts to drive more leads to your page. It's a great way to create a comprehensive campaign with one goal in mind.
In addition, Squarespace sites include responsive design. Responsive design ensures that your website adapts to whatever device your audience is using. Whether it's a tablet or mobile phone, your audience will get the best experience on your site.
Once your site is up and running, you'll have access to analytics tools, too. This makes it easy for you to monitor your site and make improvements to drive better leads.
If you need help building your dream website, Squarespace has customer service you can reach 24/7. Whether it's through chat or email, you can reach out to customer service to help you with any design, formatting, or technical questions — making it a no brainer when it comes to the best website builders of this year.
5. Weebly

Price: Free – $26 custom per month
Weebly will help you build any type of website, whether it's personal or for business. It's a versatile platform that anyone can use to build their website — landing it a top spot on our list of top 5 website builders of 2023.
If you are looking to create an ecommerce website, Weebly is a great fit. This platform offers hundreds of templates with drag-and-drop features to help you easily create the website you need, making it the best ecommerce website builder for companies the need an easy-to-use interface. You can sort through categories of design templates to find the one that fits best for your business.
Many people are hesitant to try a new service because they aren't sure it will work. With Weebly, you don't need to worry about paying for a plan. Weebly offers a limited free plan to let you try their service on a small scale before paying for anything.
If you're still hesitant about whether the more advanced packages will be good for your business, you can get a free two-week trial to see if the advanced features are worth the investment. It helps your business get comfortable with the service and see if it's a good fit.
Weebly offers built-in marketing with their websites. This includes email marketing, customer engagement, and SEO tools to help you optimize your site. These additional features can help you drive more traffic to your newly designed website.
Like other top website builders, Weebly has customer support that you can consult for your project. If you need help with your website, Weebly customer service can quickly help with your issues.
We don't want to tell you about the work we do, we want to SHOW you.
View Our Portfolio

We've built over
Websites
in a variety of industries.
Website builder vs. web design agency
As you look at the options on our list of best website builders, you may come across the option to hire a web design agency. You may wonder, which is better for my business?
The best option for your business depends upon two big factors:
1. Your website builder resources
If you use a website builder, you must do all the work on your own. The responsibility falls on you and your marketing team to develop your dream website. If you have a small team or no team at all, it can put a heavy weight on your shoulders, as you will have to design and manage your website.
With a web design company, you don't need to worry about creating or managing your website. Your web design company will manage all aspects of your website. This means you can focus on your business while your web design company focuses on designing your website.
2. Level of website builder customization
The level of customization will influence which option is best for your business.
If you want minor customizations, a website builder is great for your business. It gives you enough room to customize your site and add unique touches.
On the other hand, a web design company can create a fully customized website for your business. If you want your business to stand out from the competition, it's best to have a website that is unique to your business and doesn't look like dozens of other business's sites.
The level of customization you desire can impact which option is best for you. For businesses that need minimal customization, a website builder will do the job. If you want more customization or need unique features, a web design company will be better for your business.
We foster and form long-term partnerships so that your business has long-term results.
Over 90% of WebFX clients continue partnering with us into year 2 of their campaign.
Hear from Our Happy Customers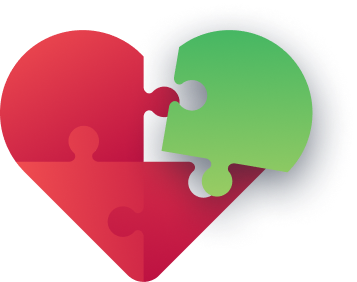 WebFX knows website builders
Your website is the first impression your audience gets of your business. If you want it to be a positive first impression, you must invest in your website's design. At WebFX, we have over 25 years of experience designing beautiful websites for our clients. We can use your website builder of choice, or we can create a site completely from scratch.
We're a full-service digital marketing company that specializes in custom web design. Our team of 200+ experts will bring their knowledge and expertise to your campaign. We'll help you create a customized website you'll love.
If you're looking for a company that drives results, look no further than WebFX. In the last five years, we've driven over $3 billion in sales and over 7.8 million leads for our clients. We know how to create websites that help your business grow.
Don't believe us? Just ask our clients! Check out our 1020+ client testimonials that attest to the great work we do.
Build a better website with WebFX today
If you need a website designer now, contact us online or call us today at 888-601-5359 to speak with a strategist.
We look forward to helping your business reach new heights!