Have trouble getting people to visit your telehealth site? Do the people you attract leave your site before they purchase your products?
In that case, you need to boost your lead generation efforts for your telehealth company. A lead generation strategy is the best way to drive more interested customers and patients to your telehealth website.
Check out these seven lead generation tactics to improve your marketing strategy for telehealth!
Contact us online or call us at 888-601-5359 to learn more about how WebFX can boost your lead generation strategy!
Why is lead generation important for telehealth?
Lead generation strategy for telehealth is about using marketing strategies to attract more qualified leads for your telehealth organization.
Qualified leads are the ones who are most interested in the products and services you offer and also the most likely to make a purchase.
It's important to concentrate on attracting qualified leads since they're the ones that, over time, will become your most loyal customers.
Below, we'll talk about seven steps that you can take to improve your telehealth lead generation strategy!

Hear What It's Like to Work With WebFX!

"WebFX gets it done! They've done a great job working with our changing vision and goals, and their turnaround times are wonderful. All staff are professional, timely, and friendly."
Healthcare
7 steps to improving your telehealth lead generation strategy
Looking to enhance your telehealth agency's lead generation strategy? Follow these seven steps!
1. Improve your SEO
Search engine optimization (SEO) is the perfect way to boost your telehealth's online presence. SEO is a set of techniques you use to optimize your site, so you appear in relevant search results.
SEO strategies include a range of techniques that help to get your site in front of the right audience. You'll be most successful at SEO for your telehealth company when you follow the strategies outlined below.

Effective SEO techniques include:
Keyword research: To target your audiences in search, you'll need to study the terms they search for. Keyword research plays a major role in SEO. When you integrate the keywords you find to be most valuable in your content, you'll boost your chance of ranking for those terms in search results. You can use tools like KeywordsFX to conduct keyword research.
Content writing: Keyword research and content writing go hand in hand for SEO. You'll pull in the most leads for your telehealth organization if you have a solid content creation strategy. When you create content that answers your audience's questions, you'll have content that your audience considers valuable and encourages them to convert.
User experience: How users experience your site is just as crucial to SEO as the content you create and the keywords you target. Great user experience involves smooth navigation, engaging multimedia, and scannable content to generate leads for telehealth effectively.
2. Advertise in search
Pay-per-click (PPC) advertising allows you to create budget-friendly text ads in search pages to boost your lead generation for telehealth.

With PPC ads, you can bid on the keywords your telehealth audience cares most about. Create a terrific PPC ad and bid high enough for your keywords, and your ad will show above the highest-ranking organic result.
As a marketing strategy for telehealth, PPC advertising is cost-effective. Your bid is the amount you're willing to pay when someone clicks on your ad, meaning you'll only ever pay when someone clicks — not for ad real estate.
And once your PPC ad is live, you'll start generating leads for telehealth instantaneously.
Get started with PPC by creating a Google Ads account and partnering with one of our experienced PPC campaign managers.
3. Promote on social media
Social media advertising is one of the easiest ways to target your audience online. It's an effective marketing strategy to generate leads for telehealth.
Social media sites like Facebook and LinkedIn allow you to target qualified leads based on their location, demographic information such as age and income range, their hobbies, and their preferences.
Using social media in your lead generation strategy, you can tailor your telehealth ads to your audience's needs and wants.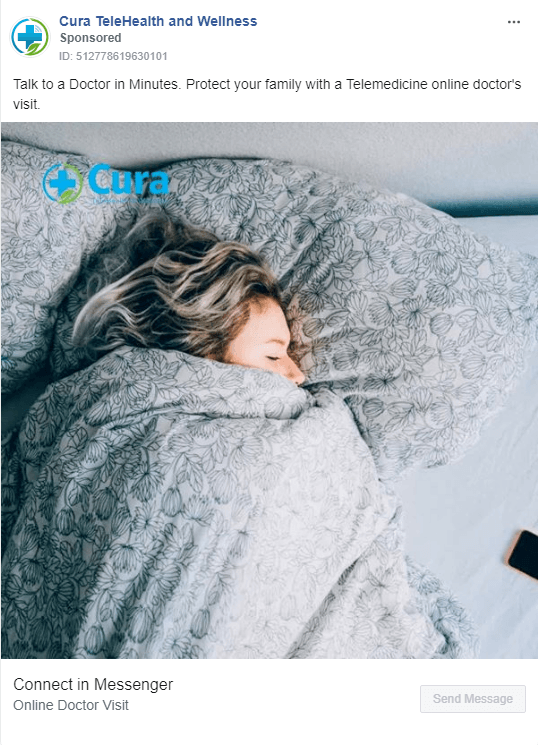 Personalize your social media ads with engaging images, professional videos, and custom infographics that spark your telehealth audience's interests.
4. Connect with email marketing
Email marketing is one of the best ways to connect on a one-on-one basis with your telehealth audience. Email marketing is so effective because of the level of personalization you can incorporate into your emails through automation.
Only people who are interested in your telehealth brand will subscribe to your email list, so you have the advantage of knowing that your email subscribers are already interested in what you have to offer.
Since they're already interested in your brand, they're that much more likely to purchase if you use email marketing effectively to remind them about the benefits of your products and services. As a matter of fact, more than 80% of companies use email marketing as a lead generation strategy.
For your email marketing to work effectively to generate leads for telehealth, you'll need to start gathering subscriptions from your telehealth audience.
Some of the best tips for building an email subscriber list involve displaying actionable calls-to-action (CTAs) and pop-up banners on your site that ask for emails. Examples of CTAs you could use to boost subscriptions are:
Contact us
Before you leave
Receive a free quote
Get a free telehealth guide
Subscribe to our blog
Once you have a list of subscribers, you can start promoting your content (blog posts, guides, digital books, etc.) whenever your subscribers will find it most relevant. Have a regular schedule for when you send emails to keep your subscribers in the loop.
5. Create engaging landing pages
Landing pages are the best way of generating leads for telehealth after getting people to click on your ads. Effective landing page design involves:
A responsive layout so it looks impressive on any device
Compelling CTAs that move your audience to action
Simple, easy-to-fill-out forms to gather your client's information
Multimedia and content personalized to your audience
When designing your landing pages, don't forget to include the keywords you are targeting.
Also, run tests on different versions of your page to see what works best. Change one element at a time (such as your CTA button color or your headline) to get the most valid data.
6. Encourage reviews and referrals
Reviews and referrals are one of the best ways to boost your lead generation for telehealth.
Reviews play a significant role in influencing your potential client's decisions. In fact, 80% of people say online reviews have changed their minds about a purchase.
The simplest way of earning reviews is to reach out to your satisfied clients and ask for a review. Those same clients can help you gain referrals, too.
Encourage referrals by setting up a referral program. When people have a pleasant experience with your telehealth organization, they won't mind recommending your brand, especially if they can get perks for referring.
7. Partner with WebFX
Generating leads for telehealth can be tricky, but don't worry, at WebFX, we've got you covered.
When it comes to creating an effective marketing strategy for telehealth, WebFX is your top lead generation agency! Our team of over 500+ qualified lead generation experts will craft your telehealth agency a custom lead generation plan that's perfect for enticing and converting more qualified leads.
Contact us online or call us at 888-601-5359 to take to one of our talented lead generation strategy experts!
Earn a 20% greater ROI with WebFX