Want to earn more valuable leads for your pest control business?
In this evolving digital age, old methods for gaining new clients are becoming less effective. It isn't enough to rely on word of mouth, billboards, and ads in the paper. This new era of technological advances beckons fresh approaches for obtaining new clients.
The Internet offers many opportunities for you to advertise your business and reach potential leads. With so many options, it is difficult to know which ones suit your business best.
On this page, we'll take a look at four digital marketing strategies that can help you earn more leads and revenue for your pest control business.
If you'd like to learn about the best methods for your business, call us today at 888-601-5359 or keep reading to learn more about the available methods you can use!
1. Pay-per-click (PPC) advertising
If you're looking for a way to directly reach interested parties, pay-per-click (PPC) advertising is a great way to do it. PPC ads appear at the top of search results when users search certain keywords or phrases online.
Choosing the right keywords
Your keywords determine which results you will appear in for your PPC ad. When users type in searches, they utilize keywords to pull up results that best match what they are searching. There are two types of keywords that businesses use.
Short tail keywords contain one or two words. These keywords are generic and generate a lot of competition.
The phrase "pest control" is an example of a short tail keyword. There are tons of companies across the country that are competing for that specific keyword for their PPC ad. That means that the cost-per-click (CPC) is going to be high.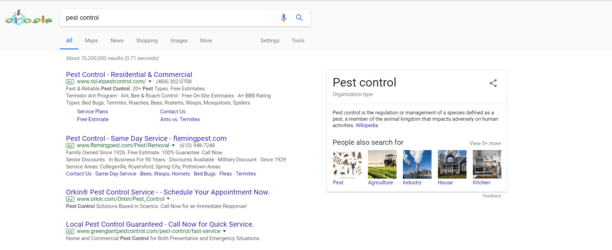 On the other hand, long tail keywords have less competition. These keywords contain three or more words and are specific. For example, the phrase "pest control companies in [your area]" is a long tail keyword.
This is a very specific phrase that only people in your location would search. You will see better results because you will get more valuable traffic. Users want results to see search results that contain companies they need, so they will use more specific keywords to find them.
As stated previously, long tail keywords have less competition because they are more specific. There are far less companies competing for "pest control companies in [your area]" than the generic term "pest control." You will lower your CPC which will enable you to allow more clicks on your ads.
How does PPC work?
After you select the keywords you want to trigger your PPC ads, you'll have to bid for them. PPC operates on a bidding system where companies indicate how much they are willing to pay, per click, for an advertising spot.
The amount you are willing to pay per click is your maximum bid. When there is less competition, you can set a lower maximum bid. Your maximum bid, along with your quality score, will determine your placement.
Is PPC a good choice for your business?
PPC offers a great opportunity for your business to reach better leads. By utilizing specific keywords, your ad will reach clients that are interested specifically in your services. There are many reasons to choose PPC to generate more leads.
Budget-friendly
Many companies like this method because you can control your budget. If you only have $3,000 to spend on a PPC campaign, you can set that limit. You always know what you're paying up front and will never incur additional charges later.
Immediate results
PPC enables you to see immediate results. You can see how many people are clicking, converting, leaving your page, and more. This method enables you to immediately see if your ad is effective and make changes to help your ad perform better.
More qualified leads
Did you know that 65% of all high-intent searches result in someone clicking on a PPC advertisement?
Since PPC targets people who are already searching for pest control companies, it will help you attract more qualified leads. People who click on your PPC ad are more likely to turn into customers because they are more interested in using your services.
2. Search engine optimization (SEO)
Search engine optimization (SEO) is a great strategy to use in conjunction with PPC. You can bring in additional credible leads with this method. The goal of SEO is to get your website ranking higher in the organic search results.

You want to be on the first page of results. This is because 75% of people don't look past the first page when conducting searches. It is crucial that you optimize your page to rank higher in the search results so you don't miss out on leads.
How does SEO work?
SEO operates on keywords, just like PPC. Since PPC shows you immediate results, it's a great way to figure out which keywords bring in leads for your business. When you know which keywords work, you can use them in your SEO plan.
Once you have your keywords, you'll need to start optimizing your site. There are many changes you can make to help your site rank better.
All of these changes have to do with the user experience. You need to ensure that users are having a positive experience when utilizing your website.
There are numerous user experience-based factors Google takes into consideration when ranking your site. These are factors that affect how a user interacts with your site.
Website design
You need to have a clean and modern website. Users don't want to go on to a website that looks old and outdated. They will think your business isn't up to date and leave immediately.
The design is an important part of keeping users on your site. It is the first thing they see when they come onto your site and will make judgments based on your design.
Your website should be attractive. Pick a color scheme that fits your business and use it throughout your website. Be consistent with your design, include visual elements, and make it easy to read text.
By having a clean and modern design, you will keep visitors on your site longer.
Navigation
A well-designed website needs simple navigation to go with it. You don't want users to struggle to find the information they are seeking.
It is best to use a clean and simple navigation. Create headings that easily explain what a user can find below it. Simple titles like "Our services" and "Pricing" tell users exactly what they can find.
Simple navigation can keep users on your page longer. They are easily able to find the information they are seeking and read about it. It keeps them on your page longer, which sends a positive signal to Google.
Keywords
If you want to rank for certain keywords, you need to use them. You want to utilize your keywords throughout your pages on your website. This will help Google understand the topic of your page and its relevancy.
Be careful that you don't overuse keywords, also known as keyword stuffing. When you use keywords too much to try to rank your site, it has an adverse effect on your ranking. You need to create a balance when utilizing your keywords.
Google takes many factors into consideration when analyzing your website. You want to be sure that you optimize your website as much as possible so you can rank higher.
SEO is a great method for your business to use. You can rank your website higher in the organic search results. This will enable more leads to find your website.
This method takes time. You won't see results overnight like PPC. The time and effort that SEO requires, however, is worth the positive results it can have for your business.
In fact, 89% of marketers agree that SEO is successful for their business. It may take time, but SEO will generate more valuable traffic and leads for your business.
3. Email marketing
Email marketing is one of the best ways to draw in and nurture leads. Many people believe the days of email marketing are over, but the opposite is true. This method is thriving and has the ability to bring you an ROI of 4400%!
If you want to utilize email marketing, you need to create a subscriber list. The best way to get subscribers is to put an email sign up on your website. This can be in the header, footer, or in a pop-up box on your site.
Your email sign up should be simple to use and understand. People don't want to fill in a lot of information to sign up for emails. A simple bar that allows them to type in their email and press "sign up!" is effective for getting people to join your list.
Don't buy email lists. It seems like a simple solution to get a subscriber list, but it won't give you credible leads. If anything, people will block your emails, or they'll go straight to spam.
Once you have a subscriber list, you'll want to invest in an email campaign management program. Programs like MyEmailFX enable you to create, send, and track your emails. You can see how people interact with your emails and if they are effective for conversion.
This method allows you to send all kinds of information to your subscribers. You can send coupons, newsletters, blog posts, and much more. Email enables you to provide subscribers with valuable information they want.
Email marketing is effective for generating valuable leads because people choose to sign up for your emails. They are already interested in your products or services. You can nurture these leads by sending emails that appeal to them and entice them to use your services.
This is an effective method that you want to use for your pest control business. Email is 40x more effective at driving in customers than social media sites. If you want to start generating more valuable leads for your business, email is a great way to do that.
4. Content Marketing
Content marketing works well with many other digital advertising strategies. It helps you boost your website's ranking when you utilize SEO. It is also great to send articles through email marketing.
Your content can include blogs, videos, infographics, online guides, and more. However, it needs to relate to your industry to drive in the right traffic.
The point of content is to provide valuable information to consumers. Consumers are constantly conducting searches to find information and answers.
There are many people who Google about how to control certain pests in or near their home. Content marketing is a great opportunity for you to provide that information to them.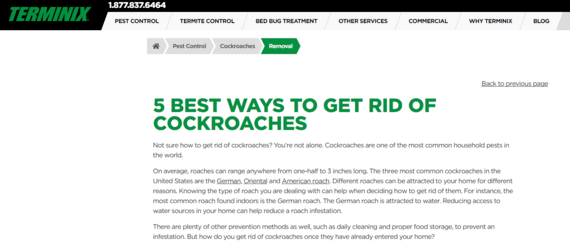 This is a great example of a pest control company utilizing content marketing to draw in leads. A user can find this content post by typing in "how to get rid of cockroaches." The content topic is beneficial to readers, as well as interesting.
You can attract users to your site by providing this information. This will draw users to your website to check out the valuable content. Once they are on your site, they can begin exploring to learn more about your business.
People will trust your business when you share content and information about topics they are seeking. They will see you as an authority in your field. These customers believe that you are experienced and good at your job.
After reading your content, some users may not convert right away. When they need your services later on, they will remember your content and your posts. They will choose your business over the competition because you provided the helpful information.
Content is so important for your website because Google looks at the amount of time people spend on your site. When people spend a long time on your site, it's an indicator to Google that your page is valuable. Google will rank your site higher because they believe that it is more valuable to consumers.
This method is a great way to drive in new leads. By attracting people to your site through content, you can help them convert later down the line. Content marketing is a great way to build trust and gain new leads for your business.
Let WebFX help you get new leads
As the owner of a pest control business, you are constantly taking the time to figure out the best way to rid your client's home of pests. You analyze all your options and choose the one that fits their needs.
At WebFX, we can do for you what you do for your clients. We take the time to get to know your business and your needs. Our team of 150+ members will bring their expertise to your campaign to help you bring in more credible leads.
We are a full-service digital marketing company that generates results for our clients. To date, we've driven over $700 million in sales and over 3 million leads for our clients. Our team knows what it takes to help you achieve your goals.
Our company is budget conscious. We know you need to know how much things cost so you can make the right decision for your business. Unlike our competitors, we offer transparent pricing so you can choose the methods that fit your budget.
Learn More
If you're ready to start generating new and valuable leads, contact us online or call us today at 888-601-5359 to speak with a specialist!
We look forward to working with you!
Call 888.449.3239 or contact us online today to see how WebFX can improve your online performance.