11 Best Email Marketing Examples for Inspiration in 2023
Email is a valuable marketing channel for businesses in any industry. If you need some inspiration for your campaign, we've got a list of the best email marketing examples on this page just for you!
Did you know that every dollar you spend on email could earn you $44.25 in return?
Email has a high ROI is because it helps you stay in contact with leads through every stage of the buying process and become a customer or client.
But making the most of it requires careful strategy, creativity, and management.
That's why this page shares 11 of the best email marketing examples, what makes them so effective, and how you can use them to improve your company's campaign to help inspire your campaign!
Check out these email campaign examples now!
If you're looking for help with email marketing, WebFX has a dedicated team of 500+ experts ready to help you create a successful email marketing campaign and achieve your goals! You can call 888-601-5359 or contact us online for help getting started today!
11 best email marketing examples to inspire your email campaigns in 2023
Are you looking for email marketing samples to inspire your own campaigns? Read on to see some of the best email marketing examples out there!
1. Grana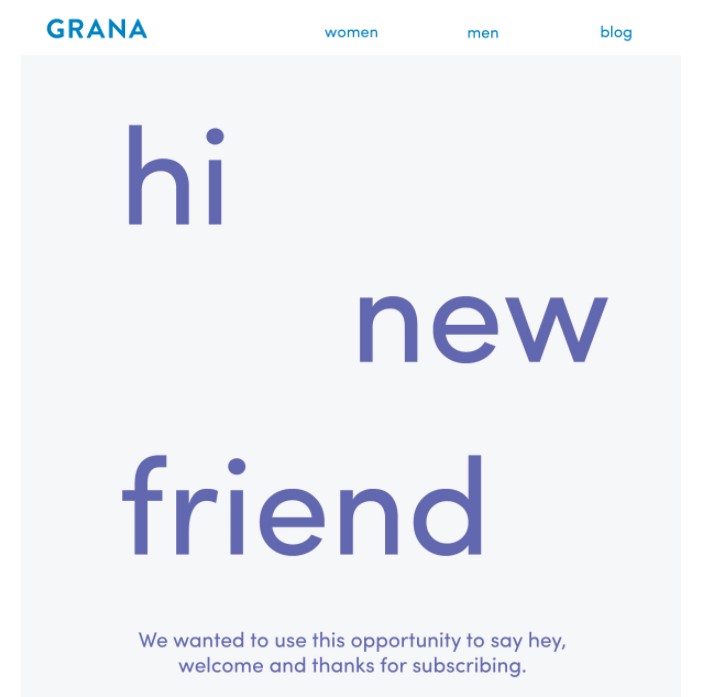 Email type: Welcome email
First on our list of examples of email marketing is Grana. The simplest email is a welcome message. They're easy to create, and as this email marketing campaign example from Grana shows, they don't have to be elaborate or extravagant to serve their purpose.
Why it works
The goal of these emails is to thank subscribers for joining your email campaign. They can also include links to your site, but they don't need to contain any overt calls to action.
They're designed to tell users that you appreciate them taking the time to visit your site and subscribe to your list.
Your welcome emails should match your company's existing branding and the style you use for your marketing materials. They set the tone for the rest of your communication with each subscriber, so it's important to give them an idea of what to expect.
If you don't have welcome emails in your campaigns, you can set them up to send for each new subscription. You can also determine how soon after a user subscribes to send them with testing.
Some companies prefer to send a welcome email immediately after a user subscribes, while others prefer to wait a few hours, or even a full day.
The right choice for your company depends on your preference and business model, but if you're unsure, you can test a few different options and see which timing results in the most opens or clicks.
Once you've tested your email's timing, you can set all of your welcome emails to send at the best time for your business.
That means you can be confident that you're making the most of your new subscribers right off the bat.
2. HelloFresh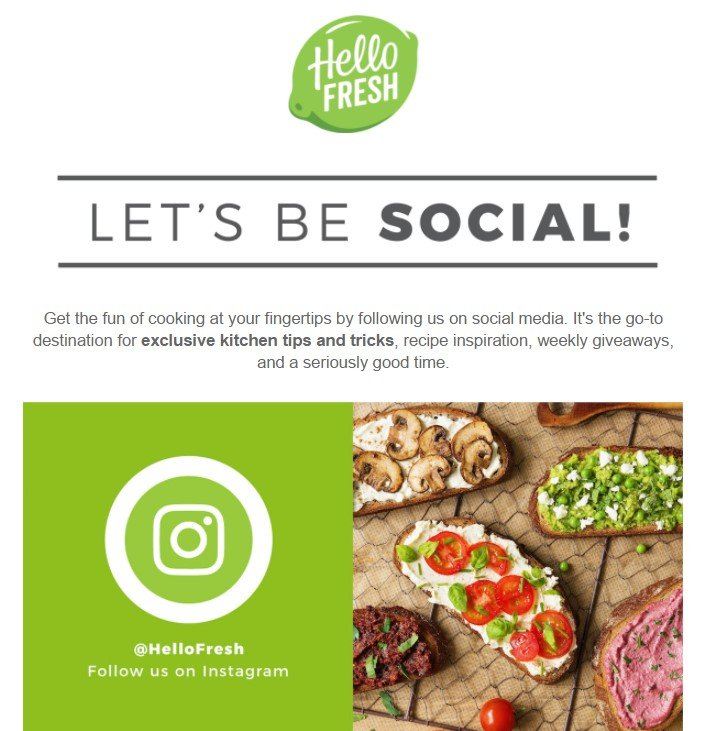 Email type: Nurturing
Although the exact buying process varies from customer to customer, most of your subscribers won't be ready to make a purchase or sign a contract after their first interaction with your company.
So instead of sending sales-focused emails right off the bat, you can encourage your subscribers to engage with your brand in other ways.
HelloFresh does this by asking their new email subscribers to follow their social media accounts, which is why we've included it in out list of examples of email marketing.
Why it works
The more channels you use to connect with your target audience, the more familiar they'll become with your brand. That makes it more likely that they'll eventually convert.
HelloFresh encourages readers to visit their social accounts by including examples of the kinds of eye-catching, high-quality photos they post on those channels.
This is much more effective than text-based links or simple buttons because it gets readers' attention and lets them know what to expect when they click.
If you're active on social media, sending emails like this one can be a great opportunity to engage your subscribers in multiple ways.
But even if you're not active on social channels, you can use this same idea from this effective email marketing example to let your subscribers know where they can go to learn more about your business.
Do you run a blog with regular updates? Do you post videos to a YouTube account? Do you offer content elsewhere online?
Letting your email subscribers know where they can find you can go a long way in helping them learn more about your brand and lays the foundation for earning qualified leads.
3. Airbnb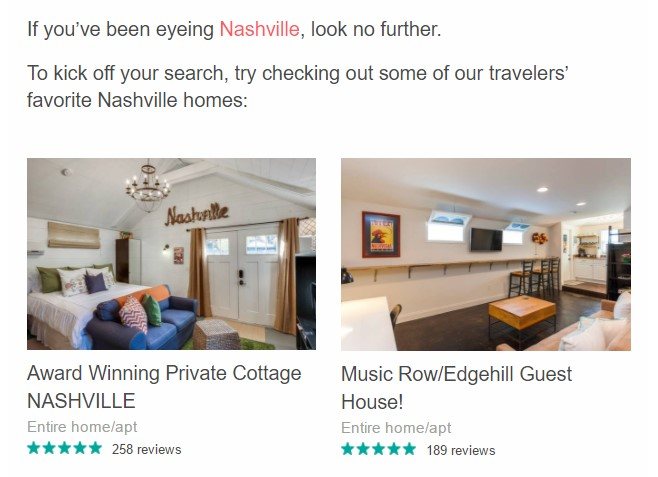 Email type: Personalized
Third on our list of email campaign examples is Airbnb. After a subscriber joins your list, you need to keep their attention. The best way to do this is offering content that's tailored to their interests.
The way you choose to accomplish this depends on your industry and business model. In our next example of email marketing, you can see how Airbnb does it by sending their users information about rentals in cities they've browsed.
Why it works
If an Airbnb user has looked at homes in a city but hasn't booked anything yet, there's a good chance they still want rentals in that area.
When they get an email with information about popular listings in that area, they'll be encouraged to check them out.
This is much more effective than sending the same email to every recipient.
Although there are rentals all over the world that could be fun for users, most subscribers aren't going to book a vacation simply because they see a cool Airbnb listing.
But if a user has already looked at a specific location, focusing on that location has a higher chance of landing a booking.
Of course, this strategy is unique to Airbnb, which can't be duplicated exactly outside of the tourism industry.
However, Airbnb provides a good email marketing example of what personalization can do, so find ways to personalize in your campaigns to get better results.
4. Fine Life Co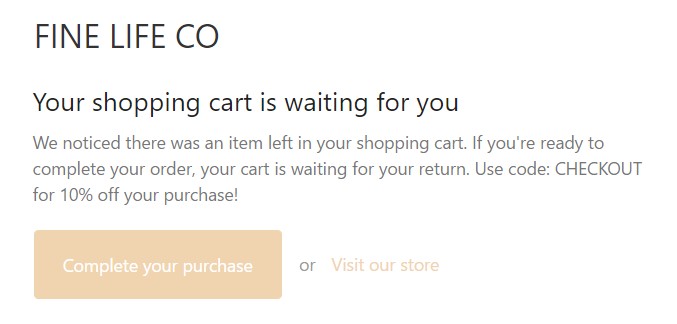 Email type: Shopping cart abandonment
Tailoring your emails to your subscribers takes many different forms. For ecommerce stores, some of the most effective are shopping cart abandonment emails.
If you've ever visited an ecommerce site, added something to your cart, and left without making a purchase, you may have received an email that looks something like this one from Fine Life Co.
Why it works
These emails are designed to remind users of a product they liked and make it easy for them to buy it.
From a marketing standpoint, this eliminates the guesswork out of determining which products to feature in your content.
Instead of sending the same email to all of your subscribers, you can send personalized emails to each of them that feature products they picked out themselves. And by linking directly to their shopping carts, you make it so that users can make a purchase with a click or two.
This strategy for ecommerce email marketing is common for one simple reason: It works.
If you want to make your cart abandonment emails even more effective, you can take after the example above and include an additional incentive for users who make a purchase after receiving them.
A 10% discount may seem small, but it could be all you need to convince subscribers to come back and buy the product they want.
It could be exactly what you need to reduce abandoned carts on your site, so use this email marketing example to get started with your email draft!
5. Lyft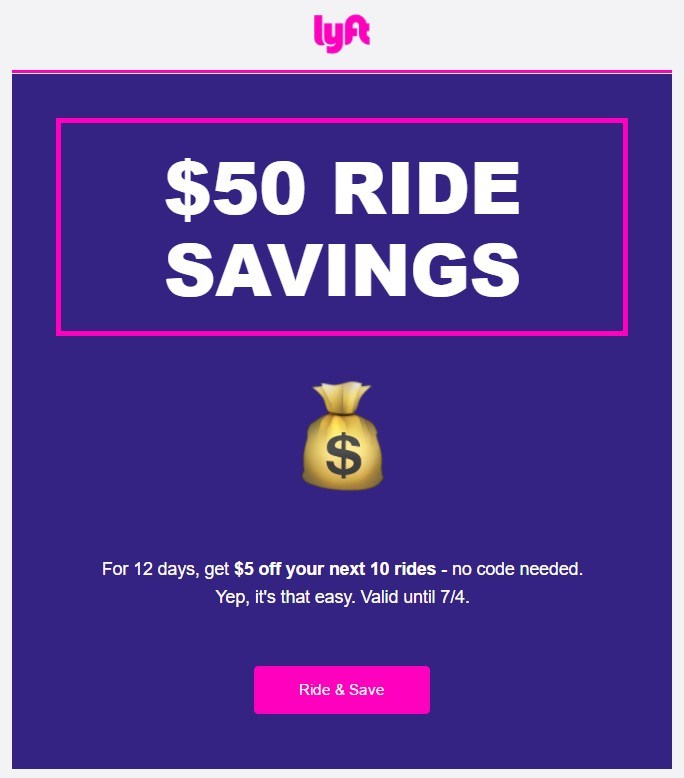 Email type: Discount
The fifth spot in our list of the best email campaign examples is Lyft. As mentioned in the last example of email marketing, discounts are effective ways getting subscribers to return to your site. But you don't need to wait until a subscriber takes action to offer a discount.
Sending discounts right off the bat can be exactly what it takes to convince subscribers to use your service for the first time – which is what Lyft does for new members who haven't yet taken a ride.
Why it works
If someone is on the fence about using a service, a small discount could be all they need to try it out. In this case, it's only $5 off per ride – but that's enough to sway a hesitant new member.
And if your business model relies on repeat customers, you could offer an even larger discount to first-timers.
They'll be much more likely to take a risk on a new product or service if it's discounted, and once they have a positive experience, they'll be comfortable paying full price in the future.
Of course, you don't need to limit discounts to new customers. You can also offer discounts as a "thank you" to loyal or long-time members.
When it comes down to it, everyone enjoys saving money. Offering even small savings to your target audience can be just what you need to get a sale — and Lyft provides one of the best email marketing examples for how to do it.
6. VSCO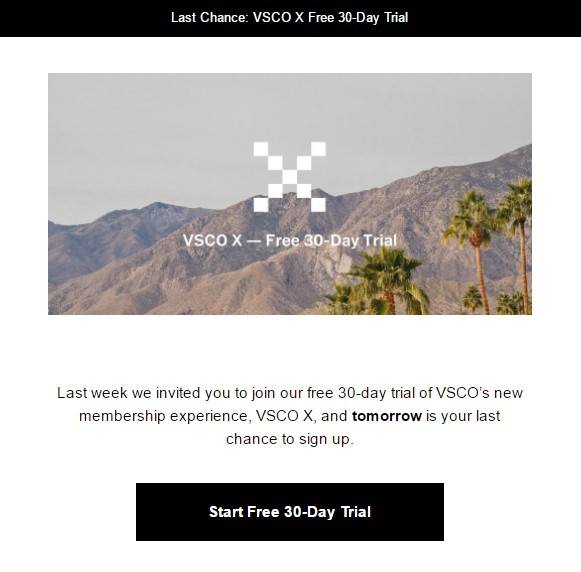 Email type: Free trial / special offer
For companies that offer subscription-based services, one of the most popular methods for generating new leads is offering free trials.
Although "free" is one of the highest-converting terms for email marketing, it's challenging to get users to try something they know costs money after a set period of time.
Why it works
VSCO addresses this challenge by making their trial a limited-time offer and reminding subscribers of how much time they have left to take advantage of it.
This adds a sense of urgency to the offer, which is often all it takes to generate a conversion. No one wants to feel like they're missing out on something, especially when they're missing something free.
Even if your business doesn't offer free trials, almost every company offers limited-time deals in some form or another.
If you're holding an annual sale, a holiday special, or a limited discount code, let your subscribers know how long they have to use it.
A short time frame is more effective than longer ones because it dissuades your audience from putting off a purchase.
If they're interested in your offer, they should have the incentive to visit your site and convert as soon as possible.
7. Sephora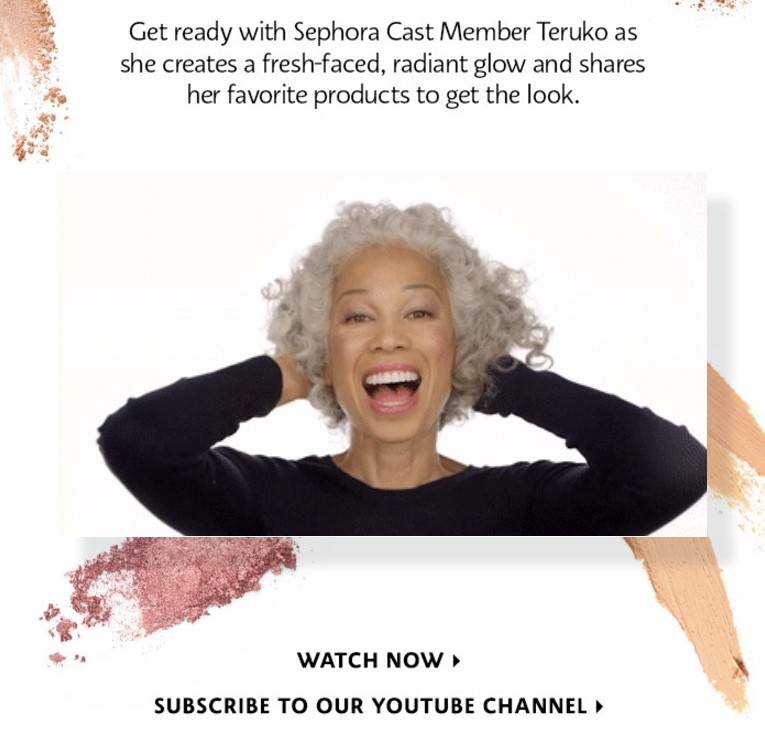 Email type: Tutorial
If a customer isn't sure how one of their products can benefit them, they won't buy. After all, no one wants to spend money on something they can't use.
Sephora understands this hesitation, and addresses it by sending free video tutorials for their latest products, which is why they made our list of the best email marketing examples.
Why it works
If a subscriber is interested in a product, but not sure how they'd use it, Sephora's videos answer that question so their email recipients can confidently buy.
Even if they aren't interested before receiving the email, the video thumbnails can attract their attention and make them want to learn more.
This is a strategy that work for almost every business. If a potential customer isn't sure exactly how they'd use a product or benefit from a service, they're unlikely to buy. Eliminating that uncertainty with a product demonstration can go a long way in moving them towards a conversion.
If you're a clothing retailer, you could include style guides with the announcement of each new line to give potential customers a better idea of how they'd wear an item.
And if you're a B2B software provider, you could send results your clients have achieved by using your product.
Regardless of your business model, you can experiment with different content formats for these emails. The easiest option is to stick with text and images, but embedding or linking to videos can be even more effective.
As long as the end product is an email that helps your subscribers see the value of your company, you can expect it to have a positive impact on your overall strategy.
8. Chase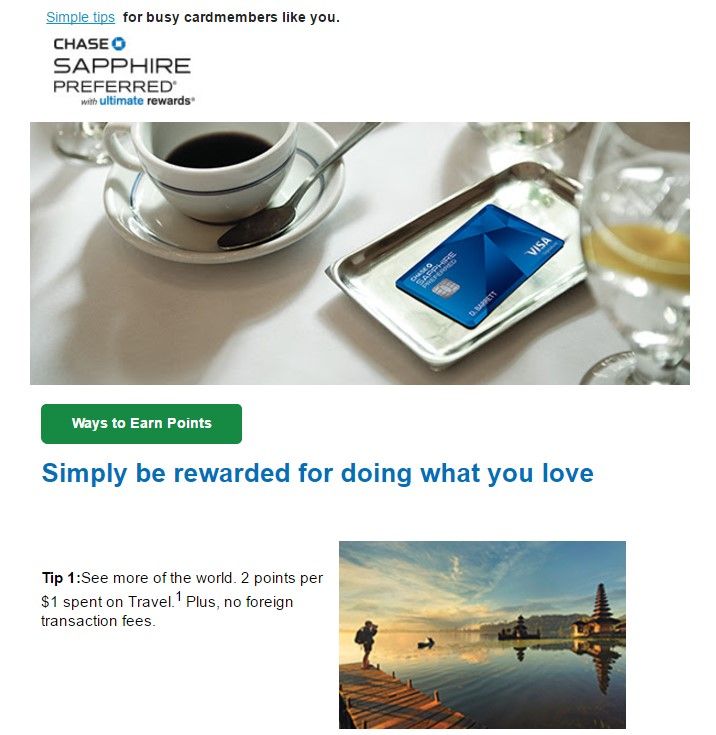 Email type: Customer retainment
Eighth on our list of examples of email campaigns is Chase. In addition to generating new sales and conversions, email is an effective channel for staying in contact with your existing customers and keeping your email retention rates high.
In our next example of email marketing, you can see how Chase does this by sending regular updates to their members that include tips for making the most of their cards.
Why it works
For companies that operate on a membership or subscription-based model, retaining existing customers is much more cost-effective than pursuing new ones.
Although it may seem counter intuitive to spend a portion of your marketing budget on people who've already converted, it's worth your time to keep them happy with your services.
In the email marketing example above, Chase offers a list of tips their members can use to earn extra points and maximize their rewards.
If a member didn't know about any of these benefits, this reminder could have a significant impact on how they use their credit cards.
If your business offers any bonuses to repeat customers, encouraging your subscribers to take advantage of them can improve their opinion of your brand.
Plus, when you take steps like this to improve the customer experience, you also improve the chances your customers will recommend you to family and friends.
So in this regard, focusing on your existing customers can result in new customers — and ones that begin the buying process with a positive impression of your brand.
9. Glossier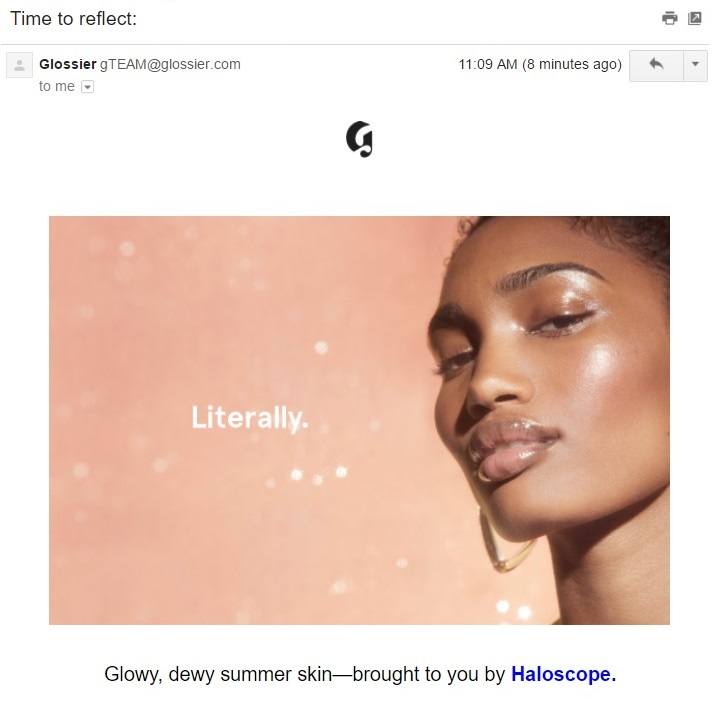 Email type: Product promotion
If you're an established brand but haven't released any new products, announced any sales, or added any new services, you may be at a loss for what to say in your email campaigns.
But if you already have a loyal customer base, sometimes all it takes is a simple email that features one of your best-selling products, like this one from Glossier.
Why it works
The product featured in this effective email marketing example was a best-seller for the company and had overwhelmingly positive reviews.
As a result, this email reminded customers who'd considered purchasing it in the past.
It's also worth noting that the copy isn't at all pushy or sales-focused. Instead, it's consistent with the company's existing branding.
If the goal of your email is to remind your customers of a popular product, this is a solid approach to take. As long as your subscribers are familiar with your brand and the item you're referencing, you can keep everything simple.
10. Eventbrite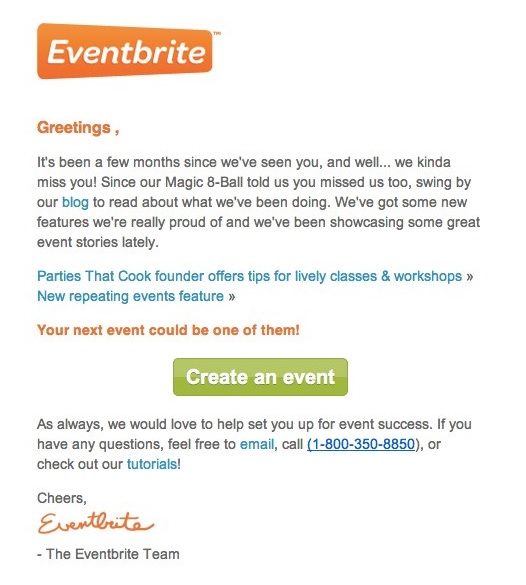 Email type: Re-engagement
Sometimes, your subscribers simply won't engage with your emails. It's frustrating, given the negative impact it has on open rates, clickthrough rates, and sales.
But instead of giving up on inactive subscribers, you can acknowledge their inactivity and take steps to regain their interest like Eventbrite does in this email.
Why it works
They begin the email with a friendly acknowledgement that the subscriber hasn't recently engaged with their emails ("we kinda miss you!"), then provide them with content that could change that fact.
In this case, Eventbrite offers a few options.
The subscriber could visit their blog and read some company news, which could be a helpful option if they don't know who the company is or what they offer.
Alternatively, they could visit a case study on the company's site that offers tips for hosting a successful event. This is the more compelling option because it could give the subscriber a better idea of how Eventbrite has helped other people succeed and how it could do the same for them.
Finally, this successful email marketing campaign example offers options for creating an event or contacting the company. Although it's unlikely that an inactive subscriber will want to utilize Eventbrite's services on the spot, giving them the opportunity is always smart.
11. Nisolo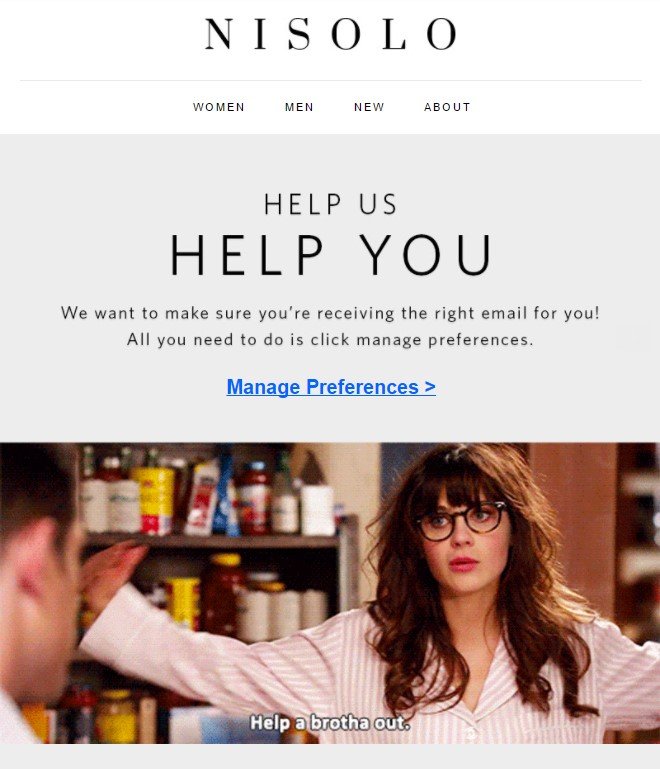 Email type: Personalized
Last on our list of examples of email campaigns is Nisolo. If a subscriber remains inactive after an attempt to regain their interest — or if you want to improve their experience with your brand — giving them the ability to update their email preferences is helpful.
In our last example of email marketing, you can see how Nisolo does this by asking their subscribers to select which product lines they like.
Why it works
If a subscriber isn't taking the time to open your emails, read your content, or click your links, it could be because you're not sending anything they want.
While there are ways to guess what they might be interested in, asking them removes the guesswork.
This is a win-win opportunity since it allows your subscribers to receive emails that are relevant to their interests (and not receive emails that aren't relevant to their interests). That lets you create more effective campaigns.
If you offer a wide variety of products or services, sending this kind of email can help you segment your email list, send more tailored campaigns, and improve your overall results.
Good agencies have more than 50 testimonials.
Great agencies have more than 100 testimonials.
WebFX has over 1000+ glowing client testimonials.
See What Makes Us Stand out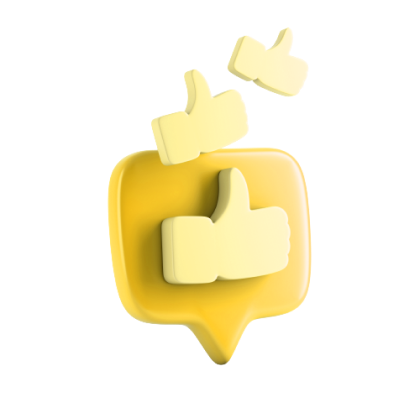 How to craft a successful email marketing campaign
Now that you've seen some fo the best email marketing examples of 2023, it's time to talk about how you can craft a successful email marketing campaign for your company.
1. Lay out your email marketing goals
The base of a successful email marketing campaign is identifying your goals. Below are some of the most common goals you may wish to accomplish with your email marketing campaign:
increase clicks to website
increase newsletter signups
increase sales
increase contact info submissions
2. Solidify your audience
Your email marketing campaign will never be successful if you don't first identify exactly who you're targeting. Know who is iterested in your products, and know who you want to target with your emails. Consider things like:
age
gender
location
interests
income level
3. Plan your emails
You should create an email content schedule so that you always know what emails you're sending. You should consider things like:
how often will you send emails?
what content will each email cover?
will every email be a newsletter?
When you're creating your schedule, you should have an idea of what content each email will include. This will ensure that your emails go out on time and that you never miss a week due to lack of content.
4. Use an email scheduling tool
After creating your email content, it'll be most helpful to find an email scheduling tool that will ensure your emails are sent consistently.
This allows you to free up the time it would take to send your emails manually, and make sure your customers see you as a consistent brand.
5. Analyze the performance of your email campaigns
If you craft an email campaign without studying and analyzing how it performed, you won't ever improve your strategy.
Analyzing key email marketing metrics like open rate will help you identify holes in your campaign, and help you improve in the future.
6. Hire an email marketing agency
Running a business is hard work, and if you don't have the time to pour into your email marketing campaign, hire an agency like WebFX!
WebFX is a partner businesses trust.
Hear from HydroWorx, who saw a 236% increase in organic sessions with WebFX services.
Watch the Video Testimonial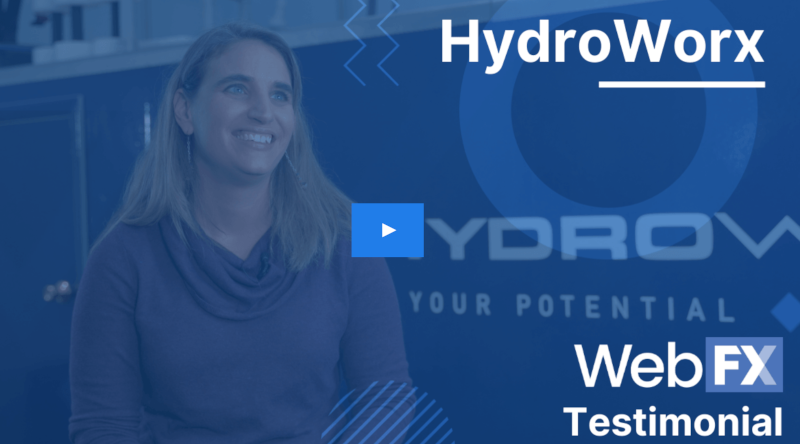 Ready to create effective email campaigns for your business?
Email is a powerful marketing channel for any company.
It gives you the ability to reach individual members of your target audience with the information they need to become customers, making it the perfect tool for moving leads through the buying process.
If you're ready to create an effective email marketing campaign, WebFX can help.
We have years of experience creating, managing, and monitoring successful campaigns for our clients, and we'll do the same for you.
Contact us today to learn more information and a free quote!