How to Create Your Content Marketing Strategy: Content Guide for Success in 2023
With the potential to
double website conversion rates
, more companies are turning to content marketing to grow their businesses. While their content marketing strategies may vary, every organization wonders, "How can we create the best content marketing strategy?

What is a content marketing strategy?
A content marketing strategy is a plan that businesses use to create and distribute valuable, relevant, and consistent content to attract and retain their target audience, ultimately driving profitable customer action.
Unsure about content marketing? Let us convince you of its value with the video below!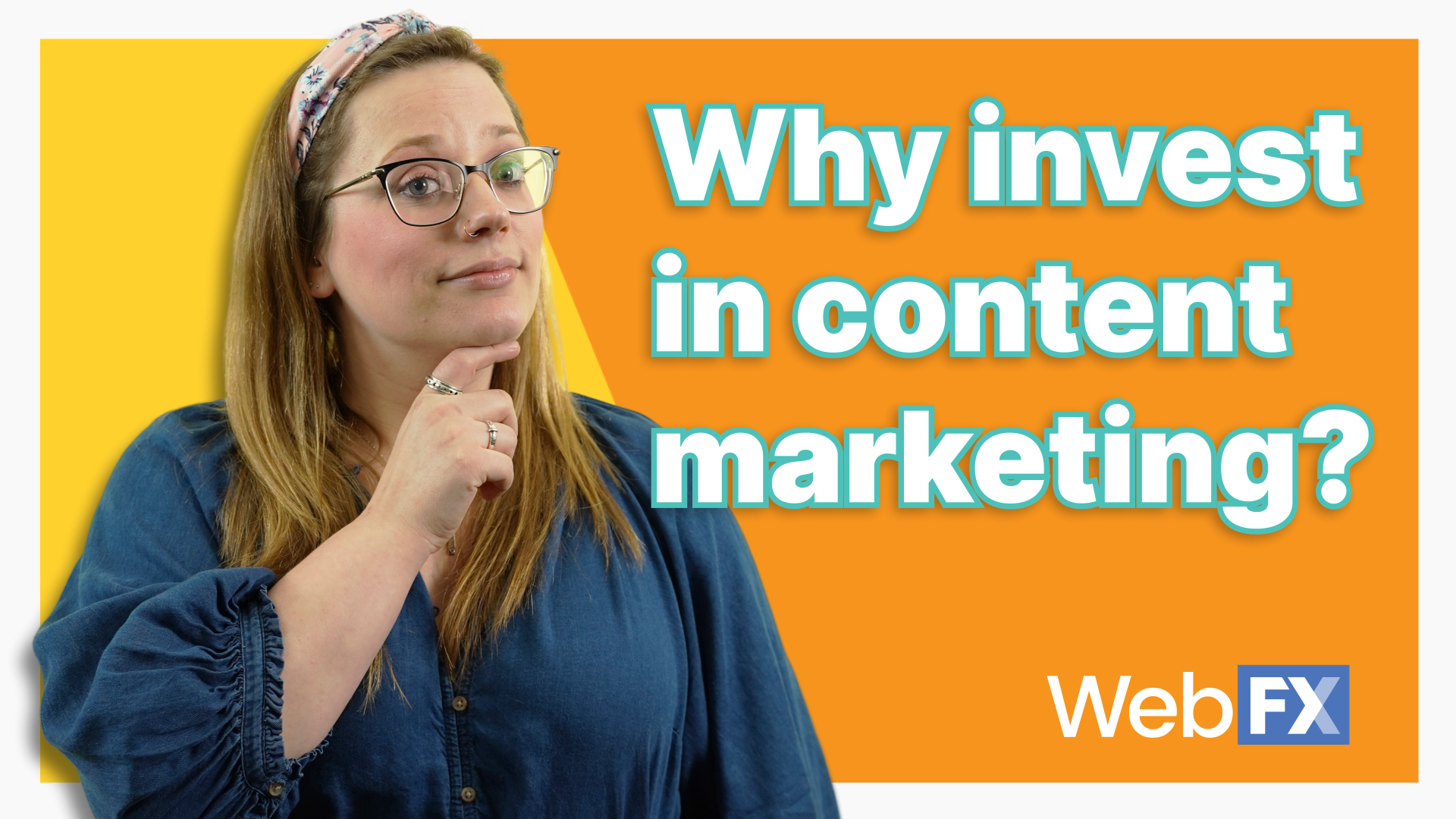 With the potential to double website conversion rates, more companies are turning to content marketing to grow their businesses. While their content marketing strategies may vary, every organization wonders, "How can we create the best content marketing strategy?"
You'll find the answer in this handy how-to guide for developing a content marketing strategy that not only make your audiences happy but also your company's decision makers. Keep reading to learn more — or, start building your website's content strategy by contacting our award-winning team online or by phone, at 888-601-5359!
What is content marketing?
Content marketing is the practice of strategically creating and distributing content to attract and engage your target audience with the eventual goal of generating customer actions such as conversions. Examples of content marketing include videos, newsletters, online guides, and podcasts.
What is a content marketing strategy?
Let's define content marketing strategy as the process of developing and launching a competitive content marketing plan. This plan is the roadmap for all the original content your business plans to create. That content can include written materials, as well as visual ones.
To separate the two, think of your content marketing plan as the "what," or the goals you have for your content marketing, and your content marketing strategy as the "how." Your content marketing strategy answers the question of how your content marketing plan will increase brand awareness or improve lead generation, for example.
Content marketing strategy examples
Now that we have gained an understanding of what is content strategy in marketing, let's explore some real-world examples.
If you Google "how to tie a tie," you'll see results from various websites, one of which might be Brooks Brothers. If you click through to the Brooks Brothers site, you'll get a tutorial on how to tie a tie in four different ways complete with instructions complete with text, graphics, and videos.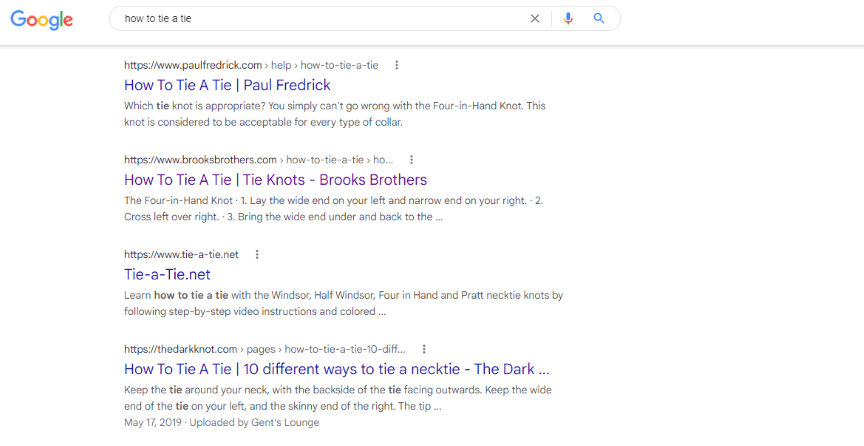 Why does Brooks Brothers have a page on their site about how to tie a tie? It's part of their content marketing strategy, which makes sense because the company sells ties. Someone who searches "how to tie a tie" clearly wears ties, making them a potential customer of Brooks Brothers.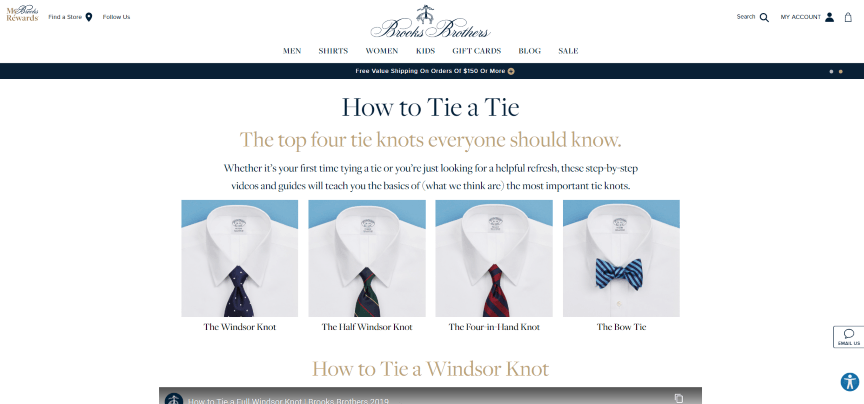 When they click through to the site and read the post, they'll become familiar with the brand and be able to easily browse the company's products. Some users who read the post might become Brooks Brothers customers, possibly right after reading the article but more likely somewhere down the road.
As another example, if you search "hiking tips," you might see a post from KOA on the results page.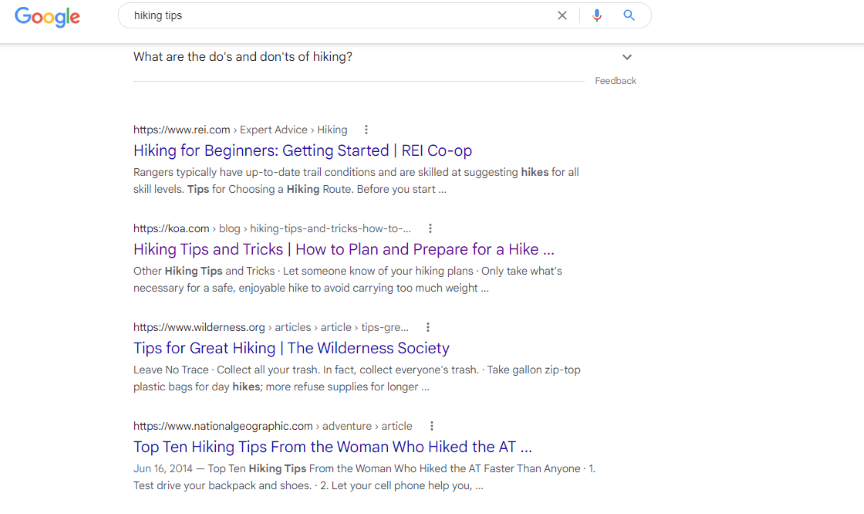 KOA is a chain of campgrounds, so it makes sense for them to create content about hiking as part of their content marketing strategy.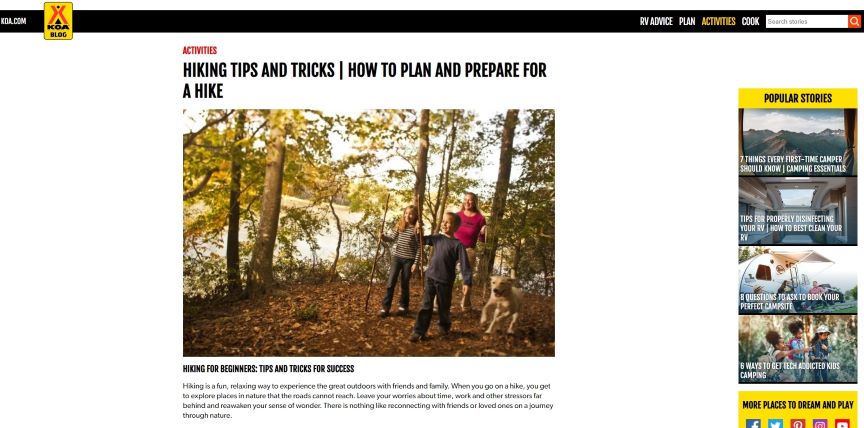 Someone who's planning a hiking trip might be looking for tips about hiking. If a hiking blog post gets them on the site, they might then check out where KOA has campgrounds.
Someone who's interested in getting started with hiking might eventually want to book a camping trip. Because they got hiking tips from KOA's website, KOA will likely come to their mind when they're looking for somewhere to camp.
How to create a content marketing strategy
When it comes to developing a content marketing strategy, many businesses follow the appropriate steps. They research their audiences, develop their content calendar, and monitor their content's performance.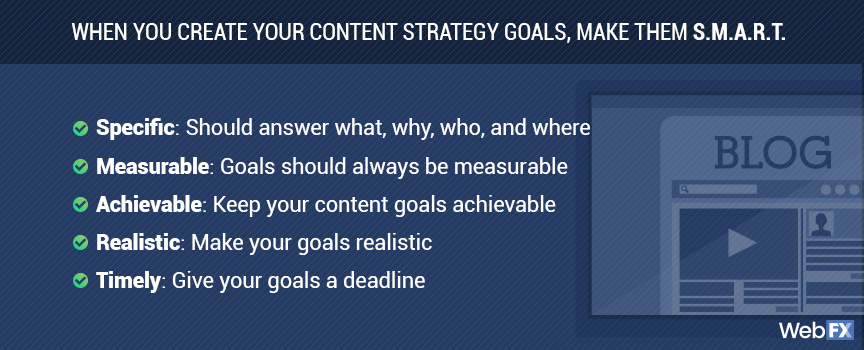 Their content, however, doesn't drive the results they expect. What happens is that these businesses often follow the right steps but overlook important details. That's why this how-to guide reviews best practice recommendations, plus highlights the tiniest details.
With this approach, you learn not only how to create a content marketing strategy, but also how to improve your existing one by spotting areas for improvement. Ready to start creating the best marketing strategies for your business?
Get started with these seven steps:
1. Set your content marketing strategy's goal
Whether you're looking to increase your revenue, drive your lead generation upward, or improve your user engagement, there is a goal behind your content strategy. A lot of times, however, companies skip on investing the time to develop their goal.

When you create your content strategy's goals, make S.M.A.R.T. goals:
Specific: A well-defined goal can answer the what, why, who, where, and which questions related to it. Spend time brainstorming what your company wants to accomplish with content marketing, as well as who would need to oversee your content marketing strategy.
Measurable: Whether you're overseeing your content marketing plan in-house or partnering with a content marketing agency, you should have a measurable goal. If you're looking to increase your lead generation efforts, for example, how much of an increase do you want to see?
Achievable: While a challenging goal can push your team, it's important to keep your content marketing goals achievable. A few factors to consider are your company's marketing budget, as well as the time constraints and other responsibilities of your team.
Realistic: Another factor to think about is whether your goal is realistic. For example, maybe your lead generation aspirations are more feasible over a two-year period, rather than a one-year timeframe.
Timely: Your content marketing goal should have a deadline. For goals with a distant deadline, such as a few years or several months, set checkpoints. If you want to increase your lead generation by 10 percent in one year, for instance, commit to hitting five percent by month six.
With a S.M.A.R.T goal for your content marketing strategy, you establish a foundation for your content marketing plan. Your team knows what your company wants to accomplish, as well as when, which provides them with a base for fully developing your content marketing strategy.
2. Determine your content marketing strategy's audience
A critical component of content marketing is your audience — they're reading your content, after all. That's why companies don't overlook this step in creating a content marketing strategy often. It is an area that businesses can improve, however.
In most cases, you probably already know the following about your audience:
Age
Gender
Income
Location
Education
It's their basic demographic information and provides tons of value when building a strategy for your content marketing. The best content marketing strategies go beyond demographics, however. They research what target audiences do on the Internet.

Reach your target audience by answering these questions:
Where is their Internet hangout? If you're looking to create one-of-a-kind content, then you need to know where your target audience goes for answers. The questions they're asking can serve as the foundation for an amazing how-to blog post or comprehensive guide. Depending on your audience, they may like Reddit, Quora, or an industry-specific forum.
What is their go-to social media platform? It's also worth investigating their favorite social media platforms. While the demographics of your audience will likely influence their preferences, knowing whether they prefer Twitter, Facebook, Instagram, or Snapchat can target your content marketing strategy to the platforms that matter most.
What are their pain points? While researching their favorite Internet hangouts, you'll likely discover your audience's pain points for your industry. For your content marketing strategy, that's valuable. You can develop content that is both SEO-friendly, and provides solutions to those issues — you can even emphasize how your company solves those problems with your sales-orientated content.
What kind do they like? As you explore the hangouts of your audience, as well as their interactions on social media, notice the types of content they respond to. Some may react well to infographics, while others engage with videos. These interactions offer insight into your target audience, as well as ideas for how to connect with them.
Who do they trust? In most industries, there are influencers. These are people that your target audience trusts, which means partnering with that influencer could offer immense value to your content marketing plan and business goals. Browse social media, as well as forums, and you can probably spot a few influencers your audience trusts.
For example, a pharmaceutical digital marketing strategy with a focus on content marketing may target physicians, rather than patients. Their content could focus on educating younger physicians via video content that answers some common, yet tough questions about finding the perfect treatment.
With a better understanding of your audience's motivations and habits, you can enhance your content marketing strategy. That improved strategy can lead to better content, engagement rates, and lead generation.
3. Audit your content
While many content marketing strategy guides recommend a content audit, a lot of companies skip this step. Some, because they only have a few pieces of content and others because they have a ton of it.
No matter how much — or how little — history your company has with content marketing, conduct a content audit. It's a critical step to creating a content marketing strategy. The results provide insight into your past approaches and can even offer ideas for future content.
Complete a content audit with the following steps:
Create a content inventory: A content inventory serves as a directory and includes the content URL. In some cases, you may include the content's heading and sub-headings. You can create a content inventory with a tool like Screaming Frog, and then export the data to a spreadsheet.
Catalog content topic: Once you have your spreadsheet, classify the content. For maximum documentation, note the content type and topic, such as a 500-word how-to blog post or 800-word service page.
Grade content: Next, grade each piece of content. Consider the quality of writing, as well as the content's relevancy and accuracy for audiences today. Review the content's organization, tone, and visuals too, as you want it to match your current branding.
Log content performance: The last detail to include in your spreadsheet is the content's performance. A few metrics to include are the amount of traffic earned by the webpage, as well as the bounce rate and engagement of users, which you can find in Google Analytics.
Use the results of your content audit to build your content marketing strategy. What does your past content do well that you'd like to include or avoid in future content? Or, how can you repurpose that content to align with your new content marketing goals?
4. Write your content guidelines
For businesses new to content marketing, this question doesn't offer an easy answer.

It requires time and preparation, as your team needs to develop guidelines for creating and publishing your company's content. This is especially true for healthcare content marketing plans, as you want to ensure your content meets industry regulations.
Many companies, however, skip the recommendation to write a set of content guidelines. It's critical that your business doesn't overlook this step on how to create a content strategy. Without guidelines, you can impact the quality of your strategy, as well as its impact on your goals.
That's why you should have a guide that explores the following content features:
Content types: The best content marketing strategies focus on more than blog posts — and so should yours. Develop a list of content types and list their unique features or requirements. These requirements can include a preferred word count or calls-to-action (CTAs).
Content images: Your content guidelines should also note the use and format of images. If you're creating custom graphics, for instance, what fonts or colors should they use? Or, what websites should your team use for images?
Content tone: While your company's branding guidelines may have information on the preferred tone for press releases and other formal communications, it may not discuss more casual content types, like blog posts. Note those preferences in your guide.
Once you launch your content marketing strategy, expect to modify your guidelines. You may discover, for example, that your blog posts should feature additional images to provide a better user experience.
5. Brainstorm your content
While initially browsing guides on content marketing strategies, businesses skim past the importance of brainstorming fresh, original content. While you may have a ton of ideas now, that number decreases as your content backlog grows.
How can you continue to develop content that your audience loves? With these tips:
Use content idea tools: A lot of websites offer idea generator tools, which can help your team brainstorm a new idea. One tool is our Blog Post Idea Generator, which even suggests a title tag for the recommended idea.
Read industry sites: Another way to generate ideas for your content marketing plan is by following the leading websites in your sector. While you shouldn't cover the exact topic, you may create content that expands on an idea mentioned.
Watch competitors: You can also monitor the content that your competitors create. As with industry websites, don't copy your competitors' content marketing strategy. Instead, you want to find the features of the story that are relevant to your audience.
If you're partnering with a content marketing agency, they develop fresh content on a routine basis for you. When you partner with WebFX, you even receive a hands-on and dedicated account manager who learns your business. The result is engaging content that's even more relevant to your audience.
That kind of tailored content marketing strategy contributes to even better results for your company.
6. Develop your content management process
It's not uncommon for businesses to overlook the importance of a content management system (CMS), like WordPress. If you're a small-to-midsized business (SMB), for instance, you may consider planning, producing, and publishing your content manually.
As your content marketing strategy grows, however, that becomes unmanageable. That's why you need to consider your management processes early. By taking this proactive step on how to develop a content strategy, you're reducing the stress and workload of your team, as well as maximizing the success of your content marketing plan.

In some cases, content marketing agencies will offer CMS services. WebFX, for instance, offers comprehensive CMS services, such as for WordPress, Joomla!, and Magento — we can even create a custom CMS platform for your business.
Another content process to consider is your content calendar. This calendar is critical to your content marketing plan because it provides details on the content you're producing and publishing, as well as your content deadlines.
If you're looking for a content calendar, these are a few helpful online tools:
Note, some of these tools offer free and paid versions.
7. Measure your content strategy's success
For businesses that don't create S.M.A.R.T. goals, it's a challenge to measure the success of their content marketing plan. Even though digital marketing provides plenty of metrics to track and analyze, you need a S.M.A.R.T. goal to measure your success.
That's why the "M" in S.M.A.R.T. focuses on measurement.
Measuring the success of your content marketing strategy also depends on your measurement tools. For example, your business may reference the data of your webpages in Google Analytics to see if they're contributing to your S.M.A.R.T. goals.
If you're collaborating with a full-service digital marketing agency, like WebFX, you may have access to proprietary software for measuring your content strategy's success. At WebFX, for instance, we developed MarketingCloudFX.
This platform, powered by IBM Watson, offers our clients insight into their content marketing strategy's performance. Plus, as the leading ROI-tracking software, it lets you see the power of your investment in real-time.
That's a critical phase on how to build a content strategy, as your strategy should not only achieve your goals but also deliver a noteworthy ROI.
Why is content marketing important?
Beyond a content strategy, content marketing matters for a few reasons, including:
1. Generates new leads
Content brings new leads to your website. Potential customers seek out information, and your content provides the answers they need. It's the first step to getting people on your website.
This type of marketing generates 3x more leads than traditional marketing, so it's an extremely effective way to get people interested in your business.
2. Creates brand awareness
If you're learning how to create a content strategy, it's important to build your brand recognition with consumers. You want them to know about your company and what it represents.
People may visit your site, but not convert right away. After they leave, you want them to remember your brand in the future when they need your products or services.
Content helps you build brand awareness. By checking out your content, visitors will become familiar with your brand and what you offer. This will help them recognize your business later when they need your services.
3. Cost-effective
Your budget is important. When you invest in marketing services, you want to use methods that are budget-friendly and effective for reaching your target market.
Content marketing is very cost-effective. If you decide to do content marketing on your own, the cost will come down to the materials you need to make your content (e.g. video camera, a subscription to a design program, etc.).
The biggest cost of content marketing is time. It takes time to develop quality content that keeps users engaged. If you don't have time to develop quality content, you can work with an Internet marketing company to create custom content for your business.
4. Encourages conversions
Businesses that use content marketing are 6x more likely to get conversions than businesses that don't create content.
This method has such a big impact on conversions because it provides users with valuable information. It makes them feel more equipped and better prepared to make a decision. And it helps them feel confident in their decision to choose your company.
5. Boosts your search engine rankings
One method that businesses use to reach more customers is search engine optimization (SEO). SEO is the process of boosting your website's ranking so more users can find your website online.
As you create content to address keywords related to your business, you have the potential to appear higher in search results for industry terms and phrases. And the higher you appear in search results, the more people will be able to find and contact your business.
In addition, content provides you with opportunities to link to other pages on your site. You can guide your traffic to key pages on your site that provide them with more information about your offerings and encourage them to purchase.
6. Builds trust with your consumers
Content marketing helps you build trust with potential customers. It helps consumers gain a better understanding of your business and the products and services you offer. And you can show them that you are knowledgeable and willing to help them succeed.
In addition, content marketing also helps them see the quality of your products. By using videos, photos, and other materials, you can give them an inside look at your company and provide the information they need to become customers.
When you build trust with consumers, they are more likely to use your business. They will appreciate your openness, honesty, and willingness to provide them with helpful information.
Is a content marketing strategy really necessary?
If you're searching for how to create a content marketing strategy, you probably recognize the importance of one. While your content marketing plan is your roadmap, your content marketing strategy is your game plan.
For a quick refresher, however, here is why a content marketing strategy matters:
It develops a strategy for achieving your content marketing goals: Without a strategy, it's easy for your company to lose track of its content marketing goals. That can lead to a lackluster return on investment (ROI), as well as a misunderstanding of what content marketing can do.
It adapts your content marketing plan to industry changes: In your industry, as well as digital marketing, it's essential to stay ahead. With a content marketing strategy, your team can adapt your plan to changes, making your content marketing even more effective.
Now, ready to start building a competitive content marketing strategy?
Content marketing strategy checklist

Need a quick summary of this guide? Here's a handy content marketing strategy checklist:
Set S.M.A.R.T. goals
Build in-depth target audiences
Audit existing website content
Develop content guidelines
Brainstorm content ideas with online resources
Establish a content management system
Measure actionable metrics
Now you're ready to create one of the best content marketing strategies for your business.
4 types of content for your content marketing strategy
If you're interested in content marketing, you're probably wondering what strategies are available for your business. Content marketing offers numerous avenues for reaching your target audience:
1. Blogs
Blogs are the most common form of content creation. Your blog is a medium that allows you to post articles about topics related to your business.
There are numerous types of articles you can create. For example, you can create how-to posts, list posts, checklists, and other helpful resources.
When you begin creating content, you need a solid understanding of your target audience. Your audience will determine what kind of content you write.
You can use Google Analytics to determine the most popular content on your site. This will help you see which types of posts your audience visits and engages with the most. If you find your audience responds well to list posts, you may add more of them to your content strategy.
When brainstorming topics to write about, it's best to create a running list of topics you know work well.
The length of your articles will be determined by your goals. Posts with 1,000-1,500 words are good for getting shares on social media. Articles shorter than 1,000 words are mostly focused on generating discussion and getting likes.
If you want to create content for ranking on Google, articles that are over 2,000 words are best. The highest ranking articles on Google are around 2,450 words.
As you begin creating your content, there are a few things to remember:
Break your content into small paragraphs. Most readers will skim your posts. Breaking your content into paragraphs with 3-4 sentences will keep them engaged and interested.
Use "we". Don't refer to your own business in third person. Instead of saying "WebFX has experience in content marketing," you would say "We have experience in content marketing." This builds a connection with your audience and makes it feel as though you are personally talking to them.
Use visual elements. You don't want your blog posts to be all words. To keep readers engaged, you'll want to add visual elements to your post. Content with visuals gets 94% more views than text-only content.
Be consistent. Blogging requires consistency. Companies that create 16+ blog posts per month generate 4.5x more leads than companies that only publish up to four blog posts per month. It is important to write blog posts frequently throughout the month in order to see better results.
If you aren't sure where to publish your content, there are numerous blogging sites available. WordPress is one of the most popular sites to use for blogging. It is user-friendly and can be integrated into your website.
Not sure how to start your blog? Check out our beginner's guide to creating your first business blog!
2. Video
Video marketing is quickly becoming one of the most popular forms of content marketing. With the development of sites like YouTube, videos are becoming an integral part of people's everyday lives. In fact, 63% of Internet users regularly watch YouTube videos.
With the increasing popularity of videos, many marketers are turning to video marketing as a primary means of content marketing. In fact, 61% of businesses currently use video marketing in their content planning. This is expected to increase as the demand for videos increases.
Video marketing encompasses filming, editing, and sharing videos to attract attention to your business. Like your blog posts, the videos you create should relate to your industry.
There are various types of videos you can create, including:
Testimonials. It's great to create videos of people saying positive things about your business. It provides social proof to viewers that real people are backing up your company, products, and services.
Tours of your facilities. Tour videos are a great way to give potential customers an inside look at your business. These videos are especially helpful if you are trying to entice people to come to your place of business.
Employees. If someone is going to use your company, they want to know the staff is knowledgeable and friendly. Employee spotlight videos are a great way to showcase your employees.
Highlight products and services. These videos are meant to show people why they should buy your products by showing them how they are made and how they work. You can also answer frequently asked questions about your offerings to provide people with the information they need to purchase.
How-to videos. These are popular videos to make, especially if you are in a service industry. You can show people how to do things on their own, like fix a leaking pipe or change a flat tire.
There are many other available options for creating videos. This is a medium that enables you to get creative and produce content that will engage viewers.
It takes time to create an engaging, high-quality video, but the benefits are well worth it. Video content helps engage readers and keep them on your pages longer.
When they spend more time on your website, it sends a positive signal to Google. If Google sees that people are spending more time on your website, they will boost your website's ranking in search results for certain keywords. This helps more people find your website.
Videos are versatile too. You don't have to limit your videos to content marketing.
You can use videos for other marketing methods such as pay-per-click (PPC) advertisements. People are more likely to click on your advertisement if it is a video rather than an all text ad.
Videos are a great addition to your site as well. Adding videos to your site pages improves conversion rates by 86%.
Video marketing is one of the best ways to draw in customers. It takes time, but the benefits are well worth the effort. If you want to reap the benefits of video marketing but don't have the time to dedicate to it, contact us online to see how we can help you create videos that will draw users to your site!
3. Infographics
Infographics are a visual and engaging way to present information to users. These graphics tend to have statistics or facts about a certain topic, and they include visual elements to engage users.
Instead of presenting all the information in text, many businesses will create infographics. Not only does this help compile all the statistical information in one place, but it helps users understand the information better.
When you use infographics, you help readers see the most important information in a visual way that catches their attention. This can drive users to read your article if they find interesting information in your infographic.
Infographics are also great for sharing. You can share them on your website or social media.
These graphics are often reused by other companies to publish on their sites. When authority sites share your infographics, it boosts the authority of your own site and increases your search engine ranking.
The shareable nature of infographics helps expand your reach. You get credit for creating the infographic, which directs traffic back to your website. It's a great way to attract new leads to your website.
4. Informational Guides/Ebooks
Guides and ebooks are a great way to give users their own copy of your content. These are pieces that you can post on your site, but many companies will require an email sign up to garner contact information from interested parties.
These guides tend to be longer and more in-depth than content articles. Many of your articles will merely scratch the surface of your topics because you want to get users interested. Guides will give them more information if they are interested.
When you create guides, you want to make it so that people have to sign up to get them. For example, you can create a simple sign-up form and require people to enter their names and email addresses to download the content. By requiring people to enter their emails to download your guides, you'll boost your subscriber list and add some credible leads for your business.
11 quick tips for your content marketing strategy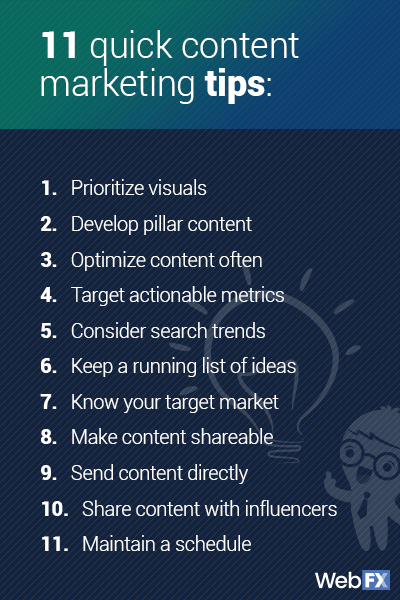 If you're excited to improve your content marketing strategy with the above recommendations but are looking for additional ways to take your content strategy a step above the competition, then these 11 content marketing tips for 2023 are for you.
Prioritize visuals: While your content probably features visuals already, it helps your content marketing strategy if you prioritize visuals. Not only do readers love images but they also appeal to how users skim content. If you can add visuals that enhance your content, such as screenshots, graphs, GIFs, or videos — do it.
Develop pillar content: Maximize your content marketing plan by considering the value of pillar content in your strategy. What is pillar content? It's in-depth content, such as guides or ebooks, that focuses on providing immense value to users and high-quality leads for your sales team.
Optimize content: A core focus of content marketing is on high-quality, original content. Another focus, however, is on optimizing that content for search engines. By optimizing your content, from your title tag to your image alt tags, you can increase your ranking in search results. A better ranking can lead to more visits from your target audience.
Target actionable metrics: While mentioned earlier, it's worth emphasizing the importance of tracking actionable metrics — and not vanity metrics — in your content marketing strategy. These are metrics with a direct impact on your company. A few examples include your company's sales, lead generation rates, and more.
Consider search trends: A competitive content marketing strategy monitors and adapts to the latest search trends, such as voice search. This trend is worth considering, as 40 percent of adults use it at least once a day, making voice search content optimization worth the investment.
Keep a running list of ideas: Since content requires consistency, you'll need to have a list of fresh ideas. Brainstorm some ideas at least once a week. You can add them to your list and decide if you can write about them. You may find you have topics, but aren't sure about the direction to take. Our blog idea generator can help you select winning topic ideas for your content.
Know your target market: Before you start writing, research your target market. Look at your current customer base to figure out who is in your target market. You can also create customer profiles, which will help you determine your target market and the people most interested in your products or services. With this data, you can produce relevant content for your audience, from videos to blog posts.
Make content shareable: You want people to share your content so you can expand your reach and gain new customers. Make sure your content can be easily shared by people who read it. Include social media buttons at the bottom of your pages so people can share it to their own pages. You can post it on your own social media pages so people can share it directly from you.
Send content to people directly: This is where email marketing comes into the picture. Send your content to your email subscribers because they are already interested in your business. Content is a great way to re-engage subscribers too. You can send them valuable content that will remind them of your business and your services, as well as help you develop relationships that encourage people to buy.
Share content with influencers: Influencers can share your content with their followers, which drives more people back to your website. You can gain more traffic by reaching out to influencers with your content, as well as developing relationships with prominent influencers, which can lead to more content shares.
Maintain a schedule: Content isn't a once and done thing. You need to constantly create new content in order to be successful with it. Research shows that 60% of marketers create at least one piece of content each day. It is important to keep up with your content so you can bring in leads and get people engaged with your business.
Launch a content marketing strategy with WebFX
Our content marketing plans include the following assets and strategies.
Blog posts and articles
Is your blog looking a little barren? Need a new blog for your business set up? At WebFX, we believe that a blog is often the centerpiece of a great content marketing strategy. Our agency will set up your company blog, creating an engaging and interesting design that matches the look and feel of your website.
As part of our content marketing services, we'll regularly add content to your blog that fits your marketing and engages visitors to your site. We'll also optimize it for optimal sharing on social media, ensuring it has the best chance of spreading and being read over and over again.
Social media monitoring
Social media is how your content marketing efforts spread, so we'll make sure you have the tools and knowledge you need to monitor your accounts for new mentions of your blog posts or shares of your infographics. No time to manage your social presence? We can help!
Infographics and motion graphics
Through in-depth research of your brand, industry and key topics, the WebFX team of content strategists will gain valuable insight to provide accurate and exclusive data to our graphic design team. Then, our full staff of graphic designers translates this information into engaging info and motion graphics to not only promote your brand, but encourage high social activity. These designs are just one part of the content marketing strategy.
Content asset links
Images are great for going viral and bringing in extra power from social shares, but written content is also an important aspect of content marketing services. With an extensive network of authority bloggers, WebFX's content management team can secure content links for your site from a number of different domains. Our copywriting manager ensures ideal usage of keywords and anchor text for all contextual links created within our content marketing strategies, guaranteeing significant power increases for your website.
Learn how we increased traffic by over 40%, and conversions by over 100% for an ecommerce client.
Read the Case Study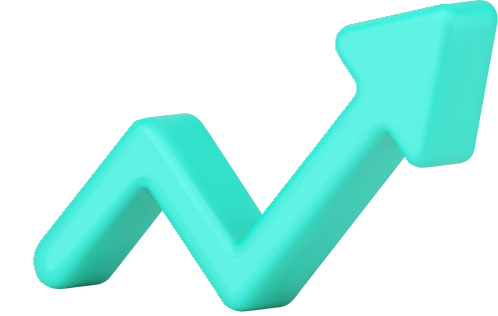 Build a better content marketing strategy
Does your business need a better content marketing strategy, one that's driven to deliver results?
At WebFX, we're a full-service digital marketing agency with more than 25 years of experience that specializes in content marketing services. With our personalized content marketing strategies, we'll help your company earn more revenue, plus achieve its digital marketing goals.
Get a better content marketing strategy by contacting us online — or give us a ring at 888-601-5359!