Wesley is looking to bring in more customers for his pest control business, and he knows the best way to do that is to market his business. So, he sits down at his computer, cracks his knuckles, and prepares to start — but he suddenly realizes he's not sure how to market his company.
You might find yourself in the same predicament with your own pest control company. You know the importance of marketing, but you're not sure what specific methods to use. What pest control marketing tactics should you employ?
Fortunately, we're here to provide you with some answers. Keep reading for a list of some expert pest control marketing ideas:
Then subscribe to Revenue Weekly — our email newsletter — to receive more digital marketing tips from the agency with over 25 years of experience!
93% of WebFX customers are extremely satisfied with their digital marketing results.
"Working with WebFX, everything is very organized and strategic. We're only a year into our partnership, and our expectations have definitely been met."

View More Client Testimonials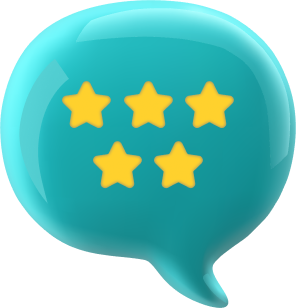 7 pest control marketing ideas
There are always people who need pest control, so if you market yourself properly, you won't have a problem gaining customers. The question is, how do you market yourself properly?
Here are seven marketing ideas for pest control companies to try!
1. Optimize your website for SEO
If you were only to use one marketing strategy, search engine optimization (SEO) would be one of the best options. SEO is all about getting your website to rank in relevant, pest control-related search results where users can find it.
You can use various methods to optimize your website for Google rankings. Some of the best tactics include:
A site that does all the above tactics will have a better chance of appearing in relevant search results, thus driving more qualified traffic.
2. Start a business blog
Another way to bring more people to your website is to start a blog. A blog is a fantastic way to attract users' interest, as it enables you to provide people with valuable information about your business and your industry.
Your blog posts should stay primarily informational, educating users on how pest control works and what they can do on their own. For instance, you could write a post that lists some helpful pest prevention tips that readers can implement in their homes.
You can pair your blog together with your SEO tactics to get your posts ranking on Google. When users find them, they'll be interested to learn the information contained there, so they'll visit your site.
3. Set up a Google Business Profile
It's not just your website that can show up in Google results. You can also help users find you via local SEO, and one of the best local pest control marketing tactics is to set up a Google Business Profile.
A Google Business Profile — formerly known as Google My Business — is a type of online profile you can create for your pest control company. The profile contains basic information about your business, including:
Business name

Location

Contact information

Hours

And more!
Google Business Profiles tend to appear in local search results. So, if someone searches for "pest control company near me," they'll likely see a local 3-pack of business profiles that includes your company.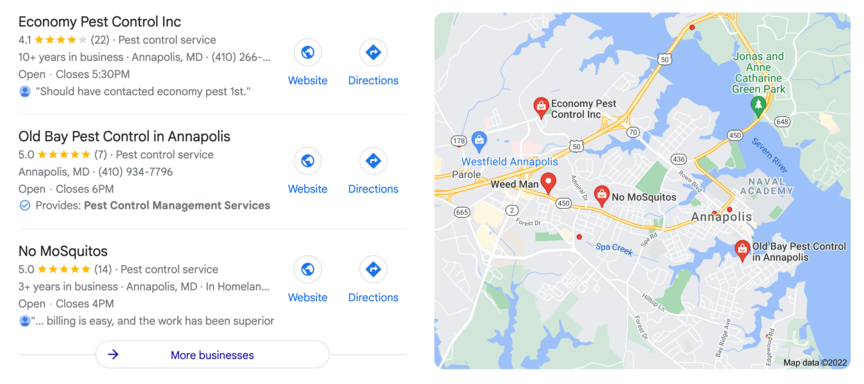 4. Focus on your branding
One of the most valuable pest control marketing ideas is to focus on branding. Branding refers to the practice of promoting your company in a way that represents your unique business identity.
Branding is often visual. For instance, your company might use a particular color scheme, font style, or shape pattern across all your marketing. In doing so, you'd help users associate all your marketing materials with your business, leading them to have an easier time remembering you.
You can also enhance your branding with the type of language you use and the general personality you present. Maybe you want to sound high-end and professional, or maybe you want to come off as more laid-back. It all depends on your brand and how you want to present your company to your audience.
5. Run paid advertising campaigns
You don't need to market your business only through organic channels. You can also use pay-per-click (PPC) advertising to reach users.
The best way to launch a PPC campaign is to use Google Ads. There, you can bid on specific keywords you want to target. With the right bidding strategy and a high enough Ad Rank, you can get your ads to display above organic search results for the terms you target.
You can also create display ads, which are visual ads that appear in the margins of third-party websites. In both cases, your ads will lead users to landing pages that encourage them to visit your website and convert.
6. Market your pest control company on social media
Did you know that 74% of people use social media to help them make purchase decisions? That means social media has a significant influence on your potential customers — so, social media marketing is an excellent addition to your pest control marketing strategy.
When you create a social media account for your business, you can use it to post engaging content like infographics and videos. That content will attract users, and from there, you can push them to visit your website.
You can also run paid social media ads. Those ads will appear right in users' feeds. Best of all, you can target the ads toward specific demographics based on factors like age and location, ensuring that you reach your exact target audience.
7. Send out marketing emails
One of the best marketing ideas for pest control is to harness the power of email. Email marketing is one of the oldest digital strategies, but it's also still one of the most effective.
You can set up email forms across your website where users can sign up. Then you can send out emails to the people on your list. Some of those emails can do things like promote your blog, while others can push subscribers to hire you.
You can also personalize all your emails to address users individually. That will make them more effective at grabbing users' attention and driving conversions.
WebFX is a partner businesses trust.
Hear from HydroWorx, who saw a 236% increase in organic sessions with WebFX services.

Watch the Video Testimonial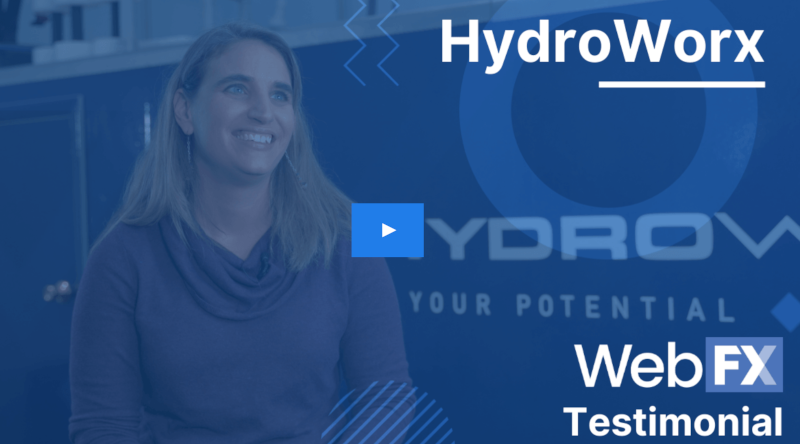 Hear What It's Like to Work With WebFX!

"WebFX did amazing work creating a new website for us on a tight schedule. They have taken the time to learn about our business and give us ideas of how to make our digital marketing better. We still have work to do with WebFX but overall very pleased."
Professional Service
WebFX can help you master your pest control marketing strategy
Ready to put these pest control marketing ideas into action for your business? WebFX can't wait to help you! With more than 1020 client testimonials, we're the agency pest control businesses like yours trust to drive revenue.
When you partner with us for our digital marketing services, you'll get help implementing all the pest control marketing tactics listed above. You'll also receive a dedicated representative to serve as your primary point of contact, keeping you in the loop about everything we do.
Just call 888-601-5359 or contact us online today to get started!
Earn a 20% greater ROI with WebFX