When you create your digital marketing plan, you want to use strategies that will help your pest control company earn new leads. The first step is figuring out which lead generation strategies will work best for your pest control company.
When it comes to pest control lead generation, there are plenty of strategies to use. From search engine optimization (SEO) to social media marketing, you have options for growing your business.
How do you know which methods are best for generating pest control leads, though?
On this page, we'll discuss the top five lead generation methods for pest control companies. If you want to start creating your customized lead generation plan, call us today at 888-601-5359 to speak with a strategist.
37% of marketers say that generating high-quality leads was one of their biggest challenges.
We want to decrease that percentage.
WebFX can help you generate high-quality leads with a customized marketing strategy.
Learn More About Lead Generation Services
1. Search engine optimization (SEO)
Search engine optimization (SEO) is the process of boosting your website's rank in the organic search results. This pest control lead generation method helps your pest control business draw in more credible leads.

There are two major components of SEO.
Keyword selection
To use SEO, you need to select keywords. This requires you to do keyword research to find the best keywords for your campaign. If you want to choose effective keywords, it is best to focus on long tail keywords.
These are keywords that contain three or more words, like "pest control companies in Harrisburg, PA." When you use these long tail keywords, you attract more qualified traffic. It's the best way to help your pest control company earn more qualified leads.
Once you have your keywords selected, you'll need to integrate them into your site. When Google crawls your site, they look for keywords to understand the context of your page. You want to use the right keywords to help your page rank better for certain topics.
This is called keyword optimization. You can integrate these keywords in the headings, titles, meta descriptions, and body text of your pages. It will help your site rank better for those keywords, which can help you generate more pest control leads.
Backlinks
When you want to improve your site's ranking, you need to earn backlinks. These are links from other credible sites that link back to your page.
Backlinks are valuable to your pest control company because they help boost the trust and authority of your site. When credible sites link to your page, it indicates that they find your information to be valid and helpful. Google takes this as a good sign, so they will boost your website's ranking to enable more people to find your helpful information.
The best way to earn backlinks is through content creation. You can create content and invite these authority sites to check it out. If they like what they see, they may use your content as a resource.
It's a great way to earn backlinks for your pest control company's site. By earning more backlinks, you will improve your sites SEO ranking.
Additional factors that can influence your ranking in search results include:
Website design
You need to have a clean and modern website. Users don't want to go on to a website that looks old and outdated. They will think your business isn't up to date and leave immediately.
The design is an important part of keeping users on your site. It is the first thing they see when they come onto your site and will make judgments based on your design.
Your website should be attractive. Pick a color scheme that fits your business and use it throughout your website. Be consistent with your design, include visual elements, and make it easy to read text.
By having a clean and modern design, you will keep visitors on your site longer.
Navigation
A well-designed website needs simple navigation to go with it. You don't want users to struggle to find the information they are seeking.
It is best to use a clean and simple navigation. Create headings that easily explain what a user can find below it. Simple titles like "Our services" and "Pricing" tell users exactly what they can find.
Simple navigation can keep users on your page longer. They are easily able to find the information they are seeking and read about it. It keeps them on your page longer, which sends a positive signal to Google.
SEO is a great way to reach more leads. By optimizing your site, you'll obtain more qualified leads for your pest control business.
Keep in mind that SEO takes time.
You won't see results overnight like PPC. The time and effort that SEO requires, however, is worth the positive results it can have for your business.
In fact, 89% of marketers agree that SEO is successful for their business. It may take time, but SEO will generate more valuable traffic and leads for your business.

Hear What It's Like to Work With WebFX!

"WebFX did amazing work creating a new website for us on a tight schedule. They have taken the time to learn about our business and give us ideas of how to make our digital marketing better. We still have work to do with WebFX but overall very pleased."
Professional Service
2. Pay-per-click (PPC) advertising
Pay-per-click (PPC) advertising is another great strategy when it comes to lead generation for pest control companies. That's because PPC attracts leads that are most likely to convert. These are paid ads that appear at the top of the search results. They are tagged with the word "ad."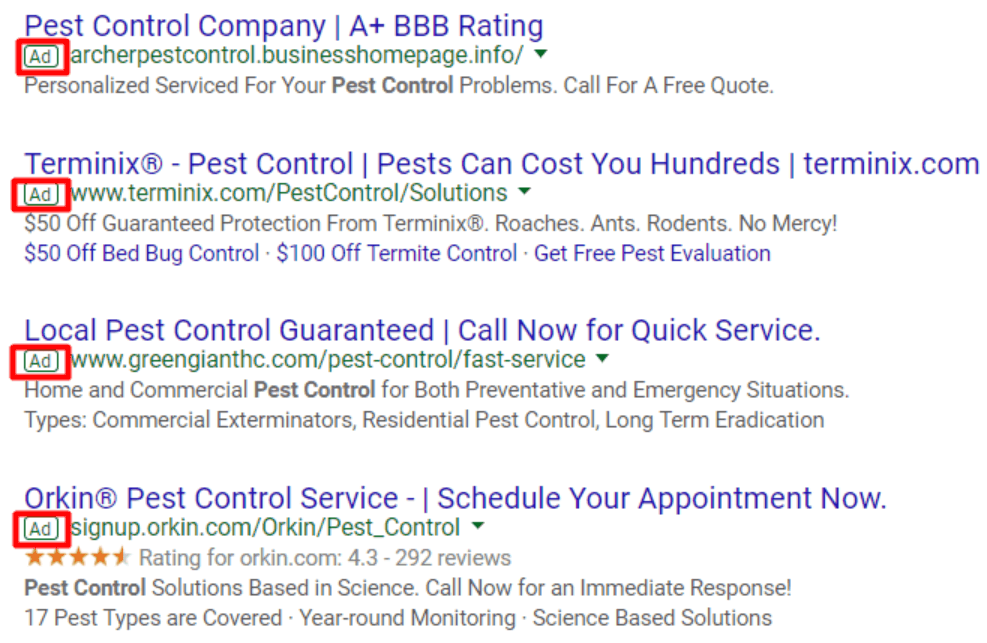 To run your PPC campaign, you need to select keywords. This is another instance where you'll want to focus on long tail keywords.
Long tail keywords are better for PPC campaigns because they have a lower cost per click (CPC), which means that you can get more clicks for your campaign. This enables you to obtain more leads, which you can convert into customers.
Once you have your long tail keywords selected, you'll bid for your placement. You need to set your maximum bid, which is the amount you are willing to pay each time someone clicks on your advertisement. Your maximum bid can be adjusted at any time.
Your maximum bid and quality score will determine your placement. Once you have your placement, your ad campaign will go live.
PPC is a great option for your pest control company because it gives you control over your campaign. You control your budget, so if you only want to spend a certain amount on a campaign, you can stick to that amount. Your company won't incur additional or unforeseen costs.
Another great feature of this method is that you only pay when people click on your advertisement. You don't pay for impressions. This means that you are paying for leads that are the most interested in your pest control company.
PPC shows your company immediate results. You can see if your campaign is successful or if you need to make changes. It's a great feature that helps you adjust your campaign to get maximum results.
By investing in PPC, you will obtain more credible leads for your pest control company.
Is PPC a good choice for your business?
PPC offers a great opportunity for your business to reach better leads. By utilizing specific keywords, your ad will reach clients that are interested specifically in your services. There are many reasons to choose PPC to generate more leads.
Budget-friendly
Many companies like this method because you can control your budget. If you only have $3,000 to spend on a PPC campaign, you can set that limit. You always know what you're paying up front and will never incur additional charges later.
Immediate results
PPC enables you to see immediate results. You can see how many people are clicking, converting, leaving your page, and more. This method enables you to immediately see if your ad is effective and make changes to help your ad perform better.
More qualified leads
Did you know that 65% of all high-intent searches result in someone clicking on a PPC advertisement?
Since PPC targets people who are already searching for pest control companies, it will help you attract more qualified leads. People who click on your PPC ad are more likely to turn into customers because they are more interested in using your services.
3. Social media marketing
Social media marketing helps your pest control company capture leads and build a relationship with them. Many people in your target audience use social media, so it is important that you build a connection with them on these platforms.
There are numerous platforms you can use for social media marketing. These platforms include Facebook, Twitter, Instagram, Pinterest, and LinkedIn.
Your target audience will determine which platforms are best for your business. You'll want to use platforms that they frequent often, so you'll need to research your target audience and each platform to figure out which ones work best for your campaign.
Once you figure out your platforms, you can post content to entice leads to follow your page. You can post photos, videos, polls, infographics, and other types of content to engage them. It's a great opportunity to attract new leads through interesting content.
Your followers can help attract new leads for your business, too. When you create content, you want to make it shareable. This encourages your audience to share the content on their own page, which exposes your brand to more people.
By making content shareable, you can entice people to follow your page. This helps you earn more credible leads for your pest control business.
Social media marketing is a great way for your pest control business to obtain new leads. Once you obtain these leads, you can easily nurture them towards conversion. It's a great pest control lead generation strategy that helps your company grow.
4. Email marketing
Email marketing is one of the best ways to draw in and nurture leads. Many people believe the days of email marketing are over, but the opposite is true. This method is thriving and has the ability to bring you an ROI of 4400%!
If you want to utilize email marketing, you need to create a subscriber list. The best way to get subscribers is to put an email sign up on your website. This can be in the header, footer, or in a pop-up box on your site.
Your email sign up should be simple to use and understand. People don't want to fill in a lot of information to sign up for emails. A simple bar that allows them to type in their email and press "sign up!" is effective for getting people to join your list.
Don't buy email lists. It seems like a simple solution to get a subscriber list, but it won't give you credible leads. If anything, people will block your emails, or they'll go straight to spam.
Once you have a subscriber list, you'll want to invest in an email campaign management program. Programs like EmailMarketingFX enable you to create, send, and track your emails. You can see how people interact with your emails and if they are effective for conversion.
This method allows you to send all kinds of information to your subscribers. You can send coupons, newsletters, blog posts, and much more. Email enables you to provide subscribers with valuable information they want.
Email marketing is effective for generating valuable leads because people choose to sign up for your emails. They are already interested in your products or services. You can nurture these leads by sending emails that appeal to them and entice them to use your services.
This is an effective method that you want to use for your pest control business. Email is 40x more effective at driving in customers than social media sites. If you want to start generating more valuable leads for your business, email is a great way to do that.
5. Content marketing
Content marketing works well with many other digital advertising strategies. It helps you boost your website's ranking when you utilize SEO. It is also great to send articles through email marketing.
Your content can include blogs, videos, infographics, online guides, and more. However, it needs to relate to your industry to drive in the right traffic.
The point of content is to provide valuable information to consumers. Consumers are constantly conducting searches to find information and answers.
There are many people who Google about how to control certain pests in or near their home. Content marketing is a great opportunity for you to provide that information to them.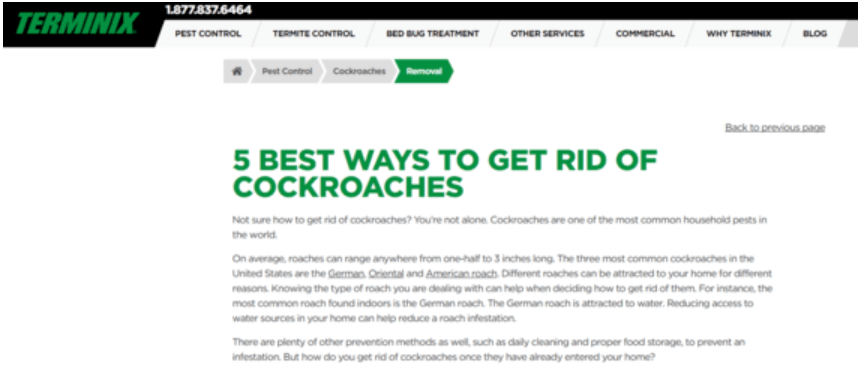 This is a great example of a pest control company utilizing content marketing to draw in leads. A user can find this content post by typing in "how to get rid of cockroaches." The content topic is beneficial to readers, as well as interesting.
You can attract users to your site by providing this information. This will draw users to your website to check out the valuable content. Once they are on your site, they can begin exploring to learn more about your business.
People will trust your business when you share content and information about topics they are seeking. They will see you as an authority in your field. These customers believe that you are experienced and good at your job.
After reading your content, some users may not convert right away. When they need your services later on, they will remember your content and your posts. They will choose your business over the competition because you provided the helpful information.
Content is so important for your website because Google looks at the amount of time people spend on your site. When people spend a long time on your site, it's an indicator to Google that your page is valuable. Google will rank your site higher because they believe that it is more valuable to consumers.
This method is a great way to drive in new leads. By attracting people to your site through content, you can help them convert later down the line. Content marketing is a great way to build trust and gain new leads for your business.
Partner with a team of ecommerce masters!
WebFX campaigns have delivered more than 12,936,451 ecommerce transactions in the last 5 years
Read the Case Studies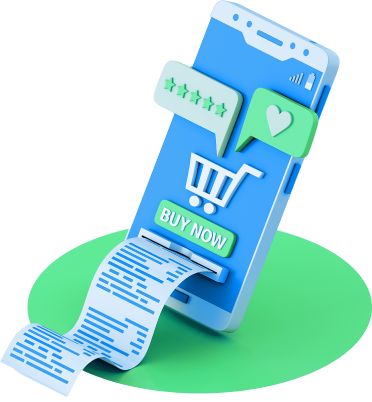 Choose WebFX for pest control lead generation
If you want your pest control company to continue to grow, you need to invest in lead generation services. These services will help you capture more leads that you can nudge towards conversion. At WebFX, we know the power of creating an effective lead generation plan.
We're a full service digital marketing company that specializes in creating customized lead generation plans. We have a team of 500+ experts that will bring their knowledge and expertise to your campaign. Our award-winning team knows how to deliver a campaign that will generate more leads for your pest control business.
If you're looking for a company that drives results, look no further than WebFX. To date, we've driven over $3 billion in sales and over 7.8 million leads for our clients. We focus on putting clients' success before anything else.
Our clients love the work we do, too. We have over 1020 client testimonials from a variety of industries. Check them out to see what it's like to partner with a top lead generation company like WebFX!
Start earning more pest control leads today
If you're ready to start earning more credible leads for your pest control company, contact us online or call us today at 888-601-5359 to speak with a strategist.
We look forward to helping your business grow!
Earn a 20% greater ROI with WebFX