So, how can you get these searchers to your website instead of a competitor's? The answer is search engine optimization, or SEO.
SEO is an online marketing strategy that improves your website's presence in search results for relevant search terms, which drives valuable traffic to your website.
Keep reading for the essential steps for getting started with SEO for architects.
Want to check your website's SEO? Try our free SEO checker tool! Simply input your website information, and you'll get a detailed SEO report in less than 60 seconds.
Looking for an all-in-one SEO audit tool? You've found it.
SEO Checker provides data on key metrics to give you:
Complete SEO score

Content Grade

Site Speed Analysis

and more.
5 tips for your architectural firm's SEO
Ready to get started with SEO for architecture firms? Here are effective tips:
1. Find SEO keywords for architects
To succeed in SEO for architects, you need to target the right keywords — those your potential clients are searching.
Start by brainstorming broad topics relevant to your industry and the terms those interested in your industry might search.
To help you come up with ideas, use a keyword research tool like KeywordsFX. Just input a keyword idea, and the tool will generate a list of related keywords.
Another way to find SEO keywords for architects is to look at the "Searches related to" section of results pages for your keyword ideas.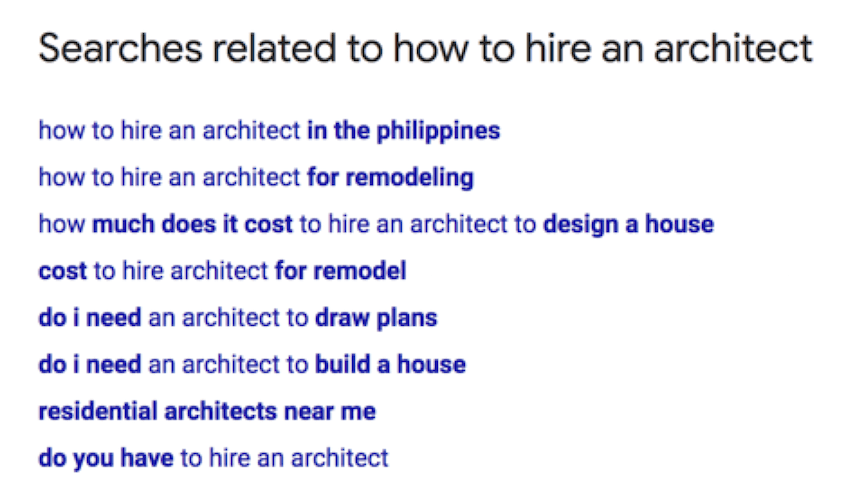 Google Search Console is another useful tool for keyword research. Once you log into GSC, you can see a list of the keywords people searched before arriving at your website.
Keyword research tools like Ahrefs and SEMrush also show you data such as the number of monthly searches for each keyword.
For SEO for architecture firms, many of your keywords will have a locational element, meaning they'll include the name of the city, region, or other area you serve. Including these locational terms helps local clients find your website.
2. Use your keywords strategically
Once you have a list of SEO keywords for architects, you can create pages based on each keyword. For example, if one of your keywords is "architectural 3D rendering services," you could create a page dedicated to your architectural 3D rendering services.
To help your architectural 3D rendering page show up in search results for that term, you'll need to include the keyword strategically throughout the page.
Use your main keyword in your page's:
Also, use your keyword throughout your copy while making sure it fits naturally into your text. Don't sacrifice readability for keyword usage. This practice is called keyword stuffing, and it can hurt your rankings substantially.
You'll also want to use several variations of your primary keyword and closely related keywords. For example, for your architectural 3D rendering services page, you could also include terms like "3D rendering services for architecture" and "architectural 3D rendering services prices."
3. Consistently create quality content
Another key to SEO for architects is consistently creating high-quality content. Google and other search engines want to provide the most relevant and highest-quality results they can to their users. Search engines also value fresh content and regular updates.
One of the best ways to improve your content's quality is focusing on search intent — what the user is looking for when they search a term. For example, if someone searches "how to choose an architect," they're looking for tips on hiring the right architect for a job.
To match search intent and produce a high-quality piece of content, you'll need to offer practical tips in a way users can easily understand.
You can create many types of content, and you may want to use several kinds of media on a single page. Some examples of content types include:
Long-form articles
Online courses
Consistently creating high-quality content is one of the most important things you can do for SEO for architecture firms.
4. Start earning links
One way Google evaluates the authoritativeness and reliability of your website is by assessing the quantity and quality of links pointing to your site. You can use various strategies to earn more of these links — called backlinks.
Perhaps the most straightforward way to earn backlinks is to create content to which other online content creators naturally want to link.
Part of this is simply creating high-quality content, as we mentioned earlier. You can also put together types of content that tend to earn a lot of links, such as infographics, statistics roundups, and original research.
Another way to build backlinks is through outreach. This method involves contacting publishers such as bloggers and asking for links. You'll need to take some time to find the right content creators to pitch and make sure your links will be useful for those creators.
For example, if you created an infographic that matches up with someone's blog post, you might email the blogger and invite them to update their post to include your infographic. You can also check pages for broken links and offer a link to one of your pages as a fix.
5. Set up business listings
Setting up business listings on online directories can boost your search engine rankings and help users find you online.
The most important directory for SEO for architects is likely Google Business Profile (GBP). Google uses the information from GMB to populate the local 3-packs that often appear in searches for local businesses such as architectural firms.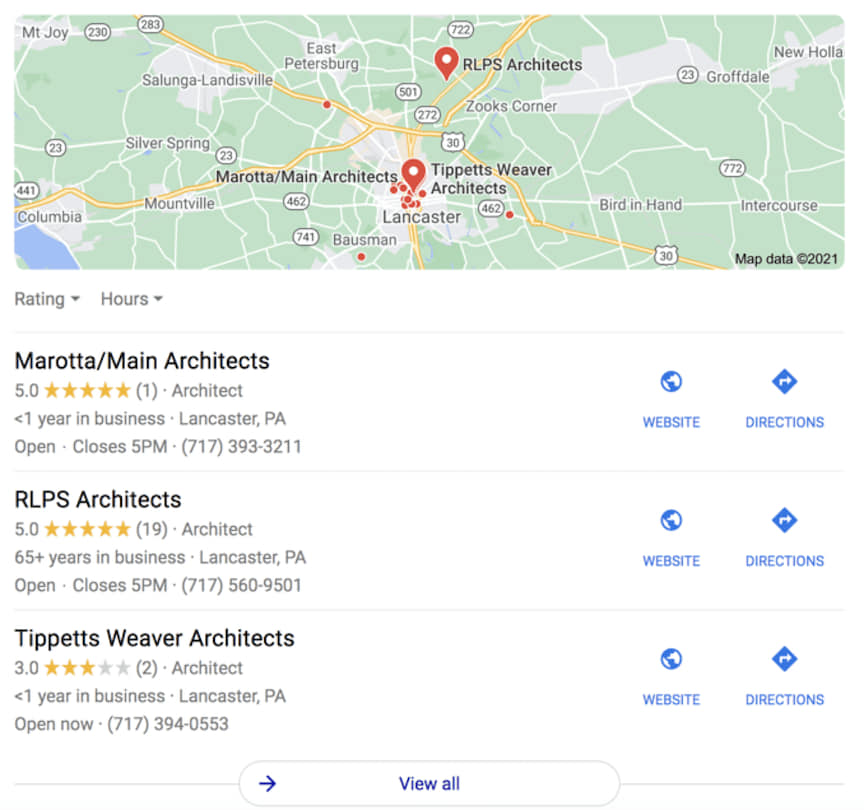 Potential clients can also use GBP to find information about your business like your location, contact information, and reviews.
To get the most out of GBP, fill out your information completely and accurately. Also, add photos and a brief description of your business that includes keywords and details about what makes your business stand out from the competition.
Optimize your listings in other directories such as Yelp and Houzz in the same way. These directories often rank well in search results related to finding local businesses. So, if your firm is included in these directories, you, in effect, increase your presence in search.
You can use a tool like LocalFX to manage your listings across multiple directories. With LocalFX, you can update all of your listings at once, find and fix issues with your listings, get data on how your listings perform, and manage your reviews.

Hear What It's Like to Work With WebFX!

"WebFX did amazing work creating a new website for us on a tight schedule. They have taken the time to learn about our business and give us ideas of how to make our digital marketing better. We still have work to do with WebFX but overall very pleased."
Professional Service
SEO services for architects
So, if you want to boost your architecture website's performance in search engines, should you work with a professional SEO agency, or can you do the work yourself?
It is possible to do some SEO yourself, which can be a great option, especially if you're just starting out. By following tips like the ones in this article, you can begin improving your site's SEO performance.
It can take a considerable amount of time, though, to learn how to do SEO, implement SEO tactics, and work through challenges that arise throughout the process.
This time-consuming process is one reason many architecture firms opt to work with professional SEO companies. Quality SEO agencies have the skills and knowledge needed to get you results quickly and reliably, saving you lots of time and helping you get more out of your SEO.
When choosing an SEO agency, look for one with lots of good reviews and proven results. At WebFX, we have more than 1020 testimonials on our site, and we've driven more than $3 billion in sales for our clients over the last five years.
WebFX: Results-driven SEO for architects
Our award-winning team of SEO experts can put together a strategy for your architecture business that drives the results you're looking for.
Request a free quote online or call us at 888-601-5359 to get started!
Earn a 20% greater ROI with WebFX