If you are looking to find new clients and expand the reach of your landscaping company, Internet marketing is the answer. Not only is Internet marketing a great way to connect with potential customers, but it can also be used to send valuable traffic to your website.
By marketing your landscaping business online, you will connect with far more people than you would if you were only using traditional forms of advertising. Plus, you'll generate more qualified leads, which can make your landscaping marketing plan more cost-effective and profitable.
Digital marketing for landscapers helps improve your online visibility, connect with new clients, and direct current customers to specific services you offer. For the best results with this type of landscape marketing, however, you need a solid landscaping marketing plan.
Learn how to build your plan, plus which marketing ideas for landscaping businesses to include, now! Just keep reading to get started. If you need professional help with landscaper marketing, contact us online or call us at 888-601-5359 to learn how our award-winning digital marketing services can help!
Why is landscape marketing important?
It can be expensive to use traditional advertising and these days, and Internet marketing can replace many of those channels. People go online to research the best options for services they need, and don't bother too much with the yellow pages or check their local paper for information.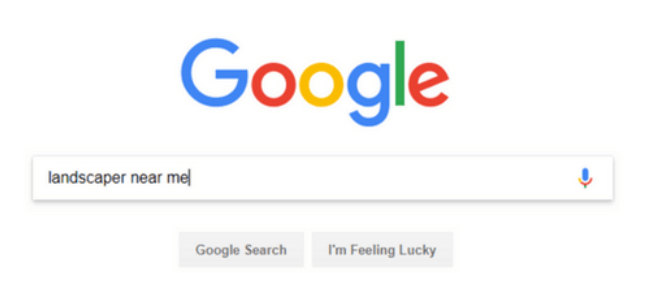 When you make the Internet the main platform for your landscaping marketing plan, potential clients will be able to find and access your company in a flash.
Your business needs a strong online presence to reach new customers that do their research on the web. The landscape marketing techniques you choose can help publicize your business in the same way traditional advertising techniques once did.

Hear What It's Like to Work With WebFX!

"WebFX is a fantastic company to work with. They provide the reporting I need, the results I want, and if there is a problem they reach out first and have a plan on adjustments. I cannot recommend them enough."
Landscaper
4 proven marketing ideas for your landscaping business
You have choices when it comes to landscaper marketing. The four follow marketing ideas for landscaping businesses, however, off the most value and return on investment (ROI):
1. Search engine optimization (SEO)
In the simplest terms, search engine optimization is a way to boost your website to a higher position in SERPs, or search engine results pages. SEO is perhaps the most crucial component of any landscaping marketing plan, and the first thing you should consider when trying to improve your online presence.
Search engines rank websites based on a number of criteria. When a search is performed for a landscaping company in your area, Google ranks the results depending on how relevant they are.
The better your website is optimized, the higher you are ranked.

The number one position in a Google search gets 33% of search traffic, which means that you should strive to be, at the very least, on the first page of results for searches related to landscaping in your area.
SEO includes making improvements to your website, such as adding additional content, optimizing your page titles, and focusing on certain keywords. It also includes getting links to your website from other sites, improving your site's speed and making your pages mobile-friendly.
After implementing SEO, your landscaping website can move up in search results. However, this landscaping marketing strategy is not something you can do once and forget.
New approaches to SEO develop quickly as Google changes its best practices. It's important that your site keeps up with the newest developments in order to continue getting qualified traffic to your website.
A landscaping website that has not been optimized risks falling in page rank, leading to fewer clicks and fewer leads.
It can be difficult for businesses to keep up with these changes and best practices on their own. That's why many choose to employ a knowledgeable SEO company that can keep up with the behind-the-scenes work for them.
2. Link building
SEO isn't limited to your own site. You also need to build links from other websites so that search engines can see that your site is reliable and legitimate.
There are many ways to build links, but they aren't always easy, and they are definitely not immediate. You could start by approaching blogs for guest posts that mention your business, and writing informative posts for your website's blog that other sites will link to voluntarily.

The more links you build from other websites, the more credibility you gain with Google. This means you'll be able to rank higher in their results.
While one of the more challenging parts of marketing a landscape business, link building is essential when it comes to getting your company found online.
3. Content marketing
By optimizing your company's website, you will almost automatically improve your landscape marketing. That's because your website will become a useful resource for potential customers, building trust.
A great way to improve your site's content is through the addition of a blog. On a blog, you can offer advice about landscaping that helps to establish your expertise in the field. This also gives your potential customers valuable, actionable information that they will appreciate.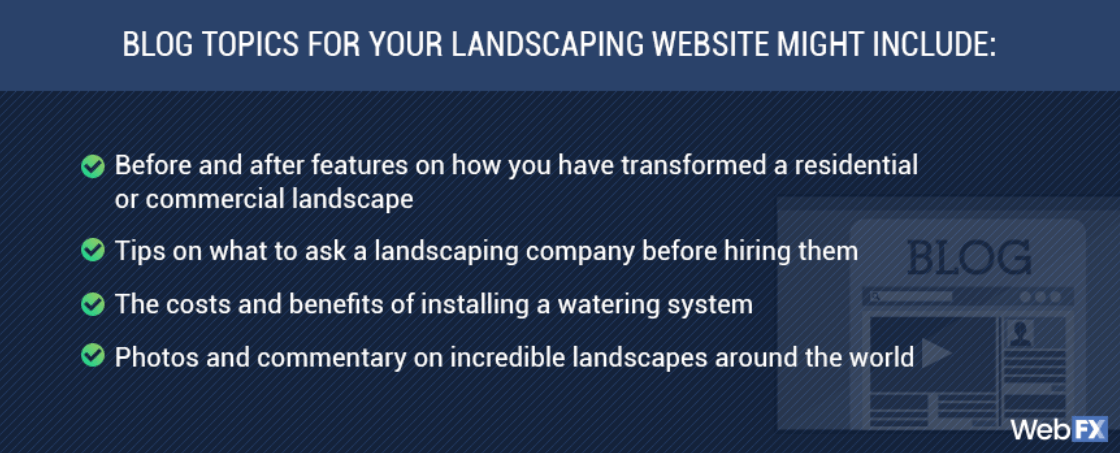 What should you write about on your blog? Blog topics for your landscaping website might include:
Before and after features on how you have transformed a residential or commercial landscape
Tips on what to ask a landscaping company before hiring them
The costs and benefits of installing a watering system
Photos and commentary on incredible landscapes around the world
If your landscape marketing plan does include content marketing, make sure to optimize your content for search or SEO. This step will help your content attract more views from potential clients.
4. Social media
Social media networks like Facebook and Twitter aren't just for ecommerce companies. Your landscaping business can use social media, too, and benefit greatly from it.
By setting up social media accounts, you have a great opportunity to communicate directly with potential customers and start discussions that lead to potential business relationships.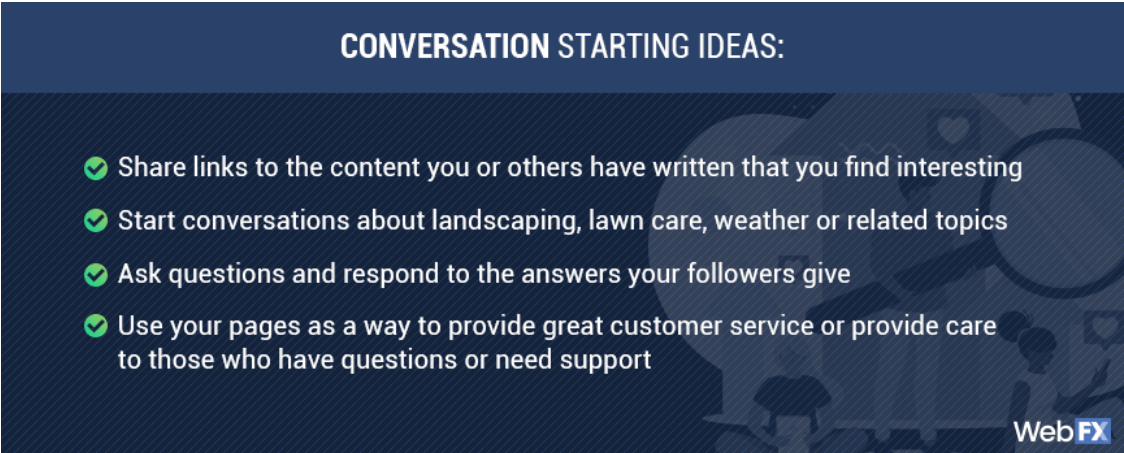 Don't be afraid to set up a Facebook page or a Twitter account and ask your current customers to like or follow it.
What kind of updates should you post? With the though in mind that you should focus on starting conversations, try these ideas:
Share links to the content you or others have written that you find interesting
Start conversations about landscaping, lawn care, weather or related topics
Ask questions and respond to the answers your followers give
Use your pages as a way to provide great customer service or provide care to those who have questions or need support
Checking for brand mentions can also help your business get more followers and engagement on social media. Using branded hashtags can also support your landscaping marketing plan.
Improve your landscaping marketing plan with these ideas
People want to hire the best, and by optimizing your website and using these tips for marketing a landscaping company, you can establish yourself as the best in the business.
Active social media accounts with lots of complimentary comments help to show the public that clients trust you. Blog posts prove you care about your clients and enjoy helping them find the best solution—not necessarily the ones that simply benefit your business. Lastly, smart website design turns your pages into resources, going one step beyond just offering information.
People are more likely to use services from companies that are trustworthy and authoritative. Use your website to establish these traits and show people that you have the answers they are seeking.
Looking for landscaping marketing services?
Creating and managing a landscaping marketing plan isn't easy. It requires time, dedication, and skill to use landscaper marketing and get results from it. That's why many companies invest in landscaping marketing services.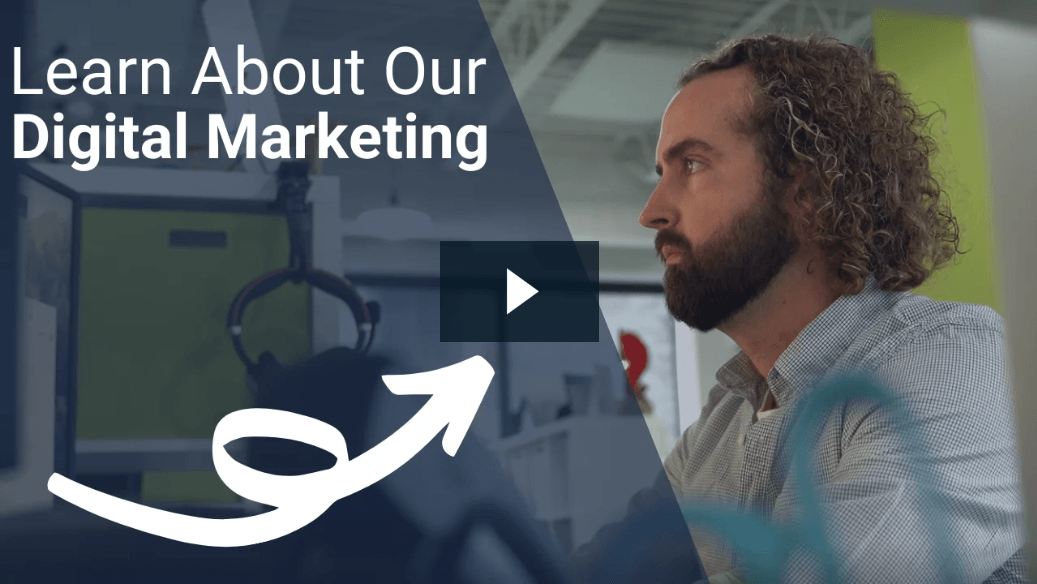 At WebFX, we offer the following services for marketing your landscaping business:
If you have questions about which services or strategies offer your company the most value, feel free to contact us online or call us at 888-601-5359. An experienced strategist will chat with you about your business and goals to provide personalized recommendations for your landscaping marketing plan.
Attract more clients with landscaper marketing
We hope you have found marketing ideas for landscaping businesses helpful, but we know it can be overwhelming to create and launch a landscaping marketing plan!
If these methods seem a little out of reach, we understand! Our best tip is to try them one at a time until you're comfortable, adding additional methods or channels as you have time or feel more confident with your efforts.
If you need help with landscape marketing, remember that you don't have to do it alone!
You can improve your business and increase your online visibility by relying on a partner like WebFX. As a leader in digital marketing, we're more than happy to develop a custom, full-service plan to improve your SEO, start and monitor your social media, create content for your website, and attract more leads to your business.
Contact us online or call us at 888-601-5359 to get started!
Earn a 20% greater ROI with WebFX