It's no secret that most businesses throughout the supply chain, including robotics, have been hesitant to embrace the benefits of business-to-business (B2B) social networking. While managing social media for robotics is time-consuming and resource-intensive, it has significant potential for reaping the benefits of the industry's expansion if done well.
By creating online communities and actively engaging in conversations on topics like technology, emerging trends, and customer experiences, robotics firms can gain valuable insight into customer needs.
For instance, B2B social media platforms such as LinkedIn and Facebook are quickly becoming invaluable tools for staying up-to-date on the latest robotics industry news and innovations.
Additionally, robotics companies can leverage B2B social channels to build relationships and trust with other businesses within their supply chain network. So, how do you leverage social media for the robotics industry?
Read on for tips on creating a strategy and leveraging social media for robotics. Here's what we'll cover on this page:
Ready to drive a return on investment (ROI) from LinkedIn, Facebook, or Instagram? Contact us online or 888-601-5359 to speak with a strategist about how our social media marketing services for robotics may increase your company's visibility, client retention rate, and bottom line.
What is social media marketing for robotics?
Social media marketing for robotics is the use of social media platforms to promote a robotics brand, generate leads, and drive revenue. It enables robotics businesses to interact with potential clients and delivers custom data analytics for measuring the efficacy of marketing campaigns and uncovering new avenues for outreach.
How is social media significant for the robotics industry?
Using social media for the robotics industry allows you to interact with clients and gain insight into what they think of your company. It's the best way for robotics companies to interact with their clientele, raise visibility, and evaluate the efficacy of their marketing campaigns.
Social media can help your business to:
Study and understand your target market
Determine your social media goals
Choose the best-suited social media platforms
Study and understand your target market
One of the most reliable indicators of a successful social media marketing initiative is a comprehensive plan — that begins with a well-defined target audience. Once you have a clear idea of who your robotics solutions are designed for — you'll know who to target and can begin to devise a plan about how to formulate the best marketing messages that will resonate with them and foster strong connections.
For example, if your company makes wearable robots for spinal cord injury (SCI) survivors, you can use the following questions to learn more about your target market:
What are your target audience's unique needs and pain points? For example, did they sustain a complete or partial SCI and now need an innovative exoskeleton?
Where do they search for information online? For example, do they spend a lot of time reading blogs about how their SCI will impact the rest of their lives? Do they visit competitor websites in search of wearable robots? What type of language do they use? Do they prefer to consume content through visual or written media?
What are they trying to achieve? For example, do they want to regain their mobility despite their SCI? Do they want to be able to work again?
What value can you provide for them? For example, do you offer exo-suits or hybrid-assisted limbs to provide them with limb support and help them gain mobility?
In short, by asking and answering questions about your target demographic, you can develop a solid and effective social media strategy to maximize the impact of your message.
Determine your social media goals
Your company needs to have clear, quantifiable goals for your campaigns before developing a social media strategy to assess your campaigns' success and measure their impact.
When it comes to social media for the robotics industry, common goals often include:
Increasing brand awareness
Building trust and authority
Generating leads
Establishing thought leadership
Increasing brand awareness
You can increase brand awareness through social media by consistently creating engaging content and curating meaningful conversations around your robotics solutions and innovations. For example, you can leverage existing user-generated content to engage with your target audience, start a hashtag challenge to get clients talking about your robotics solutions and innovations, or use retargeting campaigns to reach prospective clients.
Building trust and authority
Your company must also strive to build trust and authority in the robotics industry by demonstrating expertise in your field through social media channels. For example, you can post new updates about your robotics services and solutions, share customer success stories, or provide helpful tips on how to get the most out of robotics in everyday life.
Generating leads
You can use social media to generate leads for your robotics company by directly engaging with prospective clients and introducing them to offers tailored specifically to their needs. You can also use it to establish relationships with key influencers and industry partners in the robotics space, allowing companies to expand their reach and generate leads.
For example, suppose you offer wearable robotics. In that case, you can partner with an SCI influencer to launch a campaign that showcases the features of your new exo-suit and highlights its key capabilities. This way, you expand your reach and potentially generate more leads.
Establishing thought leadership
You can use social media to publish educational content, such as white papers and videos that position your company as a thought leader in the robotics industry. For example, you can post an article on your company's social media pages that provides insights into the latest trends in robotic automation or a video showcasing how your technology is helping to revolutionize manufacturing processes.
Choose the best-suited social media platforms
In reality, many different things make up the world of social media. That's why you should consider your target market's online habits before deciding which social media platforms to prioritize when developing your strategy.
It's also important to consider each social media platform's unique features when evaluating your business options. Doing so will help you determine the type of information to share and how frequently to update your followers.
For instance, depending on their specialization, robotics companies often work best with B2B social media platforms such as LinkedIn and Facebook because they are better suited for professional networking, relationship building, and lead generation since they offer advertising capabilities and in-depth analytics to help measure success.
Read the next sections to discover the best LinkedIn and Facebook strategies for robotics companies like yours.
Time to Level Up Your Sales
Our long list of services helps you grow every aspect of your business with marketing strategies that are proven to increase bottom-line metrics like revenue and conversions.
In the past 5 years, we've managed more than 12.9 MILLION transactions across our client base.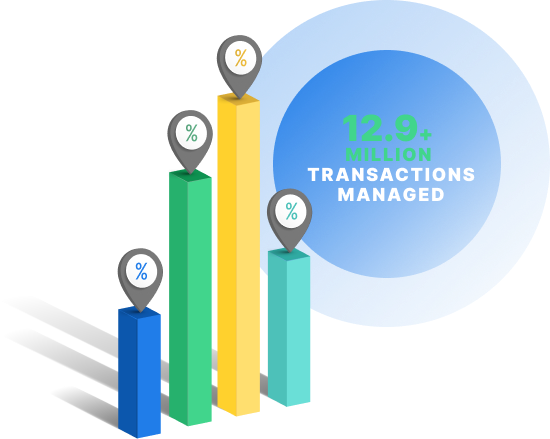 7 LinkedIn strategies for the robotics industry
1. Create a slick business page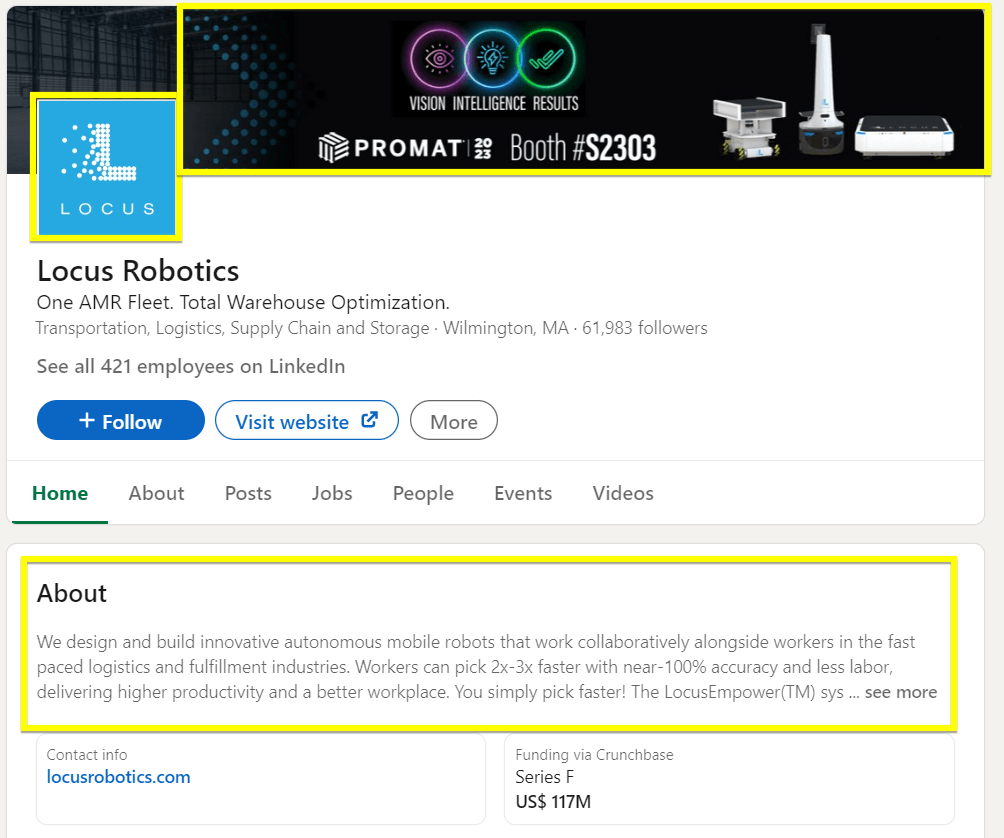 Your LinkedIn company page is where other users will learn more about your company and its robotics solutions, possibly after one of your posts piques their interest. It is a precious asset you can optimize for information and interest.
For example, if your company specializes in industrial robotics, you can create your cover image using visuals that showcase your most innovative robotic arms, highlight their features, uses, and benefits, and link to articles or other resources that offer a more in-depth look at what you do.
You'll also need to include a headline, logo, mantra, web address, locations, collaborative robot categories, and anything else that pertains to your business, ensuring that the colors and fonts used are consistent with your brand.
Your company's description should be compelling in its brevity and convey its core principles. Also, ensure the URL you choose to represent your robotics company is devoid of extraneous characters. For example, if your company name is "ABC Robotics," you should try to claim the URL: https://www.linkedin.com/in/abc-robotics/ or something similar.
In the end, this will boost your reputation and encourage more people to connect with you online.
2. Leverage LinkedIn's premium and free marketing tools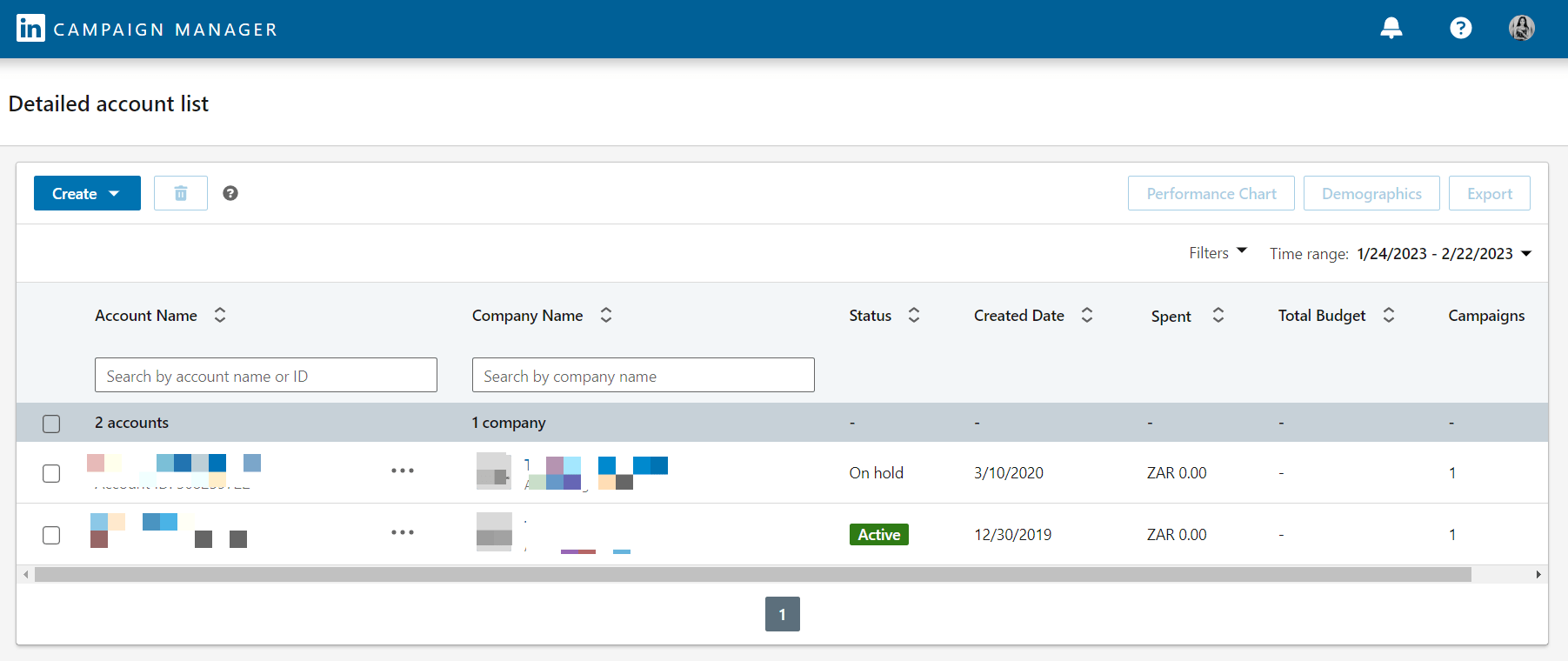 LinkedIn's premium and free marketing tools are the way to go, especially if you're new to LinkedIn marketing and want to save time looking for external marketing software. You can increase brand loyalty by using these technologies with your marketing strategies.
For example, promoting your posts using LinkedIn Ads will increase their exposure. At the same time, LinkedIn Company Pages will help you establish a more credible online profile, and LinkedIn Analytics will help you fine-tune your marketing efforts for maximum effect.
The "Matched Audiences" feature on LinkedIn will allow you to retarget people who have already visited your company's website. These are potential customers since they have expressed an interest in your robotic solutions. To further pique their interest and ultimately turn them into paying customers, you can use this technology to generate uniquely crafted ads for them.
3. Discover the most discussed and trending topics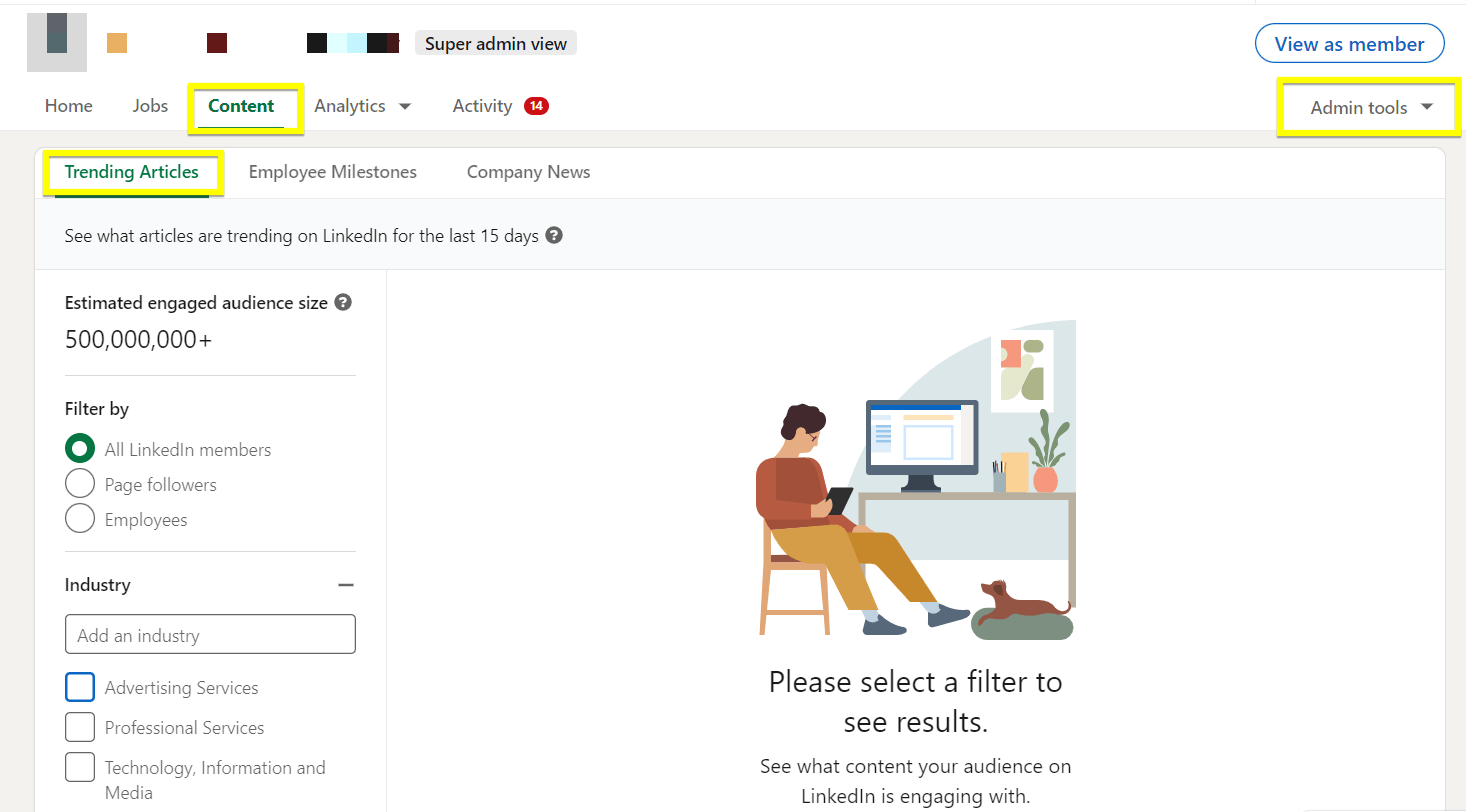 The Content Suggestions tool is a great way to find out what your audience is interested in reading about robotics. It can serve as a starting point for your content schedule and help you choose which ongoing discussions you will be most effective in joining.
When looking at content ideas, a brilliant place to start is by thinking about questions you might ask to move the discussion forward or to spark a debate. For instance, include your solutions and service capabilities in blogs that interest readers. You could give them a peak at the most recent advances in robotic technology or an assessment of the potential effects of robotics on everyday life.
Various content marketing tools are available to determine the most discussed and trending topics in the robotics industry. You can use these resources to learn more about your target audience to produce content that truly speaks to them.
4. Share informational videos and static images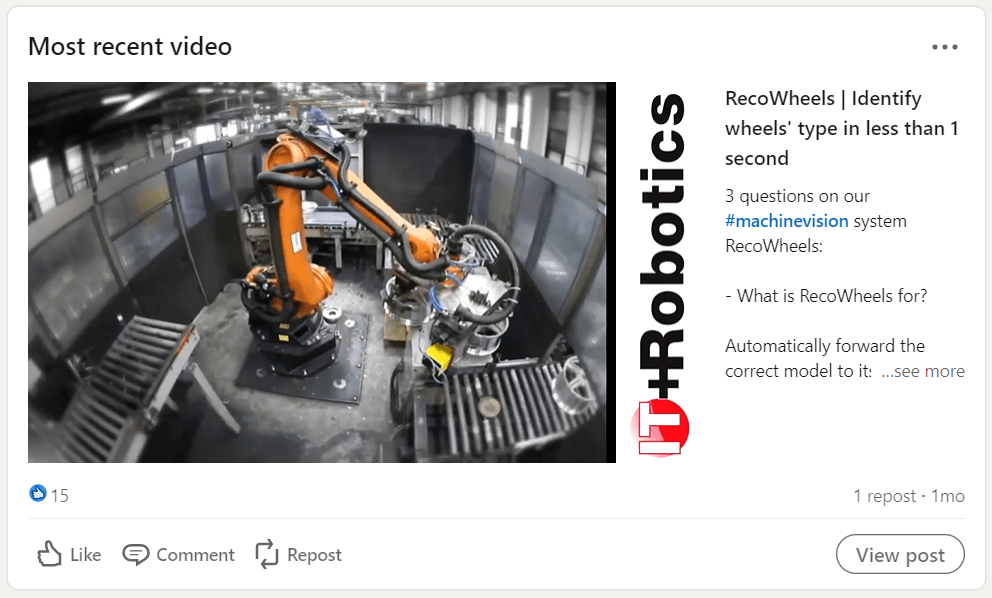 In this rich media era, posting images on LinkedIn has been shown to double the number of comments. So, the best way to maximize audience engagement is to use visual media with text-based articles to demonstrate your robotics solutions and their revolutionary impact on the robotics sector.
For example, if you offer autonomous mobile robots (AMRs) and have an innovation that has the potential to improve how AMRs work, you can provide a "how-to" video for setting up or using robotics technology or upload photos of your AMRs in action to give a visual representation of your innovative solutions.
The key is to make sure that your videos are between one and two minutes long, and they should each provide appropriate guidance or an interesting take on a topic that's presently popular. In addition, incorporating subtitles will make your material more user-friendly and search engine optimized.
5. Participate in LinkedIn groups to broaden your business network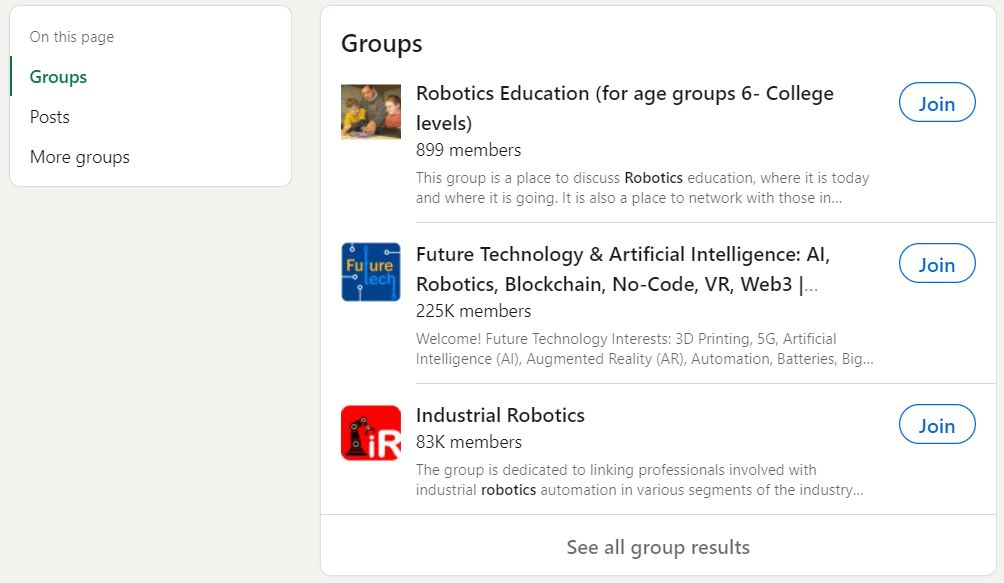 LinkedIn groups are an excellent medium for sharing your material with like-minded individuals and establishing professional and personal connections in the robotics business. Even though a company page can't become a group member, you can highlight a group you're actively involved in on your page by adding it to the "featured groups" tab and making it visible to the public.
The best practice is to interact with a group as an individual. That way, you learn about your target audience's preferences, needs, and frustrations. Participating in industry groups is a great way to gain insight into your target audience and build relationships.
Make contact with suitable profiles and suggest your company's robotic services or solutions. This type of message is more likely to be responded to than a cold one, and it's an excellent method to steadily grow your network without spending a dime.
6. Expand your LinkedIn posts' reach using relevant hashtags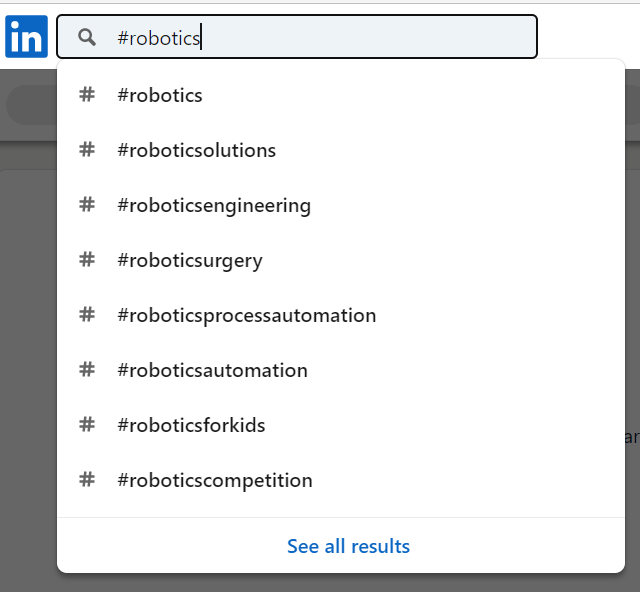 You've probably noticed hashtags in the comments sections of every LinkedIn post, but what do they actually mean? Users often use hashtags to narrow their search results to exactly the kind of information they're interested in. For example, a user interested in robotics engineering could search for the hashtag #RoboticsEngineering to find related posts.
Using relevant hashtags in posts and comments, you can join the conversations related to your industry and make yourself more visible to prospective clients or partners searching for information about your field in robotics.
You can either use the # sign to find relevant hashtags when uploading a post or use LinkedIn's auto-suggested hashtags. To find out which hashtags are the most popular, look under the Recommended Hashtags section.
7. Keep track of performance metrics

Marketing on LinkedIn without keeping track of performance analytics will mean that all your efforts are in vain. Fortunately, LinkedIn has its free Analytics tool to help you track vital metrics on how your posts are performing, who your most regular visitors and commenters are, the top geographies and profiles you are engaging with, how your company page is performing compared with those of your competitors, and so on.
If you invest time and energy into LinkedIn marketing, you need to monitor your statistics to see what works and what doesn't. This data is critical for knowing if the content you are posting resonates with your target audience, what topics you should focus on, and other insights that can help drive your social media strategy.
You can use LinkedIn's free analytics tool to monitor the following:
The success of your LinkedIn posts
The demographics of your most frequent readers and commenters
The regions from which your audience originates
The members of your network with whom you have the most meaningful interactions
How your company page stacks up against the competition
By monitoring these metrics regularly, you can determine what is working and what isn't, allowing you to fine-tune your content strategy accordingly. In addition, you should monitor your website's statistics since LinkedIn users who stumble onto your profile may be curious enough about your robotic solutions to visit your website.
Top 4 Facebook strategies for robotics
1. Post links to your website's blog material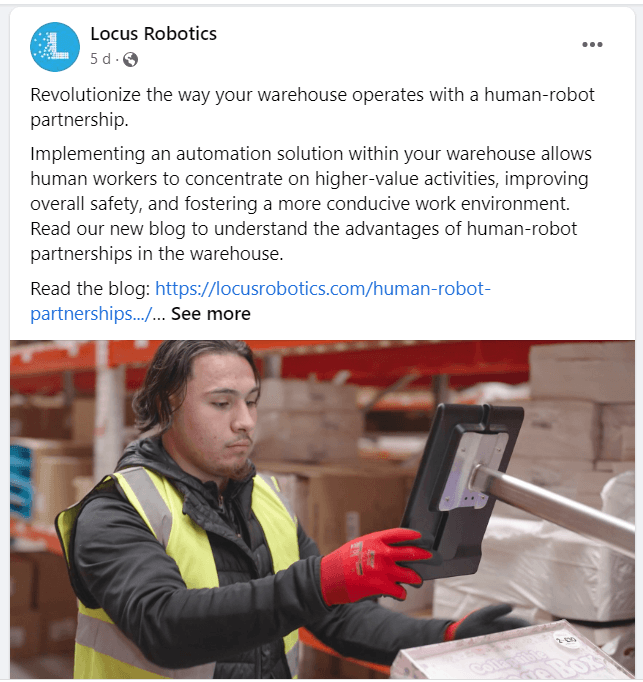 One size does not fit all regarding the content you should be posting. You can choose from various content types, each of which may appeal to a different set of readers for other reasons.
Blog posts are great for search engine optimization (SEO) for robotics and even better for getting the word out on social networking platforms like Facebook. For example, since you're an expert in robotics and technology, you can create a series of blog posts to help explain these topics to a broader audience, which can be highly beneficial in establishing credibility and gaining new clients.
Sharing your latest blog entries on Facebook will allow your audience to check out your site, ultimately increasing consistent website traffic. Also, blog posts are great for establishing yourself as an authority in robotics.
One of the best practices is always to include an eye-catching image with the link when you post your blog entries on Facebook to grab readers' attention as they peruse their newsfeeds.
2. Share relevant industry content from authoritative sources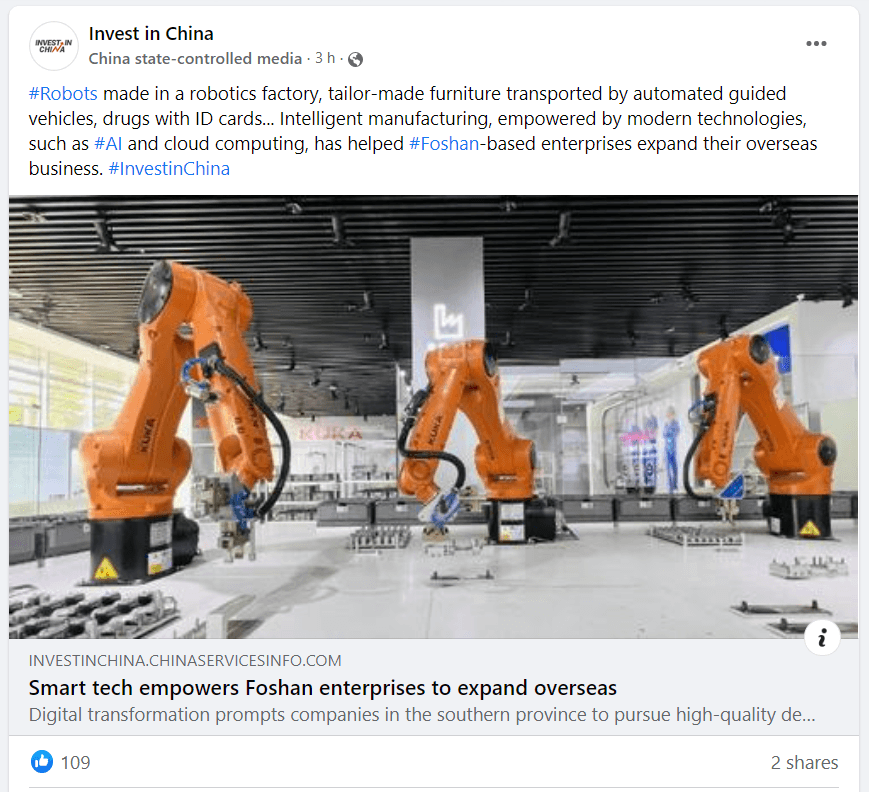 Sharing news and articles about the robotics industry with your followers can be a helpful addition to your social media strategy. By sharing information about robotics from authoritative sources, your followers will begin to rely on you for important industry information.
For example, you could share an article from a magazine or newspaper about the advancements in robotics technology or a report from a prominent robotics industry expert. Not only will sharing relevant industry content on your Facebook page keep your followers engaged and informed, but it can also help to increase your company's visibility.
3. Participate in comment threads
Comment threads provide another way to connect with customers, and you can easily manage your reputation in the comments section of your posts. By responding to comments on your posts promptly, you demonstrate to readers that your business values customer feedback.
For example, if a user comments positively on a photo of one of your latest robots, you should thank them for the positive feedback and let them know how much you appreciate their enthusiasm. In doing so, you foster a sense of loyalty between yourself and your customers and show them that their opinion matters to your business.
But if you come across a negative review in the comments, you can apologize and invite the user to contact you through Messenger to discuss the matter. Tackling consumer complaints head-on shows that you genuinely care about their satisfaction.
4. Run Facebook ad campaigns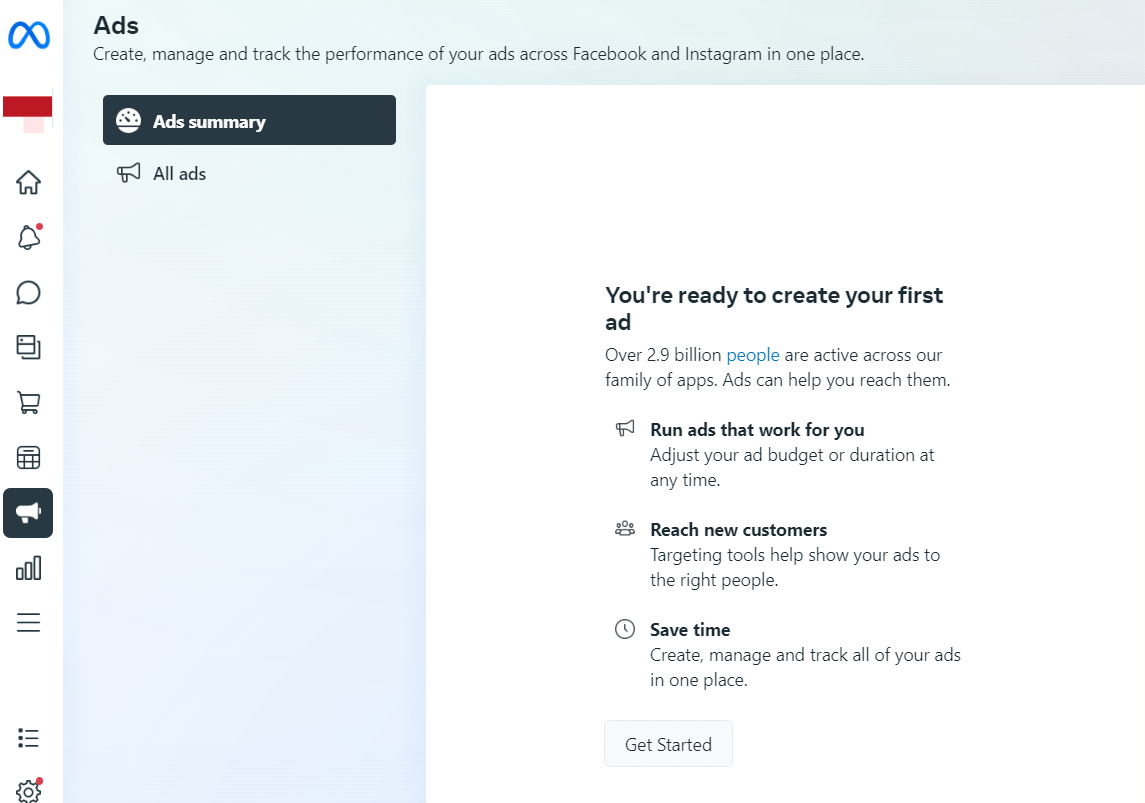 Facebook ads are an excellent approach to connecting with customers actively researching robotics online. Creating targeted ads tailored to your specific audience and designed to engage them can help you reach your customer base and increase conversions.
With Facebook's built-in Ads Manager, you can customize your campaigns to reach people interested in your robotic solutions and services, create an attractive ad that grabs attention, set a budget, and track the performance of your ad.
For example, you can target people who have recently visited your website and individuals who have similar interests to those of your existing clients.
Get world-class social media marketing services for robotics
With cutting-edge revenue acceleration technology and a client rating score that is 488% above the industry average, WebFX is a reputable provider of social media marketing services for robotics companies.
We have a proven track record of helping many companies increase their brand visibility and attract new customers through practical strategies that leverage the power of social media platforms.
We want to partner with you in growing your robotics company by helping you increase sales, keep more of your existing customers, and build a more substantial reputation in the marketplace through social media.
Browse our social media management service packages and prices to learn how.
Got questions? Contact us online or call us at 888-601-5359 to speak with a strategist!
Increase your leads, sales, and revenue with digital marketing