While content marketing tools aren't designed to replace human expertise and a well-thought-out plan, they can streamline content marketing tasks and speed up results significantly.
The reality is that the industry is flooded with too many content marketing solutions. From ideation to analytics, too many tools are available for the content marketing process.
To help you find your ideal matches, we have compiled a set of tried-and-true tools from across the many marketing subfields.
Here are some of the best tools for each step of your content marketing strategy:
You found this post because you're committed to elevating your marketing efforts and expanding your company. To stay on track, sign up for our newsletter and receive insights and best practices to help your marketing initiatives thrive.
Don't miss our Marketing Manager Insider emails!
Join 200,000 smart marketers and get the month's hottest marketing news and insights delivered straight to your inbox!
Enter your email below:
(Don't worry, we'll never share your information!)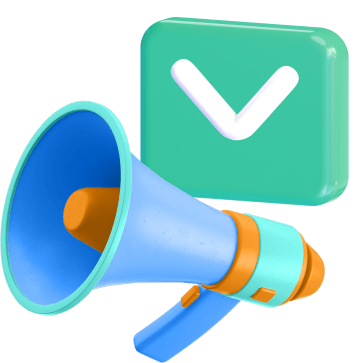 Topic research content marketing tools
Check out some of our favorite topic research tools below:
1. KeywordsFX

KeywordsFX is a keyword recommendation tool that helps you learn more about the search terms your ideal customers are using to find products or services like yours online.
You can use this content marketing tool to generate and refine high-value keywords to incorporate into your content for maximum pay-per-click (PPC) and search engine optimization (SEO) campaign performance.
2. Google Trends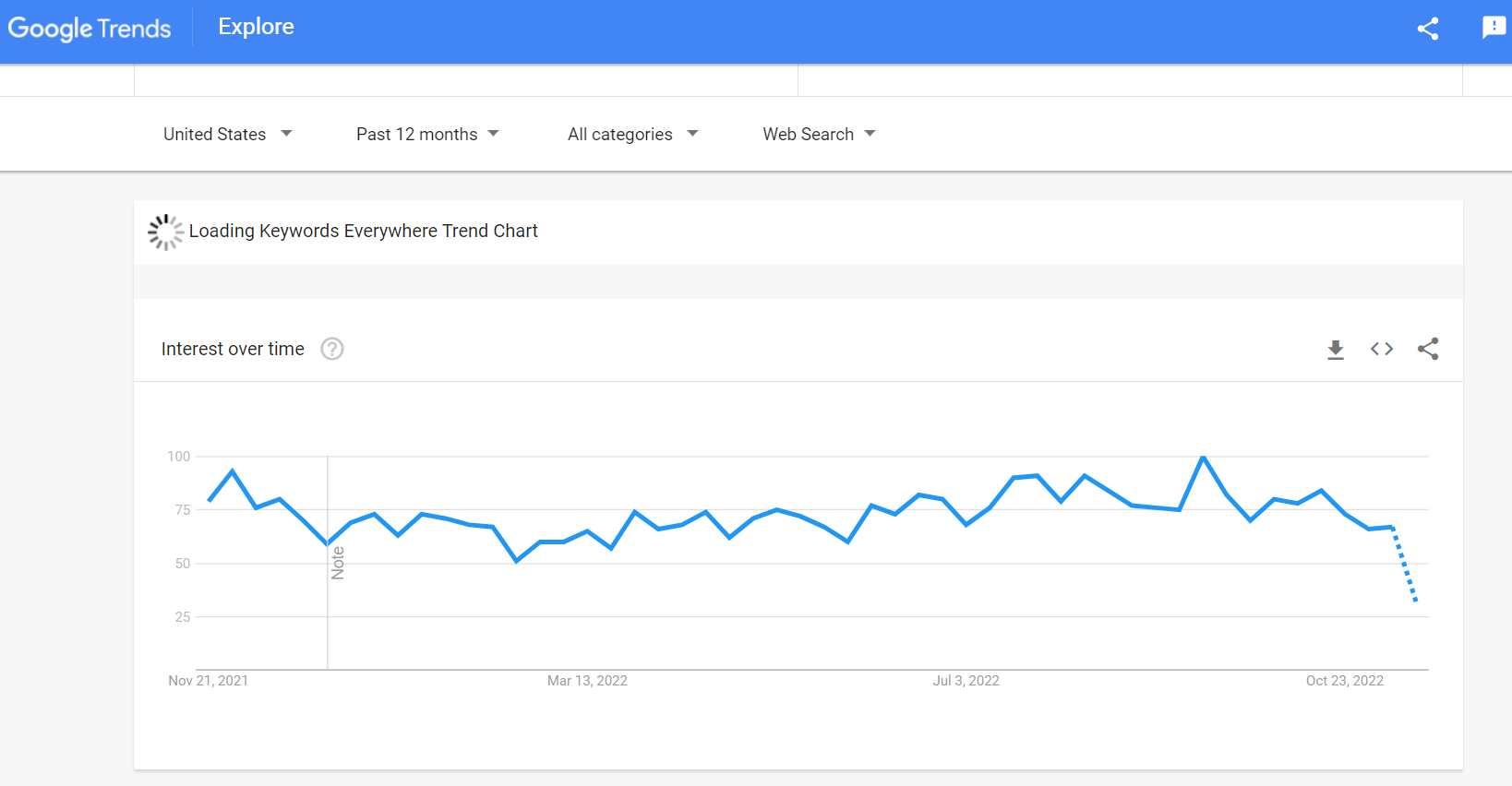 Google Trends is a data analysis tool to see which search terms people use the most on Google.
This tool informs you of the most sought-after search keywords across geographies, languages, and periods to help you keep up with the latest developments in your field. You can also assess the relative popularity of several target keywords to choose a top priority.
3. MonsterInsights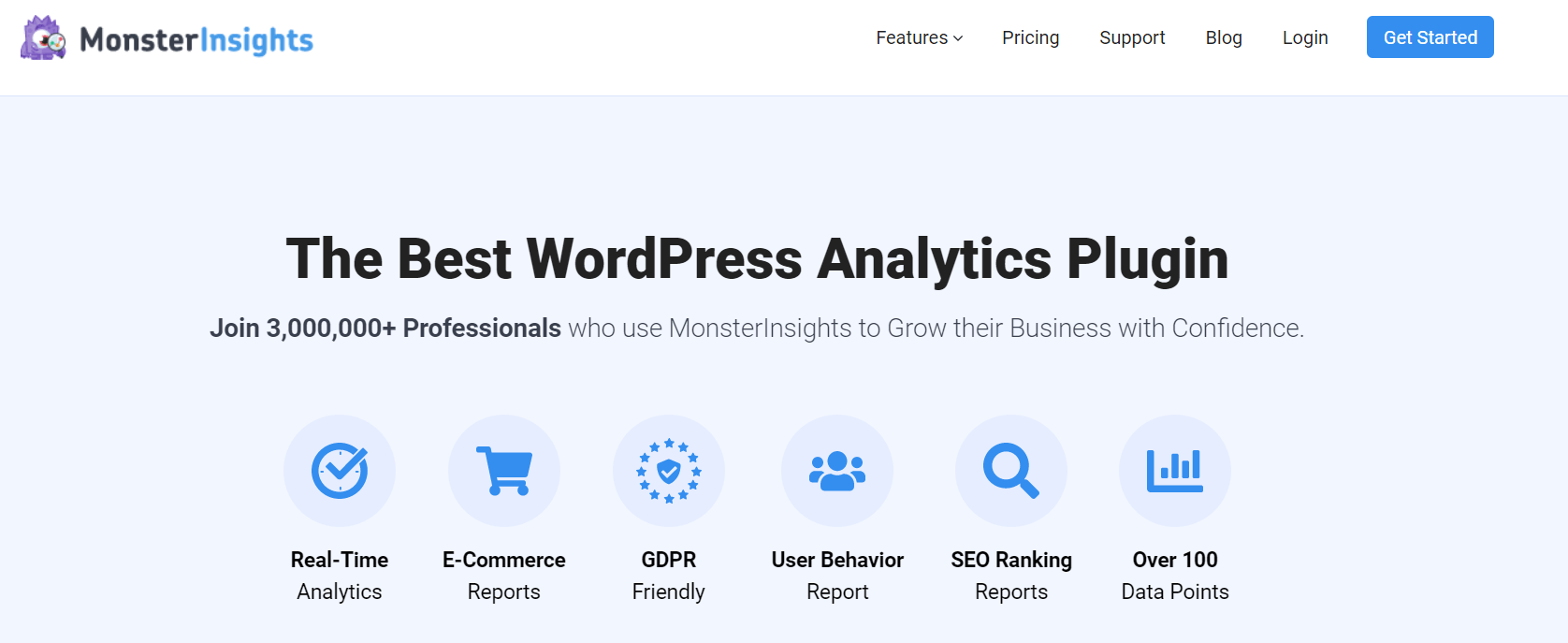 MonsterInsights is one of the best Google Analytics plugins for WordPress. Using this add-on, you can monitor the success of your blog posts and expand on the topics that have shown to be popular with your audience.
You can see data like the most popular keywords, the most successful affiliate links, and the most clicked external links.
4. Ceralytics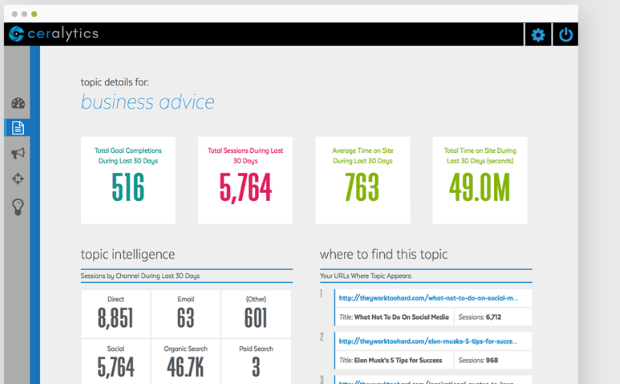 Ceralytics is a content intelligence platform that helps you pinpoint content topics with the most potential to bring in customers. It features sales funnel research, SEO, and market intelligence. It's also cloud-based, which makes it secure and easier to maintain.
5. BuzzSumo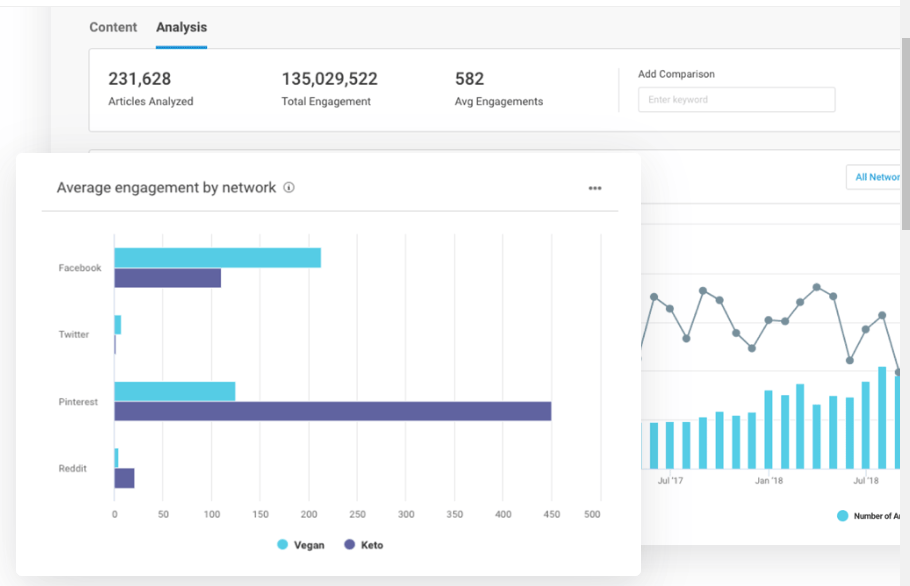 BuzzSumo provides a content analyzer that reveals the most popular articles, videos, infographics, and more across prominent social media platforms relevant to your industry. When you see which articles in your field get the most views, you can utilize that information to generate ideas that will do well on social media.
Use our proprietary keyword research tool,
KeywordsFX

, to help you find high-quality keywords for content and PPC campaigns. Identify Top Keywords for Free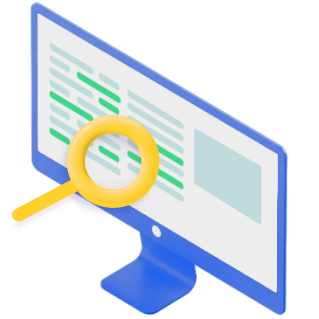 Content writing tools
Here are some of the best content marketing tools for writers:
6. WebFX Readability Test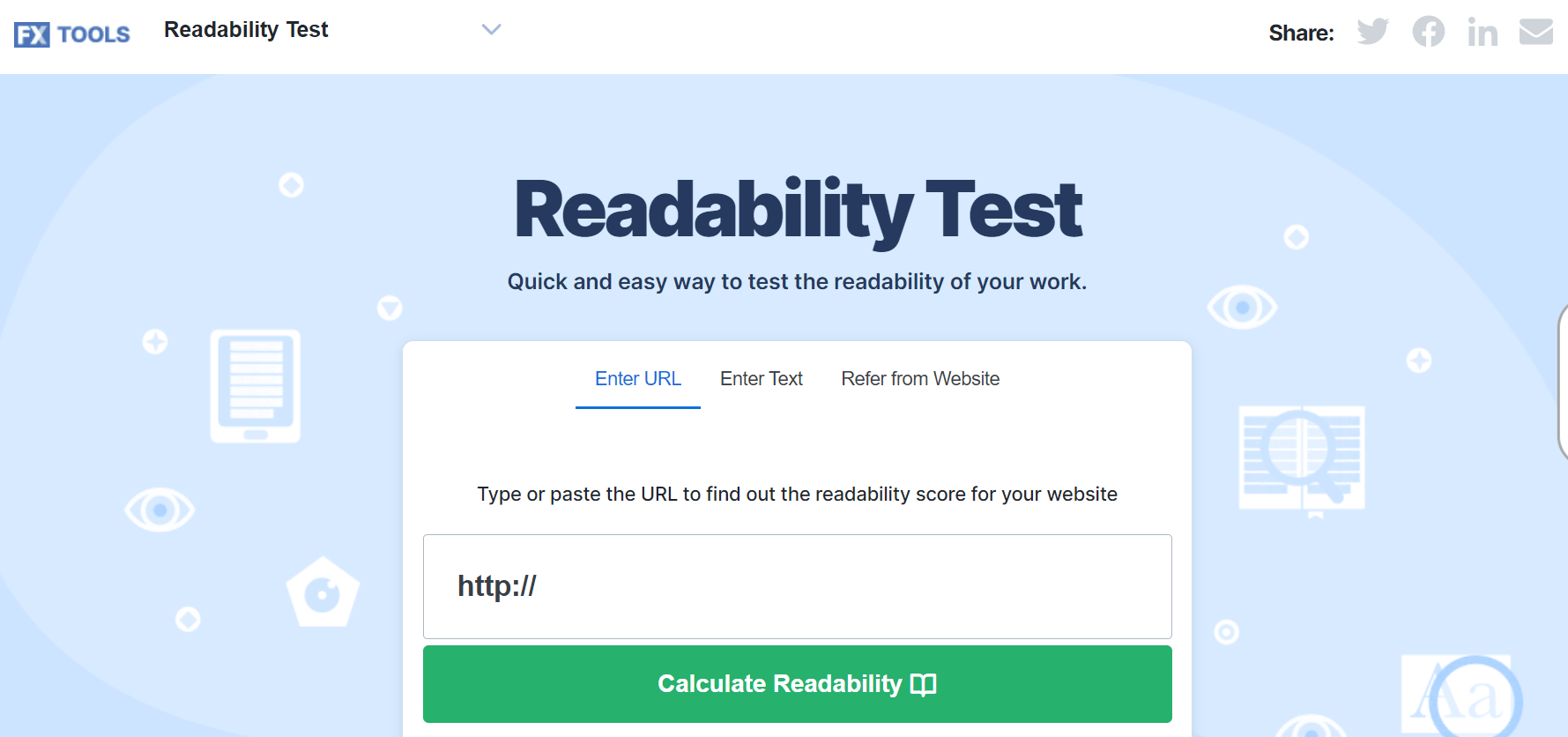 The WebFX Readability Test tool offers a simple and fast way to check your content's readability. It evaluates your work and assigns a grade based on the most popular readability metrics, such as the Flesch Kincaid and Gunning Fog tests.
This software offers the greatest customization options for evaluating formulas' readability. You can enter your content, test an entire webpage, or choose certain elements. Just add a link to your content page, which will compile your results.
7. Grammarly
Grammarly is one of the best content writing tools for error-free writing. This remarkable tool allows you to self-edit by seeing errors and fixing them in your writing. It checks your content for typos and other spelling, punctuation, and grammar errors. It also gives insight into your article's length, average reading time, vocabulary use, and readability grade.
8. Copyscape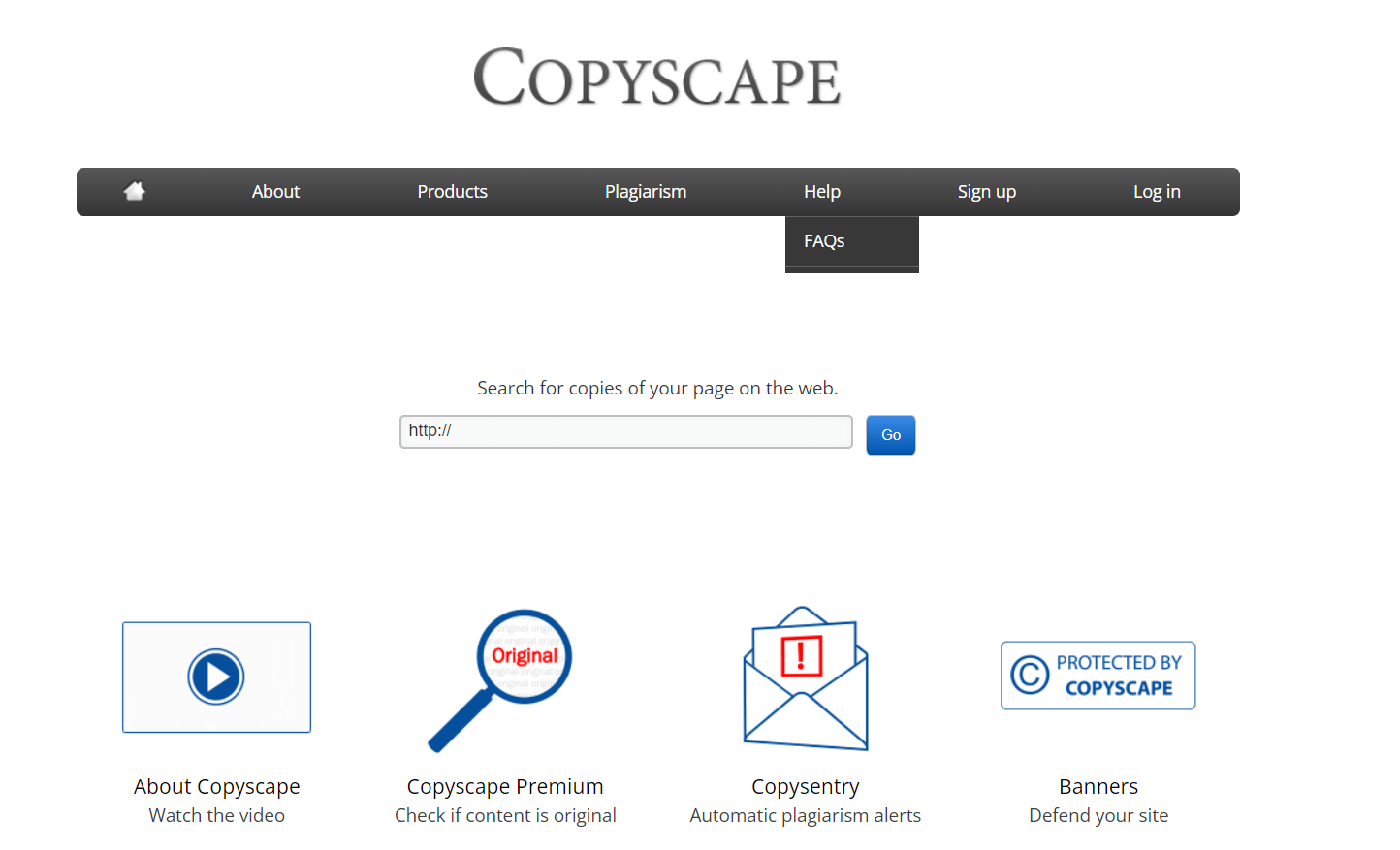 Copyscape is an excellent tool for determining whether or not your writing contains plagiarized material. It analyzes your work and locates online material with which it shares similarities. Doing so will make your piece distinctive and help you gain the rewards of doing so.
9. CoSchedule Headline Analyzer

The CoSchedule Headline Analyzer provides feedback to help you craft attention-grabbing headlines that will encourage readers to read your content. It evaluates your headlines using various factors such as word type and balance, emotive and power word utilization, and character length.
10. Hemingway Editor

Hemingway Editor is a helpful tool for improving your content and its readability. It highlights excessively long, complicated, or difficult-to-understand sentences so you can work on making them simpler. It also emphasizes the passive voice, suggests easier alternatives to complex statements and words, and suggests cutting out superfluous adverbs.
We post videos every Monday. Yup. Every Monday.
Join the 5,000 marketers who get their marketing knowledge from WebFX videos.
Subscribe Now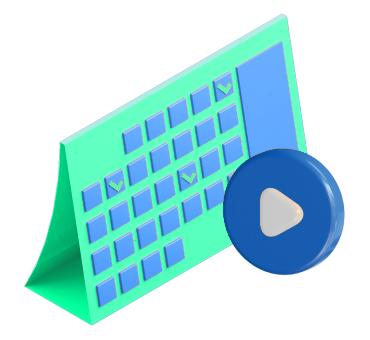 Content optimization tools
Some of the top-notch content optimization tools we recommend are:
11. WebFX SEO Checker

The WebFX SEO Checker is a free tool that will help you identify parts of your website content that needs improvement and better optimization for search engines like Google, Bing, and Yahoo.
The crawler will examine each page and give it a unique score based on various characteristics that impact SEO. These scores will provide you with specific recommendations on how to enhance your site's SEO in areas such as page titles, headers, duplicate content, page speed, and more.
12. SEMRush SEO Writing Assistance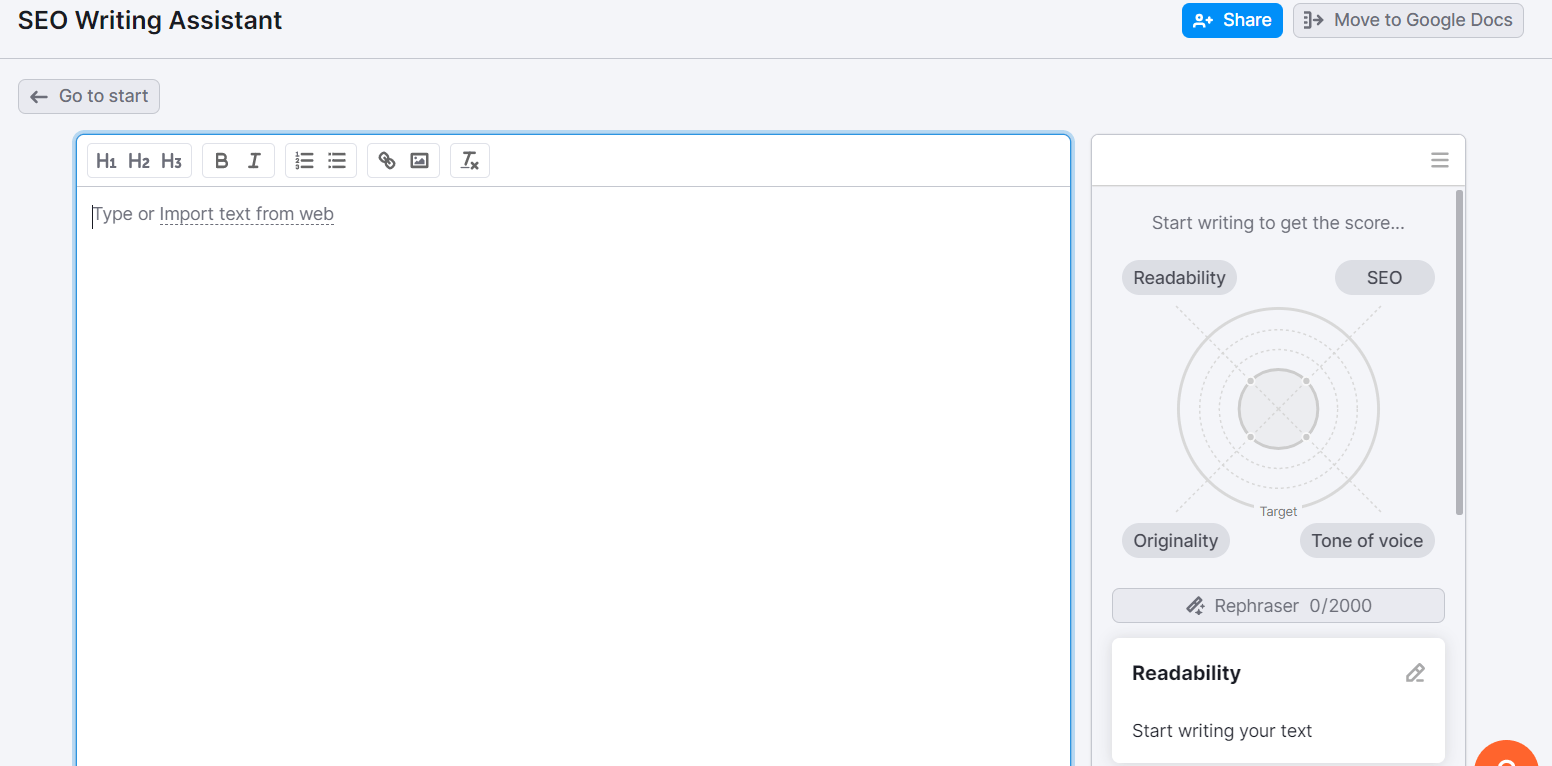 The SEMrush SEO Writing Assistant helps you analyze SEO content, enhance readability, verify originality, and keep your voice consistent. It is the ideal tool for modifying, reviewing, and fine-tuning material in light of the highest-rated posts in Google's organic search results.
13. Surfer SEO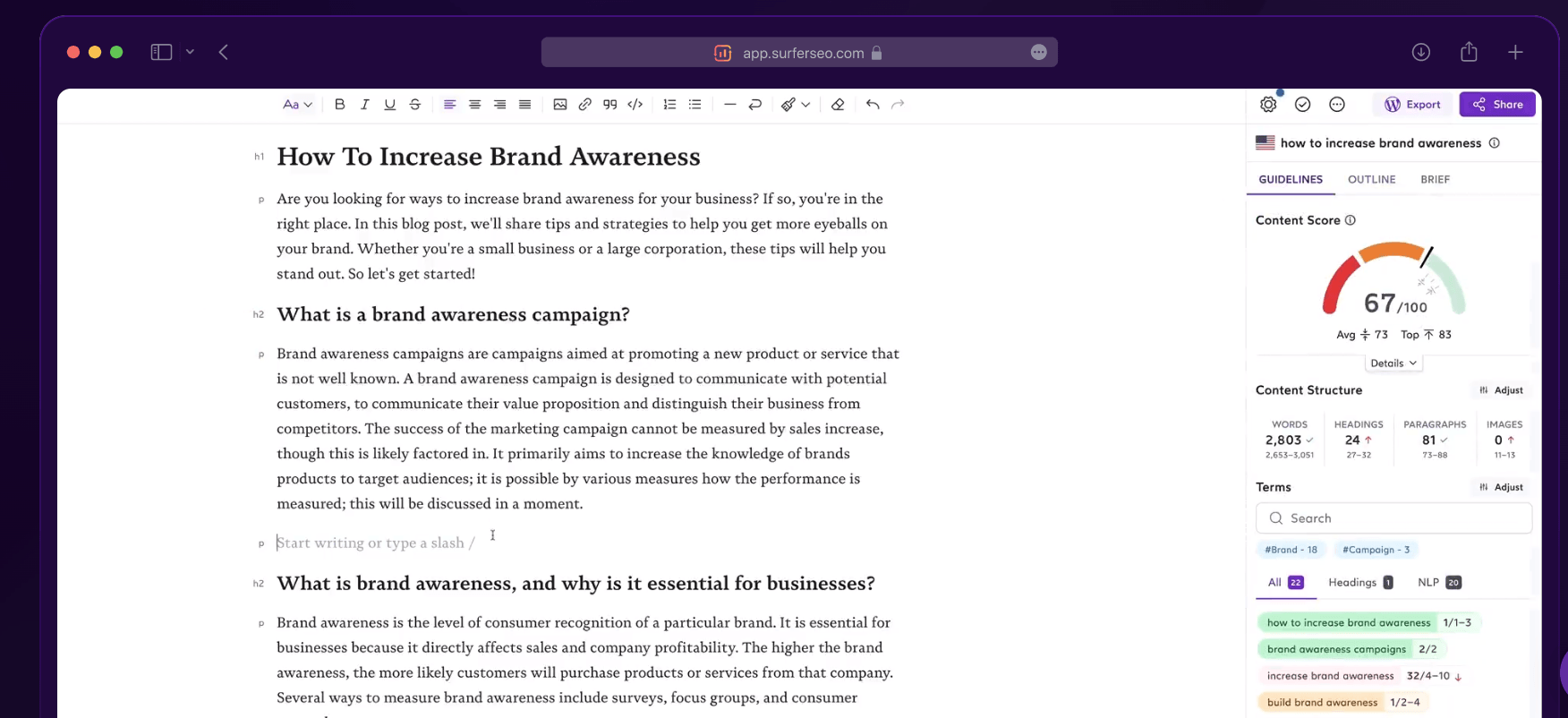 Surfer SEO is one of the best content marketing tools for planning and optimizing content that can boost your SEO rankings and traffic. Many of its features are geared toward generating keyword ideas and turning them into content that will perform well in search results.
It also features a content editor that provides real-time feedback to writers and keeps tabs on the frequency with which specific keywords are used.
14. PageOptimizer Pro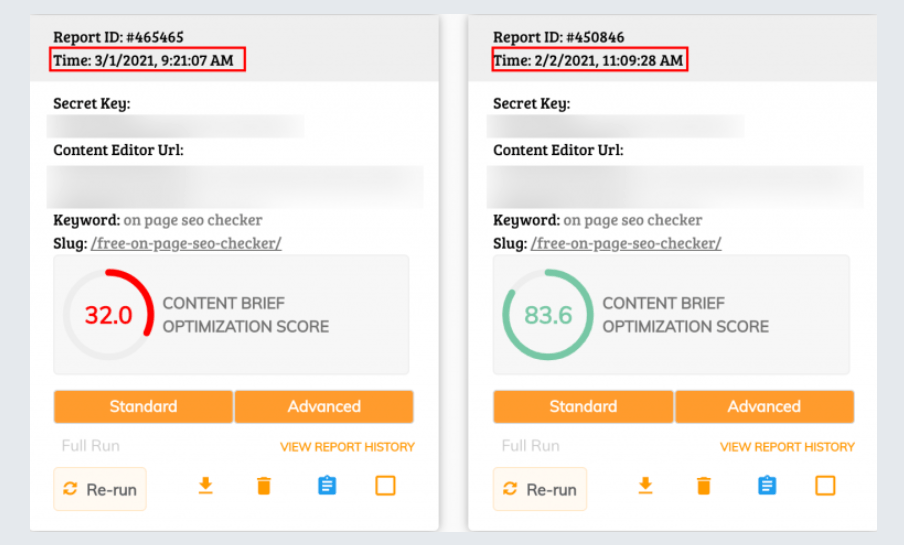 PageOptimize Pro is the best tool for simplifying the process of website content optimization. It analyzes your content, offers you feedback on improving it, and predicts where it will appear in search engine results pages (SERPs).
15. SEO PowerSuite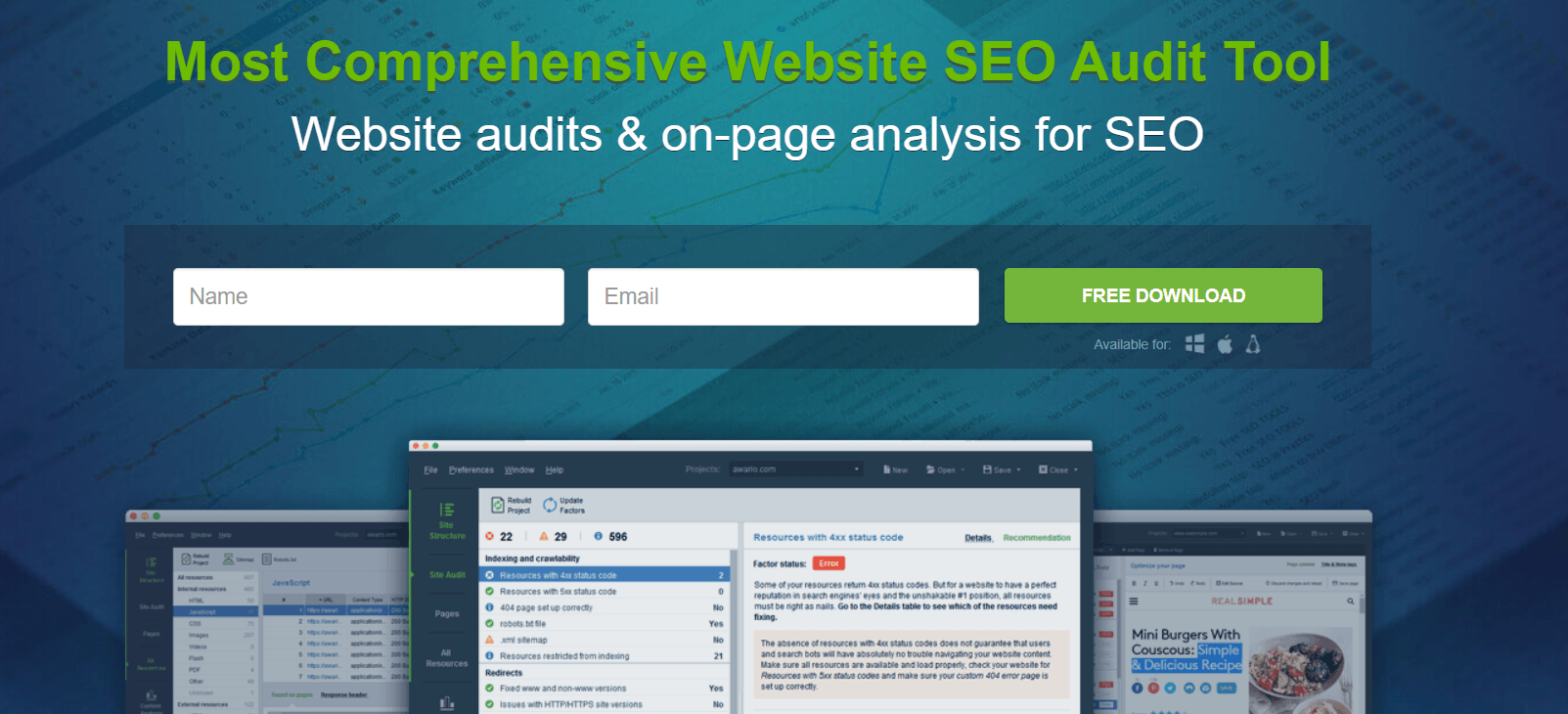 SEO PowerSuite is a content analysis tool that allows you to fine-tune your writing for on-page SEO. You can use the SEO SpyGlass tool to spy on your competition and where they get their backlinks. You can also use the Rank Tracker keyword research tool to find keywords to incorporate into your content strategy.
Looking for an all-in-one SEO audit tool? You've found it.
SEO Checker provides data on key metrics to give you:
Complete SEO score

Content Grade

Site Speed Analysis

and more.
Content planning tools
Take a look at the following top-tier content planning tools:
16. Trello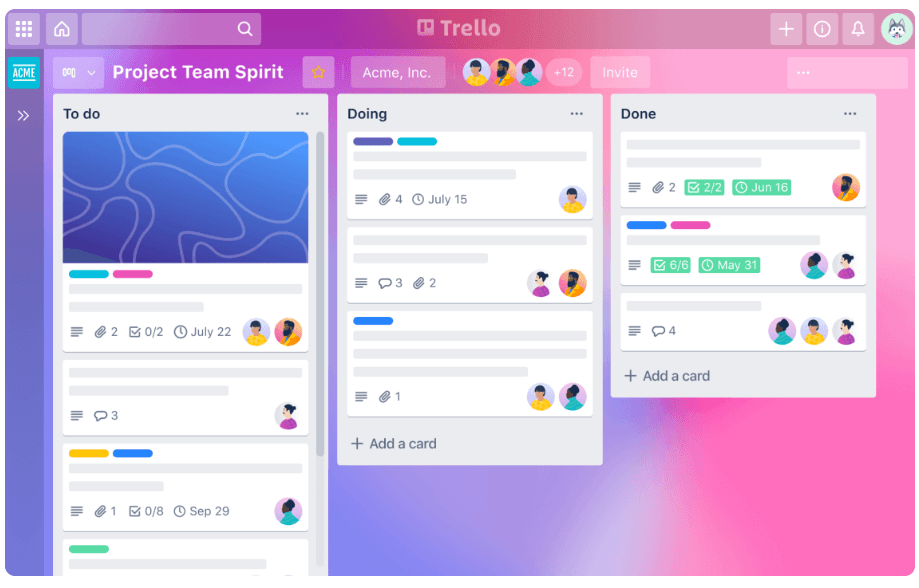 Trello is one of the most powerful content marketing tools offering a comprehensive calendar for tracking content readiness and scheduling its release. You can use Trello's boards, cards, and checklists to organize your workday, map your content strategy, and compile your concepts.
17. Evernote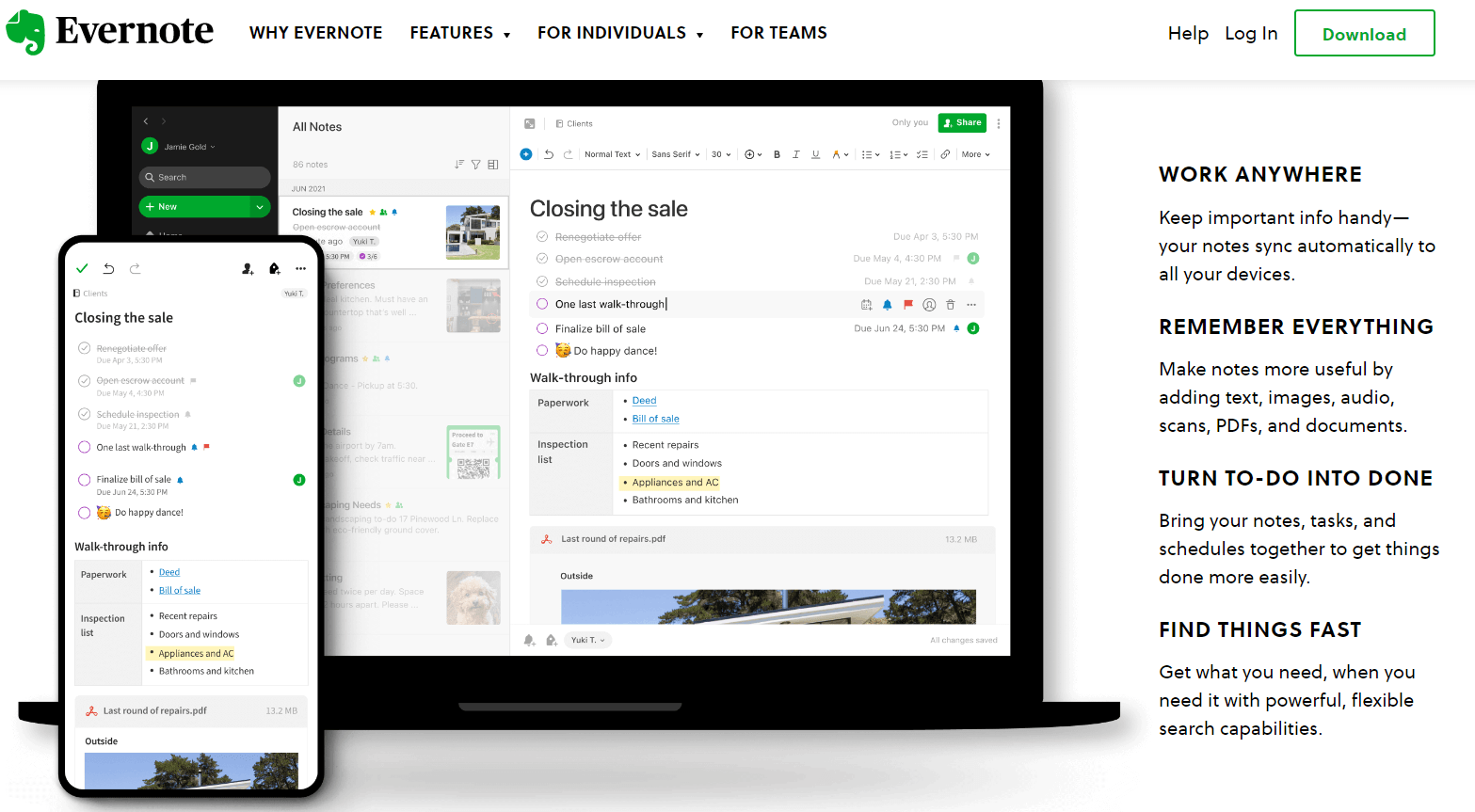 Evernote's yearly, monthly, weekly, and hourly records make it easy to monitor when content is sent, when new blog posts are created, and when deadlines are met. It also provides excellent alternatives for maintaining conceptual clarity regarding social material.
18. StoryChief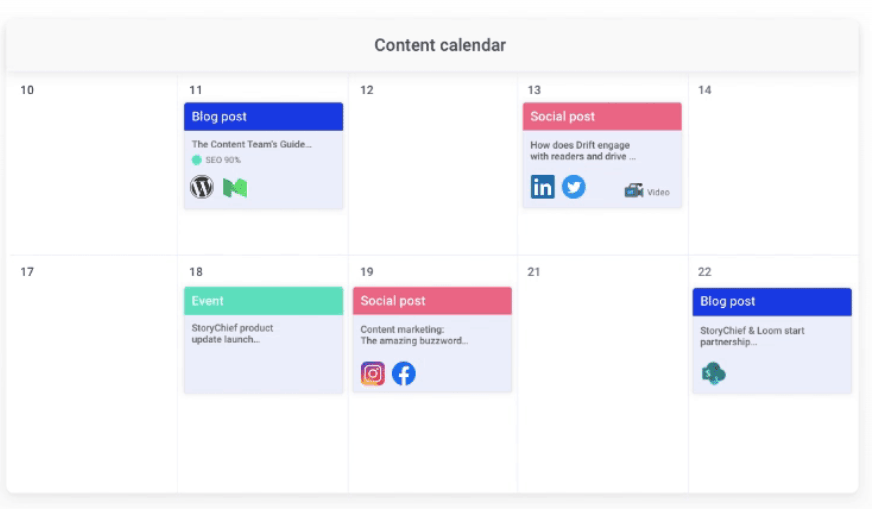 StoryChief helps you streamline tasks such as briefing, assigning, drafting, reviewing, and distributing content. It also allows you to promote your blog posts on many platforms, such as social media, email marketing, and word-of-mouth promotion from your staff.
19. MarketMuse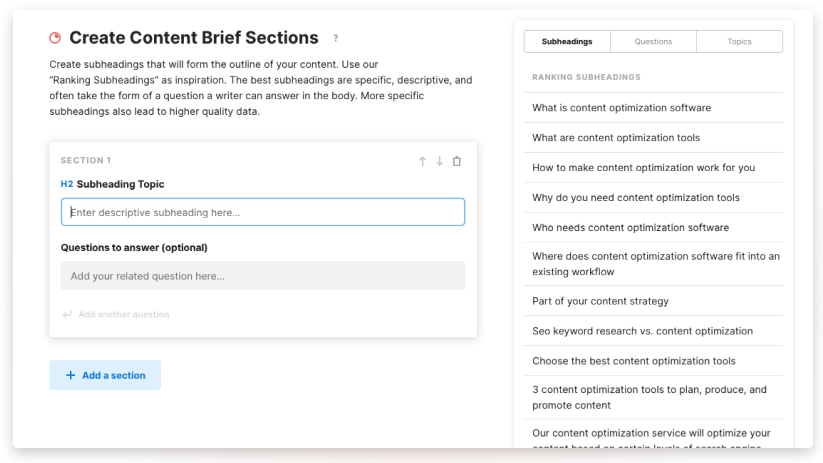 MarketMuse enables your content team to organize, compare, and contrast their and rivals' material to identify content gaps and potential ranking possibilities. You can also examine the SEO potential of individual pieces of content and receive tailored recommendations for enhancement.
20. Google Docs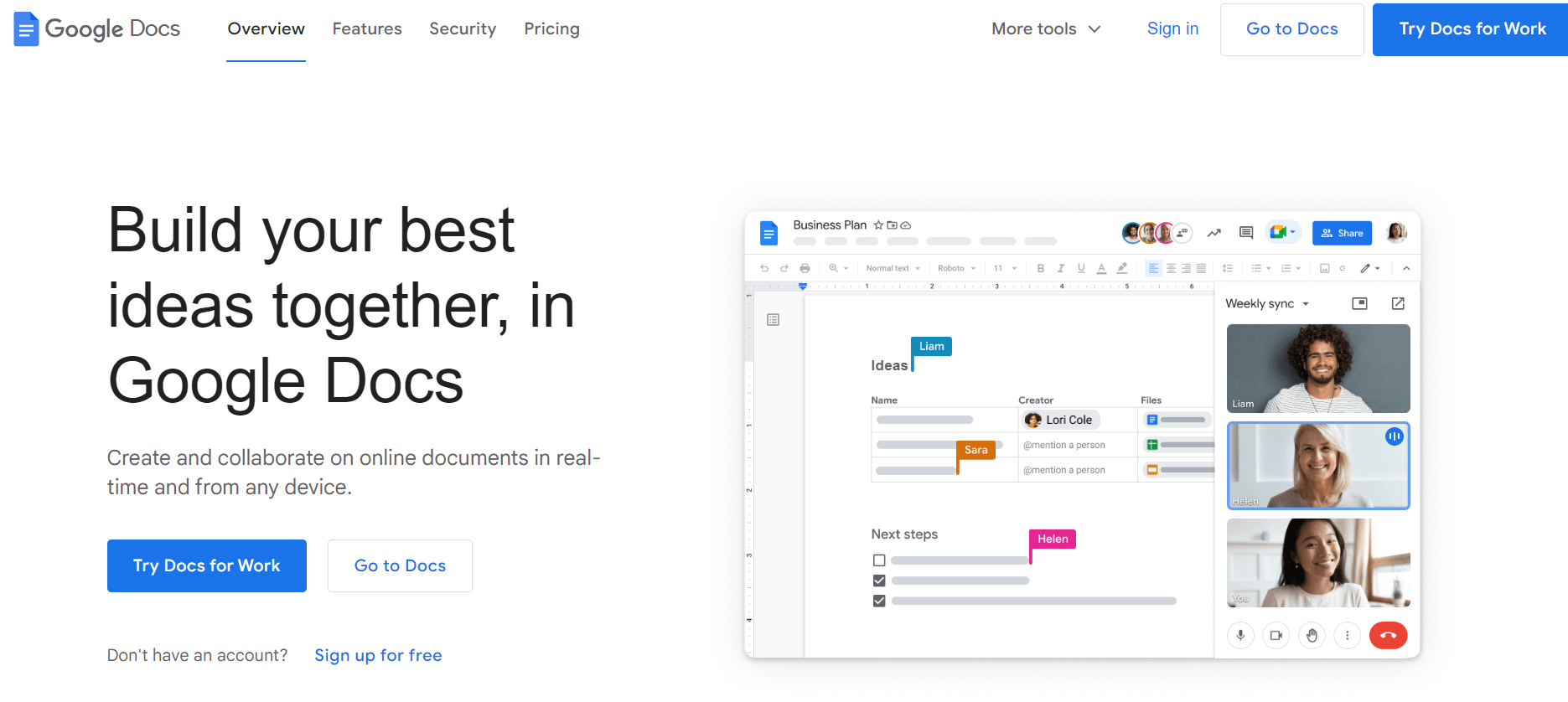 Google Docs offers many valuable features you can use to make an excellent online content calendar. It's intuitive and designed to facilitate teamwork on blog posts. You can create a collaborative spreadsheet where your team members can keep tabs on the various kinds of content they produce, assign responsibilities, schedule releases, and include relevant keywords.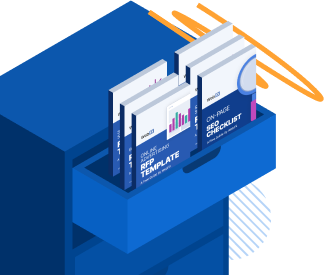 Content performance tracking tools
Here are some of the best content marketing tools for tracking performance:
21. Google Analytics

Google Analytics is among the most helpful content marketing tools for monitoring the performance of individual pieces of content. It provides data on on-site visits, user flow, conversions, and organic search rankings. With this content tool, you can monitor user activity and learn more about how your target audience interacts with your content.
22. Moz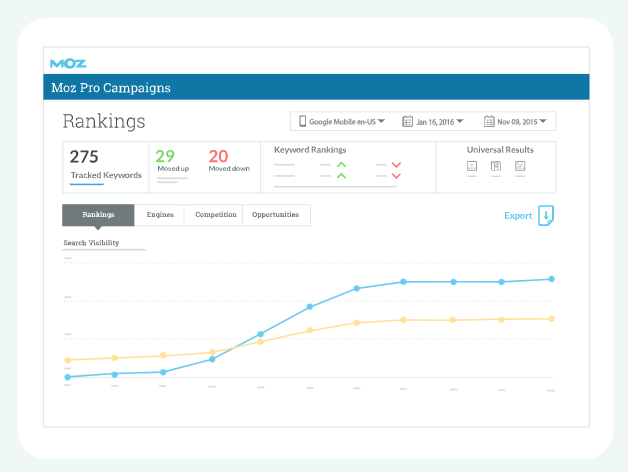 Moz evaluates how effective your content is for SEO. It helps you learn where your content stands compared to others in your field and which keywords produce the best results for your approach. You can also use it to monitor where your rivals are in the SERPs, so you know where to focus your efforts for optimal results.
23. Ahrefs

Ahrefs helps you improve your website's content and see how well it ranks in search engines. As part of the tool's website analysis, it provides a "health" grade for your domain and details crawling URLs, errors, broken links, and other problems. It also includes content tools for analyzing your competition and researching keywords.
24. Quintly

Quintly helps you evaluate your content promotion efforts. It provides you with adaptable analytics to help you assess the success of your marketing efforts and make more informed decisions about your social media strategy.
25. SimilarWeb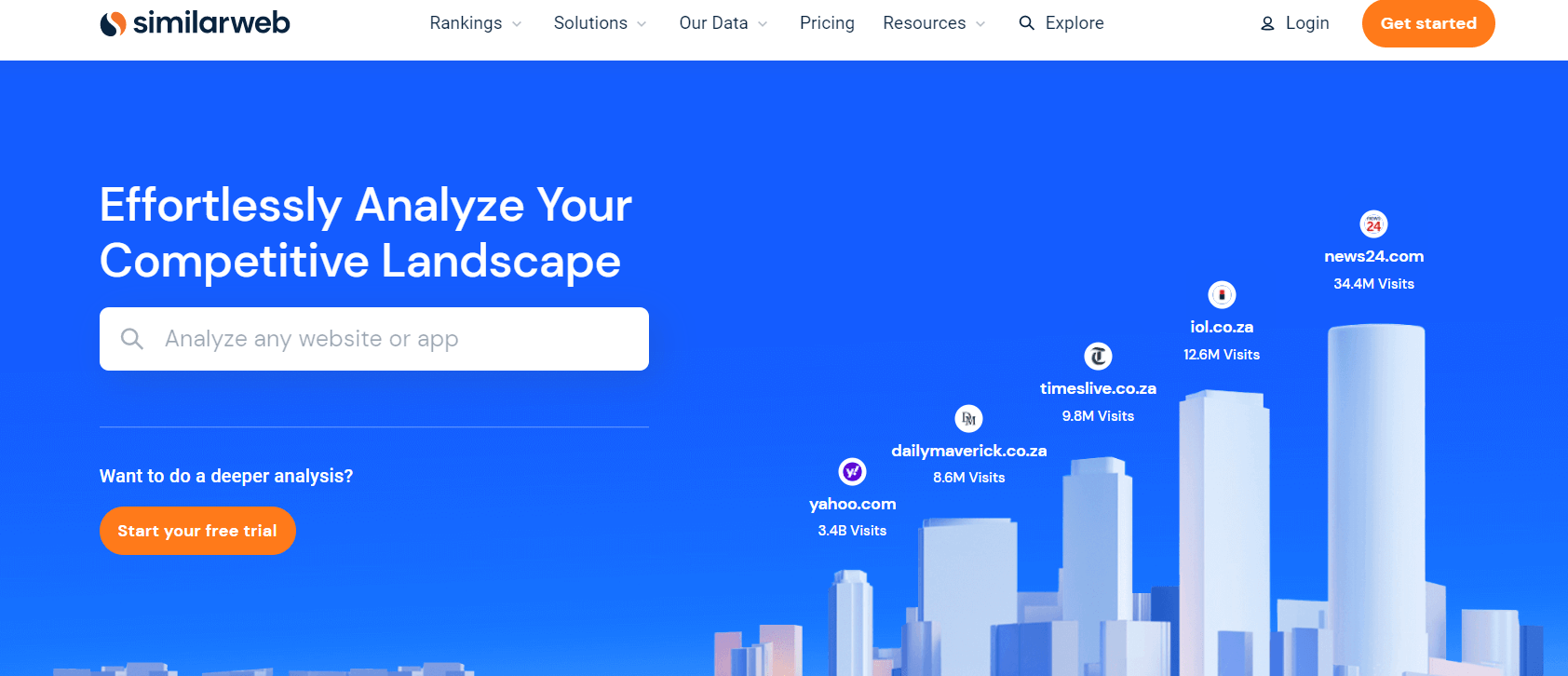 SimilarWeb gives you benchmarks and insights on the performance of your website content in terms of traffic and user interaction. You can use this data to gauge how your content performs relative to your competitors.
Meet MarketingCloudFX:
One platform tracking countless metrics and driving stellar results.
Learn More About Our Proprietary Software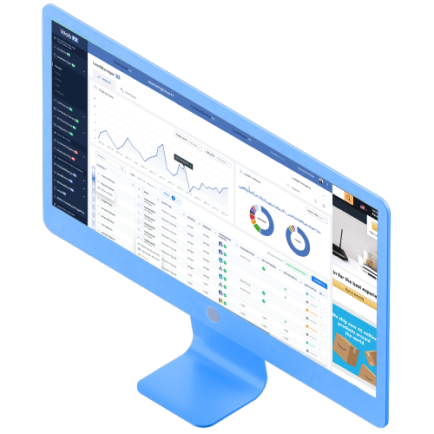 Content management tools
Here are a few content management tools worth checking out:
26. WordPress

WordPress gives you everything you need to launch a website or blog. It offers a user-friendly publishing platform for writing and uploading material, tracking site visitors, and accessing various plugins that may enhance your online presence and improve your marketing efforts.
27. Contentools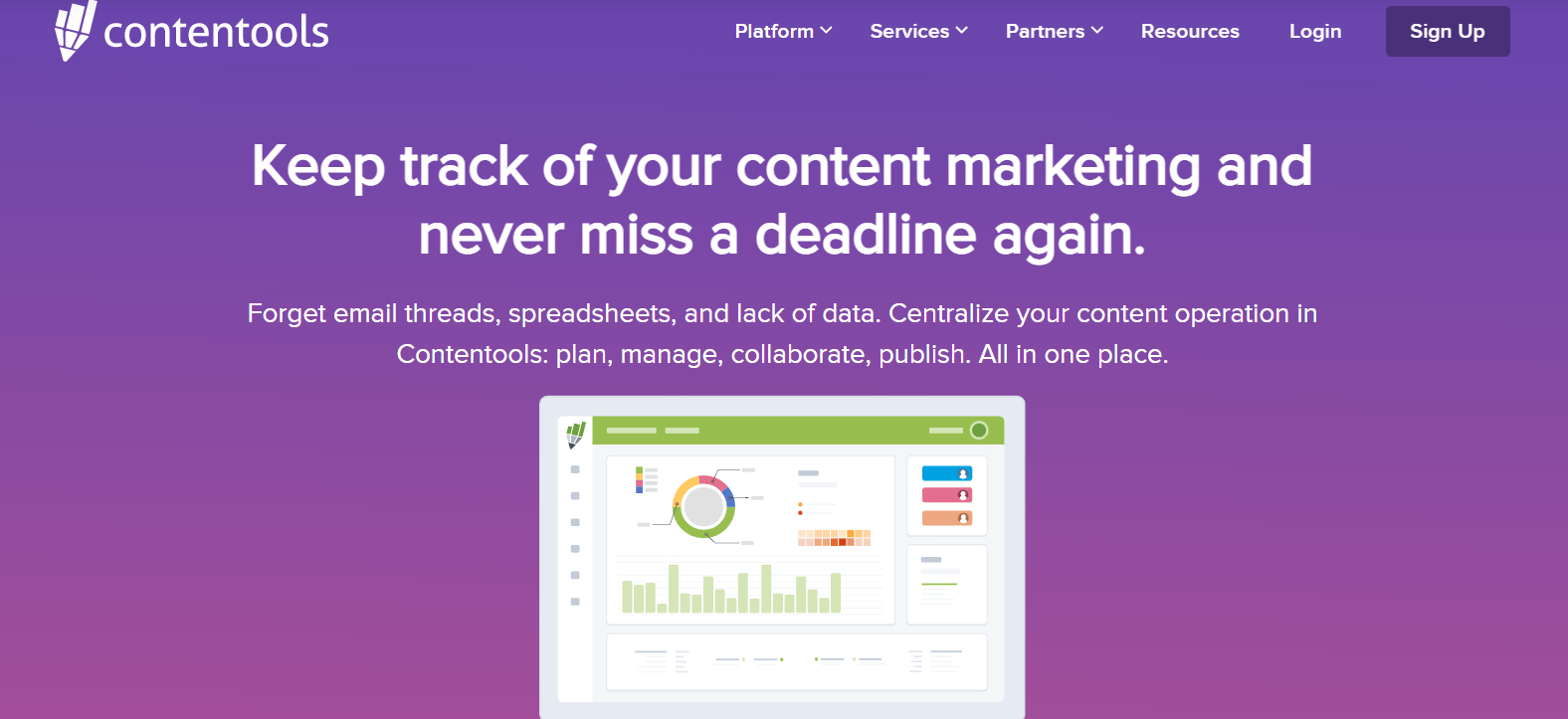 Contentools is a powerful system for developing, disseminating, and evaluating promotional materials. You can also use the app's built-in content editor to draft new posts while keeping an eye on your SEO rankings.
Notable capabilities include content analytics driven by AI, auto-publishing for social media posts, teamwork functionality, and connectivity with a wide variety of third-party apps via Zapier, such as Salesforce, Evernote, and Dropbox.
28. Google

Google provides a wealth of resources that can positively impact your content strategy. You can use Google's Keyword Planner to explore keywords, Google Analytics to see how well each piece of content performs over time, Google Search Console to monitor your site's indexing, and Google Trends to see how users' interests are shifting.
29. Contentful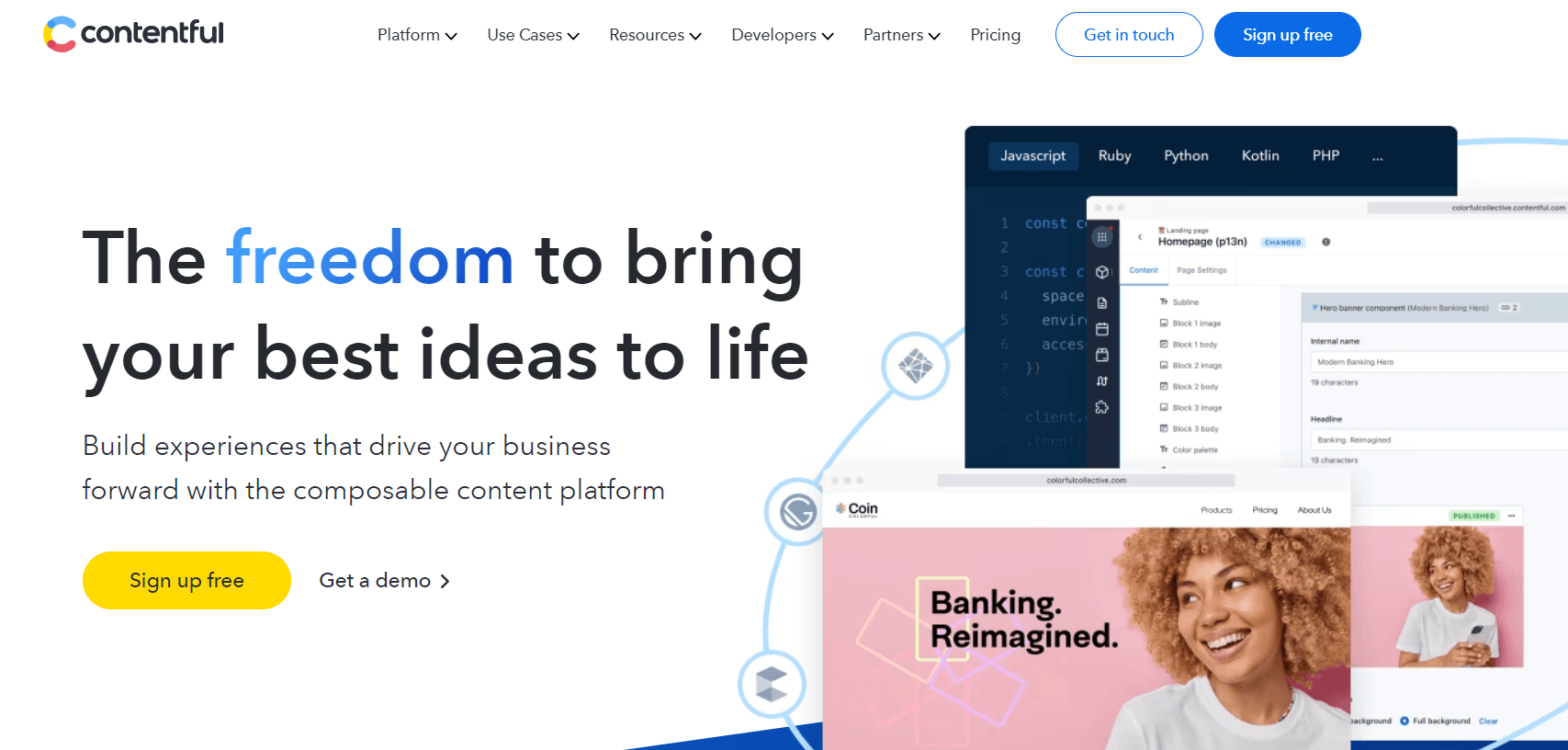 Contentful is a service that organizes website content management and development using agile methodology. This content management tool allows you to efficiently create and manage various content types. You'll also have access to templates that will enable you to tailor your website to the specific needs of your business.
30. Sprout Social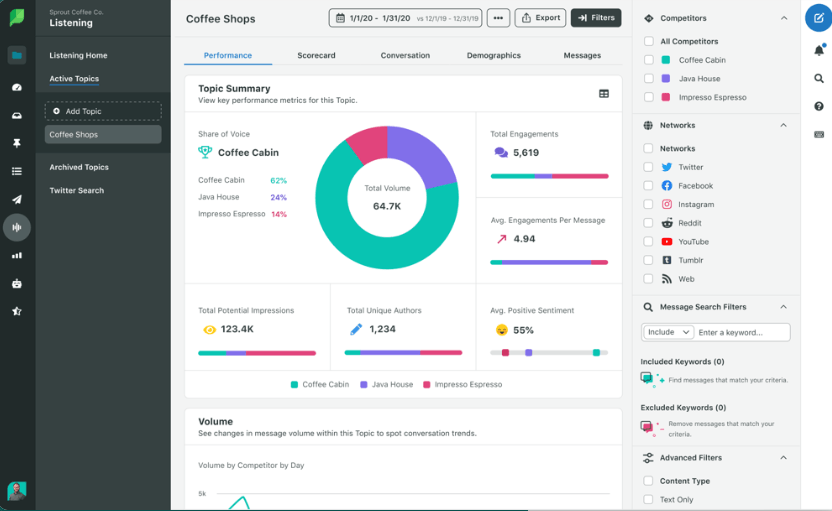 Sprout Social gives content management teams access to a suite of social media optimization tools, including publishing, analytics, and personalized suggestions. You can make workflows, schedule social media posts, and generate analytics reports to highlight the impact of different postings on your website traffic and audience interaction.
Measuring the metrics that affect your bottom line.
Are you interested in custom reporting that is specific to your unique business needs? Powered by MarketingCloudFX, WebFX creates custom reports based on the metrics that matter most to your company.
Leads

Transactions

Calls

Revenue
Learn More

Make content marketing hassle-free with the best content marketing tools and services
Are you ready to start optimizing your content? Our multi-award-winning content marketing team will create, edit, and promote SEO-friendly material for your company using our suite of content marketing tools and services.
From blog posts to social media content to videos, you can do it all with WebFX.
Browse our content marketing service plans, deliverables, and prices. And then, contact us online to connect with an experienced WebFX strategist.
WebFX Careers
Join our mission to provide industry-leading digital marketing services to businesses around the globe - all while building your personal knowledge and growing as an individual.