While content marketing tools aren't designed to replace human expertise and a well-thought-out plan, they can streamline content marketing tasks and speed up results significantly.
The reality is that the industry is flooded with too many content marketing solutions. From ideation to analytics, too many tools are available for the content marketing process.
To help you find your ideal matches, we have compiled a set of tried-and-true tools from across the many marketing subfields.
Here are some of the best tools for each step of your content marketing strategy:
You found this post because you're committed to elevating your marketing efforts and expanding your company. To stay on track, sign up for our newsletter and receive insights and best practices to help your marketing initiatives thrive.
Don't miss our Marketing Manager Insider emails!
Join 200,000 smart marketers and get the month's hottest marketing news and insights delivered straight to your inbox!
Enter your email below:
Inline Subscription Form – CTA 72
"*" indicates required fields
(Don't worry, we'll never share your information!)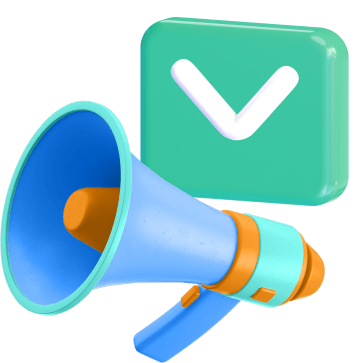 Best content marketing tools in 2023
KeywordsFX
Google Trends
MonsterInsights
Ceralytics
BuzzSumo
WebFX Readability Test
Grammarly
Copyscape
CoSchedule Headline Analyzer
Hemingway Editor
WebFX SEO Checker
SEMRush SEO Writing Assistance
Surfer SEO
PageOptimizer Pro
SEO PowerSuite Content Planning Tools
Trello
Evernote
StoryChief
MarketMuse
Google Docs
Google Analytics
Moz
Ahrefs
Quintly
SimilarWeb
WordPress
Contentools
Google
Contentful
Sprout Social
Topic research content marketing tools
Check out some of our favorite topic research tools below:
1. KeywordsFX

KeywordsFX is a keyword recommendation tool that helps you learn more about the search terms your ideal customers are using to find products or services like yours online.
You can use this content marketing tool to generate and refine high-value keywords to incorporate into your content for maximum pay-per-click (PPC) and search engine optimization (SEO) campaign performance.
Features:
Filtering capabilities: Narrow your list of keyword ideas to those that use a specific word or phrase
Categories feature: Organize search results by keywords, questions, and modifiers
Export function: Download a .csv file of your search results
Copy feature: Copy and paste your results in a separate program, like Microsoft Excel, or a web-based program, like Google Sheets
Sort function: Sort your data in all categories
Pricing: Free
G2 rating: Not listed
2. Google Trends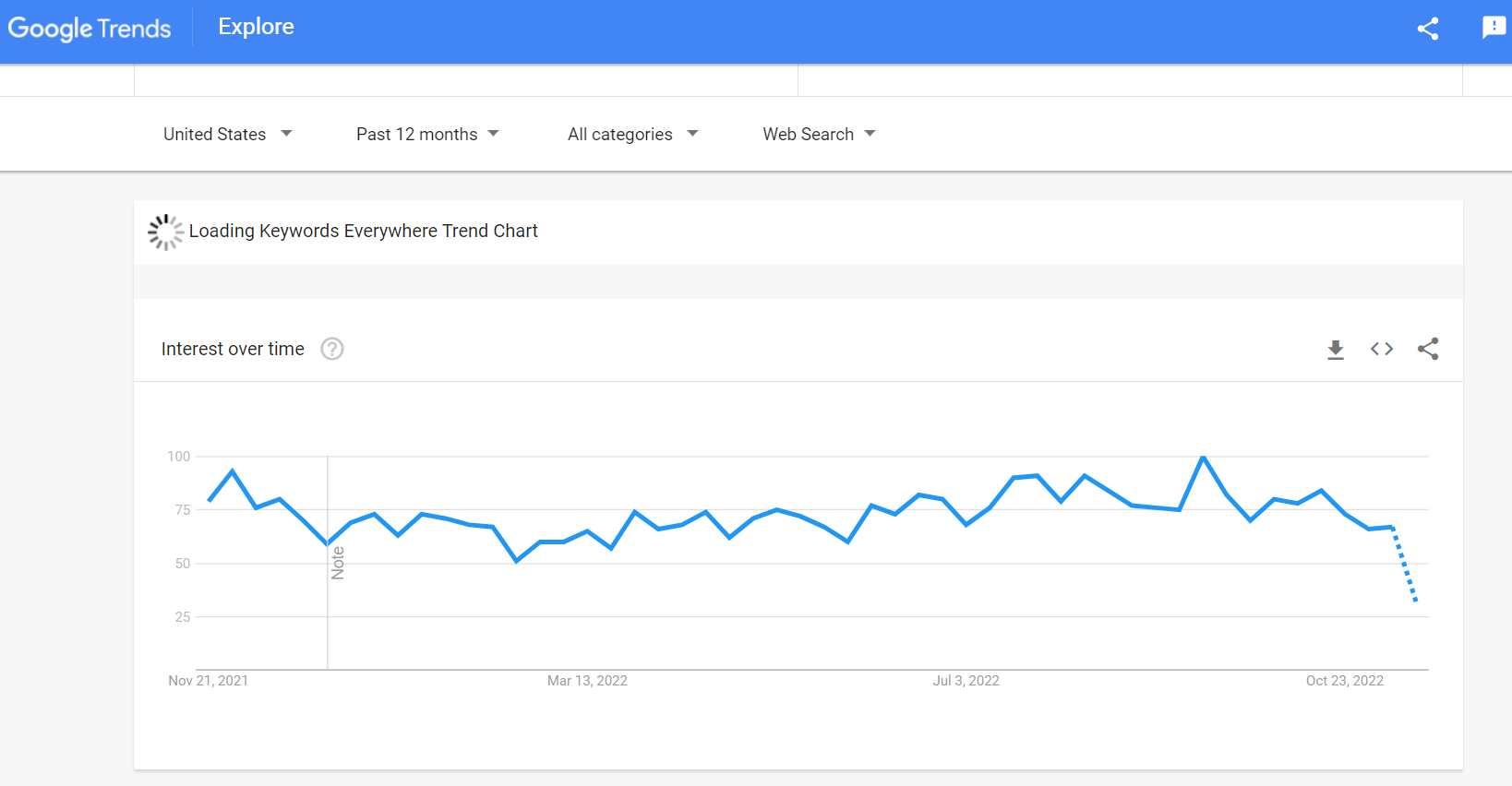 Google Trends is a data analysis tool to see which search terms people use the most on Google.
This tool informs you of the most sought-after search keywords across geographies, languages, and periods to help you keep up with the latest developments in your field. You can also assess the relative popularity of several target keywords to choose a top priority.
Features:
Keyword research capabilities: Generate keyword ideas for unique content by region
Language and search behavior capabilities: Identigy changing trends
Google Analytics has augmented functions: Get a more detailed understanding of your site in comparison to more significant search trends
Spelling preferences feature: Compare spellings to see how much search volume each variation gets
Daily and real-time search trends feature: Change the length of time for your research to just the past day, the past 4 hours, or the past hour
Pricing: Free
G2 rating: 4.5 out of 5
3. MonsterInsights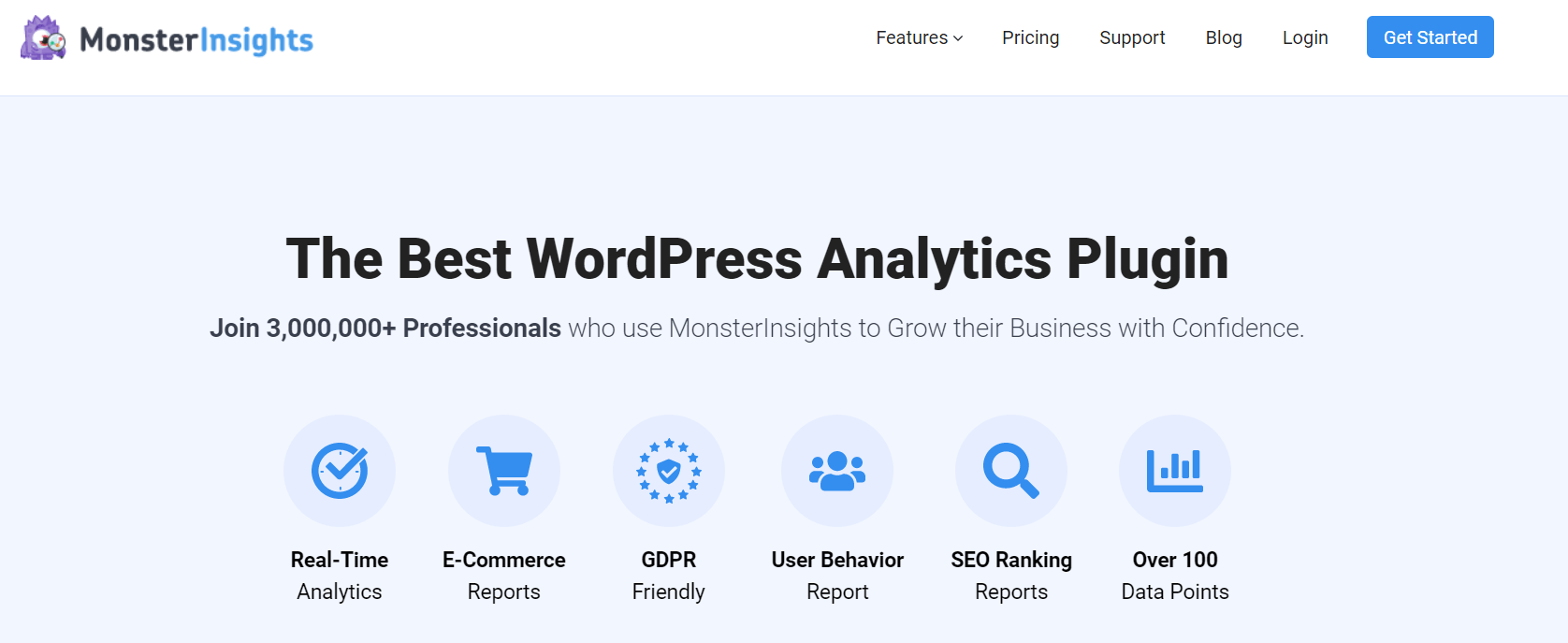 MonsterInsights is one of the best Google Analytics plugins for WordPress. Using this add-on, you can monitor the success of your blog posts and expand on the topics that have shown to be popular with your audience.
You can see data like the most popular keywords, the most successful affiliate links, and the most clicked external links.
Features:
Performance tracking: Control the performance rate and sample rate for your Google Analytics report
Outbound link tracking: Reliably track affiliate links and other outbound links
Google AMP tracking: Proper tracking for Google AMP websites
Enhanced ecommerce tracking: Comprehensive Google Analytics tracking for WooCommerce and Easy Digital Downloads store
Ads tracking: Track your Google Adsense ads with Google Analytics
File download tracking: Enable file download stats with just a click
Custom dimensions tracking: Get Author reports, Custom Post Type reports, SEO score reports, and more
Pricing: $0 for the basic plan, and premium plans start at $9.99 per month
G2 rating: 4.5 out of 5
4. Ceralytics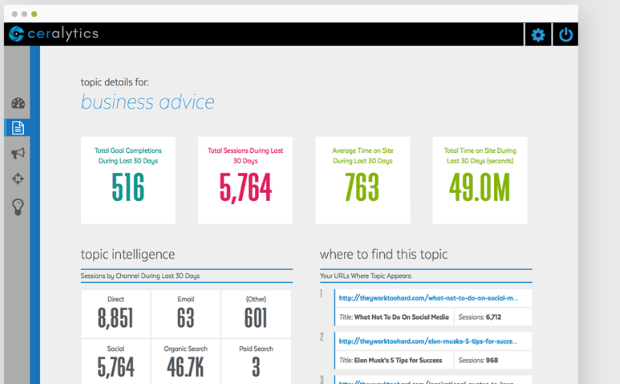 Ceralytics is a content intelligence platform that helps you pinpoint content topics with the most potential to bring in customers. It features sales funnel research, SEO, and market intelligence. It's also cloud-based, which makes it secure and easier to maintain.
Features:
Deeper content analytics: provides deeper insights into how audiences consume your content while also highlighting difficult-to-find opportunities and blind spots
Current impact score: Identify your website's top-performing topics by highlighting the discrepancy between what you are writing and what your audience is consuming
Competitive Intelligence: Identifies important industry-wide topics within your content analytics.
Pricing: Custom
G2 rating: Not listed
5. BuzzSumo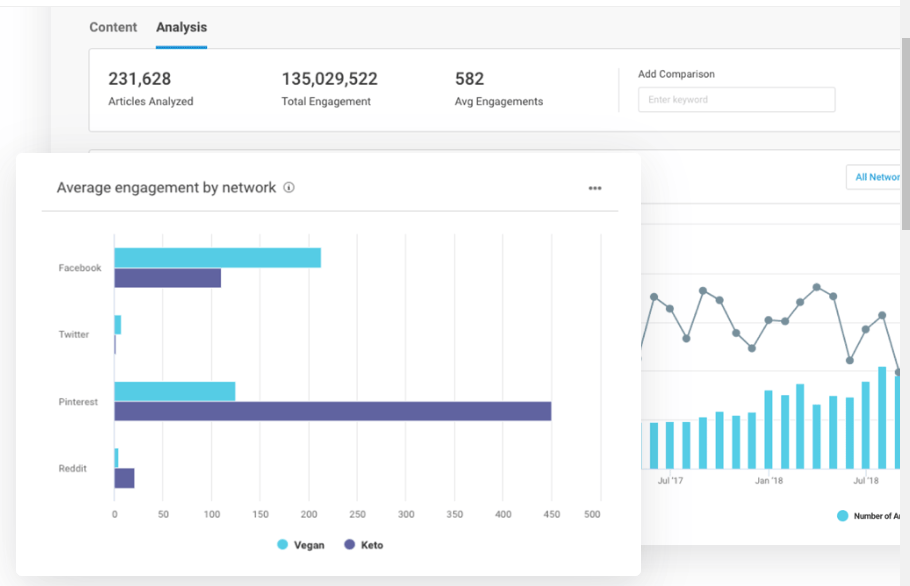 BuzzSumo provides a content analyzer that reveals the most popular articles, videos, infographics, and more across prominent social media platforms relevant to your industry. When you see which articles in your field get the most views, you can utilize that information to generate ideas that will do well on social media.
Features:
Evergreen & trending ideas: Use data from 24 hours to the past five years to explore viral trends or perennial favorites.
Top formats identification: Use a genre filter to determine what your audience prefers to consume.
SEO insights: Discover popular search terms and evaluate the subheadings, structure, and content of successful headlines.
Real questions: Take advantage of the forum's abundance of questions as a source of inspiration.
Competitive benchmarking: Use a domain search to find the most popular content your rivals are using.
Pricing: $0 for the basic plan, and premium plans start at $99 per month
G2 rating: 4.5 out of 5
Use our proprietary keyword research tool,
KeywordsFX

, to help you find high-quality keywords for content and PPC campaigns. Identify Top Keywords for Free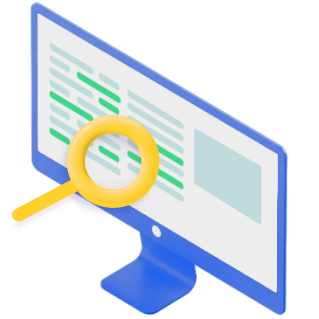 Content writing tools
Here are some of the best content marketing tools for writers:
6. WebFX Readability Test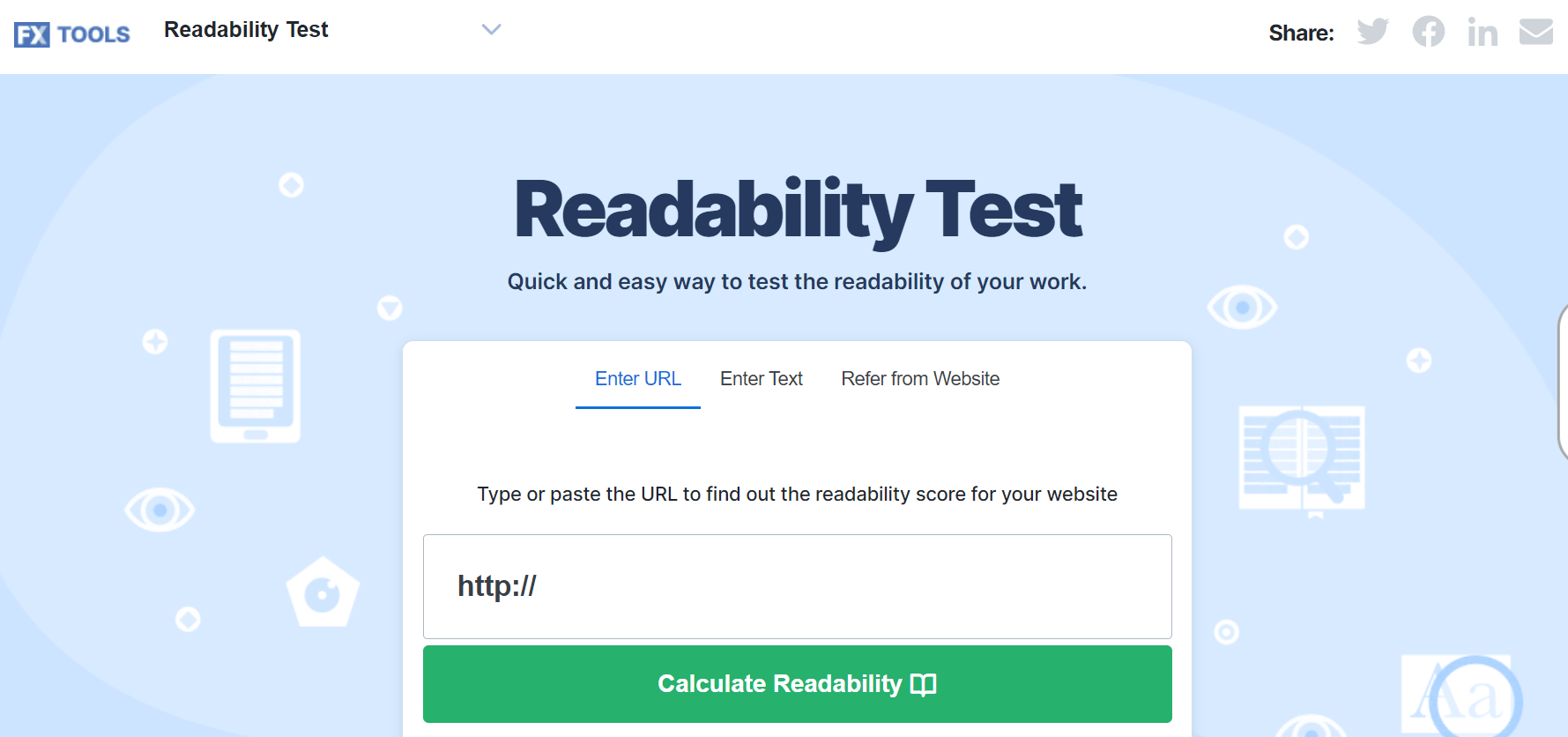 The WebFX Readability Test tool offers a simple and fast way to check your content's readability. It evaluates your work and assigns a grade based on the most popular readability metrics, such as the Flesch Kincaid and Gunning Fog tests.
This software offers the greatest customization options for evaluating formulas' readability. You can enter your content, test an entire webpage, or choose certain elements. Just add a link to your content page, which will compile your results.
Features:
Multiple testing options:

Copy and paste text, enter a page's URL or embed code to test an entire page or a single area

Reading ease scoring:

Provides a quick overview of reading ease, the age group it can be understood by, and several scores for your text.

Readability standard options:

Gives you five choices about which readability standard is more accurate

Multiple scores calculations:

Calculate your Gunning Fog score, the SMOG index, the Coleman-Liau index, and the Automated Readability index
Pricing: Free
G2 rating: Not listed
7. Grammarly
Grammarly is one of the best content writing tools for error-free writing. This remarkable tool allows you to self-edit by seeing errors and fixing them in your writing. It checks your content for typos and other spelling, punctuation, and grammar errors. It also gives insight into your article's length, average reading time, vocabulary use, and readability grade.
Features:
Correctness function:

Remove potential distractions to the reader, such as misspelled words, improper punctuation, or misused words.

Tone suggestions:

Modify your writing's tone and perspective without compromising its meaning.

Full-sentence rewrites:

Implement the suggested changes for clarity to simplify your writing for the reader to understand.

Custom style guides:

Facilitate tone uniformity by promoting brand-specific vocabulary and style across teams.

Multi-integration capabilities:

Compatible with more than half a million different programs
Pricing: $0 for the basic plan, and premium plans start at $12 per month for individuals and $15 per member per month for enterprises
G2 rating: 4.6 out of 5
8. Copyscape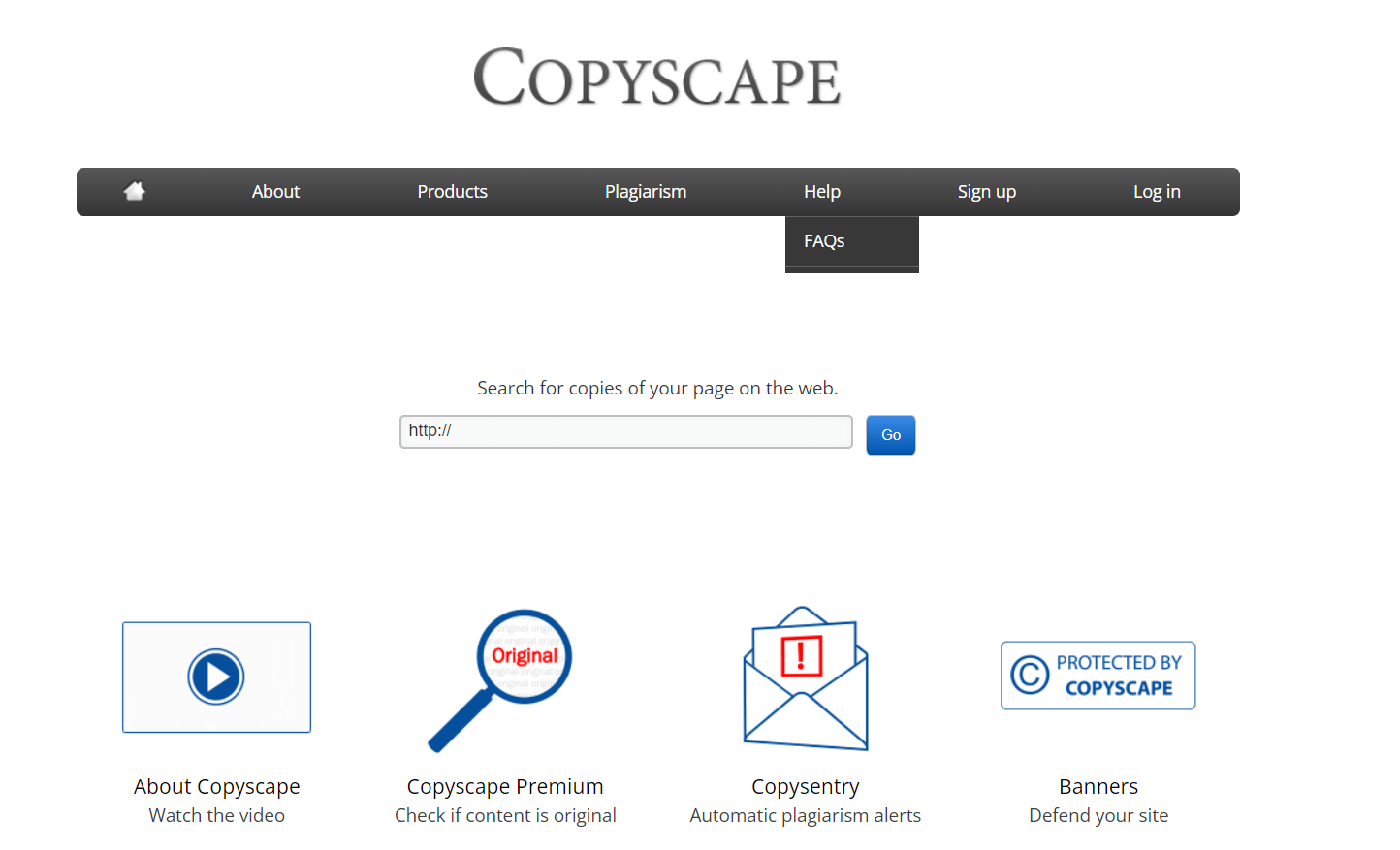 Copyscape is an excellent tool for determining whether or not your writing contains plagiarized material. It analyzes your work and locates online material with which it shares similarities. Doing so will make your piece distinctive and help you gain the rewards of doing so.
Features:
Copyscape Website Banner:

Download and post this banner on your website to give your material a level of credibility to customers

Reliable search provider:

Scans Google for any content similar to or directly matches yours.

Multiple service plans:

Plagiarism-checking options for any budget, including the free comparison tool.

Plagiarism educational tab:

Links to external resources to help fight plagiarism through education
Pricing: $0 for the basic plan, and premium plans start at a monthly fee of $4.95for up to 10 pages, and $0.25 for each additional page up to 500 pages
G2 rating: 4.5 out of 5
9. CoSchedule Headline Analyzer

The CoSchedule Headline Analyzer provides feedback to help you craft attention-grabbing headlines that will encourage readers to read your content. It evaluates your headlines using various factors such as word type and balance, emotive and power word utilization, and character length.
Features:
Copyscape Website Banner:

Download and post this banner on your website to give your material a level of credibility to customers

Reliable search provider:

Scans Google for any content similar to or directly matches yours.

Multiple service plans:

Plagiarism-checking options for any budget, including the free comparison tool.

Plagiarism educational tab:

Links to external resources to help fight plagiarism through education
Pricing: $0 for the basic plan, and premium plans start at a monthly fee of $4.95 for up to 10 pages and $0.25 for each additional page up to 500 pages
G2 rating: 4.5 out of 5
10. Hemingway Editor

Hemingway Editor is a helpful tool for improving your content and its readability. It highlights excessively long, complicated, or difficult-to-understand sentences so you can work on making them simpler. It also emphasizes the passive voice, suggests easier alternatives to complex statements and words, and suggests cutting out superfluous adverbs.
Features:
Color-Coded Writing Problems:

Highlights lengthy, complex sentences, and common errors so you will see which part of your composition needs improvement

Sentence restructuring:

Gives suggestions to make sentences more straightforward and more concise

Writing style features:

Remove your complex words and phrases — create concise and clear sentences, and ensure that your sentences flow smoothly

Tone optimizations:

Eliminate passive voice and adverbs to improve your sentence by suggesting alternatives
Pricing: $0 for the online version, and the desktop versions come at a one-time fee of $19.00.
G2 rating: 4.4 out of 5
We post videos every Monday. Yup. Every Monday.
Join the 5,000 marketers who get their marketing knowledge from WebFX videos.
Subscribe Now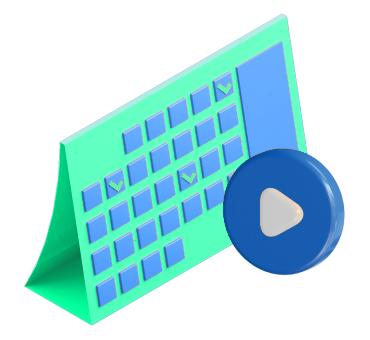 Content optimization tools
Some of the top-notch content optimization tools we recommend are:
11. WebFX SEO Checker

The WebFX SEO Checker is a free tool that will help you identify parts of your website content that needs improvement and better optimization for search engines like Google, Bing, and Yahoo.
The crawler will examine each page and give it a unique score based on various characteristics that impact SEO. These scores will provide you with specific recommendations on how to enhance your site's SEO in areas such as page titles, headers, duplicate content, page speed, and more.
Features:
SEO scoring:

Gives you instant feedback on the SEO of your site. All scores are out of a possible 100. A 100-70 is excellent, 69-41 is decent, and 0-40 is poor.

Site speed analysis:

Learn how long it takes your website to load, and get suggestions for improving performance.

URL optimization check:

Assess URL format, length, and optimization

Meta tag assessment:

Find out whether a page's meta tags are off-target and how to fix them using our SEO analysis tool.

Content Grade:

Provide you valuable feedback on your content's length, structure, and optimization.

Image optimization:

Check that your pictures have proper alt tags, filenames, compression, and other SEO essentials.

Code analysis:

Perform the technical analysis on the server that hosts your website.

In-page link audit:

Explore the quality of your website's internal and external links.

Site security score:

Provides a score based on your website's security.

Mobile-friendly check:

See how well your site works on various mobile devices.

Crawl and indexation analysis:

Review the robots.txt file, XML sitemap, and any relevant files.
Pricing: Free
G2 rating: Not listed
12. SEMRush SEO Writing Assistance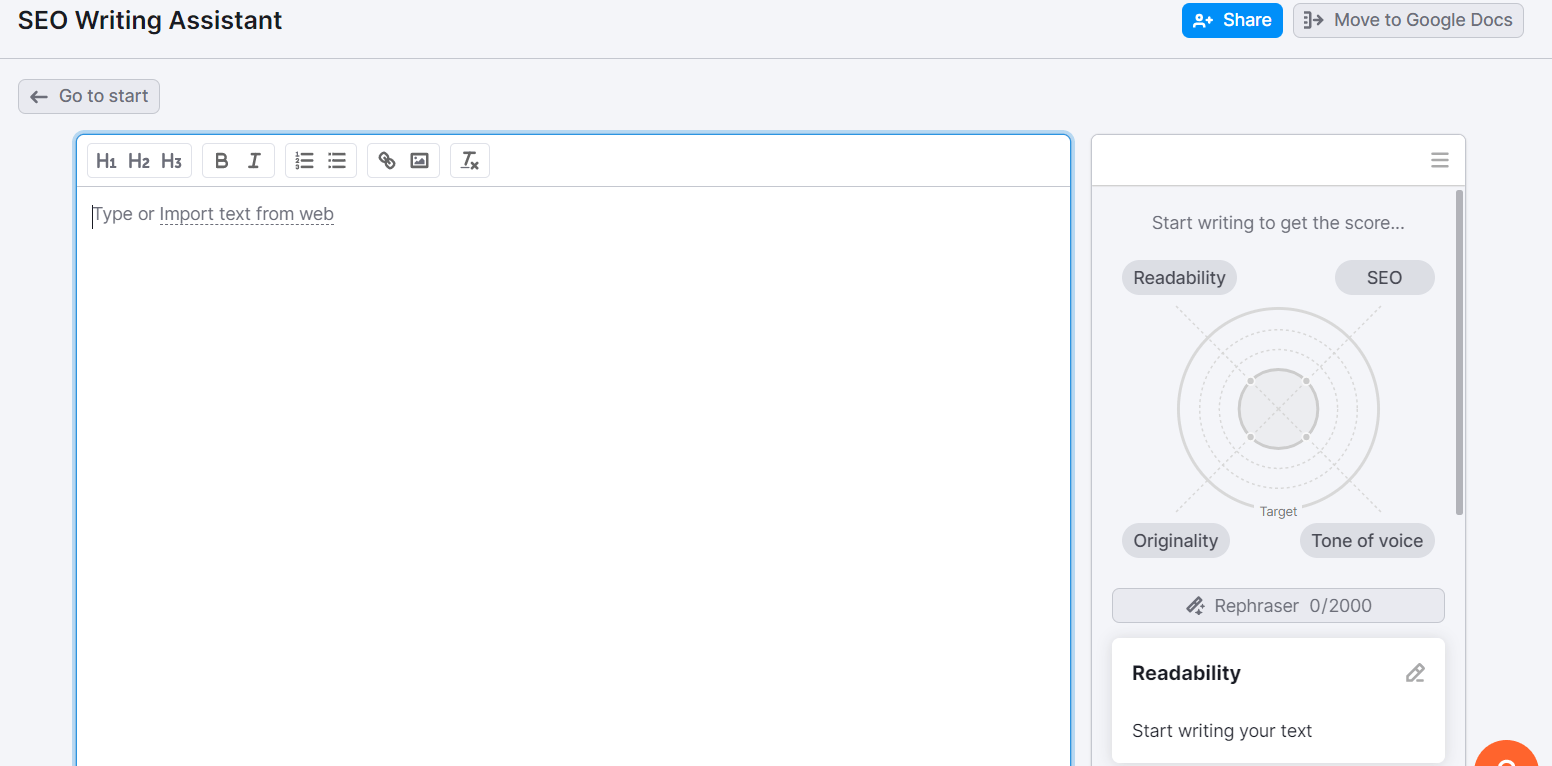 The SEMrush SEO Writing Assistant helps you analyze SEO content, enhance readability, verify originality, and keep your voice consistent. It is the ideal tool for modifying, reviewing, and fine-tuning material in light of the highest-rated posts in Google's organic search results.
Features:
User intent optimization:

Stay relevant by catering to your core audience. Input your desired keywords and see the top 10 organic rivals' SEO strategies.

Readability scoring:

Make your content user-friendly by applying an algorithm based on the Flesch reading ease score formula to boost the likelihood that users will read it and go to the next stage.

Tone of voice consistency function:

Keep your voice consistent to climb the ranks, captivate your target audience, and establish stronger bonds with them.

Plagiarism checker:

Ensure that all of your content is original and credible.
Pricing: A free trial and premium plans begin at $99 per month.
G2 rating: 4.6 out of 5
13. Surfer SEO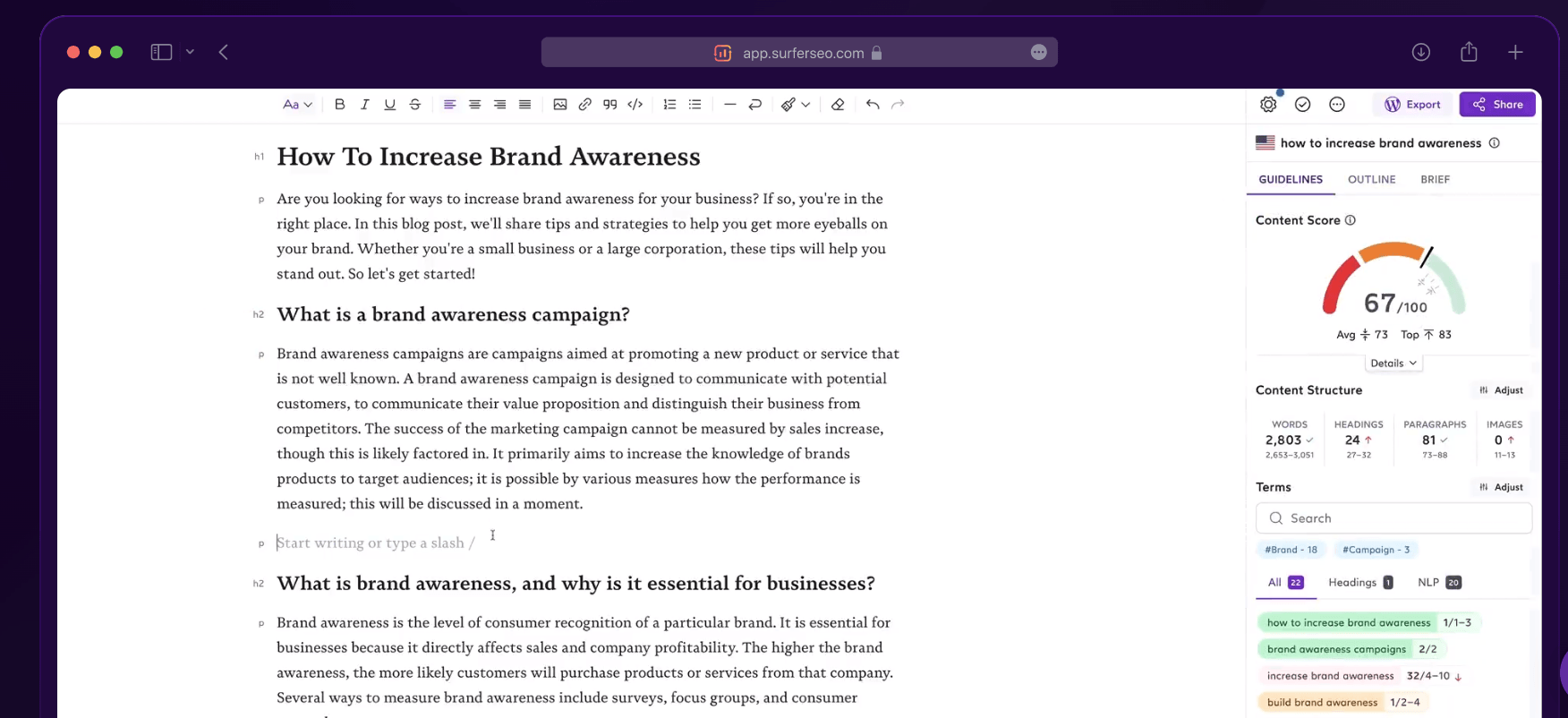 Surfer SEO is one of the best content marketing tools for planning and optimizing content that can boost your SEO rankings and traffic. Many of its features are geared toward generating keyword ideas and turning them into content that will perform well in search results.
It also features a content editor that provides real-time feedback to writers and keeps tabs on the frequency with which specific keywords are used.
Features:
SERP Analyzer:

Provides an in-depth breakdown of the SERPs for a given keyword, including content length, keyword density, frequency, partial match keywords, and more.

Content Editor:

Assists you in outlining and writing search engine-optimized content.

Natural language processing feature:

Uses IBM's Watson to find the sentiment of the search results.

Keyword Research:

Help identify new keywords to target and uncover topics that your audience is actively searching for
Pricing: Plans begin at $49 per month.
G2 rating: 4.8 out of 5
14. PageOptimizer Pro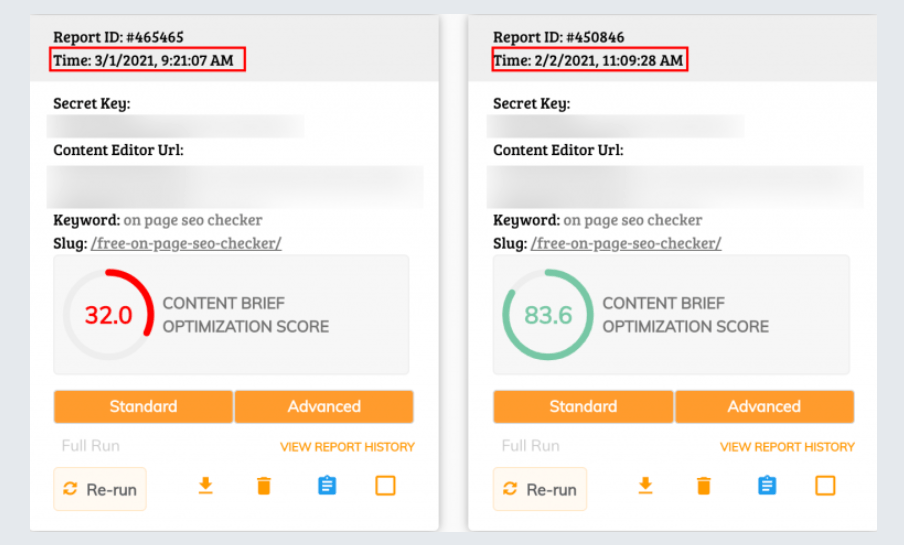 PageOptimize Pro is the best tool for simplifying the process of website content optimization. It analyzes your content, offers you feedback on improving it, and predicts where it will appear in search engine results pages (SERPs).
Features:
Automatic Competitor Search: Automatically imports a list of rival companies, so you don't have to enter each one manually.
Exact Keywords Recommendations: Get suggestions on where and how often to utilize your keyword.
Schema Optimization Recommendations: Get an understanding of the schema your rivals are employing and suggestions on how you may strengthen your own.
Automated Content Brief: Reduce the time it takes to produce high-quality content briefs by working with a keyword or topic.
Content Editor: Use the tool as a word processor and editor.
Pricing: Plans begin at $27 per month.
G2 rating: Not listed
15. SEO PowerSuite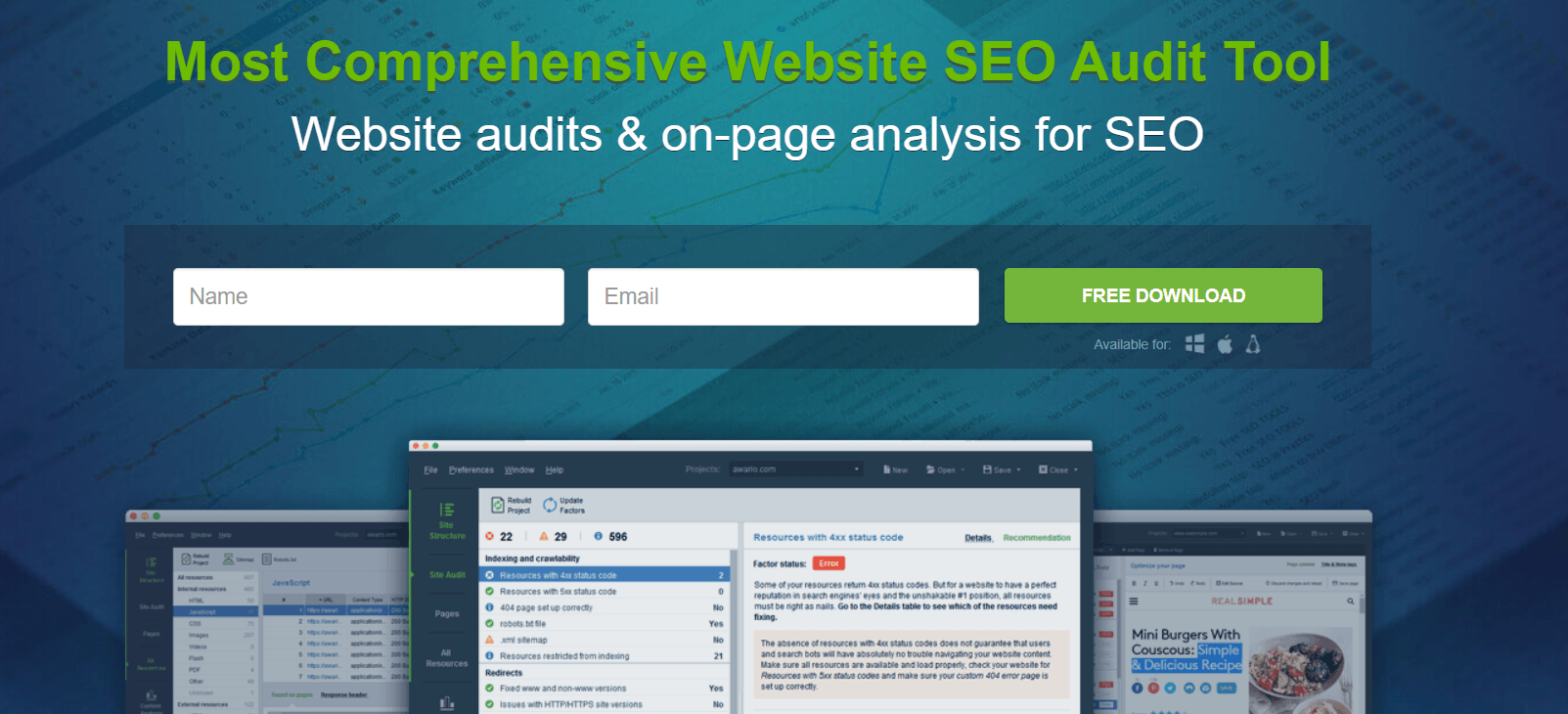 SEO PowerSuite is a content analysis tool that allows you to fine-tune your writing for on-page SEO. You can use the SEO SpyGlass tool to spy on your competition and where they get their backlinks. You can also use the Rank Tracker keyword research tool to find keywords to incorporate into your content strategy.
Features:
Precise rank checker:

monitor rankings for an unlimited number of websites and keywords across over 450 search engines.

Competitor ranking tracker:

Track how well (or poorly) rival websites rank for your chosen keywords.

Competitor link assessment:

Analyze the backlink profiles of competing websites to identify untapped niches for link building.

Landing page optimization:

Evaluate and enhance landing page performance using data-driven keyword usage best practices.

Task Scheduling:

Set up automated scheduling for any of your SEO operations.
Pricing: Free versions and versions starting at $299 per year for professionals and enterprises.
G2 rating: 4.5 out of 5
Looking for an all-in-one SEO audit tool? You've found it.
SEO Checker provides data on key metrics to give you:
Complete SEO score

Content Grade

Site Speed Analysis

and more.
Content planning tools
Take a look at the following top-tier content planning tools:
16. Trello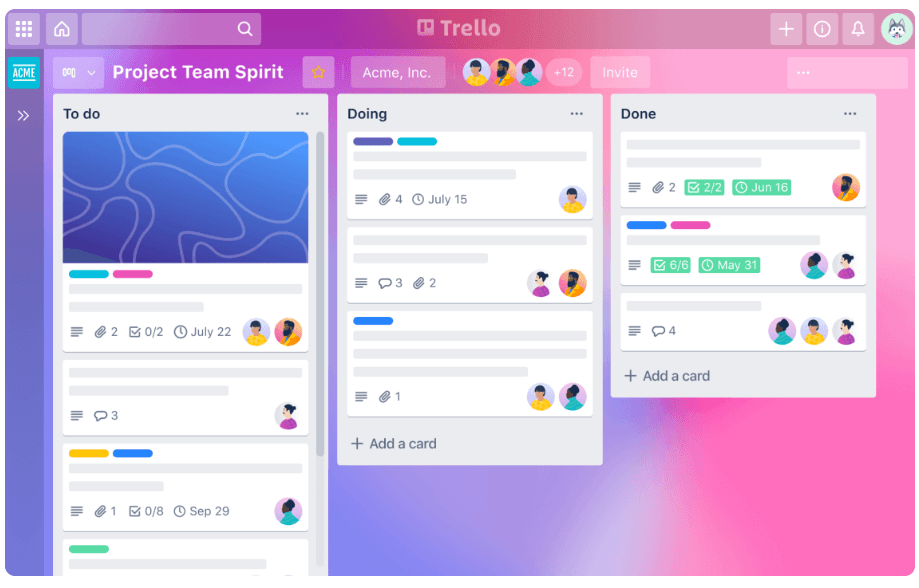 Trello is one of the most powerful content marketing tools offering a comprehensive calendar for tracking content readiness and scheduling its release. You can use Trello's boards, cards, and checklists to organize your workday, map your content strategy, and compile your concepts.
Features:
Views:

Check out the work your group has done from every possible angle

Automation: speed up routine processes with Butler automation

Power-Ups:

Boost the efficiency of your teams by installing Trello plugins

Templates:

Provide your team with a road map to success with customizable templates created by experts in your field and the Trello community

Integrations:

Locate the tools your group already employs and find innovative new methods of completing tasks
Pricing: Free version and premium versions start at $5 per user per month
G2 rating: 4.4 out of 5
17. Evernote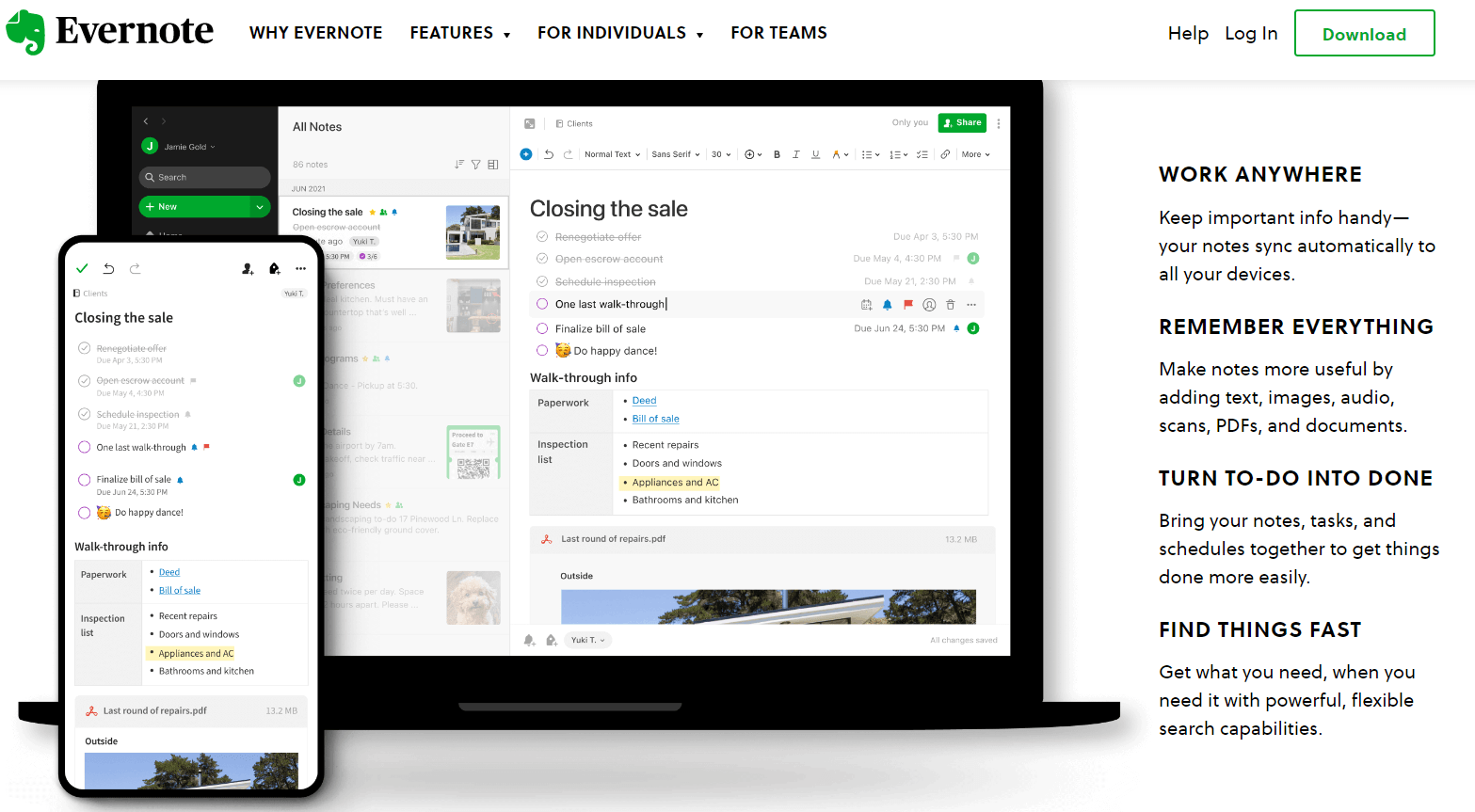 Evernote's yearly, monthly, weekly, and hourly records make it easy to monitor when content is sent, when new blog posts are created, and when deadlines are met. It also provides excellent alternatives for maintaining conceptual clarity regarding social material.
Features:
Sync and Organize:

Keep your notes readily available and accessible across multiple devices and platforms

Web Clipper:

Save button for saving and organizing information found on the web

Tasks:

Stay organized and productive by quickly and easily synchronizing notes, tasks, and web clippings across multiple platforms

Calendar:

Link schedules and notes in a more efficient and streamlined manner
Pricing: Free version and premium versions start at $69.99 per month
G2 rating: 4.3 out of 5
18. StoryChief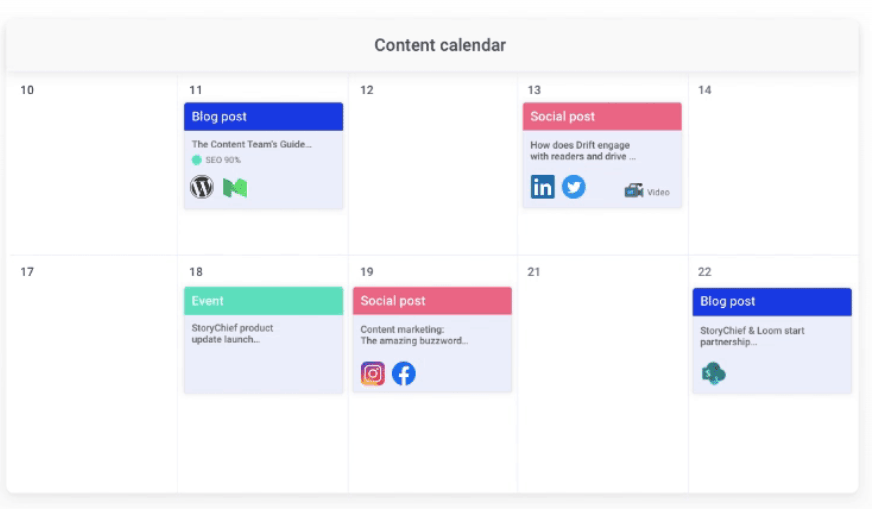 StoryChief helps you streamline tasks such as briefing, assigning, drafting, reviewing, and distributing content. It also allows you to promote your blog posts on many platforms, such as social media, email marketing, and word-of-mouth promotion from your staff.
Features:
Stories editor:

Write articles that will establish you as an authority in your subject

Social media post scheduling:

Share your content across all of your social media channels at once, either immediately or at a later time

Collaboration:

Collaborate with employees, independent contractors, or clients in the same space to save time and hassle

Reports:

Quickly and easily check global and channel-specific metrics for your stories and social media posts. Also, discover how many people have viewed and read your material
Pricing: Free trial and team plans start at $170 per month
G2 rating: 4.3 out of 5
19. MarketMuse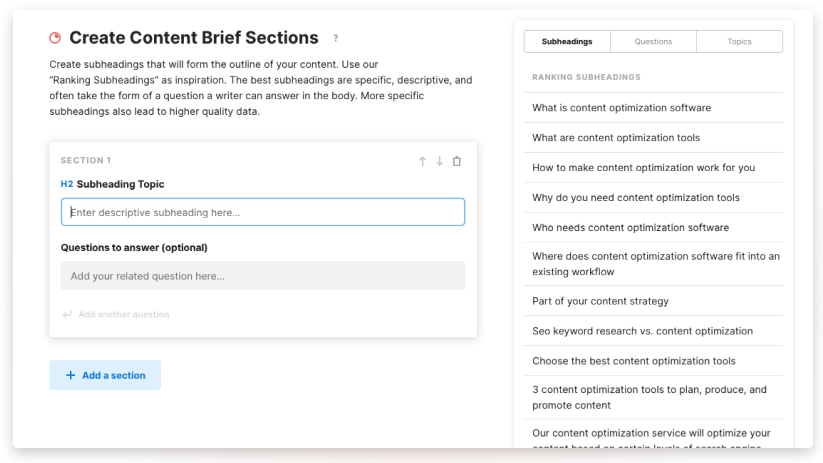 MarketMuse enables your content team to organize, compare, and contrast their and rivals' material to identify content gaps and potential ranking possibilities. You can also examine the SEO potential of individual pieces of content and receive tailored recommendations for enhancement.
Features:
Link Building:

Offers resources for analyzing backlinks and finding chances to create quality links

Keyword Research:

Generates keyword suggestions and data on variables like search volume, keyword difficulty, and competitiveness based on a specified search phrase

SERP Rank Tracking:

Maintains a record of where specific keywords rank organically and provides information on their average position, visibility, tone of voice, traffic, and more

Localization:

Includes device and location data to determine keyword rankings

Content Insights:

Provides resources, including long-tail keywords, audience data, content intelligence, and a digital writing assistant powered by artificial intelligence for enhancing SEO content.
Pricing: Free basic plan and premium plans start at $600 per month
G2 rating: 4.3 out of 5
20. Google Docs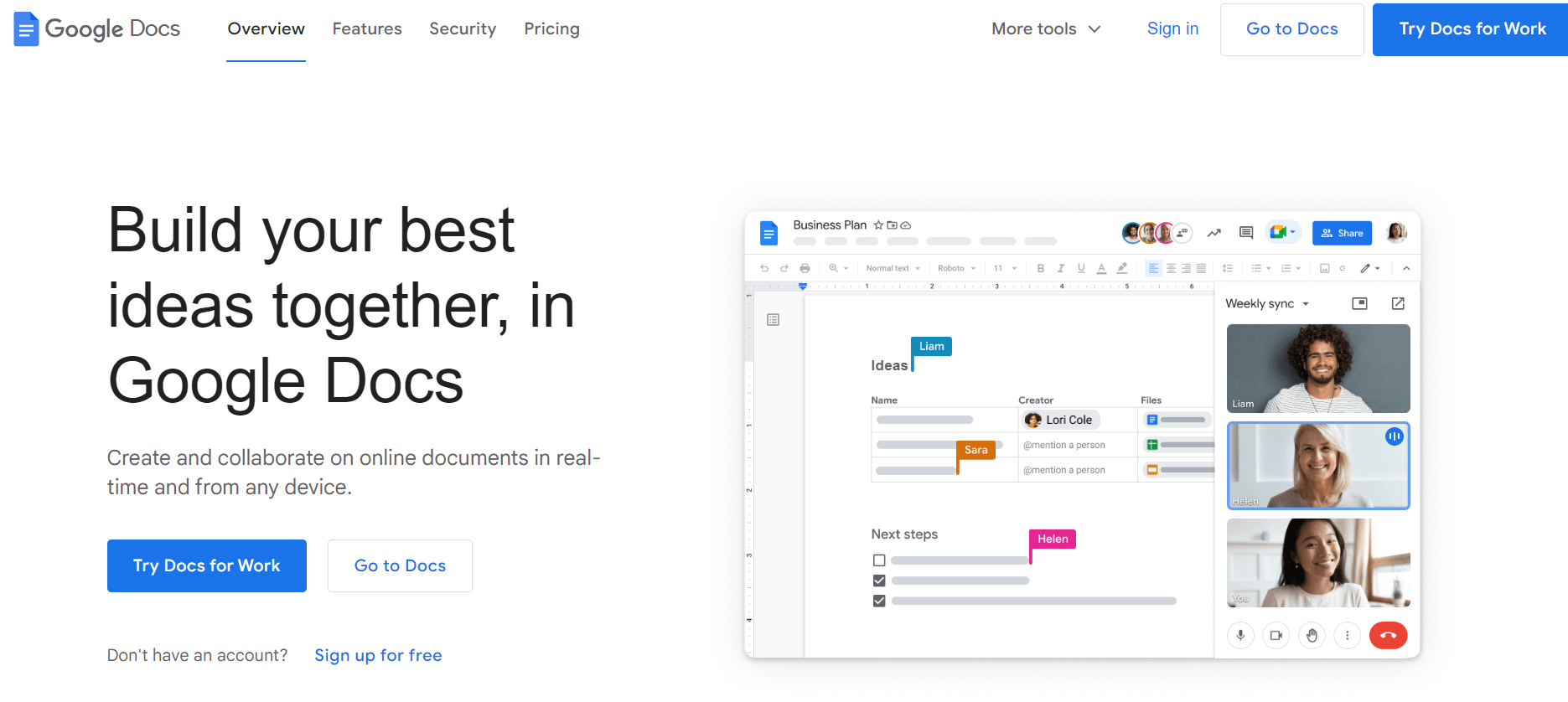 Google Docs offers many valuable features you can use to make an excellent online content calendar. It's intuitive and designed to facilitate teamwork on blog posts. You can create a collaborative spreadsheet where your team members can keep tabs on the various kinds of content they produce, assign responsibilities, schedule releases, and include relevant keywords.
Features:
Voice typing feature:

Narrate your copy into the document rather than typing it manually

Offline editing:

Work on your content on the go without an internet connection

Suggesting Review Mode:

Make suggestions for improving content without making any alterations

Research Tool:

Locate resources that are congruent with your content, such as relevant statistics or media files
Pricing: Free basic plan and premium plans vary depending on your business needs
G2 rating: 4.6 out of 5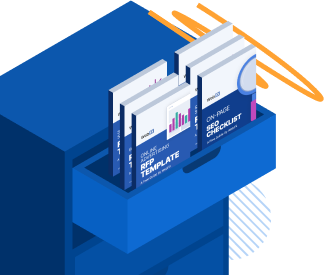 Content performance tracking tools
Here are some of the best content marketing tools for tracking performance:
21. Google Analytics

Google Analytics is among the most helpful content marketing tools for monitoring the performance of individual pieces of content. It provides data on on-site visits, user flow, and conversions. With this content tool, you can monitor user activity and learn more about how your target audience interacts with your content.
P.S. If you're looking for organic search rankings data, check out our favorite position check tools!
Features:
Reporting and visualization:

Generate a variety of reports with minimal effort and distribute them around the company with a single mouse click

Funnel analysis:

Examine the entire customer experience, from ad click to purchase, to pinpoint the points in the conversion cycle when additional investment is most warranted and practical.

Google Tag Manager:

Configure the type of data you intend to submit to Google Analytics using a web-based user interface

Smart goals:

Establish a list of precise goals and track progress toward those goals

Data activations:

Improve your marketing strategies by analyzing incoming data
Pricing: Free
G2 rating: 4.6 out of 5
22. Moz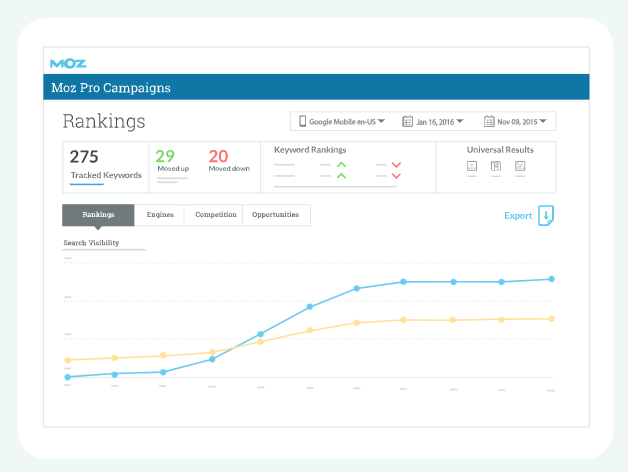 Moz evaluates how effective your content is for SEO. It helps you learn where your content stands compared to others in your field and which keywords produce the best results for your approach. You can also use it to monitor where your rivals are in the SERPs, so you know where to focus your efforts for optimal results.
Features:
Keyword Explorer:

Compile keyword lists that you can track and adjust as required, allowing you to target keywords with precise keyword volume and difficulty indicators strategically

Rank tracking:

Track how well you rank for specific keywords on a global scale and in your local area with the search visibility score

Site crawling and auditing:

Get notifications, so you're the first to know when issues are detected on your site, and rest easy as Moz Pro looks for bugs that keep search engines from properly indexing it

Page and content optimization:

Discover what to write about next with tailored recommendations based on the performance of similar sites that already rank for your target keywords

Link Explorer:

Utilize unique indicators like Page Authority, Domain Authority, and Spam Score to build credibility
Pricing: Free trial and plans start at $99 per month
G2 rating: 4.3 out of 5
23. Ahrefs

Ahrefs helps you improve your website's content and see how well it ranks in search engines. As part of the tool's website analysis, it provides a "health" grade for your domain and details crawling URLs, errors, broken links, and other problems. It also includes content tools for analyzing your competition and researching keywords.
Features:
Organic traffic research:

Find out what terms your rivals are ranking for and which of their content is bringing in the most traffic.

Accurate Search Volumes:

Update your monthly estimates of search traffic using clickstream data.

Site Audit:

Get a comprehensive SEO score based on a thorough website crawl, with charts depicting crucial data, warnings about potential SEO problems, and suggestions for fixing them.

Rank Tracker:

Keep track of your position in the rankings over time and compare it to that of your rivals — and incorporate regular email delivery of reports.

Content Explorer:

Locate hundreds of potential link partners and the most successful material in your niche.
Pricing: Plans start at $99 per month
G2 rating: 4.6 out of 5
24. Quintly

Quintly helps you evaluate your content promotion efforts. It provides you with adaptable analytics to help you assess the success of your marketing efforts and make more informed decisions about your social media strategy.
Features:
Social Media Benchmarking:

Analyze your data and that of your rivals across the most popular social media platforms, including Facebook, Instagram, Twitter, Google+, YouTube, and LinkedIn

Data collection customization:

Tailor your data collection strategies to your needs to get the best possible outcomes.

Reporting:

Create and send fully automated, personalized reports to your team or clients.

Report export:

Select which social media data to export, how often and in what format, and how quickly it is sent.
Pricing: Custom
G2 rating: 4.7 out of 5
25. SimilarWeb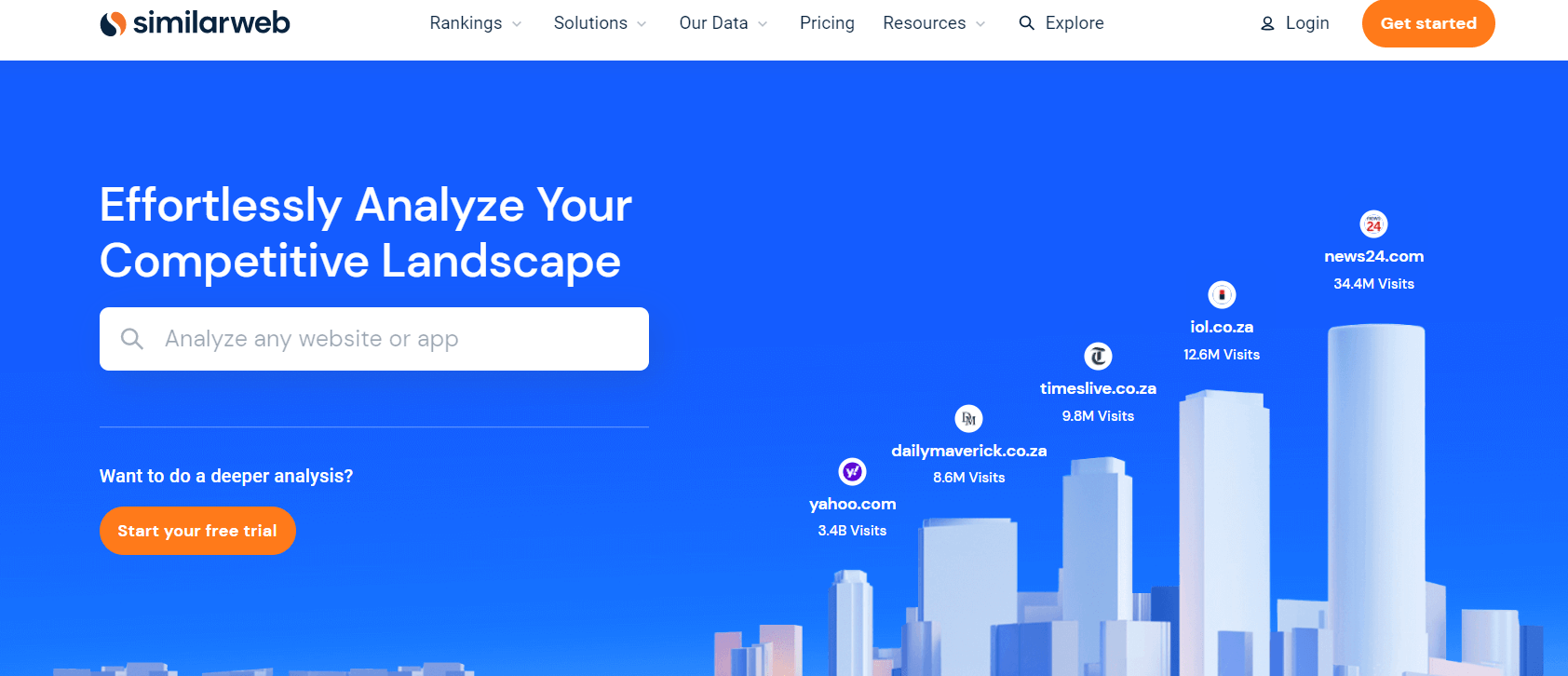 SimilarWeb gives you benchmarks and insights on the performance of your website content in terms of traffic and user interaction. You can use this data to gauge how your content performs relative to your competitors.
Features:
Post-performance tracking:

Find out what kind of content does well with the intended audience by monitoring its level of interaction

Paid Campaign Tracking:

Keep tabs on how well your social media advertising is doing and adjust your strategy accordingly

Sentiment Analysis:

Determine the overall tone of a piece of content online by analyzing its use of specific words and phrases

Audience Insights:

Learn about your target market and analyze user actions
Pricing: Free basic plan and premium plans vary depending on your business needs
G2 rating: 4.5 out of 5
Meet MarketingCloudFX:
One platform tracking countless metrics and driving stellar results.
Learn More About Our Proprietary Software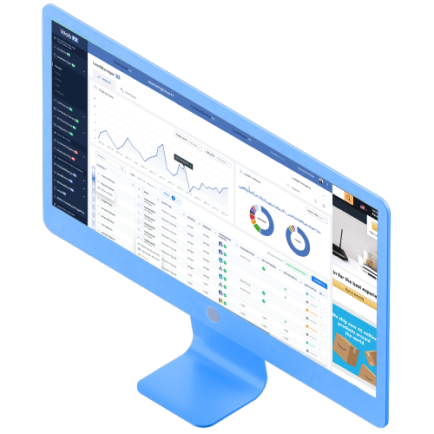 Content management tools
Here are a few content management tools worth checking out:
26. WordPress

WordPress gives you everything you need to launch a website or blog. It offers a user-friendly publishing platform for writing and uploading material, tracking site visitors, and accessing various plugins that may enhance your online presence and improve your marketing efforts.
Features:
Publishing simplicity:

Use the intuitive interface to write posts and pages, apply to format, embed media, and publish your work to the web with a single click.

Publishing Tools:

Create drafts, schedule publishing, and review post modifications.

User Management:

Manage your site content, editors, authors, and subscribers

Media Management:

Drag and drop your multimedia into the encoder to add it to your webpage
Pricing: Free basic plan and premium plans vary depending on your business needs
G2 rating: 4.5 out of 5
27. Contentools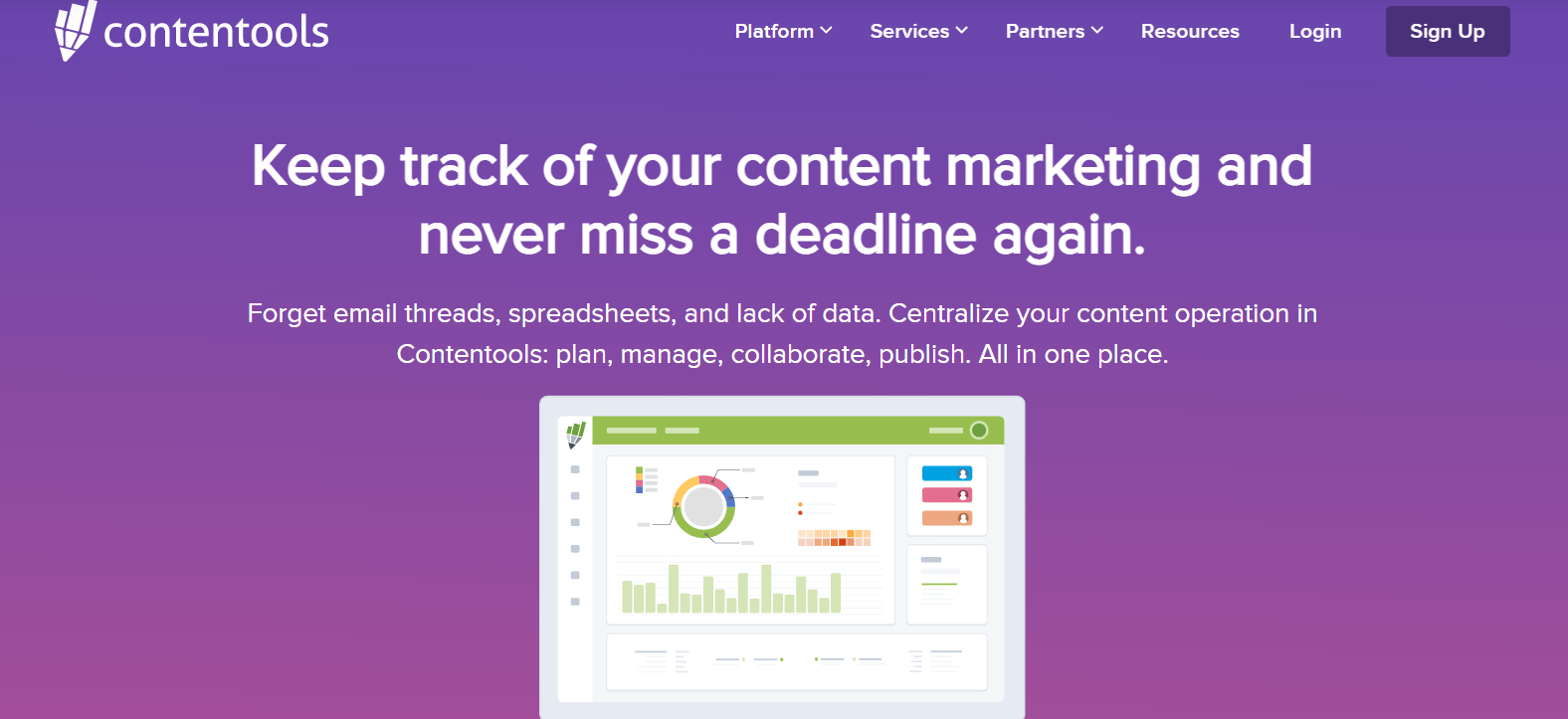 Contentools is a powerful system for developing, disseminating, and evaluating promotional materials. You can also use the app's built-in content editor to draft new posts while keeping an eye on your SEO rankings.
Notable capabilities include content analytics driven by AI, auto-publishing for social media posts, teamwork functionality, and connectivity with a wide variety of third-party apps via Zapier, such as Salesforce, Evernote, and Dropbox.
Features:
Strategy and Personas:

Track all you need to know about your personas and strategies by registering them and attaching them to each of your briefings

SEO and Content Editor:

Develop confident writing by having ready access to all relevant resources

Marketing Calendar:

Monitor the development of every material being created by your group. You can easily plan your publication schedule by dragging and dropping items onto your shared calendar.

Content marketing campaign tracking:

Track all your content marketing activities (planning, management, collaboration, and publication) under one umbrella.
Pricing: Plans start at $29 per month
G2 rating: Not listed
28. Google

Google provides a wealth of resources that can positively impact your content strategy. You can use Google's Keyword Planner to explore keywords, Google Analytics to see how well each piece of content performs over time, Google Search Console to monitor your site's indexing, and Google Trends to see how users' interests are shifting.
Features:
Analytics 360

: Get insights on how people connect and interact with your brand online

Optimize 360

: execute tests, and tailor your content to your target audience

Ads 360:

Create and manage digital campaigns across a variety of platforms, c

onnect with customers, and measure the impact of your advertising copy

Data Studio 360:

turn data into actionable insights, create reports, and easily share them with colleagues and customers
Pricing: Free
G2 rating: 4.5 out of 5
29. Contentful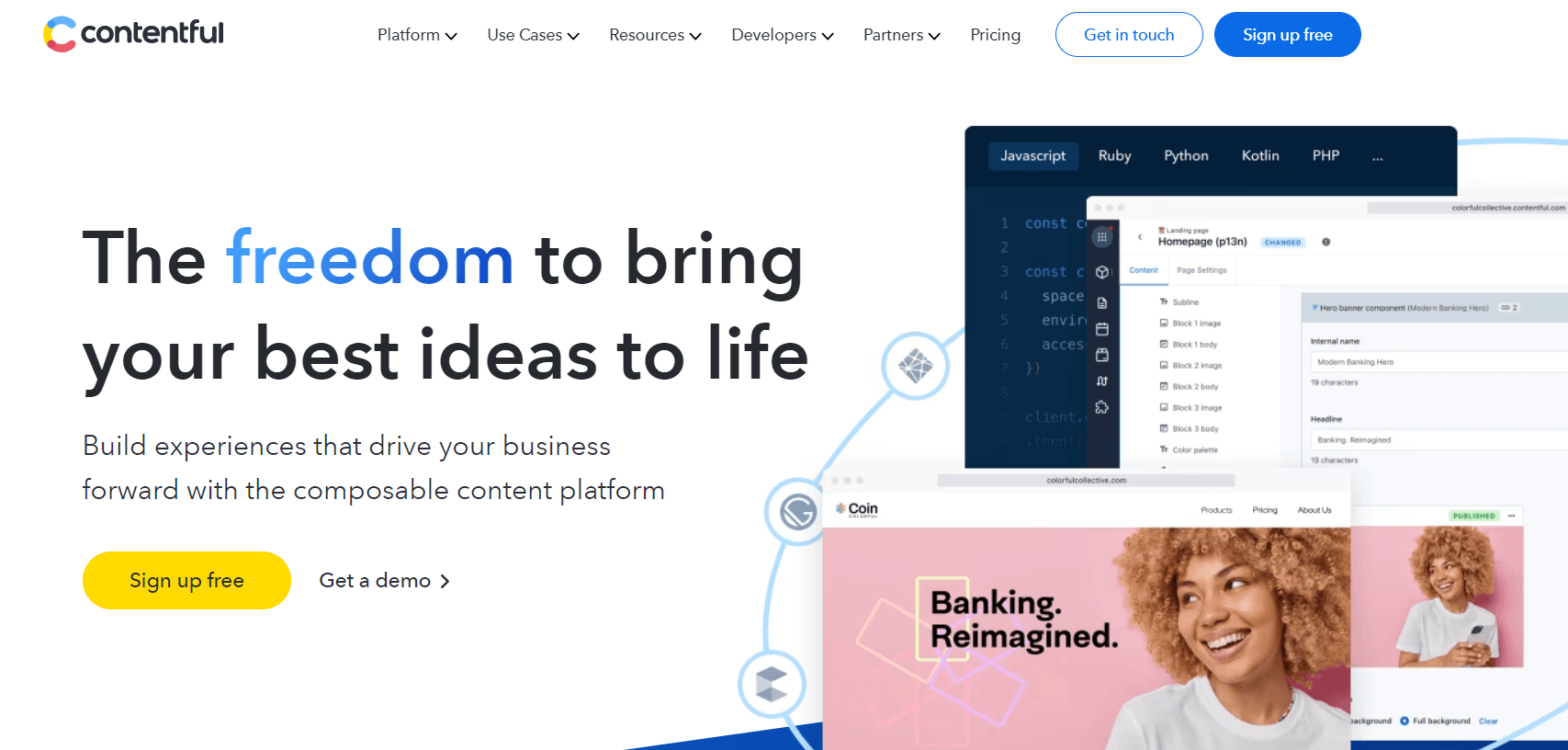 Contentful is a service that organizes website content management and development using agile methodology. This content management tool allows you to efficiently create and manage various content types. You'll also have access to templates that will enable you to tailor your website to the specific needs of your business.
Features:
Reusability enablement:

Save time and effort by creating content once and sharing it with multiple groups, different markets, and different channels or devices

Shared content models library:

Build and share landing pages, hero banners, and carousels, among other reusable elements, across multiple experiences with no coding or migration scripts required.

Automation capabilities:

Install, control, and link apps from a central program
Pricing: Free basic plan and premium plans start at $300 per month
G2 rating: 4.3 out of 5
30. Sprout Social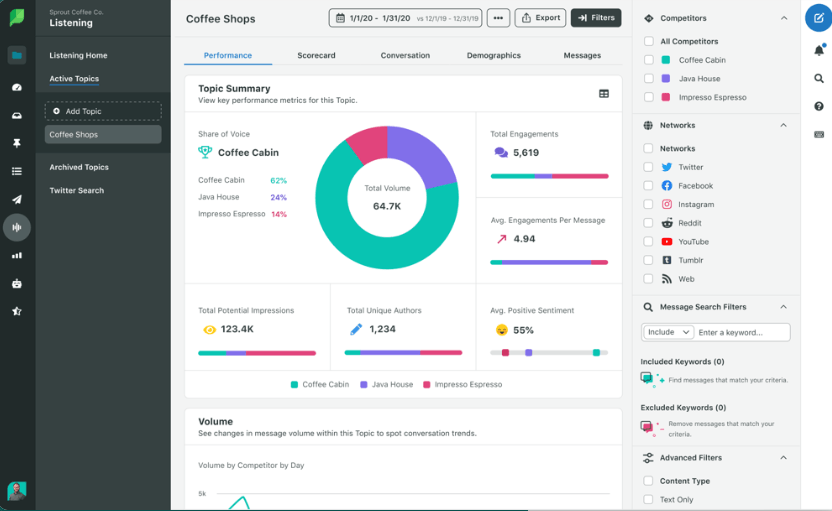 Sprout Social gives content management teams access to a suite of social media optimization tools, including publishing, analytics, and personalized suggestions. You can make workflows, schedule social media posts, and generate analytics reports to highlight the impact of different postings on your website traffic and audience interaction.
Features:
Message Tasking:

Convert social media posts into tasks, add relevant context, and send them to the appropriate team member for prompt action.

Multimedia publishing:

Make videos and photo collages ahead of time, edit them in a queue, and then post them to Twitter, Facebook, and Instagram.

Image editing:

Apply effects, type text, make modifications, and optimize photographs for each network.

Campaign tagging:

Send outgoing social media posts from Compose, label them with custom tags, and then sort them using the tags in the Content Calendar.
Pricing: Plans start at $249 per month
G2 rating: 4.3 out of 5
Measuring the metrics that affect your bottom line.
Are you interested in custom reporting that is specific to your unique business needs? Powered by MarketingCloudFX, WebFX creates custom reports based on the metrics that matter most to your company.
Leads

Transactions

Calls

Revenue
Learn More

Make content marketing hassle-free with the best content marketing tools and services
Are you ready to start optimizing your content? Our multi-award-winning content marketing team will create, edit, and promote SEO-friendly material for your company using our suite of content marketing tools and services.
From blog posts to social media content to videos, you can do it all with WebFX.
Browse our content marketing service plans, deliverables, and prices. And then, contact us online to connect with an experienced WebFX strategist.
How is your website's SEO?
Use our free tool to get your score calculated in under 60 seconds.
WebFX Careers
Join our mission to provide industry-leading digital marketing services to businesses around the globe - all while building your personal knowledge and growing as an individual.