With 93% of all online experiences starting with a search engine, it's important to get your website to rank in the results. People are constantly conducting searches online, and ranking in top search results will help more qualified leads find and contact your Charlotte, NC business.
Since SEO helps you reach people who are already searching for businesses like yours, it will help you connect with leads that are most likely to purchase.
It's important to note that results from SEO aren't instantaneous, but investing in SEO will set your Charlotte, NC business up for long-term success.

Good agencies have more than 50 testimonials.

Great agencies have more than 100 testimonials.

WebFX

has

500+ glowing client testimonials

.

What does that make us? You decide.

SEE WHAT MAKES US STAND OUT
Three key aspects of Charlotte SEO services
When you create your SEO plan, there are some aspects that play an important role in shaping your campaign. You want to make sure that you include these three aspects in your SEO plan (or as part of your Charlotte SEO services) to ensure maximum results.
If you're partnering with our Charlotte SEO firm, don't worry. We already include these essential SEO features as part of your custom strategy.
1. Keyword research
Keyword research is crucial for your SEO campaign. When people search keywords related to your Charlotte, NC business, you want to appear at the top of search results. This means that you will need to target keywords that potential customers search online.
So how do you choose the right keywords?
There are numerous keyword research tools you can use to generate a list of keywords. It is important that you focus on long-tail keywords, which are keywords that contain three or more words. These keywords are better than short-tail keywords, which only contain one or two words.
Long-tail keywords are better for your campaign because they generate better results. Your leads are using specific terms in their search queries. They do this to generate the best search results.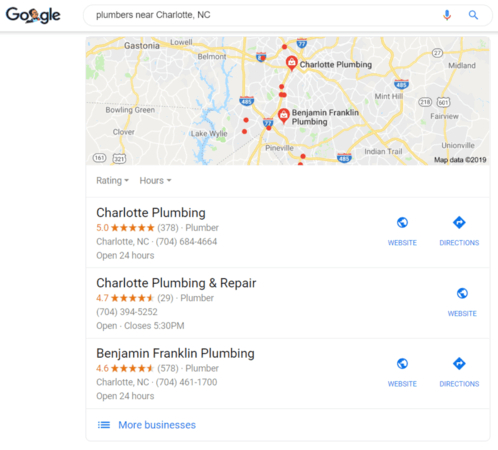 An example of a long-tail keyword is "plumbers near Charlotte, NC." This is a specific keyword that someone would use to find a business. On the other hand, a short-tail keyword like "plumbers," isn't very specific, and the searcher could be searching for any number of things.
When you optimize your site for long-tail keywords, you will attract leads that are most likely to become customers. In other words, you will avoid wasting money trying to reach people who aren't interested in what you offer.
Conducting keyword research and optimizing your site for keywords your audience searches online is a crucial first step for your SEO campaign.
2. Integrating keywords
Another important aspect of SEO is keyword integration. Once you select your long-tail keywords, you need to include them in key areas of your site. When Google crawls your pages, it looks for keywords to understand the content of your page.
There are numerous places you can integrate keywords for your campaign. This includes the headings, title, body text, and meta description of your pages. These are all great places to help your page rank for a keyword.
As you integrate keywords, be sure that you don't overdue it. This leads to keyword stuffing, which negatively impacts your rankings.
3. Earn backlinks
If you want to rank at the top of search results, you will need to earn backlinks from other high authority websites. Backlinks are valuable because they help establish your Charlotte, NC business as an authority in your field.
Earning backlinks sends a signal to Google that your information is credible and valuable. This will help you earn higher rankings so more leads can find your business.
Creating quality content is one of the best ways to earn backlinks. There are numerous types of shareable content you can create, including videos, infographics, and blogs. These all provide your Charlotte, NC business with the opportunity to connect to authority sites.
It is important that you create industry-specific content. You want to drive in leads that are interested in your business, so it is best to refrain from content that does not pertain to your business or industry. You won't attract the right leads if your content isn't tailored to topics in your industry.
When you create content, you can reach out to these authority sites and invite them to check out your content. If they like what they see, they may use it on their own page as a resource and include a link to your site. You will start to form relationships with authority sites and earn more backlinks.
By earning more backlinks, you will improve your site's ranking. This will allow you to obtain more valuable traffic for your Charlotte, NC business.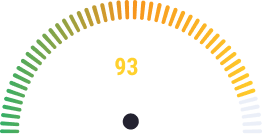 Experience the difference of our real results approach to digital marketing.
93% of customers are extremely satisfied with our results.
(Industry average is 56%)
"WebFX has consistently driven more customers to my business year over year. It continues to climb. I'm very happy!"
CHECK OUT More Testimonials