Small Business SEO Services: Grow Your Company With SEO
Use the power of search engines and small business SEO services to reach your target market and turn them into customers — without having to compete with big brands. Get a small business SEO package with everything your company needs, from keyword research to content promotion, today, and start growing!
Explore SEO Plans for Small Businesses
Silver Plan
$2,500 / month
150 keyphrases optimized

30 pages optimized

6 content, outreach, UX, or CRO assets per quarter

8 custom dashboards

Phone call, lead, and revenue tracking dashboard
200 keyphrases optimized

40 pages optimized

12 content, outreach, UX, or CRO assets per quarter

8 custom dashboards

Phone call, lead, and revenue tracking dashboard
Diamond Plan
$8,000 / month
300 keyphrases optimized

60 pages optimized

24 content, outreach, UX, or CRO assets per quarter

10 custom dashboards

Phone call, lead, and revenue tracking dashboard
Power your growth with revenue-driving small business SEO services
Consumers and business buyers alike rely on search engines to find, research, and make their next purchase. With search engine optimization (SEO), your growing company can reach these users at critical moments in their buying journey.
Our small business SEO services can help your team maximize those moments, helping you attract more customers and earn more revenue by researching and optimizing your website for high-value, low-competition keywords that attract your target audience and convert them into leads and clients.
If you're looking for complete small business SEO packages, choose WebFX.
With our tailored approach that focuses on achieving your company's goals, we deliver an unmatched client experience. That's why our client recommendation score beats the industry average by 488%. It's also one of the reasons behind our clients' incredible successes.
Are you ready to start optimizing your site for organic search? Contact us online to chat with an experienced strategist from our SEO team about not only improving your search engine rankings but also earning more revenue as a small business.
We have been very pleased with the SEO service we have received from WebFX thus far. Even though it has only been a very short time since SEO has started, we can already see a positive move in our page rank. We would recommend WebFX's SEO services to anyone looking to increase their web exposure.
Manager
JEWELRY COMPANY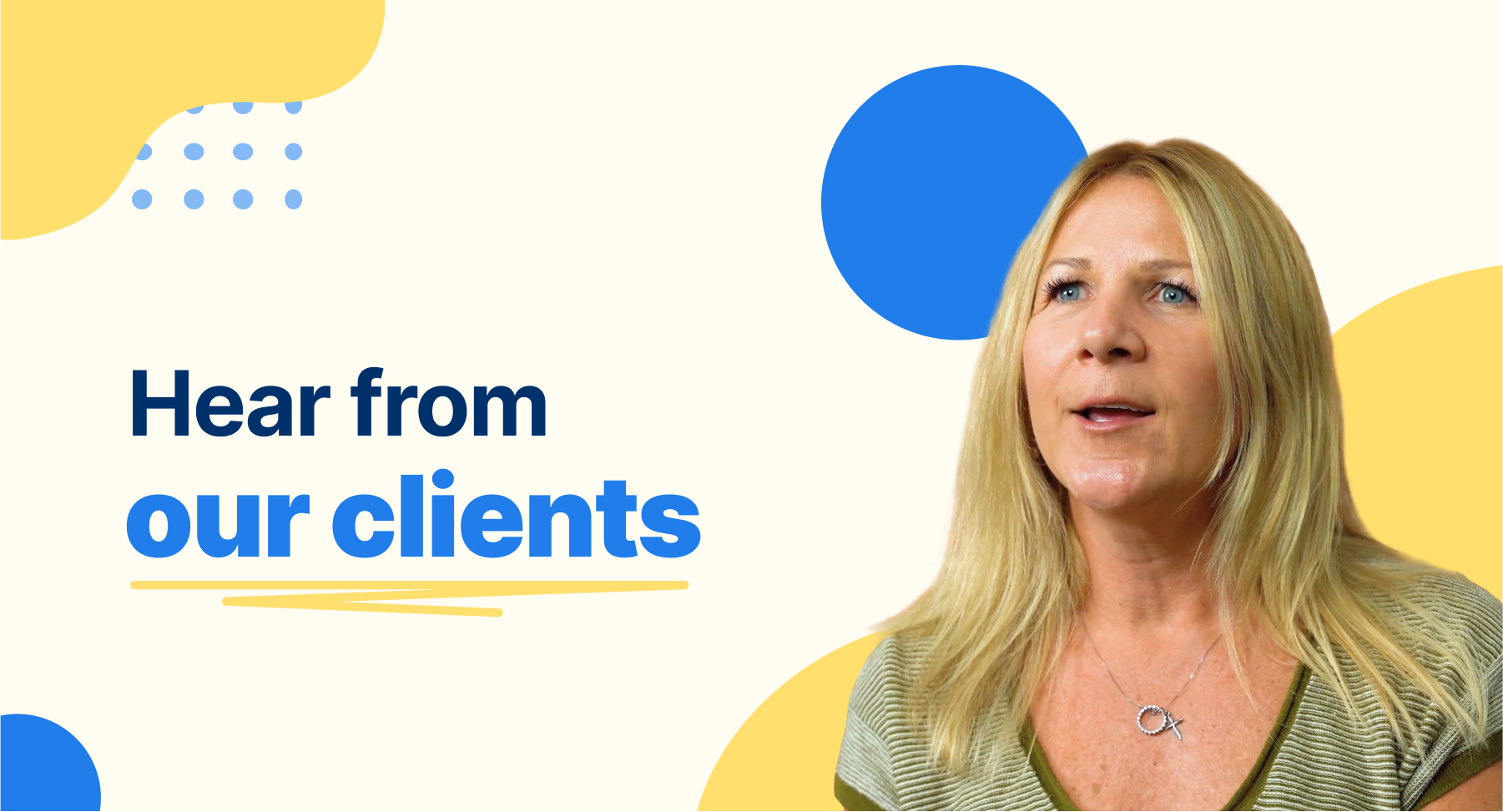 WebFX's SEO Services for Small Businesses
Explore our small business SEO packages now or request a proposal for a custom plan!
Features
Silver
Gold
Platinum
Diamond
Enterprise
Number of keyphrases optimized (Keyphrases with less than 1M results)
Up to 150
Up to 200
Up to 250
Up to 300
Custom
Pages Optimized
Up to 30
Up to 40
Up to 50
Up to 60
Custom
Technical Website Analysis & Opportunity Report
Custom
Keyword research & selection
Custom
Keyword mapping to target pages
Custom
Title Tags & Meta descriptions
Custom
Robots.txt optimization
Custom
XML sitemap creation & submission
Custom
Quarterly Earned Media Content Assets – Content, Linkbuilding, Consulting, or CRO Assets
6 Content, Outreach, UX, or CRO Assets
12 Content, Outreach, UX, or CRO Assets
15 Content, Outreach, UX, or CRO Assets
24 Content, Outreach, UX, or CRO Assets
Custom
Google Business Profile optimization (if needed)
Custom
Information architecture audit
Custom
Canonicalization analysis
Custom
Initial external link analysis and disavow
Custom
Link redirect audit
Custom
Internal linking restructuring & optimization
Custom
Duplicate content analysis
Custom
Header Tags Optimized (Ex. H1s)
Custom
Setup of website sitemap
Custom
Image optimization
Custom
Custom 404 error page setup and optimization
Custom
Schema Implementation (JSON-LD)
Custom
Google Analytics setup w/ conversion tracking
Custom
Google Analytics traffic analysis
Custom
Google Data Studio Reporting Dashboard Setup
8 dashboards
8 dashboards
10 dashboards
10 dashboards
Custom
Initial visitor profile report
Custom
Ongoing quarterly keyword ranking reporting
Custom
Ongoing monthly traffic, goal & CPL reporting
Custom
Ongoing user experience reporting (bounce rate, device category, etc.)
Custom
Ongoing quarterly competitor conquest reports
Custom
Keyword rank checker access with weekly updates (if requested)
Custom
Ability to check location data accuracy across 40+ local directories
Custom
A/B Testing of SERP title & description to improve clickthrough
Custom
Notification of new reviews (major review platforms)
Custom
CalltrackerFX access
Learn more
Leverages

Leverages

Leverages

Leverages

Custom
Analyze your leads to project the # of leads competitors receive on a monthly basis
Custom
Predict your and your competitors' market share on a monthly basis
Custom
Competitor intelligence login to view competitor data
Custom
LeadManagerFX access
Learn more
Leverages

Leverages

Leverages

Leverages

Custom
CompanyTrackerFX access
Learn more
Leverages

Leverages

Leverages

Leverages

Custom
ContentAnalyticsFX access
Learn more
Leverages

Leverages

Leverages

Leverages

Custom
Dedicated Internet Marketer
Custom
Online Project Management Platform
Custom
450+ SMEs behind campaign driving results
Custom
Website conversion analysis implementation
Custom
Custom
Custom
Custom
Custom
Initial campaign investment:(Two month duration)
$7,750
$12,750
$15,750
$18,750
Get Quote
Progressive monthly optimization:(6 month commitment – Subsequent 4 months)
$2,500
$5,000
$6,500
$8,000
Get Quote
GET STARTED
GET STARTED
GET STARTED
GET STARTED
GET STARTED
What does a small business SEO package include?
WebFX's SEO plans for small businesses include off-page, on-page, and technical SEO optimizations — and don't require any work from you or your team.
Every small business has unique needs, and nobody knows those needs better than you.
Still, a lot of small-to-midsized businesses have a lot in common in terms of marketing goals. That's why we offer small business SEO packages, allowing your company to choose the one that matches your goals and budget for growing your organization.

If you want a custom SEO plan for your small business, contact us online to chat with our team!
A few features of our SEO services for small businesses include:
Keyword research, analysis, and optimization
Server analysis and reporting
Quarterly content asset links or long form content creation
Google Analytics setup, tracking, dashboard creation, and reporting
Tweaks made to initial copywriting
A dedicated account representative
Because every company is different, WebFX has a number of advanced SEO features designed to boost your business far above your competitors.
These strategies aren't always needed for businesses like yours, but they give your website extra ranking power that your competitors probably won't have.
With that in mind, advanced SEO services can do wonders for a small business, especially in highly competitive industries like ecommerce.
Our more advanced services include deliverables like:
Additional link building activities
Additional quarterly copywriting or copy adjustments
Competitor analysis report
Duplicate content analysis report
Weekly updates on ranking for specific keywords
Our small business SEO services can be custom-tailored to match your unique needs. Simply contact us to explain your needs or goals, and we'll work with you to create a package that suits you and offers all the features you desire.
WebFX is a partner businesses trust.
Hear from HydroWorx, who saw a 236% increase in organic sessions with WebFX services.
Watch the Video Testimonial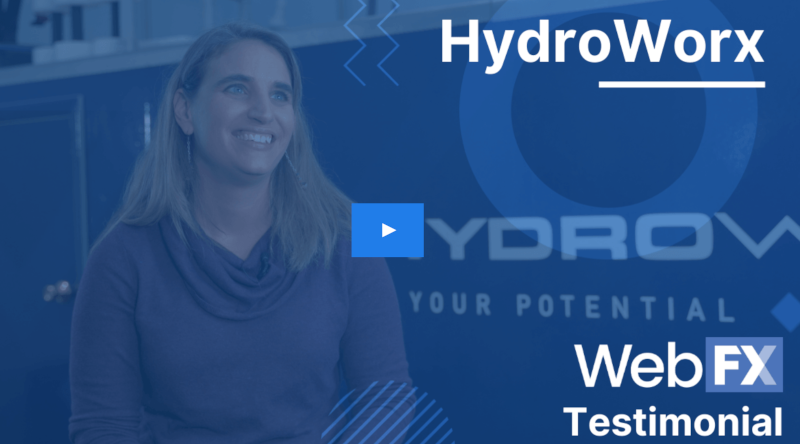 What to expect from our SMB SEO services
At WebFX, we offer SMB SEO services that help you grow your business online. Here's a closer look at some of the features our SMB SEO packages include:
Website SEO audit
Before diving in and making changes to your website for SEO, it's essential to see where your website currently stands and what's working. With an SEO audit, you'll get the complete picture of your current search engine performance.
Our SEO services for SMBs include a website SEO audit. We'll take a deep dive into your business's current SEO efforts and uncover what's working and what needs improvement.
Keyword optimization
If you want people to find your business in search results, you need to optimize for relevant keywords. Keywords trigger your listings to appear in industry-related searches so that you can attract and drive qualified traffic for your business.
With SMB SEO services from WebFX, we'll conduct keyword research to find the most relevant terms for your website. We'll help you integrate relevant keywords into your pages and get your pages ranking in searches that drive traffic that turns into leads.
Content creation
Content creation is another critical component to helping your business rank in search results. Creating content enables you to create ways for people to discover your business in search while accessing industry-related information they want. This strategy allows you to establish yourself as a trusted authority in your field.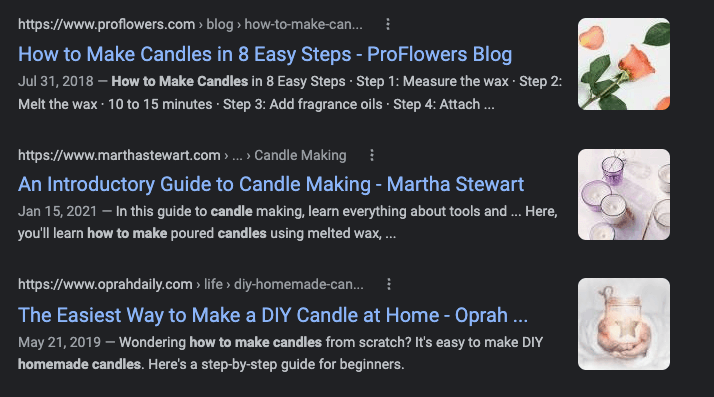 At WebFX, we'll help you craft compelling content that drives people to visit your website. We'll ensure your content is informative and helpful, so you can keep people engaged as they read your content.
Title tag and meta description optimization
When users search online, the first two elements they see in search results are your title tag and meta description. These elements tell searchers what to expect when they click on your listing in the search results.

At WebFX, our small business SEO services include optimizing those two tags to help you generate clicks. We'll integrate your target keyword and create compelling tags to entice people to choose your listing over the competition.
Internal link optimization
A critical part of SEO is getting Google to crawl and index your pages. Google can't rank your pages in search results without knowing each page's context to determine its relevancy. Internal linking can help Google discover new (and old) pages on your website and index them to rank in search results.
At WebFX, we'll help you optimize and add internal links to your pages, so Google can index more content from your site and help you drive additional traffic.
Competitor analysis
You're not the only company vying for those spots when you're trying to get the top spots in search results. Other SMBs are looking to rank for keywords like yours, so you need to know what your competition is doing by conducting a competitor analysis.
With SMB SEO services from WebFX, we'll conduct a competitor analysis for your business. We'll help you see what your competition is doing and develop ways you can outperform your competition.
How does SEO for small businesses benefit my company?
SEO for small businesses helps your company by making you visible in one of the most popular online channels: search. When you rank higher in search results for relevant keywords, you can bring more users to your website, which allows you to turn them into leads or clients.
For more perspective on why SEO matters to small businesses, check out these statistics:
When you invest in SEO, like through small business SEO services, you take advantage of SEO's benefits. Plus, you gain a competitive edge over other small companies, as only around 35% of small-to-midsized businesses (SMBs) optimize their websites for SEO.
Still on the fence about investing in SEO services for your SMB? Here are three reasons you'll want to start:
1. SMB SEO services help you drive more qualified traffic to your website
Every business has goals. Whether you're looking to increase leads, earn sales, or drive revenue, you're aiming to achieve something for your business. Before you can achieve those goals, though, you need to get people to discover your business and check out your website.
That's where SMB SEO services can help. With a professional team of SEO experts working on your campaign, they can help you rank in relevant search results to drive more qualified traffic to your website.
2. SMB SEO services help you increase brand awareness
Brand awareness is a critical component for helping your business earn more leads and sales. People like to choose brands they trust and know when it comes time to decide. That's why building brand awareness is so critical for helping you grow your business.
With SMB SEO services, you help your business rank in more relevant search results. Even if searchers don't click on your listing, they'll see your business appearing for terms they search. As a result, people will get familiar with your company and turn to you as an option during their decision-making process.
3. SMB SEO services help you earn more sales
When people are ready to make purchasing decisions, they're often turning to search engines to help them find the right business or product. If your company ranks highly in those search results, people will likely choose your business when ready to convert.
Small business SEO services will help you reach people at critical points in the purchasing process so that you can earn more sales and revenue for your company.
Small business SEO services: A preview of working with WebFX
Our small business SEO services are designed to fit the unique needs of each of our clients.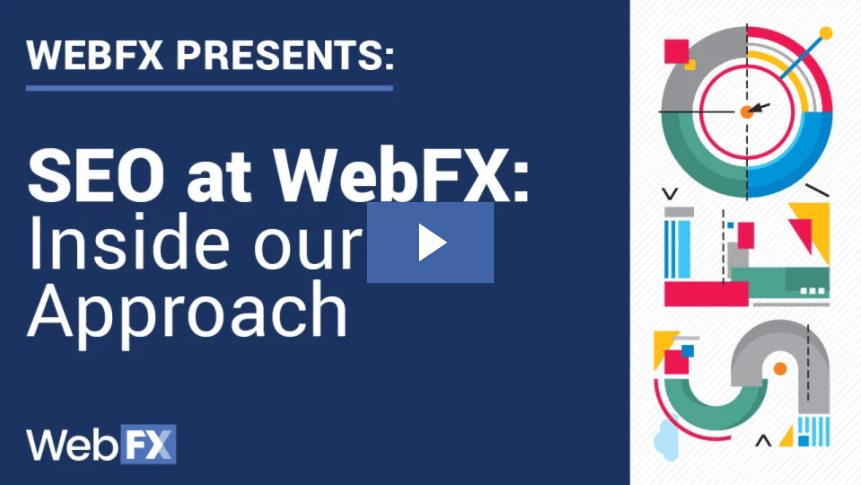 Some of the businesses we work with are looking for local exposure only, so we will develop a local SEO package that involves exposing their website to searchers only in their area. On the other hand, businesses that seek nationwide or even worldwide exposure will receive an SEO package designed to meet this need.
We start each of our SEO plans by asking the companies we work with questions about their small business. We ask about their goals, needs, the performance of their website, and the keywords they feel are most relevant to their business, products, or services.
From there, we'll do some research to determine what the best approach will be to improve your website's visibility in search for the keywords that make the most sense for your company. Then we'll present our recommendations for implementation.
Depending on your needs, we may suggest new copy for your site that is optimized for the keywords most important to you, or building links to your website from high authority sites through the use of content like infographics or blog posts. Or, if your SEO is already rather good, we may create a monthly package for you that includes quarterly content creation and monitoring of your rankings.
Above all else, WebFX recognizes that small businesses are unique.
Every business requires something different for their SEO. That's why our SEO packages for small businesses are customized to fit your unique needs, and made to fit your goals — not the other way around.
Why invest in SMB SEO services from WebFX
If you're ready to invest in SEO for SMBs, look no further than WebFX. We specialize in SEO and provide you with everything you need to have a successful SEO strategy.
Here's why you'll want to partner with us:
We drive results for our clients
When you invest in SMB SEO services, your goal is to achieve your goals and drive results. You need a partner that has experience with helping companies grow through SEO.
At WebFX, we're no strangers to helping companies drive incredible results. Our team of experts has helped our clients achieve the following in the past five years:
Earn over $3 billion in revenue
Obtain over 7.8 million leads
Process over 12.9 million transactions
We know what it takes to drive results for our clients, so you can feel confident we'll do the same for your SMB.
We're flexible
Even when you outsource your marketing to SEO experts, you want some say in how your marketing looks. It's still your business, so you want to have control over your involvement in the marketing process.
At WebFX, we provide you with the flexibility to choose your level of involvement. We adjust to meet your needs, whether you want to take a hands-on or hands-off approach.
We have an experienced team of marketers
SEO isn't a once-and-done strategy — it requires continual optimization to help you drive the best results with your campaigns. That's why you must choose a skilled team of experts that will continually optimize your SEO to keep driving results for your business.
At WebFX, we have an experienced team of SEO marketers that know how to craft results-driven campaigns. Our team of over 500 award-winning marketing experts has over 1.6 million hours of expertise, so you can feel confident you're working with people who know SEO.
We give our clients one-on-one attention
Your business is unique, and you want a partner that understands that — you don't want to be treated as just another number. When you invest in SEO for SMBs, you want to choose a partner that puts your company first.
At WebFX, we prioritize our clients. We take a client-first approach to marketing and create custom strategies tailored to your unique business.
Additionally, we provide you with a dedicated account manager to get individualized attention for your marketing. Whether you have questions about your strategy, concerns about something you're seeing, or want to share an idea, you know exactly who to contact.
Your dedicated account manager will keep you informed of everything we do –– they'll provide you with monthly reporting on your campaigns. With this reporting, your account manager will help you uncover actionable insights to improve your campaigns and drive better results.

We offer transparency
When you invest in SMB SEO services, you want to know what you're getting and how much it costs. This task often presents challenges, though, because many companies don't publish their pricing or packages online –– you must contact them and wait to hear back.
At WebFX, we make it easy for you to see if our small business SEO services fit your budget. We publish all our packages and prices online, making it easy to determine if we offer what you need.
Finally, WebFX is a full-service Internet marketing firm, and we offer services that go far beyond SEO. If you find yourself in need of compelling website design, additional content creation, or other digital marketing services, why go anywhere else? We can build a custom small business marketing plan that incorporates any future needs with your existing SEO services, making sure all of your digital marketing strategies work together seamlessly.
Independent research from Clutch has named WebFX the
top SEO company

in the United States.

Clutch has personally interviewed more than 250 WebFX clients to discuss their experience partnering with us.

Read More Clutch Reviews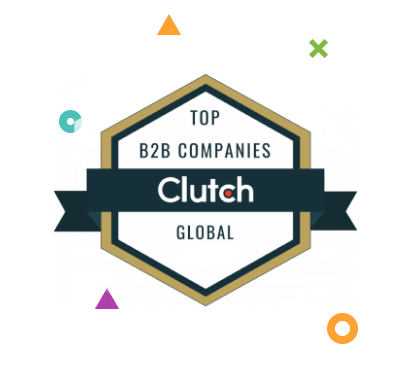 FAQs about small business SEO services
Looking to learn more about SEO services for your small business? Browse our FAQ:
What are small business SEO services?
Small business SEO services are SEO plans that optimize your small business's website to improve its visibility in organic search results on Google, Bing, and other search engines. Typically, small business SEO services will include on-page, off-page, and technical SEO.
How much do small business SEO services cost?
How much small business SEO services cost depends on several factors. In most cases, the average cost for small business SEO services is $1500 to $5000 per month. For hourly-based SEO, small businesses typically pay $100 to $300 per hour.
Invest in SMB SEO services from a top-rated agency
When you invest in SEO for SMBs, you're investing in the opportunity to boost your brand's visibility, increase qualified traffic, and drive more revenue. If you're looking for the right partner to help you with your SEO needs, look no further than WebFX.
With over 25 years of experience in digital marketing, we know how to craft SEO campaigns that help SMBs grow. We have over 1,020 testimonials that attest to the incredible work we do for our clients!
Want to start driving more revenue for your SMB? Contact us online or call us today at 888-601-5359 to speak with a strategist about our SEO services!