What Is an Online Marketplace? Learn Everything You Need to Know
An online marketplace is an ecommerce platform where third parties sell products or services. Examples of online marketplaces include Amazon, Walmart, and eBay. Keep reading to learn more about the definition of online marketplaces!
Did you know that consumers spent $2.6 trillion globally on the top 100 online marketplaces in 2023? More consumers are shifting towards using online marketplaces to find the products or services they need.
So, if your business wants to reach consumers where they shop, it's time to start selling on an online marketplace.
On this page, we'll answer your questions about selling on online marketplaces, including:
If you need help building an online marketplace, our team of over 500 marketing experts is ready to help. Contact us online or call us today at 888-601-5359 to speak with a strategist about how we can help you sell more online!
Partner with a team of ecommerce masters!
WebFX campaigns have delivered more than 12,936,451 ecommerce transactions in the last 5 years
Read the Case Studies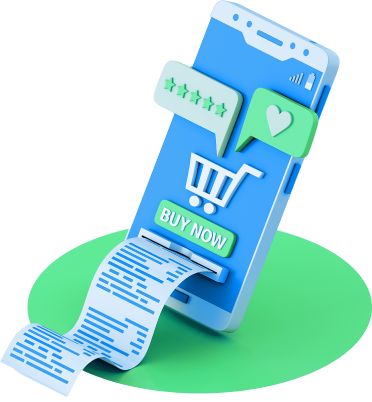 Definition: Online marketplace
An online marketplace is a platform where different businesses can collectively sell their products or services to a pre-established customer base. Online marketplaces create a place for people to see all available options for a product or service from different sellers.
What are examples of online marketplaces?
Some of the most popular marketplaces include:
Amazon Marketplace
Facebook Marketplace
Angi
Thumbtack
Walmart Marketplace
eBay
and more
Two major types of online marketplaces
Now that we've looked at the online marketplace definition, let's look at the two major types of marketplaces:
1. Ecommerce marketplaces
When you hear about selling on online marketplaces, they're referring to ecommerce marketplaces. These online spaces are the most common for people to sell their products online. Ecommerce marketplaces allow companies to sell various products, from clothes to food to digital downloads.
2. Serviced-based marketplaces
In addition to ecommerce marketplaces, there are also marketplaces explicitly built for businesses to sell services. These marketplaces allow users to look for service professionals, from plumbers to painters to wedding photographers.
What are the benefits of using an online marketplace?
After asking "what is an online marketplace," the next most common question is, "why should I sell on an online marketplace?" Well, there are four significant benefits to selling your products on an online marketplace:
1. Online marketplaces give you access to an existing customer base
One of the most significant benefits of selling on online marketplaces is access to an existing customer base. When you establish a business in your market, it takes time to attract prospects to your website and encourage them to buy your products.
With an online marketplace, you don't have to worry about building a customer base. You get immediate access to a large pool of customers interested in what you offer. It allows you to save time creating a customer base and start selling immediately.
2. Online marketplaces allow people to discover your business
Another great benefit of using marketplaces online is that it helps people discover your business. There are thousands of people looking for the products you offer that haven't found your business yet.
When you build a presence on online marketplaces, though, more people can discover your business. Since they're already shopping for the products you offer, it's easy for these prospects to come across your company while browsing for relevant products. As a result, more people will discover your brand and products.
3. Online marketplaces help you build trust
Did you know that 81% of people say that brand trust is a deal-breaker when it comes to making a purchase?
Building trust with your audience and confidence in your product is critical, but it can be challenging if you're still trying to establish your brand in your market. Even if people discover your brand while searching online, they may not feel confident buying from you.
If you sell on a marketplace, though, people are more likely to trust your business. Since the trust of the marketplace host backs you, people feel more confident buying from you because they know the marketplace will solve any issues should they arise.
Then, if you deliver a great product and great experience, it helps you continue to earn your audiences' trust.
4. Online marketplaces are favored by shoppers
If you're hesitant about selling on online marketplaces, consider this: People like shopping on marketplaces.
Many people like to use marketplaces because of the convenience they offer. You can buy everything you need in one place and one transaction without having to shop on multiple websites. Not to mention, shoppers get a wider variety of options, which helps them find the right product faster.
Since people like shopping on these marketplaces, it's an excellent idea for your business to reach these people where they like to shop.
4 of the best online marketplaces to consider
Ready to start selling online? Let's look at the top four places to sell your products or services online!
1. Amazon
One of the best online marketplaces to sell products and services is Amazon. Over 1 million small-to-midsized businesses (SMBs) sell on Amazon's platform.
Selling products on Amazon
Amazon is one of the most popular places for businesses to sell their products. To start selling on Amazon Marketplace, you must create a seller's account and choose your selling plan.
You can choose the individual plan, which costs $0.99 per item sold (plus additional fees) if you sell less than 40 units per month. If you sell more, you'll have to opt for the Professional plan, which costs $39.99 per month (plus additional fees).
Once you select your plan, you can start creating your storefront. You'll want to take the time to make a branded storefront to help people get familiar with your business. Integrate your brand's unique style throughout your store to help people get acquainted with your company.

After you create your storefront, you'll want to upload your products. When you create product listings, make sure you use high-quality photos that show all angles of your product. You'll also want to add essential product details that can help you convince someone to buy your product.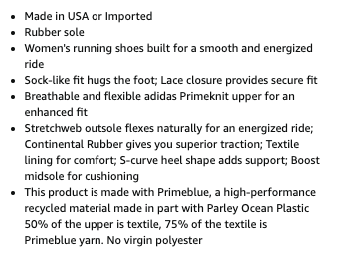 Additionally, you'll want to optimize your product listings for keywords to help your products appear in relevant search results. You can use a keyword research tool to help you find the right terms.
Selling services on Amazon
In addition to selling products, businesses can also sell services. Amazon Home Services enables service businesses to sell their services along with products people buy.
For example, if someone buys a home theater setup, they can add the services to their cart and hire someone through Amazon to put the home theater together.
The services on Amazon are limited to the assembly of products, but it can be an excellent opportunity to make a little more money for your business and build a relationship with potential future customers.
For example, if someone buys a sink vanity and your plumbing business installs it for them, they may keep your business in mind next time they have plumbing troubles.
To join Amazon Home Services, you'll need to fill out an application.
2. eBay
If you're interested in selling on online marketplaces, check out eBay. eBay is an excellent marketplace for businesses to sell new and used products.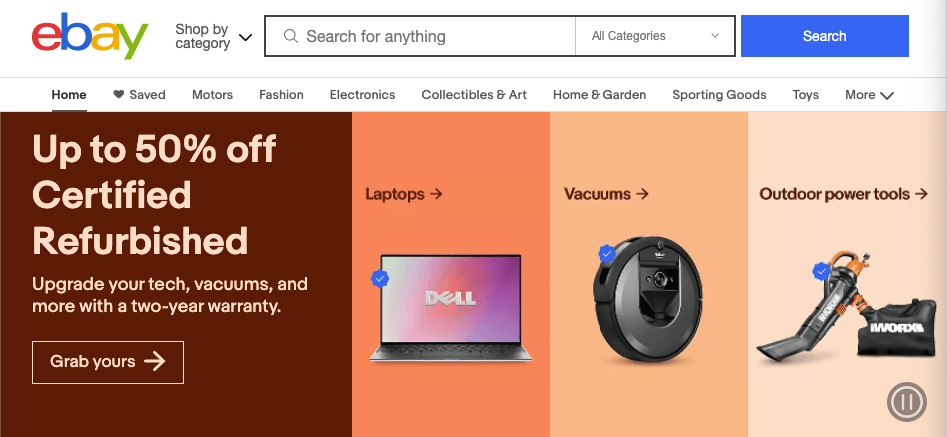 To start selling on eBay, you'll need to create an account and choose your store plan. eBay offers multiple store plans that you can choose from, depending upon how many listings you need for your store.
Once you choose your plan, you can start uploading your products to your eBay store. Make sure that your products use high-quality photos to showcase what you offer. You'll also want to ensure that you add a detailed description, so shoppers get all the information they need.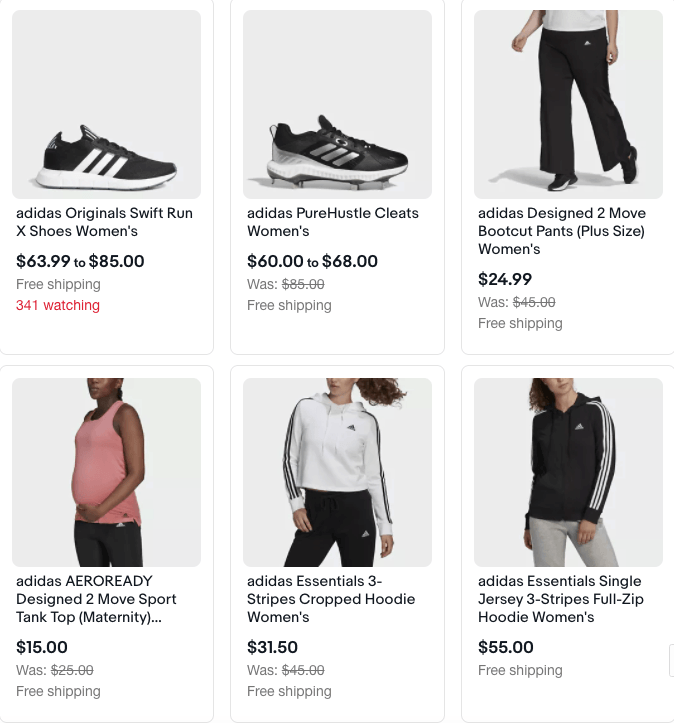 You can upload new and used products, depending upon what type of business you run. If you own a second-hand golf store, for example, eBay is a great place to share your stock of used clubs.
Once you upload and launch your product listings, you can sell to 183 million buyers on the platform.
3. Angi
If you're looking for one of the best online marketplaces for selling services, look at Angi. Angi, formerly known as Angie's List, is a service-based marketplace that enables professionals to connect with clients who need their services.
Angi is available to multiple types of service businesses, including:
Plumbers
Handymen
Landscapers
Roofers
Electricians
Fence installers
Housekeepers
And much more!
To join Angi, you'll have to register your business on their website. Once you register on Angi, you'll wait for clients to reach out about your services through the platform.
Angi notifies you when you have a new lead so you can converse with these customers and see if you can fulfill their needs. This platform makes it easy for you to create and send quotes for clients to help you earn more business.
4. Thumbtack
One of the best marketplaces online for service businesses is Thumbtack. Thumbtack is a great place to sell multiple types of services.

Thumbtack is a great website for people to find:
Movers
Electricians
Plumbers
Wedding planners
Wedding photographers
Personal trainers
App developers
Web designers
And so much more
Whereas Angi focuses on more repair and maintenance-type businesses, Thumbtack serves a broader audience of service businesses.
To get started on Thumbtack, follow these steps:
Go to the pro sign up page
List the service you provide and location
Click Get Leads
Follow the prompts to complete set up
Once you're registered, you can start listing all your services to your profile. Every time you add a service, you must include your travel areas, job types, and the time you're available to do those jobs.
After you list all your services, you'll be contacted if someone needs a job done that fits all your parameters.
Bonus: Additional online marketplaces to sell online
The four marketplaces listed above aren't the only options available to your business. You can sell your products or services on numerous other marketplaces.
Here are some ecommerce marketplaces to check out:
Here are some service-based marketplaces to investigate:
What is an online marketplace? Your key to unlocking more revenue
The best online marketplaces will help you reach a larger audience of people interested in your products or services. These platforms allow you to reach more qualified leads that you can turn into sales and revenue for your business.
If you're feeling overwhelmed with trying to build your presence on these online marketplaces, WebFX can help. We offer dozens of services to help businesses develop their presence on online marketplaces, including:
Backed by a team of award-winning marketers, you can feel confident we'll help you drive more revenue through the best online marketplaces on the web.
Contact us online or call us today at 888-601-5359 to speak with a strategist!