Mastering Search Engine Advertising — Successful Google SEA
Advertising has come a long way since its humble beginnings in newspapers. Today, marketers have the option to advertise their products and services in countless ways — and one of the best is search engine advertising.
But why is it one of the best? Consider that 93% of online experiences begin with a search engine. Long story short, if users are shopping online, nearly all of them will begin by typing their query into a search engine.
That means if you're not advertising there, you're bound to lose tons of valuable site traffic and conversions.
So, what are the different types of search engine advertising? How do you set up a search engine advertising campaign? How do you choose a search engine advertising agency?
We'll answer these questions and more below. If you'd like to speak with a specialist about search engine marketing company services from WebFX, give us a call at 888-601-5359!
Our digital marketing campaigns impact the metrics that improve your bottom line.
See More Results

WebFX has driven the following results for clients:

$3 billion
In client revenue

7.8 million
Leads for our clients

5.2 million
Client phone calls
What is search engine advertising?
We'll keep this short and sweet. Search engine advertising refers to the way in which you promote your products and services in search engine results pages.
Search engine advertising in Google
Search engine results pages, also known as SERPS, are the long pages of results that appear when you type a search query into Google.
When you use search engine advertising to promote your products and services in Google, you'll appear at the top of SERPs in ad space that is dedicated to paid advertisements.
It goes without saying that you'll have to pay for that ad space, but don't worry — it's nothing like taking out an ad in your local newspaper. If you place an ad in a magazine, newspaper, or opt for a billboard, you pay for the space, regardless of who sees it.
With search engine advertising in Google, you only pay for the ad when a user clicks on it. This makes search engine advertising an extremely cost-effective marketing strategy.
What's the difference between SEA and SEO?
Google's algorithm ranks other content found in SERPs by determining the relevance of the content, how helpful it will be to users, domain authority of the website, and the user experience provided, among other things.
These results that appear below ads are called organic results. This is where search engine advertising (SEA) and search engine optimization (SEO) differ just a little.
SEA is focused on bypassing organic results and instead, showing up in reserved ad space in SERPs. SEO on the other hand is focused on helping your website appear organically.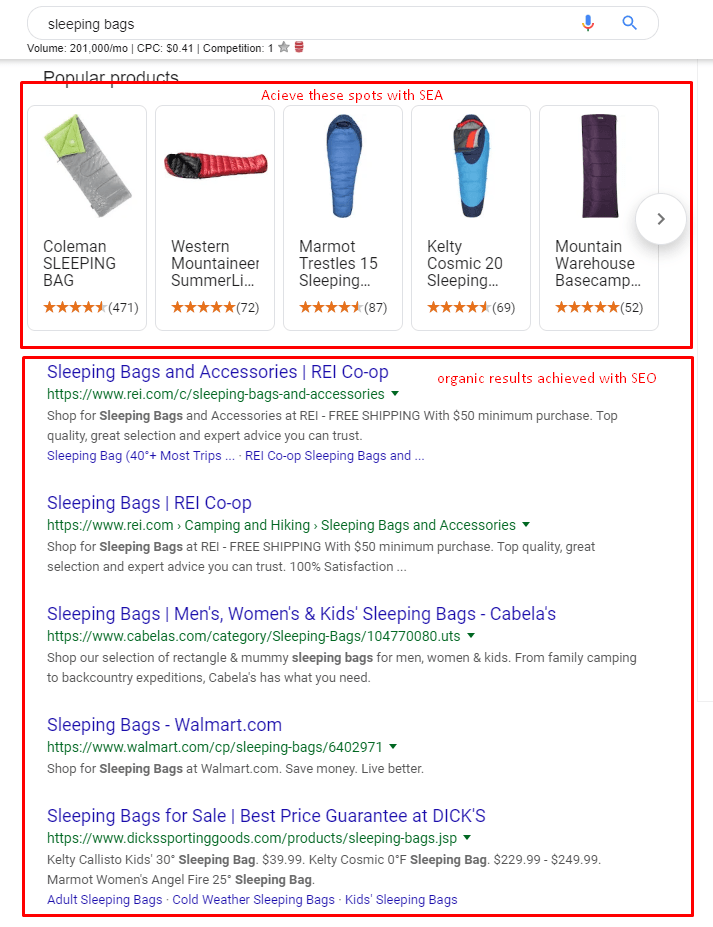 Types of search engine advertising
The ultimate goal of businesses is to entice users to click to their website and buy their products. So essentially, anything that shows up on SERPs is a form of search engine advertising.
However, when it comes down to it, search engine advertising is better known as pay-per-click (PPC) advertising.
These are the ads that show up in search engine results pages when users search for your products or services. There are a few different kinds to mention, so check out the different types of SEA below!
Text ads
Text ads are self-explanatory in that they only utilize text. These ads show up at the top of SERPs to target your most valuable customers. They include a link to your product or services, the URL, a short explanation, and an "Ad" badge to let users know it's an advertisement.

You can get creative with your text ads by using ad extensions, which allow you to customize your text ad listing. Here are some options you can select with Google ad extensions:
Location extensions: Location extensions are great if you're looking to sell products or services to a local audience from your storefront. This extension allows you to add a location, a call button, and a link to your business details to make it extremely easy for users to find and contact your store.
Affiliate location extensions: This extension is perfect if you sell your product at retail stores. It helps users find chains that offer your products.
Callout extensions: Callouts are intended to encourage users to convert offline, meaning they're not meant to encourage online purchasing. For example, a callout could be "free delivery."
Call extensions: If you're looking for a way to increase calls to your business, you can use call extensions to add a phone number or call button to your ads.
Message extensions: Do you want people to text you from your ad? You can use message extensions, which allow people to message directly from your ad.
Sitelink extensions: If you're looking to send customers directly to your website, sitelink extensions can help you do just that by adding things like "order now" buttons to your ads.
Structured snippet extensions: This extension helps you highlight things that mean most to your consumers, like a specific product or service category.
Price extensions: Price extensions allow customers to browse your products and services directly from your ad.
App extensions: If you have an app that you want users to download, use the app extension to help!
Product shopping ads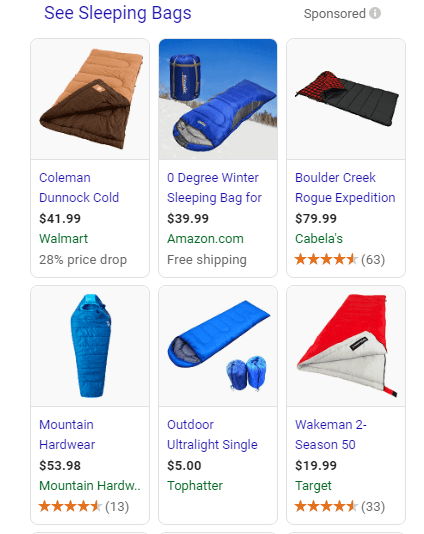 If you want users to see and click your product straight from the SERPs, then product shopping ads are a great option. They give users all the information they need to determine whether or not you offer just what they're looking for.
Product shopping ads show up above the SERPs — typically at the top, on the top right, or just below text ad results.
They feature a photo of your product, along with a title, the price, the name of your store, customer ratings, and more.
How does search engine advertising in Google work?
Now that you know what search engine advertising is, in addition to the different kinds of ads, it's time to talk about how search engine advertising in Google actually works.
How do you create search engine ads?
1. Start by determining your search engine advertising goals
Every business is different, and every business has different goals. Depending on what kind of products and services you sell, you may have any of the following goals for your business:
More traffic to your website
More traffic to your storefront
More sales for a specific product
More sign-ups for a specific service
More calls to your business
Regardless of your business goals, it's crucial that you set them before starting to craft your search engine advertising campaign.
2. Create a Google Ads account
In order to have a successful search engine advertising campaign in Google, you'll need to sign up for Google's proprietary ad platform, Google Ads.
Signing up is a breeze because you'll have the opportunity to create your account online or call a specialist for help. If you're signing up online, you'll be asked questions about your main advertising goal, if you're experienced with Google ads, what business you want to advertise, and more.
There are a few steps to signing up, but it's extremely user-friendly and will have you up and running in no time.
3. Determine your target keywords
Any form of online advertising is based on keywords. You can think of keywords as trigger points that tell Google what to deliver to users.
For example, if a user types "pizza" in the search bar, Google isn't going to return results for chicken nuggets. This might seem obvious with this example, but the more detailed you get with your keywords, the more crucial targeting becomes.
If you sell "white pizza in Manhattan," Google will provide ads to users that target that keyword. This explains exactly why keyword targeting is crucial to your campaign. If you don't target the right ones, Google won't trigger your ads and your most qualified customers won't even know you exist.
There are a few ways to come up with your list of target keywords that are likely to perform well for your business. Here's how to get started.
Jot down your products and services: A good place to start with keywords is your main products and services. Obviously, this is what you sell and likely hits on some keywords that you want to target. These general keywords are extremely difficult to rank for since the search volume is high and so is the competition. You'll pay a pretty penny to place ads targeting these keywords.
Expand on your products and services: After making a general list of products and services, start a new sheet with one keyword at the top. From there, break that keyword down into more granular terms. These are called long-tail keywords, and though they'll likely get far less clicks, the users that do click them are highly likely to convert. You'll pay far less to target these keywords than the general ones.
Use tools to come up with even more keywords: We love tools like KeywordsFX that help you come up with more valuable keywords. All you have to do is insert any one of your keywords into the search bar, and you'll see a treasure trove of keywords that are similar. This can help you gain insight into the search volume of other keywords that users are searching, as well as questions involving your keyword and even modifiers.
After you've come up with your final list of keywords, you're ready to start your campaign.
4. Determine your search engine advertising budget
Budget is a huge part of your SEA campaign, and if you don't set one, you could find yourself and your business in financial trouble. It's easy to throw money away on a campaign, but knowing where to cap your finances is important.
Determine exactly how much of your marketing budget you have available to spend on ads every month. Google Ads makes it extremely easy to set a budget and stick to it, since you can set spending limits in which Google will stop displaying your ad after your daily or monthly budget is met.
Don't forget, you only pay every time someone clicks your ad, and you don't ever pay up front for ad space.
5. Create the perfect ad
After you've determined what keywords you want to use and how much of your budget is allocated to your ads, you can start to craft the perfect ad.
You'll want to look back to step number one and remind yourself of the goals you have for your business. If one of your goals is more phone calls, for example, choose an ad format that features your phone number.
If you want to increase clicks, you'll likely want to choose a shopping ad that shows a picture of your product and customer ratings.
Google Ads provides you with tons of choices and allows you to not only design the perfect ad, but also ensure that it targets the keywords that mean the most to your business and industry as a whole.
6. Monitor your ad success
When you set up a campaign, the end goal is to get more calls, get more site traffic, sell more products, or whatever your objectives may be. Without analytics and monitoring, you'll never know if you're meeting those goals.
Ad analytics help you make important decisions about your campaign to ensure that it's as successful as possible. By looking at your ad analytics, you can determine things like:
Whether or not you need to target different keywords
If you'd benefit from trying a different kind of ad
If you need to increase your spending budget
This information is critical to the overall success of your campaign, so be sure to watch your analytics closely!
Do I need to hire a search engine advertising agency?
If you're feeling overwhelmed about your search engine advertising campaign after reading through the bulk of this page, you're not alone. Advertising on search engines can be overwhelming, especially since there are so many small details that go into creating the perfect campaign.
However, you don't have to do it all on your own.
If you run your business, it's likely that you already have a lot on your plate. If you don't have the time or extra employees necessary to implement an in-house search engine advertising strategy, it's best to leave it to the experts.
Did you know that WebFX is a full-service digital marketing agency that specializes in PPC ads and search engine advertising? Check out what we have to offer in search engine advertising and contact us if you have any questions!
Choosing the right search engine advertising agency
With so many search engine advertising agencies, it can be difficult to choose the perfect one that fits your business. However, there are a few ways you can determine whether or not they're the real deal.
Testimonials: Testimonials are essentially "votes of confidence" to potential customers. They usually appear on an agency's website, and they are short snippets submitted by previous customers that let potential customers know what to expect. The great thing about testimonials? They're all positive, so the more an agency has, the better. WebFX has over 1020 client testimonials!
Reviews: Reviews differ from testimonials in that they aren't always positive, but that can help you determine the quality of a search engine advertising agency. Check out third-party review sites like Clutch to read what users have to say about the agencies you're considering. You want to look for an agency that has more positive reviews than negative. However, don't let one or two bad reviews scare you away. Everyone is different, which means it's not completely out of the question that even the best search engine advertising agency would have a few negative reviews.
Transparent pricing: Remember earlier how we talked about how determining your budget up front is crucial? It is, which is why finding an agency that posts its pricing online is a huge perk. When a search engine advertising agency shares its pricing with the public, it means they have nothing to hide. It also means that you likely won't have to deal with hidden charges and fees.
Responsiveness: You should always start by contacting a few different search engine advertising agencies. It's important not to put all of your marketing eggs in one basket right off the bat. That being said, you should hear back from an agency almost immediately. If you don't hear back from them within two business days, it's probably best to check them off your list. Late responses could be foreshadowing to a long and frustrating marketing relationship down the road.
Service offerings: Chances are if you're looking for search engine advertising services, you'll also be interested in other marketing strategies as well. Search engine advertising pairs well with tons of other marketing strategies, and to leverage the agency you work with, you should be sure to check out the other services they offer. It's best to find an agency that offers other strategies like social media marketing, video marketing, and local SEO in addition to search engine advertising.
WebFX is a top search engine advertising agency
If you're looking for a search engine advertising agency that ticks all the boxes, WebFX is here for you.
We have 25 years of experience in the marketing industry and regularly drive astronomical results for our clients. Our team of 500+ marketing specialists are experts in their field. They can help you craft the perfect custom search engine advertising strategy to fit your unique business.
If you want to learn more about the services we offer or get a free quote, contact us online or give us a call at 888-601-5359!
Earn a 20% greater ROI with WebFX