What Are Google Penalties and What Do They Mean?
You're probably familiar with penalties in professional sports. If a player does something unsportsmanlike, or violates the rules of the game, they are often penalized for their actions. Depending on how severe the infringement is, they may even be removed from the game, or suspended from playing for a period of time.
Google penalties are very similar to sports penalties. At their core, they're designed to punish websites that have done something wrong. These penalties aren't always handed out manually, and they may impact websites built by those who had no idea what they did wrong, but they can still greatly impact a site's performance in search results — and beyond.
Our digital marketing campaigns impact the metrics that improve your bottom line.
See More Results

WebFX has driven the following results for clients:

$3 billion
In client revenue

7.8 million
Leads for our clients

5.2 million
Client phone calls
What is a Google penalty?
Google penalties are punishments or negative impacts that hurt a website's Google rankings or even remove them from search results entirely. If Google suspects a website violated its policies or uses "black-hat" SEO tactics, it may issue a penalty. Google hands out penalties manually as well as algorithmically.
A Google penalty means trouble
A Google penalty means your site is either no longer listed on search results, or that your ranking for your targeted keywords has dropped dramatically. When your site gets a Google penalty, your target audience can't find you. And when you are invisible to your target audience, your traffic, and ultimately revenue, drops.
It can happen to any website. A Google penalty can be the result of well-intended and honest efforts to improve your site's ranking. But once you receive a Google penalty, it isn't easy getting your good ranking back, and getting back into Google's good graces.
WebFX can help you recover from a Google penalty. We have a dedicated team that will review your site and make the changes necessary to put you on the top of search engine results again. Haven't received a Google penalty, but want to be safe? Our expert internet marketers stay abreast of Google's constantly changing algorithms, so your site is always in good standing and not in danger of dropping out of the search results.
As a leading Google penalty recovery service, we know what search engines like to see. Our penalty recovery service is specifically designed to get you back into Google's good graces, so your website can show up in search results and your business can keep growing.
Why do sites get Google penalties?
Google's job is to provide the most relevant search results. From Google's point of view, any website that tries to manipulate the search results is harming the Google product. Google wouldn't be Google if it returned unhelpful results, or gave its users a negative experience, would it?
A Google penalty is the result of a highly evolved, constantly changing algorithm that Google utilizes to crawl and inspect websites. While there are some specific actions that can result in immediate penalties handed down by a Google employee, there are others not publicly advertised, or some that can result in a reduction in rankings that happens over time. This is to protect Google from websites trying to outsmart it, or further manipulate its results.
Google penalty triggers
To ensure your site doesn't receive a Google penalty, make sure your site does not have:
Spyware, adware, or viruses
Hidden links or text
Cloaking (displaying a different version of a webpage to the search engine robots)
Deceptive redirects (when a visitor is automatically taken to another page without clicking anything)
Pages loaded with irrelevant keywords
A substantial amount of duplicate content
The list of Google penalty triggers is extensive, but they can easily be summed up: penalties are triggered by any action a website takes to fool a search engine or harm the user experience in some way.
How can I recover from a Google penalty?
Google penalty removal isn't always easy. It's important to know that there are two kinds of penalties: manual and algorithmic.
Manual penalties are handed down by a Google employee. They're most often given when your website is found to be doing something against Google's Terms of Service. This may include a virus infection, cloaking, redirects, or buying links. When you receive a manual penalty, you will need to make an appeal to Google to reindex your website—that is, put it back into the search engine results—before anyone will be able to find you again.
On the other hand, an algorithmic penalty happens automatically, without manual intervention from Google. These are often the result of an algorithm change designed to rank websites of value higher than those with weaker content or relevance. Algorithmic penalties, like Panda, Penguin, and Hummingbird, may impact websites that have thin or duplicate content, keyword-stuffed copy, slow loading times, or a lack of incoming links. With this kind of penalty, you will still be ranking in search, but probably much lower.
If you want to learn more about diagnosing and removing your penalty, you can read our expert's guide to penalty recovery, which is an in-depth guide to this process. It will help you identify your specific penalty and determine what actions you need to take to remove it.
Need help? If you're not sure what you're doing or where to start, WebFX's Google penalty recovery services may be the best choice for you. Our professional team can identify and reverse your penalty, allowing you to focus on running your business—not inspecting links or rewriting copy.
Time to Level Up Your Sales
Our long list of services helps you grow every aspect of your business with marketing strategies that are proven to increase bottom-line metrics like revenue and conversions.
In the past 5 years, we've managed more than 12.9 MILLION transactions across our client base.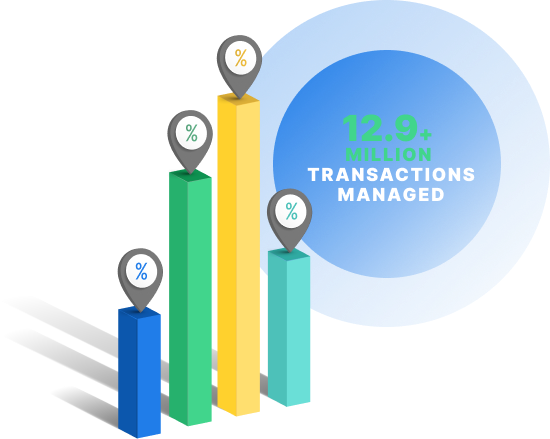 It's not always a penalty
Just because your site loses ranking in search engine results does not automatically mean you've received a Google penalty. Your competition is growing each day, and the way Google ranks websites is constantly changing. When you think you may have a Google penalty, in actuality, you may need improved search engine optimization methods.
If you suspect that your site has been impacted by a penalty, WebFX will audit your website to see if this is indeed the case. If you do, we'll take immediate steps to get your site back in the good graces of the Google robots. If you do not have a manual or algorithmic penalty, we can review your site for all the steps that can be taken to improve your ranking.
With many years of experience in Internet marketing, and the brightest internet marketers in the field on your side, we can ensure your site dominates search engine results and that you're getting the highest volume of the most qualified traffic, all while keeping you safe from a Google penalty. Contact us today to find out how WebFX can help you with all your Internet marketing needs.
How Is Your Website's SEO?
Use our free tool to get your score calculated in under 60 seconds.