What Is Google SEO? Your Guide to Understanding Google SEO
You've heard of search engine optimization (SEO), but is Google SEO new to you? When you're traversing digital marketing, there are many new terms to remember to keep your site optimized and ranking at the top of search results.
Google SEO is an important concept that can generate high visibility and brand awareness. Not to mention, optimizing your site for Google's search engine algorithm can benefit your bottom line.
Do you need the services of an accomplished SEO firm? You can contact us online today or call us at 888-601-5359 to speak to an expert. Keep reading to learn what Google SEO is and what it means for your site.
These are real SEO results driven for a WebFX client.
You're next.
Learn More About SEO Services


260%
increase in organic revenue

198%
increase in organic transactions
150%
increase in organic traffic

3872%
increase in sessions from SEO
Google SEO in a nutshell
Google SEO is the series of steps you take to tweak your site for higher rankings in Google search results. When someone searches a keyword or phrase on Google, they get a list of results that Google considers the best solution to their needs.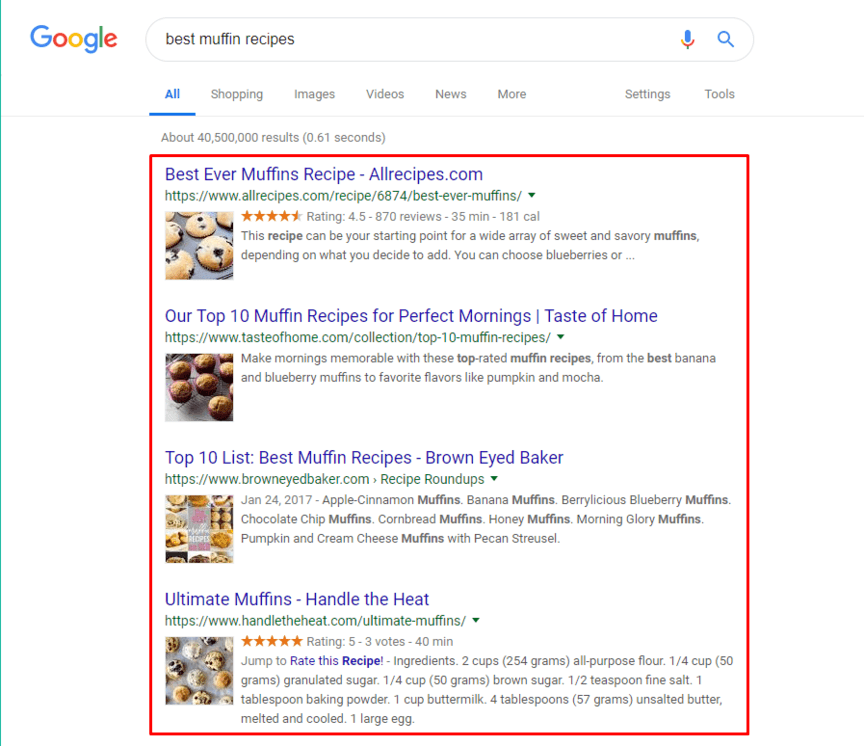 The first result on the results page has the relevance, authority, and details that Google prefers. Just like traditional SEO in digital marketing is a process of changing page details to fit into search engines' ranking factors, Google SEO caters to Google's specific criteria and algorithms.
The reason SEO and Google SEO go hand-in-hand is because most of the world relies on Google to answer their questions, to find other sites, and to shop online.
In 2022, for example, Google handled 61,4 percent of the share of search queries, while Microsoft (Bing and Yahoo) fielded only 25 percent. Overall (and worldwide), Google claims more than 90 percent of the search market.
When people talk about "SEO," many of their strategies and considerations stem from Google.
However, you can still hit the standards of other search engines when you adopt basic SEO practices. Google SEO means you're targeting one search engine in hopes of earning the first few ranking spots to increase traffic, leads, and conversions for your business.
How does Google's search algorithm work?
Watch the video below, and then keep reading, to find out.
It's common to wonder, "What does Google do?" Do we know what practices set Google apart on the search engine market?
Google's process for gathering and sorting pages online is unique. The most fundamental parts of Google are discovering, indexing, and serving.
No single search engine gets connected to every site on the Internet. Like every other search engine, Google has to discover — and index — sites.
Google has a crawler, known as Googlebot, that follows links from page to page. Googlebot encompasses two crawlers, one for desktop and one for mobile.
As Google records a site in its index, it also captures information about its purpose, credibility, and relevance. Then, Google presents its finds when users search for words that pertain to content on the pages in its index.
It uses a range of ranking factors to decide which site shows up at the top of the search results.
What is Google SEO: 8 Elements of Google SEO
The question, "What is Google SEO?" involves more than a one-sentence definition. You also need an overview of the ins and outs of Google optimization, which stretches from ranking factors to best practices, to improve your search engine optimization.
What's more authentic than an explanation from Google itself about its standards for search engine optimization? Google's SEO guidelines for webmasters recommend plenty of don'ts, but their newer SEO Starter Guide gives a broader understanding of how to do Google SEO.
Let's use it to look at the core elements of Google SEO and what they mean for your site.
1. Make sure Google can detect and crawl your site
Because Google travels from links to additional pages, your site won't show up unless it's accessible from another one. It's possible your page is hidden from Google because it's brand new or isolated from the typical network of pages.
Submit a URL request: Strictly speaking, you don't have to receive a link from someone else to get counted in the index. Google also allows you to submit a URL request via its URL Inspection tool. This request shortens the distance crawlers need to go to find your material.
Implement a sitemap: Besides submitting a URL for consideration, you can ask Google to scour your collection of pages by submitting a sitemap via Google Search Console. A sitemap is a file that lays out the content on your domain, along with the importance and details about the pages, images, and videos. Although alerting Google to your pages is a simple action, you can't start the real Google SEO tactics without being visible. If you are a Google SEO newbie, an SEO expert can get you on your way to high visibility on Google to spread brand awareness and lead visitors through the sales funnel. WebFX has customized SEO strategies for businesses for a long time — since 1996, we've been servicing our clients with expert digital marketing campaigns.
2. Help Google navigate your content
Helping crawlers travel through your pages and find new content strengthens your Google SEO strategy. You can put up signposts along the way to direct visitors to your best and most relevant content.
Internal links also indicate which articles, blogs, and pages you value most, and you can sprinkle "link juice" from high-ranking pages to others through strategic internal linking.
Not every page on your site is user-friendly, and anything sensitive or unnecessary for visitors doesn't have to show up in Google.
For instance, a "Thank You!" page for form submissions isn't something you want Google to show users. You can manage traffic with robots.txt or withhold pages from Google via noindex tags.
Use robots.txt: The go-to way to keep Googlebot from directing unwanted traffic into certain areas is to label it with "robots.txt." It can block media and resource files, but it doesn't guarantee that the page remains hidden from Google.
Noindex tags: Directives — or meta tags — are segments of code that guide crawlers as they index. The noindex tag is a specific directive that prohibits Google from displaying a page in search results. If you have a page to keep out of the search engine results pages (SERPs), then apply the noindex tag.
3. Make your pages understandable
Google has to comprehend your pages before it can decide if they address a topic thoroughly and match searcher intent. To communicate your content to Google and its users, you can perform some on-page modifications.
JavaScript and CSS: First, crawlers have to see the complete picture of your site, including JavaScript and CSS, so make these components reachable. Remove accidental or intentional blocks so Google can access these elements of your site. The Googlebot Fetch tool can show you which pages have a barrier. The file, robots.txt, can prevent Google from fully rendering your page, which can hurt your ranking. You might use it to steer clear of duplicate content or prevent site search pages from popping up on SERPs. While it's tough to predict what a bot sees, you can head over to the URL Inspection tool again to get a better idea.
HTML tags: HTML tags can sort out the central topic of a page, and Google relies on them to find the structure of content too. Title tags appear in search results to rope in searchers, so it's crucial to make them descriptive and distinct. Irrelevant, unclear title tags fall short of Google's expectations, so focus on keeping them accurate and thorough.

Meta descriptions — the summary below the URL in Google search results — also give Google users a sample of your content. If they spot an enticing meta description, there's a better chance of them clicking on your result, which boosts your click-through rates.
Follow the same rules as title tags and infuse them with a snippet of what they'll find on your page.

In your content, heading tags (H1 and H2) are useful for outlining sections and walking Googlebot(and readers) through the flow of a blog or article. They also signify the main points of your piece, and headings should always demonstrate structure over aesthetic design.
Keywords: Another part of denoting your content topic and relevance is through keywords. Keywords for Google SEO, like in standard SEO, attempt to fit search queries and searcher intent. For Google to pick up on keywords, naturally position them in titles, meta descriptions, headings, and content.
Google is against keyword stuffing, which means you overload content with a repeated keyword. For example, if your keyword was "ice cream in Boston," it's not useful to Google or users to fill a meta description with: "Looking for ice cream in Boston?
Here's the best ice cream in Boston so visit us for ice cream around Boston!" With proper context and conversational copy, you can reference keywords a healthy amount and get ahead of the competition on Google.
If you want a Google-specific tool to do keyword research, try Google Trends to find popular questions, topics, and keywords.
4. Pay attention to URL organization
URLs may seem insignificant, but how you set them up alters your performance on Google SERPs. The smooth organization of your site and URL structure can simplify navigation and please visitors on your site.
Site security for Google SEO: You either have "http://" or "https://" at the beginning of your URL, and for an extra boost of safety, "https://" is preferable. This adds an SSL certificate, which protects sensitive information. Plus, Google values the higher security level.
Covering alternate URL bases: Google, in particular, categorizes URLs with different prefixes. If your preferred domain is "www.bestinsurancefirm.com," but Google isn't aware of that, they can also list "bestinsurancefirm.com" in the search results. Adding all the versions of the domain that you own for Google's review can clarify this. You can gain confidence and more conversions when your Google SERP presence is unified.
Site architecture and URLs: Branching off from the home page, the following URLs should retain a structured hierarchy. If you don't have designated folders or sections for topics or services, visitors and crawlers have to dig through your content before finding something useful. Group topical articles and pages and store them under a purposeful section. For example, if you're an ecommerce store, you can have an about us section, several product areas, and a blog section. Your URL for a specific well-liked blog topic might look like this: "https://summersonlineboutique.com/blog/fashionadvice." The URLs can reflect this hierarchy and enhance your Google SEO status. When people can easily retrace their steps to get to the home page, your navigational efforts and site architecture are effective. That's why your website's design should also feature breadcrumb navigation.
5. Practice helpful linking for Google SEO
As you create links to internal pages and outward to other sites, keep in mind that your links affect your Google ranking. In the following two ways, promote Google-friendly links to secure a beneficial framework.
Site linking reputation and nofollow: Google often sees linking to another site as a positive review, which can be mutually beneficial for increasing your rankings and reinforcing a fellow site's ranking. If you link to an industry expert, some of their credibility rubs off on you. However, some websites that you mention might have questionable reputations. To preserve your users' trust and Google's favor, you can use the nofollow tag to break the association.
Anchor text: The anchor text of your link is noticeable to Google, and increasing its attractiveness means building up a concise, descriptive string of words. Google looks out for the anchor text to match the purpose of the linked page, so sum up the concentration of the page for users. Visible anchor text is also better for SEO, so users don't accidentally click on covert links and quickly backtrack.
6. Offer interesting, clear content
Site content, whether how-to instructions, guides, blogs, or news, is considered high-quality by Google when it expands user knowledge of the topic and satisfies their curiosity.
Polished writing: Google steers clear of messy writing with misspellings, grammatical errors, and computer-generated text. Even daunting blocks of copy without natural breaks can set you back in the rankings.
Original work: Many people try to trick Google with dodgy SEO tactics. They copy and paste content from leaders in their industry and publish them as their work. They also might change small parts to cloak their copying shortcut. However, Google penalizes these sites, and it wants original material that the Internet has never seen before. Pick an interesting topic and a valuable keyword, then produce new, practical writing to rank better on Google. It's vital to construct writing that's readable, engaging, and original to stand apart from competing businesses.
In-depth content: Google's algorithms and quality testing team reward in-depth, comprehensive content that lets visitors dive deep into a subject. But concise answers can also win high rankings, depending on the intent. Nearing 1500- to 2000- word posts is a good rule of thumb when you're trying to rank informational articles on Google.
7. Optimize your image formats and descriptions
Although written content is instrumental in Google SEO strategies, images can also contribute to your place on the SERPs. Engaging media is perfect for a rich user experience, and Google expects you to outfit your images with helpful titles, descriptions, and formats.
Alt text and filenames: Alt text is what shows up when the image doesn't load or isn't supported, so it lets Google and users understand the picture no matter what. Describe your photos so Google can weigh these examples and supports in your rankings. The file's name is also convenient when you switch it from a generic "IMG_5531.png" to "2023-google-trends.png." Putting your main keyword into the file name is handy too.
Format and quality for Google SEO: For Google SEO, crisp, high-resolution photos amplify your site. However, stick to widely accepted file formats like JPEG and PNG for Google's indexing.
8. Embrace mobile-friendliness
After Google adopted mobile-first indexing, it showed its true colors. Google cares about delivering the best results to as many users (and devices) as possible, which means you should, too.
If your site isn't mobile friendly, your text and images can appear tiny on smartphones and handheld gadgets. It can also sink your page on the first SERP.
Responsive design lets your page morph into the right proportions and dimensions for the mobile device. Google recommends responsive design because it minimizes the extreme distance that usually happens when you pull up a desktop-based site on a little screen.
You can use Google's Mobile-Friendly Test to see how your site measures up in light of their analysis. With a simple URL input, you can diagnose your site.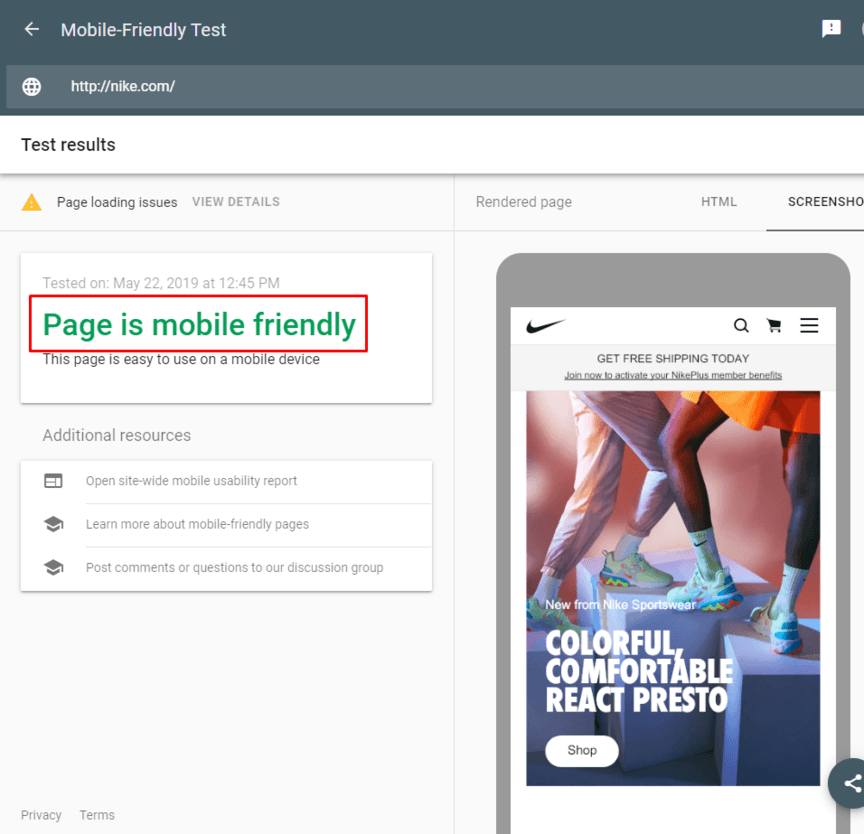 How can an SEO company help with Google SEO?
SEO companies can answer your tough questions like "What is Google SEO?" and "How do I rank higher in Google search results?" Their team members devote their careers to mastering Google's ranking factors and honing sites for higher rankings.
An SEO agency like WebFX knows what Google wants and how to transform your pages. Our skilled team of 500+ brings their unique expertise to your campaign and focuses on results.
Another advantage of our SEO services is our robust digital marketing tools. We have the number one ROI tracking platform in the industry — MarketingCloudFX — which allows us to maintain a data-driven approach.
Measuring the metrics that affect your bottom line.
Are you interested in custom reporting that is specific to your unique business needs? Powered by MarketingCloudFX, WebFX creates custom reports based on the metrics that matter most to your company.
Leads

Transactions

Calls

Revenue
Learn More

Boost revenue with Google SEO services from WebFX
Google SEO is a step in the right direction for drawing numerous visitors and increasing your bottom line. It targets a considerable number of Google users and channels the power of the leading search engine giant.
WebFX is proficient in SEO and offers personalization for your strategy. From Google to Bing, we handle optimization efforts that drive leads and increase conversions.
Want to boost your Google rankings?
Contact us online or call us at 888-601-5359 to speak to an expert about our SEO services.
How is your website's SEO?
Use our free tool to get your score calculated in under 60 seconds.