SEO Optimization: Your Search Engine Optimization Guide
If you've poured hours and dollars into your website but the number of visitors isn't climbing, you could be missing one critical thing — search engine optimization (SEO). Without it, your website can go unseen and unappreciated, even if you have impressive services and outstanding products. Whether you're new to digital marketing or you want to get the most out of your online presence, it's necessary to grasp what search engine optimization is and how to use it. Check out our tutorial on SEO optimization to boost website visibility and revenue.
What is SEO optimization?
SEO is a digital marketing maneuver that gets websites noticed by search engines and increases site traffic.
Because search engines like Google and Bing increasingly coincide with everyday life, what shows up on the first page is highly valuable. How often do you run into a question and scroll over to Google in search of an answer?
For most of us, it happens several times throughout the day. A few years ago, a Pew Research Center survey showed that 31 percent of American adults are almost constantly online.
The organic results that appear right away reflect successful SEO — they've crafted the pages on their website to meet a search engine's standards.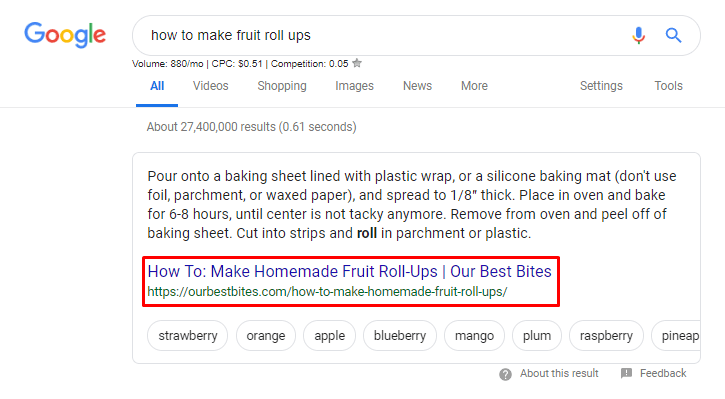 The search engine results page (SERP) highlights the pages that best satisfy a search, and each search engine has algorithms that determine what qualifies a high-quality, appropriate result. Businesses and marketing professionals inspect search queries and target them as keywords, which can be one word or a string of words.
SEO optimization includes many other parts, like pinning down why people search, which phrases they use, and what they consider relevant.
SEO optimization services that help your business rank
If you're looking for an SEO agency that can help you rise to the top of search results, WebFX is it. With over two decades of experience, it's safe to say that we know how to navigate search engines and improve your website rankings.
What makes a result "organic" vs. "paid"?
Websites only practice SEO if they earn their spots on Google rather than paying for them. They're called organic results because strategies naturally allow them to top the list.
After you've googled a burning question and the results pop up, you might see one or two results that have a small box that reads "ads."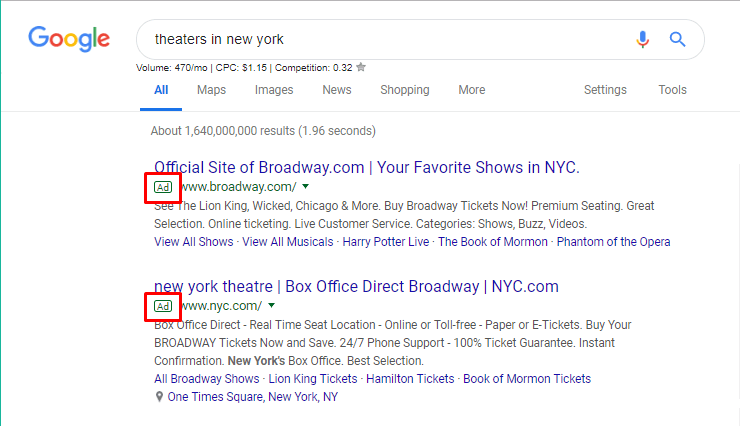 These results look like they've climbed into the first and second position, but they actually sit there because they're paying for it.
Both organic and paid results can attract heavy traffic to a website, but organic results can establish your business as an authority in the long run.
How do search engines gather and sort results?
The hub of SEO — the search engine framework — is the key to understanding why SERPs showcase certain pages over others. Search engines are intricate systems that study all the websites across the Internet and organize the information for you.
So, how do search engines like Google, Bing, and Yahoo digest such an immense amount of data? Search engines go through three steps — crawling, indexing, and ranking — to yield the strongest results.
Crawling and indexing
Search engines use special bots or search crawlers to inspect all the nooks and crannies of the Internet.
They find websites by "crawling" from URL to URL, and as they move through pages, the bots scrutinize the main text and supplementary parts on the page.
Search bots collect these details in a comprehensive index, and they're sorted into categories based on the title, URL, media, and text. This pool of websites gets dipped into later when someone searches related words.
The crawling mechanism follows the links on pages too, which act as trails across the web. If your website isn't easy to locate by the crawlers, they can remain invisible to search engines and left off the index.
Ranking
The contents of the index then serve as candidates for searches, and further algorithms determine how well it matches search terms or "keywords."
If the page is informative, reliable, and meets a variety of other standards, it has a better ranking.
Do you need help ranking higher in your industry's keywords? WebFX has enhanced SEO for many businesses and steered high volumes of traffic to their websites. In fact, we've generated 7,839,684 leads during the last 5 years. Contact us online or call us at 888-601-5359.
SEO optimization fundamentals
While most search engines remain secretive about their algorithms and signals, they pass on the core fundamentals of SEO so business owners and website creators can thrive. The leading search engine, Google, calls their criteria "Webmaster Guidelines," and alternative search engines tend to fall under the same general principles.
1. Value the user
Since search engines couldn't function without a host of curious people, they gear their metrics toward users. If navigation around your website frustrates a visitor, search engines log their reaction and your ranking plummets.
Many businesses try to bypass the user experience and cater to search engines with shady practices. For example, you might click a link for the "10 Best Hotels in Arkansas" and end up on a page that doesn't mention the promised list. It doesn't meet your expectations, and you return to square one.
Sophisticated search systems can catch these hacks, and it's ideal for everyone if you concentrate on tailoring your pages for people rather than technology.
2. Participate in healthy competition
At its heart, ranking on a search engine is competition. Search engine optimization is essentially a contest between websites to attract attention and attend to people's problems. Tapping into this concept helps many businesses avoid underhanded techniques and stick to honing their brands.
If you want Google or anyone else to consider your services or products the best, communicating your winning qualities is the path to the top.
Search engines advise websites to promote their valuable characteristics to move up on SERPs.
3. Perform white hat SEO optimization techniques
Over time, people have uncovered multiple tactics to excel in SEO optimization. Unfortunately, many of these are sneaky.
Algorithms sift through a variety of these schemes and penalize sites who choose to wheedle their way through the ranks.
Keeping your marketing attempts sincere and clean is a crucial pillar of SEO. The securest types of SEO maintain your reputation and are regarded well by search engines.
4. Produce unique, robust content for SEO
When websites reproduce content and fail to offer fresh, original information, it's frowned upon. Creating high-ranking content takes time and effort, and shortcuts like auto-generated text and text taken or "scraped" from well-respected sites or feeds don't measure up to the human touch and creativity.
"Evergreen" content — or content that withstands time and trends — ranks well. Investing time into this form of content is productive for search engine optimization.
Authentic content is a powerful factor in SEO, so search engines reward the most engaging websites. This means in-depth blogs and rigorous information foster positive SEO.
Our digital marketing campaigns impact the metrics that improve your bottom line.
See More Results

WebFX has driven the following results for clients:

$3 billion
In client revenue

7.8 million
Leads for our clients

5.2 million
Client phone calls
How to optimize: On-page SEO vs. off-page SEO
As search engines gain insight on what users want and how they measure up to each other, they've assembled a long list of factors that affect rankings. From overall reputation to links, the details of your website add or subtract from SEO.
So, which search engine optimization techniques can you put into practice? Well, SEO happens on two fronts — inside and outside the website — and each involves different tweaks to transform your presence on SERPs.
On-page SEO
Between on-page and off-page SEO, you have more influence over on-page SEO.
Restructuring your pages for search engines runs deep through your format and design. Let's look at the elements that can improve your on-page SEO optimization.
Domain and URLs You might not think twice about the address of your page or the nature of your domain, but it impacts your SEO. Clean, descriptive URLs tip off search engines to the right websites. If your URL holds the keyword you're shooting for, it has a better chance of gracing the first spot on Google. Likewise, lengthy or messy URLs can harm your visibility. Also, URLs indicate the framework of your website. URL's proximity to the homepage shifts its worth and shows an organized sequence. If it's a prominent page, it probably isn't a distant offshoot. Search engines also check domain age and history to determine authority and relevance. Boosting your URL with an SSL certificate also creates confidence in site security. That means when traffic comes to your pages, they'll see an HTTPS beginning rather than HTTP. Especially for e-commerce websites, SSL guards your customers' sensitive data like credit card numbers and gives them peace of mind.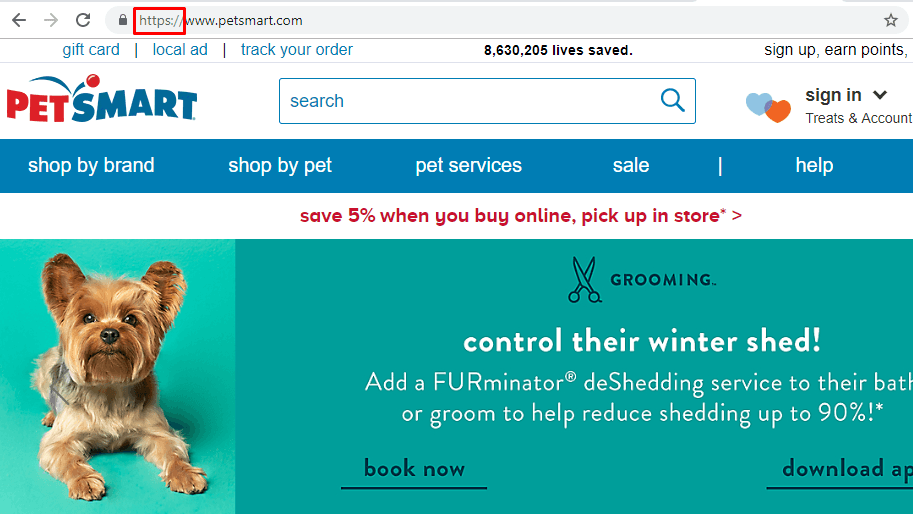 Titles and headings Search engines put considerable weight on title tags. Your desired keywords should hug the front end of the title tag so search engines understand what your page is covering.Header tags — H1 and H2 — are also a priority. In the sea of text on your pages, tags serve as little signposts that reveal the main purpose of your page. In your website HTML, encase your title with H1 and your subheadings with H2 so it's obvious what you're talking about.
Load time Seconds seem much longer when you need a speedy answer. Accordingly, how long it takes a page to load constitutes a major part of SEO. Delays can cause someone to give up and look elsewhere for more immediate results. Speeding up your website for each type of browser can increase usability and website credibility. If you pay attention to your file sizes, advanced platforms, and fine-tuned settings, you can eliminate abandoned clicks and get closer to a prime spot in SERPs.
Dwell time Have you ever been dissatisfied with a search result and turned straight back to Google to try another? When people rapidly leave a website, search engines measure the frequency. How long people linger shows the level of interest in your page. The appropriate amount of dwell time suggests that people like your page, and it raises your location among similar results. Dwell time differs in certain contexts, like if you're seeking a simple piece of information. You want your page to capture attention for as long as it takes to satisfy your visitors. If they only need a one-sentence answer, search engines read a short dwell time as a job well done on your end.
On-page links On-page links send your readers to outside references and related internal pages. Both branches of links support your website and aid SEO. Outbound links to associated websites group pages with the existing discussion on a subject. They can also cite sources and build authority with handy resources. Harvard Business Review citing the Bureau of Labor Statistics presents the mutually beneficial process of outbound linking.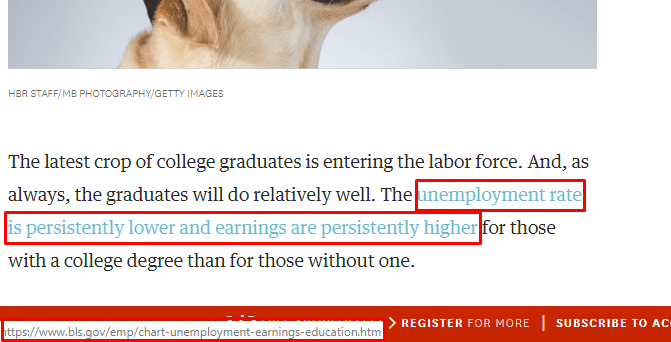 You can also put links to other pages on your website that visitors can follow deeper into your framework of material. If you create a page entitled "8 Best Computers of 2023" and you already published a page on "Where to Buy a Computer," you can insert a link to continue the conversation and move the user further down the purchase funnel.
Images and videos Colorful visual elements set pages apart from typical text-heavy formats. Especially if pictures, videos, GIFs, and infographics supplement the copy, they amplify a website. In fact, diversity in media enriches the journey through your pages. Just like SEO takes creative, innovative written content, it also prefers unique media. High-quality, fitting pictures and graphics function best when you're trying to please visitors. Images that haven't been compressed or appear pixelated can hurt user satisfaction and loading time. The descriptions and file names can feature the complementing keyword of the page to drive home the central focus for search engines.
Substantial content The content you offer errs on the side of success if it is longer and comprehensive. It makes sense that a higher word count more thoroughly fills in your gaps of knowledge. You might finish communicating a topic in a few hundred words and rank well, but extended posts offer a greater chance of an initial spot on SERPs. Yet, substantial content doesn't beat around the bush to achieve its length. Comprehensive information is also well-researched, cohesive, and accurate. Content that's edited and polished to reduce spelling and grammar mistakes tends to stay ahead because it shows intentional work.
Off-page SEO
Your role in on-page SEO is extremely different from off-page SEO. Off-page SEO primarily relies on others' opinions and interaction with your website.
Whatever happens on the expanse of the Internet can influence your ranking. Let's look over indirect and direct methods for approaching off-page search engine optimization.
Inbound links As you gain footing in your field, other websites can point back to your data, strategies, services, and expertise by adding backlinks to your site. When they link to your pages, the references are called inbound links or backlinks. However, you include your domain on other websites without their help and approval. Relationships with other reputable websites can generate these links and catalyze off-page SEO. Increasing esteem in your industry can help you ascend Google and alternate engines' listings. Posting exceptional content creates momentum for your reputation and SEO optimization.
Social sway While links are easier to track than some external markers, it's vital to review your standing with past, current, and potential customers. Social media is a central source for gathering feedback on your website and establishing a dependable status. Search engines consider posts and mentions about you and your website, and well-regarded websites lead to a boost of traffic. Websites can partner with influencers or market themselves on Facebook, Instagram, and Twitter to inspire better off-page SEO. We have the most connected earned media and online influencer team in the world. WebFX has a team of 40+ influencers building relationships with prominent websites. Call us at 888-601-5359 or contact us online today to hear about our earned media services.
Network Your business intertwines with many other people and brands, and your network's characteristics are important. The circle of online friends you have can pass on their ranking power. Positive perceptions of your website or brand can contribute to the quality of your page, and negative mentions of your business are also indicators for search engines. Guest blogs allow websites to pursue healthy off-page development and seek SEO support from experts and partners.
3 SEO optimization tips
By this point you know two things — the goal of SEO is to show up first on search engine pages and SEO has a variety of intricate, ever-evolving parts. We have SEO optimization tips that can pack your digital marketing storehouse with extra advice.
1. Capitalize on search intent
The words people use in their searches aren't as cryptic as you'd think. The reason behind them can expose the best way to craft your content and structure your website. "Search intent" is what SEO experts label the driving motivation for searches.
Here are three widespread search intent categories:
Navigational: when someone knows exactly what they're looking for
Informational: when someone wants to learn about a topic
Transactional: when someone is shopping or intending to shop in the future
If you want to gather a certain kind of interest, you can fashion your content and pages to fulfill their purposes.
2. Research useful keywords
You can investigate leading keywords that churn through search engines to elevate your SEO. Appearing on in-demand SERPs gives you surges of traffic and heightened SEO.
What products or particulars do you have that people are on the market for? What words would they type in that match up with your business?
It's possible to find out related keywords to your business by going through search engine's suggested terms.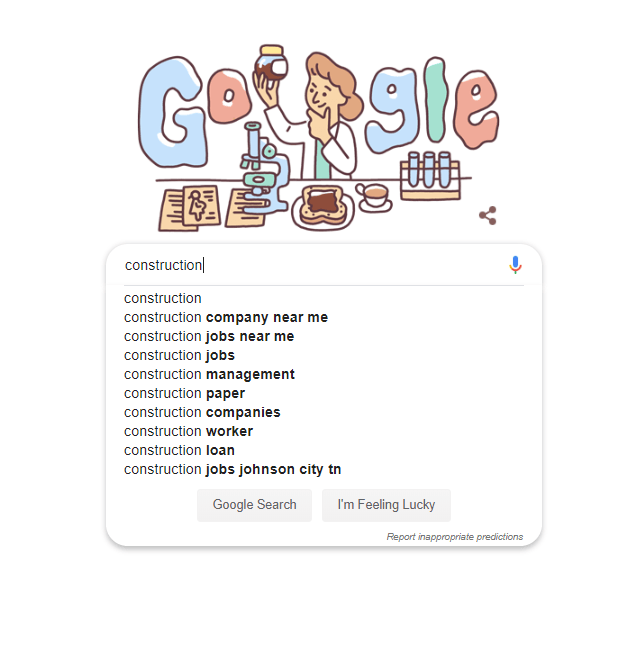 3. Choose responsive web design
The trend of mobile usage is continually rising, and, last year, 97 percent of Americans owned smartphones. With the volume of Internet action on tablets and phones, mobile-friendly websites are essential.
Search engines also care about responsive web design, so pages look and function smoothly across any device. Google's algorithms, in particular, recognize mobile-optimized pages, and it initiated a "mobile-first" index to clarify the magnitude of responsive design.
Test your pages on multiple devices to accommodate users and adapt to search engine standards.
SEO optimization tools to kick start your strategy
After this tutorial, you might wonder, "How do I measure the strength of my pages?" Search engine optimization techniques can be haphazard without tools.
SEO tools can translate your efforts into hard data and solutions, and there are several robust ones available.
SEO checker

Before you change your website, an audit of your latest website practices is critical. An SEO checker tool can calculate the pros and cons of your search engine visibility.
WebFX's SEO Checker is effortless to use — just enter your URL and wait for the analysis. The report comes to your email, and you can lay your eyes on concrete problems in order to make genuine progress.
In the relevant categories, you can see if your page passes the advanced values that Google, Bing, Yahoo, and many others hold.
Google Search Console

If you plan to compete on Google, it's constructive to take advantage of Google's tools. The Google Search Console is where Google's toolkit comes together.
Google-specific platforms can help you identify items perfect for optimization. If Google hasn't noticed your pages yet, the Google Search Console is a direct option for gaining visibility.
Google tools can complement your SEO process as you gauge your impressions and clicks. The search analytics keep you up to date on the pattern of your traffic and the standing of your website.
Choose WebFX to skyrocket your rankings with SEO optimization strategies
Mastering SEO is an involved process, but the experience of an SEO agency can lead your website to success. At WebFX, we have 25 years worth of experience at generating revenue for businesses.
Our SEO services are trusted by clients from a range of industries, and we tailor strategies for your business' specific needs.
We analyze your competitors, monitor your strategy, manage your SEO, and track results. See what 1020 of our clients have said about us, and it'll be clear how skillfully we handle your search engine optimization.
Our team is ready to serve you with our SEO know-how today. To supply your marketing campaign with the strength of SEO optimization, contact us to speak to an expert or call us at 888-601-5359 today.