Are you looking to grow your water and wastewater treatment business? The conventional methods of finding new clients and expanding your client base only goes so far in today's highly competitive digital market. Your potential clients use Google to research water contamination and public health issues to find answers and industry experts.
Some may even need water purification systems and use Google to find local water and wastewater treatment companies — that's where search engine optimization (SEO) comes into play. SEO for water and wastewater treatment can make your company the go-to choice and the first business potential clients talk to and hire.
But how do you implement SEO strategies for water and wastewater treatment so that your website appears when customers conduct online searches for the water and wastewater treatment services you provide?
We'll review the basics of increasing your water and wastewater treatment company's web visibility and attracting a consistent stream of new leads. Specifically, we will discuss the following topics:
Want to increase your site's visibility on search engines? WebFX's cutting-edge SEO services for water and wastewater treatment help businesses set and meet objectives, track results, and increase return on investment (ROI).
Contact us online to talk with one of our expert strategists about how we can help your company dominate the water and wastewater treatment market.
Don't miss our Marketing Manager Insider emails!
Join 200,000 smart marketers and get the month's hottest marketing news and insights delivered straight to your inbox!
Enter your email below:
Inline Subscription Form – CTA 72
"*" indicates required fields
(Don't worry, we'll never share your information!)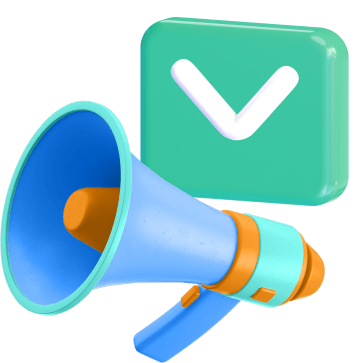 What is SEO for water and wastewater treatment?
SEO for water and wastewater treatment industry is the practice of raising a website's visibility in organic search results by incorporating targeted keywords into content, creating catchy meta descriptions and titles, optimizing page speed, and acquiring high-quality backlinks.
Why leverage SEO for water and wastewater treatment?
Nearly 9 out of 10 marketers choose SEO as their preferred strategy for building credibility and reaching clients online. SEO for water and wastewater treatment is a great approach to increasing your company's visibility in the search engine result pages (SERPs) and attracting the attention of people actively searching for water and sewage treatment solutions.
Imagine a potential client searching for water and sewage treatment and management information. You want your company to be competitive and visible in search engine results, preferably on the first page. If it's not, your competitor will likely win over this customer.
So, SEO improves your company's recognition as a leader in the water treatment and public health industries, boosting site traffic. Customers' confidence in your company's reliability directly affects your company's bottom line.
Independent research from Clutch has named WebFX the
top SEO company

in the United States.

Clutch has personally interviewed more than 250 WebFX clients to discuss their experience partnering with us.

Read More Clutch Reviews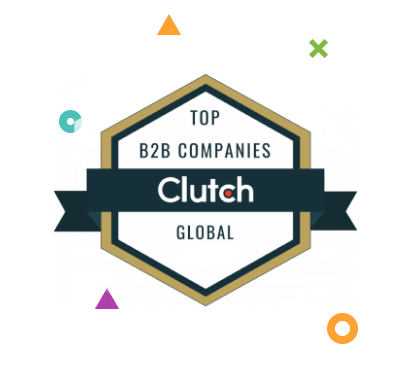 5 SEO strategies for water and wastewater treatment companies
We've already established that leveraging SEO will increase your website's exposure on search engines. But how do you implement SEO for water and wastewater treatment?
Here are five SEO strategies for water and wastewater treatment to get you started:
1. Build a reputable online profile with a professional website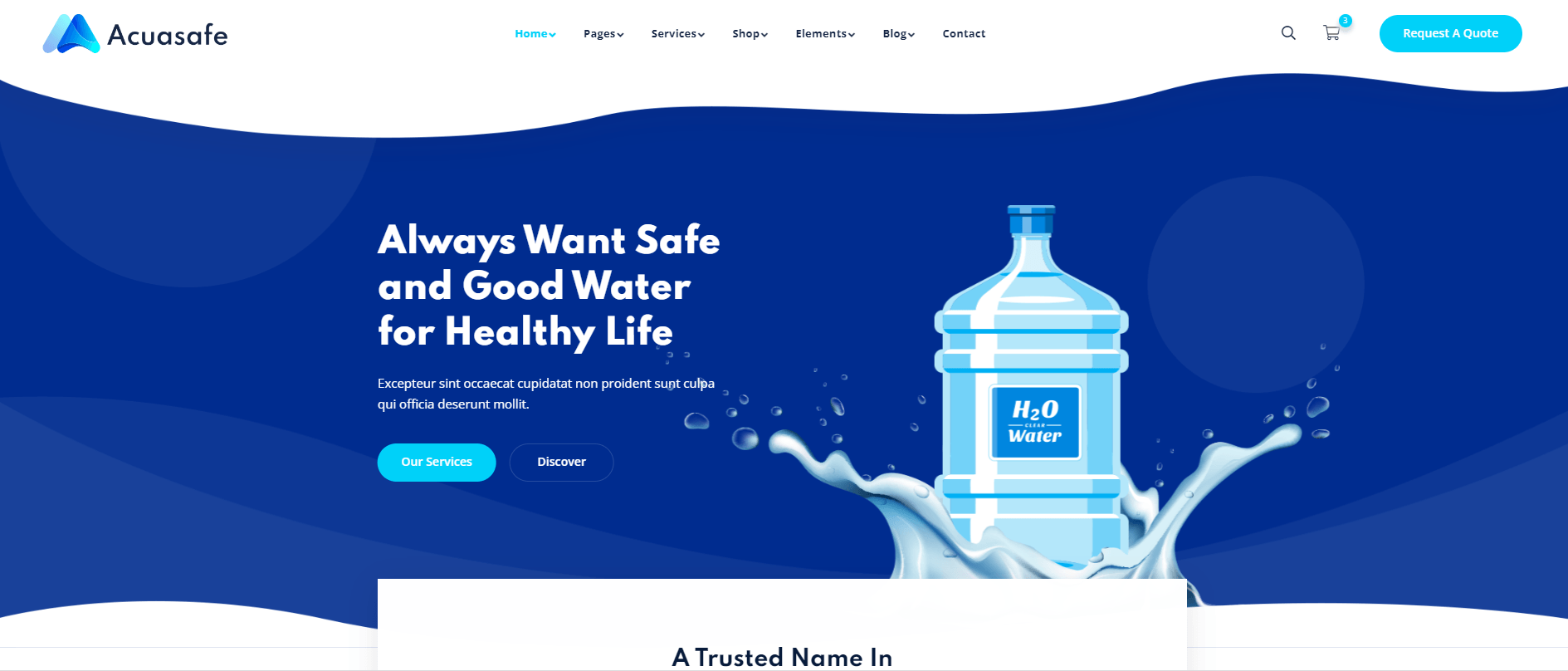 You can only expect to grow your water and wastewater treatment company's online presence with a website serving as the hub of your digital marketing plan.
Since the residential, commercial, and industrial markets contribute the most to your bottom line, investing in a robust online presence can help you stay competitive in the water and wastewater treatment industry.
You can use your site to address growing concerns about water contamination, public health, and wastewater treatment in your area. You can also give details about your services and connect with your target audience by outlining your company's philosophy.
We'll help you create a website that stands out.
"WebFX has been instrumental in helping us develop a new website, allowing us to be a leader in our industry."
Learn More About Our Web Design Services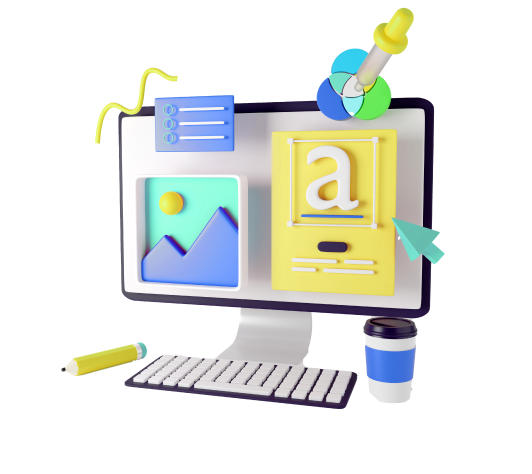 2. Create content that directly addresses your target audience's concerns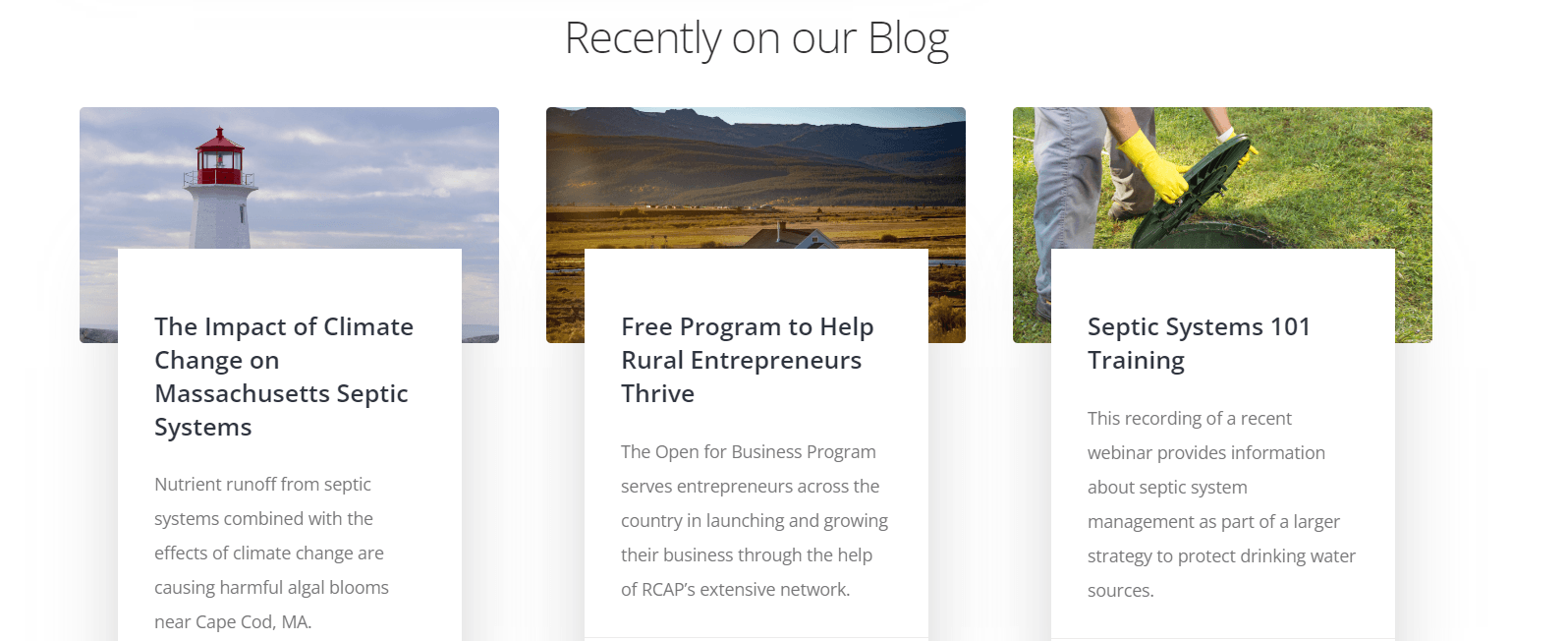 Publishing content is a powerful SEO tactic for your water and wastewater treatment businesses to attract new clients and build their reputation as an industry leader. Its ultimate purpose is to increase traffic to your site, boost sales, and engage your visitors.
For example, if your company provides wastewater treatment systems to commercial and industrial clients, you can publish a blog post about keeping septic systems in good working condition to prevent nutrient runoff.
One of the best SEO practices is creating content that directly addresses queries for specific search phrases — publishing original, high-quality content that your target audience finds useful is the best way to position your company as a leader in its field. The informational value of your content should outweigh any attempts at salesmanship.
3. Target long-tail keywords relevant to your company's water and wastewater treatment solutions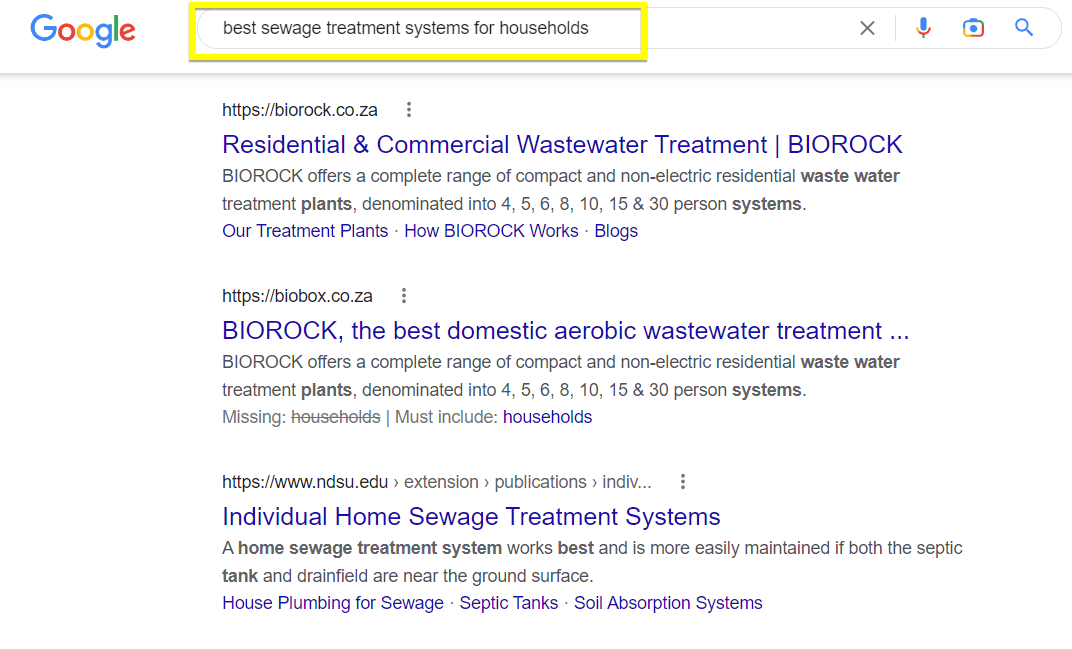 To rank well in search results for water and wastewater treatment-related inquiries, you must familiarize yourself with how potential customers often search for answers and resources in this field. By conducting keyword research, you can learn what consumers are typing into search engines to locate companies like yours.
Targeting long-tail keywords — phrases with more than three words — can help you get the most out of your SEO efforts.
Naturally, incorporating these keywords into the title tag, headline, meta descriptions, and body text of each page helps you target your website content to people who are actively looking for a water and wastewater treatment solution using these keywords. Thus, increasing the likelihood of converting website visitors into paying clients.
For instance, using a broad word like "water treatment" as a search query might make it hard to ascertain what the user is looking for. A search becomes more targeted and specific when the user uses a long-tail keyword like "best sewage treatment systems for households."
KeywordsFX can help you find the most relevant keywords and phrases for the water and wastewater treatment industry.
Use our proprietary keyword research tool,
KeywordsFX

, to help you find high-quality keywords for content and PPC campaigns. Identify Top Keywords for Free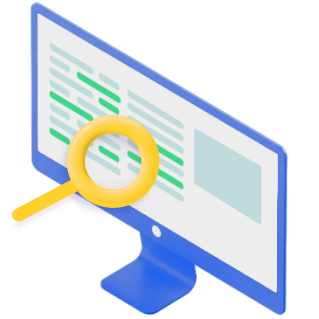 4. Build reputable, quality backlinks to boost your website's authority
Building backlinks entails soliciting other sites to link to yours. By indicating to search engines like Google that you are an authoritative resource, a link from another website might boost your rankings in search engine results.
You can build your link profile and your site's credibility by answering water and wastewater treatment or environmental health-related questions with engaging, shareable material that people will want to reference.
You can boost your site's authority and link popularity by providing helpful resources for water quality, wastewater treatment, and public health concerns. You can also publicize your water and sewage treatment innovations through press releases and directory listings.
5. Enhance page speed to improve user experience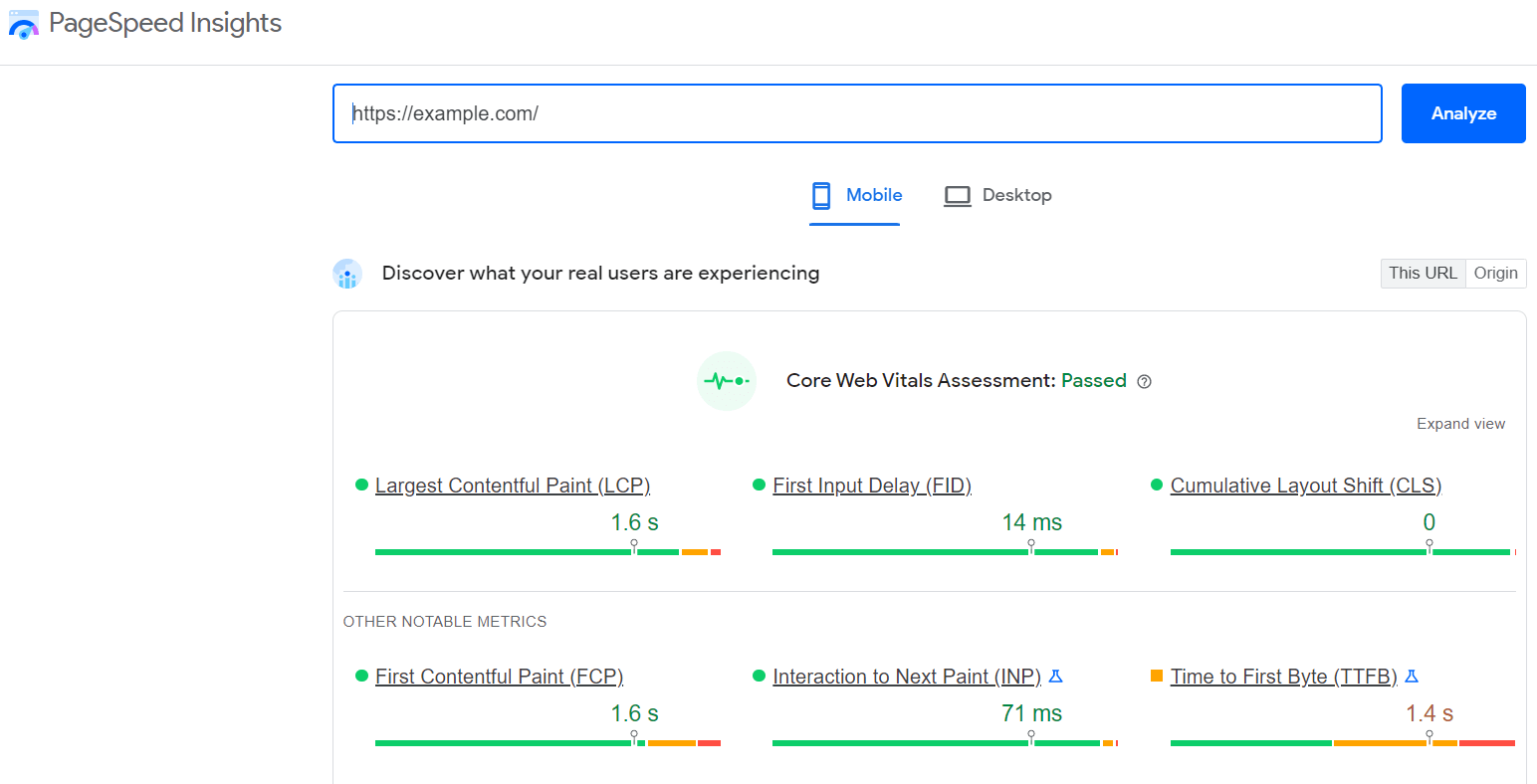 Google uses page load times as a direct ranking factor. If you want to keep your visitors coming back, you need to make it easy for them to get what they're looking for quickly, and you can do so by having your pages load faster.
If you want to know how long your website will load, you can use Google's PageSpeed Insights tool. It's the best way to find out how long it is taking for your website to load in real-time and what optimizations you can do to speed it up.
Looking for an all-in-one SEO audit tool? You've found it.
SEO Checker provides data on key metrics to give you:
Complete SEO score

Content Grade

Site Speed Analysis

and more.
Invest in custom SEO services for water and wastewater treatment companies
Ready to partner with a world-class SEO agency? Our team of over 500 professionals has extensive expertise in the water and wastewater treatment sectors, making us the go-to SEO agency for businesses in this space.
We provide comprehensive SEO services for water and wastewater treatment facilities, including a team of content writers, designers, and marketers, all working together to make your business visible to relevant people.
Contact us online or call 888-601-5359 to discuss launching your revenue-generating SEO campaign with a strategist.
Increase your leads, sales, and revenue with digital marketing