We had ourselves a scary good October over at the FXCampus this past month! From Halloween-themed fun to hitting our company-wide goals for yet another month in a row, it's evident we put in the work to enjoy the perks after hours. October is a favorite month around the office for many reasons — #ScareFX being one of them.
But as we gear up to close out our final few months of the year, the momentum is high among team members looking to check off any lingering goals for the year. Let's see how our team chose to celebrate a job well done this month. Make Your Own Signature Meat/Spice Dry Rub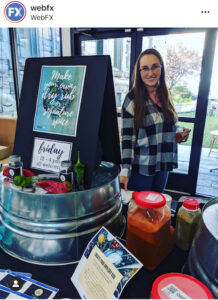 In honor of "National Do Something Nice Day," our team gathered for an optional break time event to create their very own signature spice or meat rub.
WebFX supplied the spices and our team supplied the creativity. Our team loves to regularly find ways to provide little moments of kindness for team members (take our annual Kindness Week(s) for example) so this "holiday" celebration came naturally for us! We created custom blends for BBQ, burgers, steak, veggies, you name it!
Team members had the opportunity to stop for a moment during their busy days to do something nice for either themselves or as a gift for someone else. Client Milestone Celebration Lunch We hit a B-I-G client milestone this month, and so in WebFX fashion, we threw a company-wide lunch to celebrate! Hitting this milestone is a true testament to the hard work each department puts into working directly or indirectly with their clients.
We treat each client as we would any member of our FXFamily so you bet we were excited to see how much our client base has grown! When our client base grows, our team does too as we continue to bring on top talent to support the growing needs! GreenFX Game Night Did we mention our team is big on green initiatives?
Our solar panels and company Tesla are just two examples, but this past month our GreenFX group hosted an after-hours Game Night featuring a few rounds of Jeopardy trivia to help determine the ultimate sustainability King or Queen among our ranks. Our GreenFX group is one of many community groups we have, each one focusing on a specific niche or hobby our team members bond over – from Happy Hour Heroes to Crafter After Hours, to Book Club and FXFoodies, there truly is a group for everyone. ScareFX: "Storming Area 51" Themed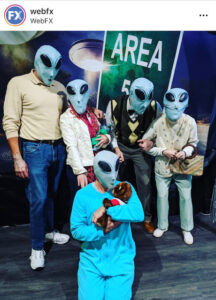 A company-wide favorite every year, #ScareFX – our annual Halloween party – made an appearance this October with a "Storming Area 51" theme to keep us all on our toes.
The event featured custom-made escape rooms within our campus, a funhouse where you could hunt for an escaped alien, and lots of themed food and drinks. We loved seeing our team members and their families come dressed to the max in costumes – making our costume contest a tough call! FXServes: Bethesda Mission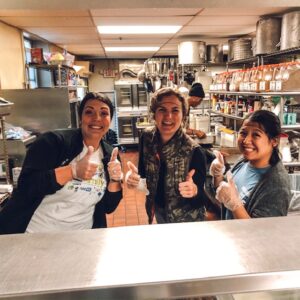 Every quarter team members gather for FXServes events for various service opportunities throughout our local community.
This month we volunteered at a team favorite, Bethesda Mission, a men's homeless shelter just a few blocks from our office. The large turnout for this event every year has created a need to spread our volunteering over two consecutive nights! It's always awesome seeing our team step up to the plate and willingly volunteer after hours within our local community.
At Bethesda Mission, we have the opportunity to serve dinner on the soup line for two separate dinners – one for the general community and the second for the men who live at the shelter. We're so lucky to get to work and play within the Harrisburg community, so chances like this to give back are always appreciated. FX-U Twice a year our FXCampus fills with 50+ college students from schools across PA (& further!) In October we hosted our biggest FX-U event yet with 80+ attendees!
We loved seeing students travel from Pittsburgh and even Syracuse, NY to attend the event! We love hosting FX-U because it gives students a first-hand look into what goes on at our FXCampus and an opportunity to sit in on role-specific sessions where they can ask questions directly to people in positions that they're looking to apply for. Attendees can choose two different sessions to sit in on and then all have the opportunity to attend a Q&A hosted by Bill, our CEO and co-founder, where students can submit questions to have answered.
We loved networking with students before and after the sessions, too! Is That November We Hear Calling? Catch us back here next month as we recap all that's about to go down in November!
You can count on us to always have something up our sleeves!