To help you grow your ecommerce business online, you may consider selling on a variety of platforms to help you earn more sales. You know that selling on Amazon is an option, but you've heard that Alibaba's boom in popularity has made it a competitor. It leads you to wonder, which is better: Alibaba or Amazon?
To help you make your decision, we'll look at the Alibaba vs. Amazon debate to help you decide which is best for your business! Keep reading to find out!
Partner with a team of ecommerce masters!
WebFX campaigns have delivered more than 12,936,451 ecommerce transactions in the last 5 years

Read the Case Studies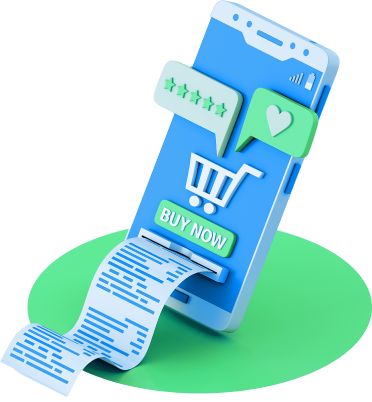 What is the difference between Alibaba vs. Amazon?
The difference between Alibaba vs. Amazon is audience. Alibaba serves businesses while Amazon serves consumers. While Amazon does maintain a business-to-business (B2B) marketplace called Amazon Business, the marketplace is known more for its consumer offerings.
Alibaba vs. Amazon: A brief look into Alibaba
Alibaba is one of China's biggest ecommerce companies. This company dominates over 80% of China's online shopping market. With Alibaba, there are multiple shopping sites that reach different markets of customers, including:
Alibaba.com: This website is the main website for their company. This site is a business-to-business (B2B) company that enables suppliers to post their products for other businesses to buy.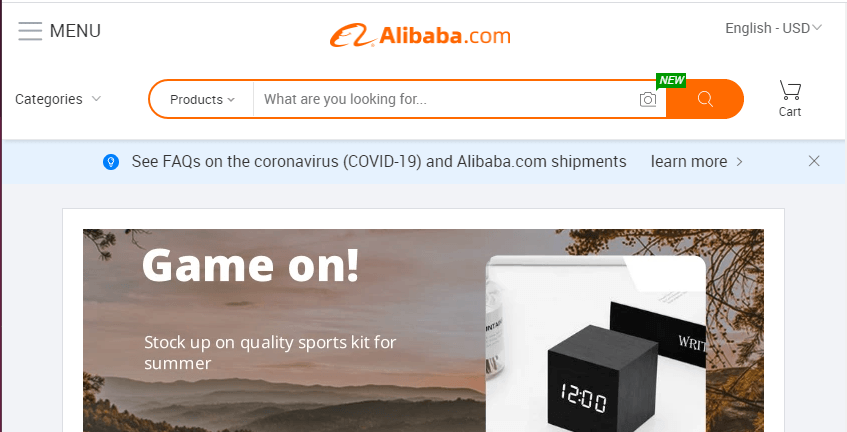 AliExpress: AliExpress is an ecommerce marketplace that allows Chinese businesses to sell products internationally. This platform operates similarly to eBay, where sellers are independent and post their own products to the site.

Taobao: TaoBao is another ecommerce site owned by Alibaba. This site is geared towards selling to people in China and offers everything from unique designer pieces to branded items to produce.

With the combination of these ecommerce sites to appeal to multiple buyers and sellers, Alibaba has raked in over $248 billion.
Alibaba vs. Amazon: A brief look into Amazon
Amazon is an ecommerce giant that serves businesses across the globe. This ecommerce website offers everything from electronics to digital content to housewares. Amazon currently makes up 40% of the ecommerce market in the U.S.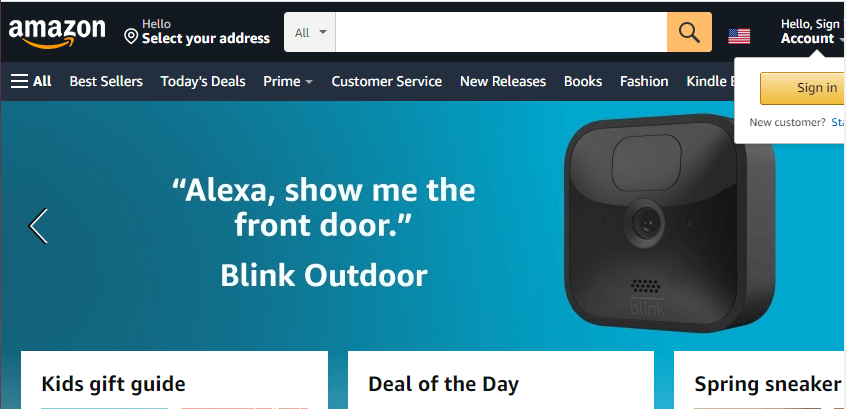 With Amazon, consumers can get a Prime membership that offers them dozens of perks, including:
Free 2-day shipping
Exclusive deals
Grocery delivery
Streaming services for movies, TV shows, and music
Free books
Free games and loot for games
With all these perks and services, Amazon drove over $280.5 billion in sales.
Alibaba vs. Amazon: Compared
Now that we've briefly gone over Alibaba and Amazon, let's compare these two platforms to help you determine which one is best for your business.
Business type
When you look at Alibaba compared to Amazon, you'll find that the customers they service differ significantly.
Alibaba's business type
Alibaba is mainly a B2B ecommerce platform. While they offer other sites that are B2C, their predominant focus is on their main website, Alibaba.com, which offers supplies to businesses. While the B2C side of their business is growing, they still play the biggest role in the B2B market.
Amazon's business type
Amazon, on the other hand, is focused on the B2C market.
They enable businesses to sell their products to consumers that shop through their site. While companies can use Amazon to buy products for their company, there isn't a specific focus on the B2B market.
Which is better: Amazon or Alibaba?
When looking at these two platforms, which is best depends upon who your business services. If you sell primarily to businesses, Alibaba may be the best option for your business.
On the other hand, if you're targeting mainly consumers, Amazon is the better option.
Bonus Read: Who Should Sell on Alibaba?
Fees
When looking at Amazon vs. Alibaba, the next item to consider is fees. When you try to sell your products on different marketplaces, there are typically fees associated with using those platforms.
Alibaba's fees
With Alibaba, there are fees to have a business account. They offer two plans:
Basic Plan ($2399 per year)
Premium Plan ($4199 per year)
These plans come with features like posting products, receiving, and responding to inquiries, data reporting, and more.
Amazon fees
If you want to sell on Amazon, there are numerous fees you must consider when you want to sell. Amazon offers two selling plans:
Individual ($0.99 per item sold): This plan is intended for businesses that sell fewer than 40 units a month.
Professional ($39.99 per month): This plan is intended for businesses that sell more than 40 units a month.
On top of these fees, there are other additional fees you pay for selling items. Some example fees include:
Closing fees (average $1.80)
Referral fee (6% to 96%)
Shipping fees ($3.99 to $46.50 per order)
Storage fees ($0.69 to $2.40 per cubic foot per month)
To get a breakdown of the fees, check this article on Amazon Seller fees.
Which is better: Amazon or Alibaba?
When looking at the fees for Alibaba compared to Amazon, you can see how they differ dramatically. Alibaba focuses more on a yearly fee, while Amazon breaks down its fees based on products people sell. With Amazon, the fees can add up over time as you sell more, which can ultimately cost you more.
With Alibaba, though, you pay a one-time fee to put your products on the site, but it's a hefty fee. Ultimately, you'll have to weigh the costs with how many products you can sell on the platform.
Market location
When you're choosing between Amazon and Alibaba, you want to look at who they service, so you can ensure you're posting your products on marketplaces that reach your target audience. In the Alibaba vs. Amazon debate, let's look at where these marketplaces reach.
Alibaba: Market location
Alibaba's predominant market is China. As we mentioned earlier, Alibaba makes up 80% of China's online shopping market, so they cater heavily to that geographic area. While Alibaba does have the AliExpress website that sells to other countries outside China, its main website and Taobao caters specifically to the Chinese market.
Amazon: Market location
Amazon has a vast global reach and enables sellers from all different countries to sell products.
Their predominant market, though, is the United States. In 2020, the U.S. accounted for $263 billion of their total net sales.
While Amazon has some market share in Europe, this marketplace mainly serves the U.S.
Is Alibaba or Amazon best for my business?
Now that we've looked at Alibaba compared to Amazon, you may still be wondering: Should I go with Alibaba or Amazon? There's no clear answer. Multiple factors will contribute to choosing your platform, but your target audience is one of the biggest ones.
Between Amazon and Alibaba, you want to focus on the platform where you're most likely to reach your target audience, whether it's individual consumers or other businesses. You also need to consider how much you're willing to spend on each marketplace, and consider how much of your target audience you can reach.
Will you sell on Amazon or Alibaba?
Now that you know more about Amazon and Alibaba, you can decide which platform is best for your business. If you need help getting started selling online, WebFX can help.
With over 25 years of experience, you can feel confident we can help you sell more effectively on online marketplaces. We know how to craft campaigns that drive results for our clients. In the past five years, we've driven over $3 billion in revenue and managed over 12.9 million ecommerce transactions.
Ready to start selling more online? Contact us online or call us today at 888-601-5359 to speak with a strategist about our marketing services for Amazon!
WebFX Careers
Join our mission to provide industry-leading digital marketing services to businesses around the globe - all while building your personal knowledge and growing as an individual.