Should I sell on Amazon? Should I sell on Facebook Marketplace? Should I sell on Walmart Marketplace?
These are questions you may have asked yourself as new places to sell came on the market and created viable outlets for you to reach people with your products.
Now, with over 2.14 billion global online buyers, you may start thinking about international marketplaces to expand your reach ­­–– like Alibaba.
So now, you may be asking: Should I sell on Alibaba?
If you're wondering who should sell on Alibaba, we've got answers.
Keep reading to get answers to questions like:
Keep reading to learn more about why you should be an Alibaba seller!
P.S. Want to get the latest tips for marketing your business online? Subscribe to Revenue Weekly, our bi-weekly newsletter, to get tips from the digital marketing company with over 25 years of experience!
Who should sell on Alibaba?
Curious to know who should sell on Alibaba? Here are three types of businesses that should sell on Alibaba:
1. Businesses whose primary market is other businesses
First and foremost, you must be a business-to-business (B2B) company to sell on Alibaba. This online marketplace only caters to B2B companies, so you must meet that qualification to sell on the platform.
If you're a business-to-consumer (B2C) company, this platform is not suitable for you.
2. Businesses that sell products
To be an Alibaba seller, you also need to sell products. Since this platform is ecommerce-based, you need to sell products to other businesses.
These goods range from clothes to housewares to office supplies. Alibaba also enables businesses to sell items that aren't physical goods, like software.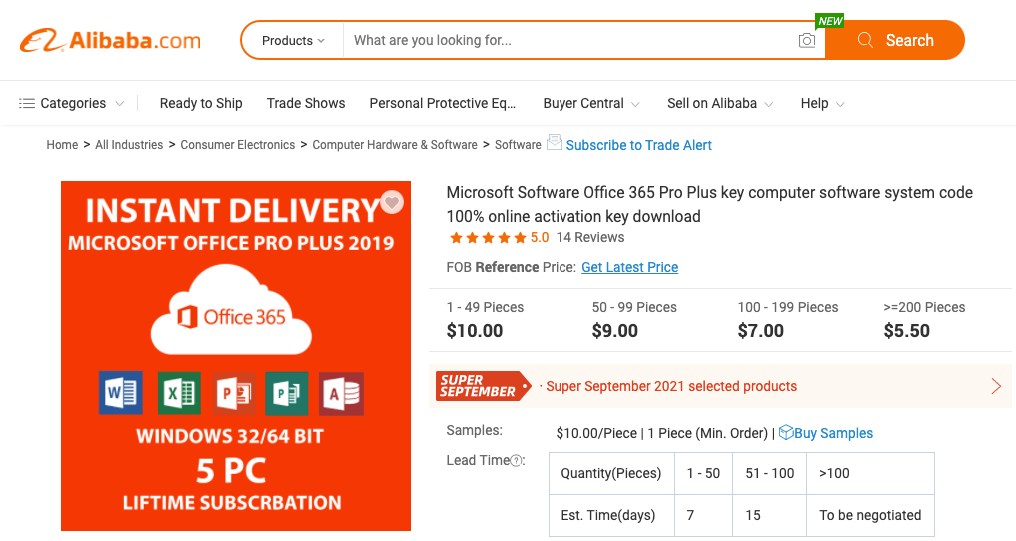 With products like software, you can offer codes for instant download.
Remember that whatever software you're selling should be relevant to businesses and their operations.
If you only offer services, you can't sell on Alibaba.
3. Businesses that sell in bulk
Alibaba is great for B2B businesses that sell in bulk. Since this platform is B2B, many companies who shop on the platform look to purchase multiple units.
For example, think about office supplies. When companies buy items like pens, they can save money by buying them in bulk since they need them for everyone in the office.
Alibaba makes it easy for these buyers to purchase in bulk.
Alibaba allows companies to sell products in higher quantities, too. Your business can set tiers for pricing, so shoppers pay less the more they order.

4 reasons to sell on Alibaba
Still not convinced you should sell on Alibaba? Here are four compelling reasons to sell on Alibaba!
1. You want to reach a global market of buyers
One of the biggest reasons to be an Alibaba seller is to reach a global market of buyers. Alibaba has over 26 million active global buyers. Companies across the globe use their platform to find the products they need for their company.
If you're looking for an opportunity to reach a global audience, Alibaba is a great place to do it.
2. You want to sell more products
Do you want to increase sales for your business? Then Alibaba is a great option!
If you're a B2B business trying to sell products, you may find it challenging to use other platforms, like Amazon, because they're catered more to B2C companies. With Alibaba, the platform is built specifically for B2B ecommerce businesses.
As a result, you're reaching the right audience of people interested in buying your products.
It helps you increase sales for your business, and therefore, revenue.
3. You want an easier way to sell in bulk
One of the most significant benefits of Alibaba is the ability to sell in bulk. Many ecommerce platforms make it challenging to sell in bulk.
Amazon, for example, offers tiered pricing to help businesses sell in bulk. The only issue, though, is that these listings appear in search results with consumer-focused listings.
When looking at pens, for example, there's a mix between larger packs and bulk options.
It makes it more challenging for businesses to see all their options because they must sift through listings that aren't relevant to their bulk supply needs.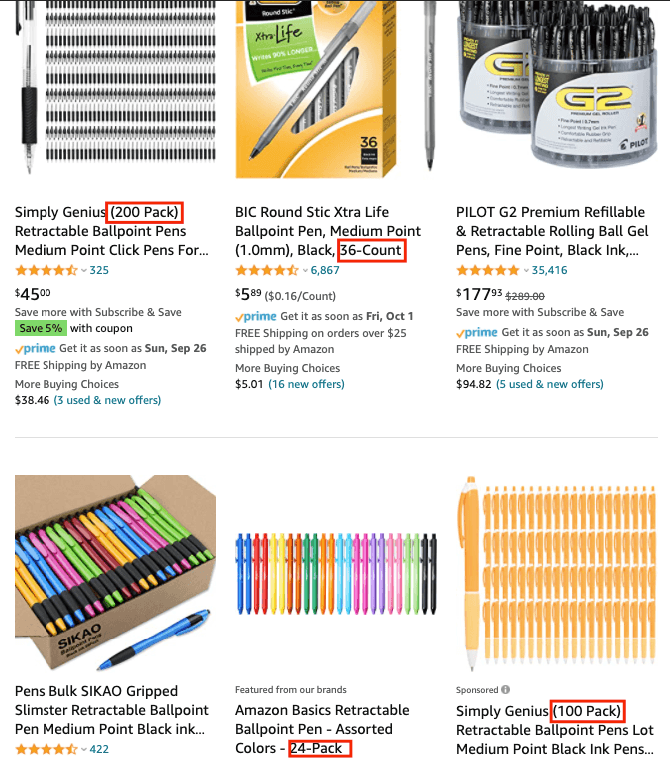 With Alibaba, you're on a platform built to sell in bulk. Consumers don't have to worry about sifting through irrelevant listings to find yours. As long as your listing offers what businesses need, they can easily find you and buy from you when searching on Alibaba.
Should I sell on Alibaba?
Now it's time to answer the lingering question: Should I sell on Alibaba?
If you're a B2B business that sells products and wants to expand your market, Alibaba is a great option.
It allows you to increase your global reach and open yourself to new markets through a highly rated platform.
On the other hand, if you're a B2C business, Alibaba isn't the best option for you. Instead, you can try another one of the Alibaba Group's platforms, like the B2C platform AliExpress, to sell your products.
How to sell on Alibaba successfully
If you decide to be an Alibaba seller, here are four quick tips to follow to help you sell successfully:
Upload numerous products: If you want people to discover your business, it starts with the products you upload. Upload as many product listings as you can to increase the chances that people will find you. You can create separate listings for each variety of a product to create even more listings!
Answer customer inquiries fast: Having a high response rate attracts buyers. When people reach out to you with questions or requests for customized quotes, answer them as soon as possible to provide top-notch customer service.
Utilize keywords: Keywords help your product listings appear in the right search results — they're essential for Alibaba SEO. You can only choose three keywords for your listing, so choose the most important ones. You can also integrate more keywords into your title to help you rank in searches.

Run Alibaba ads: Alibaba ads are an excellent way for your business to appear in more relevant search results and appear higher in them. You can target specific keywords to help you drive more traffic to your listings.

Need help selling on Alibaba?
Now that you know who should sell on Alibaba, you may find your business is a good fit to sell on the platform. If you want to start selling on Alibaba, you don't have to go it alone –– the experts at WebFX can help!
Our team of over 500 marketing experts knows how to sell products on popular marketplaces like Amazon and Alibaba. We've handled over 12.9 million transactions, making us an unmatched ecommerce partner for helping your business drive more revenue!
Contact us online or call us today at 888-601-5359 to speak with a strategist about our ecommerce marketing services!
How is your website's SEO?
Use our free tool to get your score calculated in under 60 seconds.
Get posts by email
Join 200,000 marketing managers and subscribe to Revenue Weekly!
"*" indicates required fields
WebFX Careers
Join our mission to provide industry-leading digital marketing services to businesses around the globe - all while building your personal knowledge and growing as an individual.