Thanks to Amazon Posts, Lee just scored another order for his business — and he didn't pay a cent for it. Amazon Posts, also called Posts, offer your company a free way to promote your brand and products on Amazon. Like social media posts, Posts use captivating images, compelling captions, and a prime spot in product listings to drive brand awareness, product discovery, and even product orders.
Keep reading to learn all about Amazon Posts, complete with answers to the following questions:
P.S. If you're looking to grow your company's revenues more, sign-up for Revenue Weekly to start receiving tips and advice on how to maximize the performance of digital marketing strategies like search engine optimization (SEO) and pay-per-click (PPC) advertising for your business!
What are Amazon Posts?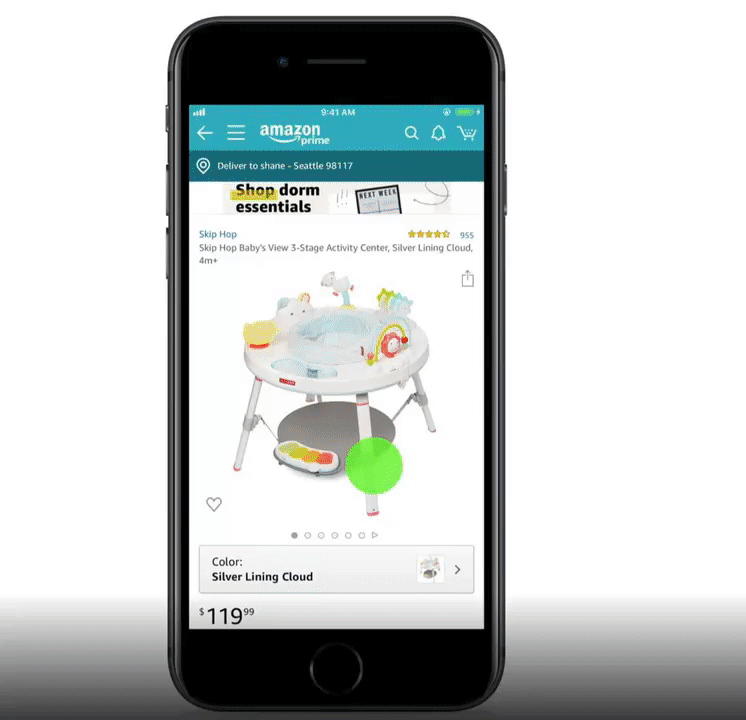 Amazon Posts are cards or posts that promote your brand and products for free through lifestyle images, descriptive captions, and a link to the relevant product's page. Posts appear across the Amazon app, including your brand's feed, related product and category feeds, and your product's listing.
Who can create Amazon Posts?
If you're looking to create Amazon Posts, you'll need to meet the following requirements:
U.S. Amazon seller or vendor
Amazon Store owner
Per Amazon Posts guidelines, you cannot create Posts for the following products:
Alcohol beverages
Tobacco products and related tobacco products
Adult products
Tattoo and body branding products
UV tanning services and equipment
Weapons
Not enrolled in Amazon Brand Registry or behind an Amazon Store? Check out our guides for opening an Amazon Store and becoming an Amazon Brand Registry member. If you need help, we offer Brand Registry consulting services for Amazon, plus Store launch services for Amazon!
Why create Amazon Posts?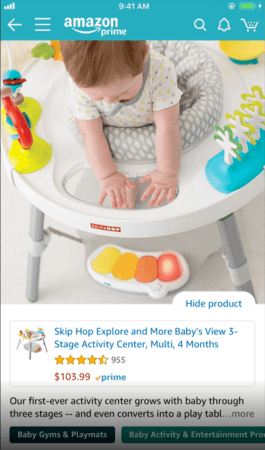 Companies like yours can use Amazon Posts to reap several benefits, including:
Promote products for free across Amazon
Help shoppers discover new products
Get valuable data on which images and captions drive views and clicks
Repurpose social media content for Amazon and maximize its value
Create demand for your products with lifestyle imagery, which shows people using your product
Build brand awareness for your brand and products
Ready to get started with Posts? Keep reading for our walkthrough on how to create Amazon Posts.
How to create Amazon Posts
In seven steps, you can build and launch your first set of Amazon Posts. Here's how:
1. Visit posts.amazon.com
When you arrive at posts.amazon.com, you'll either see the Amazon Posts dashboard or the Amazon Seller Central login screen. If you see the login screen, go ahead and enter your credentials to load the dashboard.
2. Create your profile
Once you see the Amazon Posts dashboard, you'll need to create your profile, which includes:
Verifying your brand name
Uploading your brand logo
After you complete these two steps, you can move onto building your first set of Amazon Posts.
3. Click "Create Post"
Next, click the "Create Post" button in the upper-right hand corner. The dashboard will then load the Amazon Posts builder, which allows you to create and preview your Posts.
4. Upload your photo
Start by uploading a photo for your Amazon Posts — each Post will feature one image. When choosing your image, keep in mind the following requirements:
File format: JPG or PNG
Color format: RGB
Display aspect ratio: 1×1, 16×9, 4×3
Maximum file size: 100 MB
Resolution: 640 x 640 pixels or larger
Your image cannot contain the following, either:
A call-to-action (CTA), like "Buy Now"
A brand logo or combination of logos
A cluster of elements, like highlighting multiple products in a collage
An animation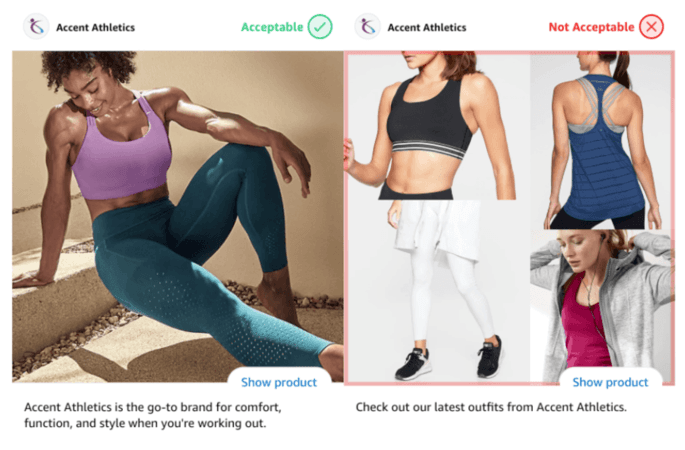 Aim to use lifestyle images. Amazon advises, for example, using images that put your brand or product in context. A company that sells sportswear, for instance, may upload pictures that show people in the gym wearing their product.
5. Add your caption
Next, write your caption — captions have a limit of 2200 characters. Captions for Amazon Posts must comply with the following requirements:
Promote a product your business owns or carries authorization to resell or distribute
Use language suitable for a general audience
Written in the primary language of the Amazon site where the Post lives, like Spanish for Posts on amazon.es or English for Posts on www.amazon.com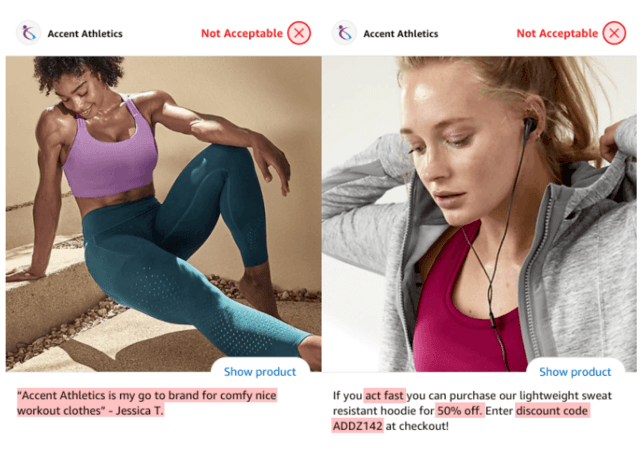 Your caption should also avoid:
Questions that speak to the user directly, like "Are you looking for…?"
Star ratings or customer reviews
Fake functionality, like a "play" button
Emotionally charged language, like "Last chance" or "Don't miss out"
Deal promotions
References to other brands
Requests to contact your brand via other channels, like email or social media
Like, comment, or share requests
Shipping or delivery claims
Amazon does offer some flexibility when it comes to captions. You can use emoticons, for instance, and hashtags. Shorthand, like "w/" for "with" is also allowed.
Keep in mind, however, that shorthand could leave some shoppers confused.
6. Enter your ASIN
Once you add your creatives, enter your product ASIN, which will provide Amazon with the appropriate link for your Amazon Post. This link will take shoppers to your product listing — if they click on your Amazon Post — so make sure your ASIN is correct.
7. Submit your Amazon Post
With your image uploaded, caption written, and ASIN provided, you can preview and submit your Post to Amazon. In the Post builder's right-hand corner, you can see what your Post will look like on Amazon. Double-check for any errors, like typos, and then click "Submit for review." After Amazon approves your Posts, you can monitor its performance at posts.amazon.com.
Keep in mind that you can create an unlimited number of Posts, so take advantage of this feature to build brand and product awareness, as well as drive sales.
5 Amazon Posts examples to inspire your first Post
If you're looking for some inspiration for your first Post, check out these five Amazon Posts examples:
1. Skip Hop
In this example, from Skip Hop, the company uses an emoji to stand out on a product listing: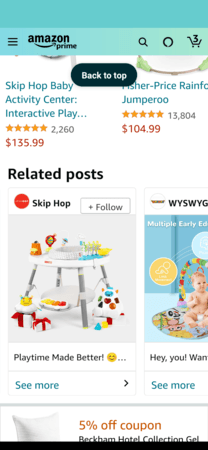 Shoppers that open the Post learn more about the Skip Hop brand and one of its products: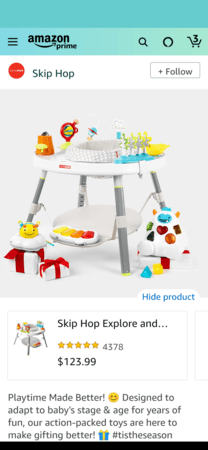 2. WACACO
With its Amazon Posts, WACACO coordinates its image and caption to target its audience — campers: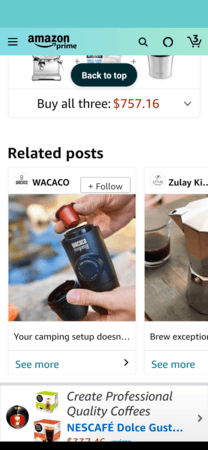 On the detail page, shoppers can see the product up close, plus its price and ratings: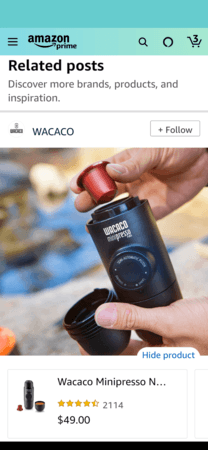 3. Best Friends
In this Amazon Posts example, Best Friends uses shorthand — "puuurfect" — to connect with shoppers: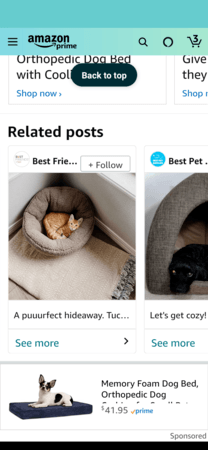 The company also includes valuable information on the detail page, like the number of colors available: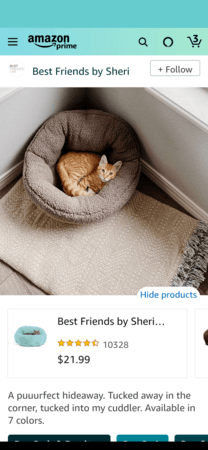 4. Cave Tools
Cave Tools uses Posts to show its product, a grill scraper, in action: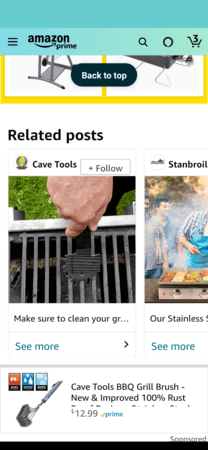 Like WACACO, Cave Tool's Posts view benefits from an impressive star rating and competitive price:
5. RTIC
RTIC uses its lifestyle photo to showcase not one but three of its products: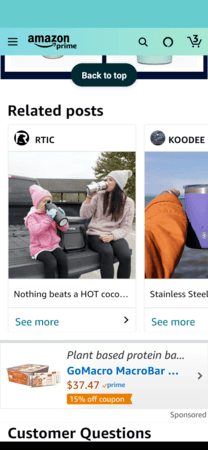 On the detailed view, RTIC uses a hashtag to highlight its product's value — #OverbuiltNotOverpriced: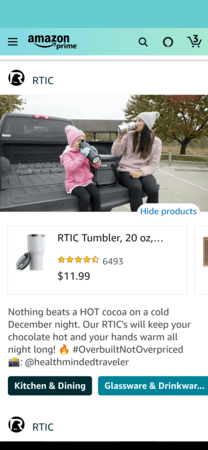 If you want to see more Amazon Posts examples, open up your Amazon app and start browsing product listings. You'll quickly see "Related posts" on a variety of listings, which can provide your company with lots of inspiration.
We don't want to tell you about the work we do, we want to SHOW you.
View Our Portfolio

We've built over
Websites
in a variety of industries.
Start driving traffic to your product listings with Amazon Posts
Amazon Posts offer your business a free and effective way to:
Boost brand awareness
Drive product discovery
Uncover product features to highlight
Generate product sales
The first step to increasing your SMB's Amazon sales is getting a FREE proposal.
One of our experts will be in touch within 24 hours!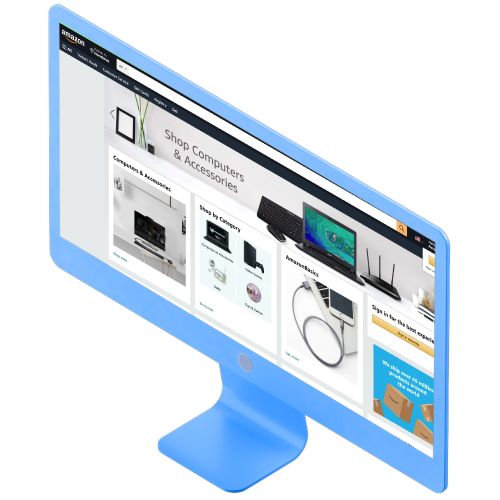 That's why, if your company qualifies, it's essential to start creating Amazon Posts. Don't have the time to market your Amazon Store or products the way you want? Ask WebFX for help.
We offer Amazon Store, SEO, and PPC services for Amazon that will help your brand earn more revenue from selling on Amazon.
Contact us online or give us a ring at 888-601-5359 to learn more today!
WebFX Careers
Join our mission to provide industry-leading digital marketing services to businesses around the globe - all while building your personal knowledge and growing as an individual.