Digital Marketing For Car Dealers
Like every other business, auto dealerships have added the Internet to their marketing mix. After years of employing the same tactics — TV commercials, flyers in the paper, and signs in the store window — they're trying to implement online marketing tactics that save time and money.
However, it's not always an easy transition to make. There are so many ways to market your business online that it can be tough to juggle them all. It's even harder to stand out among your competitors, who are using the same tactics, and could possibly take attention away from your business.
Digital marketing for car dealerships requires more than just being known — it requires keeping people loyal and engaged. By reading this article, you'll learn why digital marketing is so important for car dealers. You'll also learn what your dealership can do to launch a successful digital marketing strategy. If you'd like to speak with one of our marketing experts, you can reach us at 855-601-5359.
Attract more clients with car dealership marketing.
How is digital marketing for auto dealers different from traditional sales?
The main difference between traditional marketing and digital marketing for car dealers can be summed up in one word: interaction.
In a traditional marketing campaign, you might place ads on TV and radio and in the papers and then bring car buyers in for a one-on-one conversation. Now, that conversation has to happen before people even walk in the door.
Digital marketing makes this possible through a wide range of channels, including email, blogs, interactive forums, social media, and more. You used to be able to bring buyers to your dealership with one-way messages. Now, if you're not actively engaging with them before their visit, they'll pass on your dealership for another one.
Why do car dealers need to market online?
Since consumers have started driving the marketing process, it's up to businesses — including yours — to react appropriately.
Consumers no longer respond to ads that may or may not be relevant to them, or are delivered in an interruptive manner. They actively look for what they want, when they want it, by going online and doing a search.
That, of course, is the main reason for marketing online. However, digital marketing for car dealerships isn't just about selling more cars (although that's a major incentive). It's about giving people reasons to buy from you, or recommend your dealership to their friends and associates.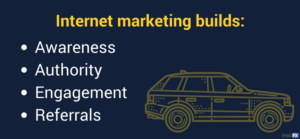 Digital marketing gives customers reasons to buy from your dealership by building the following:
Awareness
Your dealership is not the only one in town. Depending where you live, there could be dozens of others, some of them selling the same makes and models.
People are too busy to spend hours searching for the right option with offline advertising or printed materials. With digital marketing, your dealership gets in front of them at just the right time with the right message. If they like what they see, they won't bother looking any further.
Additionally, ongoing online marketing can lead to increased awareness of your brand and dealership. So when someone asks themselves "who should I visit now that I need a car?" your name will come to mind first, thanks to the awareness-building campaigns you have invested in.
Authority
When people are looking for a new car, they want to buy from someone who knows a thing or two about vehicles. A digital marketing strategy that positions your dealership as a source of expertise is the first step to building the kind of trust that motivates people to reach out when they're ready for a new car.
In order to increase your dealership's authority, you should strive to provide informational content that is interesting and beneficial to your target audience.
Part of Google's ranking algorithm has to do with the way users interact with your content. If a lot of users benefit from your content, you'll rank higher in search engine results pages – which goes hand-in-hand with increased authority.
Engagement
Yes, a car sale is a transaction, but it's a big one. Buyers have a lot of questions about the models you sell, and they're more likely to buy from you if they know you're going to listen to their concerns and take the time to address them.
Online marketing can play a big role in beginning this dialogue. It can also build engagement prior to the sale, and enable conversations, through the use of things like social media and blogs.
Referrals
One of the biggest advantages of online channels is the ability to share content quickly and easily. People can forward emails and share links, which makes it easier to tell other potential car buyers about your dealership. This turns web users into potential customers, as well as potential referral sources.
And if you're questioning the power of referrals, just remember that people are 4 times more likely to buy something when they're referred by a friend.
What are some good online marketing ideas for car dealerships?
Digital marketing for car dealers has a lot of benefits. The next step is figuring out how to achieve them. What's the best way to reach potential car buyers and bring more of them into your dealership?
In traditional marketing, you had a lot of channels, including print, TV and the radio. Online marketing has even more options, and some are more effective than others, when it comes to dealerships like yours.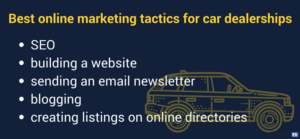 Let's look at a few of the best ways you can use online marketing as an auto dealer.
Optimize for SEO
SEO, or search engine optimization, is a way for website users to improve their website in a way that allows them to rank highly in search engine results pages.
These improvements include things like cleaning up the HTML code of the website, correcting spelling and grammar issues, creating beneficial content, and creating a diverse backlink profile in order to increase authority.
Though the results of SEO aren't always immediate, SEO has the biggest impact on your car dealership in comparison to any other digital marketing strategy – so whether you choose to take on SEO in-house, or hire an agency, it's definitely a great decision.
Build a website
A website serves many functions, from introducing your business to generating new leads. It provides an overview of your dealership to as many as thousands of potential buyers at a time. It's also an efficient way to showcase the cars in the lot and highlight the models you want to move today.
Additionally, with a well-designed and engaging website, plus some careful search engine optimization, you can make your brand the one that ranks #1 when someone searches for "car dealer" online in their area. Take a look at this five minute introduction to SEO that will help you understand how this tactic can help you attract more buyers.
Send an email newsletter
Not all prospects are going to go to your website, but an occasional email with a compelling incentive can point them in that direction. A weekly email showcasing the latest models and special deals allows you to stay in touch with people, whether they've bought from you or not.
Your subscribers may not be in the market for a new car now, but when they are, they'll keep you in mind. Just remember that you should only send emails to people who have opted-in to your list, or given you express written or verbal permission to be added to your mailing list.
Start blogging
Car buyers have a lot of questions about cars. They want to know how to choose one, how to take care of one, and even how to sell one when it's time to upgrade.
A blog with these tips and more, plus fun facts about cars, goes a long way to transforming your dealership into a trusted source of advice, which makes you look more trustworthy as a seller. Blog posts can also give your website a great advantage in search engine rankings, since they naturally contain keywords, questions, and information that online shoppers are looking for.
Create listings in online directories
Some traditional marketing methods have transitioned into online tactics, including local listings. YP.com, Yelp, and other listing sites allow people to find businesses right in their towns or neighborhoods.
Take advantage of these online listings by ensuring you have a complete profile on sites like this. Make sure to link to your website and provide contact information right on each page to generate more leads. If you have social media pages on Facebook or Twitter, make sure you link those, too!
Adopt content marketing
Content marketing is the practice of writing text, creating graphics, and shooting videos that answer your customers' most common questions.
While this is all collectively called "content," certain formats work better for certain topics and goals.
Text
Text is the standard content format. It's also easy to create, versatile, and helpful. Text is the foundation of blog posts, site pages, and almost every other content format.
It's helpful for answering questions in detail, and it's a great way to create content that ranks in Google search results. That's because Google's search algorithm only reads text. It can't "see" multimedia the way that people can, so text is the most direct way to let Google know what your pages are about.
That doesn't mean other content formats are bad — in fact, they can help your dealership's website a lot. But it does mean that you'll need to do some writing to launch your digital marketing strategy.
You can find topics to write about by listening to your customers' most common questions.
Do they want to know about certain car models you sell?
Do they often ask about the purchasing process?
Is there something you frequently say that seems to put your customers at ease?
These are all great starting points for content because you know that your customers are interested in them. And when you post the answers to these questions online, you can start addressing them before a potential customer ever comes to your doors.
That means you can start answering them before your competitors, too.
But if you want to succeed with content marketing, you need more than a wall of text.
Graphics
Graphics are the best way to break up the text on your page and add some color for visual interest.
You have tons of options at your fingertips for different graphics to use, but the two most popular are photos and data visualizations.
Photos are great for showing off your dealership and vehicles, and adding a sleek header photo to a page. You can take photos yourself for look for free stock images to use online.
Data visualizations are strong ways to make a point. Pie charts, bar graphs, and even simple percentages are all good ways to persuade a customer to a sale.
You have other options available to you, too. But these two are the easiest way to get started with visual content.
Videos
Videos are taking the Internet by storm.
If you want to show off a new car, introduce a new salesman, or just take viewers for a walk around your showroom, video is the best way to do it.
Videos show your viewers that you're committed to giving them a great experience. After all, you shot a video to make it easier for them to get an idea of what to expect from you, instead of just reading chunks of text.
That makes videos powerful companions to text-based pages. In fact, adding videos to the top of your text pages can have a dramatic impact on your overall sales.
How?
Because the video attracts and engages your visitors more effectively than text alone. Then, you follow the video with a call to action that encourages the viewer to contact you.
From there, you can set up an appointment, get the customer behind the wheel, and help them through the buying process.
There are many other ways you can use content to reach and convert new customers, but using this basic process, it's fairly straightforward to improve the digital experience you provide.
Optimize for local SEO
Local SEO is the practice of listing your dealership in online outlets that display your company name, phone number, hours of operation, and address.
This is most noticeable on Google, which uses Google My Business to add your business to relevant search results.
Local SEO is great because it helps your dealership show up in multiple areas in search results.
So you can rank #1 for a search term and then show up again to the right of it! That's great brand exposure for your business, and it increases the odds that someone will go to your website. Then, the conversion process is the same as using regular SEO or content marketing — get someone on your site and get them in touch with your business!
Local SEO works especially well for mobile search results. Mobile devices typically have smaller screens, which makes your business even more powerful when you show up in regular SEO and local SEO results.
That double listing means that a user would have to scroll past your brand twice to find a competitor.
In other words, they have to actually try not to see your dealership's website.
That puts you in a great position if anyone who looks up your dealership on a mobile site.
50% of all mobile searches are for local results, and 80% of local searches convert. So when someone looks up car dealerships on a mobile device, you can be confident that person is serious about making a purchase.
Make your online marketing more effective
Digital marketing for auto dealers is quickly becoming a necessity. To stay competitive and attract new customers, you need to be where people are looking for businesses—and in this day and age, that's online.
If you're not taking advantage of all the marketing opportunities available online, get started now by following some of the tips outlined above. Not sure you can handle it on your own? There are plenty of digital marketing companies ready and willing to lend a hand so you can further grow your business online.
WebFX is a leading digital marketing firm that has the skill, knowledge, and team you need to build your brand online. We have more than 550 glowing client testimonials, and have helped thousands of businesses grow their businesses with marketing, search engine optimization, and web design—and we'd love to find out how we can help you, too!
Give us a call at 888-601-5359 or contact us online today to find out how our team can make your online marketing more effective. We can't wait to hear from you!
Find out how WebFX can help you create an effective car dealership digital marketing strategy.
Call 888-601-5359 or contact us online today for a free evaluation.