Every car owner needs an auto part retailer at some point in their lives. So how do you beat out your competition? Digital marketing is the answer.
Digital marketing allows you to reach customers where they're looking – online – and to help them become a loyal customer with a few clicks.
With a combination of strategies, you can be sure that your auto parts store gets more website traffic, qualified visitors, and customers year after year.
On this page, we'll talk about why digital marketing is so important to auto part retailers and what you can do to attract the perfect audience. If you'd like to speak with one of our digital marketing experts, you can reach us at 888-601-5359.
Time to Level Up Your Sales
Our long list of services helps you grow every aspect of your business with marketing strategies that are proven to increase bottom-line metrics like revenue and conversions.
In the past 5 years, we've managed more than 12.9 MILLION transactions across our client base.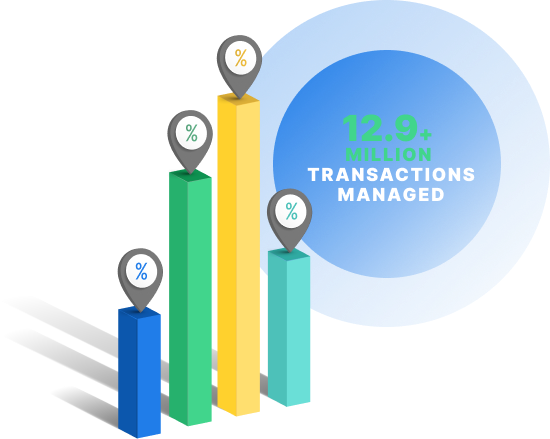 The importance of digital marketing to auto part retailers
The auto part industry is alive and well, and it's your job to ensure that you're at the top of the pack.
Your digital marketing strategy has to be spot on to ensure that you rank higher than your competition in search engine results pages (SERPs).
This is especially true for Google.
Digital marketing targets your customers so that you advertise to users who need your services.
Digital marketing increases brand awareness, rankings in search engines, and more all at the same time.
Simply put, Internet marketing is essential to your auto part retailer if you want to grow.
Hear What It's Like to Work With WebFX!

"Our experience with WebFX has been very positive. After working together to establish our SEO/PPC goals, we were and continue to be informed frequently of progress and concerns. We also appreciate the fact that conversations are not laced with technical jargon; information is put forth in an easy to understand format. We are very satisfied with the service provided and would highly recommend WebFX."
Auto Parts Provider
4 digital marketing strategies for auto part retailers
There are a handful of ways that you can market your auto parts retailer online that can help you gain traffic to your website and to your physical storefront.
1. SEO
SEO, or search engine optimization, should be the first step in any Internet marketing campaign.
It allows you to improve your site's position in Google by making your website easier to read for users and search engines.
You should start any SEO campaign with keyword research, which allows you to find what users want to know about your industry.
For example, one of your most valuable keywords could be "brake pads for Jeeps" or "exhaust pipes for Toyotas."
The sweet-spot keywords have high search volumes and low competition. That means a lot of people are searching for the keywords, but other auto part retailers aren't writing about them.
After you find your keywords, you should create content that explains those keywords.
Content creation is important to your strategy for many reasons. It's a great way to rank in SERPs, it's perfect to share via social media and email marketing.
2. PPC
PPC, or pay-per-click advertising is a paid method to market your auto parts retailer.
These ads work on a bidding system, where you choose your keywords and how much you're willing to spend for an ad.
Best of all, you don't pay when the ad is viewed — you only pay when the ad is clicked.
When someone clicks, the ads take users to landing pages where users will learn about the parts or services that they want.
From there, they can buy an item, fill out a form, or schedule an appointment at your store.
3. Email marketing
Email marketing is a great way to keep in touch with interested customers. It also consistently reminds interested users of your presence and willingness to help them with their car part needs.
To engage your recipients, you can use graphics, videos, coupons, and a call to action that encourages someone to take the next step to becoming a paying customer.
4. Social media marketing
Social media is one of the best ways to spread the word about your auto parts store.
Social media platforms have billions of users combined, making them one of the best places to build brand awareness for your auto parts retailer.
Facebook, Twitter, and Instagram are the three platforms that work especially well for auto part sellers.
Facebook is a great platform to connect to current and potential customers. Your followers can also rate your services, which helps build trust and authority among new followers.
Twitter works well because it forces you to be concise with your posts. This makes it ideal for sharing links, videos, and infographics.
Instagram is a photo-based app you can use to post photos of your auto parts. You can post a link to your website in your bio and add links to your products underneath their photos.
Does your auto parts retailer need help starting the perfect digital marketing campaign?
WebFX is a full-service digital marketing agency. We specialize in all the strategies mentioned, and we can help take your auto parts retailer to the next level online.
You'll see an increase in SERP ranking, website traffic, and foot traffic – which will ultimately result in an increase in sales.
Contact us today to talk to a specialist and get a free quote!
Earn a 20% greater ROI with WebFX