Are you wondering how you can increase revenue and sales for your personal protective equipment (PPE) company? With the growing demand for PPE, an effective search engine optimization (SEO) strategy can help you attract more customers and more sales to help grow your business.
On this page, we'll go over the importance of SEO for PPE manufacturers and dive into five revenue-driving SEO strategies to boost the success of your company.
And if you're ready to get started with SEO for PPE companies straight away, our SEO services for can help! We can create, implement, and monitor effective SEO strategies that will drive revenue for your PPE business.
Speak with one of our strategists today by calling 888-601-5359 or contact us online to learn more about how we can help grow your PPE company.
Looking for an all-in-one SEO audit tool? You've found it.
SEO Checker provides data on key metrics to give you:
Complete SEO score

Content Grade

Site Speed Analysis

and more.
What is SEO for PPE manufacturers?
SEO for PPE manufacturers is a digital marketing strategy that focuses on your business's presence in search engines like Google. In other words, SEO strategies can help your business rank higher in search engine result pages (SERPs) so more consumers can find your PPE business online.
3 reasons why SEO for PPE companies is essential
So, why is SEO essential for PPE companies? With the increasing demand for PPE, it's essential to stand out from your biggest competitors to attract more customers and sales.
And if that's not convincing enough, here are three more key reasons why PPE companies need SEO. SEO can help you:
Increase web traffic: SEO strategies can help you rank higher in the SERPs, which means more consumers will find your PPE business online, driving more potential customers and traffic to your website.
Outrank competitors: Perhaps one of the biggest benefits of SEO is that it can help you outrank your biggest competitors. This is essential for attracting more customers and increasing your sales and revenue.
Boost brand awareness: SEO can also help you boost brand awareness for your PPE company. Because your website will rank at the top of the results, more consumers will become familiar with your business and eventually recognize your business as an expert in your industry.
With the right SEO strategy for your PPE company, you'll be able to stand out from the competition and attract larger numbers of customers to your website, boosting the success of your business in the process.
4 SEO strategies to boost sales for your PPE company
So, how can you use SEO to boost sales for your PPE company? With these five SEO strategies for PPE companies, of course!
Start increasing your search engine rankings with these helpful strategies:
1. Conduct keyword research
Conducting keyword research is a must for any successful SEO strategy. Keywords are the words and phrases your potential customers are searching for when they use a search engine like Google.
Keyword research can help you identify these important terms so you can ensure your PPE company appears at the top of the search results each time a user searches for those keywords and phrases.
And if you're not sure how to identify these crucial keywords, we've got you covered with KeywordsFX. KeywordsFX will help you easily find the keywords your target audience is searching. You can even export your research, so you can access it later.
2. Optimize your website
The performance and appearance of your website plays a large role in determining your search engine rankings. Here are a few ways you can optimize your website to perform better in search engines:
Improve your page load speed: Ensuring that your web pages load as quickly as possible is essential. Potential customers may leave your website if it takes too long to load. And fast-loading websites usually rank higher in the SERPs too.
Improve your website user experience: If users have a poor user experience on your site, they might leave your site. That would send signals to Google that your website isn't helpful for consumers, leading it to rank your website lower. So, ensuring your visitors have the best possible experience on your website is key for increasing both your sales and search engine rankings.
Insert keywords throughout your website: Inserting keywords throughout your website can also help your PPE company rank higher in search results. Keywords can also let users know that your page has the information they're looking for, keeping them on your website longer.
Your website is a significant factor in your SEO strategy and search engine rankings. By optimizing your website for search engines, you can help your PPE company appear at the top of the SERPs and attract higher numbers of customers and sales for your business.
3. Start a content marketing strategy
Next on our list of SEO strategies for PPE companies is to create custom content. A content marketing strategy involves creating helpful and valuable content that interests your potential customers and answers their questions.
Content marketing is also an excellent way to insert more keywords and phrases to help your website rank higher in the SERPs. By creating custom content, you can also show off your expertise in PPE manufacturing, helping you to establish your company as an expert in your field.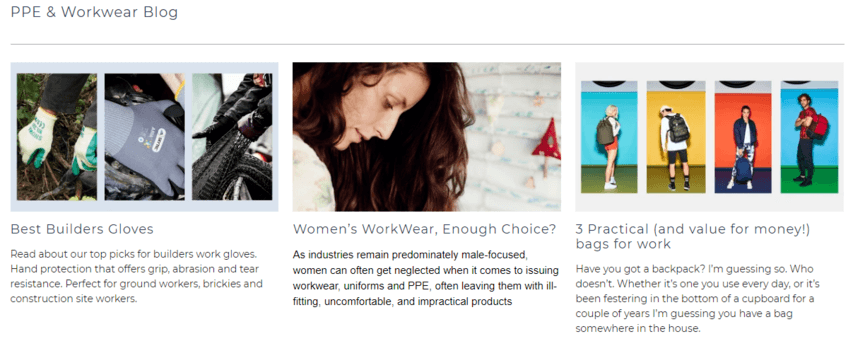 Your content can consist of:
With an effective content marketing strategy, your content can boost your brand awareness and trustworthiness with consumers and help your website rank higher in search engines. It's a win-win situation.
4. Don't forget mobile users
Our last SEO strategy is to remember mobile users. Billions of people across the world have smartphones, tablets, and other mobile devices that they use to buy products and browse the internet. That means it's essential to ensure your website will work and display properly on various types of devices.
One way to ensure mobile users can view your website with ease is to implement responsive design. Responsive design ensures that your website will display perfectly no matter which type of device a user is using to visit your page.
If you want to attract as many online consumers as possible to your PPE company's website, then implementing responsive design is a must.
Drive revenue with SEO services for PPE manufacturers from WebFX
Are you ready to start increasing your revenue and sales with SEO for PPE companies? That's where WebFX comes in!
Our top-tier SEO services have driven more than $3 billion in revenue and more than 7.8 million leads for our clients, and we can drive stellar results for your PPE company too.
Speak with one of our strategists by calling 888-601-5359 or contact us online to learn how our SEO strategies can boost revenue for your PPE business.
Earn a 20% greater ROI with WebFX
Earn a 20% greater ROI with WebFX