Your HVAC company provides the service and support that customers want.
Getting in front of your target market, however, is a challenge — especially online. Your website can help put your business front-and-center, though. That's why HVAC web design is so vital to your continued growth and success.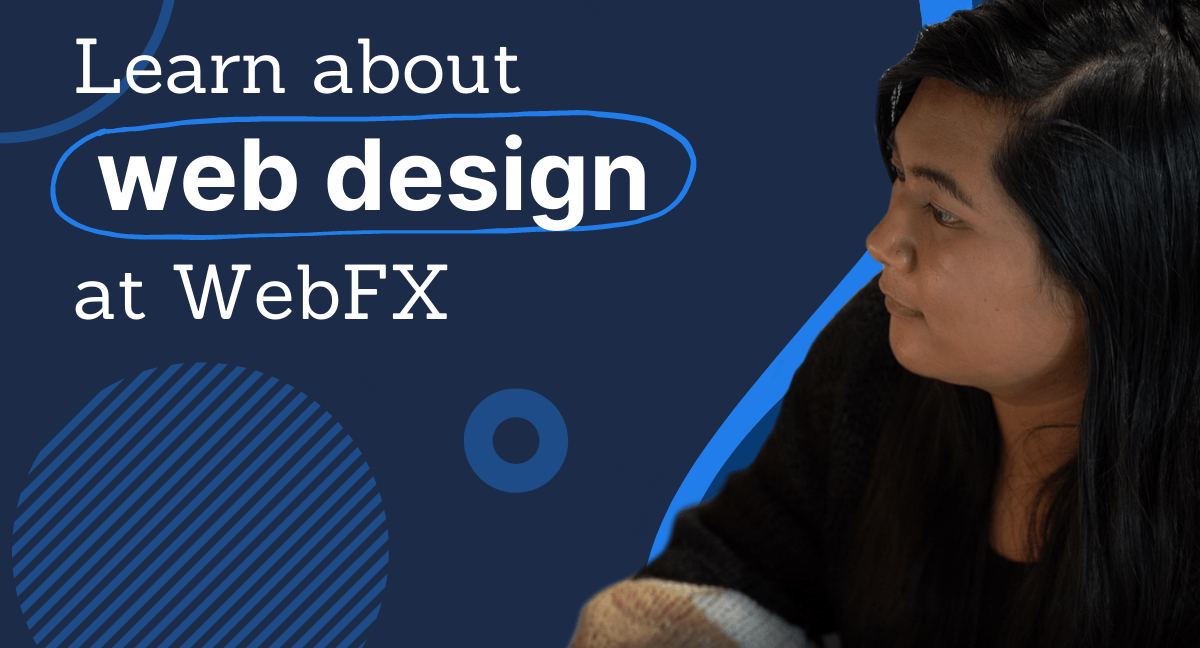 Websites for HVAC companies (like yours) help educate potential customers and business buyers, as well as influence their purchase decision. Not to mention, optimizing sites for search engines like Google (also known as search engine optimization or SEO) lets people find your company online.
At WebFX, our award-winning team of designers, developers, and SEO specialists provide your business with an HVAC website design that's not only attractive and easy-to-use but also optimized for mobile devices and search engines.
Learn more about our HVAC website design services below! If you'd like to speak with one of our web design experts directly, give us a ring at 888-601-5359 to chat about your site, business, and goals for your company.
We don't want to tell you about the work we do, we want to SHOW you.
View Our Portfolio

We've built over
Websites
in a variety of industries.
Choose your HVAC web design service
At WebFX, we offer mobile-friendly HVAC website services that range from 30-day designs to redesigns.
Website design services
Launch a brand-new, custom site for your company with our HVAC website design services.
Website redesign services
Update the look and features of your website with our HVAC website redesign services.
30-day web design services
Get a new site in 30 days with our rapid web design services for HVAC businesses.
Website maintenance services
Stay secure and live with our website maintenance services for your HVAC site.
Hear What It's Like to Work With WebFX!

"WebFX is always quick to respond to a question or request even if they do not have the answer right away. Their expertise on increasing our domain authority over the years has been significant and has had a positive impact on our website. They keep their offerings updated and monthly reporting is always on time."
Hvac Company
Get everything you need for your HVAC website
Choose our HVAC website services for a hassle-free and seamless experience that includes:
In addition, you can also trust your HVAC web design to be:
Attractive
On-brand
Easy-to-use
Fast
Mobile-friendly or responsive
Optimized for SEO
If you choose our website design or website redesign services, you can also count on our team to build a site customized to your needs and your audiences' needs. Our 30-day website design services rely on a template (of your choosing), which we personalize to your brand.
Why choose WebFX for HVAC web design?
Companies across the U.S. in a range of sectors, from industrial to ecommerce, choose WebFX as their web design agency for a few reasons. From our team to our results, we provide businesses like yours a seamless experience that makes your workday that much easier.
A few of the reasons why we're an excellent partner for HVAC web design include:
1,128+ websites launched
In-house design and development team
Dedicated account and project managers
Full-service website solutions, including SEO, site maintenance, and paid advertising
Not to mention, our client recommendation score beats the industry average by 488%.
We've also helped our clients' businesses achieve the following results in the past five years:
$3 billion in revenue
7.8 million in leads
5.2 million in phone calls
You can learn more about how our agency can support your business by contacting us online today!
Why web design for HVAC companies matters
Many customers in search of HVAC services will first look online to research their options. If your site ranks in search engine results, they'll visit it to get more information about what you offer, your pricing, and your company as a whole.
That means that your website acts as a first impression for potential customers, so it needs to professionally and successfully represent your brand. Not to mention, you need a mobile-friendly design that'll display on smartphones.
If your HVAC website's design is lacking, you could cause valuable customers to bounce from your site.
5 features of the best HVAC web designs
There are a few definitive factors that work together in making an HVAC website design the best it can be.
These factors range from website responsiveness, or consistency, and everything in between.
1. It's responsive
Your HVAC company's website needs to be responsive across all devices.
People no longer only use desktops to access the Internet. They also use smartphones and tablets – both of which have significantly smaller screens than a desktop computer.
Responsive design makes it possible for users to navigate and use your site on any device and browser, and click on even the smallest button easily.
If your HVAC website isn't responsive, customers could bounce because they're unable to access your website from their phone or tablet.
2. It's organized
An organized website allows visitors to find exactly what they're looking for in a timely manner.
The first thing you should do to organize your HVAC website is create a navigation bar. It should be at the top of every page on your website and offer a way for users to find what they're looking for with a series of drop-down tabs.
For example, some tabs for your HVAC company could include, "About Us," "History," "Our Staff," and "Our Services."
This allows visitors to jump directly to the pages that they want to see instead of wading thorough information and potentially getting frustrated.
Organization also refers to how different elements are arranged on each page.
Your web design should leave adequate space between elements, have consistent spacing, and not allow elements to overlap.
3. It's professional
Like we mentioned before, your HVAC website is often the first impression that potential customers will have of your company. As soon as they visit, they should know you're a professional company by the way that your site is organized, the fonts you use, and even the color palates you utilize.
A professional heating and cooling website will have helpful information, a navigation bar with useful tabs, and images where necessary, just to name a few essential elements.
4. It's consistent
Part of having a professional HVAC website is making sure that it's consistent.
No matter what page of your website a visitor lands on, there should be a consistent color scheme, fonts, navigation bar, and tone. It should feel like a cohesive website across every page.
This doesn't mean that you have to include similar content on every page, but at the very least, you should keep fonts, colors, organization, and format consistent.
5. It includes multimedia
About 65% of the world's population are visual learners, so your website will be much more interesting to viewers if you include different forms of visual content.
Multimedia includes anything from videos and pictures to infographics that allow site visitors to see information rather than read large blocks of text.
This is an important part of web design because it allows you to give information in a way that's easy to consume. Visual content is also known to keep site visitors on your website for longer, so it can decrease bounce rate as well.
Our digital marketing campaigns impact the metrics that improve your bottom line.
See More Results

WebFX has driven the following results for clients:

$3 billion
In client revenue

7.8 million
Leads for our clients

5.2 million
Client phone calls
Ready to improve your HVAC company's web design?
If you want a professional, fast, and secure website for your HVAC company, WebFX can help.
We have an entire in-house design and development team that can create a custom HVAC website design based on your brand, preferences, and goals that'll drive leads and sales to your company.
Contact us today for more information or a free quote.