When you build a house, the roof is an essential part of that structure. It prevents things on the inside from being damaged by rain, snow, wind, and other elements. When a roof is damaged, it is imperative to get it repaired so it can continue to protect the foundation and everything inside the house.
Just like a roof, your website is an essential part of your business. In order for your business to do well in the digital world, you need a reliable and well-functioning website. Your website is what consumers use to learn about your business.
One of the biggest aspects of your website is the design. Your design can be the difference between users staying on your site and returning to the search results.
If you aren't happy with the way your website looks, don't worry. Like a leaky roof, there are ways to patch up and fix your website.
Give us a call today at 888-601-5359 to see how we can help you create the perfect website for your roofing business, or keep reading to learn how to get started!
1. Make it attractive
They always say to never judge a book by its cover, but people will judge your website based on its appearance. The design of your website is crucial for first impressions.
Your web design is also important because it affects how users interact with your site. In fact, 38% of visitors will stop engaging with your website if it isn't appealing. This means that you are losing almost 40% of your interested visitors if your website isn't visually appealing.
So how can you ensure that your website is engaging and aesthetically pleasing?
1. Stay away from cookie-cutter websites
The last thing you want is for your website to look like 500 other websites.
Cookie-cutter websites aren't a good option for your business because they don't showcase your unique style. The themes that are offered are usually generic and offer no indication of your roofing company's personality.
It is best to create a customized website that allows you to add elements that showcase your brand and key selling propositions.
2. Choose colors that reflect your brand
If you own a landscaping company, picking a theme with different shades of green will reflect your business. As a roofing company owner, this may seem a little out of place.
It is best to pick colors that people would associate with your business. For roofing companies, colors like brown, beige, dark blue, black, and gray are a good fit (especially since many houses and roofs are this color). Your color choice plays a big role in people recognizing your business.
Wheeler Cat is a prime example of color association. You've probably seen the CAT logo before. The black and yellow theme are the defining features of the logo.

These are colors that people associate with the business, so it is carried throughout the website. Notice how there are just little hints of yellow, with the phone number, search bar, and active selections of items (e.g. "Home" page and hovering over "Residential Construction").
These small accents play a big part in the association of the brand. It ties in the logo's color theme, which pulls it all together for anyone visiting the site. Your color choices have a big impact when it comes to association.
3. Design an appealing and interesting website
You don't want to go over the top with your design. It is important to find a balance between minimal design and a cluttered website.
It is best to have a website that is simple, but effective. A simple design can go a long way. You don't need to have an over-the-top design to attract people to your website.
2. Simplify your navigation
Once you have people on your site, you want them to find the information they need. If your navigation is complicated or difficult to understand, people will leave your site.
Your navigation should be self-explanatory. If someone is coming to your site to look for information about the price of your services, they should be able to easily find it through your navigation.

Each heading should clearly explain what visitors will find when they click. Headings will keep your site organized and allow users to find information easily. A well-laid out website will keep users more engaged in your website.
3. Guide your visitors through your site
So you have users on your page and an easy-to-use navigation, but where do they go next? They may get to the pricing page, but what is after that?
It is important to create a direction for your website to guide users along. Whether it is guiding them to scroll down the page or directing them to another page on your site, users need to know where to go next.
Direction is important for converting visitors. If they get to the services page and there's nothing to direct them further, they may become disinterested. Users don't want to poke around for information.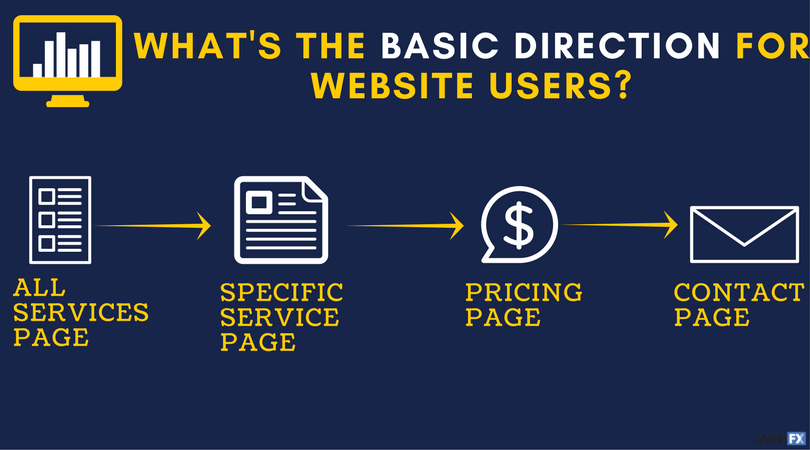 By creating a direction, you will enable users to flow through your site easier. They will know where to go next, and you will guide them down the sales funnel towards conversion.
4. Use responsive design
Users aren't looking at your website just on a computer. They are accessing your website through tablets and mobile devices too. There are over 4.7 million mobile users across the globe.
This means that your website needs to adjust to any device a visitor uses.
Responsive design enables your website to adapt to each device. It allows all users to enjoy their experience on your website regardless of the device they are using.
A lack of responsive design can have a lasting impression. In fact, 48% of people believe that a bad website means a company doesn't care about their business or their customers. It is important that your customers know that you value them.
Responsive design is the best way to ensure that all users have a good experience with your website. By utilizing this type of design, you will be able to keep users more interested and engaged with your roofing site.
5. Add interactive elements
You need to keep users interested in your website once they are on it. It isn't enough to have a website. It is vital to create elements that engage and interest users.
Videos are one of the most effective tools for increasing engagement. Today, 63% of Internet users regularly watch YouTube. The popularity of videos is constantly growing.
Your engaging elements aren't limited to videos. You can create quizzes, quote calculators, or slideshows of projects to get people engaged.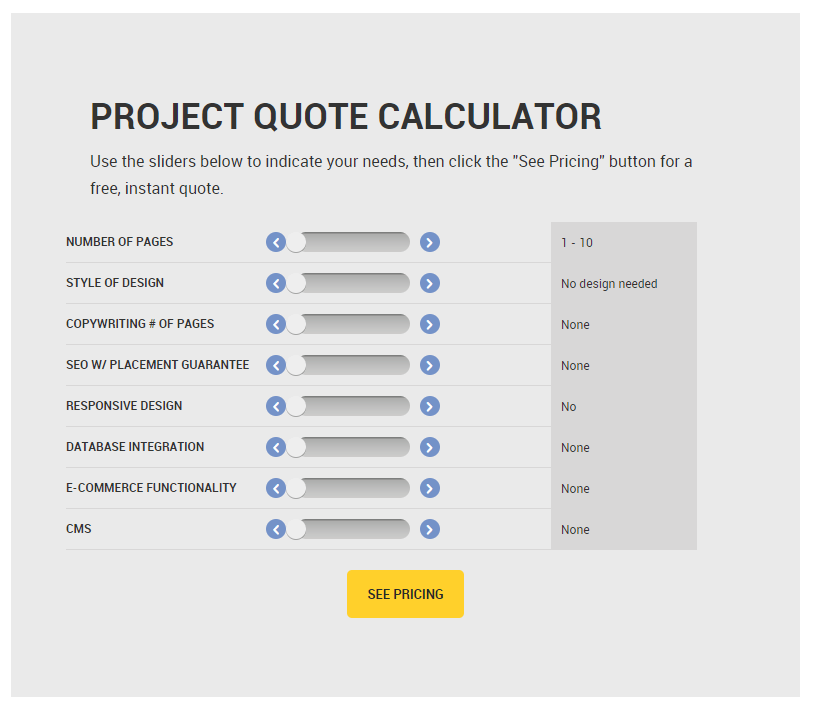 User engagement is an important part of good web design. By creating an engaging website, users will stay on your site longer and move closer to conversion.
6. Showcase your work
As a roofing company, it is important that users see the work you do. They are going to be investing money in your company and want to know you do quality work.
The best way to build people's confidence in your company's ability is to post projects you've done. You can post before and after photos or videos of your work. These are great options for you to show users what your company is capable of doing, and it's an engaging element too.
7. Utilize calls-to-action (CTAs)
Many companies make the mistake of not including calls to action (CTA) on their pages. People may be interested in your services, but how to do they know what to do next?
A CTA will guide people and tell them what to do next. Encourage them to call you, to check out another page on your site, or comment their thoughts on your content. Each page needs to suggest users do something.
CTAs are effective because they entice users to do something, get something, or learn more. It is best to use these on your page so you can encourage people to interact with your website and company more.
8. Post contact information in the same spot
No matter what page users are on, you want them to have access to your contact information. If something interests them enough to contact you, you want them to find that information quickly.
You should use a phone number for contact information. With tools like CallTrackerFX, you can see exactly where the phone calls originate.
The best way to ensure your contact information is found is to place it in the same spot on every page. You can place the phone number in the top corner of the page and use an accent color in your design to make it stick out.
Contact information is important to users, and 44% of users will leave if there isn't any contact information. The best way to combat this is to ensure it is on every page.
Let WebFX build the foundation for your website
At WebFX, we are dedicated to helping you build a strong foundation for your digital presence with a great website. As a full-service digital marketing company, we have all the tools necessary to help you create a website that ranks in search results, attracts more customers, and helps you earn more revenue online.
You will have award-winning designers helping you create the website of your dreams. Our extensive portfolio is proof of our years of experience creating award-winning websites for our clients. Not to mention, we have over 350+ testimonials from our satisfied clients!
Learn More
If you're ready to start creating the website your business deserves, give us a call at 888-601-5359 to speak with a specialist.
We look forward to hearing from you!
Find out how WebFX can create an effective Internet marketing strategy for your website. Call 888.449.3239 or contact us online today for a free evaluation.