When you're looking for digital marketing services for your industrial company, you want an industrial marketing agency with experience.
With the years of experience WebFX has under our belt, we'll help your industrial company gain an edge over your competition.
With our customizable industrial marketing services and a team of 200+ industrial marketing experts, you'll earn the results you want to see, like increased leads, sales, engagement, and reaching new audiences.
With WebFX, you stay ahead as an industrial business leader in a fast-paced digital landscape.
Interested in working with us? Call us at 888-601-5359 (or contact us online) to get a free quote on our industrial marketing services!
Our digital marketing campaigns impact the metrics that improve your bottom line.
See More Results

WebFX has driven the following results for clients:

$3 billion
In client revenue

7.8 million
Leads for our clients

5.2 million
Client phone calls
Results-driven industrial marketing services
WebFX is an award-winning, full-service digital marketing agency for industrial companies.
With our full range of digital marketing services, WebFX can help you build the best industrial marketing strategy tailored to your needs and unique goals.
As your marketing partner, we'll help you drive success every step of the way. When you celebrate, we'll celebrate right along with you.
Take a look at the services we offer to help take your industrial company to the next level!
Search engine optimization (SEO) to help you boost website traffic
Not seeing a lot of traffic on your website?
Drive traffic to your site with search engine optimization (SEO). SEO is a set of techniques designed to help search engines read, understand, and index your pages. With these techniques, you can target specific search queries unique to your industry.
SEO enables you to target long-tail keywords, which contain three or more words like "metal finishing services," so you can reach valuable leads. These keywords will help your industrial page rank in the search results and drive more relevant traffic.

With SEO management services, our data-driven keyword research and link building services will help your content ranks for high-value industrial keywords and attract as many qualified leads as possible.
With our SEO services, you'll get:
A dedicated account representative
Keyword research and integration
Technical SEO audit and implementation
Mobile site optimization
And more!
Want to reach your local audience, too?
If you invest in our local SEO services, you'll be able to target locally-relevant keywords and optimize your Google Business Profile listing to drive more local traffic to your page.
At WebFX, we have results-driven SEO services that help you boost your ranking in the search results and keep you in competition with your competitors. We'll help you drive qualified traffic that you can convert into customers.
Pay-per-click (PPC) advertising to reach more interested industrial leads
Looking to reach more qualified leads?
Leap ahead of your competition in search results with a pay-per-click (PPC) ad. These ads appear at the top of the search results above organic listings, which allows you to drive more interested leads to your page.
With the PPC advertising model, you'll only pay when some clicks on your ad, making it one of the most cost-efficient advertising methods out there.
And with advanced targeting options, you can target your audience right when they're searching for your services on the web, meaning the traffic you draw in will be more qualified and more likely to become customers.

With PPC services from WebFX, you'll get:
Keyword selection
Industry analysis
Ad campaign copywriting
Ad copy performance testing
Ongoing keyword development
Results analysis and reporting
Strategic bid management
And more

WebFX can help you develop the perfect PPC strategy to fit your schedule and budget. With WebFX as a PPC consultant, we'll help you create compelling ad copy and leverage your bidding strategy to bring the most return for your dollar.
Social media marketing to engage with industrial leads
Want to grow a fan base?
Boost your brand's engagement with a social media marketing campaign. Social media networks like are the best places on the Internet to increase your audience's engagement with your brand.
You can build a social media presence on platforms such as:
Facebook
Twitter
LinkedIn
Pinterest
Instagram
WebFX can help you get started on your social media strategy with our industrial marketing services.
With our social media services, our team of experienced social media marketers will help you with:
And more!
Social media advertising to drive awareness in industrial leads
Drive awareness of your business to industrial leads on social media with social media advertising. Social media platforms provide B2B companies with effective means of targeting leads who are interested in your products and services.
With our social media advertising services, you'll reach new audiences and increase your conversion rate from social media.
We offer advertising services for:
When you team up with us, you'll also gain access to:
And more!
Email marketing to stay engaged with prospects
Want to keep in touch with potential clients?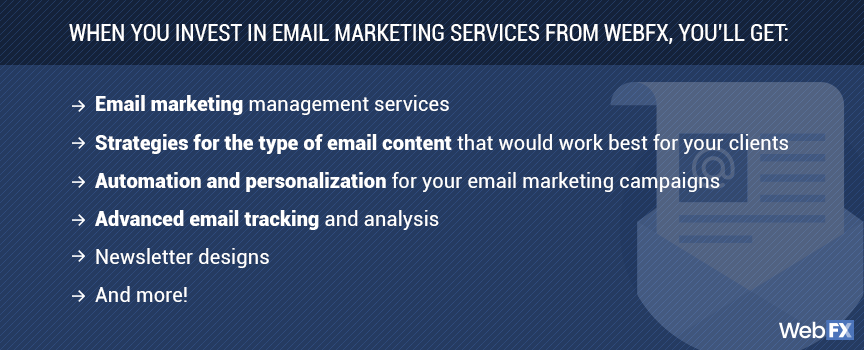 Set up an email marketing campaign with WebFX. Emails are one of the top ways to keep your potential customers informed of the products and deals you offer.
When you invest in email marketing services from WebFX, you'll get:
Strategies for the type of email content that would work best for your clients
Automation and personalization for your email marketing campaigns
Advanced email tracking and analysis
And more!
Content marketing to deliver the right information at the right time
As a necessary part of your industrial marketing strategy, content marketing drives valuable traffic to your page.

Your content helps you share your knowledge and expertise with users that seek the information. With a great content marketing strategy, you'll continually drive traffic and generate online conversions.
If you partner with WebFX, we'll help you develop high-quality, relevant, and personalized content.
With our content marketing services, we'll help you develop your content into something your audience loves to see.
We'll help you create:
Engaging blog posts optimized for SEO with plenty of sharable information for your audiences.
Informative infographics that match your brand identity and attract your audience's attention on your website, in emails, and on your social media pages.
Entertaining videos that showcase you and your products and boost your conversion rates.
With our content marketing services, you'll get everything you need to create compelling content, including:
And more!
Web design to build a positive first impression of your brand
Want to boost your industrial leads first impression of your brand? We have web design services for you! We provide:
And more!
As your web design agency, you can be sure that your website is dressed to impress.
We'll design your website with:
Customized design and layout
Intuitive navigation
With over 1,128 award-winning websites designed, our design of your website will not only keep your visitors around longer, but it will also give your website all the tools necessary to attract other businesses and skyrocket your B2B leads.
Need a website makeover to improve your industrial company's online presence?
Breathe new life into your industrial website's design to keep your customers' impression of your industrial company fresh. WebFX's website redesign services will give your outdated site a facelift.
And with our rapid web design RainmakerFX package, we'll design you a website built for driving leads in 30 days!
Hear What It's Like to Work With WebFX!

"We had been looking for a new SEO firm responsible for industrial companies and we found the right one with WebFX. We have had nothing but great experiences so far and don't expect anything to change moving forward."
Boiler Installation
Choose WebFX to boost your industrial marketing!
As a top full-service industrial marketing agency, WebFX has worked with many industrial companies. We've driven valuable results for our industrial clients. Check out a few companies we've helped grow online!
Our years of experience working with industrial companies like yours to bring results like these means that we understand your products and goals, and we know how to deliver results continuously.
We know what it means to create digital marketing strategies tailored to your industrial company.
Ready to get started? Contact us online or call us at 888-601-5359 to talk to an industrial marketing specialist!
Earn a 20% greater ROI with WebFX