The Inbound Marketing Starter Guide
A Complete Beginner's Guide to Inbound Marketing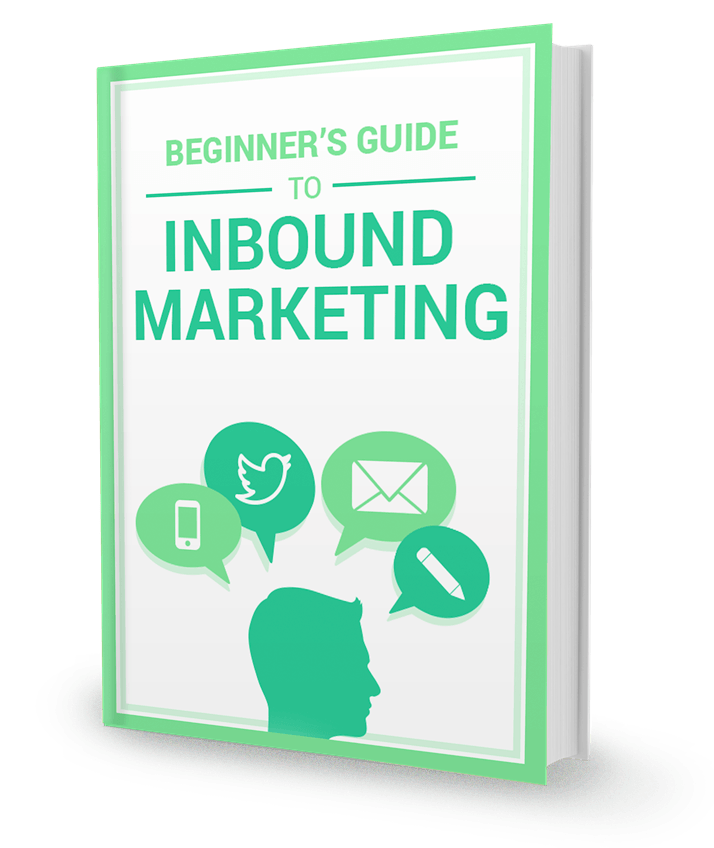 Because you're reading our inbound marketing starter guide, we'll be presumptuous enough to assume two things about you: you're interested in inbound marketing, and you're probably quite new at this.

Thus, we'll seek to provide you with the most clear and comprehensive approach to inbound marketing that a self-motivated person like you needs to get started. Reheat that cup of coffee and get comfortable because we've got so much we want to tell you!
Table of Contents
1. Introducing Inbound Marketing
2. Tracking Your Inbound Marketing Campaign with Google Analytics
3. The SEO End of Inbound Marketing
4. Inbound Marketing Verticals
5. Inbound Marketing with Social Media
– Facebook
– Twitter
– Google+
– LinkedIn
6. Social Media Case Study: Havahart on Facebook
7. Blogging
– Blogging Best Practices
– How to Continually Create New Content for Your Blog
8. Blogging Case Study: Renew My Home Blog
9. Using Images as an Inbound Marketing Strategy
– When to Use Original, CC and Stock Images in Your Content
– Image-Based Social Media Sites
10. Image Sharing Case Study: VF Outlet
11. Using Videos for Inbound Marketing
12. Video Case Study: Clarity Way
13. Podcasting to Earn Customers
14. Podcasting Case Study: U.S. Fish & Wildlife Service
15. Providing Content through Online Presentations
16. Content Marketing: The Right Way
– Why You Need Content Marketing
– How to Create New Content That Rocks
– How to Outreach Your Content
– The Outreach Process
17. Conversion Rate Optimization for the Inbound Marketer
18. CRO Case Study: Ceramcor
19. Mobile Marketing Meets Inbound Marketing
20. Concluding Thoughts on Inbound Marketing
21. Beginner's Inbound Marketing Glossary
Introducing Inbound Marketing
The relationship you've always wanted with your customers, but never had
There are two great misconceptions about inbound marketing:
That it is SEO all hussied up with a shiny new name
That it is similar to traditional forms of marketing
To put it simply, both of these ideas are incorrect on multiple levels. Inbound marketing is quite different from both SEO and traditional marketing styles; however, its name and the fact that it takes place on the Web provides plenty of opportunities for confusion.
Inbound Marketing simply refers to the online steps you can take to earn traffic, attention, and engagement. It is about minimizing the number of times you interrupt your customers, and maximizing the number of people who actively seek out your products, services, and content.
Any business or website can use inbound marketing strategies effectively. You just need to understand what inbound marketing really is and how it really works … first.
What is Inbound Marketing?
Inbound marketing is all about getting your content to your customers when they need it the most. To do this, you'll need to create a Web presence that goes beyond your main website to include social sites, video sharing sites, blogs, and many other content-sharing mediums. You'll also need to delve into SEO to ensure your content has a good chance of being found on search engines and acquire some analytics skills to assess visitors' engagement with your website.
However, it's important to realize that, while inbound marketing and SEO tend to cross paths fairly often, the two are not the same.
Why Inbound Marketing Isn't SEO
Despite its use of SEO strategies and the way that SEO tends to overlap with it, inbound marketing is not a synonym for search engine optimization. SEO's main focus is on the search engines and how and where your site appears in their listings.
Inbound marketing, on the other hand, is about being found on the channels your most valuable customers engage in most. You want to use those channels to provide valuable content to your targeted audiences.
Through inbound marketing strategies, you will take your industry knowledge and use it to entertain your customers, solve their problems, or make their lives easier or better in some way. SEO can help you do this by making your valuable content easier to find on the Web, but SEO is not a one-stop solution for your inbound marketing goals. Instead, inbound marketing combines many facets of online marketing, SEO, and content creation to create a cohesive online presence with which your targeted audiences want to engage.
Here is a breakdown of just a few of the ways that inbound marketing and SEO differ:
| Inbound Marketing | SEO |
| --- | --- |
| Your company actively participates in many different online channels | Your company is easier to find on search engines |
| Is a strategy for long-term customer acquisition and loyalty | Is a tactic for being discovered on search engines |
| Visitors are earned through relevant content and helpful solutions to problems | Visitors come from a combination of paid campaigns and organic search rankings |
| About marketing to your specific target audiences | About being available to anyone searching for related keywords |
| Real people are the focus | People and search crawlers are equally important |
While SEO is still (and always will be) a much-needed service for online success, inbound marketing goes beyond SEO to create content that customers will want to use and interact. In light of Google's algorithmic updates, the latest of which being Hummingbird, inbound marketing strategies are becoming increasingly necessary for businesses to succeed in both online and offline mediums.
Google continually is placing more value on user interaction with brands, as well as the relevance and quality of the content that brands produce. Thus, SEO is becoming just one of the many tools that websites need to rank well on Google and maintain a successful website. On the other hand, inbound marketing strategies do a much better job of capturing the many tactics needed to drive more online sales, rank higher in search engines, and drive meaningful user engagement with your brand.
In addition to confusing inbound marketing with SEO, many people also expect inbound marketing to follow similar rules of traditional, offline marketing strategies. However, nothing could be further from the truth.
Why Inbound Marketing Isn't Marketing as You Know It
Traditional or "outbound" marketing strategies are so different from those of inbound marketing that their similarities in name make nearly no sense at all.
Outbound marketing typically refers to companies' uses of media for branding and advertising purposes. TV, newspaper, and radio ads are all examples of outbound marketing strategies. However, outbound marketing is not nearly as effective as inbound marketing outlets, yet outbound marketing strategies cost exponentially more money.
According to HubSpot, generating leads through inbound marketing costs 61% less than leads generated from traditional outbound strategies. The average lead gained through traditional marketing costs $346, whereas the average lead gained through inbound marketing only costs $135.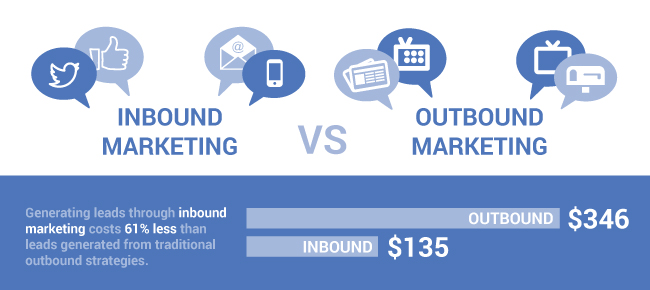 Inbound marketing is much more successful than outbound marketing because it allows companies and businesses to speak directly to their customers in a way that is both helpful and engaging. The Internet has done incredible things for the world of consumerism and customer engagement, and consumers are now much more likely to buy from a brand that they like, as opposed to buying simply from a brand whose ads they see every day.
Here is a brief breakdown of what separates inbound marketing from outbound marketing strategies:
| Inbound Marketing | Outbound Marketing |
| --- | --- |
| Is directly aimed at multiple, specific target audience groups | Is broadly aimed at many people through large media outlets (TV ads, newspapers, etc.) |
| Can be tracked in Google Analytics, impact easily measurable | Very difficult to track and measure impact due to offline mediums used |
| Blends in with the channels you use for marketing, non-interruptive | Usually very discernable as a form of advertising or marketing, interruptive |
| Can use creative language, communicate informally, allows audience to connect | Typically uses professional, formal communication styles; can create distance |
| Can be monitored continually and modified to suit your customers' changing needs` | Is typically created once, and then cannot be modified after it is aired, published, etc. |
Inbound marketing can be a daunting strategy for those new to its ways. It requires a lot of time, close monitoring, and a cohesive corporate personality. It involves every level of your company staff, from copywriters to social experts to the sales team to your graphic designers (or the outsourced versions of these things). However, resist any urge you have to put inbound marketing on the company backburner. Inbound marketing is becoming not only important to many companies, but also necessary.
With Google's algorithms becoming more and more picky about who deserves to rank well, you can't afford to have your website and business ignored due to its lack of great content and customer engagement. And, beyond rankings, don't you want to give visitors a great experience and earn their loyalty?
That's where the real value of inbound marketing comes into play.
The Value of Inbound Marketing
Inbound marketing is valuable both in terms of money and in terms of customer satisfaction. But, we know you can't take us seriously without some cool statistics, so here's some data to help you see the real reason you need inbound marketing:

Inbound marketing is not a free marketing strategy, but it typically requires less financial commitment than PPC campaigns or traditional marketing strategies. Creating things like infographics and employing the people who make your inbound marketing campaigns happen costs money, but these are things you probably would do anyway, only with far fewer positive results. Many of the strategies employed in inbound marketing, however, are free. YouTube videos, social accounts, and blog posts are all inbound marketing keystones that are free to create – save the salaries you pay your staff.
In addition to its inexpensiveness, another great thing about inbound marketing is that nearly everyone can do it, regardless of industry, business size, or yearly revenue. In the world we live in today, nearly everyone has access to the technology needed to create most forms of inbound marketing content. Making a YouTube video or participating in Instagram communities are as simple as pulling out your smartphone. Basically, there's no reason you can't become an inbound marketing success.
As we delve deeper into the mechanics of inbound marketing, you'll learn how to use everything from Google Analytics to Twitter for earning customer engagement, website traffic, and more revenue for your business.
Let's get started by learning how to track our progress. What good is all this without knowing where we are at and where we are going? Let's discuss what you need to know about analyzing your website's data before we move on to the real nitty-gritty aspects of your inbound marketing campaign.
Tracking Your Inbound Marketing Campaign with Google Analytics
How to analyze it now to improve it later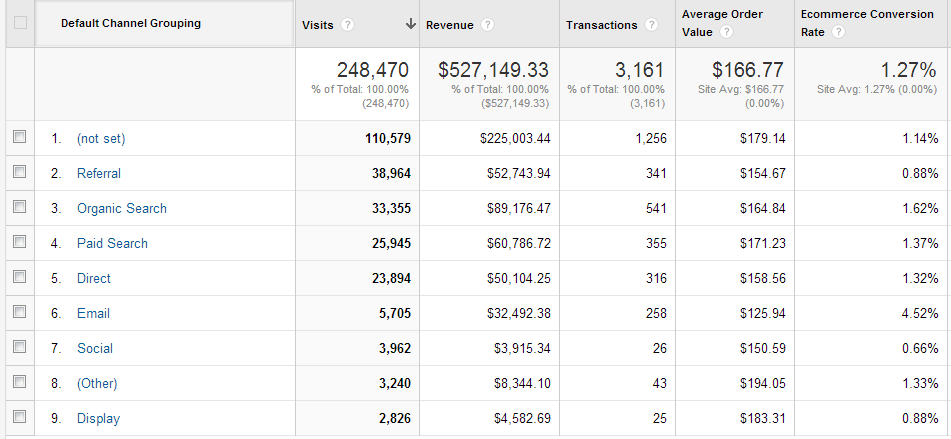 Being the enthusiastic online marketer that you are, we suspect you already know that having Google Analytics (GA) set up on your website is a huge part of being able to improve upon what your site already does. However, GA often contains so much juicy data that not everyone knows what data is the most important or what metrics are most worth their time. In this section, we'll briefly cover on what you should be focusing in GA to track and measure your inbound marketing plan successfully.
Referrals
Due to the very nature of inbound marketing (i.e., the traffic is incoming to you) we're going to say that referrals are one of the most necessary GA metrics you'll want to track. The referrals metric tells you what domains are referring people to your website and how many people are being referred by each domain.
Initially, taking a look at your referrals data will tell you what sites will be good starting points for your inbound marketing campaign. For example, if you see that Facebook is sending a ton of traffic to your site and Twitter is sending next to no traffic, you might decide to promote your newest content on Facebook only. Or you might decide you need to focus more time on building out your Twitter audience. It's your call, but it would be a difficult one to make if you didn't consult your referrals metric first.
Tracking Downloads
If one of the goals of your website is to get visitors to download a file, you'll definitely want to track this data. You can use event tracking codes to measure this information and understand if your inbound strategies have brought engaged and convert-able visitors to your website. To enable event tracking, you simply need to add a bit of code to the end of your downloadable content's URL. GA will then be able to track the number of visitors who download that material, and you'll be able to assess how engaged your visitors are.
The specific kinds of code you'll need to track your downloads will vary depending on the kind of content you want to track (i.e., PDF, advertisement, etc.). Talk to your developers if you don't already have event tracking enabled; they should be able to set it up for you in no time.
Site Search
Having site search enabled on your website provides yet another tool to be revered by the inbound marketer. Site search allows your visitors to search for specific content within your website. You really should have this feature enabled on your site anyway because nothing is more frustrating than trying to find a specific post in an endless terrain of content, only to be confronted with the inability to search for it directly.
For the inbound marketer, site search allows you the increasingly rare opportunity to see exactly what your site visitors were searching for when they came to your website. You can see exactly what people typed into your site's search bar and exactly how many people typed in that phrase. With Google increasingly bringing up keywords that are "not provided," being able to see what keywords your visitors were using is very valuable indeed.
As you begin thinking about what kinds of content you should be creating and what kinds of traffic your site is attracting, you can use your site search data to learn what most interests people who land on your site. If many people are searching your auto mechanic site for "how to install a car battery," you might consider creating an infographic that easily explains how to install a car battery.
On the other hand, the fact that people are typing keywords into your search bar means that they likely can't find what they're looking for on your site. That, or they're just lazy. Giving your visitors the benefit of the doubt, however, you can use site search to understand better what people expect of your website – and what they aren't getting. For example, if 100 people who land on your zoo-themed website are typing "mountain goat exhibit" into the search bar, you may want to update your site architecture so a link to the mountain goat exhibit is easier to find.
Subscriptions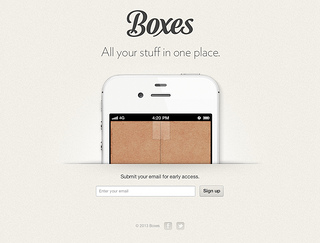 Much like tracking downloads, tracking the number of newsletter and RSS subscriptions your site receives is a good way to measure how engaged your visitors are with your content. An easy way to do this is to set up "Thank you!" pages to which visitors automatically will be redirected after they subscribe to something. By tracking the number of people who land on your thank you URLs (just make sure they aren't indexable by search engines), you can figure out how many people have subscribed to your RSS feed or weekly newsletter.
Of course, the big value behind tracking this data is to see how engaged your traffic is with your website. The more people who are subscribing to your content, the more you can assume that you are marketing to the right audiences and that your site is informative and interesting to the people who visit it.
While these are just a small sample of the many, many GA metrics you can use to assess your marketing campaign, they do provide some much-needed inbound marketing data. User engagement is an important aspect of inbound marketing because engaged visitors are more likely to convert as well as spread great information about your brand. Likewise, knowing what sites are referring your traffic is great for strategizing your content marketing plan and where you actively reach out to your targeted audiences.
At this point, you should have a good idea of what inbound marketing is, how it can help your conversions and how to track your crucial inbound marketing metrics. Now, it's time to take a brief look at that all-important SEO strategy of yours.
The SEO End of Inbound Marketing
Because being on Google's bad side is never advantageous
As you've already learned, SEO and inbound marketing are not the same thing. However, inbound marketing does require the use of SEO. After all, if you're putting all of that effort into getting people to your website, why drop the ball at the last second with unnavigable site structure, horrendous Web design, or sloppy sales text?
By putting just a fraction of your time into the SEO of your website, you can help your inbound marketing campaign be more successful. How? Well, there are many ways. For one, better SEO strategies mean a better chance for your site to be indexed by Google. This could lead to higher SERPs rankings, greater domain authority, and ease-of-access for search engine crawlers. More than that, though, you'll optimize your site for the real people who land on it.
By paying attention to simple details like your URLs, keywords, website copy, and design you can give visitors an exceptional experience while they're browsing your site. Below, we'll discuss a few of the many ways that you can improve both your on-site and off-site SEO.
The SEO of Your Website
The distinction between on-site and off-site SEO is pretty self-explanatory. On-site SEO allows you to improve your search optimization solely from within your website's internal mechanics. Off-site SEO has a greater focus on your site's relationship with other sites, your advertisements around the web, and how your brand appears on social media sites and in reviews. We'll start with on-site strategies first.
On-Site SEO
To make your website search friendly, as well as visitor friendly, there are a few basic strategies of which you should be aware at all times. Every time your blog is updated, new Web content is added, or a new video created, keep these in mind.
Create Simple, Optimized URLS
Nobody enjoys sharing a link that is a website name followed by a conglomeration of numbers, equals signs and question marks. As often as possible, try to limit your URLs to words and add dashes where spaces are needed. Sometimes, additional tracking codes need to be implemented to the end of a URL, but this will still look more user friendly if it is preceded by an actual word or phrase. For example, www.mywebsite.com/creating-great-urls/ looks friendly, and we have a good idea of what will be discussed when we click on that link. But, a link like www.mywebsite.com/m489xyew3465 loses reader interest almost immediately.
Use Your Keywords Everywhere
An important distinction needs to be made here: While it is important to use a strong keyword or keyword phrase in just about every aspect of your site, overuse of a single keyword is a big no-no. It is important to have exact match keywords, as well as keywords that closely match or are similar in concept to your main keywords. This not only sounds better to your visitors, but it will keep you from looking shady in Google's eyes.
You also shouldn't flood your content with keywords. Just one keyword in a title tag, URL, or image file name is usually enough to do the trick. While longer pieces of Web copy may include the same keyword a few times, this number should still be minimal.
Speaking of keywords, it is worth noting that keyword research is somewhat different from what it used to be. Google Analytics used to tell site owners exactly what keywords were bringing visitors to a Web page or entire site. However, Google has been systematically phasing out this feature by listing the majority of website keywords as "not provided."
Your best bet to do keyword research at the present is likely to use a PPC campaign or internal site search data to measure what keywords are most relevant to your site. Based on this data, you can then decide what kinds of keywords your web copy should include. Another good strategy is to create detailed buyer personas for each of your targeted audiences and incorporate keywords that those people likely would use to search for your site.
Write Unique Meta Descriptions
Despite the fact that the meta description tag doesn't directly help your site's SERPs rankings, it can be highly effective at bringing customers to your website. The meta description is that 160 character mini-preview of your site that shows up on search engine pages. When search users are looking for keywords that you've included in your description, Google automatically will bold those keywords for the user, making your site look more clickable. Adding a solid call-to-action doesn't hurt either.
However, don't be tempted to write up one description and apply it to all of your Web pages. This will be considered duplicate content (discussed more below) and will make you look lazy to search engines. Aside from that, it won't tell your customers anything about the page they might want to view. While it may seem to save you time in the immediate moment, not writing unique meta description tags for each page of your site could cost you revenue and customers in the future.
Customize Your Title Tags
Title tags are the HTML tags in the head of your website code that are responsible for the name of your Web page as it appears in your browser tab. It's quite easy to adjust the title tags of your website. Just go into the HTML code and find the tag that looks like this: <title> title text here </title>.
Your Web pages all should have unique page titles that clearly and honestly describe the content of the page. Good title tagging practices to follow include featuring your most important keyword phrase near the beginning of the title, followed by a brief description of the page content and your website name at the end. For example: Vegan Smoothie Recipes | Strawberry Soy Shake | VeganChick.
You should also make sure that your title tags are under 70 characters long. Google will not display page titles longer than that in its SERPs, and having cut-off page titles can be confusing for search users.
Don't Duplicate Your Content – Ever!
Back in the day, it was perfectly acceptable to copy and paste pieces of your website to new pages or pages that needed more text. It was a quick and easy solution, and as long as you weren't plagiarizing from someone else, who cared?
Well, this once-successful time management tool can now severely hurt your search rankings. Readers hate sifting through paragraphs of the same text over and over again, and search crawlers have a similar opinion. In fact, if you have too much duplicate content on your site, search crawlers may decide to stop indexing your pages completely. Needless to say, this won't help your inbound marketing strategies.
As a general best practice of the Web, especially if you want to have a successful inbound marketing campaign, you always should create new and unique content. This applies to all the text associated with your site, from Web page body copy to blog posts and even social media updates.
There are three different kinds of duplicate content you should concern you. We strongly suggest taking some time to assess how much duplicate content is on your website right now and correct it in the near future. Tools like those on Copyscape can help you locate the duplicate content on your website.
Near Duplicate Content – This content very closely resembles another piece of content and may only feature a different image, paragraph, or an alternate ordering of the text.
Go All Out on Your Copywriting
In addition to writing unique content for every aspect of your site, you'll also need to follow some additional copywriting best practices. This will help you ensure that both your visitors as well as search crawlers get the most out of your website.
First and foremost, short website copy just isn't cutting it anymore. At the very least, every blog post you write should contain at 300 words of relevant and engaging text. Every Web page on your site should, at minimum, have 500 words of text. This will give search crawlers plenty to digest when they come to index your site, and your visitors will appreciate the in-depth nature of your information.
However, quantity isn't everything when it comes to copywriting. Google is becoming increasingly intelligent at discerning poor content from great content. Therefore, if you write 500 words of grammatically incorrect and useless information, your site will suffer. You need to write interesting, helpful, and grammatically correct content for your website.
Find some great blogs or websites related to your industry and look to them as role models. How much do they write? What do they write about? How do they format their blog post? This can be a great way to stay motivated and set high content standards.
Pay Attention to Your Site Design
Search engine crawlers may not necessarily be able to index how pretty your homepage is or how neat your logo looks, but that doesn't mean site design doesn't affect your SERPs rankings. As we mentioned in the CRO section, having a professional-looking site is a must for all businesses now, but especially those that want to carry out a successful inbound marketing campaign. After all, if you're spending all that time trying to engage customers and make them like you, why risk losing them just because they don't like the way your site looks?
If you have a well-designed and easy-to-navigate website, visitors will be much more inclined to stay on your site longer and share your content through social networks. Web page sharing sites like StumbleUpon were created explicitly for the purpose of sharing well-designed and interesting Web pages. In this way, a well-designed site can spread brand awareness, encourage conversions, and boost your online reputation.
Excellent website design also conveys a sense of professionalism and trustworthiness. Internet users are so conditioned to seeing high-quality design all around them that anything less may cause them to doubt your legitimacy. Your website is a reflection of you. And you wouldn't show up to a business meeting in ripped jeans and an old t-shirt, would you? The same goes for your website. Dress it up a little and it'll command a lot more respect.
Now that we've covered the must-take actions of on-site SEO, let's consider how you can use outside resources to improve your rankings and website accessibility.
Off-Site SEO
Unlike on-site SEO, off-site SEO is a bit out of your control. There are still steps you can take to influence the off-site factors affecting your website, but it's important that you do these things correctly in order to avoid a bad reputation or – worse – a penalty from Google. Here are a few of the most essential off-site SEO factors and what you can do to manage them in a positive way:
Manage Your Online Reputation
When we talk about reputation management, we mean the careful monitoring of and response to the way your brand and your content is discussed online. If Joe Shmoe tweets that "XYZ Company has the worst customer service ever!," you need to respond to that tweet appropriately and quickly. If you don't, other potential customers may see that tweet and develop a negative view of your company and its services.
Having a reputation management specialist to seek out and respond to such criticisms is a must for any serious company in today's online world. You should perform regular searches on all social sites for your company's name to determine how people are talking about you. Setting up a Google Alert for your brand name and top targeted keywords can also be very helpful.
On the other hand, responding to positive social posts and reviews is also a great way to engage visitors, develop a positive brand identity, and generate more online conversions. A simple "Thanks for giving us such a great review!" or "We're glad you enjoyed your meal!" are all it takes to show customers that you value their service and want them to keep coming back.
On the SEO side of things, Google has begun paying attention to how many reviews and social shares websites get. So far, it seems that the number of reviews and social shares is more important than whether these engagements were positive or negative, but that doesn't mean having 10 bad reviews out of 11 total is okay. No customer is going to do business with you if all of your past customers have bad things to say.
Monitor your online reputation closely and often, and you'll be doing website and brand a huge favor.
Build Inbound Links the Right Way
One of the best ways to increase your SERPs rankings, gain more online visibility, and establish a strong network of relationships is through link building. Link building is the process of reaching out to non-affiliate websites and blogs and getting them to link to your website. Higher quality sites mean higher quality links, which can boost your own website's ranking over time.
We'll be discussing the specifics of link building in the Content Marketing section of this guide. For now, let's go over what you absolutely should not do in terms of link building.
Do not buy links – This is the probably the best way to ruin all of your hard work and get your site penalized. Outright purchasing links from online directories, shady website owners, or by any other means is strictly frowned upon. What's more, it won't do you any good. The search engines have become incredibly efficient at detecting paid links, and they will punish your site accordingly. A decrease in ranking, slower site speed, or a lower domain authority are all possible ways search engines can penalize you for buying links.

Don't get links from spammy sites – All inbound links are not of the same quality. Many links from low-quality sites may get you flagged in Google and, at the very least, will discredit your online reputation and link profile. Getting links from legitimate and higher-quality sites can be a lot more time consuming, but they can boost your site's reputation for years in the future. Use tools like Open Site Explorer or Ahrefs to track your backlink profile and keep track of who's linking to your site.

Don't harass online influencers – There is a difference between following up on an email a few times and virtually stalking blog owners and webmasters. Much like the rest of inbound marketing, link building is about earning and maintaining relationships.

Online influencers are those figureheads and social personas who are able to influence online perceptions about an issue or topic simply by writing about it, tweeting about it, or researching it. For example, anyone who writes for TIME magazine or Huffington Post would be a valuable influencer with whom to build a relationship.

As an online marketer and link builder, you may have your own deadlines and agenda, but you have to understand that your email contacts have their own lives. Do not email them repeatedly or aggressively in an attempt to get an inbound link to your site. You'll read more about the proper way to outreach for links in the upcoming Content Marketing section.
Aim for Links from A Variety of Sites
To make sure your backlink profile appears as organic and natural as possible, it's best to have links coming in from a variety of sites. For example, don't solely rely on blog links or links from directories. A combination of many different kinds of links is the best and most surefire way to create a solid backlink profile and boost your search engine rankings. Below are a few of the different link types for which you'll want to aim.
Directory links – These links come from a directory site such as Yellowpages.com or other informational directory. These links don't do all that much for boosting your rankings, but they look natural and help customers find you.
Authority links – These are links from a very high-quality site. Think TIME and Huffington Post. It's very, very difficult to get organic links on these sites, but it can be done with the right content and outreach strategy.
.Edu links – These are links coming from academic institutions like colleges and universities. Because not just anyone can own an .edu site, these links are very respectable and can really help build out your link profile.
.Gov links – Much like .edu links, links coming from government sites command a lot of respect. It's typically quite difficult to get an inbound link from a .gov site, so you'll really need to provide valuable content or information.
Media links – Links coming from the media could be the result of an online newspaper or magazine mentioning your company or website in a story. These links may come from lower authority sites, but they're good PR and should be valued.
Blog links – These links come from personal and professional blogs around the web and are commonly of a relatively low quality. However, earning multiple blog links from different blogs gradually will help you build up your backlink profile and increase your rankings. Don't confuse low-link juice with an easy links, though. Many blog owners are very picky about what they will and will not publish on their sites.
Now that you know what SEO strategies you'll need to incorporate into your marketing campaign, let's dive into the specific focus areas of inbound marketing.
Inbound Marketing Verticals
Everything from podcasts to Twitter updates and how they can help your business
In this section, we'll give you a detailed breakdown of the vertical channels that make up inbound marketing. That is, specific sectors of the Internet and how they can be used to drive customers to your site. The verticals that we will look at include:
Social Media
Blogging
Images
Video
Audio
Presentations
Each of these search verticals doubles as a vertical for inbound marketing because they allow search engine users to find specific material in which they are interested. By having your content and marketing strategies present in the verticals your target audiences are most likely to use, you stand a good chance of attracting quality customers to your site.
Let's begin with the largest inbound marketing vertical of all: social media.
Inbound Marketing with Social Media
Sharing is caring, and inbound marketing is all about showing that you care
Social media is a huge asset to inbound marketers. Being active and relevant on social sites allows you to build your brand recognition, earn social proof for your website and business, and drive traffic to your site.
When your brand is a part of the same social networks as your targeted audiences, you have many opportunities to reach out to and interest valuable customers. Unlike traditional forms of advertising, which interrupt user experience with something (a TV program, a magazine story), branded social media posts can look just like the content surrounding them. In this way, you can engage and interact with your targeted audiences without appearing spammy or intrusive.
That being said, let us blatantly state: the key to inbound marketing with social media is subtlety. Just because your company advertises "Buy our cars!" in a Facebook post instead of on a TV ad doesn't mean that it doesn't look spammy. It does. To attract new customers successfully to your site with social media, you need to give the customer something in return. A laugh, an interesting fact or a fast solution to a problem is all it takes to get potential customers to engage with your brand in a positive way. After they do that, they're a whole lot more likely to visit your site and convert into a sale.
However, don't expect everyone who engages with you on a social site immediately to hop over to your homepage and click the Buy Now button. Inbound marketing's strength is that it helps audiences remember you when they actually need the service or product you provide. Bob may not need new truck tires today but, when he does, he'll remember the tire service that's always posting helpful tips in his Facebook news feed. Boom! Conversion.
Let's quickly review some inbound marketing rules that apply nearly all social media sites:
Post relevant content, often
Don't include links in every post
Optimize all of your profile information
Post Relevant Content, Often
Posting content often makes it more likely that you'll show up in your audience's news feed each day. Posting relevant content makes it more likely that they'll notice. To get the most out of your social media accounts, you should be posting something at least once each day on major sites and posting once a week on not-so-major profiles. And while around-the-office news might be interesting to you, it likely won't capture the attention of your customers.
You should post a combination of content you've created and content you've found online. Check the search engines' news tabs each day to see what breaking news is related to your industry. Sharing timely content on your Facebook page will show your audiences that you pay attention to your field and want to share what you learn with them.
Creating your own content could be as simple as adding a new post to your blog and sharing that link on your social sites. Or, you could update your sites with a quick Tip of the Day to your customers. By posting different kinds of relevant content on your site, you'll not only engage your customers, but you'll also look more like a "normal person" (i.e., not a businessperson trying to sell something). This can be a huge step toward earning customer trust and establishing a reputation for your brand.
Don't Include Links in Every Post
While it can be very helpful to include links in your social media posts, you shouldn't include links in your posts every time. You especially shouldn't only include links back to your site.
Your customers and followers will be much more inclined to interact with you if they don't feel like you're pushing your products at them all the time. By simply giving them a few posts a week that don't include links or promote any products, you can show your customers that you want to provide them with interesting or funny information without an ulterior motive. This establishes trust, promotes your brand, and encourages user engagement.
Optimize All of Your Profile Information
Even while you are trying to appear immersed in the world of social media without any ulterior motives, it's important to remember that many social sites can be indexed by search engines. This means that having your keywords strategically worked into your profile infos, your status updates, and your image descriptions can be highly beneficial for SEO purposes.
Of course, you wouldn't dream of keyword stuffing your profiles because this would likely drive more customers away than draw them in. Keep your information sounding natural and informative, with just a sprinkle of keywords mixed in.
Now, let's take a look at Facebook, Twitter, Google+, and LinkedIn and how they can help your inbound marketing strategies succeed.
Facebook
Facebook is well worth the time of most businesses and websites because it has more than 1 billion members. That, combined with the fact that the Facbook Like button is everywhere on the Web, makes it one of the best channels possible for earning and monitoring user engagement with your brand.
Here are a few key ways that you can use Facebook for inbound marketing:
Create a sense of story
Comment on related industry posts
Include pictures in your posts as often as possible
Create a Sense of Story
The nice thing about Facebook is that there is no restricting word limit to your posts and updates. Well, there is, but it doesn't max out until after 60,000 characters. And, you typically won't be writing that much for your inbound marketing campaign.
Because you aren't restricted to only a few words, you can write longer posts that borrow the narrative structures of storytelling. Such posts are engaging because your followers are able to connect quickly with the story and relate to it in one way or another. For example, if your company is a law firm, you could write a post that briefly describes the story of a single mother who just got custody of her children again and include a link to the news story you are referencing. Tons of Facebookers can sympathize and you'll generate a lot of comments on the post.
Of course, not all the comments that appear on your posts will be positive. But you can counteract any negative comments with a simple "We appreciate your perspective! Thanks for the feedback!" or something similar. However, if a user is being outright rude or vulgar, it's best to not respond and just report the user for violating Facebook's guidelines instead.
Comment on Related Industry Posts
By engaging with other brands in your industry, you increase your chances of being discovered by audiences looking for products or services just like yours. It's a big, wide Web out there, so it doesn't hurt to get all of the publicity you can in areas where your targeted audiences will be looking.
If there is a bigger-name company that appears to have a similar target audience as you, interact with that company on Facebook. A simple comment on one of their posts saying how your business looks to them as a role model can be just enough to get your name out to people who may not have heard of your brand before. Many people prefer to purchase from smaller brands because the experience can be more personal and cost effective. By showing that you are a smaller company in the same industry, you could attract some new customers to your Facebook page and website.
Include Pictures in Your Posts as Often as Possible
Social media users are innately drawn to pictures. A colorful high-definition image can capture your customers' attention and encourage them to click on a link, read a blog post, or share your content with a friend. Because of this, it's important that you actively try use images in your Facebook posts as often as possible. Creative common photos can easily be found on Flickr or Photo Pin – you just need to give credit to the author.
Twitter
Twitter has a strict 140 character limit which means that you can't get quite as in-depth with your posts as you can with Facebook. However, Twitter has become one of the main social networking sites on the Web with over 550 million users and therefore shouldn't be ignored by your social media team.
Here are a few ways that Twitter can help your inbound marketing campaign:
Great for on-the-go audiences
Connects you to related users through hashtags
You can engage customers with little social pressure
Allows casual conversations
Great for On-The-Go Audiences
Because Tweets are so compact, they are incredibly easy to view on a mobile phone or other device. This means that busy people easily can view and interact with your company's tweets no matter where they are. If your target audience members are likely very busy, investing some time into your Twitter account is likely a good idea.
Connects You To Related Users Through Hashtags
Hashtags are more than a fun way to show on what ideas your tweet is focusing. They also make it easier for your tweets to be found by other people who are tweeting about the same thing. If you include #SEO in a Twitter post, you can then click on the hashtag and it will redirect you to a feed of tweets that include the same hashtag.
This makes it very easy to see how other people are talking about your industry and how many people are talking about it. It's also a great way to get new followers. If you follow people who use the same hashtags as you, they may see that they have something in common with you and follow you back. Or, they might see your post and follow you without any prompting. They get relevant content and you get more social proof. Hashtags are a win-win.
You Can Engage Customers with Little Social Pressure
One of the perks of Twitter's 140-character limit is that you can interact with other people with little social pressure. Whereas, with Facebook, you can write lengthy posts and interact with people through a general status update, a personal post to their Timeline, or a photo comment, Twitter's communication options are pretty generalized. The posts are shorter and have fewer personalization options.
In terms of inbound marketing, this can be helpful because the customers with whom you engage won't feel as if they are put on the spot. Less words means less pressure, in a sense, so you can tweet at someone without invading his or her virtual personal space. This may be why so many businesses choose to engage directly their customers through Twitter instead of Facebook. Tweeting "Glad you liked our product!" at someone just seems less creepy than leaving the same comment on the person's Facebook post.
Of course, you need to consider exactly what kinds of people your target audience contains and determine how you will use Twitter from that information. No two companies use social media the same, so don't interpret this section as us telling you not to comment on your customer's Facebook posts (because that really works for some companies, too).
Allows Casual Conversations
One of the most difficult barriers for businesses to overcome in inbound marketing is the barrier that separates "Business" from "Casual." To establish the best relationship possible with your customers, you need to allow some degree of informality. However, this is easier said than done. Twitter makes it much easier, though, because it's character limit encourages users of all status and professions to resort to text speak to get their points across.
For example, a businessperson who might usually respond to an email with "Dear Tom, Thank you for contacting us. [Insert long, formal email here.]" can respond much more casually on Twitter. "Tom, thanks for the feedback. We'll get to work fixing your problem right away & be in touch with u soon." Short, sweet, and somehow all the more friendly because there is less of a status distinction between the customer and the customer service rep.
Google+
Although it is one of the newer social networks to join the Internet, Google+ is steadily becoming an all-important tool for businesses and individuals alike. It currently has over 400 million active users and some neat little perks not offered by other social sites. Because it is connected to Google's search engine, Google+ can help you rank for keywords that might be out of reach for your website.
Here are a few ways you can use Google+ to give your inbound marketing campaign a boost:
Use the rel=author / rel=publisher tag
Post new and old content
Turn hangouts into new content
Use the rel=author / rel=publisher Tag
One thing that sets Google+ apart from other social networking sites is its ability to make your SERP listings more customer-friendly. By adding the rel=publisher or rel=author tag to your website or blog posts, you can get Google to show a picture of your CEO's face or your company logo next to your Google listing. This nifty little feature can increase your click-through-rate, help your brand reputation, and simply look awesome.
This feature is collectively called Google Authorship and, to get it to work for you, all you have to do is link your website or blog to your Google+ account using the tags mentioned above. Simply include a link to your Google+ profile either in the <head> of your HTML code, or in an individual blog post that you've written. Then add ?rel=author or ?rel=publisher to the end of your Google+ url, excluding the /about or /posts text that follows your ID number. Then add the URL you want authorship for to your Contributor section in Google+. You should start seeing your SERPs photo within a few days or so.
If you are a business seeking to link Google Authorship to your Web pages, the rel=publisher tag is the one you want. Rel=publisher will add the Authorship info to an entire site, so link it up to your main company Google+ page.
If you have employees guest-posting on other blogs or several employees posting on your own blog, they can use rel=author to apply Google Authorship to a single post. Rel=author only works for one page at a time and allows for greater distinction among blog post authors and contributors.
Post New and Old Content
While posting new content shows that your profile is regularly updated and current, posting older content can be helpful to businesses, too. Older sites and Web pages tend to have greater value on Google. They're seen as being more trustworthy because they've been around longer – kind of like respecting your elders.
By occasionally posting older content from your website or blog, you can create Google+ posts that might garner more respect from the SERPs. However, you shouldn't be posting the same old links repeatedly, and you should restrict your sharing of old links to timely and relevant topics. Remember, the point of your inbound marketing campaign is to share information that your audiences actually want to read, not just for you to rank higher in Google.
Turn Hangouts into New Content
The Hangouts feature of Google+ allows as many as 10 people to talk via video conference, hosted for free by Google. This is a pretty generous feature of Google+ when you consider that video chatting software like Skype requires you to pay a fee to video chat with more than one person at a time. And, in addition to being a convenient way to hold business meetings, Hangouts can be recorded and posted to YouTube.
The ability to record Hangouts means that you easily can create new content that will be valuable to your customers, other industry leaders, and anybody else who wants to listen. You can record your company executives discussing how they plan to deal with major industry changes, an employee resolving an issue with a client, or even something as simple as a brainstorming session over new content creation ideas. With everyone's permission, you can quickly upload your Hangouts to YouTube for quick, sharable content.
LinkedIn
Unlike social sites such as Twitter and Facebook, LinkedIn is unique in that its primary focus is on business relationships. It is intended to be a social networking site for professional and corporate connections, and therefore offers some unique opportunities to further your inbound marketing campaign.
Here are a few ways you can use LinkedIn to build trust for your company:
Encourage employees to use it
Showcase your skills
Establish connections
Encourage Employees to Use It
Because LinkedIn is all about you as a company, one of the best ways to show potential customers that you are a trustworthy business is to have your employees interact with your LinkedIn profile. The mere fact that your employees are engaged with your company profile suggests that their jobs are important to them and that your organization must be a good one for which to work. After all, not everyone takes the initiative to connect with their workplace online.
Individual employee profiles on LinkedIn also can be a valuable asset to your inbound marketing campaign because they provide real people and real faces with whom users can relate. Unlike a corporate logo, your employees' faces are welcoming and down-to-earth. This change in perspective can encourage potential customers to interact with your brand because they can see that there are normal, relatable people working behind the scenes.
Showcase Your Skills
Endorsing skills is a feature of LinkedIn that is relatively unlike other social media sites. You can list the skills with which your company has the most experience and people who have worked with you can vouch for those skills or endorse new ones you may not have considered. As a company, this is a great social media feature with which to interact because it shows potential customers just what other people think of your services and business practices. It's also a great way to encourage user engagement because any of your connections can endorse you.
Establish Connections
LinkedIn connections are the equivalent of friends on Facebook or followers on Twitter. Having more connections can show that your business is very sociable, that other people value what you have to say and it's a good way to get more skills endorsed.
Unlike Twitter or Google+, though, LinkedIn requires that both you and the person connecting with you must verify your relationship in order for the connection to be made. However, because LinkedIn is more of a professional social site, users are often willing to connect with people they don't know as long are they share a similar industry or skill set.
To close up our section on using social media for inbound marketing, let's take a look at one of our most social media savvy clients.
Social Media Case Study: Havahart on Facebook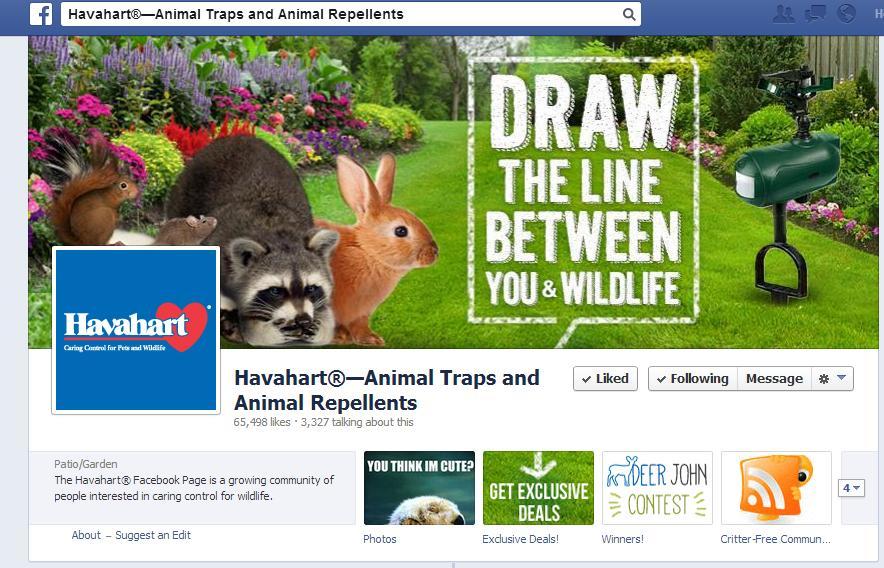 Havahart specializes in the animal-friendly removal of wildlife pests from communities, homes, and workplaces. Rather than harming animals when trying to remove them from your home or yard, you can purchase animal-safe traps that allow you to rid the area of pests without hurting the animals in the process.
In addition to assisting with its blog development and design, we've also been working with Havahart to increase its social media signals and content shares. As you can see from the more than 65,000 people following it on Facebook, our suggestions for Havahart's social strategies have been working quite well.
Havahart does a great job of posting fun, entertaining, and informative content on its Facebook page. As you can see from the screenshot above, the organization hosts social media contests, offers exclusive pest control deals, and updates its feed with cute critter memes to engage followers each day. The followers interact with Havahart through comments, Likes, and Shares every day of the week, making its Facebook account one of its most valuable tools for inbound marketing. Feel free to check out Havahart's Facebook page for a closer look at these social media pros.
Now that you are familiar with how you can leverage social media to help your inbound marketing campaign, let's jump into the wonderful world of blogging.
Blogging
The website within your website that needs constant updates and attention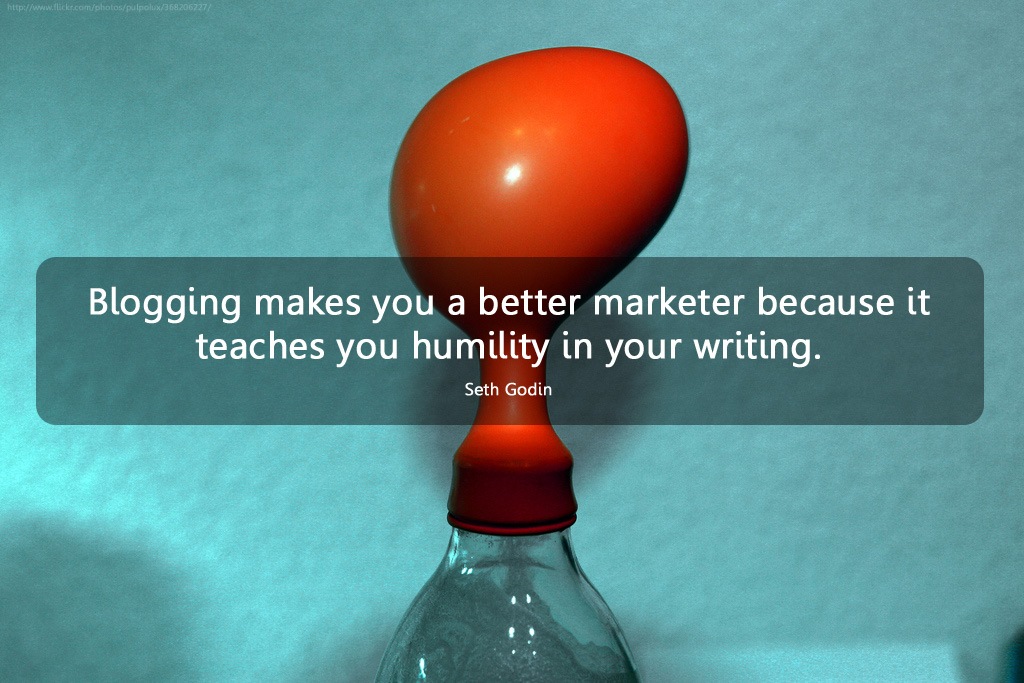 In this day and age, every serious website needs to have a blog. Blogs allow your company to connect with website visitors on a more personal level. The format of many blogs (individual posts, bullet points, categories, lists, etc.) makes them more user friendly, too. Blogs are also easily sharable on social media sites, very easy to manage and maintain, and are indexable by search engines.
Here are just a few ways that blogging can help strengthen your inbound marketing campaign:
Drive user engagement
Provide interesting content
Share content on social media
Rank for keywords your main site may not
Increase brand awareness
Build up your backlink profile
Below, we've included some blogging guidelines for you to follow. Take a look at your business's blog as you read through this section and write down what your company can improve about its blog.
Blogging Best Practices
If you want that user trust and engagement that a good inbound marketing campaign can bring, you definitely need to be following these best practices:
Write 500 Word Posts
Back in the day, bloggers could write 200 or so word posts and still stand a chance of ranking on Google. Today, search engines only want to serve up the bulkiest, juiciest posts to their hungry users. You could maybe scrape by with a post that is 300 or 400 words long, but 500 is quickly becoming the minimum word count for bloggers to meet.
However, we've also been seeing an increasing number of blog posts hitting 1,000 or more words, and many industry leaders have projected that long-form content is becoming necessary for businesses to rank well on SERPs. While you're blog posts don't need to be thousands of words long, you should know that longer content is better content.
Hire Excellent Copywriters
Post length means nothing if your blog copy is poorly written. Excessive spelling errors, grammar problems, and instances of broken English (or the main language your blog uses) will prevent you from getting the most out of your inbound marketing campaign. The best way to quickly create great content for your blog is to simply hire copywriters who know their stuff.
If you don't have an in-house copywriting team, or if their writing styles are just too jargon-heavy for a casual blog post, you can consider using freelance copywriters to write content for your company's blog. However, only use copywriters who are native speakers of the language used on your blog, and try to use the same copywriters repeatedly. Establishing some kind of professional relationship with your freelancers is much easier than taking your shot with a new copywriter each week.
Break Up Blocks of Text
One of the easiest ways to lose traffic and increase your bounce rate is to write posts that are nothing but massive paragraphs of text. You need to write your posts so that people with a variety of reading styles can digest them. Some people read every word you write, some people skims through the text, and some people only read the headlines and subtitles. You have to accommodate each of these readers.
Use headings to break up your blog posts. The Heading 1 or <h1> tag is usually reserved for post titles but the Heading 2 or <h2> tag is great for subheadings. You can also use bold or italic formatting to set your subheadings apart from the rest of the text.
Adding numbered or bulleted lists is another great way to break up your blog posts. They are unintimidating, informative, and they suit all reader types.
Use Images Often
Images not only allow you to break up blocks of text, but many social media sites have now evolved features that highlight images when they are included in blog posts and Web pages. Facebook and Google+ now allow you to select which image you would like to feature when you share a link on your accounts. Twitter has also started featuring image snippets, and this trend is likely to increase in the future.
By including an image in each blog post you write, you make that post more readable, more shareable, and more engaging to every person who sees it. And while free images are available through the Creative Commons sections of Flickr and Photo Pin, it's much more beneficial for you to use original photography in your blog post as often as you can. If that simply isn't an option for you, however, a Creative Commons photo is usually better than no image at all.
Categorize Everything
Categories allow your users quickly to find the specific subjects they want to learn more about. Nothing is more annoying for readers than an entire blog with posts listed as "uncategorized." Try to create several specific categories and organize your content within them. To make a category, all you have to do is go into the draft of a post and click the "Add Category" button. This category will then be available to all of your other blog posts so you can manage them more efficiently.
If you use a blogging platform like WordPress, you also can create custom navigation menus using your categories. Simply go to the Appearance tab in the sidebar and click Menus. You can then drag and drop pages, categories, and even custom URLS to create exactly the kind of menu you want.
Promote Everything
Even the best blog post in the world won't get the traffic it deserves if nobody shares it on their social media sites. Each time you add a new post to your blog, you should be sharing it on all of your social accounts. Write a unique description to accompany the link on each network and promote it across all of your sites. Facebook, Twitter, LinkedIn, Google+, and even sites like Pinterest and StumbleUpon can boost traffic to your blog and give your new post the momentum it needs to go viral.
Take Advantage of Guest Blogging Opportunities
Whether you see an offer to guest blog for another site, or an offer for a guest post is made to you, you should definitely take advantage of guest blogging opportunities. Not only does guest blogging increase awareness of your brand, but it also increases your backlink profile, establishes you an industry leader and creates valuable online relationships with other bloggers.
It's pretty obvious what the benefits of blogging on another site are: you get a byline and maybe even a link or two, and you'll likely earn some more website traffic from that site's readers. But, what about when other bloggers or business professionals want to guest post on your blog?
Well, accepting guest posts can benefit you, too. For one, you get free content that you don't have to pay an employee to create. Two, you'll likely get some publicity on the guest writer's Twitter, Facebook, and Google+ pages. And three, you now have an opportunity to ask for a guest post on your contributor's blog.
Guest posting is a best practice of blogging because it not only increases your chances of getting more inbound links, but it also shows your readers that you are an active participant in the blogging world.
How to Continually Create New Content for Your Blog
One of the main difficulties associated with inbound marketing is the need continually to create new, high quality content. This is especially true for the blogging aspect of inbound marketing because a good blog needs to be updated often and sub-par content just won't cut it. To help you ease into your new inbound marketing campaign, we've included the tips below so you can keep generating that awesome, fresh content your blog is going to need.
Have a Blog Strategy
The single most effective thing you can do to have fresh content for your blog continually is to plan out your blog's content at least 1 month in advance. Plan out long-term, major content pieces and link infographics, videos, and interviews well ahead of the time they need to be created. Then think up blog post ideas for smaller, shorter-term pieces of content that will keep your blog fresh between major content updates. You need to have a mix of both kinds of content, as well as a variety of mixed-media content to keep your blog in top shape all year round.
Guest Post
We've already covered this topic, but it's important to note that guest posting is an easy and efficient way to generate some content for your blog. As long as you don't accepts poorly written posts or posts linking to a plethora of low-quality sites, accepting guest posts is a great way keep your blog updated with fresh content. To read more about how guest blogging can benefit your inbound marketing campaign, check out the section just above this one, entitled " Take Advantage of Guest Blogging Opportunities."
Take an Interesting Perspective on Evergreen Content
Some topics just never get old. Posts about holidays, seasonal changes, and major life events like weddings and new jobs always are being written because people always are experiencing them. However, you can't just write the same blog post that has already been written a million times. Take a new, interesting perspective on an evergreen topic and you are sure to draw more visitors into your site.
Think about it this way, everybody writes posts about "Top Christmas Gifts to Buy This Year." If your blog post is about "Top Christmas Gifts NOT to Buy This Year," you're sure to generate some interest from search engine users. Simple tactics such as this can make an old idea seem brand new and drive traffic to your blog.
Get Super Specific with a Popular Topic
If there is a topic that is generating a lot of online attention, see if you can drill down into the subject matter and find a super-specific point on which to focus. This is especially helpful for complex topics like politics or industry reforms because a single blog post often isn't enough to cover a general discussion of the story in depth. Readers like very specific posts because the topic can be discussed thoroughly, but the post doesn't have to be any longer than your norm.
Relate a Hot Topic to Your Industry
If there's a subject that is just blowing up on the Web right now, find a way to relate it to your industry and dedicate some time to writing a blog post about it. This is a great way to draw new visitors into your website and blog because many people will be Googling the subject you wrote about, which gives your post a decent shot of showing up in the rankings.
For example, WebFX has nothing to do with government or health care aside from the fact that we abide by the rules of both. Yet, when HealthCare.gov was first launch and was the top ranking story every day of the week, we related the topic to our industry and created a blog post about it: Design & Marketing Lessons from HealthCare.gov . You can use this same strategy for you blog and discover some really interesting content ideas in the process!
Generate Ideas from Your Blog's Comments
Your readers probably have some great feedback, comments, and questions that would make excellent blog posts. Read through your old posts' comments and look for new post ideas. If a reader has a valuable question, you could expand upon it in a new post. Not only will the reader love that you dedicated an entire blog post to his or her question, but you'll also have some great content that you already know is of interest to your customers.
Have Employees Contribute Ideas
Another good way to keep discovering new content ideas is to utilize the many unique minds that are employed in your company. You could ask for employees to contribute new ideas as they think of them or even suggest a weekly requirement of one content idea contribution. This could be fun for your employees, as well as beneficial to you. Brainstorming new content ideas also can serve as a great team bonding activity. How you want to go about getting new ideas from your coworkers is up to you, just don't underestimate the value of your peers' ideas.
Offer Insider Advice
Turn a company meeting into an informative blog post (with your boss's permission, of course). Offer insider advice to your customers about changing industry trends or new products you'll be launching soon. Just make sure that you actually can make the topic appealing to your readers. Your clients don't care about your figures from last quarter or how company productivity went up 3%, despite how significant those topics might be to everyone in your company. Your customers care about themselves and their problems. Make sure your insider tips actually can help your target audiences accomplish a task or improve an aspect of their lives in some way.
Browse for Ideas
Browse Google, Reddit and Quora for some quick and creative content ideas. Quora.com is a Q&A site where users ask questions and can reply to other users' queries. Simply type a keyword or phrase into the search bar and you can find all kinds of inspirational content ideas.
Similarly, Reddit.com has mountains of content ideas just waiting to be explored. Browse the content most relevant to you by selecting one of the categories listed in the top navigational bar or simply type your keywords into the search bar on the right-hand side of the page.
To get some great ideas from Google, type your industry's keywords into the search bar and check out the News vertical. You easily can generate new blog post ideas by relating recent news stories to your targeted audiences' needs.
Now that we've covered the essentials of using blogs for inbound marketing, let's take a look at a company that makes the most of its blog.
Blogging Case Study: Renew My Home Blog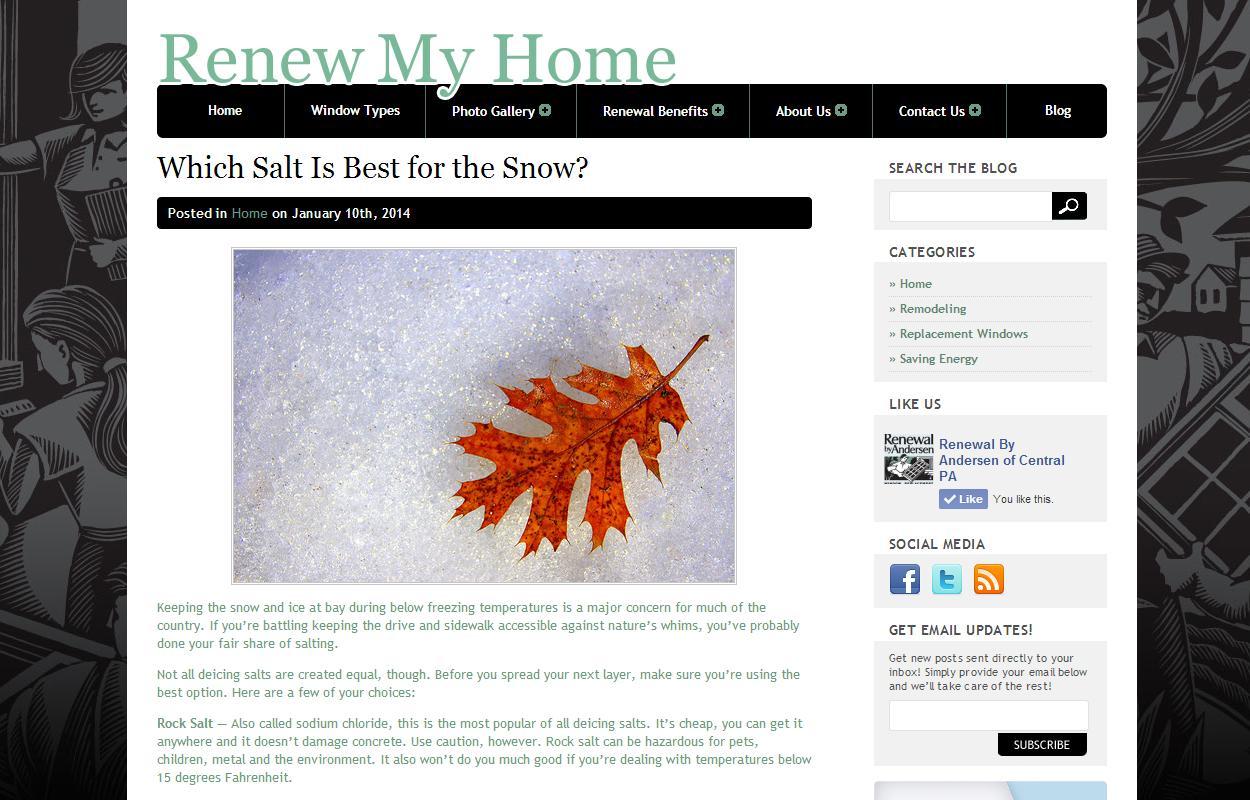 Renewal By Anderson is a window replacement company in Central Pennsylvania. Along with doing its SEO and website design, we also helped it generate some great blog post ideas that allowed it to reach out to its targeted audiences with helpful and industry-relevant content.
As you can see from the post above, Renewal By Anderson has done a great job of providing customer-oriented content on its blog. The topics its posts discuss typically take the form of answers to questions about which customers would want to learn more. Notice that the folks at RBA take the time to categorize each of their posts and they include social sharing buttons and an RSS feed subscription button in the blog's sidebar.
Looking at the screenshot above, you can also see that RBA actively tries to write blog posts that are easy to read. It uses eye-catching images and short paragraphs to give readers' eyes a chance to relax within each post.
Although it may be difficult to see in the screenshot, you'll find upon inspecting RBA's blog that each blog post also makes use of bolded words and subheadings to break up the post's text. If you want a further look into what makes a great inbound marketing business blog, head on over to RBACentralPA.com/blog for a complete look at the Renew My Home blog.
Blogging is a great way to drive user engagement on your website and develop a professional relationship with your customer base. Now that you know how to keep creating new content for you blog and what best blogging practices you should be following, you can move on to thinking about more specific inbound marketing tactics. In this next section, we'll give you an in-depth look at how to use images to drive more customers to your website.
Using Images as an Inbound Marketing Strategy
If a picture is worth a thousand words, how many Likes do you think it can get?
Images and image sharing sites have the potential to unlock many new opportunities for your brand, website and business overall. Here are just a few of the many ways images go hand-in-hand with the primary goals of inbound marketing:
Allow you to create stronger emotional responses
Make your content easier to understand
Give you the opportunity to rank in search engines' image results
Make your links more clickable
Open up new opportunities for social media sharing
Generate brand awareness with image sharing sites
Because images provide your targeted audiences with a visual depiction of an example, event or idea, they allow your readers to feel a much stronger connection to your content. Such a connection can surpass brand bias, make your brand more memorable and generate user engagement that would otherwise be much more difficult to obtain.
Original photographs or originally created graphics are always stronger images to present than stock images. However, using image sharing sites and Creative Commons images have their advantages, too. Before we dive into that distinction further, though, let's take a closer look at what images can do for your inbound marketing strategies.
Images = Emotional Responses
Regardless of whether your content is about an inspirational news story or your latest wonton soup recipe, you can enhance your readers' emotional responses simply by including images.
Images involve the human senses on a deeper level because readers no longer have to imagine what the subject of your content looks like – they can see it for themselves. This, in turn, can illicit old memories, generate sympathy, make someone laugh, or any number of other emotional responses we take for granted every day. Emotions are one of the major ways that humans connect with the world around them. If your readers can't connect with your content, your inbound marketing strategy isn't doing its job.
Images Make Content Easier to Understand
Especially if your content involves a step-by-step process or an explanation of how something functions, images make your content a lot more digestible. Many Web users will bounce from a page if it doesn't include images, and this goes double for content discussing installation procedures, usability tips, and any other multi-step process. Make sure you ask yourself the question "Would images make this easier to understand?" with every new piece of content you create. You'll likely see higher levels of user engagement as a result.
Ranking in Image Results
The more you use images in your website and blog content, the better a chance you have at ranking in search engine image results. Of course, just like Web copy, images need to be optimized for search engines, too. There are a few very simple ways you can do this:
Use keyword-rich (but not stuffed) names for your image files
Fill out the <alt> tag for you images with keyword-rich descriptions
Keep your images closely related to the subject of the Web page on which they appear
As with all other aspects of SEO, there are many outside variables that can affect your chances of ranking in image results. Following these guidelines will simply give you a better chance of doing so, and they're just good SEO practices in general.
You Get More Clicks and Shares with Images
Including images in your content also helps inbound marketing because it increases user engagement. Every time you post a link on Facebook, Google+, or LinkedIn, the site searches for the images associated with that link and allows you to post the image with the URL. The addition of images to shared links makes these links more clickable, resulting in higher traffic being driven to the linked site. In addition to a higher CTR, images also increase content shares and social signals like +1s and Likes.
As an example, let's turn to Twitter. The social site has recently started allowing images uploaded directly to Twitter to be seen in users' feeds. The result? Buffer reports that Tweets with images get 18% more clicks, 89% more favorites, and 150% more retweets than imageless posts. How's that for user engagement?
Sharing Images Increases Brand Awareness
Upload some company images to Flickr or PhotoPin and make them available for public use. When people use your photos in their blog posts or Web content they are required to give you credit. This can be a good way not only to engage users with your content, but also spread your brand's name across the Web.
Other image sharing sites like Imgur exist for entertainment purposes only. You can create an account under your brand's name and share inspiring, funny, or interesting images and generate user engagement through comments and favorites. These sites don't give other people permission to use your content, but they can be very effective at generating buzz around your brand name.
Now that we've given you the rundown on how images are related to your inbound marketing campaign, let's talk image selection.
When to Use Original, CC, and Stock Images in Your Content
When it comes to selecting images for your content, you have several options. You can either use stock images, original images, or CC images. All have their benefits and drawbacks, and we're giving you all of that information here.
Stock Images
Stock images are photos that can be bought and used for commercial purposes. There are many different websites that sell stock photography and each one may have its own prices and guidelines.
Benefits
Companies like to use stock photos because they are usually high-quality photos and you can use them without the hassle of going to a location and taking a professional picture yourself. Thus, they can save you a lot of time and some money without sacrificing image quality.
Drawbacks
The big drawback of stock photography is that literally anyone can use it. As long as you pay the required amount of money, you can use stock photos to accent your blog or website. This might seem great – until you see one of your competitors using the same image. Stock photography tends to make your company look unoriginal and somewhat lazy, which isn't exactly what you want for your inbound marketing campaign.
Stock photos also cost money and, occasionally, royalties. Considering that the image you are buying isn't original or solely available to you, the costs don't usually justify the end product.
The best way to use stock photography is to use it only when you have to, and only in lower-priority content like blog posts. You should really try to stay away from stock photography when it comes to your website and opt for original images instead.
Original Images
Original images are graphics or photos created by your company and owned by your company. No one else can use these images without your permission.
Benefits
The main benefit of using your own images is that no one else has access to them so your content will be completely unique. This will not only earn you some credibility points with your customers but it also shows search engine crawlers that you are the original creator of that content. Being the first to post an image or piece of content is often a good signal to search engines and can boost your chances of a higher ranking.
Another benefit of creating your own images is that you can control exactly how the image looks. When you use CC or stock photos, you often have to settle for less than what you envisioned. When you choose the subject and setting of each photo, you can get exactly the picture you want for your website and blog.
Drawbacks
The main drawback of using original images is that they take a lot of time to create. Between hiring a professional photographer, scheduling time out of the workday to stage photos, and getting the photos edited, you could be waiting at least a week to see the finished product. Especially when it comes to blogging, companies don't always know what kinds of photos they will need that far in advance, let alone have the time to devote to such an activity each week.
A good rule of thumb to follow with original images is to save them for higher-quality content. Your website, a feature in a high-ranking magazine, and future client pitch kits are good places to use original photography.
Creative Commons (CC) Images
CC images are similar to stock images, but they don't cost any money. Most of these images are taken by everyday people, but some companies add Creative Commons licenses to their images as well. You can use any CC image as long as it is verified as having a Creative Commons license on the site you are getting it from and you attribute credit to the person who created the image.
Benefits
The most attractive feature of CC images is that they are completely free. Flickr and PhotoPin make accessing CC photos very easy, and many of these sites' members are more than happy to make their photos available to the public. All you have to do is give credit to the user who uploaded the original photo, and you're good to go.
Drawbacks
One drawback of using CC images is that they often aren't of the best quality. While smartphones and digital cameras have done a lot to improve standard photo quality in recent years, many of the photos available through Flickr's CC section aren't the kind of top-notch photos you want for your inbound marketing campaign. Sites like PhotoPin offer higher quality images, but they're photos can also have a stock photography look about them.
As a general rule, CC images are usually acceptable for blog posts and lower-priority content. However, much like stock photography, you should keep away from CC images for higher-priority content marketing pieces and stick to original photos for your main website.
Image-Based Social Media Sites
While Facebook and Twitter have been upping the number of images displayed on their platforms, other social media sites like Pinterest, Instagram, and even StumbleUpon have the upper hand when it comes to social sharing through images. These sites allow users to communicate primarily through images, making their content intensely visual, clickable, and addictive to their users – exactly what your inbound marketing campaign needs.
How to Earn Visitors with Pinterest, Instagram, and StumbleUpon
These three social sites currently make up the core of image-based social media. However, you need to know how to use each one in order for it to further the goals of your inbound marketing campaign. Here's a quick overview of some tips you can use to make your business more socially sharable with images:
Pinterest
Pinterest is great for sharing all kinds of images. Whether you want to upload a picture of an event or share an image from the Web, Pinterest lets you do it all. You also can organize your Pinterest boards using descriptive titles so that other users easily can find your content.
The best way to use Pinterest is to add a pin using the website URL of the image you want to share. Pinterest will then bring up all of the images that are on that page and you can select the image you want to pin. When your pin goes live, other users will simply be able to click on the image and be taken to the URL from which you pulled the pin. This is a great way to drive more traffic to your website, especially if you have photogenic content to share.
If your company isn't all that photogenic, you can still use Pinterest for inbound marketing. Upload your latest infographic or an image from your latest blog post and earn some traffic for your site that way. Not all your pins have to be of your company's products but they do need to look good and relate to your company in some way.
Instagram
Instagram allows you to take pictures with your smartphone, enhance them with filters, and upload them to your Instagram, Facebook, Twitter, and other social media accounts. The filters used to enhance the images you upload can make virtually any photo more sharable, and so can be a great resource for the not-so-photogenic businesses out there.
Because Instagram mainly is used for capturing and uploading experiences as they happen, this social media site would be a great tool for live marketing, which we will discuss in depth later in this guide. All you really need to know, though, is that Instagram is very compatible with many social networking sites and can make your images and the content attached to them more sharable.
StumbleUpon
StumbleUpon is a rather unique way to share images online. In fact, you aren't so much sharing images with StumbleUpon as you are sharing entire Web pages. However, for the not-so-photogenic business that happens to have a great website, StumbleUpon can be extremely advantageous.
StumbleUpon lets users enter the URLs of Web pages that they find especially creative, helpful, or well-designed. Other users can then stumble through them on the site and vote the page's content as a thumbs-up or thumbs -down. This can generate a lot of user engagement with your website, as well as encourage stumblers to go directly to your site to engage with it further. If Pinterest and Instagram just don't work for your company's industry, maybe StumbleUpon can provide the social love that you need.
To give you an even better idea of how images can generate audience engagement, let's take a look at one ecommerce site's Pinterest account.
Image Sharing Case Study: VF Outlet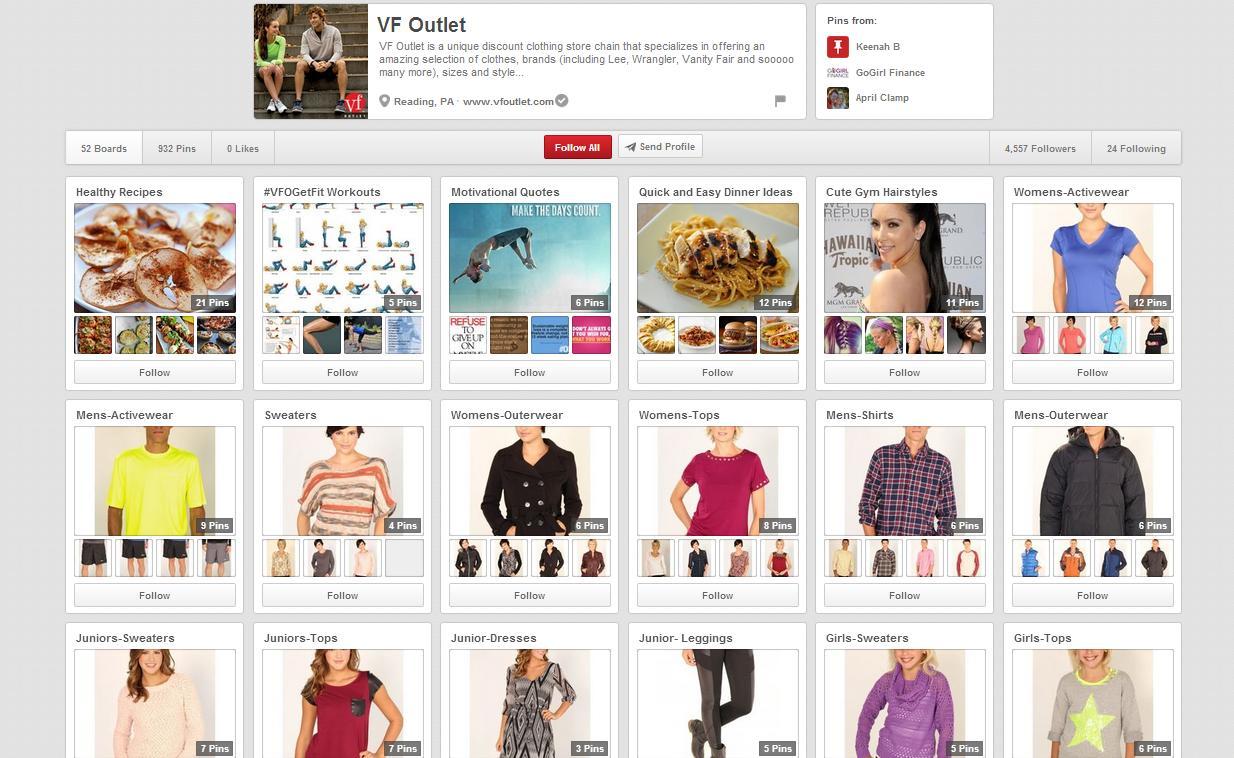 VFOutlet.com is both an ecommerce site and a promotional website for the VF Outlet brick-and-mortar stores. This fashion-oriented site hired us to assist with its website, blog, and mobile site design and we have to say its Pinterest board is one of the best we've seen.
As you can see from the screenshot above, VF Outlet pins everything from its own products, to hairstyle tips, to food recipes and workout suggestions. It has over 50 boards, more than 930 pins, and upwards of 4,500 followers. If you want an example to follow for image-based social media sites, VF Outlet is your go-to site.
Not only does VF Outlet engage with Pinterest users by sharing other users' pins, but it also pins its own exclusive content to generate interest in its own products, brand, and website. For example, take a look at the screenshot below from VF Outlet's Pinterest board, "Models/Shoots."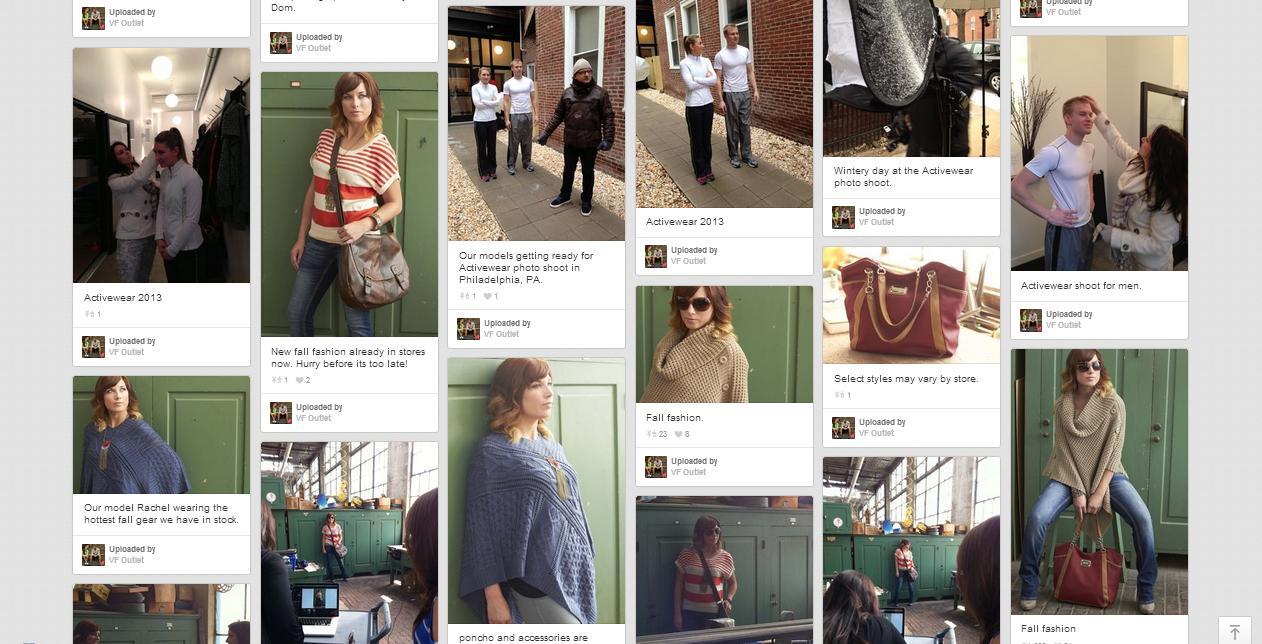 Not only are all of these pins well-suited to the photogenic nature of Pinterest, but also they all show VF Outlet's followers a behind-the-scenes look at how the company goes about shooting new photos for its website.
VF Outlet knows its targeted audience and does an excellent job of providing interesting and engaging content with which other Pinterest users want to interact. If you want to pick up some additional tips on how to use image-sharing sites for your inbound marketing campaign, head over to VF Outlet's Pinterest page and start taking notes.
Now that you're a professional inbound image-sharer, let's move on to another kind of media that every website should use: videos.
Using Videos for Inbound Marketing
How to accommodate those who want the information, but don't want to read it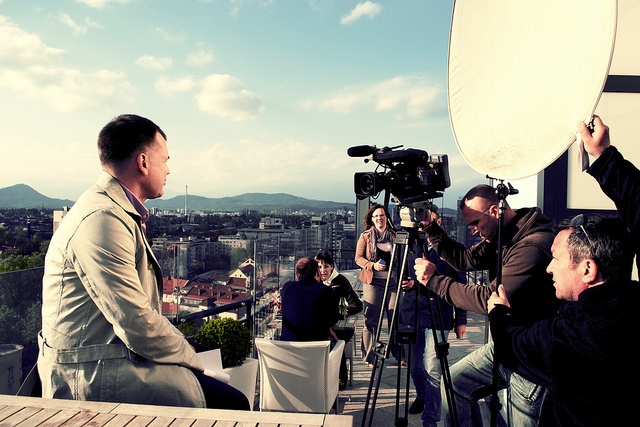 Video creation and accessibility is more prominent now than ever before. Improvements in everything from digital camera capabilities to faster Flash and Internet speeds have made videos both popular and easy to create. The best way to use videos for your inbound marketing campaign really depends on your industry, your targeted audiences, and your business goals. However, using the tips below will help you make sure that your inbound marketing campaign is making the most of its video content.
Upload to the top video sites
Make sure video length is appropriate
Don't forget about video apps
Share videos from your site as often as you can
Write real captions
Drive long-term traffic with a video series

Upload to the Top Video Sites

This one may seem like a no brainer, but it's crucial that you know which video sharing sites have the most users and are most likely to be worth your time. YouTube, not surprisingly, is still the number one site for videos. With over 900 million users, YouTube is an essential part of nearly every company's inbound marketing campaign.

With over 41 million users, Vimeo is the second most widely used video sharing site. CNNMoney reports that Vimeo quickly is becoming the video player of choice for the majority of bloggers and video creators. Its growing user base is especially pleased with the fact that Vimeo doesn't use in-video ads anywhere on the site, making its users' experiences more enjoyable and engaging. With so many users and a growing popularity, be sure you don't overlook this YouTube competitor.

Make Sure Video Length is Appropriate

You know your targeted audiences better than we do, but it's safe to say that no one really wants to watch a 3-minute video that only promotes your company. On the other hand, if you are providing detailed instructions on how to install a new car battery, you may find 3 minutes to be an adequate amount of time for your video. It all comes down to the message you are trying to convey and exactly how much time is required to get that message across.

Stick to shorter videos when it comes explicitly to promoting your business, products, or services. The average attention span in 2013 was only 8 seconds, according to Statistic Brain. Essentially, what this means for your online videos is that even your long videos should be quite short, but your promotional videos should be even shorter. Only use longer video content if you are providing highly relevant information, instructions, or examples to your users. Otherwise your videos won't do much for your inbound marketing campaign and you'll simply annoy those customers you wanted to help.

Don't Forget About Video Apps

Don't make the mistake of limiting your video creation to professional quality recording gear only. While professional equipment allows you to create high-quality videos, this level of quality may not always be the best for engaging your targeted audiences. Especially if your inbound marketing is targeting a younger generation, be sure to use video shooting and editing apps like Vine and Instagram Video to create and share movies on the same social sites that your audiences use most.

Vine has become a very popular way to splice together short video shots to create fun, choppy video sequences. Companies like People Magazine, Toyota and even Malibu Rum have done a great job of creating short marketing videos that both promote their products and engage customers. Check out a few of them and take notes. This kind of marketing can be a great way to engage targeted audiences and drive some visits to your website.

Share Videos from Your Site as Often as You Can

As with everything else you do for your inbound marketing campaign, make sure you share your videos on all of your social sites. Much like images, videos tend to generate more clicks than a plain URL and can be a great way to get more clicks on your content.

To get the most out of these clicks, though, make an effort to include videos that link back to your blog and website whenever possible. While clicks to your YouTube account certainly aren't a bad thing, it can be frustrating having YouTube steal the bulk of your visitors. Upload your video to YouTube and then use the embed code to put the video on your website or blog. Then, use your site's link to share your video on social media sites so you can see how much traffic your video generates.

Write Real Captions

It's surprising how many people overlook YouTube's caption feature, or simply opt for the automatically generated captions instead. While you may be in a rush to upload your newest video or you simply don't think that captions are all that important to online audiences, you'd do well to think again.

YouTube captions are indexed by Google's crawlers. That means that every time you decide not to include captions in your YouTube content, you are missing a great opportunity potentially to help your rankings. Furthermore, you're limiting user accessibility, which actually can hurt Google's view of your brand. What about the hearing-impaired people who want to watch your video? Heck, what about the guy at work who wants to watch your content but doesn't want his boss to hear him?

Captions can do a lot to help your inbound marketing efforts, so take the time to type real ones into your YouTube videos. The automatically generated captions often come out as a jumbled mess and certainly won't cause your visitors to think very highly of you.

Drive Long-Term Traffic with a Video Series

Rather than uploading unrelated videos every month, why not invest some time in planning out a video series? When you create a series of videos that relate to one another, are posted consistently, and directly cater to your targeted audience, you stand a much better chance of engaging customers with your content.

Even if your video series idea is something as broad as "Mega Marketing Monday" in which you provide free marketing tips each Monday, showing customers that you are consistently producing quality content can be a great way to increase blog subscriptions, PDF downloads, site visits, and social media engagement.

Now that you know the ins and outs of using videos for inbound marketing, let's take a look at one website that uses video particularly well.

Video Case Study: Clarity Way

Clarity Way is a drug and alcohol rehab center that hired us to design its website and blog. We've also helped it put together several content marketing campaigns, of which one result has been the video displayed in the screenshot above. Because so many young musicians have died as a result of substance abuse, Clarity Way wanted to educate its targeted audiences about this subject and decided to do so through this video infographic, " Infamous VIPs of The 27 Club."

One of ways that Clarity Way follows our video-sharing best practices is that it always shares its videos directly from their website's blog. As we discussed earlier, this allows it to generate more links back to its main site, rather than having all of its hard-earned link juice go straight to YouTube.

Another way that Clarity Way uses video for inbound marketing purposes is that it makes sure it creates videos about highly interesting and educational subjects. Its blog posts and videos are all directly relevant to its targeted audiences, who are either people struggling with addictions, their family members, or people who are curious to learn more about the dangers of substance abuse. As you can see from the number of social shares this video has received, video is an inbound marketing strategy that works very well for Clarity Way.

In addition to using video to engage potential customers, purely audio channels also can be very useful for inbound marketing. Podcasting is the most user-friendly way to engage customers with audio, and so will be the main focus of our next section.

Podcasting to Earn Customers

How to use your own radio show to engage customers and maintain loyalty

John Biehler (cc)

Okay, a podcast isn't exactly a radio show, but podcasts can sound quite similar to talk radio programs. Podcasting has really taken off in recent years, with everyone from your car dealer to your brother creating their own audio recordings and uploading them to iTunes.

In July 2013, iTunes announced that it was sitting on more than 1 billion podcast subscriptions and more than 250,000 podcasts. The widespread use of iPhones, iTunes, and iPods has made podcasts both easy to create and easy to hear. But, if your main goal with podcasting is to earn customers for your website and business, you need to put a lot of thought and creativity into your podcast before you even launch it. Use the podcasting tips below to create an engaging podcast for your targeted audiences and see what the world of audio can unlock for you.

Find a specific theme, early
Make a release schedule that works for your customers
Create a detailed episode schedule
Promote your podcast's launch
Do a little Outreach to build momentum
Be aware of your metadata
Use your own cover art

Find a Specific Theme, Early

One of the worst mistakes you can make for your inbound marketing podcast is to not find a specific theme early enough. While broad, industry-related podcasts might offer more topics to talk about, you can bet that someone else has already started a podcast about that subject. The best way to provide interesting and valuable content to your listeners is to sit down with your iPad, laptop, or a simple pen and piece of paper and drill into your industry for a good podcast idea.

Make a Release Schedule That Works for Your Customers

After you figure out the focus of your podcast, start thinking about how often you want to post new episodes for your listeners. You need to consider the lifestyles and schedules of your targeted audiences when making this decision, as it can influence how listeners relate to your podcast as well as how soon they can download and listen to it.

Do your targeted audiences work weekends? Are they likely night owls? Knowing your targeted demographics can help you individualize your podcast so listeners feel more connected to it and easily can access it at times that are convenient for them. Plus, if your targeted audiences just aren't the kinds of people to download a new podcast every week, then don't make a new one every week. Opting for every other week instead can keep your listeners from feeling "behind" and motivate them to keep listening.

Create a Detailed Episode Schedule

To expand further on our last point, once you determine a release schedule for your podcast, you should write out detailed ideas for each episode in advance. Come up with each episode's topic, its title, the main content it will discuss and approximately how long it will be. Not only will this kind of planning help you release your episodes on a consistent basis, but it will also help you promote your podcast before it comes out.

Promote Your Podcast's Launch

Being the dedicated podcast brainstormer that you are, essentially you've already outlined your entire podcast's first season. Since you already know what your podcast's title will be, what episodes will be featured, and when it will be released each week, you have all the information you need to promote the heck out of it before its launch.

Spread the word on your social media sites that your brand new podcast will be launching soon. Maybe offer a brief preview of the first episode or write a blog post discussing what your podcast's main focus will be. You should also promote each episode individually on your social sites once your podcast has launched.

Do a Little Outreach to Build Momentum

As with all other online content, driving traffic to your podcast is very important but often a challenge. Get your podcast off to a strong start by doing a bit of outreach and link-building to drive traffic and subscriptions to your podcast. Contact bloggers and website owners who would be interested in your podcast and ask them to check out the first episode. Maybe they'll even review it for their readers.

Be Aware of Your Metadata

The metadata of your podcast in iTunes allows iTunes users to find your podcast when they search for related subjects and keywords. Your metadata should describe your podcast accurately for your targeted audiences and include a few of your top targeted keywords. You also need to consider carefully what category and subcategory you list your podcast under so users browsing through podcast categories can find it, too.

Use Your Own Cover Art

Your podcast's cover art is one of those instances when you should use an original image to promote your business. Stock photography or a CC image will do very little to entice new listeners to click on your episodes.

Create an original cover image that both will interest listeners and that relates to your industry. A good way to do this is to create a unique graphic that your company will use only for its podcast cover art. If your company doesn't have a design department, you easily can outsource this job to a design firm – so long as you plan your podcast out in advance.

Now that you have an excellent understanding of the ways in which podcasts can further your inbound marketing goals, let's take a look at one website that does a great job of providing podcasts to its audiences.

Podcasting Case Study: U.S. Fish & Wildlife Service

We worked on a Flash multimedia project for the U.S. Fish and Wildlife Service, and we've seen few organizations make more of an effort to provide informative multimedia resources for its audiences than this one. Not only do employees of the U.S. Fish and Wildlife Service take the time to research, record, and upload highly educational content for their audiences, but they also offer them for free. This is the very essence of podcasting for inbound marketing; providing high quality, relevant content, and allowing targeted audiences to download it for free.

Because the U.S. Fish and Wildlife Service is such a large organization, they have chosen to create several area-specific podcasts. This allows each podcast to appeal to a different segment of visitors, and so ensures that each podcast is highly relevant to the people who are most likely to listen to it.

If you want to get a closer look at the U.S. Fish and Wildlife's podcast lineup, head on over to iTunes and check it out. Or, you can view the audio archives on its main website.

When you have a truly focused plan in mind for your podcast, you can create a great audio program that your targeted audiences will want to listen to and that can help you achieve your inbound marketing goals. Provide relevant content and provide it consistently, and podcasting could become a great tool for your inbound marketing campaign.

Providing Content through Online Presentations

Easy to read, easy to share content in a presentation format

Online presentation sharing sites like SlideShare have become increasingly valuable for driving traffic to your website and providing interesting information to your targeted audiences. Yet many businesses leave this kind of content creation untapped because other inbound marketing verticals get so much more attention. Social media sites, blogs, and even videos and podcasts usually are seen as being the more basic assets of inbound marketing and online marketing in general.

However, it's important that you consider presentation sites like SlideShare for inbound marketing. SlideShare alone has more than 50 million unique users, making it a great opportunity to distribute your content to targeted audiences. Below are some ways you can engage your audiences and drive more traffic and conversions to your website with SlideShare.

Help readers understand complex information
Share e-books without requiring downloads
Track presentation views
Let users embed your content on their sites
Share your presentations with social media
Make previous content easier to access
Make content graphically appealing
Provide more content for robots to crawl

Help Readers Understand Complex Information

Because SlideShare content is set up in a presentation format, the information you include in your presentations will be easy to understand. By breaking the information down into multiple slides with only a few bullet points on each slide, you can make your content less intimidating and much easier upon which to focus. This is especially helpful when you need to explain a complex set of instructions, rules, or processes. And unlike a YouTube video, users don't have to pause the presentation every time they want to focus on a specific step or instruction. Slide progression is controlled by the person viewing the presentation, and so can perfectly match his or her pace.

Share E-Books without Requiring Downloads

It's likely that not all of your customers will want to download your latest e-book right away. When you share your e-book on SlideShare, you allow your customers the opportunity to view what is inside the e-book before they commit to a download.

If you really don't want to provide all of your e-book on SlideShare, you at least could provide the first chapter as a teaser and encourage users to download the full PDF from your website. This not only will give customers a peek into your content, but it also will encourage them to head over to your site and complete a conversion.

Track Presentation Views

It's easy to track how many people have viewed each of your SlideShare presentations. A "Views" count is located under each presentation, so you still can have a decent idea of how many people have accessed your content. Combine your SlideShare views with the number of PDF downloads on your website for an idea of how valuable your content is to your customers.

Keep in mind, though, that SlideShare views are not sensitive to unique visitors, and so will track how many people view your content – even if it is the same person viewing it 60 times. While it's unlikely that such a scenario actually would occur, it's important to be aware that each view does not count as a unique person.

Let Users Embed Your Content on Their Sites

SlideShare presentations can be embedded on a site or blog much like a YouTube video or a Flickr image. By making your content available on SlideShare, you will be providing quality information that other users may want to share with their own readers and followers. It's a win-win situation; they get great content and you get free brand promotion, social shares, and maybe even a link or two.

Share Your Presentations with Social Media

Unlike creating a presentation on Microsoft PowerPoint, your SlideShare presentations can be shared around the Web, using every social media site imaginable. SlideShare presentations feature Twitter, Facebook, and LinkedIn share buttons directly underneath them, and you can simply copy and paste the presentation URL into your social media site update. Whether you share your presentations on your social sites for your followers, or your followers share your presentations for their friends, this feature of SlideShare is great for driving traffic and brand recognition.

Make Previous Content Easier to Access

If you saved your old PowerPoint presentations from past conferences and meetings, you can easily upload them to SlideShare to make them available for both your customers and your employees. This a great way to update your account with new information (even though the information itself is from an earlier time), thereby sending positive freshness signals to search engine crawlers. Better yet, it will help your customers, business partners, and industry peers easily locate valuable information that they may not have had access to before.

Make Content Graphically Appealing

Nothing shortens a modern-day attention span faster than bland or disorganized content. With SlideShare, you easily can break up your presentation copy with well-designed title and subtitle slides.

Your title slide should be the most engaging in order to get users actually to click through the presentation. Have a simple, but well-designed title slide and you stand a much better chance of earning readers, social shares, and comments. Make sure you include graphics throughout the copy of your presentation, too. A helpful diagram, a relevant picture, or even a simple background design can be very effective at keeping your readers engaged with your content throughout the presentation.

Provide More Content for Robots to Crawl

When you create or upload a new SlideShare, it can be beneficial to include a brief transcript of your presentation copy in the description field below the presentation panel. This will ensure that search engine robots can read the information contained in your slides and possibly help users find your content more easily on Google or Bing. While your targeted audiences should be the main concern of your SlideShare content, it doesn't hurt to include some plain text for robots, too.

At this point, we've thoroughly discussed how blogging, social media, images, videos, podcasts and presentations all can be used for inbound marketing. Now, we'll take a look at how content marketing uses all of these content forms to drive your inbound marketing strategy.

Content Marketing: The Right Way

How to turn your content into links, traffic, and more

Content marketing goes hand in hand with each and every one of the inbound marketing verticals we've discussed in this guide. You can use content marketing to promote your blog, get links for your latest infographic, increase your conversion rate, and earn more podcast subscribers. Essentially, content marketing is the combined actions you take to get your quality content noticed.

Your content would suffer severely if you didn't do content marketing for it; and if you do content marketing without quality content, your marketing campaign will accomplish very little. Keep this co-dependent relationship in mind as you think of new content ideas and new content marketing strategies for your inbound marketing campaign.

Why You Need Content Marketing

Content marketing and inbound marketing are so relevant to one another that the two terms are sometimes used interchangeably. Content marketing is the process of brainstorming, creating, and promoting highly valuable content that your audiences will find interesting.

After you create your content, you should go beyond promoting it on your social sites and personally email your content to targeted online influencers, who will want to share your content on their own sites. If done correctly, this kind of content marketing will likely:

Earn more links for your website
Send more traffic to your site
Make your brand look better
Increase your conversion rates
Cause your targeted audiences to interact with your brand
Get your social sites more followers
Increase your rankings
Send more traffic to your brick-and-mortar store
Open up new doors for your business in the future

Earn More Links for Your Website

When you share valuable content with online influencers in your industry, you are likely to earn a few new links to your website. To be clear, online influencers can be described as engaged and active bloggers, webmasters, and industry leaders in your field. By sending your content directly to these influential people, you make it easier for them to provide valuable information to their readers, of whom many will reciprocate with a link back to your site.

Linking back is simply common courtesy when you use another site's content, which is why many of the most successful content marketing campaigns don't even need to ask directly for links. Simply send a friendly, non-spammy email to an influencer, and if he or she uses your content, you'll likely see a link to your site accompanying it. If the influencer didn't include a link to your site, send a follow up email simply asking for credit to go back to your site. Most people are more than happy to accommodate you if you haven't been flooding their inboxes with spam.

However, there are two ways that this strategy can go wrong and it is important that you actively do all you can to prevent both in your content marketing ventures. The first reason that content marketing fails to earn links is that you've targeted the wrong influencers. When creating your pitch list of who you want to email, you need to be very specific about who you contact and only email influencers who are directly involved with your industry. The people who are most involved in your field are likely to be the most interested in your content, so don't simply build a contact list of sites that you think would be cool to get published on. Focus is the key to building a great pitch list for your content marketing campaign.

The second reason that content marketing fails to earn links is that the content isn't fresh enough, interesting enough; or of high enough quality for influencers to want to use it. Even if you email all the right people, low-quality or regurgitated content is sure to earn very few links for your site.

Send More Traffic to Your Site

As you might imagine, more links to your site typically also means more traffic. When your content is promoted on other people's websites, their readers and social followers will see it, and some of them will come to your site to see what you're all about. If you've done a good job of targeting the right online influencers, then you already should know that their readers are interested in your services, additional content, or products. By providing quality content to the right people, you can earn quality traffic for your website.

Make Your Brand Look Better

When you spend the time and money to create a great piece of content and then share that content for free with other people, it shows your targeted audiences that your brand is knowledgeable about its industry and unselfish when it comes to sharing information. Both of these qualities can make your targeted audiences see your brand in a positive light, recommend your brand to friends, and interact with your brand through social media. If you are doing content marketing in an ethical and controlled manner, there are very few ways that it can't help your brand's reputation.

Content marketing can only be bad for your brand if you are using spammy, aggressive, or dishonest strategies. Online influencers likely will be quick to badmouth you if you are sending them irrelevant content or flooding their inboxes with link requests. If you don't want your brand to get a bad reputation, you need to use polite and ethical content marketing practices. Do this, and most people will really appreciate your brand's effort to provide them with free, interesting content.

Increase Your Conversion Rates

Content marketing has the potential to increase your conversion rates because it makes people more aware of your brand's presence and industry knowledge. Not only that, but each time an influencer shares your content, you earn a vote of confidence in your company and services. When people are looking for a product or service like yours, they will be more inclined to purchase from you because they can see that you are a good company who provides great content for free and who other bloggers and webmasters write about in positive ways. Basically, content marketing increases the kinds and number of online signals that convince people to invest their money in your business.

Cause Your Targeted Audiences to Interact with Your Brand

When you promote a well-thought-out content marketing plan, you'll likely see an increase in the number of comments, likes, retweets and +1's on your social sites and Web pages. Such interactions with your brand are great for showing search engine crawlers that users are interested in what your brand has to say. On a customer level, this kind of user engagement is also very valuable because a person who has interacted with your brand is more likely to remember things like your logo, the products you sell, and even your domain URL. Thus, getting people to interact with your brand can help you maintain or increase your SERPs rankings and earn more online customers.

Get Your Social Sites More Followers

One of the default ways that online audiences check a brand's popularity is to look at their major social media pages. If a company only has a few followers, potential customers will assume that the company isn't very good, regardless of how misguided this assumption may be. If you don't have a substantial following on Facebook, Twitter, Google+, and LinkedIn, you could be missing out on tons of potential sales. Content marketing can help you get more social media followers because as your content gets shared around the Web, more people will follow you, tag you, reshare it, and interact with your brand through social media.

Increase Your Rankings

Including your top-targeted keywords in your content marketing campaigns is a great way to boost your chances of ranking higher in SERPs. As it is with most SEO methods, you can't expect to see higher rankings instantaneously. However, long-term, successive, and well-planned content marketing can show search engine crawlers that your brand is worthy of a higher ranking.

Search engine crawlers love strong and engaging content. If you've learned anything from the content marketing tips we've discusses so far, then you already know that your content needs to be just that. When you combine the freshness factor of continually putting out new content, the quality factor of creating long-form, well-written content and the social signals created from all that user engagement with your content, you're sending all the right messages to Google to earn yourself a higher ranking.

Send More Traffic to Your Brick-And-Mortar Store

Even if your business isn't able to make all of its sales solely online, content marketing can help you drive more foot traffic to your store's physical location. Because of all of the benefits we've mentioned in our discussions above, content marketing can show your targeted customers that your brand is a company with which they can work comfortably. You'll have the support of other websites, your social media followers, and a decent SERPs ranking to back up those feelings, giving your customers that extra confidence they need to travel to your physical location.

If you want to track just how much your content marketing campaign is influencing your store's foot traffic, include a coupon deal at the edge of your content. Encourage people to redeem it online for free store credit, a BOGO deal, or discounted in-store prices. You could have people click on the coupon, provide their name and email address, and have them provide the same information in-store to redeem their discount. This will help you track how helpful your content marketing campaign is for your physical location, as well as encourage further user engagement and customer satisfaction. The key is to not require too much information of your customers online. If you do, they'll likely get impatient and walk away from your deal instead.

Open Up New Doors for Your Business in the Future

Because content marketing does so much to build brand reputation, website traffic, and conversions, it provides you with the resources and the know-how to take your company to greater heights in the future. You can keep building new links with your time-tested and improved content marketing campaigns, which in turn will help you earn better rankings, traffic, and sales. Or, use your newfound revenue to pay for a website redesign and better graphics quality on your next infographic, or open up a new location. The future of your business is open to your imagination, and your increasingly positive online reputation will be there to support you as long as you are willing to devote your time and attention to it.

The hope is you now have a much more comprehensive understanding of why content marketing is so important for your inbound marketing campaign. This kind of highly engaging, high-quality content has become the lifeblood of inbound marketing, website authority, and business success. In an era when online reputation means just as much – if not more – than your business' offline reputation, content marketing has become one of the most valuable tools for success in the 21st century.

And yet, for all the businesses and websites that want to create great content, relatively few succeed in doing so. That's why our next section is going to make you an expert in the kind of fresh, high-quality content that Google loves.

How to Create New Content That Rocks

As you're brainstorming ideas for your company's next big content project, make sure you ask yourself these all-important questions:

What relevant keywords are trending right now?
What do people want to know about this subject?
What research is available for this?
How can our designers make this content pop?
What online influencers would want to publish this?
What actions can our targeted audiences take when they see this content?

By asking your content marketing team all of these questions in the brainstorming stage, you can make sure that the results of your next content marketing project will be well worth the time and money you've invested in it. Below, we'll discuss the actions you can take to answer each of these questions and start producing better content today.

What relevant keywords are trending right now?

The goals of your content marketing campaigns should not be focused on short-term traffic increases or temporary benefits. You should be striving to create content that will benefit your website and business for months and years to come.

One way to make sure that your content has long-term potential is to consider trending keywords in your industry from the onset of the content creation process. By using keywords that are seeing a lot of search popularity, you'll ensure that your content is easy to find for quality visitors years into the future. Use Topsy and Google Trends to research keyword phrases and determine which ones you should include in your next infographic, video, or long-form blog post.

Using Google Trends to Research Keyword Popularity

When you go to www.google.com/trends, you'll see Google's current trending keyword searches, as well as a few other options. Click on the "Explore In-Depth" option and click "+Add Term" at the top of the page.

When you add one of your possible keywords, you can then use the dropdown menus at the top of the results page to filter the data by country, years, categories, and the kinds of searches people have done for that keyword. Google will then show you a list of related search terms and how popular they currently are, in addition to how popular they have been over the last decade or so.

You definitely need to make sure that the country you will be targeting is selected from the dropdown menu because this can change the results significantly. Then, simply look at the related searches and determine if the keyword you wanted to use would be a good at bringing people to your content for an extended period of time. You can determine how popular a keyword phrase is based on Google's 0 – 100 scale. The closer a keyword's numerical value is to 100, the better a choice it is. Also, look at the timeline given for the keyword to see if its popularity has increased, decreased, or remained constant over time.

Using Topsy to Research Potential Keywords

After you've looked at Google Trends, head over to Topsy.com and type your possible keyword into the homepage's search bar. Topsy will take you to a results page that shows you how popular that keyword has been on Twitter for the last hour, the last 4 hours, and the past 1, 7, or 30 days. Using Topsy to cross analyze your potential keywords will help you determine how many people care about this subject right now. Thus, by pairing Topsy with Google Trends, you can cover all of your bases and ensure that your content will be relevant both instantaneously and in the far-off future.

Topsy can also help you determine what hashtags to use when you Tweet your content during its promotion. By using popular and relevant hashtags, you can help other Twitter users find your content easily within Twitter's ever-updating live feed.

While in Topsy, make sure you look at your keyword's Topsy Sentiment Score at the top of the results page, as well as view your keyword's trend data in Topsy Analytics. Your Sentiment Score serves a similar purpose to Google Trend's popularity scores. The higher it is, the better. Topsy Analytics is also helpful because you actually can read real Tweets that people have created in the last 30 days using your prospective keyword. This gives you some context and helps you understand why your keyword is popular. Topsy Analytics may even get you started thinking about specific content topics, a process we've discussed in more detail below.

What Do People Want to Know about this Subject?

After you've done some research into each of your potential keywords, choose just one or two to focus upon and get to work thinking of content ideas. Keep in mind, though, your keyword is not your content's subject. Your targeted audiences, while they may be searching for that keyword, do not care about reading a broad synopsis of that word or phrase. You need to think of a content topic and title that is specific, interesting, actionable, and includes your newly targeted keywords.

The best way to find an awesome topic for your next content piece is to ask yourself "What do people want to know about this subject?" Insert your keyword in lieu of "this subject" and come up with a few answers to your own question. For example, if your keyword is inbound marketing, you would ask "What do people want to know about inbound marketing?" The list of answers you think of might look something like this:

What is inbound marketing?
How is inbound marketing different than SEO?
How do I learn inbound marketing?
How do I do inbound marketing? etc. etc.

By creating this short list of ideas, what you've actually done is begun thinking of highly relevant and informative content topics. But, how can you know for sure which ideas will be the most lucrative? Google it.

Using Google to Find the Best Content Topics

Google's suggested search feature is a hidden-in-plain-sight content marketing tool that can be eternally useful for researching new content topics. Simply begin typing your targeted keyword into the search barn and see what searches Google suggests for that keyword. Chances are that a significant portion of people searching for that very same keyword will click on a suggested search query, so it's worth knowing what your options are in that sense.

You also should see what suggested searches come up when you type in your "What do people want to know about ____?" list ( i.e., the examples given here). Doing so can unlock very specific topics about which you may not have thought yet.

After you've narrowed down 3 or so really promising, audience-oriented, keyword-friendly topic ideas, it's time to dip your toes into the available research out there.

What Research Is Available for This?

Do a little bit of digging into the topics you've assembled to determine how accessible the research is for each one. Especially when creating a new infographic or other data-driven piece of content, having access to accurate and relevant information is incredibly important. All else being equal, a good way to narrow your topic ideas and make your final selection is to go with the topic that has the most available and accurate research. This will ensure that you can get the copy written quickly and have plenty of time to devote to designing and editing the final product.

To find the best research possible, check out .gov, .edu, and .org websites. The more official and recent the readily available research is, the more promising the final product.

More often than not, you'll have several great topic ideas but only need one at a time. After you've narrowed down the topic with the most accessible research, consider using your secondary or tertiary topics as future content ideas. Because you've researched them in advance, you'll have more time to complete the research and so can plan out roughly 3+ months of large-scale content projects in advance.

How Can Our Designers Make this Content Really Pop?

As your content ideas begin to come together, you need to be thinking about the design phase of the process, too. Think about the kind of content you are creating, examine some good examples of how this content can look, and consider how your design team could create something even better. Eye-catching content is much more likely to generate links, traffic, and user engagement.

While it's likely that your designers could come up with their own ideas for the project, it can be very helpful to the creative process to suggest a few example ideas right off the bat. This will get your content designer thinking about several specific design ideas right away and can be a great jumping off point for even stronger creative tweaks and improvements.

However, it's also possible that you won't interact with your designer personally. Maybe your company outsources all of its design work, or it just doesn't facilitate much interaction between the marketing and design departments. Even under these circumstances, it's still a good idea to consider possible design options for your content in the brainstorming process. This will help you envision the end result and keep the topic on track throughout your research. If you can, you still should try to suggest a few brief ideas to the design department. If that simply isn't an option, though, you'll at least have considered design the entire way through the process, and so allowed the research to be easily adaptable to different design strategies.

What Online Influencers Would Want to Publish This?

This is a good question to ask early in the brainstorming process because it will help you plan the progression of your content marketing campaign. Once you have a few topic ideas from which to choose, consider the online groups that would be interested in each one.

For example, say you are an environmental nonprofit and you're thinking of creating an infographic about how fossil fuels affect the environment. Possible online influencers to contact would be people involved with Green solutions, environmental blogs, auto blogs, solar solutions companies, etc.

Each topic you consider will offer different opportunities for appealing to online influencers. Thus, asking this question can be another great way to discover the topic that is the best choice for your company's next content marketing campaign. Much like looking into the research that you will need to do for each topic, considering the outreach potential early on in the content creation process is a good way to eliminate some topics and reveal the potential of others.

If you can't think of many niche-oriented groups that would be interested in your content, you may want to go with another topic. The more groups to which your content appeals, the more likely it is to get picked up by one of the influencers in each of these communities. However, even if your content only appeals to one group of online influencers, if it directly appeals to many people within that community you still could see a very successful content marketing campaign.

In the end, your evaluation of this question and your goals for your content marketing campaign will help you determine the content topic that is best for you next project.

What Actions Can Our targeted Audiences Take when They See this Content?

This is a question that every business-oriented content creator and content marketer should ask before committing to a new project idea. It's true that one of the end goals of your content marketing campaign is to attract and engage your targeted audiences. But, if your content doesn't relate to a page on your site, a service you offer, or a product that you sell, how do you expect to turn your content into conversions?

While it's great to want to create content for content's sake, you also should be trying to engage your audiences subtly in a specific action on your website or in your brick-and-mortar store. To use the example from above, if you are an environmental nonprofit, in what action would you be hoping to engage your audiences with your How Fossil Fuels Affect the Environment infographic? Maybe you could include a link to your How Carpooling Saves the Environment page or a subscription form to sign up for your monthly online newsletter.

Getting conversions can't be the obvious goal of your infographic, or else readers will view it as spam. However, keeping your conversion goals in mind as you brainstorm content ideas is a great way to ensure your content is keeping up with the overarching goals of your business.

How to Outreach Your Content

At long last! You came up with some great content ideas; narrowed your choices down to one keyword-oriented, well researched, visually appealing topic; and made an awesome infographic geared right to your targeted audiences! So … now what?

After your content has been created, you need to do some outreach to get it published on linkable websites. Outreach simply means email marketing that reaches out to online influencers, webmasters, and industry bloggers to promote your content in friendly and helpful ways. Many people, both marketers and email recipients alike, confuse outreach with spam. But, when done correctly, outreaching is not spamming and there are many reasons why this is so:

| Spam | Outreach |
| --- | --- |
| Usually irrelevant to recipient | Directly relevant to recipient |
| Generic; i.e. "Dear Reader," | Personal; i.e. "Hi Carol!" |
| Automated | Actively sent by a real person |
| Sent repeatedly | Stops when asked / outreach complete |
| Bland | Warm and friendly |
| Poor grammar | Excellent grammar |
| Sent from a company | Sent from a person |
| Sender company in mind | Recipient in mind |
| Broad information | Specific content |
| Asks for something | Provides something |

We could continue elaborating on the differences between outreaching and spamming, but you probably get the point by now. Make sure your own outreach practices don't resemble spam and you'll be in good shape as you begin your email marketing campaign.

The Outreach Process

Obviously, the first thing you need to outreach your content successfully is good content. Your content could be an infographic, motion graphic, instructional video, long-form blog post, a whitepaper, or even a free e-book. Whatever it is, make sure it's professionally created and a worthy candidate for your targeted audiences' attention. You then can follow the steps below to outreach your content through an email marketing campaign:

1. Create a blog post for your content
2. Create a list of contacts
3. Draft your email template
4. Individualize each email and send
5. Follow up with contacts to those who didn't respond
6. Respond to those who responded to you
7. Leverage your mentions
8. Evaluate your links, shares and brand reputation
9. Record your successes and future ideas


1. Create a Blog Post for Your Content

Don't attach an image file or Word document to every email that you send. Instead, use your newly created content to fill up some space in the company blog. You then simply can include a link to said blog post in your outreach emails, which will encourage your contacts to check out your site and free up some space on their email servers.

Make sure you write a decent-sized blog post to accompany your content. Five hundred words can elaborate on the data of your infographic, the focus of your whitepaper, or the steps included in your How-To video. This kind of content will give your email recipients some context for your content and they'll likely pull some information out of it for their own blog posts.

In addition, situating your content within a blog post will authenticate you as the original creator of that content. When search engine crawlers crawl your site, they will see that you posted this original content before any other site and likely will give you a high ranking for searches related to that subject. Furthermore, because crawlers only can read HTML text, including your infographic or video in a blog post will give the crawlers a better idea of what your content is about.

On the other hand, if you've created an e-book or whitepaper that has been uploaded directly to your website, you simply can include that page's link instead. The main goal is to send your contacts a link to your website, rather than to your YouTube or Visual.ly accounts. The latter action can really hurt your content marketing campaign because your contacts will link back to your secondary accounts rather than your domain. This can result in lost link juice and traffic, and is just downright disappointing for a hard-working marketer like you.

2. Create a List of Contacts

After you've created a blog post for your content (or before you create it – the order of the two isn't all that important for the first two steps) compile a detailed list of contacts to whom you want to reach out. This is when your "What online influencers would want to publish this?" question from the last section becomes incredibly helpful. Use the broad influencer categories you considered then to find specific blogs and websites for your contact list.

Once you find a website, click around within it to learn what the editors, company, or blogger is all about. Make sure you read the About Us page, the Contact Us page, and run a site search for the subject of your content. If the site's focus is all wrong for your content, don't waste your time and the webmaster's time by noting its contact info. You'll just get rejected and the site probably will list you as spam to prevent further interruptions from you. If your content won't fit the site, move on. If your content would be a good fit for the site, look for a personal email address.

It's always better to outreach to an individual person's email address than an info@, contact@, or questions@ email address. Click through the site's blog posts and articles to find specific authors you can email. Sometimes personal email addresses will be listed on the Contact Us or About Us pages, but don't be surprised if you have to do a little bit of digging to uncover them.

Once you've confirmed that finding an actionable email address is possible, take down all the important outreaching information for the site. We like to list:

Contact's name
Contact's email address
Contact's author page
URL for a specific post on the site
Main site domain
Site's DA and post's PA
Contact's outreach status (i.e. pending, emailed, followed up, etc.)
Any important notes about the contact or site

We strongly recommend keeping this information filed in an Excel sheet or – better yet – a Google spreadsheet. Using Google spreadsheets is great because you give access to other members of your company no matter where they are. You also can edit or update your outreach contacts after you leave the office, which makes it super convenient for those of us who like to work ahead on the weekends.

After you have a detailed contact list of 40+ clients (and we suggest the + option), you're ready to draft your outreach template.

3. Draft Your Email Template

Outreaching is, indeed, all about delivering personal, individualized emails to your contacts. However, if you wrote each email from scratch, you'd ruin your productivity for the rest of the day – or week! Instead, we like to create a warm, friendly email template that we can spice up with a personal touch immediately before we send our emails. This is a win-win strategy: your contacts get a friendly, personalized email and you get more time to focus on the 100 other projects you're balancing.

Here's how you can create a great outreach email template:

Leave room for the contact's name in the salutation
Mention how much you enjoy his/her site
Mention a specific post, article, section, etc., from the site
Include the URL link to your content
Note why the content is interesting, timely, and/or actionable
Mention social sharing
Give a call-to-action
Include the contact's name at the end of the body
Use an original and encouraging closing
Sign it with your first name
Include a professional signature at the end

Oh yeah, you should also try to do all this in as little space as is humanly possible. Half a page in Microsoft Word should be enough to fit it all – white space included. We've included a sample outreach template below so you can visualize how your email will look.

Example email template:

Hi NAME!

I've been reading your Go Green Wednesday posts on SITENAME for more than a year now and I especially liked your post on POST SUBJECT HERE. I thought this new infographic about how fossil fuels are damaging the environment would make a great topic for your blog.

Here's a link to the infographic:

It's really important that people understand the horrible effects that fossil fuels are having on the world around us. I hope you'll join me in the fight to save our planet's resources!

Let me know if you want to use the infographic for you site. I'd love to share your post in my social networks!

I look forward to hearing back from you soon, NAME!

Keep up the great work,

YOUR NAME HERE

If you're pitching your content to a few different kinds of sites, you may want to create several niche-oriented email templates to appeal to each kind of site. This will allow you to speckle your email with some brief industry information and make your content that much more relatable to your contacts.

You also can't forget to include a descriptive, clickable subject line. Most email platforms limit the visibility of the subject line to 50 characters. Aim for 50 characters max and you can help ensure that the entire message of your subject line is conveyed.

4. Individualize Each Email and Send

Once you're finally ready to send your emails, open up your template and begin the process of personalizing each email. You'll edit your template and replace each all-caps word with the specific information you've gathered about your contacts. This can be a time-consuming process, but it's well worth it to create the kind of personal email that your contacts will actually open.

After you've personalized an email, you can either send it right then or schedule it to be sent automatically the next morning. Studies have shown that sending emails Tuesday, Wednesday, and Thursday mornings earns a higher response rate than sending them out on Monday, Friday, or over the weekend. If you're personalizing your templates on a Friday, it may be worth the wait to schedule your emails for the upcoming Tuesday.

5. Follow up with Contacts Who Didn't Respond

After your emails are sent, you'll likely get a few responses from the recipients, either expressing their interest in your content or the reasons why they don't want to publish it. You'll also likely encounter a chunk of contacts who don't respond at all. After waiting a few days (no longer than a week but no sooner than 2 days) send out some follow-up emails.

Please note: resending the same email does not constitute a follow-up email. Create a brief email template that you can personalize with your contact's name and express your desire to learn what your contacts thought of your content. You should also use a subject line that indicates you've contacted the recipient before. Sometimes all it takes to get one more person to open your email is a subject line that suggests they've already interacted with you before. Here are a few follow-up subject lines you could try:

Hi NAME! Just checking in about that graphic
Interested to get your take on that blog post
Hi NAME! Did you like my content suggestion?
Hi NAME! What did you think of my idea?

Follow up emails are incredibly important because they signal to your recipients that you are a real person who genuinely wants to connect. Beyond that, emails are easily lost or overlooked in a full inbox, so sending a few rounds of follow-up emails never hurts. Just make sure you're keeping track of your outreach campaign in your Excel sheet or Google spreadsheet so you don't follow up with people who already have sent you a response.

6. Respond to Those Who Respond to You

As you progress throughout your outreach process, always make sure you take the time to respond to your contacts' emails. Whether someone is emailing you to say that he/she wants to publish your content or don't think it's a good fit for his/her site, always respond.

When contacts respond to your campaign by publishing your content, make sure you thank them! Share their post on your social sites and send them a thank you email. They'll appreciate your gratitude and the social traffic, and you could open a door for content sharing opportunities in the future.

When contacts respond to your campaign with a rejection email, you should still respond to them. If they say they've already posted similar content on their site, tell them that you understand and that you appreciate them taking the time to get back to you. Not only is this response well-mannered and professional, but it also keeps your contacts slightly more engaged in your online relationship and may allow you to pitch different content to them in the future.

7. Leverage Your Mentions

Occasionally, you'll succeed in getting your content published on one of your contacts' sites but they won't link back to you. This is frustrating for any marketer, but there are steps you can take to get those all-important backlinks.

Simply email the contact again and note how glad you are that he/she enjoyed your content and shared it on his/her site. Then ask if he/she would mind linking back to your site as the original authors. Usually, this is enough to get any reasonable website owner to give you a backlink with some good anchor text. If you experience an instance where the person doesn't want to link back to your site, however, you could offer to write a post for your blog and link back to him/her in exchange for a link to your site. However, if the contact is a low-level site or wants you to engage in shady link-building tactics, putting too much energy into leveraging that backlink likely isn't worth your time.

8. Evaluate Your Links, Shares, and Brand Reputation

Run a few different Google searches for your content to find additional sites and blogs that may have picked it up from one of your contacts' posts. You also can use a tool like OpenSiteExplorer or Ahrefs to view your complete backlink profile.

Copy and paste the published URLs for your content and the domain authority of each link that you got. Then, take a step back and evaluate how your campaign did. Did you earn some new links from relevant sites? What about social shares? How many times was your content shared on Facebook, Twitter, and StumbleUpon? You can use sites like SharedCount to see just how many times your content was shared on each social media site.

Even those sites that used your content but forgot to link back to you can be valuable for your inbound marketing campaign. Because you, of course, included your brand name on your infographic, you'll get some free brand exposure from anyone who shared your content but didn't link to you. You should never underestimate the value of good branding so you can count these content shares as a small win, too.

9. Record Your Successes and Future Ideas

Throughout your outreach process, keep careful track of your progression, successes, and frustrations in your spreadsheet. The more you've tracked your past outreach campaigns, the more informed you'll be as you approach future ones. Make note of anything you would change about this campaign, what worked well for you, and new ideas for future outreach. Reviewing these notes before your next outreach campaign begins (especially if they're several weeks apart) can be incredibly helpful.

Learning how to create great content and outreach it to targeted online influencers will be eternally helpful in furthering your inbound marketing goals. Speaking of inbound marketing goals, we can now discuss the optimization of meeting those goals.

Conversion Rate Optimization for the Inbound Marketer

How to get visitors to make that final click

Conversion rate optimization (CRO), although it may seem like a complex term, is actually quite simple. CRO's essential goal is to improve performance: Mainly, the performance of your website or a particular Web page in terms of how it furthers your business's primary and secondary goals. When users engage in an action on your website that is in line with your business goals, we call that a conversion.

Conversions range from newsletter signups to online sales and many alternatives in between. Many businesses have the goal of increasing their revenue; therefore, an online sale is almost always a kind of conversion. However, if your business's main goal is to drive more traffic to your brick-and-mortar location, then likely you would see in-store coupon downloads as a kind of conversion, too.

Meeting Your Primary and Secondary Goals Online

Conversions take two forms:

A macro conversion is one that furthers the main business goals of your organization. i.e., increasing revenue through an online sale

What CRO tries to do is lead your website's visitors to make a conversion during their visits to your website. This process mainly focuses on making the path from entering the site to clicking the "Buy Now," "Sign Up," or "Download Now" button as easy as possible for the visitor. The easier the path is to navigate, the more conversions you are likely to get.

There are many steps and potential revisions involved in the CRO process, but for the sake of being brief, we'll only cover the most essential CRO practices here. If you think your site needs a more in-depth CRO sweep, you might want to talk to your designers and developers about improving the conversion structure of your website.

CRO in a Nutshell: Simple Tips to Convert Visitors

Implementing these tips will help you understand what causes someone to convert on your site and assess how conversion-friendly your website is. However, because many sites nowadays need to focus on multiple macro and micro conversions at once, you may want to talk to your developers about trying some A/B testing or multivariate testing to find out what conversion strategies might work best for your business.

However, following these quick tips will help you ensure that you've at least laid the groundwork for a smooth conversion process. It may help to pull up one or two of your main landing pages as you read this and jot down a few notes in regards to these best practices.

1. Make Sure You Have Contact Forms in All the Right Places

If your website has pages that are highly relevant to your conversion goals but that lack contact forms, you could be missing out on some prime opportunities to generate leads and sales. By having "Contact Us" or "Request More Information" forms on the same pages as your convertible content, you save your visitors the task of finding your main contact page. By including your forms immediately after the conversion-relevant content on your site, you're likely to generate more leads, downloads, and sales.

You'll want to make sure that you have contact forms in place on your blog, on your landing pages, and anywhere else where your visitors might get the urge to learn more about your product. It's also a good idea to test the forms on your website periodically to ensure that they are working correctly.

Another point to note: you shouldn't make your forms overly complex. Stick to no more than three fields. A "Name," "Your Email," and "Question or Comment" form is usually just fine for visitors who want to get in touch.

2. Make Sure Your Landing Pages Actually Land

At the current rate of Google's data crawling abilities, just about every page on your website is a landing page for visitors. If crawlers can index it, visitors can land on it. However, it's still important to take a look at the Web pages that are earning you the most traffic and ask yourself, ' How can visitors convert from this page?'

Make sure that your site architecture is such that anyone landing on a single page easily can complete a conversion from that location within your website. Even if the actual conversion does not take place on that page, you need to make sure that the path from your landing page to your checkout page is easy to find and navigate as a user. As a general rule of thumb, your conversion page should be no more than 1 click away from its landing pages.

Have a family friend or business associate who hasn't worked on the site test your landing pages and provide feedback. You likely work on your company website so often that you could navigate it in your sleep. Getting a fresh set of eyes to click around on it can provide helpful feedback and valuable information about how your visitors experience your site.

3. Provide Strong Calls-to-Action (CTA)

Your website likely has CTAs on it already, but it's a good idea to go through your most important pages and evaluate how effective your CTAs are. Having strong CTAs does not mean that you need to be forceful with your language; but, rather, provide a command that actually makes your visitors want to carry out that action. For example, "Download our catalogue!" is not nearly as enticing as "Download your free coupon catalogue today!"

Using conversion-oriented A/B or multivariate testing to try out several different kinds of CTAs on your site can be very effective at helping you determine the CTAs that work best for you. When your visitors come to your site, you can use one of these kinds of testing to display a different CTA. Simply track which CTA generates more conversions and let your visitors show you which CTA is better. Descriptive CTAs might work better, or maybe your customers will prefer classic, generalized CTAs. The only way to find out for sure is to try a few different CTAs and learn from the results.

4. Have A Conversion-Friendly Design

The design and architecture of your website plays a major role in how conversion-friendly your site is. Having a well-designed, professional, and attractive site makes visitors more likely to convert simply because your site looks good. A poorly designed website causes higher bounce rates and fewer conversions because Internet users have become accustomed to the high quality, professionally designed websites that make up Google's top SERPs results today. A well-designed site makes visitors want to click into more of your pages and see what your business is all about.

In addition simply to looking better, a well-designed website should have a thoughtful, conversion-oriented site architecture. This means that all of your most important converting pages should be easy to find, and completing the conversion should be a hassle-free process. This kind of design will make converting easy for customers and therefore increase their chances of doing so.

5. Monitor Your Leads in One Place

For every person who fills out a form or calls your office, you should be saving their information in a centralized database. This will make it easier for you to monitor from where most of your leads are coming and help you plan your CRO strategies in the future. It will also allow you to see how many leads turned into actual conversions, thereby allowing you to assess your customer service teams and the effectiveness of your niche targeting.

LeadManagerFX is just one of our innovative tools designed to make lead and conversion tracking easier for website and company owners. For businesses that rely on phone calls to generate the majority of their leads, CallTrackerFX is another highly-effective solution for managing lead generation info. You can view all of our free, paid, and client-exclusive marketing labs here.

At this point you should understand what inbound marketing is, and how CRO can help further your business goals. But, one of the best ways to learn is from example, so let's take a look at one company that's done a great job of optimizing its website for conversions.

CRO Case Study: Ceramcor

As an ecommerce site specializing in ceramic cookware and kitchen products, Ceramcor knew it needed a super conversion-friendly site. That's why it asked us to design its website, do the ecommerce store development, and integrate better customer CMS into www.ceramcor.com. As you can see, Ceramcor has done a great job of choosing a well-designed site that has easy-to-access contact forms, strong CTAs, and compelling landing pages.

Take a look at the contact form featured at the bottom right-hand corner of the screenshot above. It has a clear CTA ("Leave a message") that lets visitors know instantly what they can do when they click on the form. However, the full contact form is hidden from view until visitors choose to click on it. In this way, the form is instantly accessible as soon as visitors want to contact Ceramcor, but it does not interrupt visitors' experiences on the site during the times that they don't want to use it. This is a great example of how CRO and inbound marketing have to interact in order to give visitors a great experience and give your website the leads and conversions you need.

In just the screenshot above, you can see several other examples of Ceramcor's CTAs, the basic layout of its site architecture and the professionalism of its website design. If you like what you see, head on over to the site and check it out in detail. Maybe you'll be inspired to create something similar for your own ecommerce site in the future.

Now that you know about designing your website to encourage conversions, it's time to elaborate on additional design elements that will add to your users' online experience. We're going to switch gears and come to the final instructional section of this guide: mobile.

Mobile Marketing Meets Inbound Marketing

Reaching your targeted audiences on the devices they use most: their phones.

netzvitamine (cc)

Mobile marketing almost inevitably becomes a part of many businesses' inbound marketing campaigns because so many people now use smartphones to access the Internet. In 2011, there were more than 5.9 billion mobile phone subscriptions worldwide, according to the International Telecommunications Union. Furthermore, more than 90% of the world's population has access to mobile networks and approximately 150 countries offer 3G smartphone services.

It's data like this that makes us, as marketers, see that mobile marketing is no longer an optional marketing strategy. The widespread use of Internet access through smartphones is making mobile marketing positively necessary for many businesses' success.

As an inbound marketer, you know that you want to reach out to your targeted audiences on the social sites, websites, and devices that they use most. Thus, the incorporation of mobile marketing into your inbound marketing campaign is an idea you should consider thoroughly. In this section, we'll discuss how you can use mobile marketing strategies to further your inbound marketing goals. Below are the key mobile marketing aspects upon which we'll focus:

Responsive Design
Mobile Text
Clickable Buttons
QR Codes
Geotargeting
Mobile Apps

Really think about your inbound marketing goals as you read through this section. Could your customer's interaction with your brand be enhanced with a better mobile experience? Would QR codes help you get more traffic and conversions? Could you create a mobile app to provide a useful service? Chances are, your company could leverage quite a few of the many benefits that come from a strong mobile marketing strategy.

Responsive Design

To put it simply, responsive design means that a website is designed to respond to the screen sizes upon which it is displayed. Responsive design is incredibly important for both mobile marketing and inbound marketing because it affects how your website visitors see your website.

If your company's website is designed for a desktop monitor, then the visitors who come to that website on their mobile devices are likely seeing much smaller print, graphics, and links. This would make interacting with your website very difficult for mobile users, and many of your mobile visitors are highly likely to bounce from your website as soon as they see it. Google studied the impact that mobile-friendly sites had on consumer purchasing decisions in 2012, and found some results that should be highly significant to inbound marketers everywhere.




According to Google , 61% of participants surveyed said that they would move on to another site if they couldn't find what they were looking for immediately on a mobile site.





A surprising 67% of participants said that they were more likely to buy a product or use a service if they were on a mobile-friendly site.





On the other hand, 50% of participants also said that even if they already liked a company, they would purchase from them less often if their site wasn't mobile friendly.





Responsive design is one of the best ways for you to ensure that your site is mobile friendly. Without it, you're likely missing out on both traffic and conversions and, in many ways, you're jeopardizing the success of your inbound marketing campaign. As much as many of us don't want to admit it, mobile is becoming the determining factor of companies that succeed and companies that go under. If you do nothing else with your mobile marketing strategy, you should at least consider investing in the responsive design of your website.

Mobile Text

Unlike your blog and website copy, more is not better when it comes to the copy on your mobile site. People who access your site from smartphones don't want to be greeted with 500 words of copy, despite how informative or well-written they may be. Instead, your mobile users want short, actionable, and easy-to-read text that can solve their problems or answer their questions instantly. As seemingly unrealistic as the word "instant" may seem, that is exactly what wins mobile users over: instantaneous results.

When writing for your mobile site, you need to try harder than ever to see your website from your customer's perspective. Use lots of bullet points or numbered lists, short sentences, and clean, easy-to-read design elements. The more your mobile visitors have to strain to read your text or click your links, the higher the chance is that they'll bounce. Keep your mobile text short and precise and you can do a lot to improve your customers' mobile experiences.

Clickable Buttons

Clickable buttons are important for your mobile site because users mainly rely on their fingertips to navigate around their viewing screens, click on links, and complete conversions. Thus, you want your links to be finger-tip accessible and creating clickable buttons for your mobile users is a great way to do this.

Few things are more frustrating to smartphone users than trying to open a link that is too small. A person would sooner abandon your site altogether than waste 30 seconds of his/her time double- and triple-tapping on your link. Buttons are easy for mobile users to click because they are bigger and easier to tap with one finger.

Google's Mobile Ads Blog says that the best mobile buttons have 3 key features:

They're big
They're spaced out
They have clear CTAs

A colorful, clickable button that stands apart from the rest of your mobile copy is much more likely to keep visitors on your site, earn you the conversions that you want, and give your customers a great experience with your brand. Whether your CTA is "Reserve A Table Now," "Purchase," or "View Our Deal of the Day," buttons are much better than links at getting clicks from smartphone users.

QR Codes

QR codes are likely in use everywhere you look, you may just not know what they are. QR codes are Quick Response codes that smartphone users can scan, like a barcode, into their phone using its camera. QR codes are those squares of black and white pixels that you probably see on the back of product boxes, on posters around town or in newspapers and magazines. When users scan the code into their smartphone, they are taken to the website of the company that created the product, poster, or magazine ad the customer is viewing.

QR codes are exactly in line with the goals of inbound marketing because they offer valuable information, they don't interrupt your customers' lives, and they offer information exactly when the customer wants it. If you sell some kind of food product, you can use QR codes to provide hidden recipes to your potential customers. Or, use your QR code to offer a discount coupon on a service you provide. The possibilities are as expansive as your imagination, which makes QR codes a great tool for developing innovative and creative customer service ideas.

One more huge benefit of QR codes: they allow you to track your offline advertising campaigns. Finally, you can interact with all those immeasurable offline ads and assess them in Google Analytics! Google Analytics lets you create unique URLs for your QR codes, with tracking metrics built in. You can set up that unique URL as a goal for your website in Google Analytics and give it a name that tells you to which offline medium that QR code is specific. When your targeted audiences scan the QR code into their phone, Google Analytics will tell you exactly how many referrals your website gets from "Bus Station Ad 1." This information can help you determine your ROI from offline forms of advertising and help you make future advertising decisions.

Geotargeting

Geotargeted marketing is great for converting people in the same area as your business or company. Using online programs like Google's Places for Business feature is one of the easiest ways to appeal to mobile users (and desktop users) in your area. However, you can also set your sites directly on the GPS technology within your customers' phones and utilize location based apps like Foursquare.

When you use Google Places to create a Google+ page for your business, you immediately gain the advantage of having your company's location and contact info listed in the most used search engine in the world. Google can track the location of mobile and desktop users alike and provide them with local search results for their queries.

For example, a searcher looking for "sushi restaurants" will see a listing of sushi restaurants in their town first and foremost. By listing your company, its contact information, and your hours, reviews, company description, etc. on Google+, you stand a significantly better chance of getting mobile users to visit your physical location. Google reports that 3 out of 4 smartphone users have contacted a business that they found on their phones.

Even after you've listed your business on Google+, you should still consider signing up with a business-oriented social app like Foursquare to send more foot traffic to your store and give your customers a better in-store experience. People, especially the younger generations, love to connect with their local businesses and communities through Foursquare.

Foursquare tells its users what local consumers are saying about businesses nearby and encourages local residents to "check in" at local companies. Foursquare is also a kind of game. The person who checks in the most times at a single place is deemed the "mayor" of that location. Thus, you can see how listing your business on a fun, competitive, and engaging site like Foursquare can spread the word about your business and send more customers your way.

Mobile Apps

Currently, there are more than 1 million apps in the iTunes app store. Just about any topic you can think of has an app. However, some apps are better than others, and it's the quality and creativity of apps that earn the ROI to make their creation worth your time.

We wouldn't go so far as to say that creating an app is a smart move for every business; but, if you have an industry-relevant app idea that would help people accomplish something in their everyday lives, you just might want to consider it. Apps make it easier for your targeted audiences to interact with your company because they can store the app right on their smartphone's dashboard and have it available at the tip of their fingers.

While you could create an app for just about anything, to create a quality app takes a fair amount of money. Therefore, if your targeted audiences aren't likely to download apps, it may not be worth your while to invest in creating a mobile app. On the other hand, if your company has the financial resources to support testing a new app and you think your targeted audiences would be likely to download it, creating a mobile app may be very worth your money. It all depends on your company's industry, your targeted audiences; and the amount of expendable resources you have at your disposal.

Concluding Thoughts on Inbound Marketing

Beginning your journey and developing a plan

You did it! You completed our starter's guide to inbound marketing! Not only did you learn all about the core goals and values of inbound marketing, your learned how each unique inbound marketing vertical offers new opportunities to reach out to your targeted audiences and provide them with interesting and meaningful information. As we come to the close of our discussion, there are just a few final words of advice we'd like to share with you:

Do your pre-campaign research
Measure your current metrics
Be innovative
Always put your customers first

Do Your Pre-Campaign Research

As tempting as it may be to start creating social media accounts, uploading videos, or planning your next content marketing campaign, take some time to sit back and evaluate who your targeted audiences really are. Are they the kinds of people who actually would want to use Pinterest? Do your targeted audience age groups mean that they are on their smartphones all the time, or that they don't even own a smartphone?

Being the forward-thinking online marketer that you are, you've likely considered these questions as you were reading this guide. Now take some time to reflect on them again and do some research to validate your gut feelings. It's hardly worth your time to begin planning your inbound marketing campaign until you've thoroughly considered each inbound marketing vertical from the perspectives of your targeted audiences.

If it doesn't appear that your targeted audiences are likely to engage with one of the marketing niches we've mentioned above, feel free to skip over it. There's no sense in spending your time, energy, and money on a marketing strategy that you know from the get-go isn't going to appeal to your customers. Just make sure your feelings can be validated by a customer survey, Google Analytics data, or some other form of reliable information. Then you can be sure that you've customized your inbound marketing strategy to suit perfectly the interests and needs of your targeted audiences.

Measure Your Current Metrics

Another action to take before you actually begin your inbound marketing campaign is to go into Google Analytics and analyze the current metrics of your website. Use a Google spreadsheet or Excel document to record how much traffic is currently coming to your site, what other sites are your top referrers, how high your bounce rate is, which pages are the most popular, etc. Not only will this give you some insight into starting points for your inbound marketing campaign, but measuring this data now also will help you measure your campaign's success later.

If you plan to create any complex user segments or event tracking metrics for your website, you may want to consider talking to one of your developers or data analysts about establishing those soon. You'll definitely want to have such segments already in place when your inbound marketing campaign launches so that you accurately can track how visitors behave on your site. Get them set up now so you don't miss a single day of data once your new campaign launches.

Be Innovative

New social sites, mobile apps, content sharing platforms, and algorithmic updates are created every single day. Trying out creative inbound marketing strategies on new online platforms can be a great way to discover new marketing opportunities and ensure that your company continues to advance with the ever-changing tides of the Web.

Don't be afraid to try a new idea and see it fail. Maintaining a sense of curiosity and innovation is what has led many an entrepreneur to develop astounding new technologies. Look at Bill Gates, Mark Zuckerberg, or even Evan Spiegel and Robert Murphy who created SnapChat. What did they have in common? They were all innovative people who thought something might work and tried their hardest to make it happen. While your company may not create the next Facebook, maintaining an innovative spirit can certainly help your inbound marketing campaign succeed.

Always Put Your Visitors First

At the end of the day, inbound marketing is all about your visitors, your targeted audiences, and your customers. You already know this after having read our entire guide, but it's worth repeating.

Your company would be nothing without your clients, your customers or, possibly, your benefactors. Do your part to be the kind of business with which they'll want to engage. Create great content, share your knowledge at no cost to others, and make sure you're brand is there to offer helpful advice when your customers need it most. Do these things and you're on your way to being a great inbound marketer.

Thanks so much for joining us in our comprehensive discussion of inbound marketing! We wish you the best of luck as you begin your inbound marketing campaign.

– The Team at


Beginner's Inbound Marketing Glossary

Find the terms you need to know, quickly

Conversion

– A meaningful action made by a visitor on your website that furthers your business's goals in some way. Read more about conversion here.

Macro Conversion

– A large goal that is completed on your website, typically a sale. Read more about macro conversions here.

Micro Conversion

– A small, but nonetheless meaningful, action that is completed on your website. Micro conversions can be document downloads, newsletter subscriptions, or shares on social sites. Read more about micro conversions here.

Conversion Rate Optimization

– The way in which you can organize your website's structure, design, and copy to make it easy for visitors to complete a goal or conversion. Read more about CRO here.

Cross-Domain Duplicate Content

– Content that is shared among different websites, even if the sharing is done ethically and with the permission of the content's original creator. Learn how to prevent cross-domain duplicate content here.

Event Tracking

– The way in which you can track visitor behavior on your website using Google Analytics. To learn how you can use GA's event tracking feature to monitor how many downloads you get, read more here.

Inbound Marketing

– A marketing strategy that focuses on earning online traffic, user engagement, sales, and customer loyalty by providing valuable content to your targeted audiences. Inbound marketing is all about forming lasting relationships with your customers, using non-interruptive forms of advertising to reach them, and providing information exactly at the moment when your customers want it most. Read more about it here.

Links

– The clickable text that allows Web users to navigate from one area of the Internet to another. You can learn all about the best kinds of links for inbound marketing here.

Link Building

– The process of getting non-affiliate websites to link to your website, thereby sending more link juice your way. You can read more about link building in this section here.

Meta Description

– The short, 160-character excerpt that search engines display below your URL listing on a SERPs page. You can learn more about how to create great meta description tags here.

Near Duplicate Content

– Content that is very similar to other content on your website or on someone else's website and is only slightly different because of a different image, content order, or single paragraph. Learn about the different kinds of duplicate content here.

Off-Site SEO

– The ways you can optimize your site for search engines using strategies that take place in locations other than your main website. Read more about off-site SEO here.

On-Site SEO

– The ways in which you can optimize your site for search engines from your main website only. To read more about on-site SEO strategies, check out this section.

Online Influencers

– Webmasters, blog owners, and industry copywriters who influence what the online community reads and discusses in terms of a particular subject. You can learn more about online influencers here.

Outbound Marketing

– Traditional marketing strategies that commonly involved radio, TV, or newspaper advertising to generate leads and sales. Read more about outbound marketing here.

Outreach

– The process of establishing online relationships with other bloggers and online influencers in your industry and sharing your content with them, in the hopes of receiving a link back to your site. Read more about the outreach process here.

QR Codes

– QR stands for Quick Response. These codes appear as squares of pixelated color patterns to the naked eye, but can be scanned into a smartphone to direct the smartphone user to a specific Web page. Read more about mobile device QR codes here.

Referrals Metric

– A Google Analytics data set that tells you what other websites are sending traffic to your website. You can learn more about the referrals metric in GA by reading about it here.

rel=author

– The HTML author tag that you can use to link a blog post or piece of Web content to a single person, allowing that person's picture or icon to appear next to the content's link in SERPs listings. Learn more about the rel=author tag here.

rel=publisher

– The HTML tag that you can use to designate an entire website to a company's Google+ profile, thereby causing your company's logo to appear next to your SERPs listings. You can learn more about using the rel=publisher tag here.

Reputation Management

– The ways in which you monitor your brand's online reputation through close attention to social media, reviews, and what your online audiences write about you elsewhere on the Web. You can read more about managing your online reputation here.

Responsive Design

– A type of website design that allows a Web page to resize all of its element proportionally so that it fits to any size of computer screen or mobile device. To learn more about responsive design, continue reading here.

Site Search

– Site search is the small search bar that you can enable on your website that allows visitors to type in their keywords and look for specific information within your domain. To learn more about using site search for inbound marketing, read more here.

True Duplicate Content

– Content on your website that is an exact match for other content on your website or on someone else's website. You can read more about the different kinds of duplicate content here.

Title Tags

– The HTML tags that control the text that appears in a user's browser tab for your website. You can learn more about using title tags here.