What is Data-Driven Marketing?
As a marketing professional, you've likely heard the term "data-driven marketing" more times than you can count. It's one of the biggest trends in the industry, and it doesn't seem to be going anywhere.
But what does it actually mean?
Financial Times defines data-driven marketing as "the marketing insights and decisions that arise from the analysis of data about or from consumers." And while that explanation gives a general idea of data-driven marketing, it doesn't provide that much more information than the term itself.
That's why on this page, we'll explain what data-driven marketing is and how you can start using data to inform and improve your marketing strategy. We're also always more than happy to speak with you directly! You can contact us online or call 888-601-5359 today to speak with one of our experts!
How can data drive your marketing strategy?
If your advertising strategy deals primarily with traditional channels like radio, newspaper, magazine, and TV, the idea of letting data drive your marketing strategy may not sound all that familiar. After all, numbers alone can't produce the kinds of creative ads that get your audience's attention.
But data can help you understand your customers, evaluate your marketing results, and improve your strategy moving forward.
When you collect information about how your customers find your company, what they do on your site, and the content that drives conversions, you can double down on the channels that work – and eliminate the ones that don't. As a result, you'll create a continuously improving marketing strategy that will grow your company's bottom line.
How can you collect the right data?
To create a data-driven marketing strategy, you need to collect data on your customers and their interactions with your company.
The most widely-used tool for this is Google Analytics. If you don't already have tracking set up on your site, we recommend that you do this as soon as possible. Considering that it's free to install and use, there's no reason not to.
With Google Analytics, you can track:

Conversion rates
Your company's website is ultimately designed to drive conversions. Depending on your business model, these conversions might be lead form submissions, quote requests, or ecommerce purchases.
Regardless of the type of conversions you want, Google Analytics allows you to track the conversion rate for each of your pages by setting specific goals. If you run an ecommerce store, for example, you'd create a goal for online transactions, as well as separate goals for newsletter signups and contact form submissions.
This lets you see which pages on your site produce the most customers and revenue for your company and which have room for improvement.
Traffic sources
Visitors arrive on your site in many different ways. Some find it in search engines, some click links on other sites, some see your content on social media, and some navigate directly to it by typing your URL in their browser.
When you monitor your traffic sources, you see where your customers come from and which source produces the highest quality leads for your business.
You can also dig deeper into this information to determine which ads, social media channels, and links attract the most visitors. This is especially useful if you set up custom URLs for your different campaigns, as it allows you to see exactly how your customers are finding your site.
Popular content
Looking at the pages on your site that receive the most traffic can help you understand what your customers are most interested in. This is especially true if you have a content marketing strategy in place.
If you can identify certain topics that are effective at catching your potential customers' attention, you can focus more on creating content for them. You can also use this information to make sure that the most visited pages on your site are the best in terms of content.
After all, if a large chunk of your traffic enters your site from one or two pages, you want to make sure that those pages keep visitors on your site and make them want to learn more about your company.
BONUS READING: GET GOOGLE ANALYTICS EXPLAINED
Other data collection methods

Beyond Google Analytics, there are many other ways you can collect data to move your strategy forward. Four of the most effective methods are keyword research and competitor research.
Keyword research
If you haven't done keyword research since you first launched your SEO strategy, you could be missing out on major opportunities to reach potential customers.
Regular keyword research helps you identify new keywords that your customers are searching for. It also allows you to create site content with confidence that people actually want.
Competitor research
It's now easier than ever to determine which keywords your competitors target, which of their pages attract the most visitors, and where their most valuable backlinks are coming from. You can collect this information using tools like Ahrefs, SEMrush, and Moz's Open Site Explorer, just to name a few.
With this information, you can identify any opportunities you're missing to target specific keywords and reach the customers searching for them.
Social analytics
If you use social media as part of your marketing strategy, regularly dig into your results on each platform. Most major platforms (including Facebook, Twitter, and LinkedIn) have built-in analytics tools that let you see how many impressions and interactions each of your posts receives.
With this information, you can get a better idea of what kind of content your social media followers want and the types of posts that drive traffic to your site.
Customer surveys
In addition to advanced online analytics tools, you can also use data from customer surveys to inform your marketing strategy.
The only challenge is that unlike on-site analytics, which are collected automatically, surveys require your customers to answer questions about your company. On the other hand, it's fairly simple to automate the process of sending them out.
If you operate on a B2C model, you can use email automation to ask for product reviews. Set up campaigns that send a follow-up email to each of your customers after their order has been delivered with a link to a survey or review page for the specific item they ordered. They'll be much more likely to spend a few minutes filling it out since they just bought a product.
When you create these surveys (there are plenty of free online survey tools for getting started), be sure to include specific questions about what each customer likes about your company, brand, delivery process, and the product itself.
If you operate on a B2B model, you can use a similar process to send annual or quarterly surveys to your clients.
In either case, the feedback you receive gives you a better idea of what brings customers to your business. Then, use that information to bring even more customers with your marketing strategy.
Surveys are also useful if you're considering launching a new product or service. If you send them out before investing time and money, you'll have a better idea of whether or not it's a wise choice for your company. Some companies even ask for ideas for new products and processes with their regular surveys so they can better serve their customers' needs.
What can you do with data-driven marketing?

When you compile and analyze all of the information listed above (and more), you can:
Evaluate your existing strategy
If you don't currently have a data-driven marketing strategy in place, your first step is evaluating the success of your existing marketing campaigns.
The way you evaluate your success largely depends on what your goals are. If, for example, you've been investing heavily in SEO, you'd likely expect a large portion of your website's traffic to be from organic search and, ideally, high conversion rates from those visitors.
If you've focused more of your efforts on PPC ads, on the other hand, you'd likely expect more traffic and conversions from paid search.
Essentially, it all depends on what you want to accomplish with your strategy.
That said, evaluating your analytics should also involve looking for areas you can improve. If you have low conversion rates site-wide or your most important pages aren't attracting any visitors, you can make those the focus of your goals moving forward.
Understand your customers
The biggest advantage of all of the information in your analytics platform is that it helps you better understand your customers. You can see which campaigns drive the most revenue, which content gets the most attention, and which products or services interest your customers the most.
The more you understand your customers, the more effective your marketing campaigns will be.
Increase your conversion rates
Your site's main function should be driving conversions and revenue for your business. When you monitor and analyze your conversion rates, you can improve your pages to make them as beneficial to your company as possible.
You can identify pages that aren't converting as well as you'd like, then make changes to improve them. The best way to do this is with A/B testing or multivariate testing.
These tests let you try multiple versions of your buttons, forms, calls to action, and any other element on a page. Different visitors will see different versions of the page, and you'll see which version resulted in the highest conversion rate. Then, you can implement that version permanently.
Improve your ROI
When you know the sources of your website's traffic, you can invest your marketing budget in the channels and strategies that produce the highest returns.
For example, let's say you invest the same amount of money in SEO and social media marketing each month, and both channels drive roughly the same amount of traffic. But the visitors from organic search spend more time on your site and convert at a higher rate. In this case, you'd want to consider changing how you allocate your budget to invest more of it in SEO.
Tailor your content to your customers
Although you can no longer see which specific keywords bring organic visitors to your site, you can see which pages get the most traffic from organic search and the keywords those pages rank for.
This information is extremely useful for your content marketing strategy because it gives you a better idea of what your customers want to know. You can use that knowledge as you select topics for new articles, blog posts, and other content on your site.
Of course, this information should be used in conjunction with keyword research – not instead of it. But if you have a list of 50 possible keywords for blog posts, knowing the topics your customers like the most can help you make more informed content.
Personalize your site content
Up until recently, websites appeared the same to all of their visitors, regardless of who was visiting and what they wanted to find.
While most sites still work this way, it's now possible to tailor your content to individual visitors using marketing automation tools.
You can use the information in your analytics platform to break your customers into different groups.
If you're a B2C retailer, for example, you might create one group of people who've purchased men's clothing in the past, and another who've purchased women's' clothing.
If you're a B2B service provider, on the other hand, you could create one group of people who've demonstrated interest in residential services and another who've demonstrated interest in commercial services.
Then, you can use your automation software to provide relevant information to those groups when they arrive on your site.
So, for example, if someone who has purchased men's clothing in the past visits your site, you could opt to prominently feature a sale on men's clothing instead of your standard homepage.
The easier you make it for your site visitors to find the products and services they want, the more likely they'll be to convert.
We foster and form long-term partnerships so that your business has long-term results.
Over 90% of WebFX clients continue partnering with us into year 2 of their campaign.
Hear from Our Happy Customers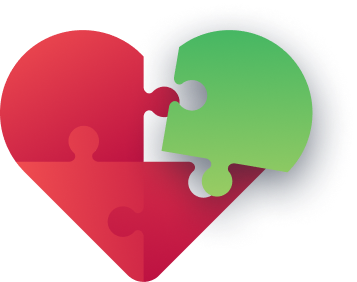 Ready to create a data-driven marketing strategy?
At WebFX, we know that data is essential to creating effective marketing strategies. We collect and analyze the most important data for each of our clients, and use it to improve their strategies moving forward.
Want to learn more about data-driven marketing? WebFX can help you start using analytics to reach more customers and increase your revenue! Contact us today for more information and a free quote!