Why Marketing Strategies Fail
Every company needs a successful marketing strategy in order to promote their products, reach their audience, and attract new customers. Unfortunately, many of the managers who set out to create these strategies fall short on their goals.
In fact, SBI found that in 2014, 71% of marketing teams were using ineffective methods for helping their companies grow.
So why is it so common for experienced marketers to struggle with creating effective strategies?
Considering all of the elements that go into any marketing team's planning and execution process, it should come as no surprise that there are many reasons why marketing strategies fail. They don't have to though.
Contact us online or call 888-601-5359 today to speak with an expert about how to ensure success for all of your marketing strategies!
On this page, we'll discuss 10 of the most common reasons and how your company can avoid making the same mistakes.
Time to Level Up Your Sales
Our long list of services helps you grow every aspect of your business with marketing strategies that are proven to increase bottom-line metrics like revenue and conversions.
In the past 5 years, we've managed more than 12.9 MILLION transactions across our client base.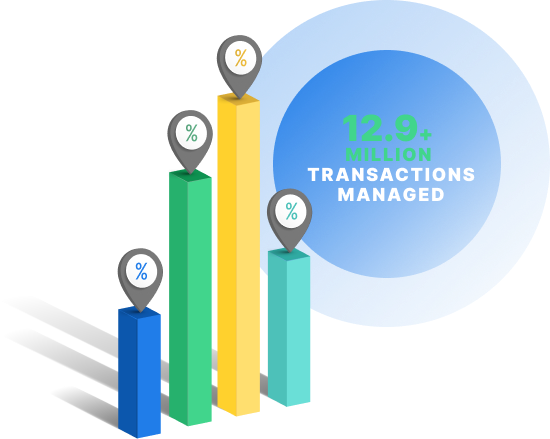 1. They don't know their audience
Before you can create a successful marketing plan, you need to know who you're marketing to. This means that market research should be one of the first steps in your planning process.
Companies who skip this essential step risk creating content that isn't in line with their potential customers' interests and focusing on the wrong audience as a whole. This means that even if every other aspect of their strategy is perfect, it still won't be effective in attracting new customers.
To prevent this from happening, spend some time creating marketing personas for different segments of your target audience. Consider not only the demographics of your potential customers, but also their needs, values, and interests.
This will help your team better relate to them with all aspects of your campaigns, including the channels you choose for your marketing and the pages you create for your site.
2. They don't have concrete goals
Many marketers fail simply because they don't know what they're working towards. Your company can avoid this by setting concrete goals.
When each member of your team knows exactly what they need to accomplish, they're more likely to do it. Having clear, big-picture objectives in mind can also help your team understand the importance of smaller tasks throughout the day.
The key to setting effective goals is to make sure that they're clear and achievable. You've probably heard of the goal-setting acronym SMART – or specific, measurable, attainable, realistic, and timely.
Each of these characteristics is equally important to creating goals, and you should make sure that each of your goals fits those tenants.
For example, let's say your goal is to increase conversions on your website. This is a common goal for many businesses, but one that leaves a lot of room for interpretation.
You can reduce confusion in your team by specifying that you want to increase the average conversion rate on your site's product pages from 0.2% to 0.4% by the end of the year. You could also say that you'll do that by performing A/B tests with the calls to action.
If you're not used to setting hyper-specific goals, this may sound like overkill. But this level of specificity is essential to achievement.
3. They don't have a plan
Once you set your goals, you need to create a plan for achieving them. This may sound obvious, but unless you determine the exact steps you'll need to take, it's unlikely that you'll accomplish the goals you want.
Create a specific list of action items for each goal, and make sure that each item will help your team progress towards achieving the goal as a whole. If you aren't sure why you're using a certain channel or running a specific campaign, it shouldn't have a place in your team's valuable time or budget.
After creating the overall plan, you should break it down with each team member's individual responsibilities.
This is especially important if you work with a large marketing team. One of the most common issues with teams of more than two or three people is a lack of communication, which can lead to multiple people doing the same tasks or no one carrying out a specific task.
One of the best ways to avoid this is to create a RACI chart (Responsible, Accountable, Consulted, and Informed) for your team. When you make it clear who is responsible and accountable for each task, as well as who needs to be consulted and informed about it, it's much easier to keep everyone on the same page.
4. They ignore their competitors
Many companies, particularly those with strong reputations within their industry, make the critical error of completely ignoring what other businesses are doing. But even if you're the best in your industry, you can't afford to ignore your competitors.
That's why competitor research should be a huge part of your company's marketing strategy.
There are quite a few misconceptions about competitive research, which is probably why so many marketers don't make it a priority. They mistakenly believe that it involves monitoring other companies' campaigns, websites, and promotions, and replicating them as closely as possible.
In reality, keeping an eye on your competitors includes doing that and almost the exact opposite. When you see what others in your industry are doing, you not only identify which keywords, channels, and tactics they're using, but also the ones that they aren't using.
This gives you the opportunity to find gaps in their strategies – and when you do that, you can figure out how to differentiate your brand.
So instead of confusing potential customers with similar marketing messages, you can show them that your company is a different – and better – choice.
5. They don't provide value
In today's information-driven world, it's no longer enough to simply tell your audience that they should become your customers. Instead, you need to show them that they can trust your company by providing value before they pay a single cent.
The best way to do this with content marketing. In its most basic sense, content marketing entails creating articles, blog posts, graphics, and other digital content and adding it to your company's website.
This may not sound like much, but when done right, content marketing can be exactly what your company needs to give your potential customers a reason to choose you over your competitors. In order to accomplish that, though, you need to be willing to spend some time getting inside the minds of your audience.
Learn what it is that they want to know about your products, your company, and your industry as a whole. Figure out what drives their purchasing decisions. Examine the content that already exists about what you offer, and identify gaps in information.
Then, use your expertise to find a unique angle on those topics and present it in an interesting way. There are many options when it comes to content, meaning that your team has the opportunity to experiment with different formats, styles, and angles.
If you're a shoe retailer, for example, your content strategy might involve creating comprehensive shoe buying guides, blog posts about current footwear trends, and video reviews from your customers. It could also include in-depth research about consumer shoe-buying habits or an article about your company's founders and history.
With a little creativity, the content marketing opportunities for your company are virtually limitless.
That being said, your strategy's effectiveness depends heavily on quality. Churning out article after article with the same ideas as everyone else in your industry won't help your company, so it's important that your team focuses on quality over quantity.
In-depth guides and videos will take more time to produce, but the results are much more valuable in the long run. Not only do they give your potential customers more reason to trust your company, but they provide your company with a more informed and interested customer base.
6. They only use one channel
When marketers were limited to only a handful of channels – like TV, radio, and newspapers – it was common for companies to choose one avenue and focus all of their energy (and budget) into that specific medium.
This could be an effective strategy, especially for companies whose competitors weren't using the same channels. But now that billions of the world's consumers have access to the Internet, that's no longer the case.
If your company wants to attract new customers, you need to use a combination of channels that will move them through the sales funnel. Fortunately, there are many options that can help your company do just that.
You can use search engine optimization (SEO) and pay-per-click (PPC) advertisements to bring new visitors to your site, content marketing to help them learn more, and conversion rate optimization to turn them into customers. You can also use email marketing to bring them back to your site, and social media marketing to keep your audience engaged.
This is only a small sample of the different channels you can use, and they all have their own unique advantages. Choosing only one or two means missed opportunities for your team to connect with potential customers – and for your company to grow.
7. They don't build relationships
Some marketing teams make the mistake of viewing their customers as nothing more than potential sources of revenue. And while their purchases do drive revenue, your customers are much more valuable than that.
If you only view your audience in terms of monetary value, you won't be able to build the kind of brand loyalty it takes to help your company succeed. To build a loyal customer base, you should make relationship marketing a part of your overall strategy.
When you engage with your customers on a regular basis, you can earn their support and keep them as long-term customers. This is an important goal, since acquiring new customers is more difficult (and expensive) than retaining existing ones.
Not only that, but long-term engagement helps build your brand's reputation. When you show customers that you value their support – and not just their money – you prove that your company is more than just the products you offer.
This may sound like a broad goal, but relationship building can happen at all stages of your company's marketing strategy.
If you use content marketing to attract visitors to your site, this will be many potential customers' first interaction with your brand. And if the information is well-researched, thorough, and genuinely useful, it will show them that your company is a valuable resource – and make a great first impression.
You can continue this trend by providing great customer service at all stages of the buying process. Build a user-friendly site, have representatives available to answer questions, and follow up after each customer makes a purchase.
This is as simple as sending an automated email asking for feedback, suggestions, or a review. Then, spend time looking over their feedback and responding to customer concerns.
In some cases, you can address their concerns with a simple answer or additional information. But if you begin to see the same concerns from multiple customers, this indicates that your products or business model have room for improvement.
And if you take that into consideration and adjust the way you serve your customers based on their input, you show that you truly care about providing a great customer experience.
8. Their marketing and sales teams don't communicate
If your company operates on a B2B model, there are two groups of people primarily responsible for driving revenue: Your marketing team and your sales team. And although they typically function as two separate departments, they work better when they communicate.
If your marketing and sales teams don't work together, it's difficult to provide a cohesive experience for potential customers. And if the sales team doesn't live up to the expectations set by the marketing team, the consequences can be disastrous.
A lack of communication can also result in an overlap in responsibilities. If the teams don't work together and set clearly defined boundaries, they could both waste time and money performing the same basic tasks.
And regardless of the size of your budget or team, wasted resources are never a good thing.
So how can you avoid this all-too-common issue? In most cases, it's as simple as scheduling monthly or bi-weekly check-ins with the heads of each department.
These don't need to be lengthy meetings, but they ensure both teams are on the same page. The marketing manager should discuss any new campaigns, promotions, and objectives, and the sales manager should have a chance to provide input.
This will prevent the sales team from being caught off guard by potential customers calling in with questions about specific offers or sales. More importantly, your head of sales can weigh in with other insight.
Although your marketing team likely researches your target audience, they don't spend much – if any – time meeting your customers face-to-face. Your sales team, on the other hand, spends the majority of their working hours interacting with potential customers.
Over time, this experience gives them a much better understanding of your audience than any amount of research ever could. And that's extremely valuable when you're creating a marketing strategy.
If a campaign or message doesn't resonate with the people who will be responsible for discussing it with customers, it's very unlikely to work. In this case, a simple conversation could make all the difference between an unsuccessful campaign and ones that generates a high number of qualified leads.
9. They use outdated tactics
In the past decade alone, the options for marketers looking to grow their company's revenue have significantly changed. If your marketing team hasn't adjusted its strategy accordingly, your marketing isn't working as well as it could.
Traditional methods like direct mail, newspaper ads, and billboards used to be extremely useful for attracting new customers. And while they still have their place in large-scale campaigns, they're no longer the most effective, in terms of both cost and results.
The Internet is largely to blame – or to thank, depending on who you ask.
Online channels make it easier to reach a larger, more targeted audience than ever before. This is great for marketers who've taken the team to learn about and test them, but damaging for those who haven't.
If your company has yet to start using strategies like SEO, PPC , content marketing, and social media marketing to attract new customers, it's time to start. Millions of consumers now use the Internet on a daily basis, meaning that it's hands-down the best way to reach them – and it isn't going away any time soon.
Unfortunately, many companies are so set in their routines and budgets that it seems unthinkable to make such a drastic shift. And although learning about and beginning to use new channels will certainly require initial investments of both time and money, the results will pay off in the long run.
That's because using outdated tactics is ineffective at best, and expensive at worst. When you're up against competitors who engage customers on a variety of online channels, you're unlikely to beat them since they simply reach more people.
Not only that, but print and broadcast advertisements cost much more to produce and run than online content, and they only run for a short amount of time.
When you advertise online, you can tailor your ads to individual segments and use advanced targeting to make sure they reach the right people. This means that unlike traditional channels, which typically require you to pay based on the maximum amount of viewers, you only pay to reach exactly the people who are likely to become customers.
There are many reasons why today's marketers prefer online channels to traditional, but when it comes down to it, your company simply can't afford not to use up-to-date tactics.
However, it's important to note that once you make the switch to Internet marketing, you can't simply rely on your original strategy for years to come. Trends and best practices shift frequently, and if you don't make it a priority to keep up, you could still fall behind your competitors again.
10. They don't measure their results
Unlike most traditional marketing methods, marketing online gives you access to a wealth of data relating to your success. You can track how many people visit your site, click on your ads, and convert as a result of a specific campaign.
With this information, you can adjust your strategy to focus on the most effective channels and eliminate the ones that aren't attracting new customers. However, this means it's important to stay on top of your analytics and monitor your campaigns regularly.
If you don't make it a priority to measure your results, you won't have the data you need to improve your strategy going forward. This is a wasted opportunity — one that could end up costing your company in the long run.
Thankfully, monitoring and analyzing your campaigns doesn't have to be difficult. With tools like Google Analytics, you can get an in-depth look at all of the metrics that matter. You can also set up custom reports that make it easy to understand your marketing initiatives.
As with any marketing tactic, though, you get out of analytics what you put into it. So if you don't have the time to learn about reporting tools and set up a strategy that works for your company, it may be a better choice to hire an agency to manage your reports.
Good agencies have more than 50 testimonials.
Great agencies have more than 100 testimonials.
WebFX has over 1000+ glowing client testimonials.
See What Makes Us Stand out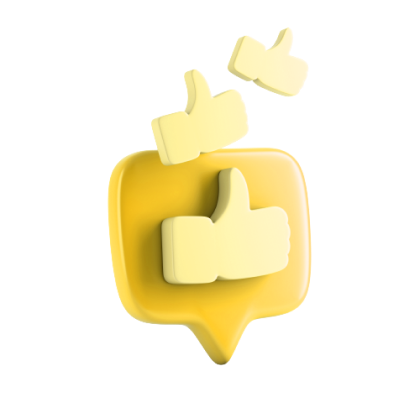 Ready to create a successful marketing strategy?
Managing an effective marketing strategy is challenging for companies of all sizes. Simple mistakes are easy to make, and many of them – like the 10 above – can throw off an entire campaign before it has a chance to succeed.
That's why at WebFX, our team makes it a priority to keep up with industry best practices and keep a constant watch on our clients' campaigns. Our talented Internet marketers help companies create strategies that meet specific goals, and manage them for the best possible results.
If your company's marketing strategy is failing to attract customers – or you know that it has room for improvement – we'd love to help. Contact us today to speak with a strategist!