How to Improve Your Search Engine Rankings
Are you looking for ways to increase search engine rankings for your website? Trying to find out how to get on Google search engine results pages? If so, you've come to the right place.
On this page, we'll explain how you can improve your search engine ranking through search engine optimization (SEO), how search engine ranking services from SEO companies work, and the factors that can help you increase your rankings and get more clicks from the top search results pages.
Why do I need to improve my search engine ranking?
Did you know that most people, when performing a search for something, click on the very first search result? As of right now, the breakdown for Google looks something like this: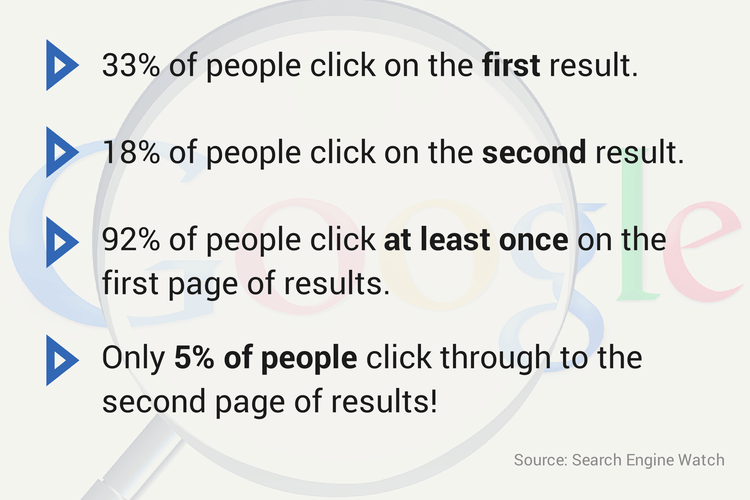 If you aren't ranked at the top spot for a keyword - or at least on the first page - your chances of being found online are slim to none. That's why business owners are always looking for ways to improve their search engine ranking: because they understand that they're losing traffic if they're not visible.
Not showing up in search engine results pages, or SERPs, creates a domino effect - without a first page result, you're losing traffic, which causes you to lose visitors, which results in a loss of revenue as well.
How do I get get my website to show up in search engines?
When new websites are initially created, they are usually submitted to Google's index of sites by their webmaster. This can speed up the process at which Google reviews them. However, even if this is not done, over time, Google will find and review the site through links pointing at it.
It may take a while, if your website is new, to get on Google's search engine results. However, most pages are "crawled" very quickly, sometimes within hours. You can speed up the process by ensuring that your site has proper search engine optimization and configuration.

If your website has suddenly vanished from search engines, you may be the victim of a Google penalty. You can read our page on Google penalties, or our free guide to penalty recovery, to learn more about these.
SEO at a glance
Search engine optimization, also commonly referred to as SEO, refers to a collection of methods by which a website is optimized to rank more highly in search. Basically, SEO is something that is done to make your website show up more often when people search for the keywords related to any given page on your website.
For example, let's say you sell laptops. Without SEO, if people search for phrases like "laptops for sale," "buy laptops," or "cheap laptops," you may rank somewhere around page 8, or may not even rank at all. But with an ongoing SEO package, your ranking will increase, and with it your visibility, clicks, and traffic.
SEO is always changing, and SEO best practices are evolving year after year. That's why we recommend seeking out professional SEO services, rather than trying to do SEO yourself, to improve search engine rankings.
Some of our client Successes
How do I improve my SEO?
There are many ways to improve your SEO. Here are a few of the most common ways you can improve search engine ranking and visibility for your website.
1. On-page optimization
When you think about your website, what words do you associate with it? Now think about the content on your site — in the page titles, in the text on each page, and in the menus or navigation. Are these words there? Or are they missing?
On-page optimization, also called keyword optimization, is one way you can improve your search engine rankings. By reviewing the placement and occurrence of your keywords, you can ensure that the words people are searching for are actually present on your site, and potentially increase their presence or the number of times they appear.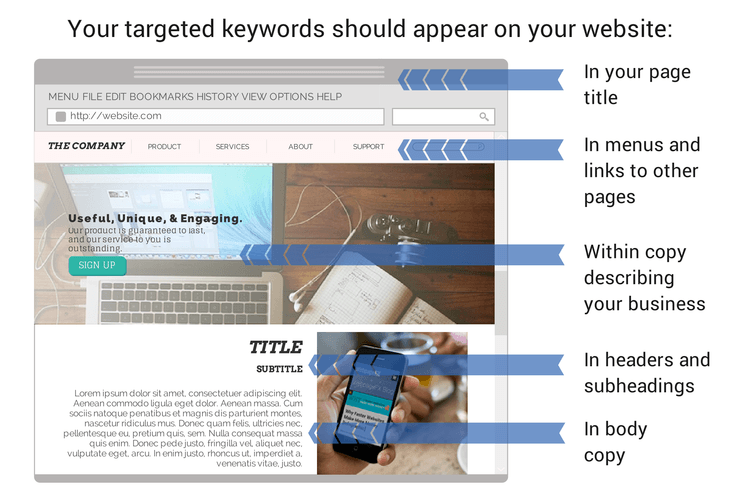 On-page optimization can help you rank if you are not already ranking, especially if you do not already have much or any text on a page.
2. Page and site speed
People searching the web prefer fast websites — this is a fact. In fact, 83% of users expect websites to load in 3 seconds or less. If they don't, they're likely to click the back button and return to the search engine results, which is what is referred to as a "bounce."
Your website's bounce rate can actually influence the way your website is ranked. If Google sees that your site has a high bounce rate because users are tired of waiting for it to load, they may rank you lower than other similar websites. They want their users to have a good experience, and slow sites are not part of that experience.
3. Link building
Part of how search engines determine where to rank sites depends on their authority. How is authority determined, you ask? There are a few factors, but links are a big part of this.
Let's say your website is linked by some very large news websites. Google will interpret this as a signal of trust — that is, these large websites trust you, and recommend the content on your website – and improve the ranking of your site as a result.

Obtaining links can be very difficult if your site is new. So to increase search engine rankings with links and improve search engine optimization, we utilize a link building service. This involves creating content that high authority websites will want to link to, and directly contacting websites to ask them for links where it is appropriate.
Note that WebFX does not buy links, list your website in directories, or participate in any outdated link building schemes. We only do link building that is organic and designed to naturally improve your search engine results over time.
Improve your rankings through WebFX
Are you ready to learn how to increase search engine rankings with SEO from WebFX? Want to boost your site's visibility in search like never before? Contact us today to learn more about our SEO plans and what we can do for you.
Need help improving your ranking on search engines? Call 888.449.3239 or contact us online today to learn more SEO plans from WebFX.