When you start to shape your digital marketing plan, you'll discover methods like search engine optimization (SEO). SEO is one of the best methods to help your business obtain more valuable leads, but it can be challenging to manage if you aren't familiar with it. Ahrefs is a solution to SEO that helps your business run and optimize your SEO campaign.
On this page, we'll discuss the basics of SEO and five Ahrefs tools you can use to improve your SEO campaign. Keep reading to learn more and call us today at 888-601-5359 to speak with a strategist to learn how WebFX can help you optimize your SEO campaign.
Our digital marketing campaigns impact the metrics that improve your bottom line.
See More Results

WebFX has driven the following results for clients:

$3 billion
In client revenue

7.8 million
Leads for our clients

5.2 million
Client phone calls
What are backlinks?
Before we dive into the nitty-gritty of Ahrefs, we want to go over backlinks. Ahrefs is known as a backlink checker, so it's important that you understand backlinks first before learning how to check backlinks with this SEO tool.
Backlinks are links to your page or content from other authority sites. Earning these links from authority sites will help boost your website's credibility and increase your page's rank in the search engines.
Most businesses earn backlinks through content creation. When you create industry-specific content, you can share it with other industry authorities. If they like what they see, they may reference it in their content, which forms a backlink.
If Google sees that authority sites are linking to your page, it trusts that your site is valuable and correct. It will rank your site higher to help more leads find your page.
What is Ahrefs?
Ahrefs is known primarily as a backlink authority checker, but it is much more than that. This digital marketing tool provides valuable information about backlinks and SEO. It offers SEO features like ranking monitoring and keyword tools.

Ahrefs is known for its backlink checker because it has one of the largest databases of live links. It uses crawling software to recreate your site how a search engine sees it. This helps you understand your site better so you can optimize it for search engines.
When you use Ahrefs, you'll get a dashboard that helps you keep track of all your data. All you need to do is add a URL to keep tabs on your domain health. This dashboard will show you errors, new links, URL ranking, and referring domains.
How much does it cost?
Ahrefs offers four different types of plans for your business. The price is determined by your type of plan and whether you choose monthly or annual billing.

If you are unsure about whether Ahrefs is right for you, you can pay $7 for a 7-day trial for their Lite and Standard plans to see if it's a good fit for your business.
Is Ahrefs' pricing too much for your business? You can take advantage of Ahrefs Webmaster Tools, which provides your company access to Ahrefs' Site Explorer and Ahrefs' Site Audit features.
5 Ahrefs tools to help your SEO plan
When you subscribe to Ahrefs, you'll get access to numerous beneficial tools for your business.
Just visit Ahrefs' login page, sign in, and you can get started with these top five tools:
1. Site Explorer
Ahrefs' Site Explorer tool helps you analyze your site's backlinks. You can see how many backlinks you've earned and compare that to your competitors. This tool is great for giving your insight as to how you compete against your competitors in terms of backlinks and traffic.
You can use the Site Explorer tool to gain better understanding of your SEO campaign as well as your competitors'. Two main tools within the Site Explorer feature, the organic traffic research tool and the backlink checker tool, can help you do this.
Organic traffic research tool
With this tool, you'll receive insight about how your competitors rank for certain keywords. This is a beneficial tool to have if you and your competitors share numerous similar keywords. You'll also see how your business ranks compared to the competition.
If you use this research tool, you'll be able to explore profitable keywords for your business. You will see which keywords your competition ranks for and which ones are missing from your campaign. Utilizing this tool helps you see what content your audience is searching for, so you can optimize your site for it.
Backlink checker tool
The backlink checker tool helps you see what sites are linking to your competitors. You may find that similar sites are linking to your content and your competitors' content, or that your competition has backlinks from valuable sites you don't have.
With the backlink checker tool, you can gauge a backlink site's quality to see if they are a valuable authority site. With this information, you can work to earn backlinks from them and surpass your competition.
2. Content Explorer
Content plays a valuable role in driving leads to your site and improve your SEO ranking. The Content Explorer tool helps you analyze topics to see their popularity. By utilizing it, you can work to improve your content marketing campaign.
When you search for a particular topic using the Content Explorer, it will generate a list of popular articles from a database that has over 2 billion articles. Their popularity is based on SEO factors like social shares, organic traffic, and how many sites link to the content.
If you want to look for specific types of content, you can do that too. Content Explorer has filters that allow you to sift through different types of content to access what you need. It's a great tool to help you understand who is ranking for certain keywords with their content.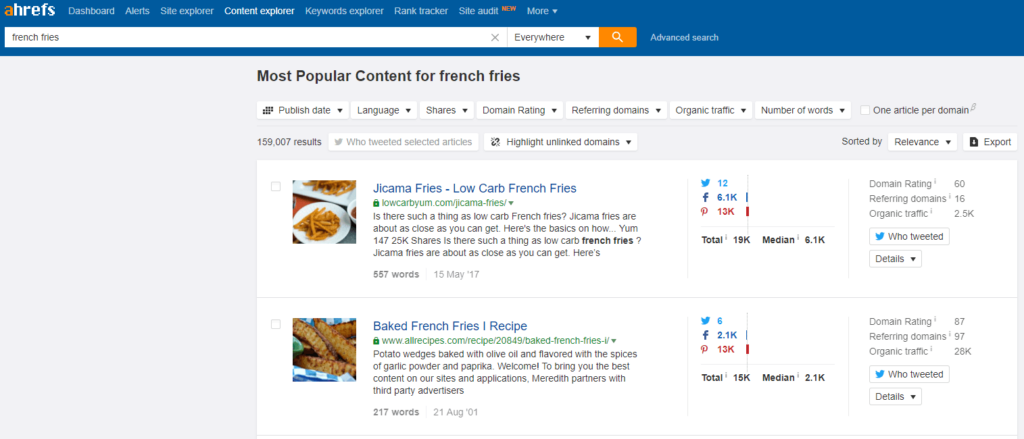 3. Keyword Explorer
Keywords are a crucial part of SEO. Ahrefs' Keyword Explorer tool helps you find relevant keywords for your campaign. This tool has over 3 billion keywords in its database, so you can feel confident that you won't run out of suggestions.
When you search for keywords, Keyword Explorer will give you traffic estimations that indicate how frequently that particular keyword is searched.
If your business markets overseas, Keyword Explorer is a beneficial to your business. One particularly unique feature of the Keyword Explorer is that it generates keywords for over 100 countries.
Aside from the international keyword search, Keyword Explorer lets you know how difficult it will be to rank for a keyword. It provides a difficultly score to help you understand if it will be challenging to rank for a certain keyword.
One of the best features of Keyword Explorer is the ability to see click data for your keywords. This keyword click data helps you see which keywords generate clicks on sites, so you can focus on integrating these keywords into your campaign.
4. Rank Tracker
Rank Tracker monitors your Google ranking on desktop and mobile. The goal of SEO is to improve your site's ranking to reach more valuable traffic, so it's important to track your position on Google and see how it changes over time.
Rank Tracker will send you reports daily, weekly, or monthly (depending on your plan). It will help you see how many clicks land on your website from organic traffic. You'll also see your average position in the search results and the average amount of traffic you drive to your site.
It's easy to set up, too. You just input a list of keywords that are important to your business, add the countries you want to monitor, and list your competitors' URLs. Ahrefs will start tracking the data and send you the reports.
This is a valuable tool to help you understand how your site's rank changes over time. It will help you improve your SEO campaign when needed.
5. Site Audit
When you run your SEO campaign, there's always a chance that problems with arise or errors will occur. With the Ahrefs Site Audit tool, you don't need to constantly check your site to ensure it's running smoothly. This tool will analyze your site to look for common SEO problems.
This is a great tool to have because it helps you worry less about your SEO campaign. You'll get notified when problems arise, so you can fix them quickly. Site Audit will also generate reports that analyze your site's health.

Ahrefs vs. an SEO company
As you research more about SEO, you may be wondering if it's best to subscribe to a program like Ahrefs or use an SEO agency. Both of these are great options for your business.
If you are looking to handle your own SEO campaign, Ahrefs can help. You'll have the necessary tools to monitor your campaign and optimize it. It's suitable if you have a skilled set of marketers or a team that's willing to learn.
On the other hand, if your team is bogged down by other projects or doesn't have the time to learn SEO, it may be best to rely on an SEO company. They're experts at what they do, so you can trust that they'll produce a great campaign for your business. This allows your team to focus on more important tasks instead of adding more to their to-do list.
WebFX is a top SEO company
There are numerous crucial parts of SEO that affect your website's ranking. It can feel like an overwhelming task to try and monitor and optimize all of those aspects. At WebFX, we have more than 25 years of experience optimizing SEO campaigns for our clients.
We're a full-service digital marketing company that specializes in SEO. We have a team of 500+ experts that will bring their knowledge and expertise to your campaign. Our team of SEO gurus will help you create a customized SEO campaign that drives results.
If you're looking to see great results with your SEO campaign, look no further than WebFX. To date, we've driven over $3 billion in sales and over 7.8 million leads for our clients. Our team focuses on driving success for our clients first.
Don't believe us? Just ask our clients! Check out our 1000+ client testimonials that attest to the great work we do for them!
Get started today
Ahrefs is an excellent tool for improving your SEO, and it stands out from its competitors in numerous ways. But it can't do all your SEO for you. For that, you can get help from an agency like WebFX.
If you're ready to start seeing results with your SEO campaign, contact us online or call us today at 888-601-5359 to speak with a strategist.
We look forward to helping your business reach new heights!